By Lambert Strether of Corrente.
Readers, more shortly. There's been some sort of disturbance in the news flow that makes it much harder for me to process than usual. –lambert UPDATE All done. And there was plenty more!
#COVID19
At reader request, I've added this daily chart: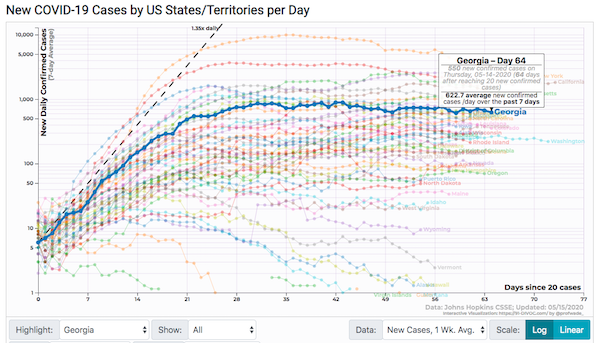 =
The data is the John Hopkins CSSE data. Here is the site. I have changed to a logarithmic scale for US States and territories.
Back to the log scale, this time with Georgia, another reopening state to check back in on in two weeks.
* * *
See Vice, "How to Read the Coronavirus Graphs":
Quantities that grow exponentially, when depicted on a linear scale, look like curves that bend sharply upward, with the curve getting constantly steeper. On a log scale, exponentially growing values can be depicted with straight diagonal lines.

That's the beauty of plotting things on log scales. Plots are meant to make things easy to understand, and we humans are much more adept at understanding linear, straight-line behavior. Log plots enable us to grasp exponential behavior by transferring the complexity of constantly steepening curves into the simplicity of an exponentially increasing scale.

On a log scale, we want to constantly be making the line more and more horizontal. The general concept of "flattening" is still a good one, but it's never going to curve down. And so what we should be looking, and hoping for is a trend toward horizontal.
Politics
"But what is government itself, but the greatest of all reflections on human nature?" –James Madison, Federalist 51
"They had one weapon left and both knew it: treachery." –Frank Herbert, Dune
"They had learned nothing, and forgotten nothing." –Charles Maurice de Talleyrand-Périgord
* * *
2020
Biden (D)(1): "Sanders adviser warns of 'alarming trends' that could lead to Biden's defeat" [The Hill]. "[Jeff] Weaver pointed to polling that shows a lack of enthusiasm for Biden among key groups. A recent USA Today-Suffolk University poll found that about 20 percent of Sanders supporters say they do not intend to vote for Biden. About 60 percent said they are not excited about supporting his nomination. Meanwhile, a Pew Research Center survey found that 47 percent of Sanders supporters said that differences between Biden and Sanders will keep the party from uniting behind the presumptive nominee. Weaver argued that Sanders's coalition will play an outsized role in the battleground states that will be critical to winning the 2020 election, such as Wisconsin, Michigan, Pennsylvania, Arizona, Florida, Iowa and North Carolina — all states where the Trump campaign and affiliated outside groups are already spending tens of millions of dollars in advertisements. Weaver said Biden's recent moves to the left on issues such as higher education, as well as the new policy task force, are 'a good first step,' but not nearly enough to reach left-leaning voters who are cool on his candidacy. 'Treating Sanders supporters as throw-away votes will ultimately be at the expense of the party, down ballot candidates, and our ability to enact real policy solutions for Americans,' Weaver said."

UPDATE Biden (D)(2): "Biden: "I Wouldn't Vote For Me If I Believed Tara Reade'" (interview) [RealClearInvestigations]. From a transcript of an interview with MSNBC's Lawrence O'Donnell. "[BIDEN:] This is just totally thoroughly completely out of character and the idea that in a public place in a hallway, I would assault a woman." • I'm picturing Biden's handlers watching this and putting their heads in their hands; all the videos and pictures (sniffing hair, etc.) are in public places; that's why there are videos and pictures. This one: "Biden Swims Naked, Upsetting Female Secret Service Agents, Book Claims." That's in a public place. One might even argue that it's the public place that's the whole point.

UPDATE Biden (D)(3): "What 74 former Biden staffers think about Tara Reade's allegations" [PBS]. "He was not on a list of "creepy" male senators that female staffers told each other to avoid in the elevators on Capitol Hill. Yet Biden, now the presumptive Democratic presidential nominee, was also a toucher, seemingly oblivious to whether physical contact made some women uncomfortable. That behavior has persisted in recent years. The PBS NewsHour spoke with 74 former Biden staffers, of whom 62 were women, in order to get a broader picture of his behavior toward women over the course of his career, how they see the new allegation, and whether there was evidence of a larger pattern. None of the people interviewed said that they had experienced sexual harassment, assault or misconduct by Biden. All said they never heard any rumors or allegations of Biden engaging in sexual misconduct, until the recent assault allegation made by Tara Reade… Last year, after seven women — including Reade — publicly stated Biden made unwanted physical contact with them, like touching their shoulders and smelling their hair, he released a video and tweet addressing their concerns." • Well. This is worth reading in full. There are lots of details about how Capitol Hill worked in the 90s. (The baseline for getting on "the list" sounds like it was pretty high.) There's also detail on the hallway where Reade says Biden's assault took place. On the other hand, I would expect staffers, especially those still in politics, to be supportive of Biden. In particular, "all said they never heard any rumors or allegations" doesn't ring true when there are seven women making allegations.

UPDATE Sanders (D)(1): "Sanders urged to share vaunted donor list with Biden" [The Hill]. "'That email list only works for Bernie Sanders and we've proven it,' [Chuck] Rocha said. 'The strength of the list isn't the list itself. It's Bernie Sanders. If Joe Biden had four Bernie lists, he couldn't raise much money off of it. That's not a critique of Joe Biden. It's just that Bernie is the reason that the list works.' Neil Sroka, a strategist for the progressive group Democracy for America, said that "The idea that all Bernie Sanders has to do here is turn over his email list so they can pillage it and batter it until it spits out gold coins is absolutely ridiculous." • Levi Sanders weighs in; Facebook (sigh) from today:

UPDATE Sanders (D)(2): "Bernie world descends into disarray" [Politico]. "Claire Sandberg, Sanders' former national organizing director, said that one of the biggest problems the left is facing is the lack of an electoral infrastructure that can carry on from campaign to campaign. Utilizing Sanders' data and organizing network could change that, but progressives should explore other options if he doesn't want to, she said." • Yep.

UPDATE Sanders (D)(3): "Sanders Responds to House Democrats' New Coronavirus Legislation" [Bernie Sanders]. • On the HEROES Act:

In my view, however, the Senate must improve this legislation if we are to adequately address the two most urgent needs facing working families [ugh] right now: health care and economic security.

"The coronavirus pandemic has made it clear that everyone in America must receive the health care they need regardless of income, including the tens of millions who have lost their employer-provided insurance. Instead of subsidizing COBRA — which would be a massive giveaway to the health insurance industry — I believe Medicare must be empowered to pay all of the health care bills of the uninsured and under-insured until this crisis is over. This approach will provide coverage to all of our people in a much more cost-effective way.

"Second, if we are to avoid another Great Depression, it is absolutely imperative that every worker in this country continues to receive a paycheck and benefits. In my view, a modest extension in the Employee Retention Tax Credit is not the same as guaranteeing the paychecks of workers and will not provide security for working people. Any legislation in the Senate to address the economic crisis must include a provision to guarantee 100 percent of the paychecks of workers up to $90,000 a year. This is what is being done successfully in many European countries and what should be done here.

Sanders puts his finger on the key lacuna in the HEROES (ugh) Act: It doesn't give these working class heroes what they need. That's not a bug, it's a feature: Pelosi will to nothing to disturb the balance of power between workers and capital; C-M-C' is sacred!

Trump (R)(1): "'They are angry': Pandemic and economic collapse slam Trump across Rust Belt" [Politico]. "'The way I've come to terms with what happened in 2016 in these working-class areas is that the Trump vote was a vote of despair and desperation. And that despair and desperation remain in 2020,' said Paul Clark, director of the School of Labor and Employment Relations at Penn State University. 'The big question is, will people in those areas react in the same way that they reacted in 2016 … or have they had enough?'"

UPDATE Trump (R)(2): "Trump Brings in the Infantry for His War on Blue America" [The Atlantic]. "Trump revealed volumes about his mindset at a recent White House event, when he was asked about providing more federal aid to states buckling under the lost revenue and increased cost of grappling with the coronavirus. Trump said he might be open to considering such assistance, if it were narrowly tied to costs directly linked to the outbreak. But then he added: 'We'd want certain things, also, including sanctuary-city adjustments.' The most telling word in that sentence is the pronoun we. It suggests the existence of an American community from which blue states are distinct and separate—and to which blue states must provide concessions if they are to receive help from the federal government. Leaving aside the reality that many Republican-run states are facing financial difficulties as great as the Democratic-run ones, Trump's formulation shows how little obligation he feels to represent the places where fewer of his own voters live. Instead, he portrays those places almost as foreign supplicants seeking aid from his America. 'This president is seeing himself as the president of red America, where blue America is pushed aside and is not even legitimate,"' [Donald Kettl, a public-policy professor at the University of Texas at Austin] says." • One word: "Deplorables." At a higher level, Trump, beneath all the bluster, blather and the consequences of having, shall we say, a mercurial temperament, is not incapable of strategic thought. It's a mistake to underestimate him. (Adding, I think the most telling words in that sentence are "sanctuary city." To me, sanctuary cities are straightforward nullification, of which John C. Calhoun would approve.

* * *

"Pelosi moving swiftly on $3 trillion relief plan despite Dem gripes" [Politico]. "Reps. Pramila Jayapal (D-Wash.) and Mark Pocan (D-Wis.), the chairs of the Congressional Progressive Caucus, had unsuccessfully lobbied Pelosi to delay consideration of the bill until next week. They spent much of Thursday surveying their roughly 100 members about how to proceed, though people familiar with the discussions say it's unlikely the caucus would seek to upend the legislation completely." • "Surveying their members." • One piece of good news: So much for the lobbyists:

NEW: One big change in House Dems's managers amendment: Registered lobbyists won't be eligible for small business loans

The initial version had stirred backlash like this– https://t.co/2h6bim38bu

— Sarah Ferris (@sarahnferris) May 14, 2020

And a piece of bad news:

The HEROES Act cuts pensions for essential workers. Wheeee! https://t.co/IrJQ7FZjiN

— Matt Stoller (@matthewstoller) May 15, 2020

UPDATE "Joe Kennedy III Wants You to Know He's More Than Just a Name" [Boston Globe]. • "Joe Kennedy. He's more than a name. He's a jawline!"
RussiaGate
UPDATE "Trump exults in his Mueller revenge play" [Politco]. • Karma…
Realignment and Legitimacy
The Blob is high on its own supply:

I'm too lazy to find the link, but I'm so old I remember when Putin kissing Trump ("That's so gay" [snicker]) was a well-known liberal Democrat trope; it made the pages of the New York Times as a cartoon series. Leaving aside that political relations are not structurally similar to sexual relations, the trope was peculiarly unsettling coming from a political faction that was dedicated to supporting a flowering of sexual identities in all forms (or at least to gay marriage). So, "gay is icky" seemed to strike a false note. (Now, of course, we know that for liberal Democrats, #MeToo was purely tactical and not a matter of principle at all, so what seemed like a false note then is in fact the true note (itself a "false note")). Be that as it may, the "Putin is kissing Trump, which is gay and icky," has now been repurposed, without skipping a beat, to "Xi is kissing Trump (which is gay and icky"). Moreever, the trope appears in Foreign Affairs, the publication of the sober, grey-colored Council on Foreign Relations, the heart, if any, of the foreign policy establishment. It's fine to foment war with China, that's what these people do for a living, but the trope itself means to me that they've lost control of their register, hence of their ethos, hence of their power to persuade based on their putatively good judgment. What next? Piss tapes from Xi?

"Thousands of Americans Have Become Socialists Since March" [The Atlantic]. "'People are really starting to just look around and say, 'Man, capitalism isn't working,'" said the co-chair of the Detroit DSA chapter, who spoke to me on the condition of anonymity for fear of professional repercussions. 'If the markets can't even produce hand sanitizer or toilet paper or masks during a plague—what good is this system?'… 'We're going to see real change after this,' Harms said. 'People won't forget what this was like—to not have income and not have a job and still be expected to pay all these different bills.'" • Again, however, you can't build a socialist movement based on organizers who resent being forced into the working class. I mean, isn't being "expected to pay all these different bills" pretty normal for 90% of the population?
Stats Watch
At reader request, I added some business stats back in. Please give Econintersect click-throughs; they're a good, old-school blog that covers more than stats. If anybody knows of other aggregators, please contact me at the email address below.
Manufacturing: "April 2020 Headline Industrial Production Monthly Decline Worst In Its 101 Year History" [Econintersect]. "The headlines say seasonally adjusted Industrial Production (IP) declined month-over-month – and now is even deeper in contraction year-over-year. Our analysis shows the three-month rolling average declined. The best way to view this is the 3-month rolling averages which declined. The decline was due to the impact of the coronavirus which caused many firms to suspend operations.:
Manufacturing: "May 2020 Empire State Manufacturing Index Improves To Second Lowest Level In History" [Econintersect]. "The Empire State Manufacturing Survey index improved but remains deep in contraction…. Key elements significantly declined – it seems we are in a recession. Note that survey responses were collected between April 2 and April 10."
Employment SItuation: "March 2020 Headline JOLTS Job Openings Rate Declined And Remains In Contraction" [Econintersect]. "The unadjusted data this month remained well below average for the rate of growth seen in the last year. With this low average rate of growth, JOLTS is predicting lower employment growth than we have seen over the past year. Jolts predicted the slowing of employment growth. However, this month the coronavirus pandemic was little noticed by JOLTS – and expect a very large drop of open positions next month."
Inventories: "March 2020 Business Inventories Level Remain Elevated But Declined" [Econintersect]. "There is little effect from the coronavirus this month – wait until next month's data. Inventories remain elevated but they declined. Our primary monitoring tool – the 3-month rolling averages for sales – declined."
Consumer Sentiment: "Preliminary May 2020 Michigan Consumer Sentiment Improves Even With Coronavirus" [Econintersect]. "Surveys of Consumers chief economist, Richard Curtin, makes the following comments: 'Confidence inched upward in early May as the CARES relief checks improved consumers' finances and widespread price discounting boosted their buying attitudes. Despite these gains, personal financial prospects for the year ahead continued to weaken, falling to the lowest level in almost six years, with declines especially sharp among upper income households. Improved views on buying conditions were due to discounted prices and low interest rates, although their impact was partially offset by uncertainties about job and income prospects. Perhaps the most surprising finding concerned consumers' inflation expectations. The median expected inflation rate during the year ahead rose sharply, with wide differences across age and income subgroups. As shown in the chart, the Expectations Index still indicates that no economic restoration is as yet anticipated by consumers.'"
* * *
The Bezzle: "Sears' Headquarters Was Supposed to Turn a Sleepy Suburb Into a Boomtown. It Never Happened." [Pro Publica]. "The tax breaks and credits would transform Hoffman Estates, then a suburb of 45,000 that lay among cornfields 30 miles northwest of Chicago. Sears worked with state and local politicians to build a sprawling corporate headquarters, new roads, tollway interchanges and other infrastructure in the growing village. Today, Sears, which emerged from bankruptcy last year, is struggling to stay in business, battered by relentless competition and its own miscues and missteps. … The corporate campus built in Hoffman Estates is largely vacant, a hollowed-out shell with a skeletal workforce surrounded by acres of unused parking…. The review of the Sears deal shows that 30 years of spending public money on private interests failed to deliver the economic bonanza envisioned by corporate, state and local officials." • I'm shocked.
Today's Fear & Greed Index: 39 Fear (previous close: 38 Fear) [CNN]. One week ago: 44 (Fear). (0 is Extreme Fear; 100 is Extreme Greed). Last updated May 15 at 12:09pm.
The Biosphere
Yikes:
Wanted to make a map of all the active, abandoned and orphaned oil and gas wells for a specific part of Louisiana. A state oil data guy warned me not to zoom out too much. "You'll see just dots on dots unless you can do a double truck page the width of a bus." pic.twitter.com/hsCltcKdMf

— Tristan Baurick (@tristanbaurick) May 13, 2020
This is a great thread. This guy isn't the first to try a mapping project like this. There are several horror stories.
Health Care
"Sweden Stayed Open. A Deadly Month Shows the Risks." [New York Times]. "Across Sweden, almost 30 percent more people died during the epidemic than is normal during this time of year, an increase similar to that of the United States and far higher than the small increases seen in its neighboring countries…. 'It is clear that mortality in Stockholm has been a lot higher than you would expect from a normal year,' said Martin Kolk, a demographer at Stockholm University. 'But we will have to wait and see what happens. It's a very big difference if we continue to see excess mortality for six more months, or if it will be back to normal levels in a few weeks.'"
"Chasing The Elusive Dream Of A COVID Cure" [KHN]. "Hundreds of drugs are being studied around the world, but 'I don't see a lot of home runs right now,' said Dr. Carlos del Rio, a professor of infectious diseases at the Emory University Rollins School of Public Health. 'I see a lot of strikeouts.' Researchers have launched more than 1,250 studies of COVID-19. Pharmaceutical companies are investing billions to develop effective drugs and vaccines to help end the pandemic. Doctors treating COVID patients say they're fighting a war on multiple fronts, battling a virus that batters organs throughout the body, causes killer blood clots and prompts an immune system overreaction called a 'cytokine storm.' With so many parts of the body under siege at once, scientists say, improving survival rates will require multiple routes of attack — and more than one drug. While some of the experimental medications target the virus, others aim to prevent the immune system from inflicting collateral damage. 'There are so many pieces of this, and they will all require different therapies,' said Dr. Lewis Kaplan, president of the Society of Critical Care Medicine, whose doctors provide intensive care."
"Maine Loosens Lodging Restrictions Amid Reports Of 50 New COVID-19 Cases, 3 Deaths" [Maine Public Radio]. "Maine Department or Economic and Community Development Commissioner Heather Johnson announced at the briefing that the state will now allow Maine lodging businesses to begin accepting reservations immediately for visits beginning June 1, from Maine residents and from nonresidents who comply with Maine's 14-day quarantine requirement. But asked whether out-of-state residents were essentially on an honor system to uphold the requirement, Johnson answered yes." • The spice must flow…
"Another Coronavirus Casualty: California's Budget" [KHN]. "The Democratic governor also warned that California can no longer afford the expansive health care agenda he outlined in January because the pandemic has shredded the state's finances. Unemployment is projected to reach at least 24.5%, Newsom said, and state finance officials are projecting a $54 billion budget deficit for the coming fiscal year. The number of enrollees in California's Medicaid program, Medi-Cal, is expected to soar, putting greater pressure on the state general fund and forcing cuts to education and safety-net programs. Newsom's revised proposal marks a remarkable shift from four months ago, when the legislature's Democratic majority was debating how to increase the size and scope of government programs, and the state was flush with $16.2 billion in rainy day reserves." • More proof that #MedicareForAll must be implemented by the currency issuer, not at the state level. When Canada did that, it was a different time.
"Facebook studies reveal science mistrust winning on vaccine messaging" [Center for Infectious Disease Research and Policy]. "Neil Johnson, PhD, professor of physics and data science, said in a university press release, 'There is a new world war online surrounding trust in health expertise and science, particularly with misinformation about COVID-19, but also distrust in big pharmaceuticals and governments.' He added: 'Nobody knew what the field of battle looked like, though, so we set to find out.'…. "The investigators found that although there were fewer people with anti-vaccine views, there were three times as many anti-vaccine Facebook communities, allowing anti-vaccine communities to become highly entangled with undecided groups, with pro-vaccination communities staying on the periphery. They wrote that pro-vaccine groups targeting larger antivaccine communities may be missing medium-sized ones that are just emerging. In another key finding, anti-vaccine groups had more diverse narratives, including safety concerns, conspiracy theories, and individual choice, which increased ways to appeal to undecided groups. In contrast, pro-vaccine groups focused mainly on the known health benefits of vaccination. Johnson said he and his colleagues thought they would find major public health groups at the center of the battle, but they found the opposite. 'They were fighting off to one side, in the wrong place,' Johnson said in the release.'" • Holy moley, distrust of government and Big Pharma! What next?! On the other hand, the anti-vaxxers are loons, and dangerous. What to do…
Failed State
"Michigan Cancels Legislative Session to Avoid Armed Protesters" [Bloomberg]. "Michigan closed down its capitol in Lansing on Thursday and canceled its legislative session rather than face the possibility of an armed protest and death threats against Democratic Governor Gretchen Whitmer." • Score one for the gun humpers.
"No More Open Carrying At Political Protests" [The American Conservative]. " I know my way around a gun better than a lot of civilians, and even I get nervous in the presence of an open carrier. It's not an irrational fear of guns; it's a very rational fear of people. Such people need to see fear in the eyes of others. They then threaten and mock anyone who takes it as a threat. When mobs carry guns on city streets while making political demands, they extend this threat exponentially. They want everyone in a several-block radius, perhaps in the entire country, to know that they are ready to kill. For all their talk of liberty, these armed protesters scorn the non-aggression principle that true libertarians hold sacred. The armed Reopeners who terrorized Michigan's state legislators aren't Branch Davidians or Cliven Bundy's militia allies. They don't just want government to leave them alone; they want to shape policy, and not with the ballot but with the bullet. When I saw those American citizens using firearms to intimidate lawmakers in the halls of government, I thought of another March on Rome, the bloodless coup that brought Mussolini to power and inspired Hitler's Beer Hall Putsch."
"He's suspended for urging fellow officers to ignore stay-at-home orders — he also seems to be getting rich" [MarketWatch]. "In a viral Instagram video, [Greg Anderson, a Port of Seattle police officer and Special Forces veteran] urged fellow law enforcement officers to basically allow citizens their constitutional right [sic] to flout stay-at-home orders and go about their business. Soon after that video, Anderson was placed on paid administrative leave… But don't feel too bad for Anderson, who said in a follow-up post that he expects to be fired for insubordination. While plenty take exception with his stance, he's still getting lots of love. In fact, a GoFundMe page started on Monday has already raised more than $340,000 for him." • Ka-ching.
Groves of Academe
"Pence, DeVos Hold Call With 14 College Presidents" [Insider Higher Ed]. "Vice President Mike Pence held a call today with leaders of 14 colleges and universities. They were joined by Betsy DeVos, the U.S. secretary of education, and Deborah Birx, the White House coronavirus response coordinator, in a discussion about 'best practices to get students back to school in the fall,' according to a news release from the vice president's office. The group discussed a guidance document the Centers for Disease Control and Prevention released earlier this year about how colleges should plan, prepare and respond to COVID-19. 'These college and university leaders discussed possible options to re-open their campuses for students, faculty and staff safely and responsibly,' the release said. 'Many participants on the call discussed working groups they developed on campus to provide data-driven strategies for re-opening. Participants discussed the importance of opening and maintaining research labs to assist with COVID-19 research, testing and tracing.'" • Interesting absences from the attendee list: No Ivies, and no community colleges at all.
Guillotine Watch
"Uber CEO reportedly favored rank-and-file layoffs over pay cuts for top execs" [New York Post]. "Uber CEO Dara Khosrowshahi reportedly vetoed a request from the ride-hailing giant's top executives to cut their own salaries in order to avoid laying off rank-and-file workers, paving the way for thousands of pink slips. A number of the ride-hail giant's engineering leaders last month told Khosrowshahi that they and other managers were willing to have their own pay slashed in order to spare their workers from Uber's wide-ranging culling of its headcount, according to The Information (paywall). 'The answer is no,' Khosrowshahi said in response, according to the report. 'What we're doing through is fundamentally realigning the company so that our cost base matches the new reality of the world post COVID. We do not want to take temporary measures.'" • I'm so old I remember when Khosrowshahi was hired for his PR chops.
Class Warfare
"EXCLUSIVE: 'Today will be your last working day with Uber.' Watch as choked up executive tells 3,500 rideshare employees they are being laid off effective immediately over a three-minute ZOOM call" [Daily Mail]. "Thousands of Uber employees learned that they were being laid off in a three-minute Zoom call last week. The ride-sharing company informed 3,500 people who worked in customer service and recruitment around the country that it would be their last day working for Uber on the live call. Uber's Ruffin Chaveleau was tasked with breaking the news that the app was 'eliminating' thousands of jobs on the call, obtained by DailyMail.com. Chaveleau heads Uber's Phoenix Center of Excellence – the term the company uses to describe its customer service office. Chevaleau told staff: 'Our rides business is down by more than half. There is not enough work for many frontline customer support employees. [As a result] we are eliminating 3,500 frontline customer support roles. 'Your role is impacted and today will be your last working day with Uber. You will remain on payroll until the date noted in your severance package.'"
"What Happened to Kroger's 'Hero Pay'?" [Dissent]. "[Veronica Copeland] got a letter saying, 'As you may be aware, you were overpaid your Emergency Pay.' Kroger was asking for repayment. 'They ask you to acknowledge it, sign for it, and to agree to one of three payback terms: one, two, or three installments that they will take out of your paychecks,' she said. It struck her as strange, so she called her union representative right away. 'They said, 'Don't sign anything.'… What makes this all the more frustrating to Copeland is that it's coming just as Kroger decided to end its 'hero pay' of $2 extra per hour. The extra hazard pay will end May 17, though the pandemic that made those workers into 'heroes' against their will is far from over. 'They are taking it away from those people, which is ridiculous as far as I'm concerned because they're still going to require them to wear masks,' Copeland said. 'If it's dangerous enough that you have to require them to wear masks, why wouldn't you continue that extra pay? It is only $2 an hour, Kroger.'" • Because they can.
"Many Americans Are Getting More Money From Unemployment Than They Were From Their Jobs" [FiveThirtyEight]. • Sound public policy if you want people to stay home; I'm amazed Congress arrived at it.
"To Be Studied, or Pitied?" (reviews) [Chris Arnade, TAP]. "Two new books, one by Anne Case and Angus Deaton, the other by Nicholas Kristof and Sheryl WuDunn, focus on the pain of those stuck on the bad ladder. Each is an example of the two narrow ways well-intentioned elites deal with less-successful people: As a thing to be studied, or a thing to be pitied. It is hard not to come away from reading both books and realize it is better to be studied than pitied… The pitfall of quantitative analysis from afar is that the people impacted individually lose their voice and collectively their agency. They risk becoming data to understand, not people to listen to and learn from, making it harder to understand why they might do things that better-educated readers and researchers wouldn't. Case and Deaton are good enough scholars to understand this potential pitfall, so they fill in the quantitative data with data from interviews…. Kristoff and Wudunn come from another elite institution, the editorial page of The New York Times. In their new book, Tightrope, they approach the problem of "deaths of despair" in classic op-ed page style. They want the reader to know they have empathy and that the reader should too. They also want the reader to feel better about themselves after reading this book, so in grand absolving fashion, they offer up ten actionable ways "to help in the next 10 minutes." It feels like the equivalent of a yellow donation "wristband," to allow you to do your part and then move on, complete with the obligatory endorsement by Bono." • Ouch.
Upward extraction:
Via Deutsche Bank Securities:
"Half of US households have already withdrawn or plan to withdraw money from their retirement accounts due to coronavirus-related circumstances." pic.twitter.com/KEj0MRt4fp

— Stephanie Kelton (@StephanieKelton) May 15, 2020
News of the Wired
"Kraftwerk And Black America: A Musical Dialogue" [The Wire]. "By 1977, Kraftwerk had fully developed their practice of fusing European electronic music with black American rhythms, forging an aesthetic that reached critical mass with the release of Trans Europe Express. The creation and subsequent impact of Afrika Bambaataa And The Soulsonic Force's 1982 watershed release "Planet Rock" has been well documented. For years, Bambaataa had been dropping cuts from electronic acts as various as Gary Numan and Yellow Magic Orchestra in his DJ sets for predominantly black audiences. Of the quirky, forward-thinking electronic acts that he championed, none had a deeper impact on Bambaataa's own work than Kraftwerk." • I missed all of this, but the cross-fertilization seems quite remarkable.
Next, androids:
When this restaurant in the US reopens, it will be kept at 50% capacity for social distancing purposes — and will fill empty seats with mannequins. https://t.co/u5CQhRmmzn

— CNN International (@cnni) May 14, 2020
* * *
Readers, feel free to contact me at lambert [UNDERSCORE] strether [DOT] corrente [AT] yahoo [DOT] com, with (a) links, and even better (b) sources I should curate regularly, (c) how to send me a check if you are allergic to PayPal, and (d) to find out how to send me images of plants. Vegetables are fine! Fungi and coral are deemed to be honorary plants! If you want your handle to appear as a credit, please place it at the start of your mail in parentheses: (thus). Otherwise, I will anonymize by using your initials. See the previous Water Cooler (with plant)
here
. Today's plant (GM):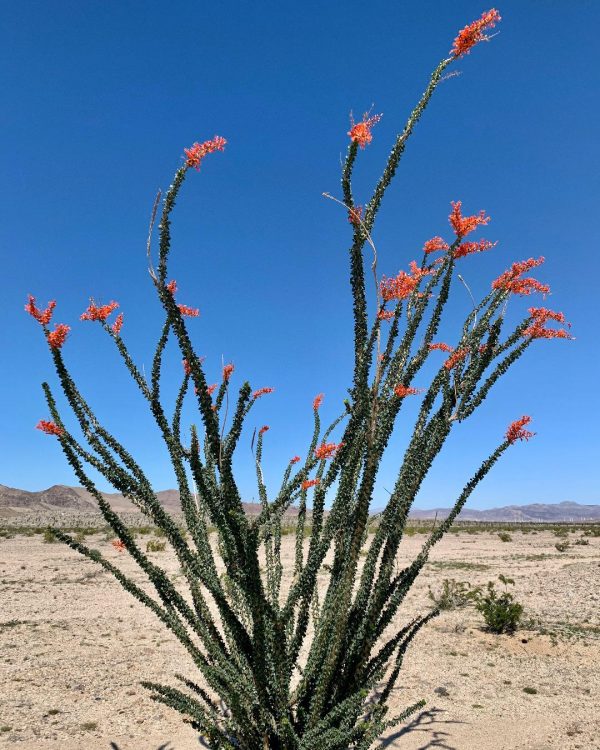 GM writes: "The desert is happy. An ocotillo near Ocotillo, California."
* * *
Readers
: Water Cooler is a standalone entity
not
covered by the annual NC fundraiser. So if you see a link you especially like, or an item you wouldn't see anywhere else, please do not hesitate to express your appreciation in tangible form. Remember, a tip jar is for tipping!
Regular positive feedback both makes me feel good and lets me know I'm on the right track with coverage
. When I get no donations for five or ten days I get worried. More tangibly, a constant trickle of donations helps me with expenses, and I factor in that trickle when setting fundraising goals:
Here is the screen that will appear, which I have helpfully annotated.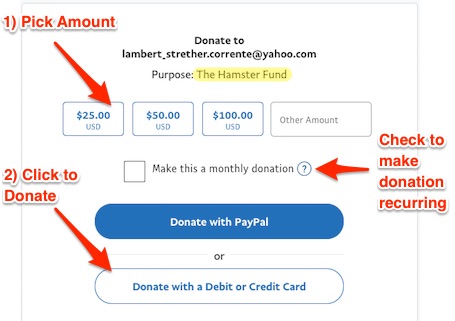 If you hate PayPal, you can email me at lambert [UNDERSCORE] strether [DOT] corrente [AT] yahoo [DOT] com, and I will give you directions on how to send a check. Thank you!