US public pensions, unlike their Canadian counterparts, generally set themselves up for trouble by using unrealistically high return assumptions. The effect was to make pensions look cheaper than they were by understating the value of the liabilities and exaggerating the odds of earning enough to make good on them. Some systems made matters worse, in some cases like New Jersey, much worse, by choosing not to fund the pensions adequately. And then repeated applications of the Greenspan-Bernanke-Yellen put, of negative real interest rates, have punished long-term investors by depriving them of safe-haven assets that generated reasonable levels of interest income.
Not surprisingly, public pension funds took a beating in the coronacrash, to the degree that that even loyal defenders are acknowledging the difficulty of making good on pension promises in the new normal.
First, from the Wall Street Journal:
Public pension plans lost a median 13.2% in the three months ended March 31, according to Wilshire Trust Universe Comparison Service data released Tuesday, slightly more than in the fourth quarter of 2008. March's stock market plummet led to the biggest one-quarter drop in the 40 years the firm has been tracking.

"It was a horrible quarter for all public funds," said Chicago Teachers' Pension Fund Investment Chief Angela Miller-May….

As bad as the first quarter returns were, they likely don't show the full extent of the pension losses because reports on the value of private equity, real estate, infrastructure and other private assets often arrive one quarter late…

Over the past decade, public pensions had ramped up stockholdings and other risky investments in an effort to meet aggressive return targets that average around 7%, according to a survey by the National Association of State Retirement Administrators.

For the 20 years ended March 31, public pension-plan returns have fallen short of that target, however, returning a median 5.2% according to Wilshire TUCS.

Since the last recession 10 years ago, governments around the country have jacked up their yearly pension contributions and slashed benefits for new hires, sometimes shifting the employees to 401(k)-type plans that don't promise more than investments can earn. Some pension benefits promised to workers, such as cost-of-living increases, also have been cut, but courts have generally blocked cuts for people who have already been hired…

Municipal governments could have difficulty making their annual pension contributions if they face significant drop-offs in revenue collections, said Tom Aaron, a senior analyst at Moody's Investors Service. States get much of their revenue from taxes on sales and income, and both are falling sharply amid a deteriorating economy and record unemployment.

"At this point the revenue losses could actually be the more impactful element here," Mr. Aaron said. "We have to wait and see."
Private equity doesn't look like it will reduce the damage. As we've pointed out repeatedly over the years, one of the reasons public pension funds were so keen about private equity was that the funds would lower their valuations less than falls in the stock market, despite the fact that, as levered equity, private equity investments should show greater downside as well as upside. The accounting chicanery, called "smoothing", was widely seen as a feature, not a bug.
The big funds are feeling compelled to show hits in line with stock market declines. From a different Wall Street Journal piece:
The value of Apollo's private-equity holdings depreciated by 21.6% in the quarter, partly driven by oil-price declines. That compares with a 20% drop in the S&P 500 index.
Blackstone reported 1Q private equity losses of 22%. Carlyle curiously reported private equity declines of only 8%.
Public pensions funds, along with endowments and foundations, have taken to making heavy allocations to risky assets, which 80/20 more typical than the widely-touted formula of 60/40. But the core risky investment, stocks, looks set to disappoint.
Yesterday, Bloomberg featured former Soros Fund Management guru Stan Druckenmiller trash talking equities at current prices. That led to a broader piece today, Wall Street Heavyweights Are Sounding Alarm About Stock Prices:
The biggest names in finance are coming around to a view that seemed unlikely a few weeks ago: Stocks are vastly overvalued.

Legendary investors Stan Druckenmiller and David Tepper were the latest to weigh in after a historic market rebound, saying the risk-reward of holding shares is the worst they've encountered in years. Druckenmiller on Tuesday called a V-shaped recovery — the idea the economy will quickly snap back as the coronavirus pandemic eases — a "fantasy." Tepper said Wednesday that next to 1999, equities are overvalued the most he's ever seen.
Amusingly, MMT practitioners will see that a lot of the reasoning rests on faulty premises: that Treasury "borrowing" will crowd out private investment, that inflation is just around the bend, that taxes will rise. But these concerns can still generate the outcome they fear. As much as you'd think the whining about the stock market translates into "I want more bailout," their stated concerns are reasons not to give much more.
So it should not come as a surprise that even those solidly on the side of preserving public pension funds are waving red flags. For instance, the Boston College Center for Retirement Research has put out a new report, Market Decline Worsens the Outlook for Public Plans, which we are embedding below and encourage you to read in full.
The first two charts set forth the sorry story. Average funded status has continued to decline: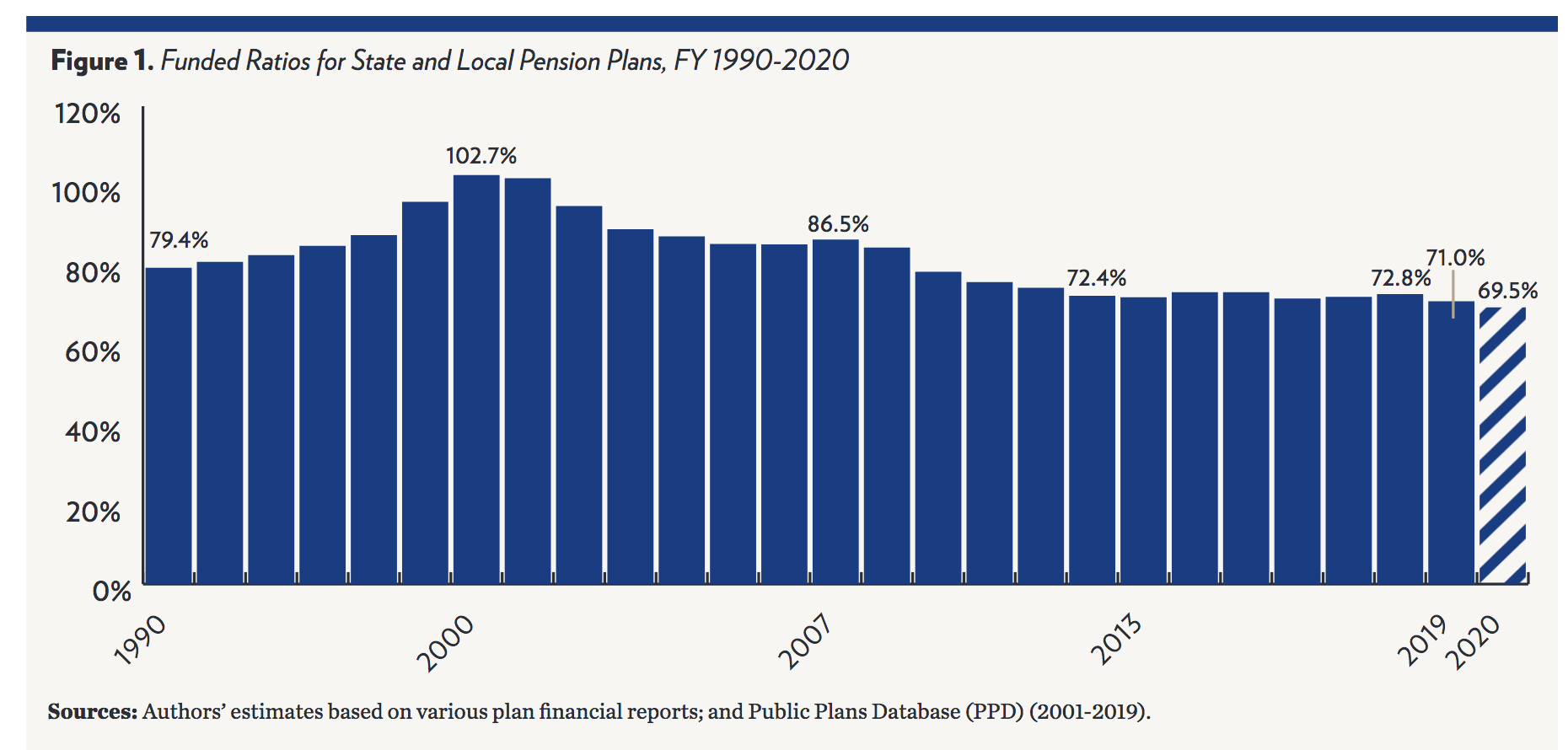 Oh, and for you CalPERS fans, the giant fund recently 'fessed up that its funded status is a mere 60%. And that's after two state mini-bailouts on the order of $3 billion each in the form of pre-funding the underfunding. Whazzat? See below: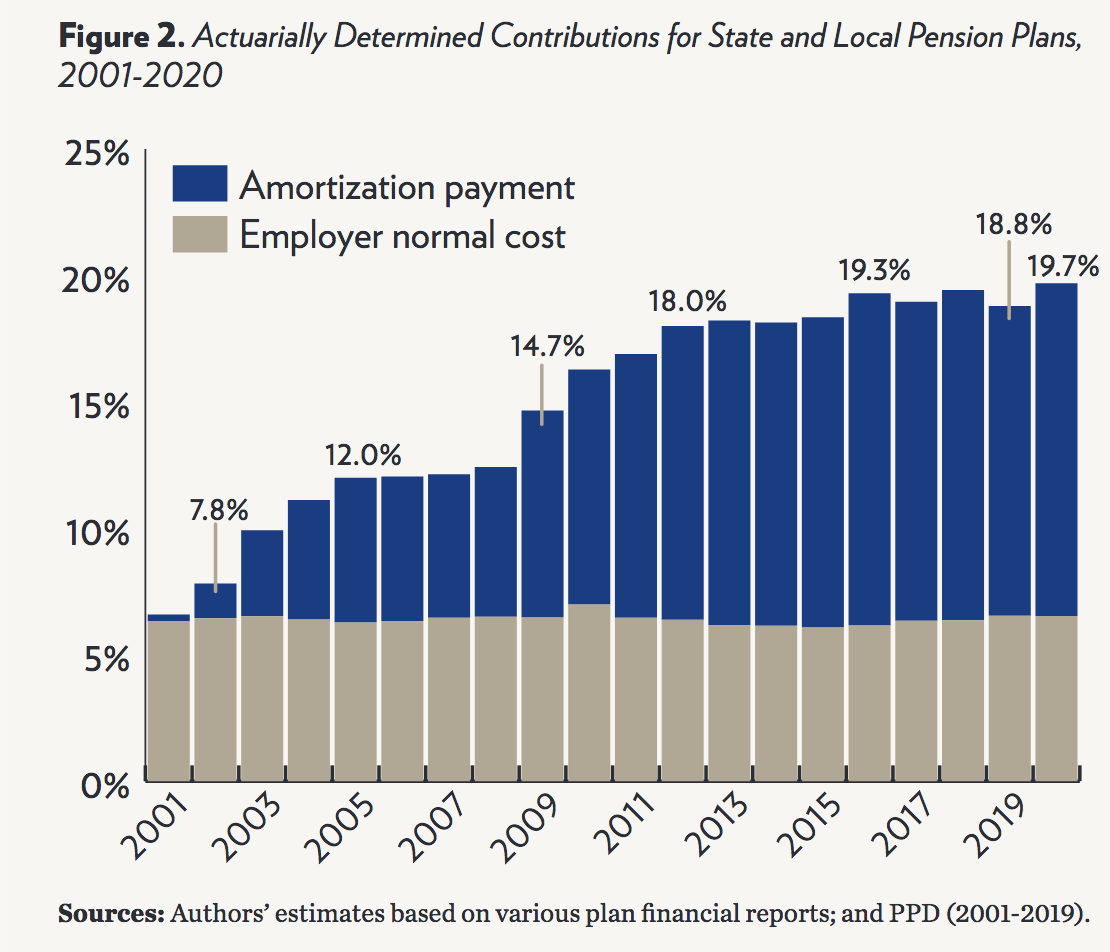 Even with unduly optimistic return assumptions, actuaries are having to make employers pony up not just enough to pay for employee contributions on a current basis, but also to make additional contributions to work off the shortfalls and get the plans back to fully funded or not that far away from it. And as you can see, that amount has risen from a bit over 5% of payroll to nearly 20%.
And here's the killer: what happens if you use more realistic return projections? From the report (emphasis ours):
However, pension researchers (and some practitioners) have questioned the adequacy of actuarially determined contributions as they are commonly calculated – highlighting the use of overly optimistic investment return assumptions and relatively lax methods for amortizing the unfunded liability. If plans were to use investment return assumptions that more closely reflect their actual performance since 2001 and use more stringent approaches to amortize unfunded liabilities, the average actuarial contribution in 2020 would rise from 19.7 percent of payroll to 37.6 percent.
Needless to say, the future does not look pretty. Funded levels are set to fall further: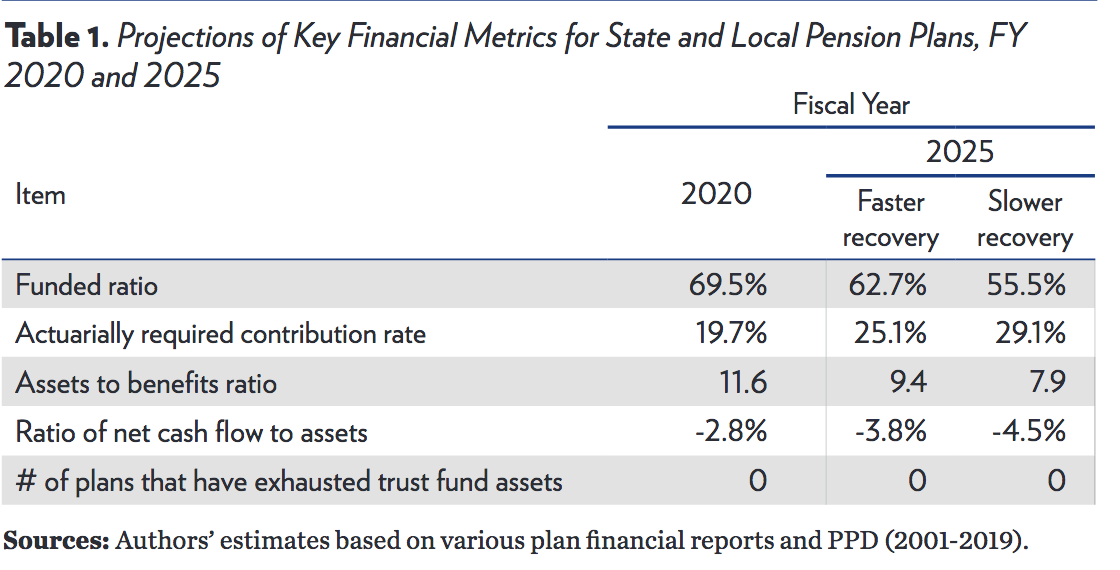 As much as it is easy to criticize these plans (and some have been horribly managed, it is also worth remembering that investing in financial assets isn't a suitable approach for paying for retirement on a large-scale basis. As we've seen, higher levels of financialization impose a drag on the real economy, by diverting resources into unproductive activities like asset management and secondary market trading and rewarding rentierism. What might be tolerable on a relatively small scale becomes destructive on a large one. It would be better to have the federal government fund more services for the elderly directly (thus providing employment and boosting growth levels), including countering discrimination against those over 50 by devising work schemes designed to use older full and part time workers.
But regardless of long-term solutions, expect the fights over funding pensions to become bloody.
00 market-decline-public-plans