By Lambert Strether of Corrente.
#COVID19
At reader request, I've added this daily chart. The data is the John Hopkins CSSE data. Here is the site. A geopolitical view: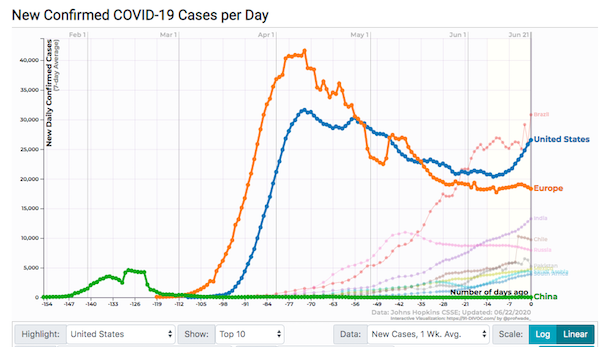 Not under control. At least in the West.
Politics
"But what is government itself, but the greatest of all reflections on human nature?" –James Madison, Federalist 51
"They had one weapon left and both knew it: treachery." –Frank Herbert, Dune
"They had learned nothing, and forgotten nothing." –Charles Maurice de Talleyrand-Périgord
Since we're getting closer to the election, maybe it's time to start looking at the electoral map. June 21: NPR and U.S. News forecasts added. And yet the consensus remains stable!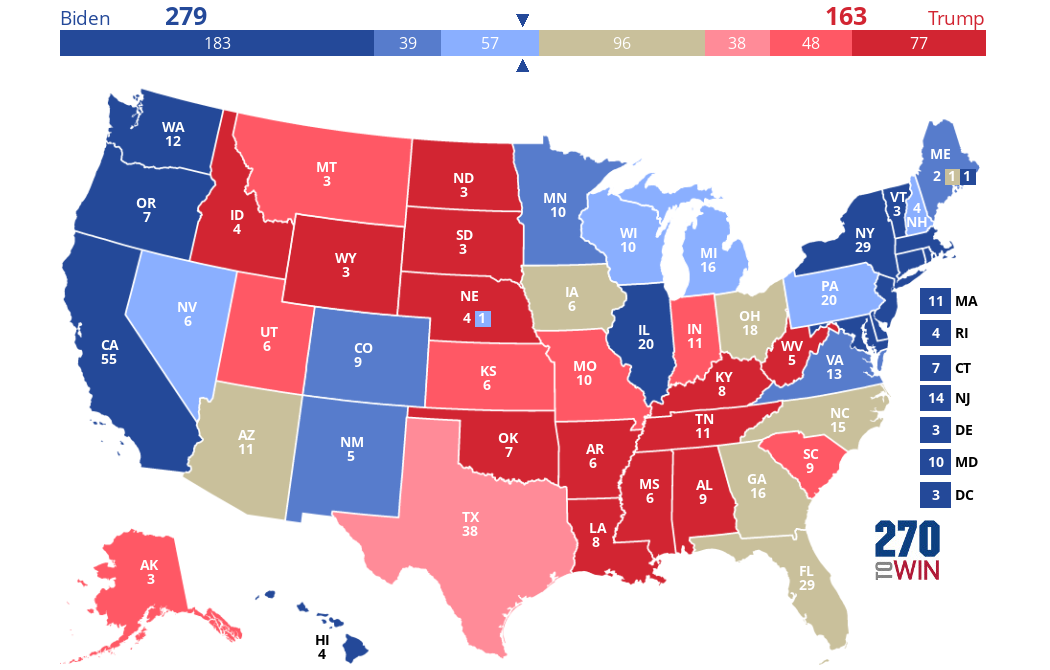 Click the map to create your own at
270toWin.com
So, taking the consensus as a given, 270 (total) – 204 (Trump's) = 66. Trump must win 66 from the states in play: AZ (11), FL (29), MI (16), NC (15), PA (20), and WI (10) plus 1 to win not tie = 102. 102 – 66 = 36. So if Trump wins FL, MI, NC, and PA (29 + 16 + 15 + 20 = 80), he wins. That's a heavy lift. I think I've got the math right this time!
* * *
2020
Biden (D)(1): "What's behind Joe Biden's mystique?" [Thomas Frank, Guardian]. • "I came here to understand the Biden mystique, not to bury it."

Catering to society's well-educated winners is no way to run a party of the left: Biden seems to be one of the few mainstream Democrats to have grasped this. He recalled in [his New York Times] interview being told by a Hillary Clinton operative in 2016 that he "had to make a distinction between progressive values and working-class values".

"I said I've never found a distinction," Biden claimed he replied. "Never found them hard to sell." He told the Times about white working-class enthusiasm for gender wage equality and some other issues, and then he took this shot at the very heart of modern-day liberalism: "We treat them like they're stupid. They know they're in trouble, and nobody's talking to them. Nobody's talking to them. That's what we used to do. That was our base."

It is a point in Biden's favor that he understands this problem. But is he the man to resolve it? Much of Biden's middle-class talk is just an act, his own patented trick for connecting with voters. Yes, Biden looks and sounds like a great guy. I want to like him. But I also know that when the laws were being made, Biden was a different person: the cops' and the bankers' best friend. .

The current protests* suggest Biden's routine may not be enough. On the other hand, given Donald Trump's malevolent incompetence, perhaps it is the right moment for a man who promises fundamental decency and little else. .

To be unfair, Frank got Obama wrong, too (and to be fair, so did many others). As far as "that was our base," sadly Sanders was unable to rebuild enough of it, by bringing in the working class vote that has abandoned electoral politics entirely. Will Biden be able to? I suppose it's possible, but I don't see the Obama Alumni Association or the Resistance Hero Never Trumpers putting solidarity high on their list of values. Is Biden really the man to square that circle? He'd need to have a Sister Souljah moment with the meritocrats. Na ga happen. NOTE * No, they don't. The strikes do.

Biden (D)(2): "Why Joe Biden Won't Be President" [Dr. Munr Kazmir, Medium]. "We can tell no one on Biden's team read Charlamagne's biography because of the way Joe Biden tried all his normal politician's tricks of non-answer answers and little contrived mannerisms during the interview; all of which fell as flat as T-Pain without autotune, Why the lack of curiosity about a wildly popular media figure like Charlamagne Tha God? Why the lack of preparation for what was bound to be a contentious interview full of hard questions?- which the Biden team would have been more prepared for, had they read "Black Privilege". Charlamagne Tha God once told Kanye West that West's newest album "Yeezus was wack to me,"- to his face. And Kanye West isn't the only one. Far from it. Charlamagne Tha God certainly has no love for Donald Trump. But there is no way he was impressed with Joe Biden. And that is what should be making voting Democrats the maddest, and most determined to demand accountability from Joe Biden's campaign staff." • I have no idea who the author is, but this is an interesting argument and well worth a read.

Cuomo (D)(1): "Andrew Cuomo Is Done With His Daily Press Briefings. The Media Still Wants to Celebrate His Tragic Failure" [Ross Barkan]. "Now the daily briefings are done. 'Heartbroken 'Cuomosexuals' Lament Loss of Daily Coronavirus Briefings' read a June 19 Daily News headline." • Oy. More:

Cuomo, de Blasio, and Trump all catastrophically failed to contain the coronavirus. The federal government provided poor guidance and failed to ramp up testing and coordinate with states on any kind of national strategy. De Blasio repeatedly downplayed the threat of COVID-19, telling people to go to their favorite bars and restaurants and take in a movie while the virus was spreading unchecked. On March 16, as he was warning New Yorkers away from gyms, he went to the gym himself, an error of optics that will probably rate a mention in his obituary. He dithered on closing city public schools and canceling parades. His leadership was poor and rightfully judged harshly.

Cuomo's sins are just as great, if not greater. On March 17, de Blasio—chastened enough by his horrid month of decision-making—suggested residents of New York City should prepare shelter in place, akin to the order given in San Francisco. Cuomo rejected the idea altogether because de Blasio had offered it, only to implement it on March 22 under a new name, "PAUSE." This pointless delay, as has been detailed elsewhere, likely cost thousands of lives. Though Cuomo was praised for his quick action, he in fact dragged his feet on closing schools statewide—the governors of Michigan, Ohio, and Pennsylvania, just to name a few, did it first—and implementing shelter in place.

A shelter in place or shutdown order closes most businesses and only allows essential workers to leave their homes for any length of time. COVID-19 is a highly contagious and mysterious virus; the only way to successfully combat it without a vaccine is to social distance. The earlier a locality is shut down, the more likely people are to live. To this day, thanks to the fast actions taken by Gavin Newsom, the governor of California, and London Breed, the mayor of San Francisco, only 47 people have died from COVID-19 in San Francisco. More people, meanwhile, perished from coronavirus in one New York City nursing home. Cuomo's decision in March to order nursing homes to accept COVID-19 patients likely led to more than 6,000 deaths across the state. In May, without admitting error, Cuomo reversed the policy. At the same time, he has granted nursing homes immunity from lawsuits.

Trump, unfortunately for him, has put himself in a position where he can't nail Cuomo — and the Blue City Democrats — by pointing any of this out.

Trump (R)(1): "Trump's 3-Point Plan to Win in 2020" [David Frum, The Atlantic]. "These three developments suggest the three components of the Trump endgame for 2020: 1) Attack the independence and integrity of the legal system; 2) benefit from foreign help and trust that by the time the help is proved, it will be stale news of scant interest to anybody; and 3) benefit from voting obstacles, particularly those that will impede black voting, and super-particularly those that will wedge apart the Democratic coalition on racial lines. (The Trump administration is not directly to blame for the coming mess in Kentucky—states manage elections—but it clearly relishes such situations.)" • Kentucky's vote-by-mail arrangements are the result of bipartisan agreement between Gov. Andy Beshear and Secretary of State Michael Adams. However, voting places seem to be controlled at the county level. Although Louisville will have one voting location, that will be the "Kentucky Exposition Center." On another note, the possibility of "hybrid vigor" between liberal Democrats from the Obama Alumni Association and Never Trumpers from the Bush administration like Frum scares me to death, because — unlike the West Wing — Republicans tend to want to get things done, rather than make speeches. And I don't think I'll enjoy what they get done. ObamaCare was bad enough.

Trump (R)(2): "Trump Fights the Last War" [Andrew McCarthy, National Review]. "It worked. To his detriment, though, the president has never allowed himself to acknowledge how narrow — I think, how miraculous — his victory was. Hence, the babble about "the Electoral College landslide." More to the point, the president now seems not to see how unique were the conditions of the 2016 battleground. Replication of that battle's plan is not a path to 2020 success."

Trump (R)(3): Tulsa (1): "Rather than jump-start reelection campaign, Tulsa rally highlights Trump's vulnerabilities" [Associated Press]. "[T]he president's message was almost an afterthought as aides tried to explain away a smaller-than-expected crowd that left the president outraged." • Sanders had great crowds. Biden has terrible crowds. What I want to know is why Trump's voters didn't show up, which doesn't seem to be part of the narrative (any more than it was for Sanders in his attempt to expand the Democrat base).

Trump (R)(4): Tulsa (2):

White House aides are saying @parscale should have realized 800,000 people with the names Dick Hurtz and Ura Kunt were fake.

— Devin Nunes Mom (@NotDevinsMom) June 21, 2020
Stats Watch
At reader request, I added some business stats back in. Please give Econintersect click-throughs; they're a good, old-school blog that covers more than stats. If anybody knows of other aggregators, please contact me at the email address below.
National Activity Index: "May 2020 CFNAI Super Index Moving Average Index Suggests Economic Growth Modestly Improved" [Econintersect]. "The economy's rate of growth modestly improved based on the Chicago Fed National Activity Index (CFNAI) 3 month moving (3MA) average – and the economy continues below the historical trend rate of growth…. This index is likely the best coincident indicator of the U.S. economy…. The economy has slowed from its rate of growth in 2018 but now has moved slightly above territory associated with recessions."
Home Sales: "May 2020 Headline Existing Home Sales Declined Again For Third Month" [Econintersect]. "The NAR believes the drop in home sales is a temporary condition because of the coronavirus. Although it is possible the housing end of the economy could spring back quickly – the depth of the economic contraction will have significant impacts down the line. We are now in the 'pandemic normal.' Home prices declined again but maybe next month we will see a fuller effect from the coronavirus. We consider this report weaker than last month."
* * *
Real Estate: "A short-term surge in warehouse demand could signal long-term changes in supply chain strategies. Industrial real-estate activity jumped 43% from April 15 to May 14 following a steep decline in the previous 30-day period" [Wall Street Journal]. "Companies are now weighing how much of the online sales surge will continue as local economies reopen and consumers step out of lockdowns. Many are accelerating use of hybrid strategies, with fulfillment from stores expanding. The warehouse figures suggest they're also spreading more inventory around the U.S. to ensure rapid delivery to consumers. CBRE notes there in the coming months before refashioning their supply chains for the long haul."
Retail: "Not all retailers are rushing adapt to post-pandemic sales strategies to online shopping. Discount apparel chain T.J. Maxx is standing by its austere approach that has kept e-commerce sales to a miniscule level… while betting that consumers are desperate to roam the aisles after months in lockdowns" [Wall Street Journal]. "The chain stopped taking online orders during the lockdowns and even now is limiting the number of items for sale on its website."
Shipping: "Strong volumes spilling over into capacity" [Freight Waves]. "Freight volumes remained strong this week and remain well above both 2018 and 2019 levels. Capacity has taken a long time to react to these elevated volume levels. Tender rejections are finally reaching levels that may suggest upward pressure on rates….. The Rust Belt continues to outperform relative to other regions of the country. The Commerce Department released industrial production data for May this week. Most industries posted small rebounds, but automotive vehicles and parts posted the largest gain. It seems volumes have stabilized at this high level for the meantime. Factories are open, consumers are beginning to travel again and consumer spending data rebounded in a big way in May. The worst of the recessionary environment is behind us, but ." • Seems insanelly optimistic to me, but trucks on the road outweigh my feelings! Let's see if this persists, or goes sideways (or pear-shaped).
Pandemic: "Fear of Infection Hurt the Economy More Than Lockdowns" [Bloomberg]. "There's good reason, though, to believe that most of the economic damage from the lockdowns weren't due to stay-at-home orders, but because of public fear of the virus. For example, people started avoiding restaurants before lockdowns began in late March….. [N]ew lockdowns need not be as restrictive as the ones in March to protect the public. Instead of mandating that everyone stay at home, they could simply ban large indoor social gatherings and indoor restaurant and bar seating, while requiring that companies continue work-from-home policies. Everything else — indoor retail, outdoor gatherings, small indoor social interactions — could be allowed, with the additional requirement that masks be worn in stores or at outdoor events…. This sort of lockdown-lite might achieve the best of both worlds for states and cities experiencing coronavirus spikes. But it also needs to be paired with vigorous testing, contact tracing and isolation of infected people. Most states still either haven't hired enough contact tracers to track new infections, or aren't doing enough testing — or both."
* * *
Today's Fear & Greed Index: 52 Neutral (previous close: 53 Neutral;) [CNN]. One week ago: 53 (Neutral). (0 is Extreme Fear; 100 is Extreme Greed). Last updated Jun 22 at 11:57am.
Rapture Index: Closes unchanged [Rapture Ready]. Record High, October 10, 2016: 189. Current: 184. Remember that bringing on the rapture is a good thing. I feel apocalyptic. Why don't these guys?
The Biosphere
"A controversial Russian theory claims forests don't just make rain—they make wind" [Science]. "For more than a decade, Makarieva has championed a theory, developed with Victor Gorshkov, her mentor and colleague at the Petersburg Nuclear Physics Institute (PNPI), on how Russia's boreal forests, the largest expanse of trees on Earth, regulate the climate of northern Asia. It is simple physics with far-reaching consequences, describing how water vapor exhaled by trees drives winds: winds that cross the continent, taking moist air from Europe, through Siberia, and on into Mongolia and China; winds that deliver rains that keep the giant rivers of eastern Siberia flowing; winds that water China's northern plain, the breadbasket of the most populous nation on Earth. With their ability to soak up carbon dioxide and breathe out oxygen, the world's great forests are often referred to as the planet's lungs. But Makarieva and Gorshkov, who died last year, say they are its beating heart, too. "Forests are complex self-sustaining rainmaking systems, and the major driver of atmospheric circulation on Earth," Makarieva says. They recycle vast amounts of moisture into the air and, in the process, also whip up winds that pump that water around the world. The first part of that idea—forests as rainmakers—originated with other scientists and is increasingly appreciated by water resource managers in a world of rampant deforestation. But the second part, a theory Makarieva calls the biotic pump, is far more controversial."
"Planet of the Humans backlash" [Yves Engler]. "It is a statement of fact that environmental groups have deep ties to the corporate set. Almost all the major environmental groups receive significant cash from the mega-rich or their foundations. Many of them partner directly with large corporations. Additionally, their outreach strategies often rely on corporate media and other business mediated spheres. It beggar's belief that these dependencies don't shape their policy positions. A number of the film's points on 'renewable' energy are also entirely uncontroversial. It's insane to label ripping down forests for energy as "green". Or turning cropland into fuel for private automobiles. The film's depiction of the minerals/resource/space required for solar and wind power deserves a far better response than 'the data is out of date'. The green establishment's hyperventilating over the film suggests an unhealthy fixation/link to specific 'renewable' industries.
"Five Foods You Can Substitute For Garden Fertilizer" [Modern Farmer]. "Plants thrive on a number of micronutrients, but the three common ingredients found in store bought fertilizer include nitrogen, phosphorus and potassium—otherwise known as NPK. And all of these essential nutrients can likely be found right in your home. If you don't want to leave your house to purchase plant food, chances are you don't have to. We've put together a list of five foods likely in your kitchen that you can use instead of making a trip to your garden store for fertilizer. " • Coffee grounds, egg shells, milk, fish, banana peels. I've had good luck with the first two, never tried the last three! Basic idea: Let nothing organic leave the property.
MMT
"Modern Monetary Theory: Neither modern, nor monetary, nor (mainly) theoretical?" [Crooked Timber (AA)]. "The relationship between academic and popular MMT is complex. On the one hand, economists who espouse MMT understand that the 'free money' view is incorrect. On the other hand, they favour a more expansionary fiscal policy, which implies at least some increase in expenditure relative to taxation. Moreover, like most people who find themselves leading a popular movement, they find it more appealing to criticise the errors of their opponents than those of their supporters. The result in many cases is a 'motte and bailey' rhetorical strategy in which MMT advocates make strong statements which sound as if they match the popular view, but retreat to a less interesting but more defensible position (the 'motte' in the medieval castle that gives rise to the analogy) when challenged. With all these complexities in mind, the publication of Macroeconomics by Mitchell, Wray and Watts is a welcome development."
Screening Room
"The Immense Political Insight of The Land Before Time III: The Time of the Great Giving" [Benjamin Studebaker]. "The Land Before Time understood something we do not. [Dinosaur] Daddy Topps says angry, racist things because he is afraid. He is afraid because he is a single dad, raising his daughter alone in a dangerous world where everything good is precarious. The series unflinchingly opposes Daddy Topps' racism while showing him immense compassion. The dinosaurs all recognise that the way to deal with Daddy Topps' racism is to deal with the things that are terrifying him. If he's doing racist stuff, it's because he's worried that his daughter won't have enough water, the solution is to get him water. Yelling at him won't make anything better. Indeed, part of the reason Daddy Topps does racist stuff is that yelling and fighting are all he knows. As he says in his song, his father said 'stand and fight, don't run away.'"
Class Warfare
"The Secret Reason Billionaires Love a Pandemic" [Lee Camp, Consortium News]. "Billionaires in the U.S. have seen their fortunes skyrocket, increasing by 12.5 percent since the pandemic began. The Institute for Policy Studies released a study "showing that, in the eight weeks between March 18 and May 14, the country's super wealthy have added a further $368.8 billion to their already enormous fortunes.' That's a jaw-dropping-fall-over-and-have-a-seizure level of wealth, yet nothing new. … In a study covered in the Proceedings of The National Academy of Sciences, researchers found that higher social class predicted an increase in unethical behavior. They showed that the rich are more likely to make unethical decisions, steal from others, break the law while driving, and cheat in contests. And yet the rich are the ones who control our government and our economy. Not only should they be kept out of leadership positions, they shouldn't even be out on the streets. We have to keep our kids safe, don't we? The exorbitantly rich should be put in facilities where they can be monitored and receive the treatment they require."
"When Rich New Yorkers Fled, These Workers Kept the City Running" [New York Times]. "The sidewalks of Mount Hope fill up early with essential workers. The health care and construction workers come out first, followed by the delivery drivers, grocery store clerks, security guards, building porters and countless others. They make their home in this hilltop neighborhood of 53,000 in the Bronx that has been an anchor against the coronavirus. From there, they disperse to all corners of the borough, the city and beyond to provide the services that other people count on in a global health crisis." • Why don't we do something nice for them? Like double their wages?
Woke insurance:
Plywood storefronts in SoHo bear the names of black men and women who were killed by police officers, flyers calling for investigations, quotes from James Baldwin and Malcolm X, and a poem by Langston Hughes. https://t.co/2cwzHR836b

— The New Yorker (@NewYorker) June 22, 2020
SoHo would "return to its pre-gentrication past" if the real estate deals that gentrified it were unwound. Do better, New Yorker.
"United Airlines Catering Workers See Hours Cut Despite Low Pay" [Forbes]. "The International Association of Machinists blocked United Airlines from reducing weekly hours for thousands of workers, but nothing has kept the airline from doing the same for its lowest paid workers, employed in its catering kitchens. Those 2,500 workers are members of Unite Here and work in kitchens in Newark, Houston, Denver, Honolulu and Cleveland. Their starting salaries range from $10.39 an hour in Houston to $15.60 an hour in Newark…. Unlike the IAM, the largest union at United, Unite Here does not yet have a contract with United. Catering workers joined the union in 2018, but so far contract negotiations have stalled. IAM represents about 28,000 United employees including fleet service workers and passenger service agents."
News of the Wired
"We're not talking to you, we're talking to Saturn" [London Review of Books]. "Like AI research, Meti has the potential to expose us to a vastly superior intelligence that could either solve all our problems or obliterate us entirely. Historically, encounters between technologically better and worse-off societies haven't worked out well for the worse-off. In the middle of a crisis calling for help is seductive, but there's no guarantee that the aliens that get the message will be ]friendly]."
"What are Optotypes? About the history of eye charts and their fonts" [I Love Typography]. "The next significant development in visual acuity chart design was the Snellen Eye Chart, which is recognizable to most Americans from visits to the DMV. The Snellen Eye Chart was designed by Dutch ophthalmologist Herman Snellen in 1862…. At first glance, it may appear that the Snellen optotypes are Lubalin Graph or Rockwell. But upon detailed examination, it is evident that these characters are rather atypical. Unlike typical typefaces in which letter proportions are determined by 'family' groupings (such as n, r, m, h and u), Snellen optotypes are designed on a 5 x 5 grid. Furthermore, they comprise a very limited character-set of just 9-10 letters. Optotypes are designed using a simple geometry in which the weight of the lines is equal to the negative space between lines…. As a result of continual refinements, most of today's Snellen Charts follow logarithmic progression, have improved letter designs, and a uniform 25% progression from line to line." • I have extremely positive assocations with the Snellen Eye Chart, since optometry allowed me to see the chalkboard in school, which nobody realized I couldn't do until the Third Grade.
"How the genetic code was cracked, with paper and pencil and no computers" [WaPo]. "Scientists had to figure out how a double helix of just four building blocks could be translated into proteins, the molecules that are the basis of living tissues — and they had to do so without the help of computer spreadsheets. A painstakingly handwritten chart preserved by the U.S. National Library of Medicine shows how complicated the feat was…. As they went along, their working chart — made of multiple pieces of taped-together paper — gained a vast collection of letter combinations, stars and circles. Nirenberg shared the 1968 Nobel Prize in physiology or medicine for his work on the code, a discovery that is known as one of the most significant in the history of science." • Here's the chart!
"Using Fibonacci Numbers to Convert from Miles to Kilometers and Vice Versa" [Catonmat]. "I recently learned an interesting fact about Fibonacci numbers while watching a random number theory video on YouTube. Fibonacci numbers can be used to approximately convert from miles to kilometers and back. Here is how. Take two consecutive Fibonacci numbers, for example 5 and 8. And you're done converting. No kidding – there are 8 kilometers in 5 miles. To convert back just read the result from the other end – there are 5 miles in 8 km!" • Handy, although I suppose I'd have to tatoo the Fibonacci sequence on some body part to have it ready for calculation at all times. (Read to the end for the explanation.)
* * *
Readers, feel free to contact me at lambert [UNDERSCORE] strether [DOT] corrente [AT] yahoo [DOT] com, with (a) links, and even better (b) sources I should curate regularly, (c) how to send me a check if you are allergic to PayPal, and (d) to find out how to send me images of plants. Vegetables are fine! Fungi and coral are deemed to be honorary plants! If you want your handle to appear as a credit, please place it at the start of your mail in parentheses: (thus). Otherwise, I will anonymize by using your initials. See the previous Water Cooler (with plant) here. Today's plant (CP):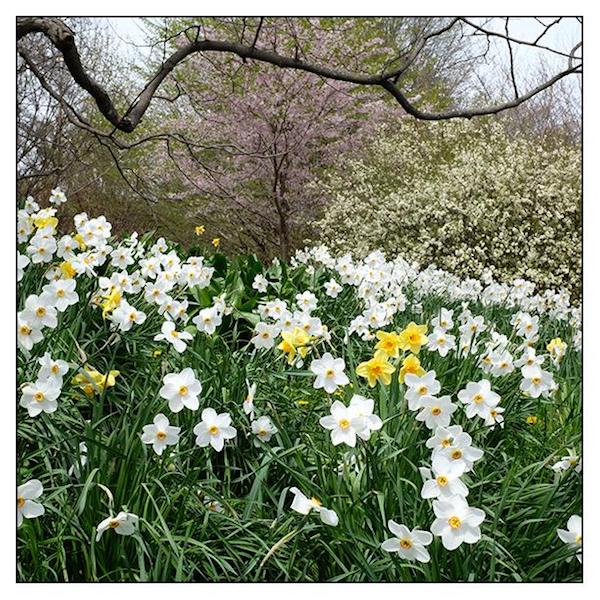 CP writes: "From Highland Park, site of the annual Lilac Festival in Rochester, NY. A small but lovely Olmsted park, the third week of May brings flowering trees, the fragrances of which are usually smothered by sizzling sausage and sticky funnel cake stands. Not This Year! We neighbors will be at peace and visitors will smell the lilacs." I like the square format.
* * *
Readers: Water Cooler is a standalone entity not covered by the annual NC fundraiser. So if you see a link you especially like, or an item you wouldn't see anywhere else, please do not hesitate to express your appreciation in tangible form. Remember, a tip jar is for tipping! Regular positive feedback both makes me feel good and lets me know I'm on the right track with coverage. When I get no donations for five or ten days I get worried. More tangibly, a constant trickle of donations helps me with expenses, and I factor in that trickle when setting fundraising goals:
Here is the screen that will appear, which I have helpfully annotated.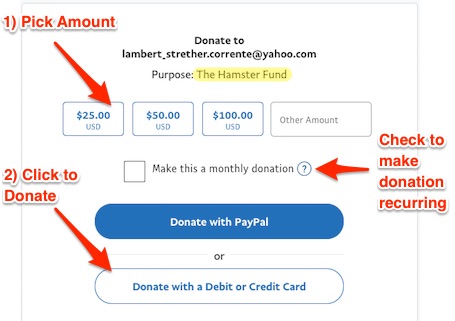 If you hate PayPal, you can email me at lambert [UNDERSCORE] strether [DOT] corrente [AT] yahoo [DOT] com, and I will give you directions on how to send a check. Thank you!