By Lambert Strether of Corrente.
#COVID19
At reader request, I've added this daily chart. The data is the John Hopkins CSSE data. Here is the site. Here are states in the West: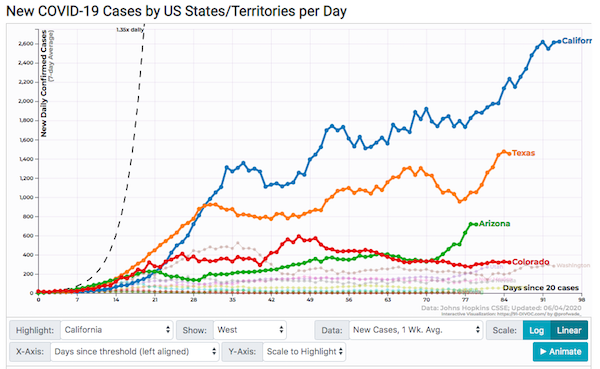 Linear. Good for Washington for bringing down the peak, but I, as yesterday, I don't see how anybody could look at this and say we've beaten the virus.
Politics
"But what is government itself, but the greatest of all reflections on human nature?" –James Madison, Federalist 51
"They had one weapon left and both knew it: treachery." –Frank Herbert, Dune
"They had learned nothing, and forgotten nothing." –Charles Maurice de Talleyrand-Périgord
Since we're getting closer to the election, maybe it's time to start looking at the electoral map, unchanged from yesterday: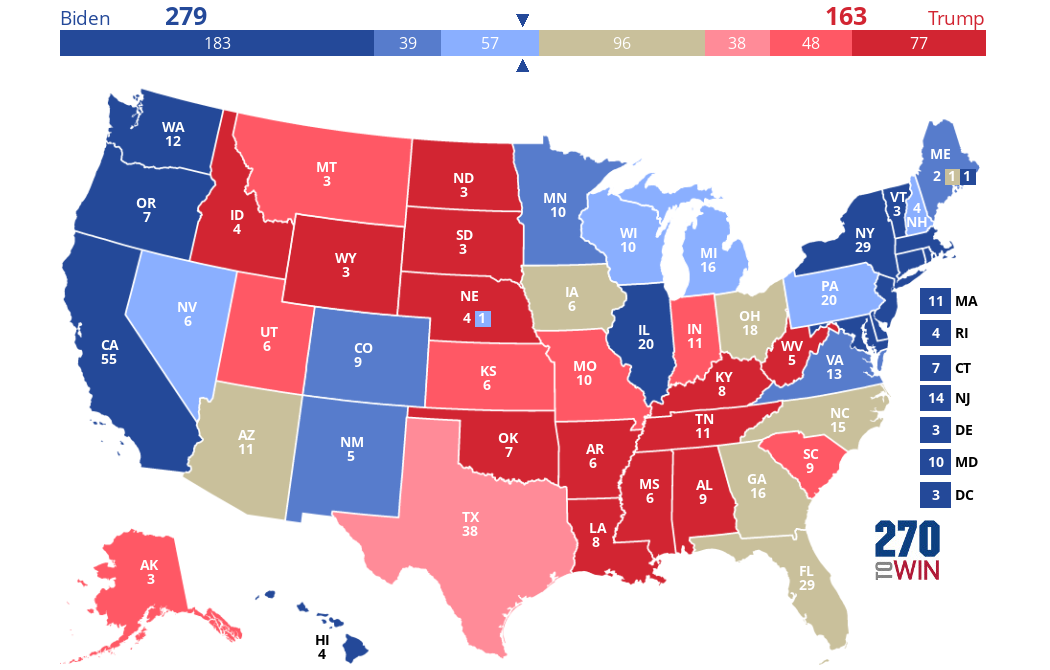 Click the map to create your own at
270toWin.com
So, taking the consensus as a given, 270 (total) – 204 (Trump's) = 66. Trump must win 66 from the states in play: AZ (11), FL (29), MI (16), NC (15), PA (20), and WI (10) plus 1 to win not tie = 102. 102 – 66 = 36. So if Trump wins FL, MI, NC, and PA (29 + 16 + 15 + 20 = 80), he wins. That's a heavy lift. I think I've got the math right this time!
* * *
2020
Biden (D)(1): "Biden's Polling Lead Over Trump Is Getting Seriously Large" [New York Magazine]. "When I did a six-months-out analysis in early May, Biden's lead in the RealClearPolitics polling averages was 5.3 percent. As of this morning, it was up to 8.0 percent, higher than at any point since last December. And his own polling number is 49.9 percent, on the brink of a popular vote majority. If survey quality matters to you, new polls from two A-plus pollsters (per FiveThirtyEight) put Biden's lead at 52/41 (Monmouth) and 53/43 (ABC–WaPo). By comparison with other recent Democratic presidential candidates, Biden is doing pretty well at this point in the cycle. … Donald Trump is not in good shape for an incumbent whose country is experiencing a deadly pandemic, an economic collapse, and chaos in the streets. And Joe Biden's not doing badly for a man whose candidacy looked completely dead after a fifth place finish in New Hampshire less than four months ago." • But as we surely must have learned by now, only the Electoral College matters.

Biden (D)(2): "The Veepstakes: Handicapping Biden's Choices" [Sabato's Crystal Ball]. "Back in the real world, Biden is apparently going to wait at least a couple of more months before naming his running mate. As impatient as we all are to know his running mate, waiting makes some sense. For one thing, it gives the campaign the maximum amount of time to vet the candidates; for another, it allows more of the sand in 2020's hourglass to pass, thus making it less likely that events conspire to spoil the eventual choice." • Imagine if Biden had already picked Klobuchar! More: "As it stands, Biden said recently that he will make his choice around Aug. 1. If the choice comes on that specific date, Biden's VP choice would come 16 days before the Democratic National Convention is scheduled to open in Milwaukee (the DNC was originally scheduled to start a month earlier). A Biden selection on or by Aug. 1 would actually be relatively early by historical standards." Top three Sabato's picks: =Kamala Harris, Val Demings, Tammy Duckworth. Hard to imagine any of them as President if and when Biden conks out in his first term; or as his successor. But [x] black [x] woman, [x] black [x] woman, [x] woman respectively. Abrams is #10.

Trump (R)(1): "Americans Have Stopped Thinking the Economy Is Getting Worse" [Bloomberg]. "New survey data that Democracy Fund/UCLA Nationscape shared with Bloomberg Businessweek offers a rather surprising clue to how it is that Trump has maintained such resilience. Americans' opinions about the state of the economy, which collapsed with the onset of the pandemic in March, stopped falling about a month ago and have now stabilized—a pattern that is evident across all political persuasions. …. Americans' economic outlook continued to worsen until about mid-April. But then it stopped falling, even as job losses, furloughs, and bankruptcies continued to mount… For now, sentiment about the economy appears to have stabilized among all groups. That's keeping Trump's numbers from falling further. If you squint at the most recent chart, you can begin to detect signs of the reemergence of the intense political polarization in attitudes toward the economy that prevailed before the virus struck: Republican sentiment appears to be inching up, while Democratic and independent sentiment looks to be drifting down. Barring a second wave of infections, I'd expect to see that disparity widen, as the two presidential campaigns push differing accounts of how the economy is faring."

Trump (R)(2): "Another key turns against trump." [Daily Kos]. Key #8, "Social unrest: There is no sustained social unrest during the term," has now turned against Trump. Or so it would seem: Allan Lichtman, of the famous 13 Keys for Winning the White House, has not yet rendered a judgment. Perhaps there's wiggle room in "sustained"?

Trump (R)(3): "Voters Unlikely to Want to Stay the Course" [Charles Cook, Cook Political Report]. "After almost an hour of watching local Washington television stations broadcasting the mayhem on D.C. streets, my wife went to bed, deeply disturbed by the sight of what was going on in the city and region that has been her home for the past 40 years. For some reason, I stayed up until almost 1 a.m., watching in horror…. One has to wonder what and how things have gone so terribly wrong to create the need for what happened during the day and the rage and lawlessness that occurred after the sun went down. I wondered what those who marched for justice that day must have thought about the literal and figurative darkness that came after them… We still have just over five months until the election, which is plenty of time for things to change. But right now, this election is not headed in a direction that any Republican can like. Moreover, events of the past two months are hardly ones that would make voters want to 'stay the course' or chant 'four more years.'"

Trump (R)(4): "White evangelicals among groups with slipping confidence in Trump's handling of COVID-19" [Pew Research Center]. "Three-quarters of white evangelical Protestants say Trump is doing an excellent (43%) or good job (32%) responding to the outbreak, according to the survey, conducted April 29 to May 5 among 10,957 U.S. adults. No other religious group comes close to evaluating the president so positively. Even so, the share of white evangelicals who give Trump positive marks for his handling of the crisis is 6 percentage points lower today than when the question was last asked in a survey conducted March 19 to 24."

* * *

"Biden, Trump Campaigns Targeted By Foreign Hackers: Google" [Agence France Presse]. "Campaign staffs for both President Donald Trump and Democratic rival Joe Biden have been targeted recently by foreign hackers, Google researchers said Thursday, highlighting persistent data security concerns ahead of the November US election. A tweet from Google's threat analysis chief Shane Huntley said the internet giant warned the Biden campaign about 'phishing' efforts from China and the Trump campaign from Iran. 'No sign of compromise. We sent users our govt attack warning and we referred to fed law enforcement,' Huntley wrote." •
Obama Legacy
"The Real Story of Black Martha's Vineyard" [Narratively]. "Oak Bluffs became a tourist destination out of necessity. Named for its scenic perch in an oak grove overlooking the Nantucket Sound, in the Atlantic Ocean, it was a haven for African-Americans during the mid-20th century when Jim Crow laws and segregation meant that black vacationers were often turned away from mainstream beaches and hotels. Oak Bluffs was the only town of the now six on Martha's Vineyard where African-Americans were permitted to find lodging. Initially, freed slaves sought shelter there after slavery was abolished in the mid-19th century. Many worked in the fishing and whaling industry. Then, in the 1930s and '40s, as African-Americans in urban centers like New York, Washington, D.C. and Boston began to take up jobs in professional industries and establish themselves as part of the middle and upper-middle class, they flocked to the East Coast shoreline in the summer to take in the beach and the bonfires….. African-American identity is ingrained in the community, with luminaries such as Maya Angelou, Martin Luther King Jr. and Harry Belafonte having vacationed there. One of Oak Bluffs' most popular hangouts, Inkwell Beach, pays homage to this history, its name a reference to beachgoers' black skin, which was said to glisten like ink in the hot sun. The name is also a nod to the town's rich literary history." • This is why I keep making jokes about Obama buying his house in "Oak Bluffs Martha's Vineyard." A cheap shot, I know!
Realignment and Legitimacy
"The Un-Election Year" [The Baffler]. "This choice between two dim visions of a national future, one medieval and the other merely maudlin, is a choice that Americans have been presented with before. Indeed the prevailing political consensus of the past half-century is based on the assumption that a large portion of the country's citizens—young people, poor people, and people of color—will recognize that choice for what it is and will reject it as such. This electoral consensus has become so entrenched that it is almost impossible to challenge it on its own terms: the promised turnout revolution of Bernie Sanders's campaign was defeated earlier this year by an actual turnout surge among suburban and older voters, the factions of the electorate best served by the two-party system and by the socioeconomic status quo. It was these voters who dragged Joe Biden over the finish line to the Democratic nomination, and it is these voters who seem poised to get him into the Oval Office this fall. The winner in November will be whichever candidate can win over more of the gerontocratic sub-electorate that our present system was built to serve, whichever septuagenarian man most devotedly woos the well-heeled suburbs of Pennsylvania and the retirement communities along the Florida coast." • "Vote!"

Democrats (1):

I see a lot of people being like "where are the Democrats right now???" The answer is that they're in power all over the country sending their police out to attack protesters

— Jack Mirkinson (@jackmirkinson) June 3, 2020

"Optimistic, diverse, dynamic, moving forward…."

Democrats (2):

A bipartisan group of 60 House members is calling for modest provisions in the next coronavius relief package to tackle the mounting federal debt and evaporating trust funds for programs like Medicare and Social Security: https://t.co/aTcjc0NWgO

— Caitlin Emma (@caitlinzemma) June 1, 2020

"The death of globalisation has been announced many times. But this is a perfect storm" [Adam Tooze, Guardian]. "deal-making apart, the broader vision of the flat world of globalisation is dead. The institution that most clearly embodied that "end of history" vision, the WTO, was launched in January 1995. Today, the WTO is in tatters. Its dispute-processing procedures have been paralysed by deliberate American obstruction and its head, Brazilian Roberto Azevêdo, has announced that he is resigning a year ahead of time, which leaves the WTO leaderless in the face of the greatest shock to world trade since 1945." • We might remember that one of Trump's first acts was to drive a stake into the heart of TPP. One might wonder what the Obama Alumni Association we seem poised to re-elect thinks about that.

* * *

"Maryland Lt. Gov. Rutherford calls on state board of elections administrator to resign after mail-in primary problems" [Baltimore Sun]. "The rebuke follows the disappearance of as many as 75,000 counted ballots from the state's website early Wednesday morning. Those votes, sent in by mail and collected from drop boxes through the weekend, appeared on the site at about 11:30 p.m. Tuesday. At about 2 a.m., the city's early returns were not available on the state site and instead were marked as "NR" for not reported. Revised numbers appeared on the state website just around 11 a.m. Wednesday, including only some of the 75,000 votes reported the day before. Other issues surfaced in the run-up to Maryland's April 28 special congressional election in District 7 and prior to the regular June 2 primary. Special election ballots contained inaccurate postage instructions; Ballots for the June primary were delivered weeks later than expected to voters in Baltimore and Montgomery County; Some households received multiple ballots; Long lines at the state's limited in-person polling places held up vote return data until the late hours of Tuesday evening and sparked renewed concerns about social distancing during the COVID-19 pandemic." • As I keep saying, I'm not sanguine about election 2020's perceived legitimacy at all.

"Beverly Hills files lawsuit seeking changes in L.A. County touch-screen ballot design" [Los Angeles Times]. "Under the new system, dubbed Voting Solutions for All People, or VSAP, only four candidates appear on the touch screen at a time. To view additional candidates, voters must select the "MORE" button. However, if voters inadvertently press the "NEXT" button instead, Beverly Hills officials warn, they won't see all the candidates in a particular race.The lawsuit, filed Wednesday in Superior Court, seeks to force Los Angeles County to modify the system to ensure that all candidates are acknowledged by voters. If the suit is successful, the county would be barred from using VSAP for the upcoming primary election — a move that could affect more than 4 million registered voters." • In other words, the VSAP works just like Google Search: The top hit on the first page is the best position to be in, and everything after page one is irrelevant except to the most dedicated searcher. Now, VSAP rotates the screens, so the candidate at the top of the screen for one voter is not the same for all voters, but what that means is that all voters aren't using the same ballot. The whole system is insane and should be abolished (but will not be, since it permits election theft).
Stats Watch
At reader request, I added some business stats back in. Please give Econintersect click-throughs; they're a good, old-school blog that covers more than stats. If anybody knows of other aggregators, please contact me at the email address below.
Employment Situation: "May 2020 BLS Jobs Situation – Employment Grew 2,509,000 But Still Down 17,665,000 Year-over-Year" [Econintersect]. "The headline seasonally adjusted BLS job growth showed the best ever job gain ever with the unemployment rate improving from 14.7% to 13.3 %. Employment's recovery has begun from the coronavirus…. The rate of recovery will be dependant on the coronavirus effects." Here is a useful thread on the jobs numbers:
Jobs report thread, I think I have some answers in here:

— Adam Ozimek (@ModeledBehavior) June 5, 2020
Employment Situation: "Why the Shockingly Good Jobs Report Might Be Bad News" [Eric Levitz, New York Magazine]. "For one thing, in the BLS's own view, its unemployment number comes with a massive asterisk. The bureau's jobs survey was not written to deliver clear results in a context where many millions of workers have been sidelined by lockdowns. And this fact has produced a systematic misclassification of workers. The BLS survey offers respondents the option of saying that they are "employed but absent from work" due to "other reasons." Millions of furloughed workers — who, finding themselves involuntarily out of a paying job, are supposed to be classified as unemployed — appear to have mistakenly assigned themselves to the "employed but absent" bucket. As a result, the bureau believes the overall rate is actually closer to 16.3 percent. This error was present in both the May and April surveys. So, even when properly interpreted, the May report suggests the labor market is moving in the right direction. But the hole we're digging out of is significantly deeper than official statistics suggest, according to the official statisticians themselves. … The second major caveat is that job growth was wholly attributable to temporarily sidelined workers returning to their old jobs….. Now that the president is holding celebratory press conferences about the economy's strength, however, it is possible that the administration's supply-siders will gain the upper hand, and opposition to further relief measures will harden. If that happens, today's cause for hope could become tomorrow's source of despair."
Rail: "Rail Week Ending 30 May 2020 – Rail May Totals Down 20.2% Year-over-Year" [Econintersect]. "Intermodal and carloads are under Great Recession values. Container exports from China are now recovering, container exports from the U.S. is marginally improving but remain deep in contraction. The AAR thinks they see some signs of improvement – but I need to see a clear sign above the normal volatility of rail."
* * *
Tech: "Google Shakes Up Top Search, Advertising Leadership" [Bloomberg]. "Alphabet Inc.'s Google is shaking up its leadership, putting control over the company's search engine and advertising product teams under the same person and moving leaders who have been around since the company's founding to less visible teams. Prabhakar Raghavan, who led advertising product since 2018, will replace Ben Gomes as head of search. The new advertising product chief, Jerry Dischler, will report to Raghavan, signaling that the two groups will now be run by one central leader." • Yes, that's what the country needs: Search more integrated with advertising.
The Bezzle: "Bitcoin Mining's Three Body Problem" [Anicca Research]. One true fact: "Over the years, the Bitcoin mining industry inadvertently benefited from a massive over-investment in hydropower in southwest China. Excess cheap electricity, massive power capacity, cheap labor cost, and physical proximity to manufacturers make it an ideal location for mining. It is estimated that over 65% of the world's hashpower is concentrated in these provinces." • Bitcoin mavens please comment.
The Bezzle: "China's Digital Currency Could Challenge Bitcoin and Even the Dollar" [Bloomberg]. "[T]he Chinese government has begun a pilot program for an official digital version of its currency—with the likelihood of a bigger test at the Beijing Winter Olympics in 2022. Some observers think the virtual yuan could bolster the government's power over the country's financial system and one day maybe even shift the global balance of economic influence… The rise of independent cryptocurrencies such as Bitcoin and Ether, meanwhile, have created the danger that a huge swath of economic activity will occur out of the view of policymakers. China, in recent years, has cracked down on the use of such coins but was quick to see some potential in the basic idea—as long as it had some control. China started studying issuance of its own digital unit as far back as 2014."
Supply chain: "Global supply-chain effects of COVID-19 control measures" [Nature]. "supply-chain losses that are related to initial COVID-19 lockdowns are largely dependent on the number of countries imposing restrictions and that losses are more sensitive to the duration of a lockdown than its strictness. However, a longer containment that can eradicate the disease imposes a smaller loss than shorter ones. Earlier, stricter and shorter lockdowns can minimize overall losses. A 'go-slow' approach to lifting restrictions may reduce overall damages if it avoids the need for further lockdowns. Regardless of the strategy, the complexity of global supply chains will magnify losses beyond the direct effects of COVID-19. Thus, pandemic control is a public good that requires collective efforts and support to lower-capacity countries." • And globalization has been so good at managing public goods.
Concentration: "Poultry Industry Executives Indicted Over Alleged Price-Fixing Scam" [Forbes]. "The Justice Department on Wednesday indicted four current and former executives from chicken producers Pilgrim's Pride and Claxton Poultry Farms over allegations of conspiracy to fix prices and rig bids between 2012 and 2017."
The Fed: "A Rally Running on Moral Hazard Looks Like the Fed's Latest Feat" [Bloomberg]. "'We are now only 10% from February's all-time high, and with the U.S. unemployment rate heading toward 20%, one might ask: At what point does the stark disconnect between Wall Street and Main Street become a political embarrassment for the Fed?" [Albert Edwards at Societe Generale] wrote in a note last week. 'Maybe never.'"
* * *
Today's Fear & Greed Index: 66 Greed (previous close: 61 Greed;) [CNN]. One week ago: 52 (Neutral). (0 is Extreme Fear; 100 is Extreme Greed). Last updated Jun 4 at 12:23pm
The Biosphere
For hanging on the wall of your storm cellar:
John Brosio painted also a thought-provoking series on tornadoes, the most American among the natural calamities, and the precariousness of human existence—especially when it is self-interested and ecologically myopic and unaware pic.twitter.com/IhCyBGhne6

— Federico Italiano (@FedeItaliano76) June 4, 2020
Health Care
"Almost a quarter of infected household members of COVID-19 patients were asymptomatic, Singapore study finds" [Channel News Asia]. "A Singapore study that tested the household close contacts of COVID-19 patients has found that an estimated 23 per cent of those infected were asymptomatic. The seroepidemiological study conducted by the National Centre for Infectious Diseases (NCID) traced about 2,500 household close contacts who were placed under quarantine. Seroepidemiology uses data from antibody-based tests to identify which population segments have been exposed to an infectious disease, and in what proportion. It can give insight into under-diagnosed mild cases and how they may contribute to the spread of COVID-19, NCID had said. Available studies of viral concentrations in swab tests suggest that asymptomatic COVID-19 patients have similar viral concentrations compared with symptomatic patients at comparable stages of illness, said Associate Professor Ng Oon Tek, NCID senior consultant."
"Iowa touted its Covid-19 testing. Now officials are calling for an investigation" [Guardian]. "Iowa is betting on its new public health program to allow for the reopening of businesses such as bars and movie theaters following weeks of Covid-19 closures. But health experts and lawmakers are raising questions about the program and the little-known company behind it, pointing at missed deadlines, long test delays and complaints over the accessibility of testing sites….. To run the program, Reynolds in April signed a $26m no-bid contract with Nomi Health, after being pitched on the company by Ashton Kutcher, the actor-turned-investor who is originally from Iowa. The company bills itself as a general contractor, that helps governments rebuild the testing supply chain and lower costs. The number of daily tests following TestIowa's launch on 21 April fell far short of what the governor had promised. Some residents reported their results were lost, marked as "incomplete", or damaged. Others complained they waited weeks for their results. By 13 May, three weeks after its launch and two days before the state officially started to reopen, TestIowa had sent results to only 4,000 Iowans. • Plus, putting the testing program on the Internet makes it hard for rural area with poor Internet to use it. And: "In addition, the platform is only offered in English and Spanish, making it inaccessible to speakers of other languages common in the factories where Covid-19 is most prevalent in Iowa, where immigrants from Mexico, Bosnia and Burma work." • Lordie.
"At Mayo Clinic, sharing patient data with companies fuels AI innovation — and concerns about consent" [STAT]. "In the past two years, 16 companies have gained access to de-identified patient data through licensing deals that have widened Mayo's revenue stream and generated crucial insights for health tech firms eager to commercialize digital products and services. Ethics experts worry, though, that patients' interests are falling by the wayside: They were not notified of the deals or asked to consent to the use of their data for the products under development. Mayo, which operates medical centers across the country, has become one of the most active participants in this data trade as it embraces AI to transform the way it delivers care. Executives said its arrangements with AI companies are part of a cycle of innovation in which privacy and progress are not mutually exclusive. They said both goals are attainable — and essential — if Mayo is to develop more effective diagnostic tools and treatments…. 'If your data and biospecimens are valuable, they are yours,' said Kayte Spector-Bagdady, a bioethicist and lawyer at the University of Michigan Medical School. 'There is a harm of respect for people to use your stuff without your permission, or make money from your stuff without giving some back to you.'" • So the Mayo executives are looting?
Black Injustice Tipping Point
"Economic anxiety":
My husband asked a Secret Service Agent guarding the Treasury whether he ever thought he'd see this. He said: "I'm surprised it took this long. I think I'm gonna see the whole building burned down. 40% unemployment." pic.twitter.com/wxrZX4EWZv

— Krystal Ball (@krystalball) June 4, 2020
Thank you for your service:
people have been making fun of the DC suburb protests for days (and rightly so in some places) but no matter how cringe they are, cops having to commit resources to Bethesda, Rockville, and Silver Spring means they can't send them into the city https://t.co/TP6MNLfZwQ

— Nathan Bernhardt (@jonbernhardt) June 5, 2020
Police State Watch
"Episode 149: One Million Realities" (podcast) [Trillbilly Workers Party]. "Week 2 of the nation in revolt." • Hilariously classified as "Mature Comedy" by PlayerFM.
"Who has been deployed on the streets of Washington?" [Financial Times]. "Units from the FBI, the Secret Service, the US Park Police, the Bureau of Alcohol, Tobacco, Firearms and Explosives, the Drug Enforcement Administration, the Bureau of Prisons, the US Marshals Service, the Capitol Police and the Department of Homeland Security's Customs and Border Protection, among others, have been sent on to Washington's streets, Mr Barr said."
"Manhattan judge denies Legal Aid request to free hundreds of George Floyd protesters held more than 24 hours" [New York Daily]. "A Manhattan judge sided with police on Thursday by denying Legal Aid lawyers' request for the immediate release of hundreds of prisoners held in custody for days after their arrest amid George Floyd protests. The emergency lawsuit filed Tuesday against the NYPD called for the release of 108 New Yorkers 'detained illegally' in violation of New York state's 24-hour arrest-to-arraignment requirement. As of the Thursday afternoon hearing, the number of people arrested in Manhattan who have been waiting to see a judge in cramped cells for more than 24 hours had climbed to 202, according to an NYPD lawyer. After lengthy arguments from Legal Aid and city lawyers — who all appeared via video — Manhattan Supreme Court Judge James Burke denied the request, saying the police processing of the cases is 'a crisis within a crisis.'… Burke said in this case, an exception the 24-hour rule could be made because of the unusual circumstances.
"The Mount Vernon Police Tapes: In Secretly Recorded Phone Calls, Officers Say Innocent People Were Framed" [Gothamist]. "In hours of secretly recorded telephone conversations, police officers in Mount Vernon, New York, reveal widespread corruption, brutality and other misconduct in the troubled Westchester County city just north of the Bronx. Caught on tape by a whistleblower cop, the officers said they witnessed or took part in alarming acts of police misconduct, from framing and beating residents to collaborating with drug dealers, all as part of a culture of impunity within the department's narcotics unit. The Mount Vernon police tapes, obtained exclusively by Gothamist/WNYC, were recorded from 2017 to this year by Murashea Bovell, a 12-year veteran of the department who has been blowing the whistle on misconduct for years." • Tapes? Like South Bend?
"How to Change Policing in America" [Slate]. "It is critical that our city's mayors be prepared to change their approach to police department funding in a way that prioritizes community funding support and a reimagined conception of public safety. For example, movements to drastically reduce police funding are at the core of a revised vision of public safety that prioritizes social services, youth development, mental health, reentry support, and meaningful provisions for homeless individuals that strengthen community resources to proactively address underlying factors that can contribute to public safety concerns. Most public safety issues and community conflicts do not require the intervention of an armed officer. It's time to reimagine how we allocate our public safety dollars." • I would hate, however, to discover that defunding the police was part of the neoliberal playbook, with privatization (and profit) the next steps.
Class Warfare
"Keeping the Lights On" [The Baffler]. "Months into the coronavirus pandemic, the debate over whose work counts as essential continues to wax and wane with the nation's PPE supply, despite having what I consider to be a simple answer: all workers are essential, and all bosses and managers are not. While grocery store workers, hospital cleaning staff, meatpacking and food processing plant workers, and farmworkers are finally getting some of the recognition they've always been due, America's legion of utility workers are rarely mentioned in the same breath as these other frontline workers—even as they quite literally keep the lights on. The work they do is physically taxing and far from squeaky clean. Many of them can't work from home, and the jobs they do are often performed sight unseen; most people hope to never have to call on them at all. But when disaster strikes, whether it's a wildfire, a hurricane, a water main break, or a gas explosion, utility workers are right there risking life and limb alongside first responders. The current crisis is no different: these workers have been continually placed in harm's way—and are vulnerable to its dangers…. Invisible or not, their labor is essential to meeting peoples' basic needs for food, water, warmth, and light." • If the utility workers, the airline attendants, and the Teamsters all got togther….
"What Trait Affects Income the Most?" [Economics from the Top Down] (see also). "Income, I believe, is determined not by productivity, but instead largely by rank within a hierarchy. In other words, power begets income. The role of economics is to deny this uncomfortable reality. Economists reinforce hierarchies by denying their existence." • Long and worth a read. Handy chart: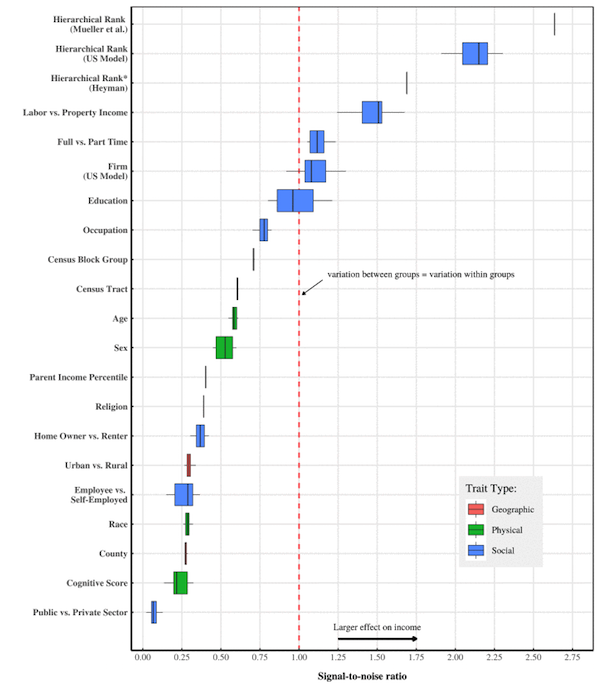 "When Time's Up Didn't Step Up" [Hollywood Reporter]. "To many in the industry, Time's Up's refusal to support the film and seemingly align with Winfrey, one of the founding donors to its Legal Defense Fund, exposed an inherent conflict of interest — that the group is largely funded by Hollywood power brokers."
News of the Wired
"Unker Non-Linear Writing System" [UNLWS]. "Non-linear languages have as their aim to exploit the syntactical possibilities that are opened up by writing in an ambient space of more than one dimension. An utterance in a spoken language is a succession of tokens, each next to just two others. By contrast, in a non-linear language, any number of tokens may be connected to any others, making any shape of network." • Really odd, but one wonders if it would be useful to scrawl messages in chalk, say, as hoboes used to do.
* * *
Readers, feel free to contact me at lambert [UNDERSCORE] strether [DOT] corrente [AT] yahoo [DOT] com, with (a) links, and even better (b) sources I should curate regularly, (c) how to send me a check if you are allergic to PayPal, and (d) to find out how to send me images of plants. Vegetables are fine! Fungi and coral are deemed to be honorary plants! If you want your handle to appear as a credit, please place it at the start of your mail in parentheses: (thus). Otherwise, I will anonymize by using your initials. See the previous Water Cooler (with plant)
here
. Today's plant (WB):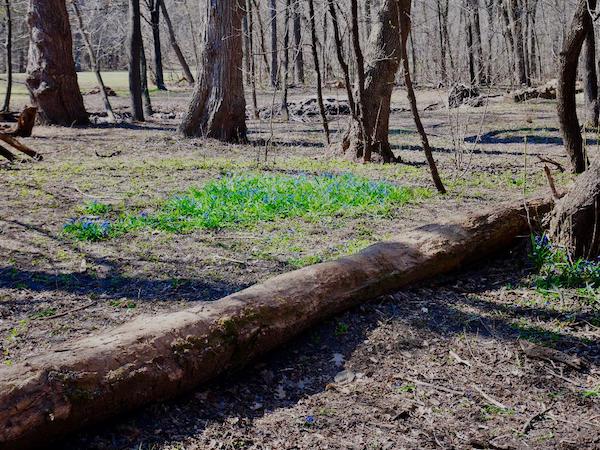 WB: "First color in the creek bottoms, Minneapolis."
* * *
Readers: Water Cooler is a standalone entity not covered by the annual NC fundraiser. So if you see a link you especially like, or an item you wouldn't see anywhere else, please do not hesitate to express your appreciation in tangible form. Remember, a tip jar is for tipping! Regular positive feedback both makes me feel good and lets me know I'm on the right track with coverage. When I get no donations for five or ten days I get worried. More tangibly, a constant trickle of donations helps me with expenses, and I factor in that trickle when setting fundraising goals:
Here is the screen that will appear, which I have helpfully annotated.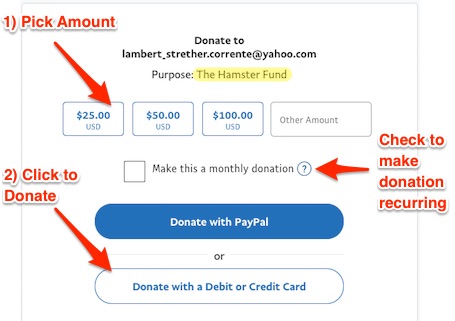 If you hate PayPal, you can email me at lambert [UNDERSCORE] strether [DOT] corrente [AT] yahoo [DOT] com, and I will give you directions on how to send a check. Thank you!