By Lambert Strether of Corrente.
#COVID19
At reader request, I've added this daily chart. The data is the John Hopkins CSSE data. Here is the site. The selected states have an Rt greater than 1: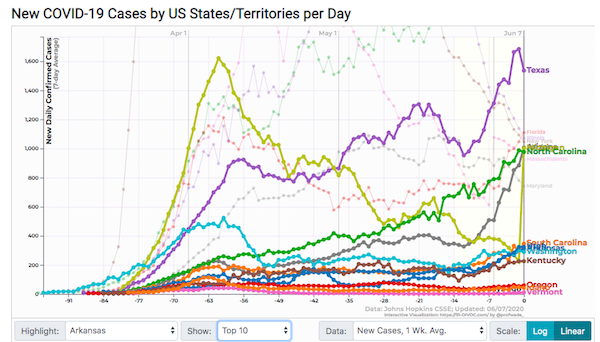 Here is the source for the selected states: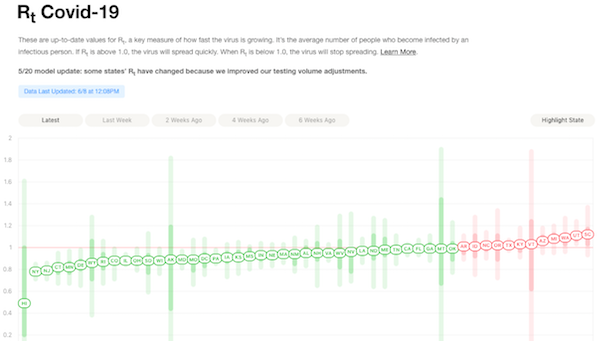 "If Rt is above 1.0, the virus will spread quickly. When Rt is below 1.0, the virus will stop spreading." The pandemic is most definitely not under control. And these numbers are after significant social distancing and control measures, and in hot weather, too.
Politics
"But what is government itself, but the greatest of all reflections on human nature?" –James Madison, Federalist 51
"They had one weapon left and both knew it: treachery." –Frank Herbert, Dune
"They had learned nothing, and forgotten nothing." –Charles Maurice de Talleyrand-Périgord
Since we're getting closer to the election, maybe it's time to start looking at the electoral map, unchanged from yesterday: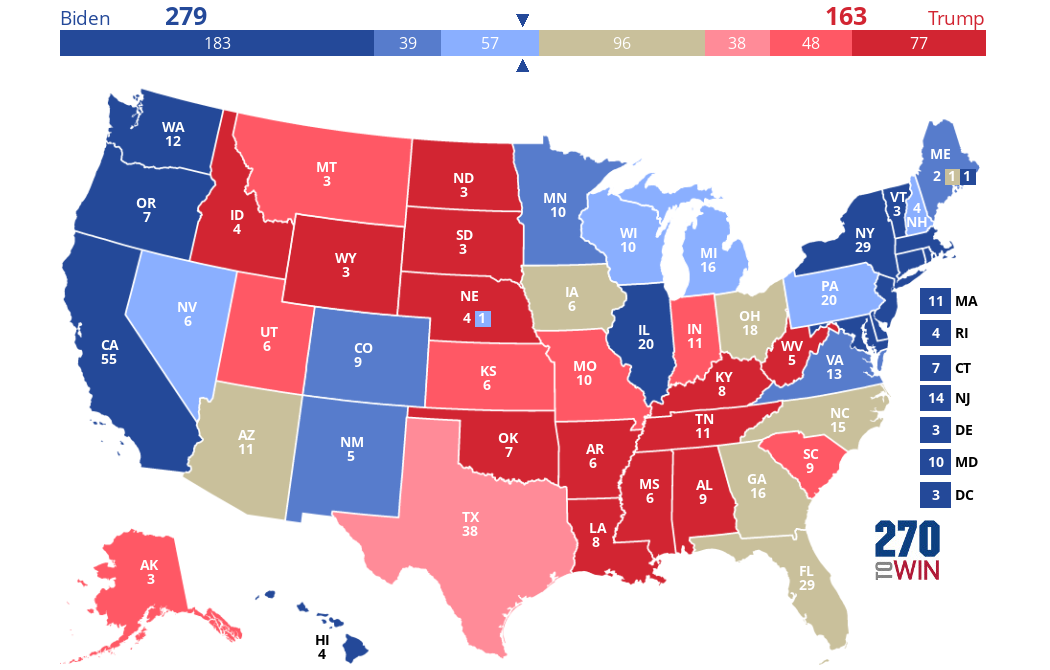 Click the map to create your own at
270toWin.com
So, taking the consensus as a given, 270 (total) – 204 (Trump's) = 66. Trump must win 66 from the states in play: AZ (11), FL (29), MI (16), NC (15), PA (20), and WI (10) plus 1 to win not tie = 102. 102 – 66 = 36. So if Trump wins FL, MI, NC, and PA (29 + 16 + 15 + 20 = 80), he wins. That's a heavy lift. I think I've got the math right this time!
* * *
2020
Biden (D)(1): "Joe Biden Would Like a Word With the Youths" [New York Magazine]. "Three and a half years later, as American streets fill nightly with young protesters, no one can quite agree on where Joe Biden stands. Is he running ahead of Clinton among the youngest voters owing to their hatred of Trump — and therefore even more securely buckled into the electoral driver's seat than widely assumed? Or is Biden lagging dangerously behind Clinton's pace — far enough back that he needs to significantly retool his youth outreach to beat Trump, no matter how unexpectedly strong his position may be among traditionally Republican groups like older voters and suburbanites? And, most urgently, have the recent weeks of unrest simply served to highlight the vast divisions between Biden and Trump — whose unacceptability to younger Americans deepens by the day — or are they instead underscoring a significant disillusionment with all politics, in particular among young black voters, that could spell trouble for the Democrat?"  • Well, the Biden campaign started a thing called "League 46" that held some "virtual brunches"….

Sanders (D)(1): Sanders addresses a large crowd:

The gathering was addressed via video by US Senator Bernie Sanders, who said,
"It has never been more important to stand up for justice and to fight for the future we all deserve. https://t.co/YkRCP7awUZ

— Jamel Jackson (@JamelJackson10) June 8, 2020

Yeah, Good. OK, but in the past six months we've had a big strike wave and and an enormous Black Lives Matter wave, and in neither case is the candidate of the biggest (ok, democratic) Socialist insurgent movement since I don't know when speaking to those crowds, here in the United States. This decapitation is a tragedy, a missed opportunity of world historical proportions. (Note that the BLM protests make the rationale of leaving the race to prevent pandemic spread irrelevant; the people, or at least a very large number of them, spoke.)

Sanders (D)(2): "Democrats discover a new team player: Bernie Sanders" [Politico]. "'Sen. Sanders has been a tremendous force in helping unify the party,' said Neera Tanden, president of the liberal think tank Center for American Progress and a longtime Hillary Clinton aide who has been a vocal critic of Sanders in the past. 'I am grateful for his work to urge his supporters to support Biden and fight Trump. He knows the stakes of this election, has always said he will support the nominee, and has been a man of his word….. Some Democrats complain privately that Sanders still isn't doing everything he can to support Biden, noting that he hasn't turned over his prized email list or fundraised for Biden." • Read all the way to the end, where the obligatory Nader reference is worked in.

Trump (R)(1): "Biden lead rises to 14 points Trump in new CNN poll" [The Hill]. "Presumptive Democratic presidential nominee Joe Biden now holds a commanding 14-point lead over President Trump in his 2020 bid for the White House, according to a CNN poll released early Monday. The survey found that 55 percent of voters would throw their support behind the former vice president if the election were held today, while 41 percent would favor Trump. Biden's new double-digit lead over Trump represents a significant improvement from a similar CNN survey conducted in May. That one showed Biden with 51 percent support and Trump with 46 percent support." • Methodology: "Interviews were conducted among a representative sample of the adult population, age 18 or older, of the United States." I know national polls are a fools errands, and single national polls are a fools errand squared, but one does get the sense that the Trump campaign needs to pull itself together. The Trump campaign team is feral and effective, but Trump needs to give them something to work with a V-shaped recovery (needs luck) and a vaccine (needs more luck) might do the trick. Then again, Trump, like Napoleon's favored generals, is lucky.

Trump (R)(2): "Virus, racial unrest force Trump campaign to recalibrate" [Associated Press]. "COVID-19's mounting human and economic tolls -– and the president's defiant response –- cost him support among constituencies his campaign believes are key to victory in November. His signature rallies had been frozen for months, and his cash advantage over Biden, while vast, wasn't growing as quickly as hoped because the pandemic put a halt to high-dollar fundraisers…. Internal campaign surveys and public polling showed a steady erosion in support for Trump among older people and in battleground states once believed to be leaning decisively in the president's direction, according to six current and former campaign officials not authorized to speak publicly about private conversations. The campaign recently launched a television ad blitz in Ohio, a state the president carried by 8 percentage points four years ago, and it sees trouble in Arizona and warning signs in once-deep-red Georgia….. While Trump has demanded that the campaign prepare to schedule rallies as soon as the summer, aides have cautioned that it could be risky to fill an arena — creating the potential for negative news stories if the virus were found to have spread at a campaign event. And that is if they could even persuade the requisite crowds to gather before there is a vaccine."

* * *

Big for @Booker4KY (who's running against the horrid Amy McGrath for the chance to challenge McConnell):

A message pic.twitter.com/AzEJQF8iHC

— Matt Jones (@KySportsRadio) June 7, 2020

(I heard both Booker and Jones — a dominating Kentucky sports radio figure — on the Trillbillies. They were both impressive.)

"Progressives steamrolled across the Senate map" [Politico]. "If Democrats win back the Senate this fall, don't expect a rush to pass the Green New Deal or Medicare for All. The left wing has been wiped out in Senate primaries or failed to recruit at all in states across the map this year, leaving a slate of centrist candidates more in the ideological mold of Joe Biden than Bernie Sanders. Liberal insurgents on the ballot over the coming weeks in states like Kentucky and Colorado aren't favored to fare any better, failing to gain significant traction thus far against more moderate favorites."

"Turnout surges after states expand mail-in voting" [The Hill]. "In at least four of the eight states that held primaries on Tuesday, turnout surpassed 2016 levels, with most of the votes being cast via mail, according to an analysis of election returns by The Hill. Each of those states took steps earlier this year to send absentee ballot applications to all of their registered voters." • The issue is whether every voter can have the same voting experience. Not necessarily. (I hate the concept of early voting, partly because I think voting should be a collective action, but more importantly because it encourages party loyalty.)
Realignment and Legitimacy
"How Do We Know We Are at a Tipping Point?" [Cook Political Report]. "While many see the election of Donald Trump as the tipping point for white, college-educated voters from Republican to Democrat, these Pew surveys suggest that it really started during the George W. Bush-era. If you look at white voters with a college degree or postgraduate degree (in pollster shorthand, college plus), you see that what was once a double-digit GOP identification turns into single digits in 2004 and never comes back. By 2012, that GOP ID is down to just R+2. In 2014, white college plus graduates identified equally with the Democratic and Republican parties. By 2016, these voters identify with Democrats by four points. What you can also see, however, is the impact that the postgraduate cohort has on the overall lean of the combined white college and postgraduate community. White postgrads had never been all that strongly identified with Republicans and now identify with Democrats by 24 points. However, the more dramatic movement is among white four-year degree holders who, 25 years ago, overwhelmingly affiliated themselves with the GOP and who now lean Democrat by three points. Their inflection point came a bit later than the postgrads — more like 2012 than 2004." • PMCs…

"Conspiracy theories and racist memes: How a dozen Texas GOP county chairs caused turmoil within the party" [Texas Tribune]. "On Friday morning, Texas' top Republican officials, including Gov. Greg Abbott, had condemned four GOP chairs for proliferating conspiracy theories on Facebook. The posts, from chairs of some of the largest counties in Texas, suggested George Floyd's death was staged to erode black support for President Donald Trump. Meanwhile, a fifth chairperson, Harris County GOP chair-elect Keith Nielsen, announced Saturday he will not take office as planned after coming under fire for posting a Martin Luther King Jr. quote — 'Injustice anywhere is a threat to justice everywhere' — on a background with a banana. On Friday afternoon, The Texas Tribune identified similar posts from seven more GOP chairs across the state. Some of these posts suggested people who have been protesting Floyd's death across the state and the country were being paid by Jewish billionaire George Soros — an oft-used anti-Semitic trope. GOP county chairs are elected leaders of the Republican Party who help oversee local elections and head up county-level meetings and events. News circulating about the first five chairs' posts sparked concern — both internal and external — about the Texas GOP." •

* * *
Stats Watch
At reader request, I added some business stats back in. Please give Econintersect click-throughs; they're a good, old-school blog that covers more than stats. If anybody knows of other aggregators, please contact me at the email address below.
Recession: "U.S. recession officially began in February" [Axios]. "The U.S. economy peaked in February before sliding into a recession as the coronavirus pandemic hit, according to the National Bureau of Economic Research, a group that's considered the official determinators of when recessions begin and end…. 'The unprecedented magnitude of the decline in employment and production, and its broad reach across the entire economy, warrants the designation of this episode as a recession, even if it turns out to be briefer than earlier contractions,' NBER researchers said in a release."
Employment Situation: "May 2020 Conference Board Employment Index Remains Deep In Contraction" [Econintersect]. "Econintersect evaluates the year-over-year change of this index (which is different than the headline view) – as we do with our own employment index. The year-over-year index growth rate accelerated by 3.1 % month-over-month and a negative 57.9 % year-over-year. The Econintersect employment index also remains in deep negative territory. Both of these indices are predicting softer job growth 6 months from now – however, because the decline was so rapid, it is likely the rebound will continue for the next few months. The bottom line is that I doubt you can forecast using traditional methods what employment will look like six months from today." • Nobody knows anything!
Consumer Expectations: "Modest Improvement in Consumer Expectations In May 2020" [Econintersect]. "The Federal Reserve Bank of New York's Center for Microeconomic Data released the May 2020 Survey of Consumer Expectations, which shows small signs of improvement in households' expectations compared to April. Consumers grew comparatively more optimistic about labor market outcomes with earnings growth, job finding, and job loss expectations all slightly improving, but remaining far off pre-COVID19 levels. Expected income and spending growth as well as the probability of missing a future minimum debt payment also displayed improvements. On the other hand, perceived and expected availability of credit continued to worsen." • Speaking of credit:
April saw a major contraction in US revolving credit (i.e. credit cards) @OxfordEconomics via @SoberLook pic.twitter.com/CSQXfA0kdX

— Adam Tooze (@adam_tooze) June 8, 2020
Looks like everybody took their Federal money, slammed it in the bank, and hunkered down?
* * *
Shipping: "Strong volumes again – up 7% year-over-year" [Freight Waves]. "Outbound tender volumes posted the highest June 5th total in the three-year series history, while this doesn't match the surge seen in March due to pre-stocking, for this time of year, it is telling how aggressive the volumes are. Volumes have made a huge climb over the past few weeks and there isn't much to point towards a slow-down. Capacity is reacting very slowly to the volume surge… The agricultural hubs along the West Coast and in the Southwest and Southeast continue to be strong sources of volumes. In May, the Rust Belt also became a source of outbound freight as much of the country's manufacturing and industrial economy came back online."
Shipping: "Strong hiring across the U.S. is raising logistics operators' hopes of a rebound in shipping demand, as long as they're in the right markets. Companies tied to digital commerce logistics boosted employment in big numbers in May…. with parcel and warehousing operators adding a combined 20,600 jobs to meet the growing demand for delivery to homebound consumers" [Wall Street Journal]. "The brighter prospect for transportation operators was the addition of 669,000 jobs at goods-producing companies, signaling resurgent hiring in the broader American economy last month may start bringing supply chains back to life."
Concentration: "U.S. antitrust regulators are deepening their scrutiny of the $213 billion U.S. meat industry. The Justice Department issued civil subpoenas to the four biggest beef processors, JBS USA Holdings Inc., Tyson Foods Inc., Cargill Inc. and National Beef Packing Co…" [Wall Street Journal]. "Cattle ranchers have called for a probe of the companies that control the U.S. beef industry, and supermarkets, food distributors and other meat buyers have launched private civil suits against beef and pork processors. They point to pricing swings out of step with meat-market supply and demand, while meatpackers say economic forces are driving beef prices higher and cattle futures lower. Federal antitrust enforcers have already weighed in with a separate investigation charging four poultry industry executives indicted with conspiracy to rig chicken prices."
Mr. Market: "We're Back at the Top of the Stocks Helter-Skelter" [John Authers, Bloomberg]. "How to Spot That This Rally Would Be So Strong? The answer, very simply, was from watching liquidity. To use the phrase of Michael Howell of CrossBorder Capital, who turned bullish in March, 'if there's money anywhere, there has to be money somewhere' — and when rates on low-risk securities are as low as they are now, that means stocks." • Interesting column on some not-so-good calls. Oh, and go long crony capitalism. But doesn't everyone?
The Fed: "Fed says beating pandemic is key, but how will it know things are better?" [Reuters]. "With a full three months of responding to a global pandemic under their belt, U.S. Federal Reserve officials have united around one point: lasting progress on the economic front will be dictated by success in containing the spread of the coronavirus." • Which we aren't doing. Which doesn't seem to have penetrated.
* * *
Today's Fear & Greed Index: 67 Greed (previous close: 66 Greed;) [CNN]. One week ago: 58 (Greed). (0 is Extreme Fear; 100 is Extreme Greed). Last updated Jun 8 at 12:27pm.
Rapture Index: Closes down one on Oil Supply/Price. "Oil prices have recovered from their negative price" [Rapture Ready]. Record High, October 10, 2016: 189. Current: 185. Remember that bringing on the rapture is a good thing. I feel apocalyptic. Why don't these guys?
The Biosphere
"Investigating the Impact of Permaculture as a Tool for Mitigating and Adapting ClimateChange in Malawi, Case of Kusamala Institute of Agriculture and Ecology, HouseholdPermaculture Demonstration Project" (PDF) [Chisomo Nelson Kamchacha]. "The findings of the study revealed that Kusamala"s household permaculture demonstration project has significantly impacted on the livelihoods of the beneficiaries, improved the ecosystem and foodsecurity hence permaculture could be a viable means for addressing climate change. The core purpose of Kusamala"s project was to: improve food and nutrition security, increaseagrobiodiversity and improve environmental and economic viability of land. Interestingly, theoutcomes of the study revealed that the household permaculture demonstration project had multiple benefits as it address wide scope of challenges ranging from food insecurity to ecosystemunsustainability, disaster vulnerability to culture preservation amongst others." • This just randomly showed up in my Inbox the other day, but I think it's neat.
Health Care
"Quarantine fatigue: Why some of us have stopped being vigilant and how to overcome it" [CNN]. "If you've found you're no longer disinfecting your hands as often or becoming more lenient toward unnecessary trips outside, you're not alone. This unintentional phenomenon is "caution fatigue" — and you have your brain to blame.
You were likely vigilant at the pandemic's outset, consistently keeping up with ways to ensure you didn't get infected with the coronavirus or infect others. The threat was new and urgent to your brain. And driven by the human instinct for self-preservation, fresh fear motivated you to eagerly adhere to recommended safety precautions. Fast-forward three months, and that sense of immediacy may have faded…. Fear is no longer the motivation, so you need another source of inspiration. Ask yourself, 'What's the reward I get for the choices that I make relative to what I'm giving up?' Maybe the reward is your health, or altruistically the health of your family or others. Or it's that you've mastered staying safe during the pandemic. Figuring out how you can safely do some part of your normal routine can give your brain something else to control besides limiting your reactions to threats. And you can still feel in control of your health." • I'm very good about masking, and I stay in my "bubble." Nevertheless, I go out for food and other purchases. What I find myself not doing when I return is automatically showering (partly to clean my hands, but also because I imagine the virus settling on my skin or in my hair — ick!). Now I have to remind myself to shower. Frustrating!
"The effect of large-scale anti-contagion policies on the COVID-19 pandemic" (preprint) [Nature]. "In the absence of policy actions, we estimate that early infections of COVID-19 exhibit exponential growth rates of roughly 38% per day. We find that anti-contagion policies have significantly and substantially slowed this growth. Some policies have different impacts on different populations, but we obtain consistent evidence that the policy packages now deployed are achieving large, beneficial, and measurable health outcomes. We estimate that across these six countries, interventions prevented or delayed on the order of 62 million confirmed cases, corresponding to averting roughly 530 million total infections." • Handy charts:
A study in Nature shows that policy packages in six countries prevented or delayed 62 million confirmed #COVID19 cases, corresponding to averting around 530 million total infections. https://t.co/nLcrH1MDpr pic.twitter.com/YfUagxg98F

— Nature (@nature) June 8, 2020
"The supply chain for a drug that shows promise in treating Covid-19 patients is getting healthier but at a frustratingly slow pace. The federal government sent nearly a half-million doses of remdesivir to states over three weeks last month… but an analysis shows the supplies weren't enough to treat the tens of thousands of hospitalized patients" [Wall Street Journal]. "Hospitals are managing the shortage in part by rationing the use of the drug, a strategy that can work as long as infection rates don't accelrate."
"Haven Can't Fix Employer Health Care" [RealClearPolicy]. " The nonprofit created by Amazon, Berkshire Hathaway, and JPMorgan Chase to tame costs and improve quality in job-based health insurance is floundering after more than two years of operations…. The founding companies assumed that employer-sponsored coverage could be fixed with entrepreneurial energy and creative use of information technology. They were wrong…. That realization may be why Atul Gawande — the Harvard professor, surgeon, and prolific author turned Haven CEO — announced recently that he was resigning his post with the venture to focus on the COVID-19 crisis (he will remain chairman of Haven's board). His departure before launching any meaningful or scalable initiatives leaves the nonprofit's future in doubt." • That's a damn shame. (I concluded, in 2018, after giving the project far more credit than it deserved: "Nevertheless, that Buffett says, out loud, that single payer is 'more effective' at cost control, and yet pursues a 'technology solution,' as opposed to the political solution he could equally well fund, should be a ginormous honkin' red flag that there's nothing other than bad faith at the root of the undertaking. So, 'innovate' away…." Yep.
Black Injustice Tipping Point
Who would be foolish enough to take this seriously?
House and Senate Democrats kneel for an 8 minute and 46 second moment of silence for George Floyd. pic.twitter.com/so3S7eBtna

— Sarah Reese Jones (@PoliticusSarah) June 8, 2020
(Congratulations to Kaepernick, however!)
Police State Watch
Bold:
We need to establish a comprehensive review of police hiring, training, and de-escalation practices.

— The Democrats (@TheDemocrats) June 7, 2020
Bullet points (1): Celebrity, podcaster, and Black Lives Matter activist Deray McKesson-branded proposals ("Campaign Zero"), which grew out of Ferguson:
Campaign Zero and @deray @MsPackyetti and @samswey just launched #8CantWait, to push mayors to adopt specific policies that have been show to reduce police violence. These concrete steps can help save lives. Please check it out: https://t.co/bo3yE80uhr pic.twitter.com/Xc2MDiljo9

— Jon Lovett (@jonlovett) June 3, 2020
Some of Campaign Zero's recommendations have already been adopted; those cities are the basis for Campaign Zero's weirdly specific claim to reduce police violence by 72% (and not 71% or 73%).
Bullet points (2): The Democrat legislation, proposed today:
Key points in House Dems' police reform bill:

•Create a nat'l registry to track officer misconduct
•Make it easier to sue officers who unjustly injure people
•Limit military gear sent to police
•Ban chokeholds & no-knock arrest warrants in drug caseshttps://t.co/erYiqIdRQP

— POLITICO (@politico) June 8, 2020
Bullet points (3): The Abolitionist proposals (note the duelling #8 hash tags). The Minneapolis City Council (but not Mayor Frey) supports abolition: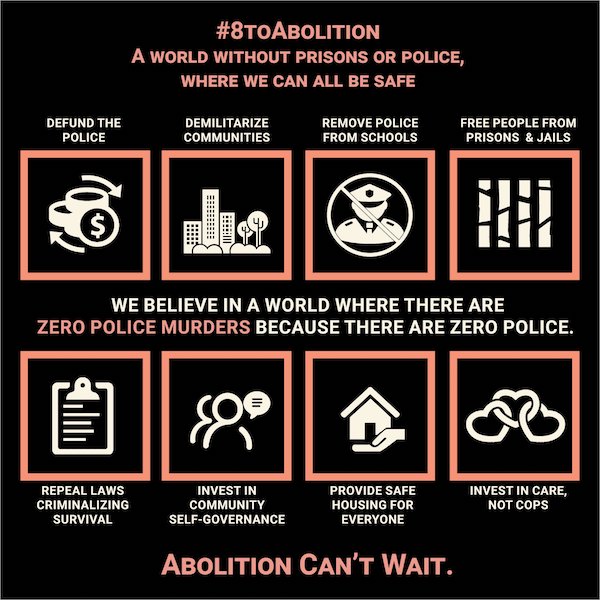 "MPD150: working towards a police free Minneapolis" [MPD 150]. "The goal of this initiative is to shift the discussion of police violence in Minneapolis from one of procedural reforms to one of meaningful structural change. We will achieve this by presenting a practical pathway for the dismantling of the Minneapolis Police Department; the transference of its social service functions to community-based agencies and organizations; the replacement of its emergency intervention functions with models not based on military methods; and the redirection of resources to support community resilience and people-directed development."
A point I haven't seen made elsewhere:
I can't believe this is a thing I'm about to tweet in a US context but: any plan to disband a police/paramilitary force needs to learn from the lessons of de-Baathification in Iraq and figure out what to do with former security forces, preferably with a DDR program in mind https://t.co/T7z39OVGCJ

— Hayes Brown (@HayesBrown) June 7, 2020
* * *
"Don't be fooled by seemingly good cops kneeling at protests — it's a stunt" [The Grio]. "These displays are a PR strategy being used to quell the rage and an attempt by police departments to redeem their image…. In Manhattan, cops tricked excited protesters by kneeling and then tear-gassing them when they got close enough. Not surprisingly, the protesters were stunned and angry because they presumably believed that a change had come. It would be easy for us to shake our heads and ask: What were they thinking? How could they not recognize the setup? How could they be so trusting and naïve? But their actions are a consequence of media hero-worship of police, not knowing the history of civil rights protests, the lack of preparation and training for a 21st-century fight for racial justice, denial about the slyness of how agents of the state uphold white supremacist agendas, and people's genuine desire for racial harmony."
"To Protest and (Refuse to) Serve" [Eater]. "Many restaurants have long given police officers preferential treatment. But shifting public opinion about the police suggests that might be changing." • Several examples.
Our Famously Free Press
"The Tiny Media Collective That Is Delivering Some of the Most Vital Reporting from Minneapolis" [The New Yorker]. "An extremely compelling view of what is happening in—and to—Minneapolis is streaming by way of Unicorn Riot, a not-for-profit media collective that was incorporated in Minnesota five years ago, with a mission to bring attention to social and environmental struggle. Its reporters regularly cover the Twin Cities, Boston, Denver, and Philadelphia, and have fanned out to cover events such as the Unite the Right rally, in Charlottesville, in 2017, and the protests against the Dakota Access Pipeline near the Standing Rock Indian Reservation. For the past week in Minneapolis, Unicorn Riot has delivered a sustained act of witness: night after night of vigils and struggle and trouble…. But perhaps 'story' is the wrong word. It is implicit—on, say, a five-and-a-half-hour live stream, shot with a single camera—that the creation of a familiar sort of processed journalistic narrative is not on the agenda. Instead, you get a constantly updating document that accommodates person-on-the-street interviews thriving with unaffected voices. One night last week, a Unicorn Riot camera crew elicited a succinct commentary on the dynamics of property destruction from a local business owner. 'I realize why the Third Precinct was burnt down,' the man said. 'It wasn't burnt down because people were mad at the police. It was burnt down because the police were mad at the people'—meaning that the officers' passivity in protecting the building was in fact an aggression, intended to tar the mass of protesters as arsonists." • So, Unicorn Riot is from Minnesota!
Class Warfare
Cause and effect:
I just started reading Ibram X Kendi's "Stamped From The Beginning" and it has an idea that's really new to me — it's not that racist ideas cause discrimination, instead it's the other way around: racist ideas were invented to justify discrimination pic.twitter.com/TInY5XF9Sp

— ?Julia Evans? (@b0rk) June 7, 2020
One more damn book to read…
Black Socialists in America is always worth reading. Picking one factoid out of a long and interesting thread on "white privilege":
When the first Africans arrived in VA in 1619, there were no "white" people there with them, but "British" people.

According to colonial records, there wouldn't be "white" people there for another 60 years.

The hands of imperialism extended from ETHNO-STATES; not RACIAL groups. pic.twitter.com/FKY6af0JK8

— Black Socialists in America (@BlackSocialists) March 22, 2018
News of the Wired
"#326- BATTLE OF GETTYSBURG (Part the Twelfth)" (podcast) [The Civil War]. • This is one of my favorite podcasts, but I like this one particularly because it shows how Confederate General Robert E. Lee, having blundered into a battle of encounter at Gettysburg, is about to get out-generaled by Union General George Meade, and the Confederate troops outfought by Union troops.
These are the cats we need now:
Andy Warhol's Cats pic.twitter.com/vNQjjQbd7I

— Diane Doniol-Valcroze (@ddoniolvalcroze) June 8, 2020
* * *
Readers, feel free to contact me at lambert [UNDERSCORE] strether [DOT] corrente [AT] yahoo [DOT] com, with (a) links, and even better (b) sources I should curate regularly, (c) how to send me a check if you are allergic to PayPal, and (d) to find out how to send me images of plants. Vegetables are fine! Fungi and coral are deemed to be honorary plants! If you want your handle to appear as a credit, please place it at the start of your mail in parentheses: (thus). Otherwise, I will anonymize by using your initials. See the previous Water Cooler (with plant)
here
. Today's plant (SR):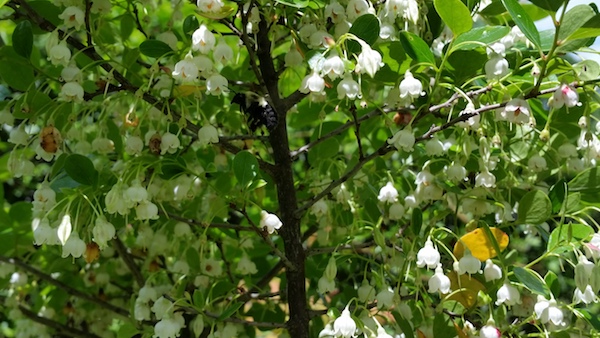 SR writes: "Vaccinium arboreum, Sparkleberry. Opelika, AL 4-25-2020. A blueberry cousin that can reach 20+ ft tall. Small fruits loved by the birds. It was a happy surprise to see I had captured the little Hapropoda laboriosa Blueberry bee in mid flight!" And the site:
Had time today to tour the yard and take a few pics and find a few from last Spring. The yard hosts a craftsman style house built in 1920 by a local judge that enjoyed a reputation for being piously strict. I can say he painted, or at least acquiesced to the painting, of all interior surfaces yellow. Trim, cabinets, walls and ceiling. All yellow. I feel like that would wear on your soul after awhile. It's a comforting house with tall ceilings and large central hallway that is seen in many older southern homes that aids in summer ventilation.

By the time I came along after semi-retiring in 2005 the place had suffered from benign neglect for some time. The previous owners viewed the yard as a source of annoyance and after having every shrub removed and garden bed sodded over called it good. All that was left were the trees, a giant Southern Magnolia, a giant Water Oak, a smaller oak of unknown lineage, a Chinese Tallow tree(yes, yes I know, invasive nightmare but its very pretty and besides I willingly grow Aralia spinosa, the Devil's Walking Stick) and several pecans.

I started my first organized vegetable garden in over 30 yrs this year, like so many others have. I would have been gardening during the intervening years but work and life kept me pulling up stake.
Industrious bee!
* * *
Readers: Water Cooler is a standalone entity not covered by the annual NC fundraiser. So if you see a link you especially like, or an item you wouldn't see anywhere else, please do not hesitate to express your appreciation in tangible form. Remember, a tip jar is for tipping! Regular positive feedback both makes me feel good and lets me know I'm on the right track with coverage. When I get no donations for five or ten days I get worried. More tangibly, a constant trickle of donations helps me with expenses, and I factor in that trickle when setting fundraising goals:
Here is the screen that will appear, which I have helpfully annotated.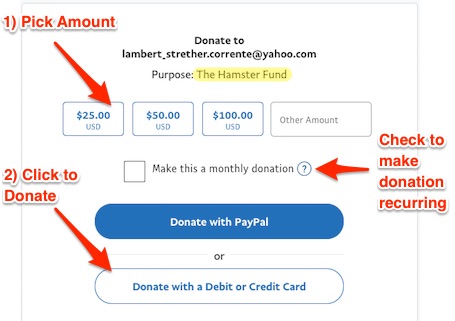 If you hate PayPal, you can email me at lambert [UNDERSCORE] strether [DOT] corrente [AT] yahoo [DOT] com, and I will give you directions on how to send a check. Thank you!