By Lambert Strether of Corrente
June 14 was the third anniversay of the Grenfell Tower fire, when flammable ACM (Aluminium Composite Material) "cladding" that covered the outside of the building was accidentally set ablaze, and took the whole building with it, causing 72 deaths: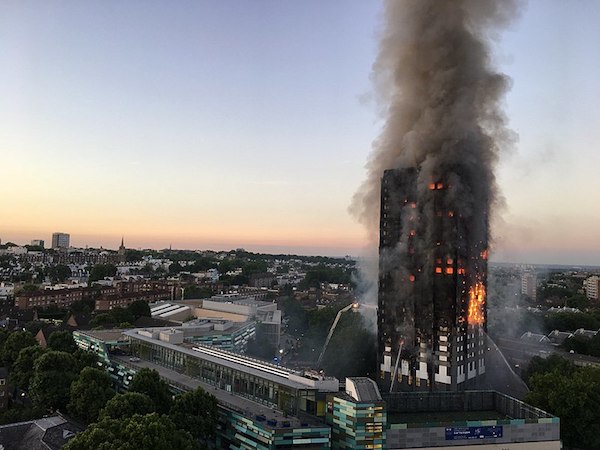 Naked Capitalism has been following the Grenfell Tower fire story for three years now (here, here, here, and here), beginning with a photo essay in the immediate aftermath (I was in London at the time). From that essay: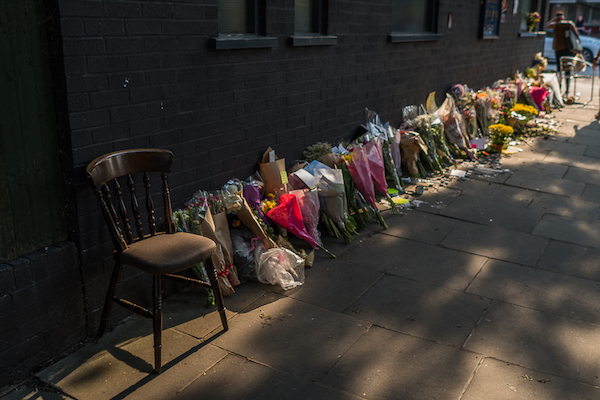 So I thought I'd issue this year's progress report. It is true that public awareness remains high:
In tribute to each victim who died in the fire, the bells of London churches will toll 72 times and green lights will glow from tower block windows to show solidarity with survivors and the bereaved.
There was a hashtag (#GoGreenForGrenfell) and a campaign for houses to light up green at night. For example:
Love and Solidarity ? #GoGreenForGrenfell pic.twitter.com/nVWaujSX3o

— MrGallahue (@MrGallahue) June 14, 2020
And naturally:
Tonight Downing Street is lit up green in memory of those who lost their lives in the Grenfell tragedy 3 years ago.

We remain committed to uncovering the causes of this tragedy, and ensuring it is never repeated. pic.twitter.com/2WOcQZUeXK

— UK Prime Minister (@10DowningStreet) June 14, 2020
The survivors don't think much of all this, however. From the BBC, "Grenfell Tower: Survivors say 'nothing has changed'":
Karim Mussilhy, whose uncle Hesham Rahman died in the blaze, said "there's not a lot of compliments right now" for the government.

"A lot has changed, but nothing has changed," he said.

"We're still talking about cladding, we're still talking about justice. The public inquiry keeps stopping and starting.

"It never feels like there's any urgency with the emergency that this country is in with the whole cladding situation."

Survivor Tiago Alves added: "We knew this wasn't going to be an easy fight. Did I think we'd still be here three years on still talking about the removal of cladding? I think that's a bit absurd."
Some progress has been made. But it's patchy at best. In this post, I'll look at efforts to remediate the cladding, the ongoing UK inquiry, and regulatory proposals. (There is also a product liability civil suit in the US against the cladding manufacturers). I'll conclude with some remarks on the nature of the tragedy.
Remediation
This month, the UK's National Audit Office issued a timely report (PDF), "Investigation into remediating dangerous cladding on high‑rise buildings." The background:
In the wake of the Grenfell Tower disaster, the Ministry of Housing, Communities & Local Government (the Department) established the Building Safety Programme (the Programme) "to ensure that residents of high-rise residential buildings are safe, and feel safe from the risk of fire, now and in the future". While remaining clear that it is building owners who are responsible for ensuring the safety of their buildings, the Department has adopted an objective to "oversee and support the remediation of high-rise residential buildings that have unsafe aluminium composite material cladding". In his Phase 1 Report [inquiries in the next section], Sir Martin Moore-Bick stated it was "essential" that ACM cladding be removed from the exterior of high-rise buildings "as quickly as possible"
So how's that going:
However, concerns have been raised – for example, by the House of Commons Housing, Communities & Local Government Committee – as to the pace of remediation works. . There are 154 social sector and 208 private sector residential buildings within scope of the Building Safety Programme (the Programme). The remaining 94 buildings within scope of the Programme comprise hotels (30 buildings), student accommodation (54 buildings) and publicly owned buildings (10 buildings). There are 307 buildings yet to be fully remediated, of which 167 buildings have not yet begun remediation works (paragraphs 1.13 and 1.14, and Figure 4).
The pace of remediation differs between public and private buildings:
The pace of remediation has been faster in the student accommodation and social housing sectors, but slower in the private residential sector. …. . Administrative checks and controls on funding for private sector applications have also been more exacting; for instance, State Aid declarations are required from each leaseholder in private sector buildings in order to ensure the legality of the grant scheme. As at April 2020, two private sector residential buildings had still not applied for funding.
I remember my eyes glazing over when my London friends tried to explain the difference between leasehold and freehold property. It seemed needlessly complex. The Leaseholder's Charity goes into some detail:
After failing to persuade speculators in residential freeholds to pay up to remediate their building – not one has done so – the then Communities Secretary raided his housing budget for £200 million for ACM remediation and hoped that would be enough.

That was swollen by another £1 billion in March 2020. The money comes with inconsistencies – excluding buildings under 18 metres high; sites where remediation work started before March 2020 (why?); sites that do not apply for funding within the next two months …

A further absurdity is that three years after Grenfell the government has only paid out £1.2 million for ACM remediation.

The illogic of our approach is made worse because of England's leasehold system: speculators in residential freehold, primarily private equity and often hidden offshore, are going to have their income streams secured and perpetuated by taxpayers.

For if the leases are valueless in these buildings, then so are the freeholds.
Meanwhile, builders are already whinging. From The Times, "Time to relax ban on Grenfell-type cladding, housebuilder urges":
One of Britain's biggest upmarket housebuilders has said that the government should relax a ban on combustible cladding imposed after the Grenfell Tower fire.

Berkeley Group is yet to complete the renovation of 20 tall buildings featuring the same type of cladding involved in the Grenfell disaster, which led to the deaths of 72 people three years ago. The builder argues that they are already safe and that the government should not impose a blanket ban on aluminium composite material (ACM) cladding.
The Financial Times summarizes the state of play for private apartment blocks, "Thousands stuck in unsafe tower blocks three years on from Grenfell":
Less than 1 per cent of the funds set aside to fix flammable cladding on private apartment blocks in England has been disbursed, leaving thousands in unsellable flats more than three years after the deadly Grenfell Tower fire, according to the public spending watchdog.
The comments to the FT story could be described as bitter.
UK Inquiry
The UK inquiry into Grenfell was divided into two phases: The first to determine the technical cause of the fire (chief among them ACM cladding), and the second to make assign reponsibility and make recommendations. We are now in the second phase. It's not edifying. From Corpwatch, "Companies under investigation for deadly Grenfell Tower fire want immunity":
At the hearing last week, . "Any member of the public reading those statements and taking them all at face value would be forced to conclude that… nobody made any serious or causative mistakes," Richard Millett QC, the inquiry's chief lawyer, said. "In every case, what happened was, as each of them would have it, someone else's fault."
The Guardian, in "Grenfell architect admits he did not read cladding fire regulations," gives a splendid example:
Bruce Sounes, the project architect on the council block where 72 people died in June 2017, told the public inquiry into the disaster that he did not know that aluminium panels could melt and spread flames and had no idea cladding had previously caught fire on buildings in the UK and Dubai, including at Lakanal House in Southwark in 2009, where six people died.

Under cross-examination by Kate Grange QC, counsel to the inquiry, Sounes said that during the Grenfell Tower refurbishment he did not familiarise himself with regulations demanding external walls must adequately resist the spread of fire.

As a result, he did not see a diagram in building regulations guidance showing how external wall systems on buildings of different heights must meet safety rules, information about a cladding fire at the Garnock Court housing block in Scotland in 1999 and a diagram showing how fires could spread in high-rise apartment buildings.

Sounes said he had "no knowledge" of rapid fire spread and had not read regulatory guidance about how to design cavity barriers, features that were intended to stop fire spread and which failed at Grenfell.

Nevertheless, his firm, Studio E Architects, had included in a list of services to its client a promise to "ensure that all designs comply with the relevant statutory requirements".

.
Lol. More, much more from Inside Housing ("Grenfell cladding manufacturer aware panels were 'dangerous' and below standard, inquiry hears"), the Independent ("Grenfell Tower: Cladding manufacturer knew in 2011 panels were 'not suitable for use on building facades', inquiry hears"), and the Guardian ("Grenfell refurbishment firms 'killed in pursuit of money', inquiry told"),
Regulations in Reponse to 2018's The Hackitt Report
Parallel to the inquiry above, the UK government commissioned a review of building regulations and fire safety led by Dame Judith Hackitt. recommendations for regulatory changes. From the UK's Building, "Get ready for the building safety regulator" gives the status of that effort:
The Hackitt review, published in 2018, looked at the organisational and cultural causes of the disaster and put forward a series of recommendations to address them. This was followed by a government consultation last year called Building a Safer Future, which set out how the review's recommendations should be translated into a new regulatory approach to building safety. And this April the government published its response to that consultation, which sets out how a reformed building safety system will look. Subject to parliamentary scrutiny, this will be given legislative form in the Building Safety Bill.

In short, the proposals include a new regulator to ensure residential buildings over 18m high are safely designed and constructed and that they continue to be safe once occupied. The responsibility to ensure this happens will be placed on the client, the principal designer and the principal contractor, as well as the building safety manager once the building is complete. Three key gateways – planning approval, start of construction and handover – must be signed off by the building safety regulator before the next stage can commence. .
More on that "so-called" (!) golden thread, from Buildings and Cities, "Hackitt and the Golden Thread: Challenges to Implementation"
Hackitt's proposal for the creation of a golden thread approach to building safety information utilising [Building Information Modelling (BIM)] is welcome in principle, but like many of her recommendations, will likely prove 'easier said than done'. …, Three inter-related challenges may hinder the widespread uptake of BIM: uneven investment across industry actors; the challenges of data standardisation and harmonisation; and the lack of adequate competence to use BIM systems.

First, adequate investment in BIM is a challenge because the UK construction industry comprises a wide range of actors of greatly varying sizes and resources….

The second issue then arises of exactly what this information should comprise and how to define it so that is both useful and unambiguous. BIM is an approach to the digitalisation of physical and functional building characteristics, but it is not a stable, off-the-shelf technology…. Standardisation is a key issue for the uptake of BIM, but the current situation is that: 'The ability to capture consistent asset data that is standardised and in a consistent format remains a challenge for the industry' (Cousins 2019). Harmonisation of operational practices may also be necessary to ensure that key actors are using data in the same way.

Third, adequate competence will be required to ensure that data is correctly inputted into the BIM system, and, crucially, that is then used in an appropriate manner in the management of fire safety.
Well, we'll see how SERCO does. Kidding! (Worth noting, however, that "golden thread," as management speak, seems to derive from McKinsey.)
Conclusion
The UK's Tribune magazine summarizes Grenfell Tower, not inaccurately, as "A Very Capitalist Tragedy":
The inquiry has now lost months to the coronavirus pandemic. But, before Covid-19 shut down much of the world, a grimly familiar picture was beginning to emerge from the Grenfell Tower Inquiry.

At every stage, decisions were made that prioritised cost-cutting and profitability over people's safety. Powerful corporations sold or installed products they knew were dangerous in the pursuit of profit.

The local state and its agents, for whom public safety should have been a crucial consideration, were also driven overwhelmingly by the need to cut costs. Those involved in the design and construction cut corners and made decisions based on appearance and cost, not suitability and safety.
The classic American trope for elite misbehavior and misrule is "They were careless people, Tom and Daisy…," but I'd lilke to propose an alternative from pulp fiction author John D. MacDonald's The Turquoise Lament (very heavily cut). Private detective protagonist McGee interviews a trailer park resident, one T.K. Lumley, regarding his serial killer suspect, one Howie Brindle:
"One thing [Howie Brindle] did got on my nerves a little bit. If he'd run an errand over to the grocery store, if he had enough money, he liked to buy himself one of those cans that squirt out whip cream or icing or chocolate for the top of a cake, and he'd go walking past, happy as a fat clam, squirting sweet goo straight into his mouth….
Later, McGee discusses Brindle with his economist sidekick, Meyer:
"Had we but the two disasters [at the trailer park], the poisoning and the explosion, and knew nothing else about Howie Brindle except the impression he made upon us, we would label him a person luck frowned upon, and marvel at the adjustment he has made."

"And wonder why he never mentioned the disasters?"

"Too painful to mention. Or maybe even a kind of traumatic semi-amnesia. We'd make excuses for him. Even right now, we have no proof of anything. Only a chain of incidents so long and so consistent that our life experience tells us he is an amiable maniac…. I would guess that he has often booby-trapped the environment and left, not knowing what the results, if any, would be.
The cladding in Grenfell Tower was a booby trap, an accident waiting to happen. And that's our elites, going around setting booby traps and shooting sweet goo straight into their mouths, ka-ching. I mean, our health care system works exactly the same way.