This fantastical sea creature helps remove planet-warming gases from the atmosphere Los Angeles Times
Fidelity chief warns of global corporate solvency crisis FT
Gasoline Demand Recovery Seen in Saudi Arabia's Price Strategy Bloomberg
Central banks' response to Covid-19 in advanced economies Bank of International Settlements
The Great American Housing Bubble Credit Slips. Adam Levitin's new book, The Great American Housing Bubble: What Went Wrong and How We Can Protect Ourselves in the Future. Yves: "Levitin was Special Counsel to the Congressional Oversight Panel, so he had an insider vantage, and also worked a great deal behind the scenes with anti-foreclosure activists."
#COVID19
The science:

Olfactory transmucosal SARS-CoV-2 invasion as port of Central Nervous System entry in COVID-19 patients (preprint) bioRxiv. From the abstract: "SARS-CoV-2 enters the nervous system via trespassing the neuro-mucosal interface in the olfactory mucosa by exploiting the close vicinity of olfactory mucosal and nervous tissue including delicate olfactory and sensitive nerve endings."

Pulmonary Vascular Endothelialitis, Thrombosis, and Angiogenesis in Covid-19 NEJM. From Harvard's press release, an English translation: "Newly published research detailing the post-mortem features of seven patients who died of COVID-19 provides critical insights, including evidence of extensive damage to the lining of the blood vessels, abnormal blood vessel growth in the lungs and widespread blood clotting." Not "just flu," in other words.

* * *

The data:

Brazil expunges virus death toll as data befuddles experts AP

* * *

Vaccines:

Scientists are struggling to quickly find a vaccine that can vanquish coronavirus San Diego Tribune. Very good wrap-up.

Development of an inactivated vaccine candidate, BBIBP-CorV, with potent protection against SARS-CoV-2 Cell. From the abstract: "Here, we report the pilot-scale production of an inactivated SARS-CoV-2 vaccine candidate (BBIBP-CorV) that induces high levels of neutralizing antibodies titers in mice, rats, guinea pigs, rabbits and nonhuman primates (cynomolgus monkeys and rhesus macaques) to provide protection against SARS-CoV-2…. These results support the further evaluation of BBIBP-CorV in a clinical trial."

* * *

Treatment:

Why Do Some Recover From COVID-19 Quickly, While Others Seem Likely To Face Long-Term Disability? Health Affairs

Hydroxychloroquine is not dead yet NBC. A calm wrap-up, at long last.

* * *

Spread:

A coronavirus mystery: How many people in L.A. actually have COVID-19? LA Times

Marin epidemiologist Larry Brilliant: Virus crisis just beginning Mercury News

* * *

Testing and tracing:

False Negative Tests for SARS-CoV-2 Infection — Challenges and Implications NEJM. "Designing a reference standard for measuring the sensitivity of SARS-CoV-2 tests in asymptomatic people is an unsolved problem that needs urgent attention to increase confidence in test results for contact-tracing or screening purposes." Yikes.

Prevalence of Asymptomatic SARS-CoV-2 Infection Annals of Internal Medicine. From the abstract: "Because of the high risk for silent spread by asymptomatic persons, it is imperative that testing programs include those without symptoms. To supplement conventional diagnostic testing, which is constrained by capacity, cost, and its one-off nature, innovative tactics for public health surveillance, such as crowdsourcing digital wearable data and monitoring sewage sludge, might be helpful."

The Town That Tested Itself The New Yorker. Rather like Ceredigion in Wales, to which we linked yesterday.

* * *

Masks:

COVID-19 and the Social Distancing Paradox: dangers and solutions (PDF) European Institute for Science, Media and Democracy. These researchers had masked people wear a "Social Distancing belt, a special belt augmented with hidden sensor boxes allowing to measure social distances" between the wearer and other pedestrians. From the body of the paper: "[A] visual stimulus signaling danger [like a mask] makes people more sensible to safety and increases social distancing protection."

* * *

Social determinants of health:

The Social Determinants Of Death Health Affairs

* * *

Reopening:

Death and Texas Elizabeth Bruenig, New York Times. American roulette?

* * *

Remedies and ameliorations:

PSA – Do Not Leave Hand Sanitiser or Gloves in Your Car This Summer Drive Tribe

History Suggests the Handshake Will Survive the Pandemic Bloomberg
The pandemic mixed up what scientists study – and some won't go back Nature
China?
In pictures: looking back at one year of protest in Hong Kong Lausan

'Police will come for my son': Hong Kong parents seek a way out for their children Hong Kong Free Press. Hence:

a small cottage industry around HKers' mad rush to apply for their BNO passports appears to have sprung up. this stationery store sign says it stocks envelopes used for mailing BNO documents pic.twitter.com/ohXLVe8LhL

— isabella steger (@stegersaurus) June 8, 2020

* * *

China targets land grabs, forced evictions in new law Agence France Presse

China Poised to Pull Plans for U.K. Nuclear Plants Bloomberg

America's Big China Mistake Clyde Prestowitz, Washington Monthly
India
The Political Economy of Lockdown in India Multiplier Effect
UK/EU
Home Secretary Priti Patel calls violence at UK Black Lives Matter protests 'utterly disgraceful' as clean up starts after a demonstrator tried to BURN Cenotaph's Union flag, a crowd toppled a statue of slave trader Edward Colston and eight police are hurt Daily Mail. "Toppled"? Are we sure about that? Thread:

Protesters Say Statue Tripped, Fell Into Water

— Paul Musgrave? (@profmusgrave) June 7, 2020

Who was Edward Colston and why was his Bristol statue toppled? Guardian

Toulouse's troubles mirror those of France as a whole FT

Italy Might Shake Off Crisis Without Having to Confront Economic Failings Bloomberg
The killing of Jeremy Corbyn Middle East Eye
Brexit
Trump Transition
President Donald Trump questions Roger Goodell's statement to NFL players USA Today. One comment:

Like, don't kid yourself – the NFL is a HUGE part of Trump's constituency and they just told him "look buddy, this is fucking up the plantation, we're out…"

This matters a lot more than people are realizing and it's definitely driving Trump nuts.

It shouldn't but it does.

— Hunter Prado, PhD (@NatSecReporter) June 7, 2020

This Treasury Official Is Running the Bailout. It's Been Great for His Family. Pro Publica
Democrats in Disarray
Democrats seek to tap into fury over George Floyd The Hill. Looks like their response to Ferguson just kicked the can down the road. Unsurprisingly.

Lol (1):

On the eve of George Floyd's funeral, we join with millions of Americans who continue to mourn his murder. His death is a shattering reminder of the injustice & inequities that Black Americans still endure in our society.

The scourge of racism, intolerance & inequality must end. pic.twitter.com/m9YxLqZ1Lb

— AIPAC (@AIPAC) June 7, 2020

Lol (2):

We have our MOMENT. The entire nation has been galvanized. The patriotic protesters have done well and will continue to do so. This is not enough. We need to construct a MOVEMENT that puts in place the structural reforms necessary for the sweeping changes that are badly needed.

— Eric Holder (@EricHolder) June 8, 2020

Former Obama aide goes off on looters: 'There are human beings that live in this goddamn neighborhood' The Hill. Another West Wing rerun…
Imperial Collapse Watch
We Are Watching The Story Of America Crash Headlong Into The Reality Of America Caitlin Johnstone (Carla).

"America's Moment of Reckoning": Cornel West Says Nationwide Uprising Is Sign of "Empire Imploding" (interview) Cornel West, Democracy Now
Police State Watch
Black Injustice Tipping Point
The Enormous Scale of This Movement The Atlantic

Protests against police violence sweep across small-town America Reuters (Colonel Smithers).

The U.S. Needs To Complete Its Reconstruction Efforts. Here's How. Forbes

UPDATE: Protesters pull down Confederate statue in Richmond's Monroe Park Richmond Times-Dispatch and 'A long time coming': Iconic Lee statue to be removed Associated Press

You gotta know the territory:

I hope people appreciate how difficult it is to get 10,000 Angelinos WALK rather than drive. https://t.co/yVJiyCQYnR

— T.K. of AAK! (@AskAKorean) June 8, 2020

Protests in a pandemic present dilemma for scientists FT. American roulette once more? Framing this as the trolley problem, a thread:

1/OK, I didn't want to have to do this thread, because it's inevitably going to make a lot of people angry. But lots of people are asking, so I guess I have to:

Protest Cost-Benefit Analysis

— #TestAndTrace Smith ? (@Noahpinion) June 7, 2020

Tactical ingenuity and cross-fertilization (1):

Oh my God this is the United States of America. Protesters with colorful umbrelllas forcing riot cops to retreat in Seattle tonight.

— Joshua Potash (@JoshuaPotash) June 7, 2020

Tactical ingenuity and cross-fertilization (2):

These sign-shields from Columbus, Ohio are absolutely brilliant:
Painted as signs on one side and reflective on the other. Used to form a wooden shield wall against use of force, and the reflective side counters bright lights, and might also offer some protection against LRAD. ? pic.twitter.com/ZS3gaytPnu

— PNW Youth Liberation Front (@PNWYLF) June 7, 2020
Our Famously Free Press
NYT Opinion Editor Resigns After Furor Over Op-Ed, NYT Reports Bloomberg. The Times should clean house. There might be one or two worth keeping (Bruenig), but otherwise defenestrate Friedman, Brooks, Dowd, Krugman, etc. — in no particular order. They are all over-paid, shopworn, and bad. Put the money into the newsroom.
L'Affaire Joffrey Epstein
NY prosecutors request testimony from Prince Andrew as part of Jeffrey Epstein investigation ABC
Guillotine Watch
Lavish photos show what it's like to go on a luxury safari that costs $125,000 per person and uses a private jet as its main mode of transportation Business Insider (KW).
Transformational Challenge Nuclear Reactor: Microreactor Built Using 3D Printing SciTechDaily
Hannah Arendt and the Twentieth Century Literaturwissenschaft in Berlin (DJG).
Antidote du jour (via):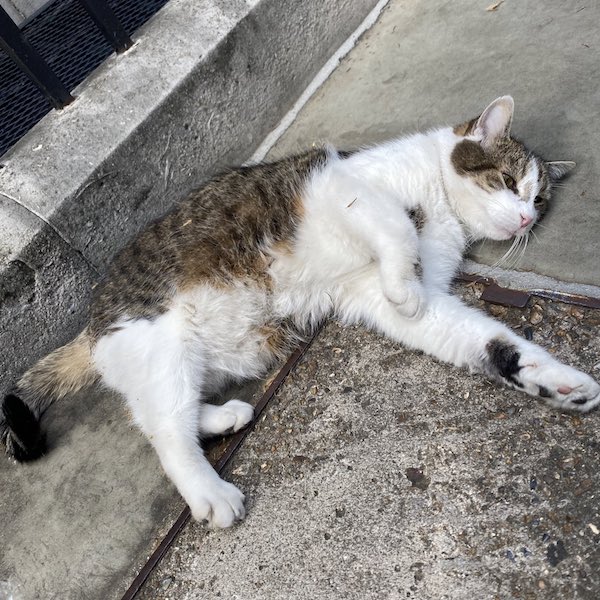 Larry the Cat: "I don't lounge, I glide statically."
See yesterday's Links and Antidote du Jour here.