Astronomers have found a planet like Earth orbiting a star like the sun MIT Technology Review
Archaeologists find a way to look for ancient beer Ars Technica
Dune Road Is Falling Into the Sea—Unless the Billionaires Can Save It Bloomberg (David L)
Prince Andrew: Lawyers lash out at US justice department in new Jeffrey Epstein statement Independent
Now Prince Andrew is fighting fire with fire… but at what price to the monarchy? Amid an unprecedented war of words between the Duke of York and prosecutors in the US, RICHARD KAY gives his discomfiting verdict Daily Mail
Woman Sets Up A Feeder Cam In Her Yard And The Photos Are Extraordinary (30 New Pics) Bored Panda Some fantastic photos.
Black Injustice Tipping Point
Seriously listen to this conversation among Chicago aldermen and the mayor. I've never heard anything like it. https://t.co/y7WCicucIs

— Matt Stoller (@matthewstoller) June 9, 2020
Sports Desk
The N.F.L.'s Change of Tone, and the Limits of Merely Listening New Yorker
#COVID-19
If this is what happens after the pandemic's first wave, then just wait till the second Big Wave hits this fall/winter. The American oligarchy is as fragile as it is brutal & corrupt.

— Mark Ames (@MarkAmesExiled) June 7, 2020
Science/Medicine
The Democratic Party Exists To Co-Opt And Kill Authentic Change Movements Caitlin Johnstone
Class Warfare
How One Innovative Restauranteur Gets Around Aggressive Food Delivery Apps American Conservative
New Cold War
A Pipelineistan fable for our times Asia Times. Pepe Escobar.
China?
China's "Peaceful Rise" Vanishes in Thin Air Project Syndicate (David L). Shashi Tharoor, formerly India's man at the UN, candidate for Secretary General blackballed by the US, and now leading Congress politician and member of the Lok Sabha, as well as a prolific novelist and writer of non-fiction, whose work has given me much pleasure and taught me about India).

Hong Kong government to bail out Cathay Pacific with HK$30 billion in loan and direct stake SCMP

Hong Kong hedge funds eye exit as national security law looms FT
India
Millions at risk as melting Pakistan glaciers raise flood fears Al Jazeera
Syraqistan
US wins second place in Afghan War DuffelBlog
A decent guy from Aden Agence France-Presse
Antidote du Jour. Arizona Slim:
"Well, it had to happen. The determined White-winged Dove that was using my mesquite tree as a calling perch found his special someone.

I was fortunate enough to observe the newlyweds' division of labor. While Mrs. Dove constructed their nest, Mr. Dove acted like a guy shopping the lumber department at Home Depot.

He was picking up twigs, dropping them, choosing different twigs, and, man, this is exhausting. Time for a rest in my front yard.

I couldn't help thinking that this guy married the birdie equivalent of Martha Steward. Because he couldn't fly up to the nest with just any twig. It had to be the perfect twig.

Here's the result …":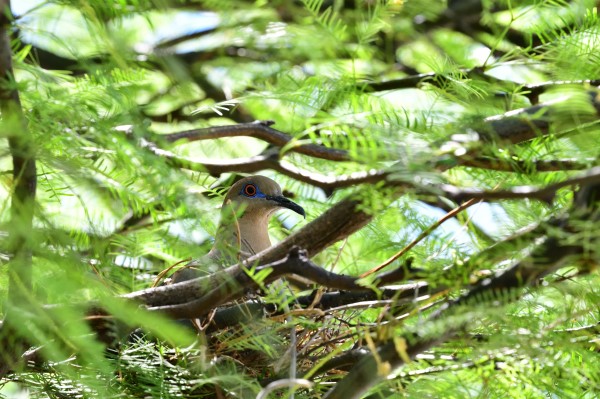 See yesterday's Links and Antidote du Jour here.