Apollo's Leon Black really needs to be more discriminating in his choice of friends and what he does with them. From the top of a new story in the New York Times (hat tip reader Bryan):
Two decades before he ran for president, Donald J. Trump traveled to Russia, where he scouted properties, was wined and dined and, of greatest significance to Senate intelligence investigators, met a woman who was a former Miss Moscow.

A Trump associate, Robert Curran, who was interviewed by the Senate investigators, said he believed Mr. Trump may have had a romantic relationship with the woman. On the same trip, another Trump associate, Leon D. Black, told investigators that he and Mr. Trump "might have been in a strip club together." Another witness said that Mr. Trump may have been with other women in Moscow and later brought them along to a meeting with the mayor.
The report contains this photo "likely taken from at the Brooke Group party" at the Kempinski Hotel in 1996, which is what Black had to 'splain: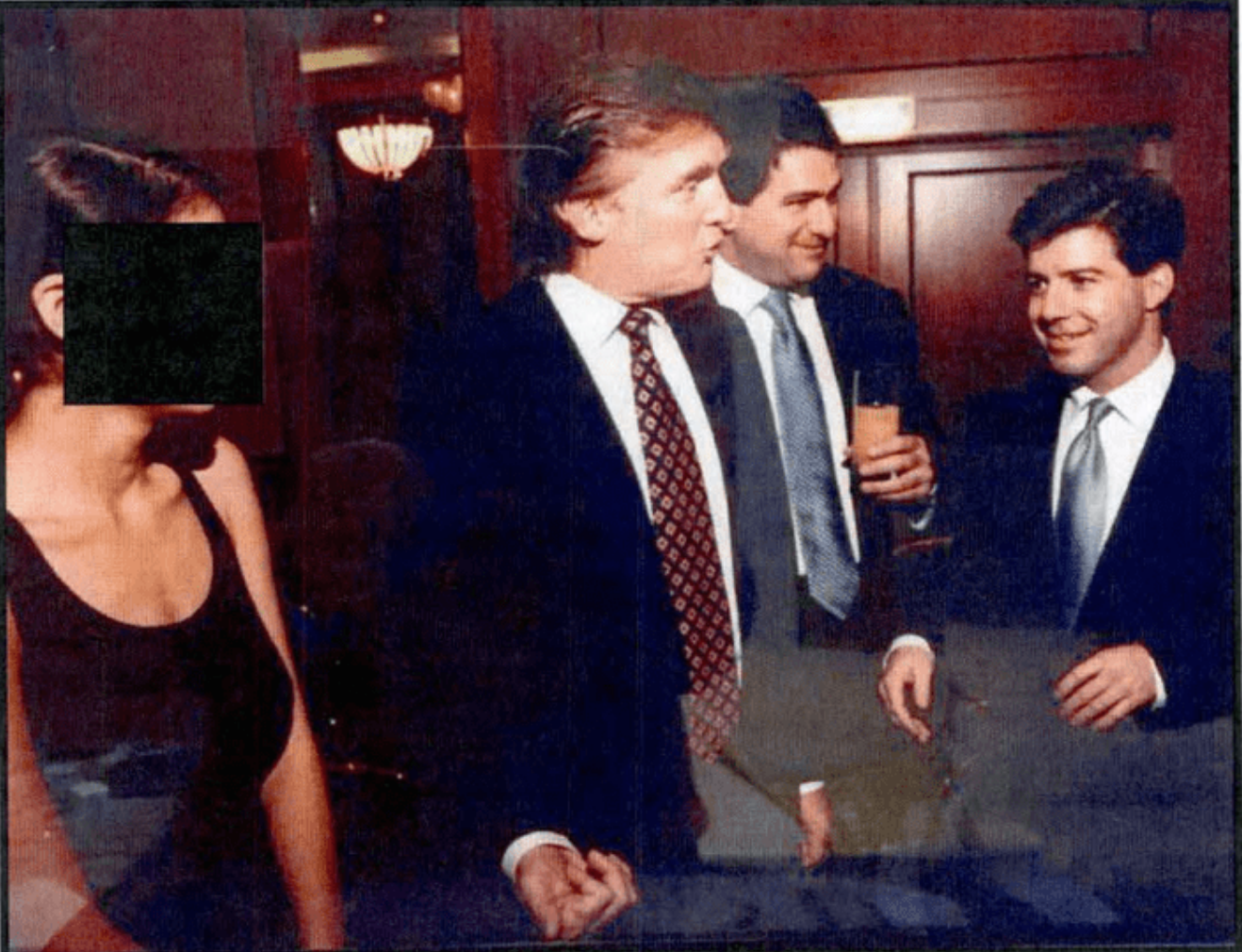 Black describes his role in the 1996 trip as to introduce Trump around; the footnotes depict him, as the Japanese would put it, as well networked:

The strip club (and going to a "discotheque") wouldn't amount to much if it were not part of a pattern. From a 2019 post on Black's unseemly relationship with convicted sex offender Jeffrey Epstein:
It wasn't just that Black's name appeared in Epstein's famed black book. Since 1997, Epstein served as an "original trustee" of the Leon Black Family Foundation. Black has disavowed state filings that listed Epstein as on the board through 2012, years after Epstein pleaded guilty in 2008 to solicitation of prostitution. Black claims the state filings were inaccurate and said he asked Epstein to resign in 2007.

This relationship alone is enough to raise eyebrows. Men at Black's level are hyper-attentive to their personal wealth. The notion Leon Black, who has access to the best tax experts in the world, and himself is a renowned financier, would hire someone with no credentials in tax or accounting to advise on his affairs would seem nonsensical had it not actually happened.

More bad news dripped out. The Wall Street Journal published a long expose, Jeffrey Epstein Burrowed Into the Lives of the Rich and Made a Fortune, Bloomberg reported Jeffrey Epstein Had a Door Into Apollo: His Deep Ties With Leon Black, with insider accounts of how Epstein was permitted to approach Apollo principals to pitch his "tax strategies". An individual mentioned as hosting one meeting disputed that it had occurred. Black issued a denial that didn't address a key Bloomberg claim: that Black had allowed Epstein to solicit senior executives at Apollo. Black merely said that Epstein had never done business with Apollo.2

Black first sent an e-mail to employees, then wrote his investors, then read the employee e-mail as part of Apollo's quarterly conference call. The investor presentation failed to address a New York Times account that a Black-controlled entity had given $10 million to an Epstein charity in 2015.

In addition to covering this ground in a post last week, we also described how CalPERS has featured in this story:, making pious shows of discomfort and earnestly seeking an explanation. We reminded readers that Apollo was central to CalPERS' decline, by virtue of Apollo's and four other investment firms with ties to Apollo's mind-bogglingly large "pay to play" fees by CalPERS that funded bribes to CalPERS' CEO, eventually landing him in Federal prison. Using some conservative assumptions, it also looks as if CalPERS was had by Apollo in the deal Apollo proposed to kiss and make up. We'd anticipated that outcome when we wrote about the CalPERS pay to play scandal in 2014.
Admittedly, compared to the Epstein, um, friendship, hanging out with Trump and going to a going to a strip club in isolation isn't a big deal if that's all it amounts to. If you work on Wall Street, going to strip clubs with clients is part of the job.
However, in New York City, that entertainment doesn't have the significance it does in most other parts of the world. Strippers in NYC really are strippers; the clubs lose their licenses if there's prostitution. A friend, an aspiring ballerina who turned to stripping to pay her student debt, said if any man tried to touch her at the club, he was immediately tossed out, and the bouncers made sure to get all the strippers into cabs at the end of the evening.
By contrast, former Goldman Sachs CDO salesman Tetsuya Ishikawa, in his barely fictionalized account, described the more typical type of entertainment. He was handed a large amount of cash by his boss and instructed to take a prime target out on a weekend day, to a privately owned castle out in the IIRC German countryside, and pay for whatever the client wanted. Gorgeous naked women were sashaying around the beautifully manicured grounds serving drinks and snacks. The client fairly quickly made his choice and took three with him inside, to one of the bedrooms.
Mind you, the Senate had zero interest what Black was paying for. But the report does give the impression that Black saw himself a squiring Trump around, which also suggests he was hosting Trump at least some of the time. And the basis for Black's willingness to be of assistance was that Apollo was and is a major player in commercial real estate.
Most financial players at Black's level are careful about appearances, even overseas. It would be more circumspect to hang out with Trump most of the evening, beg off a need to break away (calls to Asia!) and let a junior mind Trump if he wanted ogle and maybe fondle foxy ladies. And that was before the #MeToo era. CalPERS, which loves to wrap itself in the ESG ("environment, social, governance") mantle, has stood by her man Black despite his hard-to-defend involvement with Epstein even after his conviction. The older incident of being too accommodating to Trump is a foot fault by comparison, but CalPERS has already been put on notice that Black may have even more skeletons in his closet. So what is more important, CalPERS' pretenses of virtue or its inexplicable loyalty to private equity?