By Lambert Strether of Corrente.
Patient readers, there isn't as much Democrat National Convention material as I suppose there should be, but that's because the volume of bullsh*t is so great that I can't even cope with it. So I've dollied back a little, and tried to think about what's going on. Do feel free to add your own horrors in comments! A bit more along these lines soon. (Also, there is a lot of other interesting and important stuff going on.) –lambert
#COVID19
At reader request, I've added this daily chart from 91-DIVOC. The data is the Johns Hopkins CSSE data. Here is the site. Here are the four United States regions, plus US data. Here are the top five of the top ten problem states, with New York for comparison: California, Texas, Florida, Georgia, and Illinois. (Good job, Arizona!)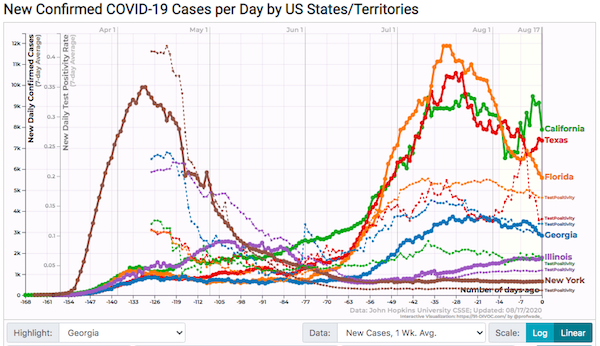 This chart also includes positivity, starting with the highest (worst): Florida, Texas, Georgia, California, and Illinois. California, at 6.6%, approaches the WHO standard of 5%. Illinois, at 3.99%, surpasses it.
<---Today, I thought I'd look at the Midwest: Illinois, Indiana, Iowa, Kansas, Michigan, Minnesota, Missouri, Nebraska, North Dakota, Ohio, South Dakota, and Wisconsin:-->
"Millions of students are returning to US universities in a vast unplanned pandemic experiment" [Nature]. "In the absence of any national strategy for tackling the coronavirus pandemic, colleges and universities in the United States are on their own when it comes to deciding whether and how to bring students back for the autumn term, which has already started for some institutions. Many are relying on their own experts, resulting in a wide range of approaches, from telling students to attend online classes from home to bringing everyone back and testing them three times a week. Some are welcoming limited numbers of students with a face mask stamped with the university's mascot, a bottle of hand sanitizer and plans to test only a fraction of people on campus. It all amounts to a gigantic, unorganized public-health experiment — with millions of students and an untold number of faculty members and staff as participants. Bringing so many university students to crowded campuses is uniquely risky in the United States, which has seen the largest number of deaths to COVID-19 of any country and has active community transmission of SARS-CoV-2, the virus responsible for the pandemic."
We've seen this diagram of a superspreading event before, but not with the children highlighted:
Recent analysis of an outbreak in Ohio where 91 people became infected in a super spreading event. Among the notable observations, children 6 to 16 years old are in the chain of transmission, passing SARS-CoV-2 infection on to other kids as well as to adults. h/t @EricTopol pic.twitter.com/tbis9odvLa

— Scott Gottlieb, MD (@ScottGottliebMD) August 12, 2020
CA: "How many people really wear masks? We counted. It wasn't pretty" [Los Angeles Times]. "Last month, over the course of a week, our reporters observed passersby in three locations in Los Angeles and Orange counties. Each person's compliance with the mask order was classified into one of these three categories: [Correct, Incorrect, No mask]. Only 42% of the people we tracked were wearing masks correctly, 10% were wearing masks incorrectly and 47% were not wearing masks at all." And the caveats: "This is simply one study of a small number of locations. It is not a comprehensive representation of the general public. It only captured the behavior of individuals as they passed by our reporters, and therefore it does not capture cases where people take their mask on and off over a period of time. Our results almost certainly contain some errors in observation and data entry. Since our reporters were observing people in real time and not individually speaking to all of our subjects, it is also possible that we misclassified the gender expression of some individuals."
IA: "'Horrifying' data glitch skews key Iowa coronavirus metrics" [Associated Press]. "A state agency says it is working to fix a data error on Iowa's coronavirus website that lowers the number of new confirmed cases and therefore downplays the severity of the current outbreak, just as schools are deciding whether to reopen. The glitch means the Iowa Department of Public Health has inadvertently been reporting fewer new infections and a smaller percentage of daily positive tests than is truly the case, according to Dana Jones, an Iowa City nurse practitioner who uncovered the problem. It's particularly significant because school districts are relying on state data to determine whether they will offer in-person instruction when school resumes in the coming days and weeks. Potentially thousands of coronavirus infections from recent weeks and months have instead been erroneously recorded as having happened in March, April, May and June, Jones said Monday. "It's just horrifying. We have no idea what's going on, really," said Jones. The numbers are skewed because some people tested negative earlier but recently tested positive. Iowa's system has been recording their new positive results as having happened when their original negative results were reported."
Politics
"But what is government itself, but the greatest of all reflections on human nature?" –James Madison, Federalist 51
"They had one weapon left and both knew it: treachery." –Frank Herbert, Dune
"They had learned nothing, and forgotten nothing." –Charles Maurice de Talleyrand-Périgord
The electoral map. July 17: Georgia, Ohio, ME-2 move from Leans Republican to Toss-up. Continued yikes. On July 7, the tossup were 86. Only July 17, they were 56. Now they are 91. This puts Biden at 278, i.e. over 270. August 18: Still no changes. (Last change August 10.)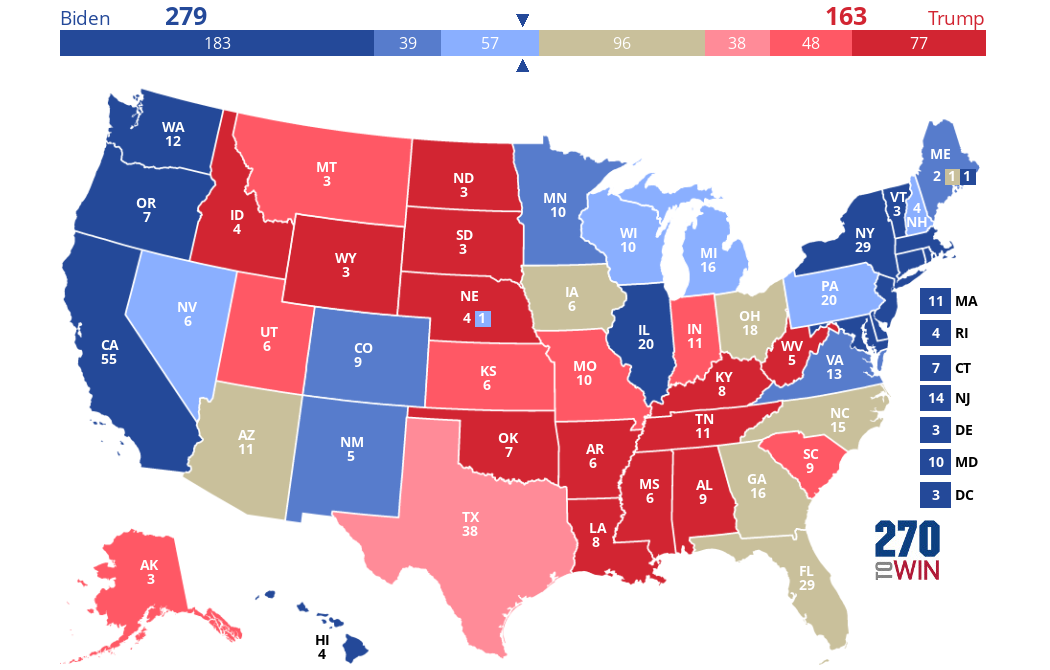 Click the map to create your own at
270toWin.com
So, taking the consensus as a given, 270 (total) – 204 (Trump's) = 66. Trump must win 66 from the states in play: AZ (11), FL (29), MI (16), NC (15), PA (20), and WI (10) plus 1 to win not tie = 102. 102 – 66 = 36. So if Trump wins FL, MI, NC, and PA (29 + 16 + 15 + 20 = 80), he wins. That's a heavy lift. I think I've got the math right this time!
2020
"CNN Poll: Biden and Trump matchup tightens as enthusiasm hits new high" [CNN]. "Overall, 50% of registered voters back the Biden-Harris ticket, while 46% say they support Trump and Pence, right at the poll's margin of error of plus or minus 4 percentage points." • Only one poll!
* * *
–>
Democratic National Convention
"Colin Powell touts Biden's character at DNC: 'We need to restore those values to the White House'" [CNN]. • Oy. This is too much.

The explicit liberal theory of the case:

The #DemConvention is all about diversity — ethnic and racial, brought home last night by the roll call, but also political. The inclusion of leading Republicans is about building a broad coalition of the willing (or, in the left's old language, a popular front) against #Trump.

— EJ Dionne (@EJDionne) August 19, 2020

Lambert here: My current still-being-worked out theory goes like this: We really are looking at a merger between the (factions of) the Democrat Party and (factions of) the Republican Party at the national leadership level. (That makes Dionne's "United Front" theory wrong, and Dionne himself a useful idiot; this realignment is not a temporary thing. Ditto Reich.) From around 2000 to 2016, the Democrat theory of change was the "coalition of the ascendant," as theorized by Ruy Reixeira. This "coalition" was in fact ill-defined and quite fragile, and in fact was not Obama's theory (though, naturally, we can only reverse engineer what he really believed). What Obama believed evolved into what I have labeled The Great Assimilation™, and began in 2008 with Obama's revision to the Preamble of the Democrat platform, which stressed the requirement for a functional Republican Party in a two-party system. (Obama's shorthand for this was waiting for "the fever to break," the "fever" being right-wing populism.) Obama followed through on his vision of a functional Republican Party with his (disastrous) negotiation with Republicans on ObamaCare, where he treated the Republicans as a trusted interlocutor. (For those who came in late, Obama in 2009 had his boot on the Republican throat. He could have crushed them. Instead, he gave them a hand up, dusted them off, and let them right back in the game.)

Fast forward to March 2016, when Thomas Frank's Listen, Liberal! was published. Frank — promptly ostracized along the Acela Corridor — had the nerve to point out the central contradiction of the Democrat Party under the "coalition of the ascendant" theory: The Democrat base was the PMC, but the Democrats also could not win without working class votes (and those voters had both values and interests at odds with the PMC, as the chart below shows). Some insiders thought that the way to resolve the contradiction was to jettison working class votes; as Schumer famously remarked: "For every blue-collar Democrat we lose in western Pennsylvania, we will pick up two moderate Republicans in the suburbs in Philadelphia, and you can repeat that in Ohio and Illinois and Wisconsin." Then, in 2016, Sanders stuck a fork in the "coalition of the ascendant" by peeling off the Hispanic vote entirely. In the short term, liberal Democrat responded to the threat of populism from the left by immediately removing Sanders from any position of authority in candidate selection for 2020, by defenestrating Sanders' candidate for DNC leadership, Ellison, and more centrally by removing all (100%) Sanders supporters from the all-important Rules and Bylaws Committee, where challenges to primary votes are adjudicated.

In the long term — and here, since internal Democrat deliberations are entirely informal and secretive, I speculate — liberal Democrats decided to achieve their majority not with the failed strategy of "the coalition of the ascendant," but by jettisoning the working class entirely, and peeling off suburban Republican voters. (Black Democrat voters should take note; underneath all the "listen to Black women" foofrah, I doubt that liberal Democrats like being beholden to Black constituencies any more than they liked being beholden to the working class. For the nature of the Black people liberal Democrats do accept and respect, see Adolph Reed here; Reed is, I think, restating the idea of "the talented tenth.") The key inflection point that signalled this strategic shift came in 2018 at John McCain's funeral, where war criminal and torture advocate George W Bush. famously gave Michelle Obama candy; she later said, on the Today Show: "He's my partner in crime at every major thing where all the 'formers' gather…. I love him to death. He's a wonderful man, he's a funny man." (Somehow I can't imagine Michelle Obama saying that about Bernie Sanders.)

Hence the presence of Republicans in the Democrat campaign (the Lincoln Project), and their dominance at the convention (Kasich, Whitman, Powell, Molinari, Cindy McCain., etc.), greatly in contrast to the minute given to, say, AOC, or Sanders supporters generally.

Now, one could argue that we are merely looking at a temporary alliance (indeed, a "United Front," just as Dionne and Reich suggest). One might also argue that all that the Democrats want is a strong Republican party, a rational interlocutor, to whom one could extend the right hand of good fellowship without having it ripped off up to the shoulder. In neither case, liberal Democrats don't actually want to assimilate Republicans. Here are some reasons why that's not so: First, if liberal Democrats make suburban Republican voters part of their base, the Republican leadership must follow. Second, liberal Democrats and non-populist Republicans are ideologlcally more alike than different; both are neoliberals. Why not put the tribalism aside and share power? Especially when only the dirty populists are racists? Third, Republicans would bring to the Democrats a focus and ability to execute that liberal Democrats lack, and know they lack (a lot of Democrat jaws are dropping at the Lincoln Project's work). Fourth, if Schumer (and Obama) are right, they have an electoral winner. And who doesn't want to play for a winner?

Some consequences follow if I am correct: First, the working class is up for grabs. (Some of the more creative Republicans are figuring this out.) Second, the path forward for working class electeds is not through the Democrat Party; they are not wanted (this implies that I don't think Sanders electoralism is viable, though I respect Sanders' desire — he is, after all, from a family destroyed by the Holocaust — to prioritize beating Trump. Of course, if George W. Bush wasn't a fascist, Trump is not, but then maybe George W. Bush was.)

One caveat: I'm reasoning solely from what I understand about the two parties. I have not discussed the "industrial model" of Ferguson, Jorgensen, and Jie; The Great Assimilation™, to be fully functional, would imply a merger of the non-populist donor base. Then again, in a crisis, things correlate.

A second caveat: This view would also imply that a lot of the conflict we see in the press is froth.

A third caveat: I haven't thought through the institutionat details of The Great Assimilation™. Shared office space? Hard to imagine. But the Beltway is creative about such things. Perhaps Biden will propose "A government of national unity." That would cause a lot of reconfiguration.

Anyhow, that's my being-worked-on theory. Readers?

"Sanders Supporters Realize Their Party Is Bigger Than They Are" [The Atlantic]. "Around 10:30 p.m. ET, when Sanders finally appeared on-screen in front of a large stack of chopped wood, only a handful of people remained on the call. They smiled wistfully in their little Zoom squares, and they guessed about the symbolism of the firewood—maybe he chopped it himself? someone suggested. But no one commented when Sanders praised Biden's pledge to raise the federal minimum wage to $15, and no one cheered at his guarantee that Biden would transition the U.S. economy to 100 percent clean energy. No one said anything when Sanders promised that Biden would do his utmost as president to 'move the country forward. Even he couldn't make them believe it." • As I said.

"The triumph of the Nostalgiacrats" [Vox]. "The party is celebrating its past more than its future, and, in so doing, making a very strong pitch for nostalgia. With double-digit unemployment and thousands dying per day of a new disease, there's obviously something to be said for turning back the clock. But as the country faces swirling tides of discontent from multiple directions and historically low levels of trust in social institutions — and each other — there's also a real danger in this path." • I would argue that it's simple. My favorite chart for the Obama years:

The 30% of the population that did well after the Crash are nostalgic for Obama. The Democrat base — including suburban Republicans — is in that 30%. The bottom 70%, who were not made whole after ten years of "recovery" are not nostalgic, because they have nothing to be nostalgic about. I've had many, many good experiences over the past decade, but nostalgia? Are you high?
Our Famously Free Press
"NYT Urges Biden to Shun His Party's 'Left-Leaning Brand'" [FAIR]. • Worth reading in full. The Times material is an example of what Thomas Frank refers to as "airtight consensus." Again, in a crisis, things correlate. It's probably better to stop thinking of the parties, the press, and various governmental factions (especially the intelligence community) as being in any way separate.
Stats Watch
At reader request, I added some business stats back in. Please give Econintersect click-throughs; they're a good, old-school blog that covers more than stats. If anybody knows of other aggregators, please contact me at the email address below.
Consumer Confidence: "When Will Consumers Feel Safe? Weekly Updates on Consumers' Comfort Level With Various Pastimes" [Morning Consult]. Handy chart: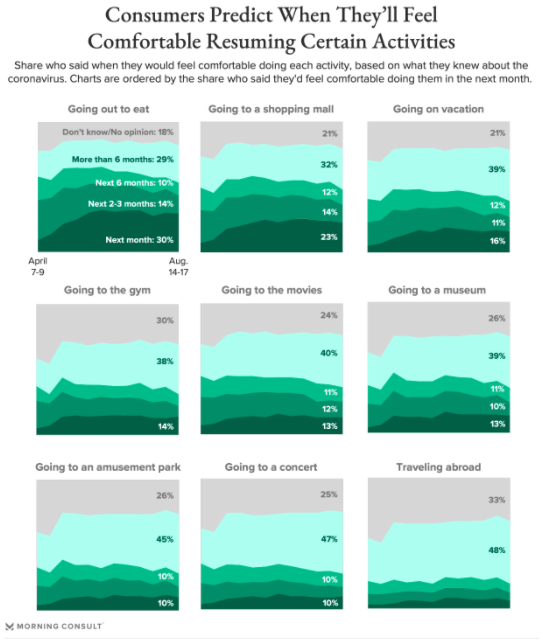 See especially item two at top: "Going to a shopping mall." The consumer of last resort is hardly pulling its weight. And I'm sure manufacturing nations are taking note.
Employment Situation: "What Unemployment Statistics Obscure About Temporary Layoffs" [Rand]. "20 percent of permanent layoffs in May and June had been temporary layoffs the month before. This is telling, because it might indicate how much of the controlled shutdown has become an uncontrolled recession. Analyzing such transitions within unemployment is crucial to understanding what's happening in the labor market right now—and highly relevant for policymakers. The $600 federal supplement to weekly unemployment benefits that ended two weeks ago, for example, served two possible functions. It could have helped people get by until their employers reopened. Or, it could have been directing money to those most likely to spend it and therefore propping up demand in the economy so that more businesses wouldn't permanently close. If lawmakers believe that all we need to do to restart the economy is turn the lights back on, then perhaps the $600 has a clear expiration. If they think that the economy could be on the verge of contracting further, then perhaps the supplement needs to continue."
Construction: "July 2020 Residential Building Growth Continues To Improve" [Econintersect]. "Headline residential building permits and construction completions improved – and the rolling averages showed a similar result. No coronavirus effect is seen in this data. It is almost as though the coronavirus never occurred with this data set…. [T[]he rolling averages say this sector is expanding. We consider this report better than last month."
* * *
Tech: "Apple fires back at Epic: 'We won't make an exception'" [The Verge]. "'We very much want to keep the company as part of the Apple Developer Program and their apps on the Store,' Apple says in a statement to The Verge. 'The problem Epic has created for itself is one that can easily be remedied if they submit an update of their app that reverts it to comply with the guidelines they agreed to and which apply to all developers.'" • I have little sympathy for Apple, but I might have a smidgeon more if the Apple Store wasn't such a horrid piece of software. Here's Epic's request for an injunction (dk).
Tech: "Amazon Music Adding Podcasts, Walk Back Condition That Podcasters Don't Disparage Amazon" [Pitchfork]. "Amazon revealed in emails to multiple podcasters its plans to begin streaming podcasts on Amazon Music and Audible, Billboard and The Desk report. As multiple podcasters have pointed out on social media, the company's terms and conditions, at the time of the announcement, featured a significant point under the 'content restrictions' header that claimed podcasts cannot feature anti-Amazon rhetoric. 'Your Content may not include advertising or messages that disparage or are directed against Amazon or any Service,' the terms stated. Corey Quinn, host of the Screaming in the Cloud tech podcast, tweeted, 'I'm a freaking entertainment podcast and I can't consent to that. How can any actual news podcast?!' Following the spread of the news of the apparent anti-disparagement clause, Amazon quietly dropped the policy, according to The Desk. The terms, according to The Desk, now state that podcasters must 'comply with Amazon's Creative Acceptance Policies.'" • Amazon will tru again, surely.
Tech: "Google giving far-right users' data to law enforcement, documents reveal" [Guardian]. "A little-known investigative unit inside search giant Google regularly forwarded detailed personal information on the company's users to members of a counter-terrorist fusion center in California's Bay Area, according to leaked documents reviewed by the Guardian. But checking the documents against Google's platforms reveals that in some cases Google did not necessarily ban the users they reported to the authorities, and some still have accounts on YouTube, Gmail and other services. The users were often threatening violence or otherwise expressing extremist views, often associated with the far right. The documents come from the so-called "Blueleaks" trove, which hackers acquired from the servers of a hosting company in Texas which had been used by several law enforcement agencies. It contains hundreds of thousands of documents from more than 200 agencies, dated between 1996 and June 2020."
Tech: I use a VPN, and this came up the other day: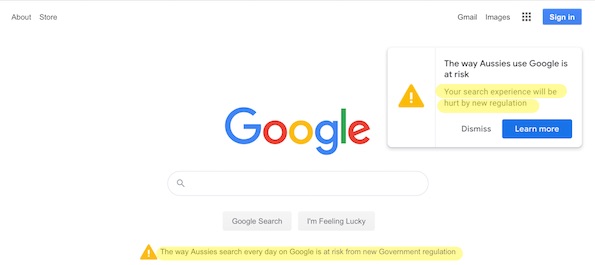 I've never seen anything like this before. Google propagandizing against government regulation on the same page as "I'm feeling lucky" seems bizarre, though I suppose it's legal, even for a search monopoly. However, clue stick: It's hard to see how government regulation would "hurt" the "user experience" more than Google's own crapification.
Tech: "Disney's CEO Is Scrapping Once-Sacred Businesses" [Bloomberg]. "With the global pandemic crippling Disney's theme-park, movie and TV businesses, [new CEO Bob] Chapek's first months atop the world's largest entertainment company have been anything but a honeymoon. The broad-shouldered, 61-year-old Indiana native jumped in with characteristic zeal, making big changes to cope with the crisis and the tectonic forces reshaping the company's core businesses. The decisions came large and small. Disney shuttered its theme parks in March, anchored its cruise ships and furloughed some 100,000 workers. Revenue slumped 42% last quarter, hurt by the closed businesses and loss of advertising sales at networks like ESPN and ABC. But the biggest strategic shift is unquestionably Disney's push into online video."
* * *
Today's Fear & Greed Index: 70 Greed (previous close: 70 Greed) [CNN]. One week ago: 73 (Greed). (0 is Extreme Fear; 100 is Extreme Greed). Last updated Aug 19 at 1:01pm.
The Biosphere
"Catching plague locusts with their own scent" [Nature]. "Another plague, of a much older kind — one that is not curable with vaccines or medicine — is currently raging in Africa (Fig. 1) and the Middle East. Seasons of unusually heavy rains, driven by climate change, have created population explosions of swarming desert locusts (Schistocerca gregaria)…. Researchers have long assumed that an aggregation pheromone was the trigger for swarms, but no molecule had yet satisfied the conditions of being a candidate pheromone.,,, From a collection of 35 compounds emitted by locusts, the authors identified 6 that are highly enriched in gregarious but not in solitary insects…. The authors carried out a clever experiment to determine how many solitary locusts need to be crowded together to induce the production of this aggregation pheromone. The answer is remarkable: just four or five suffice." • Hmm.
Health Care
"Coronavirus research updates: Sailors furnish first evidence that antibodies protect humans against reinfection" [Nature]. "A massive COVID-19 outbreak on a US fishing boat spared crew members who already had antibodies against the new coronavirus, providing what scientists say is the first direct evidence that these antibodies protect people against being reinfected… Just before the ship's departure, the researchers tested 120 of the 122 crew members and found that all were negative for SARS-CoV2, but an outbreak hit the ship soon after it left shore. Post-voyage testing showed that 104 members of the 122-person crew were infected. None of those who were infected and had been tested before embarking had shown neutralizing antibodies against SARS-CoV-2.m But all three crew members who did have such antibodies before departure escaped infection, providing statistically significant evidence that neutralizing antibodies acquired during SARS-CoV-2 infection protect against reinfection, the authors say. The findings have not yet been peer reviewed." • Good news!
"Scientists worried the pandemic would cause malaria deaths to soar. So far, it hasn't happened" [Science]. "Back in March when COVID-19 hit, Pedro Alonso became alarmed about a different infectious disease. 'I thought I would be witnessing the biggest malaria disaster in 20 years,' says Alonso, a malaria scientist at the World Health Organization (WHO). African countries went on lockdown to curtail COVID-19; worried about mass gatherings, they suspended campaigns to distribute mosquito-fighting bed nets. Fears abounded that with clinics overwhelmed by COVID-19, patients would be unable to get treatment for malaria, which kills an estimated 405,000 per year, mostly African children. In the worst case scenario, models projected, malaria deaths could more than double this year. 'It does not seem to be happening,' Alonso says. Lobbied hard by WHO's Global Malaria Programme (GMP), which he heads, and its partners, countries resumed bed net campaigns. Rapid diagnostic tests and effective malaria drugs are available. The situation could still go south as the COVID-19 epidemic accelerates—there are worrying signs—but for now, Alonso says, 'We probably stopped the first big blow.'" • Two feel-good stories in the health care section in one day. I don't know what's come over me.
"What Happens to Viral Particles on the Subway" [New York Times]. • Animated diagrams. Not entirely re-assuring.
"We Need to Talk About Ventilation" [The Atlantic]. I've posted this before, but I'm reposting it, because the whole piece is still worth a read if you have not done so. A key paragraph for your personal practice:
In multiple studies, researchers have found that COVID-19's secondary attack rate, the proportion of susceptible people that one sick person will infect in a circumscribed setting, such as a household or dormitory, can be as low as 10 to 20 percent. In fact, many experts I spoke with remarked that COVID-19 was less contagious than many other pathogens, except when it seemed to occasionally go wild in super-spreader events, infecting large numbers of people at once, across distances much greater than the droplet range of three to six feet. Those who argue that COVID-19 can spread through aerosol routes point to the prevalence and conditions of these super-spreader events as one of the most important pieces of evidence for airborne transmission.

Saskia Popescu, an infectious-disease epidemiologist, emphasized to me that we should not call these "super-spreaders," referring only to the people, but "super-spreader events," because they seem to occur in very particular settings—an important clue. People don't emit an equal amount of aerosols during every activity: Singing emits more than talking, which emits more than breathing. And some people could be super-emitters of aerosols. But that's not all. The super-spreader–event triad seems to rely on three V's: venue, ventilation, and vocalization. Most super-spreader events occur at an indoor venue, especially a poorly ventilated one (meaning air is not being exchanged, diluted, or filtered), where lots of people are talking, chanting, or singing. Some examples of where super-spreader events have taken place are restaurants, bars, clubs, choir practices, weddings, funerals, cruise ships, nursing homes, prisons, and meatpacking plants.
"Honey 'beats antibiotics' for curing coughs or colds: New research shows it is more effective than medication" [Daily Mail]. "'Honey was associated with a significantly greater reduction in combined symptom score, cough frequency and cough severity,' the study in the British Medical Journal said. It added that the so-called 'nectar of the gods' is cheap, readily available and has virtually no side effects. The authors also said using honey for infections could reduce the overprescription of antibiotics, which is fuelling a crisis of antimicrobial resistance." • I gargle with undiluted honey (and some salt) when I get what I suppose I must now pray is only a cold.
Who Opposes Defunding the N.Y.P.D.? These Black Lawmakers NYT –>
Groves of Academe
"Life Without Football Will Trounce America's College Towns" [Bloomberg]. "Economists say the loss of a big swath of the college game won't significantly hit the U.S.'s roughly $21 trillion economy, even if big TV networks stand to lose a sizable chunk of the $1.2 billion in ad revenue the season usually generates. The effects of no football will be starker in small college towns like Iowa City, Iowa, and State College, Pennsylvania, where Saturday tailgate parties by alumni are among the year's biggest draws." • I'm so old I remember when snagging a college was promoted as the recipe for avoiding small-town decline.
"A Message from Your University's Vice President for Magical Thinking" [McSweeney's Internet Tendency]. "What are our administrators doing to help? Rest assured, they're determined to make any sacrifice (short of salary reductions that would go to benefit faculty and staff whose positions have been cut) until we make it through this crisis."
"School of Public Health study says students may be able to safely return to campus" [Yale Daily News]. • Read all the way to the end.
"UConn to pay 'white fragility' scholar Robin DiAngelo $20,000 for antiracism workshop" [The College Fix]. "The University of Connecticut is slated to pay "white fragility" scholar Robin DiAngelo $20,000 to lead a three-and-a-half-hour workshop this fall for administrators during their professional development retreat, according to a copy of the contract provided to The College Fix by the university." • Grifters gotta grift. College administrators, too!
Class Warfare
"Bill Gates, Elon Musk, Jeff Bezos and the rest of the 'Oligarchic Dozen' just reached a 'disturbing milestone'" [MarketWatch]. ""The rich get richer" doesn't even begin to tell the story these days. According to the Institute for Policy Studies, the wealth of the top 12 billionaires in the U.S. recently exploded to more than one trillion dollars — yes, 13 digits. The statistic, of course, is an eye-popping figure on its face, made even more so in light of the devastation in the broader economy due to the coronavirus pandemic. Since the pandemic first blew up in the U.S. back in March, the 'Oligarchic Dozen' has enjoyed a 40% surge in its combined wealth — or an increase of $283 billion." • Handy chart: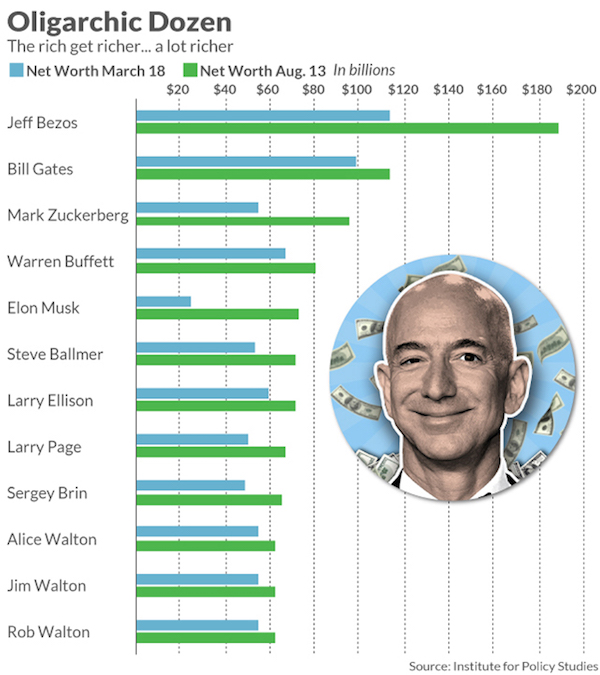 So, from the perspective of the people who really own and run our political economy, there's no real reason for the pandemic to end, is there?
"The Virginia Couple That Gave Birth To The Billable Hour" [Ozy]. "Lawyers have slowly but surely been committing economic suicide as a profession," the Virginia State Bar's committee on economics concluded around the same time, proposing a solution embraced by state bars across the country: minimum-fee schedules. For the Virginia State Bar, the minimum fee schedule was just good business, and lawyers found to be charging less than the suggested fee for a service would be presumed 'guilty of misconduct.' For Ruth and Lewis Goldfarb, and the class of Virginia plaintiffs they headed, however, the minimum fees charged by the legal profession constituted price-fixing and were therefore — rather ironically — illegal. In 1971, the Goldfarbs had contracted to purchase a home in Reston, Virginia, and as part of securing a mortgage, were required to hire a local attorney to conduct a title examination of the property. To their horror, and after calls to several dozen attorneys in Northern Virginia, the Goldfarbs discovered that the minimum-fee system made bargain hunting for legal services a rather pointless exercise." • Be careful what you wish for….
News of the Wired
"Inside the Work of a New York Psychedelic Trip Guide" [Filter]. "Planning ahead for a trip is always important. Your mental or emotional mindset, and your physical environment or setting, will greatly influence how things turn out—for better or worse. Psychedelic users call this your "set and setting." Choosing to trip in your grandma's basement after a long workday will look very different from if you trip at the crack of dawn in your friend's tent at a music festival." • I should say so!
"Quantum paradox points to shaky foundations of reality" [Science]. First I've heard. Perhaps we have a physicist in the readership who can explain this.
"'Contact Languages' Don't Get the Respect They Deserve" [The Atlantic]. "When groups of people who speak different languages come together, they sometimes inadvertently create a new one, combining bits of each into something everyone can use to communicate easily. Linguists call such impromptu tongues 'contact languages'—and they can extend well beyond the pidgin and creole varieties that many of us have heard of. The origin stories of these linguistic mash-ups vary. Some are peaceful, such as when groups meet for trade and need a lingua franca: Nigerian Pidgin English, for example, allows speakers of some 500 tongues to communicate. But others were born of tragedy and violence—like Haitian Creole, Gullah Geechee, Jamaican Creole, and many others that arose during the Atlantic slave trade, when West African peoples combined several tongues with English, creating everyday languages often used among enslaved people. Today, many of these contact languages are lost. Only 200 or so remain—and scores are at risk of extinction."
"'The mystery is over': Researchers say they know what happened to 'Lost Colony'" [Virginian-Pilot]. "The evidence shows the colony left Roanoke Island with the friendly Croatoans to settle on Hatteras Island. They thrived, ate well, had mixed families and endured for generations. More than a century later, explorer John Lawson found natives with blue eyes who recounted they had ancestors who could 'speak out of a book,' Lawson wrote. The two cultures adapted English earrings into fishhooks and gun barrels into sharp-ended tubes to tap tar from trees." • They ate well!
* * *
Readers, feel free to contact me at lambert [UNDERSCORE] strether [DOT] corrente [AT] yahoo [DOT] com, with (a) links, and even better (b) sources I should curate regularly, (c) how to send me a check if you are allergic to PayPal, and (d) to find out how to send me images of plants. Vegetables are fine! Fungi and coral are deemed to be honorary plants! If you want your handle to appear as a credit, please place it at the start of your mail in parentheses: (thus). Otherwise, I will anonymize by using your initials. See the previous Water Cooler (with plant) here. Today's plant (AM):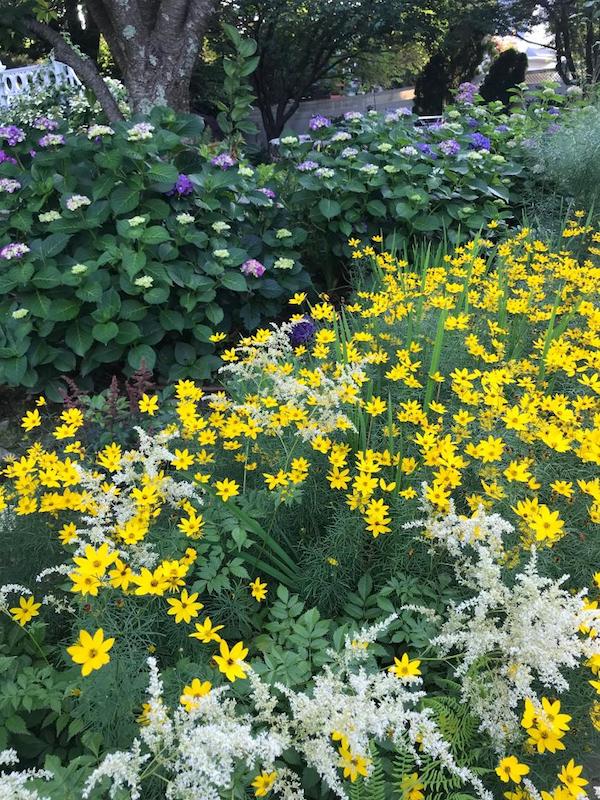 AM writes: "Latest phase (early July) of the backyard garden has the hydrangeas coming into bloom in the background." Masses of color!
* * *
Readers: Water Cooler is a standalone entity not covered by the annual NC fundraiser. So if you see a link you especially like, or an item you wouldn't see anywhere else, please do not hesitate to express your appreciation in tangible form. Remember, a tip jar is for tipping! Regular positive feedback both makes me feel good and lets me know I'm on the right track with coverage. When I get no donations for five or ten days I get worried. More tangibly, a constant trickle of donations helps me with expenses, and I factor in that trickle when setting fundraising goals:
Here is the screen that will appear, which I have helpfully annotated.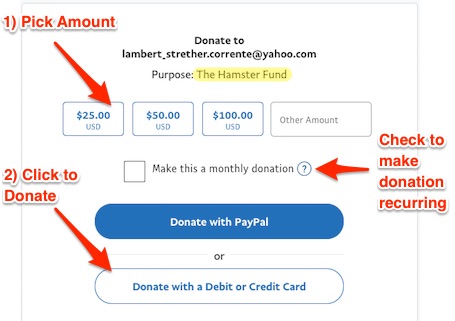 If you hate PayPal, you can email me at lambert [UNDERSCORE] strether [DOT] corrente [AT] yahoo [DOT] com, and I will give you directions on how to send a check. Thank you!