By Lambert Strether of Corrente.
#COVID19
At reader request, I've added this daily chart from 91-DIVOC. The data is the Johns Hopkins CSSE data. Here is the site.
Here again is the Midwest: Illinois, Indiana, Iowa, Kansas, Michigan, Minnesota, Missouri, Nebraska, North Dakota, Ohio, South Dakota, and Wisconsin: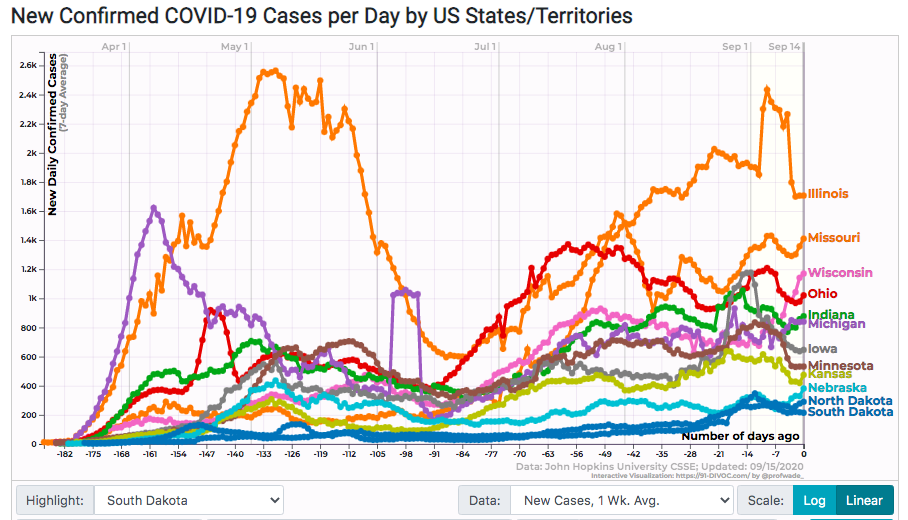 I don't like those upticks.
Here is positivity: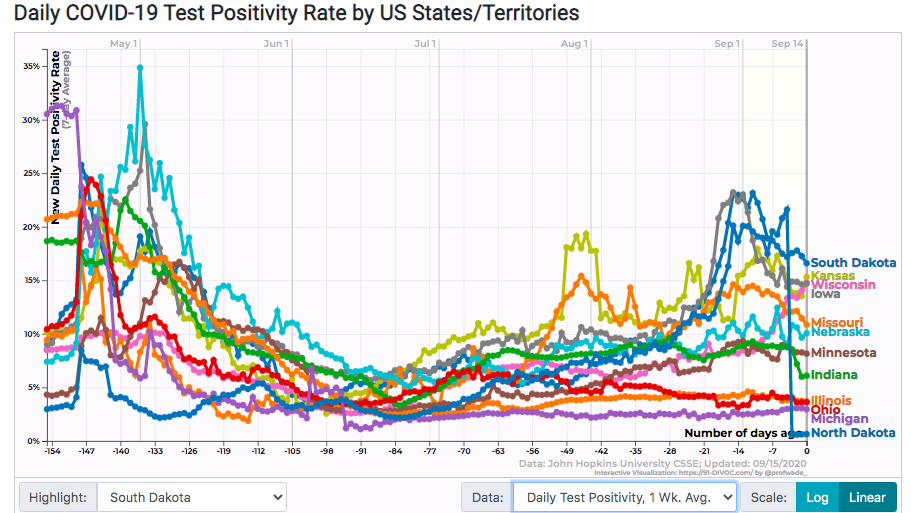 Here are the United States regions: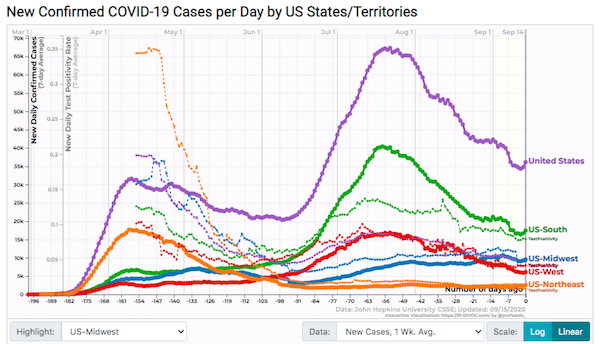 Again with the upticks.
* * *
FL: "A group of students knew they had covid-19. They hosted a party over Labor Day anyway" [WaPo]. "When a police officer pulled up to a house near the Miami University campus in Oxford, Ohio, last weekend, he found seven young men hanging around on the front porch, unmasked, drinking beer and listening to Southern rock music…. 'I've never seen this before," the officer said, waving the student over. 'There's an input on the computer that you tested positive for covid?' 'Yes,' the student said. 'This was, um, a week ago.' The officer asked whether he was supposed to be quarantining, to which the student replied that he was at his house and that everyone who lives in the house also tested positive for covid-19. 'But you have other people here, and you're positive for covid? You see the problem?' the officer said. The student said that some of the visitors had also tested positive. The officer sighed. 'You're not quarantining if you're mixing with other people,' he said." • Much as I hate to see young men on porches drinking in college towns, "Southern Rock" does put a thumb on the scales, doesn't it? Also, taken it as given that young people are stupid — I certainly was! — how is it that this fact is only gradually dawning on college administrators, who are paid excellent money to, well, administer things like quarantines?
IL: "It's Hard to Keep a College Safe From Covid, Even With Mass Testing" [Bloomberg]. "On Sept. 2, the university sounded an alarm. Over the previous 10 days, 784 positive cases had emerged, and if the trend continued the count could rise to as many as 8,000 that semester. The school cracked down on parties, told undergrads to leave their homes or dorms only for essential activities such as going to class and buying food, set up a new team to isolate positive cases quicker, and created an online form to report risky behavior. There are early signs that the plan is working, with new case numbers dropping. Yet critics—including some of the university's own faculty—say the school has relied too heavily on its impressive technology and predictive analytics, while miscalculating about its own students, young adults still learning how to live on their own and eager for social contact after months of isolation. ',' says David Wilson, a longtime geography professor. 'It's about people, their daily rituals and habits. That was not really considered.'" • What, you mean the solutions aren't primarily technical? "Young people party. Who knew?" [insert image of college administrator, aghast].
ND, SD: "North and South Dakota Lead in U.S. COVID-19 Growth as Both States Reject Mask Requirements" [Time]. "Neither governor appears ready to yield any ground [on masks]. 'We will not be changing that approach,' Noem spokesman Ian Fury said Thursday, citing a low hospitalization rate and the fact that only 3% of intensive-care beds are occupied by COVID patients. Doctors in both states warn that their health care systems remain vulnerable. Small hospitals in rural areas depend on just a handful of large hospitals to handle large inflows of patients or complex procedures, said Dr. Misty Anderson, president of the North Dakota Medical Association. Aaker, the president of the South Dakota physician's group, said medical practices have seen patients delaying routine care during the pandemic, meaning that doctors could soon see an uptick in patients needing more serious attention."
NH: "Dartmouth quarantines 23 Tuck students after party in dorm" [Valley News (PS)]. "At least 23 Tuck School of Business students are in quarantine after attending a party at a graduate school dormitory in an incident that Dartmouth College officials said was a "serious offense" against COVID-19 precautions…. [Meanwhile], Dean of the College Kathryn Lively, who is seen as a main enforcer of the COVID-19 rules, also told undergraduates this week that various drinking games, most notably 'Pong,' are now prohibited both on-campus or locally off-campus to "decrease the risk of the spread of COVID-19." The game, which requires a player to chug a cup of beer if an opponent lands a ping pong ball into the cup, is a longstanding tradition on campus." • Excellent. Pong is vile and degrading, and getting rid of it is good. So Covid has a bright side!
NY: "In Worst-Hit Covid State, New York's Cuomo Called All the Shots" [Wall Street Journal]. "The federal government largely left the coronavirus response to states. While some governors ceded power to local officials, others centralized it. Mr. Cuomo, more than most state leaders, insisted that nearly every decision come from his office, including when to close office buildings, the size of weddings and the type of air filters required at shopping malls."
Politics
"But what is government itself, but the greatest of all reflections on human nature?" –James Madison, Federalist 51
"They had one weapon left and both knew it: treachery." –Frank Herbert, Dune
"They had learned nothing, and forgotten nothing." –Charles Maurice de Talleyrand-Périgord
The electoral map. July 17: Georgia, Ohio, ME-2 move from Leans Republican to Toss-up. Continued yikes. On July 7, the tossup were 86. Only July 17, they were 56. Now they are 91. This puts Biden at 278, i.e. over 270. August 18: Still no changes. August 31: Indiana moves from Likely to Safe Republican. September 9: No changes. September 14: No changes. Despite the sturm and drang, and the polls, the consensus on the electoral college remains the same: Biden ahead, Trump within striking distance.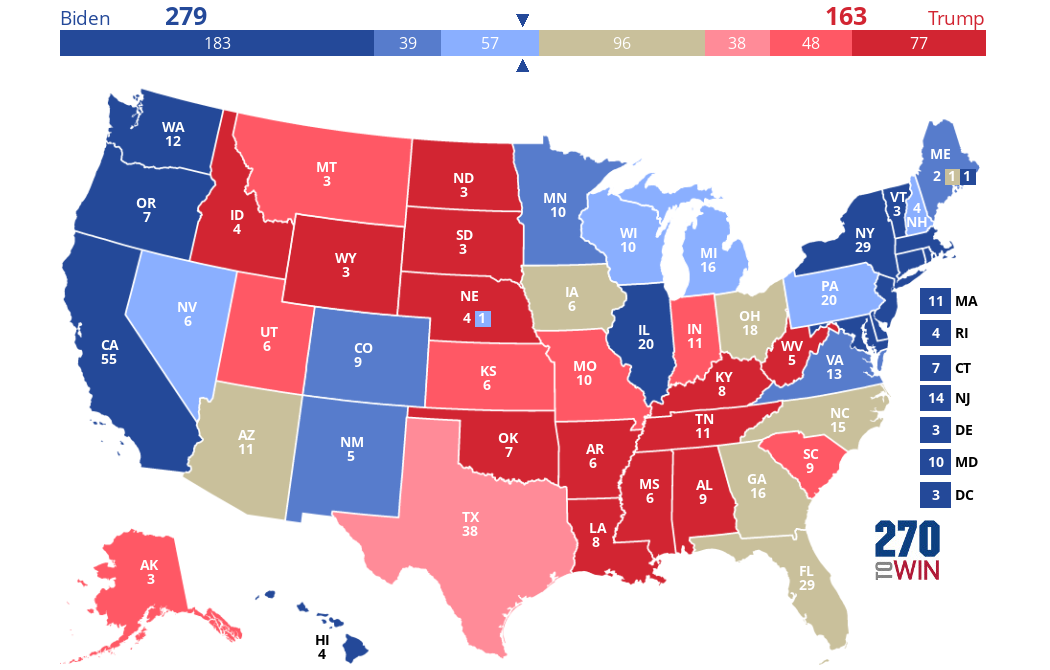 Click the map to create your own at
270toWin.com
So, taking the consensus as a given, 270 (total) – 204 (Trump's) = 66. Trump must win 66 from the states in play: AZ (11), FL (29), MI (16), NC (15), PA (20), and WI (10) plus 1 to win not tie = 102. 102 – 66 = 36. So if Trump wins FL, MI, NC, and PA (29 + 16 + 15 + 20 = 80), he wins. That's a heavy lift. I think I've got the math right this time!
Time to restore the election countdown:
Here, however, is an early voting calendar. Maybe we'll have a whole series of October surprises, since election day is gradually being devalued as an event.
* * *
2020
Biden (D)(1): "Biden Holds Slim Edge Over Trump in Minnesota Ahead of Visits " [Morning Consult]. "Biden leads Trump by 9 points among women, 51 percent to 42 percent, a bloc that Clinton carried by 7 points. Among suburbanites and independents, groups that broke evenly between Clinton and Trump in 2016, Biden and the president are effectively tied. However, among white voters, who Trump won by 7 points four years ago, 50 percent to 43 percent, Biden leads Trump within the margin of error, 48 percent to 45 percent. That turning of the tables was driven by Biden's overperformance among white voters with college degrees. The latest polling found Biden leading Trump by 27 points among college-educated whites, 61 percent to 34 percent, compared with Clinton's 9-point lead four years ago."

Biden (D)(2): No:

Saw a pic of her visiting some laborers somewhere today, and was absolutely thrilled that at first glance I couldn't tell which was Kamala and which was the worker. So COOL!! She is going to be amazing as VP!!

— Donna Vickery (@Db2Vickery) September 7, 2020

"Some laborers somewhere."

UPDATE Biden (D)(4): "Democrats back away from quick reversal of Trump tax cuts" [The Hill]. • Lol.

UPDATE Biden (D)(3): "Joe Biden's Hispanic voter problem is real" [CNN]. "Trump is doing better with Hispanics than he did four years ago. That improvement is helping Trump stay competitive in places he might not otherwise be…. Indeed, Biden can struggle with Hispanic voters and still win the election. It's, in fact, something he's doing right now. Biden is up by seven points nationally and has at least a trivial advantage in the six closest states Trump won four years ago: Arizona, Florida, Michigan, North Carolina, Pennsylvania and Wisconsin. Biden is able to do so because he has countered his relative weakness with Hispanic voters by doing extremely well with White voters. The result is a Biden lead nationally and in the swing states because White voters make up about seven times the percentage of the electorate Hispanics do nationally and at least three times (though in some cases many more times) in the closest swing states Trump won in 2016." • So after all the hysteria about identity politics, Biden's going to win on whites from the burbs? More–

UPDATE Biden (D)(4): "Biden campaign ratchets up courting of Black voters, specifically Black men" [The Hill]. "With 50 days until Election Day, the Biden campaign has kicked into high gear its efforts to reach Black voters, a bloc that had a 20-year low in voter participation in the last presidential election. In a virtual press call Monday, senior members of the former vice president's campaign reiterated its commitment to reaching all voters of color but explained that certain blocs needed to be reached more efficiently. Biden senior adviser Symone Sanders highlighted Black men as a voting bloc that had 'become more disillusioned and disaffected with the Democratic Party over the last couple of cycles.'" • That's odd.

UPDATE Biden (D)(5): "Down-ballot Dems split from Biden on door-knocking" [Politico]. "For months, down-ballot Democrats followed Joe Biden's lead and stopped door-to-door campaigning in an effort to prevent people from catching Covid-19 and appear more socially responsible than Republicans. President Donald Trump's campaign and other GOP candidates, by contrast, have downplayed the pandemic and been knocking on voters' doors for months. But with anxiety growing in the final sprint before Election Day, an increasing number of Democrats up and down the ballot are making the call to stop ceding voters' doors to the GOP — a decision that could increase pressure on Biden's campaign to restart the traditional election-year practice. Democratic candidates who have returned to canvassing said they are adhering to strict safety protocols, as well as asking voters if they are comfortable with their presence."

UPDATE Biden (D)(6): "Republicans Are Knocking On Doors. Democrats Aren't. Biden's Campaign Says That's OK" [NPR]. "The Democrats' strategy of mainly organizing from home via laptop or cellphone and forgoing traditional door-to-door canvassing is somewhat untested, but they're banking on the assumption that it's more effective in a pandemic. Democrats say they're not door knocking because safety is their main priority, and they don't want to put people at risk of contracting COVID-19." • Plus, they don't have to interact with the proles. Who wants that?

UPDATE Sanders (D)(1):

If Biden is president & we have a Democratic Congress we will:

– ⬆️the minimum wage to $15/hr
– ⬇️the Medicare age to 60
– Create millions of jobs rebuilding America
– Make public colleges tuition-free for working families
– Enact 12 weeks of paid family leave
– Adopt equal pay

— Bernie Sanders (@BernieSanders) September 13, 2020

How much you want to bet reducing Medicare eligibility to 60 gets means-tested?

Trump (D)(1): "How the Trump Campaign's Mobile App Is Collecting Huge Amounts of Voter Data" [Naomi Klein, The New Yorker]. "To access the Trump app, users must share their cell-phone numbers with the campaign. "The most important, golden thing in politics is a cellphone number," [former campaign manager Brad] Parscale told Reuters. 'When we receive cellphone numbers, it really allows us to identify them across the databases. Who are they, voting history, everything.' Michael Marinaccio, the chief operating officer of Data Trust, a private Republican data company, said recently that 'what's new this year, or at least a sense of urgency, is getting as many cell-phone numbers as we can in the voter file data.' An effective way to do that is to entice supporters to share not only their own cell-phone numbers with the campaign but those of their contacts as well….. As [Samuel] Woolley and his colleague Jacob Gursky wrote in MIT Technology Review, the Trump 2020 app is 'a voter surveillance tool of extraordinary power.' I learned this firsthand after downloading the Trump 2020 app on a burner phone I bought in order to examine it, using an alias and a new e-mail address. Two days later, the President sent me a note, thanking me for joining his team. Lara Trump invited me (for a small donation) to become a Presidential adviser. Eric Trump called me one of his father's 'FIERCEST supporters from the beginning.' But the messages I began getting from the Trump campaign every couple of hours were sent not only to the name and address I'd used to access the app. They were also sent to the e-mail address and name associated with the credit card I'd used to buy the phone and its sim card, neither of which I had shared with the campaign. Despite my best efforts, they knew who I was and where to reach me."

Trump (R)(2): "Minnesota Seemed Ripe for a Trump Breakout. It Has Not Arrived" [New York Times]. "If any state is positioned to go from blue to red in 2020, to embrace the fullness of Trumpology and provide the president some much-needed Electoral College insurance, it is Minnesota. The state's northern and eastern regions have grown more conservative over the years, and Republicans won two House seats in the state during the 2018 midterm elections — a rare bright spot during an election characterized by an anti-Trump wave…. This year, after the killing of George Floyd by a Minneapolis police officer, a wave of destruction gripped the city — exactly the type of urban unrest that Mr. Trump uses to stoke white fear…. At this moment, however, most evidence indicates that the president is in a worse position in 2020 than where he finished in 2016. New polling from The New York Times and Siena College shows that Joseph R. Biden Jr. leads Mr. Trump by nine percentage points in the state, more than five times the small margin Hillary Clinton won the state by four years ago."

Trump (R)(3): "Frank Luntz: Can Donald Trump win?" (video) [BBC]. • Paraphrasing: In 11 key swing states, Trump is 2% closer to Biden than he is in the rest of the country. Race tightening in FL, NC, not PA. But Trump's "law and order" message is off, and he has to adjust it, or he'll lose. What keeps Luntz awake at night is the prospect of Trump ahead on election day after in-person voting, but before the mail-in votes are counted. I have to confess I have a soft spot for Luntz, as I do with Nooners, despite his childish fiscal views.

Trump (R)(4): "Trump Says He Wasn't Personally At Risk in Indoor Vegas Rally" [Bloomberg]. Well, that's reassuring. Trump: "'We had five sites, all outside sites like last night, tremendous room, and a great gentleman who owns this building said, you know what what, what they're doing is really unfair, you can use my building,' Trump said. The Review-Journal said the warehouse is owned by a Trump friend, Don Ahern. Sisolak has denied his office directly intervened to cancel the outdoor rallies. But on Sunday he tweeted that the president 'appears to have forgotten that this country is still in the middle of a global pandemic.'" • I wish the Bloomberg reporter had gone on to find out how much work "directly intervened" is doing…

UPDATE Trump (R)(5): "I never considered voting for Trump in 2016. I may be forced to vote for him this year." [Danielle Pletka, WaPo]. "I fear the leftward lurch of the Democratic Party even more. What is there to be afraid of? I fear that former vice president Joe Biden would be a figurehead president, incapable of focus or leadership, who would run a teleprompter presidency with the words drafted by his party's . I fear that a Congress with Democrats controlling both houses — almost certainly ensured by a Biden victory in November — would begin an assault on the institutions of government that preserve the nation's small 'd' democracy. That could include the abolition of the filibuster, creating an executive-legislative monolith of unlimited political power; an increase in the number of Supreme Court seats to ensure a liberal supermajority; passage of devastating economic measures such as the Green New Deal; nationalized health care; the dismantling of U.S. borders and the introduction of that will wreck an economy still recovering from the pandemic shutdown." • I wish! (Pletka is from AEI, supposed to be the saner sort of conservative institution — and the sort of Republican who ought to be slithering onto Biden's bandwagon along with all the other war criminals from the Bush administration.

West (I)(1): "Inside Kanye's Operation to Ratf*ck Biden in Iowa" [Daily Beast]. "The A-list rapper's political team has brought on Nathan Sproul, a seasoned GOP operative who leads one of the party's go-to grassroots strategy firms. Sproul, in turn, appears to be working with an obscure GOP operative with a sketchy history of work on Sproul's behalf to build a get-out-the-vote operation for West in the swing state of Iowa. The previously unreported Iowa organizing operation doesn't appear to be particularly large or sophisticated. But it shows how a small team of committed Republicans is trying to boost West's candidacy—at the expense, critics say, of Democratic presidential nominee Joe Biden."

* * *

"The ways Democrats could retake the Senate majority, explained" [Vox]. "Democrats need to win back at least three seats to reclaim the Senate majority, but they are also defending Sen. Doug Jones in deep-red Alabama, where Trump has a 28-point net approval rating. If Jones loses, that means Democrats need to win four seats and the White House (where their party's vice president could vote to break ties in the Senate), or net five seats without the White House advantage. Overall, Senate Republicans are defending more turf: 23 seats (mostly in red states), compared to the 12 Senate Democrats who are up for reelection. Before the coronavirus hit, four states looked highly competitive for Democrats: Colorado, Arizona, Maine, and North Carolina. Now several more seats are in play for Democrats — including Montana, Iowa, and Georgia, and Democratic candidates have even put other reach states like South Carolina in play. Republicans, meanwhile, are going on offense in just two states: Alabama and Michigan. 'There remain multiple paths to the majority for Democrats,' said Cook Political Report Senate editor Jessica Taylor. 'I would give Democrats a slight edge, [but] there are plausible scenarios where Republicans can retain their majority.'"

SC: "Man accused of firing shots at South Carolina Trump backers" [WSPA]. "Authorities say a man has been arrested and accused of firing gunshots near a gathering of President Donald Trump's supporters along a South Carolina road. Major Bryan Zachary of the Fort Mill Police Department said no one was injured in the incident Monday evening. Sgt. Bill Rhyne of the South Carolina Highway Patrol said about 30 people had gathered and were waving American flags and holding up 'Trump' signs. Witnesses told police three men drove by several times while making 'derogatory remarks' before the shots were fired." • If I have this correctly, the Trump supporters were on an overpass, and the shots were fired from the road beneath. This happened on August 25, and onl crossed my Twitter feed yesterday. Needless to say, if Trump supporters had fired on a Biden gathering, you can imagine the hysteria. The story would have dominated the news cycle for at least a week, and we'd still be hearing about it.
RussiaGate
"Is Russian Meddling as Dangerous as We Think?" [The New Yorker]. "Since the 2016 election, the spectre of Russia's online meddling has become amplified by our own anxiety." • "Our"? "Been amplified," in the passive voice? This is just a horrible article, and shows the complete degradation of the New Yorker factchecking department. Bellingcat is treated as a neutral party, instead of the natsec goons they are, for example. So I'd have to go through the entire article and check all the sources for their affiliations. No thanks.
Realignment and Legitimacy
"Democratic Party leads nationwide purge of Green Party candidates from November ballots" [WSWS]. "On Wednesday, three separate rulings in Texas courts blocked Green Party candidates from appearing on the November ballot, including US Senate candidate David Collins, 21st congressional district candidate Tom Wakely and candidate for railroad commissioner Katija Gruene…..In Montana, the Democratic Party engaged in a massive pressure campaign against people who had already given valid signatures on a petition for Green Party ballot access, according to Green Party representatives…. This past Thursday, the Wisconsin Elections Commission effectively banned the Green Party presidential and vice presidential candidates from appearing on the ballot this November. The Democrats argued against ballot access due to the fact that Green Party vice presidential candidate Angela Walker, a Milwaukee native, moved during the petition drive….. The Greens are also spending thousands of dollars to pay attorneys as part of lawsuits in Pennsylvania, Oklahoma and Nevada for ballot access."

* * *
Stats Watch
At reader request, I added some business stats back in. Please give Econintersect click-throughs; they're a good, old-school blog that covers more than stats. If anybody knows of other aggregators, please contact me at the email address below.
Manufacturing: "September 2020 Empire State Manufacturing Index Significantly Improved" [Econintersect]. "The Empire State Manufacturing Survey index significantly improved and remained in expansion. Key elements improved. This is a better report than last month."
Manufacturing: "August 2020 Headline Industrial Production Improves But Remains In Contraction" [Econintersect]. "The headlines say seasonally adjusted Industrial Production (IP) improved month-over-month – but remains deep in contraction year-over-year…. The best way to view this is the 3-month rolling averages which improved."
Imports: "August 2020 Import Year-over-Year Inflation Now -1.4%" [Econintersect]. "Year-over-year import price indices inflation remained in contraction and moved from a revised -2.8 % to -1.4 %."
Housing: "July 2020 CoreLogic Single-Family Rent Index Rent Price Growth Stabilizes for the First Time Since the Pandemic Began" [Econintersect]. "The Single-Family Rent Index (SFRI), which analyzes single-family rent price changes nationally and among 20 metropolitan areas shows a national rent increase of 1.7% year over year, down from a 2.9% year-over-year increase in July 2019…. In February, the coronavirus (COVID-19) pandemic set off a chain reaction in the rental market. Unemployment rates skyrocketed, leaving cash-strapped renters struggling to make ends meet and landlords lowering rates in the hopes of keeping their tenants, and local economies, afloat. Rent increases slowed sharply from an average of 2.9% in the first quarter of 2020 to 1.7% in May and 1.4% in June. However, in July, the national rent price growth rate stabilized for the first time since February, posting a 1.7% gain as local economies continued to reopen. Still, despite the positive signal on the national level, renters and landlords continued to work to accommodate shelter-in-place orders and added safety measures, which likely slowed rent price growth."
* * *
Tech: "How Netflix film The Social Dilemma probes the dark side of tech" [Financial Times]. "Making [The Social Dilemma] was a steep learning curve for [director Jeff] Orlowski, who says the biggest revelation was how these platforms make money. 'I spend thousands of dollars on Apple products so I understand why Apple is worth a lot of money, because I'm giving them a lot of money, right?' he says. 'But how are Facebook and Google worth so much? There's this saying, 'If you're not paying for the product, you are the product.' They're making their money off this manipulative advertising model that nobody understands. That's why we did the narrative portion of the film to anthropomorphise the algorithms and to see the machine behind. Literally, there's a model of every single one of us that's being tested on all the time . . . to figure out what makes them more money and who they can sell us to. That was a real slap in the face for me."
Tech: Whatever Facebook is good for, it's not good enough to compensate for this:
Just great to get an email from your kids' school alerting you about the suicide video that was shared widely on @facebook after being live-streamed there.

It's incredible that, on the same day, their irresponsibility can be felt around the world and right in your own home.

— Sleeping Giants (@slpng_giants) September 15, 2020
And "shared " is a question of scale.
Manufacturing: "Scarcity of key material squeezes medical mask manufacturing" [Associated Press]. "Meltblown is spun out of plastic pellets made from oil, typically polypropylene or polyethylene. The pellets are fed into a heated metal extruder, and jets of hot air force the liquefied plastic through an array of extremely small holes, producing fine plastic fibers. As the fibers cool, they overlap and stick together, forming a dense mesh. This year, American meltblown makers have been ramping up supply. But some say they need more government support to meet the demand… Under the Defense Production Act, a mechanism that allows the U.S. government to compel companies to prioritize federal orders and help manufacturers increase production capacity, some mask and meltblown makers have gotten a boost…. But the administration has not specifically restricted exports of meltblown material, a power it can use under the act. In the face of shortages, U.S. meltblown makers have continued exporting their goods overseas."
* * *
Today's Fear & Greed Index: 58 Greed (previous close: 59 Greed) [CNN]. One week ago: 55 (Netural). (0 is Extreme Fear; 100 is Extreme Greed). Last updated Sep 15 at 12:26pm.
The Biosphere
"Astronomers find possible sign of life on Venus" [CBS]. "Traces of a rare molecule known as phosphine have been found in the hellish, heavily acidic atmosphere of Venus, astronomers announced Monday — providing a tantalizing clue about the possibility of life. Phosphine molecules found on Earth are primarily a result of human industry or the actions of microbes that thrive in oxygen-free environments. The researchers are not claiming life has been detected on the second planet from the sun. But the observations suggest at least the possibility of microbial activity in the upper layers of Venus' atmosphere, well away from the planet's inhospitable surface." • So there's hope?
"Dismay as huge chunk of Greenland's ice cap breaks off" [NBC]. "The glacier section that broke off is 110 square kilometers (42.3 square miles). It came off of the fjord called Nioghalvfjerdsfjorden, which is roughly 80 kilometers (50 miles) long and 20 kilometers (12 miles) wide, the National Geological Survey of Denmark and Greenland said Monday. The glacier is at the end of the Northeast Greenland Ice Stream, where it flows off the land and into the ocean. … Last week, Ruth Mottram, an ice scientist at the Danish Meteorological Institute in Copenhagen, said, 'again this year, the ice sheet has lost more ice than has been added in the form of snow.'… In August, a study showed that Greenland lost a record amount of ice during an extra-warm 2019, with the melt massive enough to cover California in more than 1.25 meters (4 feet) of water."
Health Care
"More cities and states are opening bars and restaurants despite mounting evidence of potential danger" [Catherine Rampell, WaPo]. "States that have reopened bars experienced a doubling in the rate of coronavirus cases three weeks after the opening of doors, on average. The Post analysis — using data provided by SafeGraph, a company that aggregates cellphone location information — found a statistically significant national relationship between foot traffic to bars one week after they reopened and an increase in cases three weeks later…. A study by the Centers for Disease Control and Prevention of nearly 300 adults who tested positive for the coronavirus found that they were more than twice as likely to have dined at a restaurant in the two weeks before getting sick than people who were uninfected. Those who tested positive and did not have close contact with anyone sick were also more likely to report going to a bar or coffee shop. The same effect was not seen in visits to salons, gyms and houses of worship, or in the use of public transportation."
Screening Room
The most mid-2000s thing about this movie is that the greatest litigator on earth has Ragu in his apartment. Any later and that wouldn't be believable, it'd have to be some $12 jar of sauce made by nuns or something

— Connor Wroe Southard ?⚔️? (@ConnorSouthard) September 15, 2020
Groves of Academe
"When Student Influencers Catch COVID-19" [Inside Higher Ed]. "Social media stars Brooklyn and Bailey McKnight shared an unusually serious message with their millions of fans on Instagram last month. Rather than modeling new outfits, promoting their YouTube content or posting wholesome snaps of themselves with family and friends, the identical twins announced that they had tested positive for COVID-19…. Baylor has had a marketing relationship with the twins since 2017, prior to their arrival on the university's campus as freshmen, said Jason Cook, vice president of marketing and communications and chief marketing officer at Baylor University, in an email. The twins are paid to post once or twice per semester promoting the university, he said. After they shared their announcement on social media, speculation began online that Baylor had played a role in shaping the twins' Instagram post. The twins sometimes post content sponsored by the university — a growing trend in higher ed marketing. The McKnights did not respond to a request for comment, but a Baylor University representative denied that the institution had influenced the influencers' announcement in any way…. Cook added that the twins applied to the university through the normal admissions and financial aid processes."
"Colleges Aren't Doing Enough to Control Covid-19" [Bloomberg]. "The novel coronavirus is spreading at some schools so much, it's driving up infection rates for whole counties. Too few schools have containment plans that reflect the basic threats: an already high Covid case rate in the U.S., and the tendency of young adults to socialize and underestimate the consequences of carelessness. The recipe for protecting a community from Covid-19 is no secret. Social distancing and masking are vital, and it's essential to test broadly, isolate the infected and trace their contacts. These steps don't work so well if they're done half-heartedly, however, or if an outbreak is already out of control. Many schools that have acted too slowly need to pause in-person classes and other activities and rethink their strategies." • Again, again, again, this is down to college administrators. There's more to the job than replacing full professors with adjuncts and hawking naming rights to billionaires.
Guillotine Watch
For the home decor alone:
Reminder that the Carvilles live in this demonic multimillion dollar mansion https://t.co/Ak5yD3Lh30 pic.twitter.com/EdiHQfdxYA

— Alex Peter (@LolOverruled) September 15, 2020
Class Warfare
"Blackstone to Boost Mobile-Home Bet With $550 Million Deal" [Bloomberg]. "Blackstone Group Inc. is pouring more cash into mobile-home parks, a corner of the commercial real estate market that is holding up in the pandemic. The alternative asset manager is in exclusive talks to acquire roughly 40 parks from Summit Communities for about $550 million, according to people with knowledge of the matter. The majority of the properties are located in Florida, said some of the people, who requested anonymity because the transaction isn't public." • Comment:
Biggest question on Wall Street's mind right now: "How large of a decrease to their standard of living will Americans tolerate?" https://t.co/ngoE9i5u6Y

— Ken Klippenstein (@kenklippenstein) September 14, 2020
News of the Wired
"How to fairly share a watermelon" [arXiv]. "More precisely, we will show how using a mixture of geometry, calculus and integrals one can easily share a watermelon into regular slices with equal volume." • As a motivational device to get students to learn these topics.
"Seven-foot robots are stacking shelves in Tokyo convenience stores" [CNN]. "Japan has the oldest population in the world, and that's causing an acute labor shortage. With almost a third of the population aged 65 and above, finding workers can be a challenge. Increasingly, companies are turning to technology as a solution — including two of the biggest convenience store franchises in Japan, FamilyMart and Lawson…. Both chains are deploying a robot named Model-T, developed by Japanese startup Telexistence. Seven feet tall when extended to its full height, the robot moves around on a wheeled platform and is kitted out with cameras, microphones and sensors. Using the three "fingers" on each of its two hands it can stock shelves with products such as bottled drinks, cans and rice bowls." • Kill it with fire. I think our overlords think we go to stores for things. This introvert also goes to stores for people, no matter how limited and transactional the contact is.
* * *
Readers, feel free to contact me at lambert [UNDERSCORE] strether [DOT] corrente [AT] yahoo [DOT] com, with (a) links, and even better (b) sources I should curate regularly, (c) how to send me a check if you are allergic to PayPal, and (d) to find out how to send me images of plants. Vegetables are fine! Fungi and coral are deemed to be honorary plants! If you want your handle to appear as a credit, please place it at the start of your mail in parentheses: (thus). Otherwise, I will anonymize by using your initials. See the previous Water Cooler (with plant) here. Today's plant (TH):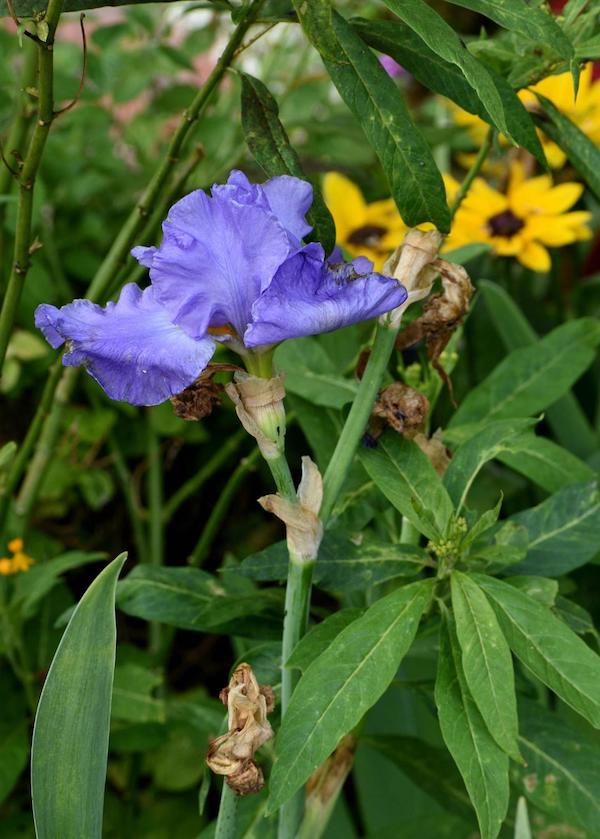 TH writes: "Also seen on our walk around the Alamitos Bay neighborhood in Long Beach–I can never resist an Iris! (The complimentary yellow of the background wild sunflowers seems to add to the attraction.)" I can never resist Iris either…
* * *
Readers: Water Cooler is a standalone entity not covered by the annual NC fundraiser. So if you see a link you especially like, or an item you wouldn't see anywhere else, please do not hesitate to express your appreciation in tangible form. Remember, a tip jar is for tipping! Regular positive feedback both makes me feel good and lets me know I'm on the right track with coverage. When I get no donations for five or ten days I get worried. More tangibly, a constant trickle of donations helps me with expenses, and I factor in that trickle when setting fundraising goals:
Here is the screen that will appear, which I have helpfully annotated.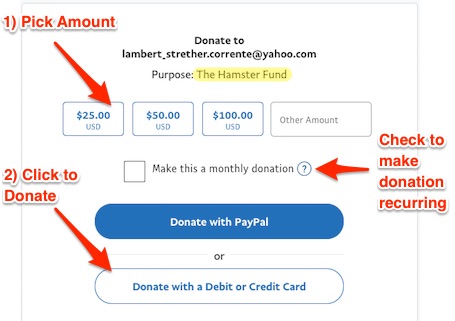 If you hate PayPal, you can email me at lambert [UNDERSCORE] strether [DOT] corrente [AT] yahoo [DOT] com, and I will give you directions on how to send a check. Thank you!