By Lambert Strether of Corrente.
Patient readers, I had a little bit of a debacle today, because I dropped off my usual laptop at the shop to have one of its ports fixed, and I forgot to send myself the outline I use to create Water Cooler. So I had to reconstruct it, which took a chunk of time. More soon! –lambert UPDATE All done!
#COVID19
At reader request, I've added this daily chart from 91-DIVOC. The data is the Johns Hopkins CSSE data. Here is the site.
Here again is the Midwest: Illinois, Indiana, Iowa, Kansas, Michigan, Minnesota, Missouri, Nebraska, North Dakota, Ohio, South Dakota, and Wisconsin: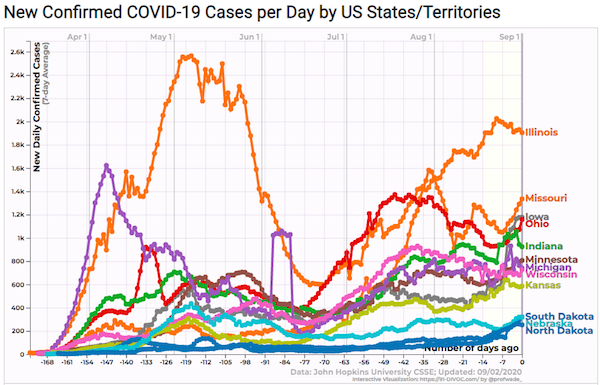 And at reader request, Midwest positivity: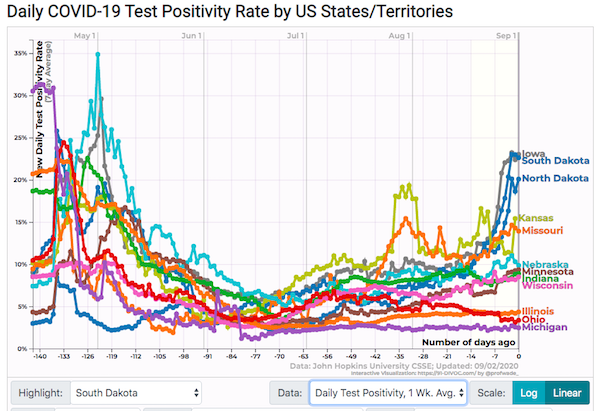 Colleges: "Poll: Majority favor go-slow approach on reopening schools, colleges" [Buffalo News]. "With more than half of New Yorkers believing the worst of Covid-19 is still to come, 62% say it would be too great a risk to completely reopen schools across the state and a majority think it's a mistake for colleges to offer in-person learning this fall, a new poll has found. The Siena College poll out Wednesday morning also found that 70% of respondents believe it is government's job to contain the virus even if it continues to hurt the economy. The new poll found widespread worry still reigns among New Yorkers over the pandemic, with 86% very or somewhat concerned that the virus will reemerge in a major way in the state later this fall. Fifty-six percent of respondents aged 18 to 34 said they believe the worst is yet to come with Covid – the same level as those over the age of 65. But when asked if they have been 'completely' practicing social distancing by remaining at least 6 feet apart when outside their homes, 48% percent of the younger group said yes while 64% of the older group said yes."
Politics
"But what is government itself, but the greatest of all reflections on human nature?" –James Madison, Federalist 51
"They had one weapon left and both knew it: treachery." –Frank Herbert, Dune
"They had learned nothing, and forgotten nothing." –Charles Maurice de Talleyrand-Périgord
The electoral map. July 17: Georgia, Ohio, ME-2 move from Leans Republican to Toss-up. Continued yikes. On July 7, the tossup were 86. Only July 17, they were 56. Now they are 91. This puts Biden at 278, i.e. over 270. August 18: Still no changes. August 31: Indiana moves from Likely to Safe Republican. Despite the sturm and drang, and the polls, the consensus on the electoral college remains the same: Biden ahead, Trump within striking distance.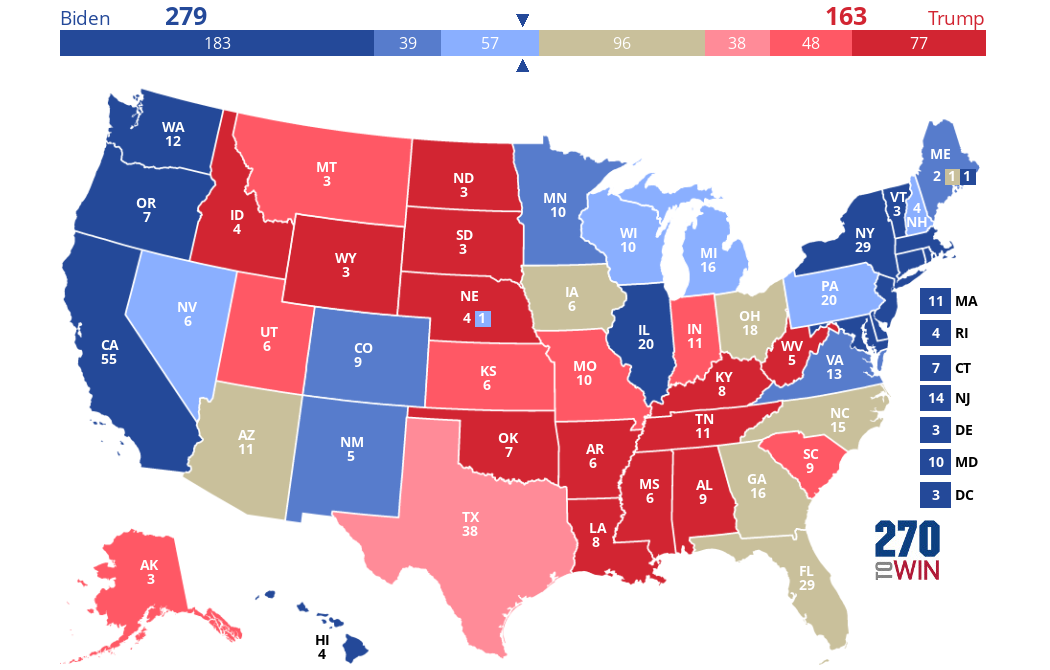 Click the map to create your own at
270toWin.com
So, taking the consensus as a given, 270 (total) – 204 (Trump's) = 66. Trump must win 66 from the states in play: AZ (11), FL (29), MI (16), NC (15), PA (20), and WI (10) plus 1 to win not tie = 102. 102 – 66 = 36. So if Trump wins FL, MI, NC, and PA (29 + 16 + 15 + 20 = 80), he wins. That's a heavy lift. I think I've got the math right this time!
Time to restore the election countdown:
A long time in politics!
2020
More politics shortly; see note to readers above. UPDATE All done!

Biden (D)(1): "'I support Joe Biden's pro-science agenda': 81 Nobel laureates endorse Biden for president" [CNN]. "Eighty-one Nobel Prize winners endorsed Joe Biden for president in an open letter on Wednesday, citing the former vice president's 'willingness to listen to experts' and his 'deep appreciation for using science to find solutions.' The Nobel laureates, winners of the Nobel Prize in Chemistry, Medicine and Physics, stressed the importance of elected leaders making decisions based on science, particularly during a global pandemic." • Wellie, "the science" supports #MedicareForAll. Where is Good Ol' Joe on that one?

Biden (D)(2): "Biden and Trump Unveil Dueling Law-and-Order Ads as Both Eye Swing States" [New York Times]. Biden: ""I want to make it absolutely clear. Rioting is not protesting. Looting is not protesting. And those who do it should be prosecuted." • Maybe another Crime Bill? With The Great Assimilation™ in full swing, I don't know whether Truman's adage is still true: "If it's a choice between a genuine Republican, and a Republican in Democratic clothing, the people will choose the genuine article, every time." (That speech shows that today's party problems are not new.) But I guess Biden is going to put the question to the test!

Buttigeig (D)(1): "For his next act, Pete Buttigieg is pivoting to podcasting" [WaPo]. "What's unclear is whether Buttigieg is using the podcast as the launching point for a new career as a media personality, or whether he's using it to maintain his follower base and potentially build up an audience — and email list — for another political run. When asked, he characteristically hedged a bit." • No.

Trump (R)(1): "CDC Issues Sweeping Temporary Halt On Evictions Nationwide Amid Pandemic" [NPR]. "The Trump administration is ordering a halt on evictions nationwide through December for people who have lost work during the pandemic and don't have other good housing options. The new eviction ban is being enacted through the Centers for Disease Control and Prevention. The goal is to stem the spread of the COVID-19 outbreak, which the agency says in its order 'presents a historic threat to public health.' It's by far the most sweeping move yet by the administration to try to head off a looming wave of evictions of people who have lost their jobs or taken a major blow to their income because of the pandemic. But this new ban, which doesn't offer any way for landlords to recoup unpaid rent, is being met with a mixed response. First, many housing advocates are very happy to see it…. Landlords are worried about falling off a cliff too… Under the rules of the order, renters have to sign a declaration saying they don't make more than $99,000 a year — or twice that if filing a joint tax return — and that they have no other option if evicted other than homelessness or living with more people in close proximity. Evictions for reasons other than nonpayment of rent will be allowed." • So it's means-tested. That means liberal Democrats should love it, even if it is a ginormous norms violation. Smart move by Trump: (A) He's doing something, and while Congress is on vacation, too; (B) it's a concrete material benefit, even if not entirely universal; (C) it gives the CDC a big boost, which it needs from its many blunders during the crisis; (D) it totally steals the Democrat's already threadbare clothes on working class advocacy. Naturally, the details will be all screwed up, it being Trump, but it's still a smart move. "What did Nancy Pelosi do on evictions, Joe? Open her fridge to the homeless?" Carlos Mucha comments on the legalities:

The other point is ordinarily there'd be a Takings clause issue if USG nullified landlord's right to collect rent. However in wartime (& arguably in pandemic) there comes into play a little-known legal doctrine: When the govt has to blow your shit up, it doesn't have to pay you. pic.twitter.com/zZcV6RNJ1s

— Carlos Mucha (@mucha_carlos) September 1, 2020

Trump (D)(2): "Why Trump is Likely to Win Again" [Thomas Greene, Noteworthy]. "Trump will not be defeated by educating voters, by exposing his many foibles and inadequacies. Highlighting what's wrong with him is futile; his supporters didn't elect him because they mistook him for a competent administrator or a decent man. . Trump is an agent of disruption — indeed, of revenge. Unfortunately, the coronavirus pandemic has positioned him as a tragic force-multiplier on a scale that few could have predicted, and the result is verging on catastrophic. Still, that might not be enough to prevent his re-election. Workers now sense that economic justice — a condition in which labor and capital recognize and value each other — is permanently out of reach; the class war is over and it was an absolute rout: insatiable parasites control everything now, and even drain us gratuitously, as if exacting reparations for the money and effort they spent taming us. The economy itself, and the institutions protecting it, must be attacked, and actually crippled, to get the attention of the smug patricians in charge. Two decades of appealing to justice, proportion, and common decency have yielded nothing. I'd rather not see four more years of Donald, but I understand the impulse to use him as a cat's paw." ¨• Anger is, of course, completely transgressive inside the Beltway, and in the PMC generally (except as when directed at social inferiors, like servers). But another view is possible–

Trump (D)(3): "The Art of Losing" [James Pogue, Harpers]. • This is a long-form report from Kenosha: "'You've got a group of people out there, and a fairly large group of people, that are angry, and they feel like they've been left behind," said [Democratic mayor, John Antaramian]. 'I don't know if NAFTA was reversed they would come back. I think it's not policy but root policy.' By root policy, Antaramian was talking about offering ordinary people a sense of meaningful participation in public life. And even though I hadn't seen much outright anger, I thought I knew what he meant—that the anger he saw wasn't so much rage against elites or ethnic resentment or a hankering for lost industrial glory as it was a desire for an America that was actually responsive to their voices and input." Pogue concludes: "In the long run, a Democratic Party that wants to govern is going to have to respond to this feeling, not by offering incremental reforms in policing, or tweaks to existing health care laws, but by beginning a real transformation. It will require new structures—we have not yet tried to govern a metropolis without a police force, but we soon might—as well as a recommitment to things that the Democrats have abandoned, like organized labor. It will take admitting that the morass we've ended up in was not created by accident. It will take naming the people who brought us to this point, and it will take a willingness to confront them and to make enemies—something Republicans have long been happy to do. It will, finally, take a political project that can match the feeling of participation and excitement that the Trump movement has offered. " • It was written before the Kenosha riots — good call, Harpers editors! — and although it's far superior to the hardy perennial "old white guys in the diner" piece, there are not nearly enough Blacks quoted. The piece is still well worth a read. The Midwest remains a mysterious place. (There's no hint in the text that the article title is an allusion to "One Art," a wonderful poem of Elizabeth Bishop: "The art of losing isn't hard to master…".)

Trump (D)(4): "Kenosha Could Cost Trump the Election" [The Atlantic]. "There isn't much up-to-date polling to go on so far, and the story is still developing, but Trump's decision to stoke racial tension earlier this summer has been the one thing that has managed to shake up an otherwise very stable presidential race. The president's impeachment, the ravages of the coronavirus, a vast economic collapse—none of these has done much to change either the dynamics of the Biden-Trump race or the president's approval rating. The one exception came in June, amid massive, nationwide protests that followed the deaths of George Floyd, Breonna Taylor, and Rayshard Brooks at the hands of police. Trump's numbers tumbled, driven by voters—especially white voters—panning his handling of racial justice and the protests…. Trump is eagerly seizing onto an issue that seems to harm him. Even though each previous round has ended poorly for Trump, he keep doubling and tripling down on exacerbating racial tension. Maybe once he goes big enough, it will work for him. Or maybe Trump, a man who went bankrupt running a casino, just isn't all that clever a gambler." • Those numbers will turn when "property values" are threatened.

Trump (R)(1): "Kenosha business owner declines President Trump photo-op, former owner replaces him" [WTMJ]. "A Kenosha business owner is accusing President Donald Trump of using his destroyed store for political gain. Tom Gram's century-old camera shop burned to the ground a week ago during the unrest in Uptown Kenosha. Gram said he declined President Trump's request to be a part of his tour of damage Tuesday in Kenosha. Instead, a former owner of the shop was invited and he praised the president's efforts." • Instead, Trump got the property owner to participate, an interesting dynamic.

West (I): Perkins Coie, well well:

Two Kanye West electors have officially filed suit in Virginia to remove the rapper from the ballot claiming their oaths were obtained under false pretenses. Among the lawyers listed on their brief representing them is @marceelias from Perkins Coie pic.twitter.com/Aof0S0rDhm

— Ben Jacobs (@Bencjacobs) September 2, 2020

* * *

MA: "The Unlikely Kennedy Who Ended the Kennedy Dynasty" [Politico]. The conclusion: "The Kennedy dynasty is dead. Joe's Senate loss places a 2020 marker on its gravestone. Yet no one should be more relieved than the Kennedys. Now they are free to be themselves and discover their own ways to make a contribution." • Good. The last thing we need is more political dynasties. Chelsea.

MA: "Neal beats back primary challenge from progressive Alex Morse in Massachusetts" [The Hill]. "The Associated Press called the race for Neal just before 9:45 p.m. local time. The incumbent was ahead by a substantial 60 percent to 40 percent margin with nearly 60,000 votes tallied." • In other words, it wasn't Democrat ratfucking that won the race — although their vile smears will make it harder for Morse to run again. But what does Western Mass have going for it but the power of incumbency? It's rather like Maine, in that regard.

* * *

You mean on top of everything else, this ship is rigged?

Those Who Are Worried The Election Is Being Rigged:

Trump Supporters: 60%
Biden Supporters: 53%

—

Those Who Are Worried Mail-In Voting Is Being Used To Commit Fraud:

Trump Supporters: 73%
Biden Supporters: 36%

—

Opinium / August 25, 2020 / n=2000 / Online

— Polling USA (@USA_Polling) September 2, 2020

More than enough for real attempts at delegimization to be made, no matter the victor.

* * *

Realignment and Legitimacy

"Pelosi used shuttered San Francisco hair salon for blow-out, owner calls it 'slap in the face'" [FOX News]. "House Speaker Nancy Pelosi visited a San Francisco hair salon on Monday afternoon for a wash and blow-out, despite local ordinances keeping salons closed amid the coronavirus pandemic, Fox News has learned. In security footage obtained by Fox News, and timestamped Monday at 3:08 p.m. Pacific Time, the California powerhouse is seen walking through ESalonSF in San Francisco with wet hair, and without a mask over her mouth or nose. The stylist doing her hair can be seen following her wearing a black face mask." • Masks are for little people.

New concept: "Affinity fraud."

Politics as an affinity fraud. Between you, me and the fence post, I've been wondering since March if Biden would've still won South Carolina primary if he was Jewish and Sanders Christian, instead of vice versa. pic.twitter.com/vYU7Ch6Vho

— Carlos Mucha (@mucha_carlos) September 2, 2020

Keep it classy, liberal Democrats:

And oh my, #Strokeahontas is trending.

— Michelangelo Signorile, subscribe to my newsletter (@MSignorile) September 2, 2020

(A second high-follower account helps the hashtag trend.) Look, who doesn't like to mock stroke victims? But mocking Elizabeth Warren's former identity… That's a little bit much.

This is actually a good question:

I want to see ANTIFA's approach to FX hedging

— Joe Weisenthal (@TheStalwart) September 1, 2020

And "they arrested my friends" is not an answer.

"The Birth of QAmom" [Rolling Stone]. "With her bouncy, honey-streaked hair, tastefully pastel-and-beige-hued grid and effortless ability to wear such garments as shapeless khaki rompers, Ciara Chanel Self, a Dallas, Texas-based interior designer and parent of a toddler, appears on Instagram to be the prototypical mom influencer. She regularly posts aspirational photos of cream-colored nurseries, 2-year-olds' birthday parties, and apple-cheeked toddlers gallivanting by ocean sunsets. Only one highlight on her Instagram stories would seem to indicate otherwise: a tab labeled where she has compiled conspiracy theories about Ghislaine Maxwell and the 'global elite pedophile ring' afflicting our nation. 'Child trafficking, torture, rape, and murder…. Yet NO ONE is talking about this," she writes, concluding with the hashtag #SaveTheChildren and the exhortation " • Holy Lord, "dark to light" is the central rhetorical trope in Biden's acceptance speech. Oh, and Maxwell was part of a "global elite pedophile ring." Actually. Oh, and to my mind the central question is "Who is Q?" You'd think there's be some investigative reporting on that. If there isn't, before the election, I'm going to start thinking that's odd.
Stats Watch
At reader request, I added some business stats back in. Please give Econintersect click-throughs; they're a good, old-school blog that covers more than stats. If anybody knows of other aggregators, please contact me at the email address below.
Employment Situation: "August 2020 ADP Employment Gains 428,000" [Econintersect]. "ADP reported non-farm private jobs growth at 428,000 which was within expectations. A quote from the ADP authors: 'The August job postings demonstrate a slow recovery.' Last month's employment gain was revised upward. It will be interesting to see what the BLS says is the jobs growth."
Manufacturing: "July 2020 Headline Manufacturing New Orders Improve" [Econintersect]. "US Census says manufacturing new orders improved month-over-month with unfilled orders shrinking modestly. Our analysis shows the rolling averages improved but remain in contraction…. According to the seasonally adjusted data, the increase was widespread except for civilian aircraft which significantly contracted." • Boeing? Boeing? Boeing?
* * *
Entertainment: "K-Pop Superstars BTS's Agency Seeks up to $812 Million in IPO" [Bloomberg]. "Big Hit Entertainment Co., the manager of K-pop boy band BTS, is looking to raise as much as 962.6 billion won ($812 million) in a South Korean initial public offering that is set to be the country's largest in three years…. Big Hit's will also help galvanize the IPO market in South Korea, which had been suffering from low listing volumes in recent years."
The Fed: "In Historic Move, Fed Will No Longer Kill Jobs to Fight Phantom Inflation" [Eric Levitz, New York Magazine]. From last week, the caption for a photo of Jerome Powell: "In short, money printer go brrr." • This was the Powell speech that had MMTers declaring victory last week. Of course, victory will only come when an explicitly pro-MMT posse member achieves a position of power.
Today's Fear & Greed Index: 76 Extreme Greed (previous close: 76, Extreme Greed) [CNN]. One week ago: 75 (Greed). (0 is Extreme Fear; 100 is Extreme Greed). Last updated Sep 2 at 12:27pm. Our greed is not really that extreme. Can't we get 'er into the mid-80s, at least? Add oil!
The Biosphere
"The appallingly bad neoclassical economics of climate change" [Steve Keen, Globalization]. "Forecasts by economists of the economic damage from climate change have been notably sanguine, compared to warnings by scientists about damage to the biosphere. This is because economists made their own predictions of damages, using three spurious methods: assuming that about 90% of GDP will be unaffected by climate change, because it happens indoors; using the relationship between temperature and GDP today as a proxy for the impact of global warming over time; and using surveys that diluted extreme warnings from scientists with optimistic expectations from economists. Nordhaus has misrepresented the scientific literature to justify the using a smooth function to describe the damage to GDP from climate change. Correcting for these errors makes it feasible that , and may be so great as to threaten the survival of human civilization." • Another massive takedown of Nordhaus by Keen. Fun stuff!
"Forest regeneration on European sheep pasture is an economically viable climate change mitigation strategy" [IOP Science]. The lengthy abstract: "Livestock production uses 37% of land globally and is responsible for 15% of anthropogenic greenhouse gas emissions. Yet livestock farmers across Europe receive billions of dollars in annual subsidies to support their livelihoods. This study evaluates whether diverting European subsidies into the restoration of trees on abandoned farmland represents a cost-effective negative-emissions strategy for mitigating climate change. Focusing on sheep farming in the United Kingdom, and on natural regeneration and planted native forests, we show that, without subsidies, sheep farming is not profitable when farmers are paid for their labour. Despite the much lower productivity of upland farms, upland and lowland farms are financially comparable per hectare. Conversion to 'carbon forests' is possible via natural regeneration when close to existing trees, which are seed sources. This strategy is financially viable without subsidies, meeting the net present value of poorly performing sheep farming at a competitive $4/tCO2eq. If tree planting is required to establish forests, then ~$55/tCO2eq is needed to break-even, making it uneconomical under current carbon market prices without financial aid to cover establishment costs. However, this break-even price is lower than the theoretical social value of carbon ($68/tCO2eq), which represents the economic cost of CO2 emissions to society. The viability of land-use conversion without subsidies therefore depends on low farm performance, strong likelihood of natural regeneration, and high carbon-market price, plus overcoming potential trade-offs between the cultural and social values placed on pastoral livestock systems and climate change mitigation. ." • There was considerable controversy about this article on the Twitter. UK and Scottish readers may wish to weigh in.
"Exploring the biophysical option space for feeding the world without deforestation" [Nature]. From 2016, still germane. Another lengthy Abstract: "We assess the biophysical option space for feeding the world in 2050 in a hypothetical zero-deforestation world. We systematically combine realistic assumptions on future yields, agricultural areas, livestock feed and human diets. For each scenario, we determine whether the supply of crop products meets the demand and whether the grazing intensity stays within plausible limits. We find that many options exist to meet the global food supply in 2050 without deforestation, even at low crop-yield levels. Within the option space, individual scenarios differ greatly in terms of biomass harvest, cropland demand and grazing intensity, depending primarily on the quantitative and qualitative aspects of human diets. Grazing constraints strongly limit the option space. ." • Hmm… Given zoonotic diseases, I might well have filed this under Health Care…
Health Care
"A cheap, simple way to control this pandemic exists" [A cheap, simple way to control this pandemic exists]. "The idea that weekly testing of whole populations can reduce transmission so that normal life can continue has been endorsed by leading epidemiologists and Nobel Prize-winning economist Paul Romer. Yet it has been largely ignored. In the UK, Matt Hancock, the health minister, has called Britain's long-term aim of making tests available to everyone a "moonshot". More dramatically in the US, the Centers for Disease Control and Prevention recently downgraded its guidelines so that only people with symptoms are tested. This is despite the fact that , even in rural settings in the developing world. RT-LAMP (reverse transcriptase loop amplification), as it is called, does not require expensive equipment. Crucially, testing can be done using self-taken saliva samples. That simplicity is important as it makes the logistics of administering and monitoring regular testing feasible. It is also unlike the latest commercial rapid test, Abbott's BinaxNOW, which requires a nasal swab administered by a health professional and analysis within an hour. These are major obstacles to testing whole populations regularly. Taking the UK as an example, local biotech companies could supply the needed RT-LAMP reagents . This ease of technology and low cost means that scaling up to the 10m daily tests needed to conduct weekly testing of the entire British population could be achieved quicker than via the various commercial systems currently being studied by the government." • Well, our health care system is optimized for profit. It's not optimized for "cheap, effective" and it's especially not optimized for "non-patented." So of course RT-LAMP is ignored. (My personal view is that weekly testing at £1 is the wrong approach; the test needs to be so cheap — say 99¢ — so it can be done on impulse, like buying candy at the cash register, with testing stations distributed widely. Combine the test with a lottery, and you might get somewhere, in a Third World country like our own.
"Two types of steroid found to save lives of some Covid-19 patients" [Guardian]. "Studies around the world have confirmed that steroids can save lives in the Covid-19 pandemic, leading to new recommendations from the World Heath Organization that doctors should give them to severely ill patients. In June, the Recovery trial run in most NHS hospitals and led by Oxford University found that the lives of one in eight people sick enough from Covid-19 to need a ventilator could be saved by a steroid called dexamethasone. Now, combined results from that trial and six others have confirmed those findings and established that at least one other equally cheap and widely available steroid, hydrocortisone, also saves lives. The drugs reduce the risk of death in these seriously ill patients by 20%, according to a meta-analysis of the results of the seven trials covering a total of 1,703 patients, published in the Journal of the American Medical Association. Three of the trials have also been published separately in the journal.
"The Moral Determinants of Health" [Don Berwick, JAMA]. "The power of these societal factors is enormous compared with the power of health care to counteract them. One common metaphor for social and health disparities is the "subway map" view of life expectancy, showing the expected life span of people who reside in the neighborhood of a train or subway stop. From midtown Manhattan to the South Bronx in New York City, life expectancy declines by 10 years: 6 months for every minute on the subway. Between the Chicago Loop and west side of the city, the difference in life expectancy is 16 years. At a population level, no existing or conceivable medical intervention comes within an order of magnitude of the effect of place on health. Marmot also estimated if the population were free of heart disease, human life expectancy would increase by 4 years,1 barely 25% of the effect associated with living in the richer parts of Chicago instead of the poorer ones."
"Trump administration cancels ventilator orders, saying stockpile is full" [Los Angeles Times]. "The Trump administration is canceling some of its remaining orders for ventilators after having rushed to sign nearly $3 billion in emergency contracts as the COVID-19 pandemic surged in the spring. The Department of Health and Human Services issued a statement Tuesday affirming that the national stockpile has now reached its maximum capacity for the life-saving breathing machines, with nearly 120,000 available for deployment to state and local health officials if needed. Though the orders were billed as a cost-saving measure, Democrats said the cancellations showed that the White House vastly overspent in its quest to fulfill President Trump's pledge to make the U.S. the 'king of ventilators.'" • Sheesh, who cares?
Gunz
"Was Kyle Rittenhouse's possession of a gun protected by the Second Amendment?" [NBC]. "Rittenhouse's attorney, John Pierce of Pierce Bainbridge, plans to fight the underage weapons possession charge, arguing that at 17, his client could be part of the 'well regulated Militia' mentioned in the Second Amendment to the U.S. Constitution. Put another way, Pierce will likely argue that Wisconsin's ban on firearms possession by 17-year-olds is unconstitutional because a 17-year-old minor is on the same Second Amendment footing as an adult." • Hmm. Rittenhouse considered himself a militia member. Was Rittenhouse deputized? Kenosha County Sheriff David Beth says no, but sometimes actons speak louder than words: "The cops who gave him bottled water and fraternized with the young man didn't ask any questions. Instead they welcomed his 'help' and the presence of the militia. All they wanted in exchange was to be able to patrol the streets with impunity. For these men, the answer to 'anarchy' is armed vigilantism. The reluctance of the police to confront these men they knew could shoot back effectively 'deputized' Kyle and made possible everything that followed next."
Police State Watch
"The Little Cards That Tell Police 'Let's Forget This Ever Happened'" [Vice]. "The [Police Benevolent Association (PBS)] cards are designed to be presented in a low-stakes police encounter, like a traffic stop, as a laminated wink-and-nudge between officers that says, 'Hey, would you mind going a little easy on this one?' When a cop is handed a PBA card, they can call the number on it to verify the relationship between the cardholder and the issuer, then decide whether it means they should give the cardholder a break."
"Whistleblower: California Deputy Killed Teen to Join Department's 'Gang'" [Bay News 9]. "The deputy who shot and killed 18-year-old Andres Guardado outside a car shop in Gardena was a prospective member of a violent clique inside the Compton Sheriff's station, according to the sworn testimony of a whistleblower…. More than a dozen deputies have matching tattoos and belong to a violent clique called the Executioners at the station, according to Deputy Art Gonzalez, who filed a whistleblower complaint regarding the Executioners in June… Gonzalez, testifying for nearly six hours under oath, said the existence of the clique was "common knowledge" at the station and that the gang's so-called shot caller controlled the work schedule and their actions boosted arrest numbers… As for Gonzalez, he's now on leave from the department and in fear for his life, he said. His testimony has inspired two more deputies to come forward with similar stories of the Compton station." • Makes you wonder about Portland.
"Cop Who Charged Black Senator With 'Injuring' Confederate Statues Nurtured A Long Grudge" [HuffPo]. "A Portsmouth, Virginia, police sergeant ― who charged a Black state senator, local civil rights leaders and city public defenders with crimes under his theory they participated in a conspiracy to "injure" statues glorifying Confederate soldiers who fought for slavery ― was the subject of an internal investigation for an email he sent to city officials that blasted the rhetoric and actions of those he would later accuse of committing felonies, HuffPost has learned…. Current Portsmouth Police Chief Angela Greene, also a Black woman, has gathered support from a predominately white group of Portsmouth residents, particularly after her department took advantage of Virginia's magistrate system and bypassed Portsmouth's Black elected prosecutor to charge Sen. Louise Lucas (D), local NAACP leaders and Portsmouth public defenders with taking part in a conspiracy to cause 'injury to' a Confederate monument. The little-known 'injury' law previously referred to the Civil War as the 'War Between the States,' a preferred term of Confederate sympathizers." • Fetishism, literally.
Groves of Academe
"University of South Carolina Cracks Down on Greek Houses for Virus Violations" [New York Times]. "'Our total number of active cases is larger than we expected at this point, and some student behavior off campus is both disappointing and unacceptable,' [Bob Caslen, the university's president] wrote." • Maybe we should be looking at university administrator behavior on campus. They're extremely well-paid, but apparently their job descriptions don't extend to making simple and obvious predictions about how young people often behave? Are they like cops, who don't live in the same university towns as their universities?
Class Warfare
"Covid Gag Rules at U.S. Companies Are Putting Everyone at Risk" [Bloomberg]. "In the past few months, U.S. businesses have been on a silencing spree. Hundreds of U.S. employers across a wide range of industries have told workers not to share information about Covid-19 cases or even raise concerns about the virus, or have retaliated against workers for doing those things, according to workplace complaints filed with the NLRB and the Occupational Safety and Health Administration (OSHA). Workers at Amazon.com, Cargill, McDonald's, and Target say they were told to keep Covid cases quiet. The same sort of gagging has been alleged in OSHA complaints against Smithfield Foods, Urban Outfitters, and General Electric. In an email viewed by Bloomberg Businessweek, Delta Air Lines told its 25,000 flight attendants to 'please refrain from notifying other crew members on your own' about any Covid symptoms or diagnoses. At Recreational Equipment Inc., an employee texted colleagues to say he'd tested positive and that 'I was told not to tell anybody' and 'to not post or say anything on social media.'"
"The Yelp Guide To American Inequality" [The American Conservative]. "For foodies, it's second-nature to "Yelp" a restaurant—indeed, Yelp seems like just another tech firm that's managed to turn its name into a verb. It's a common rule of thumb to avoid any establishment scoring below a 3.5 (which excludes some large percentage of all restaurants). Yelp feels like the wisdom of crowds, merely residing in a particular app. This is mistaken. In fact, one of my friends knows a food snob who refuses to use Google or Yelp; this fellow, my friend tells me, prefers Foursquare, which is refined, free of the opinions of the rabble and riff-raff. This is anecdotal, of course, but it backs up what the reviews themselves tell us: that what we're reading on review sites really isn't raw, crowdsourced information mediated through different apps, but divergent, class-driven impressions and narratives. Yelpers, according to the company's own public data, skew young, educated, and affluent. While age is the most evenly distributed, two thirds of users are under 55, and 29 percent are under 35. The other numbers are astounding: 82 percent are college-educated or above, and over half make more than $100,000 a year. It almost goes without saying that such a user base has exactingly high standards for restaurants, and seeks 'experiences' over bare consumption."
"We're Comrades, Not Coworkers" [Midwest Socialist]. "Considering how much time we spend at work—considering it's one of the few places where we may be part of a "team" and where we apply ourselves to long-term tasks—it's no surprise that when we come to DSA, we bring to it the same skills, habits, etiquette, and ethic that we've learned at our jobs. The model of coworkers at the same socialist organizing workplace is probably the most tempting for DSA members to emulate. But we need to be extremely selective in what we borrow from the professionalism of capitalist workplaces. Otherwise we risk recreating their same alienation and inexorable individualism—a fatal mistake for a socialist organization. This professionalism obliges us to pretend we are in control, going to work willingly and cheerfully—a mask, we know, for what is in fact coercion. But since we wear this mask day in and day out, we end up wearing it to DSA meetings, too. Even here, where we come of our own accord, we put on the same artificial public face, and implicitly expect the same of our comrades. What's concealed are struggles which, though they may seem banal, are perhaps our most important."
News of the Wired
Maybe, one day, the iBrain will take care of all this:
Stuck in internet of things dystopia want to sleep but my bed can't connect to the server pic.twitter.com/t3GkZtYZde

— Nick Cammarata (@nickcammarata) September 2, 2020
* * *
Readers, feel free to contact me at lambert [UNDERSCORE] strether [DOT] corrente [AT] yahoo [DOT] com, with (a) links, and even better (b) sources I should curate regularly, (c) how to send me a check if you are allergic to PayPal, and (d) to find out how to send me images of plants. Vegetables are fine! Fungi and coral are deemed to be honorary plants! If you want your handle to appear as a credit, please place it at the start of your mail in parentheses: (thus). Otherwise, I will anonymize by using your initials. See the previous Water Cooler (with plant) here. Today's plant (via):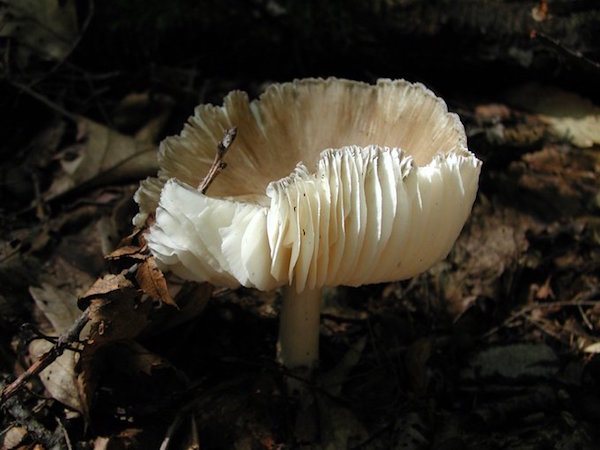 This one's glowing too!
* * *
Readers: Water Cooler is a standalone entity not covered by the annual NC fundraiser. So if you see a link you especially like, or an item you wouldn't see anywhere else, please do not hesitate to express your appreciation in tangible form. Remember, a tip jar is for tipping! Regular positive feedback both makes me feel good and lets me know I'm on the right track with coverage. When I get no donations for five or ten days I get worried. More tangibly, a constant trickle of donations helps me with expenses, and I factor in that trickle when setting fundraising goals:
Here is the screen that will appear, which I have helpfully annotated.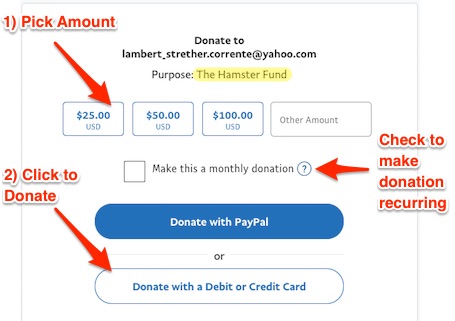 If you hate PayPal, you can email me at lambert [UNDERSCORE] strether [DOT] corrente [AT] yahoo [DOT] com, and I will give you directions on how to send a check. Thank you!