By Lambert Strether of Corrente.
This is Naked Capitalism fundraising week. 581 donors have already invested in our efforts to combat corruption and predatory conduct, particularly in the financial realm. Please join us and participate via our donation page, which shows how to give via check, credit card, debit card, or PayPal. Read about why we're doing this fundraiser, what we've accomplished in the last year, and our current goal, investing in our expanded Links section.
Bird Song of the Day
Alert reader anon in so cal warns us:
"First, it is important to point out that the use of playback is prohibited in many parks and refuges. It is also illegal to disturb any endangered or threatened species (and playback can be interpreted as disturbance). Any potential negative impacts of playback are more likely to occur in areas with a lot of birding pressure, so avoiding playback entirely in those places is a good idea. Where and how to use it in other situations is up the individual birder…."
Good to know!
#COVID19
At reader request, I've added this daily chart from 91-DIVOC. The data is the Johns Hopkins CSSE data. Here is the site.
Here are the United States regions: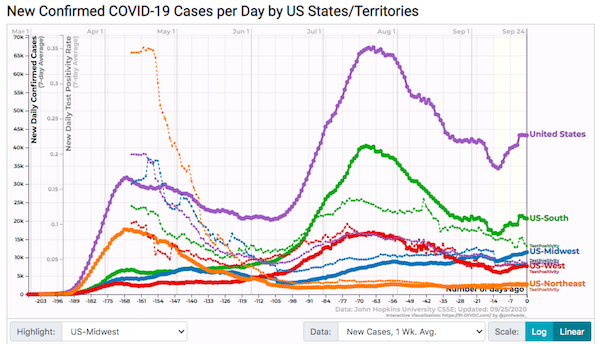 If current trends continue, we could be where we were August 1 in 30 days — the election now being 40 days out.
Here are the Swing States as I conceive them (see below):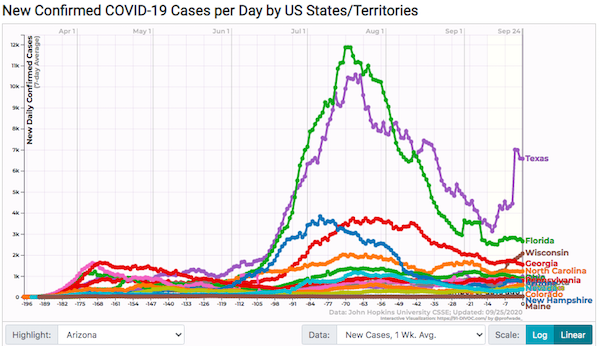 Politics
"But what is government itself, but the greatest of all reflections on human nature?" –James Madison, Federalist 51
"They had one weapon left and both knew it: treachery." –Frank Herbert, Dune
"They had learned nothing, and forgotten nothing." –Charles Maurice de Talleyrand-Périgord
The electoral map. July 17: Georgia, Ohio, ME-2 move from Leans Republican to Toss-up. Continued yikes. On July 7, the tossup were 86. Only July 17, they were 56. Now they are 91. This puts Biden at 278, i.e. over 270. August 18: Still no changes. August 31: Indiana moves from Likely to Safe Republican. September 9: No changes. September 14: No changes. September 21: No changes. Biden still at 278, Trump increases to 187, 73 are tossups. 187 + 73 = 260, so…. MI, WI, MN looking pretty tempting! For all the sturm and drang, and the polls, the consensus on the electoral college remains remarkably static: Biden ahead, Trump within striking distance. Of course, if Trump is still in striking distance on Election Day, that will count as a loss. Maybe.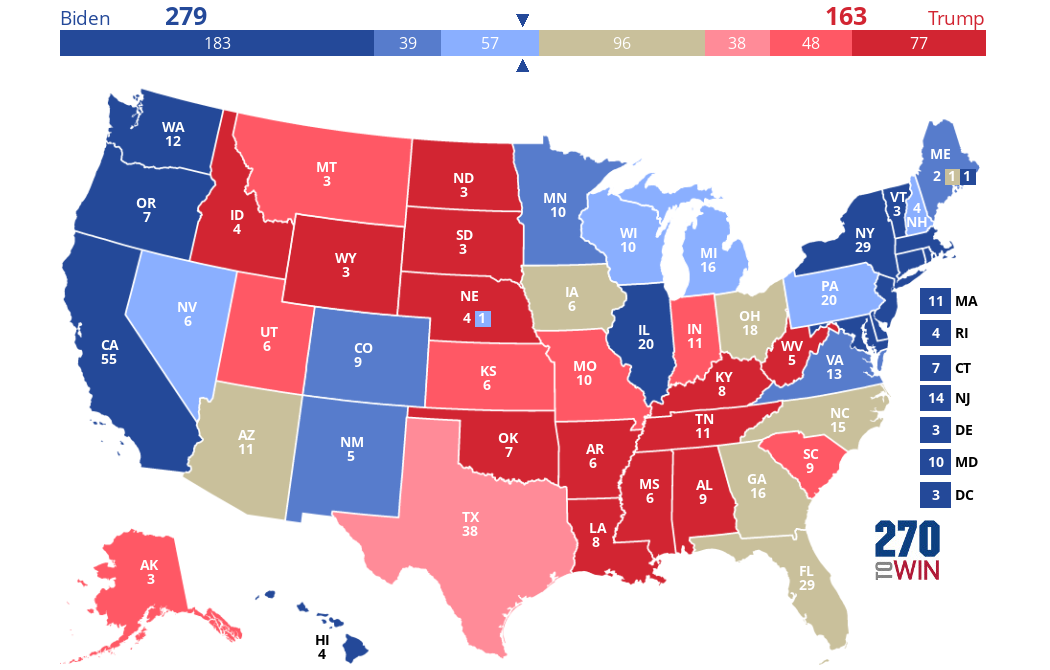 Click the map to create your own at
270toWin.com
The election countdown:
Here is an early voting calendar. Maybe we'll have a whole series of October surprises, since election day is gradually being devalued as an event.
And here are mail-in voting ruies, which naturally differ state by state.
UPDATE "How to Vote in 2020: Everything You Need to Know" [Bloomberg]. "Casting a ballot in the U.S. isn't always easy, with a complex web of varying state rules governing how and when you can vote. The Covid-19 pandemic has introduced even more complexity in 2020, as many states have made significant changes to allow for more early voting or voting by mail. More changes could come as lawsuits in several states wind their way through the courts. That's why Bloomberg News is answering these critical questions so you'll know what you need to do to make sure your vote is counted in the 2020 election."
Here are is an enormous spreadsheet on voting equipment, so you can check your own jurisdiction (hat tip, UserFriendly. I should really aggregate these onto a map…).
* * *
2020
Here is my list of Swing States, with votes in the Electoral College and selected ballot initiatives in parentheticals):

Arizona (11) (marijuana; taxes(=)
Colorado (9) (taxes, lottery, abortion, paid medical leave)
Florida (29) (minimum wage)
Georgia (16) (declaratory relief)
Iowa (6) (Constitional convention)
Maine-02 (1) (vax)
Michigan (16) (privacy)
Minnesota (10)
Nebraska-02 (1) (payday lending; gambling)
Nevada (6) (marriage)
New Hampshire (4)
North Carolina (15)
Ohio (18)
Pennsylvania (20)
Texas (38)
Wisconsin (10) (crime victims)

Inspired by the thread starting with Arizona Slim's comment here, I went to Ballotpedia and added selected, hopefully hot button, ballot initiatives, because sometimes they affect turnout. If you live in a swing state, please comment if I got the hot buttons wrong!

* * *

AZ: "Door-knocking in the COVID era: When 'get out the vote' becomes 'get people help" [Los Angeles Times]. "When Imelda Quiroz began knocking on doors this month in search of registered voters, one question would often lead to a glimpse of their daily struggles. 'How has the pandemic affected you?" she would prompt in English, sometimes in Spanish. She wanted to get a sense of how voters were doing and what issues were important to them ahead of the November election. What Quiroz heard was an outpouring from people worried about paying next month's rent, electric or water bills. Parents were struggling with their children shifting to online learning without laptops or internet, she said." • Imagine how powerful the Democrat Party would be if it had a system of precinct captains (hat tip, dcblogger).

MI: "Michigan lawmakers give clerks more time to process ballots" [Detroit News]. "The Michigan Legislature gave final approvals Thursday to a bill that would give local clerks 10 hours extra before the election to begin processing absentee ballots, a nod to the expected uptick in absentee voting in the general election. The bill also changed protocol for signature mismatches on absentee ballots, increased security around ballot boxes, and allowed for shifts of workers on the absent voter counting board the day of the election. The legislation passed 94-11 through the House and was concurred on by the Senate 35-2. The bill is headed to Gov. Gretchen Whitmer's desk next."

NC: "Republican members of the North Carolina State Board of Elections abruptly resign" [CNN]. "The two Republican members of the North Carolina State Board of Elections abruptly resigned Wednesday, saying in separate letters that they felt misled by the state attorney general's office and board staff when they agreed to a settlement that would allow voters to fix absentee ballots with missing information. The stunning departures, less than six weeks before Election Day in a hotly contested battleground state, come one day after the five-member board said it unanimously agreed to the settlement, which still must be approved by a court. A hearing has been set for October 2 regarding the settlement, which also allows ballots postmarked on Election Day to be received six days later." • Didn't they read the settlement? Still trying to find the letter of resignation, which nobody seems to want to link to…. UPDATE Here are David Black's resignation letter (PDF) and Ken Raymond's letter (PDF). This seems to be the heart of Black's letter:

In particular, the recent memo outlining the new absentee ballot "cure" for the witness requirement. It was not my understanding that the cure would simply mean an affidavit, or cure document, would be sent to the voter for a confirmation that this ballot was their own. No further information but a signature by the voter affirming the ballot was theirs would be required. My understanding was the witness requirement would stay as it is currently with the exception that only one witness signature would be required. Not only was I taken aback by this but I am sure many county directors will be too.

And Raymond's

To preserve the trust of the voters, I acted to keep the one-witness requirement and mitigate the

possibility the election being disrupted by a judicial order by compromising on the acceptance

date of absentee ballots.

The shape of things to come…

NC: "Tillis says he has 'grave concerns' about voting by mail in NC after board settlement" [News and Observer]. "Voters can "cure" a mistake if they complete and return an affidavit sent to them by their county board of elections, according to the state board. Among the mistakes that can be fixed: voter did not sign, voter signed in the wrong place, witness or assistant did not print name or address or did not sign or signed in the wrong place. A judge must still approve the settlement. More than 1 million absentee by-mail requests have been made in North Carolina, and nearly 200,000 voters have returned their accepted ballots already, according to state board data." • 

PA: "Feds, In Unusual Statement, Announce They're Investigating A Few Discarded Ballots" [WHYY]. Philly's NPR station: "The FBI and the U.S. attorney for the Middle District of Pennsylvania said Thursday that they are investigating "potential issues" with nine military ballots in one county. They believe the ballots were opened improperly, though they have not filed any charges or taken official action. U.S. Attorney David Freed noted that the investigation remains active but said he is releasing the news publicly 'based on the limited amount of time before the general election and the vital public importance of these issues.' Voting rights experts and Justice Department veterans, however, said that proximity to the election and the preliminary nature of the investigation make Freed's announcement highly unusual." • Comically, even more so after the deathless headline, this is the fourteenth (!!) paragraph: "All of the ballots found outside envelopes were cast for Trump, Freed's letter said; it's unknown who two sealed ones are for." • I'm sure we can all see where this is going. That said, I trust this events described in NPR's hilarious story about as much as I trust the story about anachists spraypainting "Biden 2020" on the side of the garage they're about the set on fire.

TX: "Gregg County official arrested, charged with election fraud" [Statesman]. "A Gregg County commissioner and three others were arrested Thursday on election fraud charges stemming from the 2018 Democratic primary. A grand jury on Wednesday indicted Commissioner Shannon Brown on 23 felonies, including election fraud, organized election fraud and the fraudulent use of vote-by-mail ballots as part in an alleged vote-harvesting scheme."

WI: "What Happened to Milwaukee's Black Middle Class?" [The American Prospect]. "The story we tell ourselves about the decline of American cities, especially in the Rust Belt, places the blame on deindustrialization and globalization. Yet, says Michael Rosen, retired Milwaukee Area Technical College (MATC) economics professor and former president of MATC's faculty union, Milwaukee's decline—and that of many cities across the country—was hardly inevitable. Business, he says '[broke] the social contract' between management and labor and began a strategy of both union avoidance and outright union busting. 'Capital declared war on labor in this town,' he says, and it 'decimated the Black community.' Racist redlining kept Black families segregated, while many jobs moved into the suburbs—where public transit was not designed to reach." • Surely globalization and breaking the social contract are both parts of capital having declared war on labor, and redlining is another tool in the war?

* * *

UPDATE Biden (D)(1): "Wall Street is shunning Trump. Campaign donations to Biden are five times larger" [CNN (PS)]. "Biden has raised $156,584 from individuals at Goldman Sachs (GS), according to OpenSecrets. With just $11,943 in contributions, Trump ranks a staggering 45th among federal campaign recipients — well behind House Speaker Nancy Pelosi, US Senator Lindsey Graham, Graham's opponent Jaime Harrison and Andrew Yang, a CNN political commentator who has called for universal basic income. But it's not just Goldman Sachs, whose employees have historically supported Democrats. (Former Goldman Sachs CEO Jon Corzine later served as the Democratic governor and US senator from New Jersey.) At Citigroup (C), Trump has been outraised by Biden as well as Pete Buttigieg, Bernie Sanders, Yang, vice presidential nominee Kamala Harris and US Senator Doug Jones. Trump has raised just $86,083 from JPMorgan Chase (JPM), the largest US bank. At $379,057, Biden has raised three times as much as Trump from JPMorgan. Trump was also behind Buttigieg and Sanders at JPMorgan.

Biden has raised more than twice as much ($257,821) from Morgan Stanley (MS) as Trump has ($96,010), according to OpenSecrets." • Like Obama. Gee, I wonder who's gonna be in charge of economics policy?

* * *

40 days out, ffs:

. @JuddApatow .@MikeBloomberg This is critical: we need a major media campaign, with entertaining ads with top entertainment and sports figures with PA ties, that show voters how to fill out and cast their votes by mail, using the secrecy envelope inside the outer one. Stat!!

— Norman Ornstein (@NormOrnstein) September 23, 2020

"Open Letter: Dump Trump, Then Battle Biden" [Common Dreams]. "Ending the Trump presidency is, by far, the most important goal that can be achieved between now and January."
RussiaGate
"In Politically Charged Inquiry, Durham Sought Details About Scrutiny of Clintons" [New York Times]. "Mr. Durham, the U.S. attorney in Connecticut assigned by Mr. Barr to review the Russia inquiry, has sought documents and interviews about how federal law enforcement officials handled an investigation around the same time into allegations of political corruption at the Clinton Foundation, according to people familiar with the matter. Mr. Durham's team members have suggested to others that they are comparing the two investigations as well as examining whether investigators in the Russia inquiry flouted laws or policies. It was not clear whether Mr. Durham's investigators were similarly looking for violations in the Clinton Foundation investigation, nor whether the comparison would be included or play a major role in the outcome of Mr. Durham's inquiry. The approach is highly unusual, according to people briefed on the investigation. Though the suspected crimes themselves are not comparable — one involves a possible conspiracy between a presidential campaign and a foreign adversary to interfere in an election, and the other involves potential bribery and corruption — and largely included different teams of investigators and prosecutors, Mr. Durham's efforts suggest the scope of his review is broader than previously known."
Realignment and Legitimacy
"Look on the Blyth Side" (podcast) [Open Source with Christopher Lydon]. • Absolutely a must-listen. Blyth's call is that the election will end up in the Supreme Court. (I disagree with Blyth on generational agency. I also wonder if Blyth's polarization isn't slicing the wrong way: Perhaps the real division is not between Red and Blue, but between voter and non-voter?
Stats Watch
At reader request, I added some business stats back in. Please give Econintersect click-throughs; they're a good, old-school blog that covers more than stats. If anybody knows of other aggregators, please contact me at the email address below.
Durable Goods: "Headline Durable Goods New Orders Improved Again In August 2020" [Econintersect]. "The headlines say the durable goods new orders improved for the fourth consecutive month. Our analysis shows the rolling averages improved. The data this month was below expectations – however, the previous month was revised up. In the adjusted data, the improvement was driven by defense spending."
Rail: "Rail Week Ending 19 September 2020 – Contraction Continues But Remains On An Improving Trendline" [Econintersect]. "Total rail traffic has two components – carloads and intermodal (containers or trailers on rail cars). Container exports from China are now recovering, container exports from the U.S. declined and remains deep in contraction. This week again intermodal continued in expansion year-over-year and continues on a strengthening trendline. However, carloads remain deep in contraction. But overall, rail is on an improving trendline."
* * *
Tech: "Amazon Employee Warns Internal Groups They're Being Monitored For Labor Organizing" [Vice]. "An Amazon Web Services employee emailed a series of internal Amazon listservs and told them that their communications were being monitored for labor organizing efforts and processed in a data farming project by the company's Global Security Operations, according to an internal email obtained by Motherboard. The emails were sent—at least—to the employee listservs "Indigenous@amazon.com" and "transgender@amazon.com," and mentioned a handful of other listservs the employee believed were being watched…. The Amazon Web Services employee notes that this data was being used to track "Whole Foods Market Activism/Unionization Efforts, Internal Communications-Social Listening, Presence of Local Union Chapters and Alt Labor Groups, Presence of Community Organizations, Union Officials and Social Influencers." Motherboard was unable to specifically verify this."
Tech: "How an Amazon Bribery Scheme Became a $100 Million Swindle" [Bloomberg]. "It sounds like the plot of a made-for-Netflix crime drama. A Brooklyn businessman stuffs $8,000 in cash in a suitcase and calls an Uber to send it to accomplices. Hundreds of thousands of dollars crisscross the globe via MoneyGram, PayPal, and foreign bank accounts in a plot to swindle more than $100 million from the world's most valuable internet retailer and its customers. But it's the real-life story of a small ring of e-commerce consultants and former Amazon.com Inc. employees who federal prosecutors say bribed Amazon workers for more than three years to gain access to the company's most sensitive secrets, according to a 38-page indictment released on Sept. 18. The accused allegedly rigged in their favor its web store, where shoppers around the world spend hundreds of billions of dollars a year. Six people have been charged with allegedly conspiring to pay bribes, according to the Department of Justice. The length and scope of the scheme are a statement about Amazon's size, that a scam can flourish for years without detection." • Or — not to be cynical — it was detected, and whoever detected it just took a cut? Rent's rent, after all.
* * *
Today's Fear & Greed Index: 48 Neutral (previous close: 48 Neutral) [CNN]. One week ago: 52 (Neutral). (0 is Extreme Fear; 100 is Extreme Greed). Last updated Sep 25 at 12:23pm. Mr. Market approaches Fear…
The Biosphere
"Warrior skeletons reveal Bronze Age Europeans couldn't drink milk" [Science]. "About 3000 years ago, thousands of warriors fought on the banks of the Tollense river in northern Germany. They wielded weapons of wood, stone, and bronze to deadly effect: Over the past decade, archaeologists have unearthed the skeletal remains of hundreds of people buried in marshy soil. It's one of the largest prehistoric conflicts ever discovered. Now, genetic testing of the skeletons reveals the homelands of the warriors—and unearths a shocker about early European diets: These soldiers couldn't digest fresh milk." • Interesting but not the interesting part: "Searching for more insight into the battle, researchers sequenced the DNA of 14 of the skeletons. They discovered the warriors all hailed from central Europe—what is today Germany, Poland, and the Czech Republic. Unfortunately, their genetic similarity offers little insight into why they fought. 'We were hoping to find two different groups of people with different ethnic backgrounds, but no,' says study co-author Joachim Burger, a geneticist at the Johannes Gutenberg University of Mainz. 'It's disappointingly boring.'" • Interesting that apparently "ethnic" = "genetic", and that it's "boring" that genetics don't cause war (the reverse would apparently have been exciting and was preferred)..
"Mapping carbon accumulation potential from global natural forest regrowth" [Nature]. ":Regrowing natural forests is a prominent strategy for capturing additional carbon3, but accurate assessments of its potential are limited by uncertainty and variability in carbon accumulation rates…. This map shows over 100-fold variation in rates across the globe, and indicates that default rates from the Intergovernmental Panel on Climate Change (IPCC)4,5 may underestimate aboveground carbon accumulation rates by 32 per cent on average and do not capture eight-fold variation within ecozones. Conversely, we conclude that maximum climate mitigation potential from natural forest regrowth is 11 per cent lower than previously reported3 owing to the use of overly high rates for the location of potential new forest." • The full article is locked, so I can't find out if "the use of overly high rates for the location of potential new forest" is due to private property, or some other factor.
Heatlh Care
"SARS-CoV-2 vaccines in development" [Nature]. I'm re-upping this link, which alert reader Ignacio said nice things about. Here is the key passage, in my view. It's buried in the caption of Figure 2 on page 10:
Fig. 2 | Mucosal and systemic immune responses to natural infection with respiratory viruses and vaccination. A The lower human respiratory tract is mostly protected by IgG (IgG1 is most prevalent) which is the main type of antibody in serum and which is transported into the lung. The upper respiratory tract is mostly protected by secretory IgA1 (sIgA1). B Natural infection with respiratory viruses induces both a systemic immune response, dominated by IgG1, as well as a mucosal immune response in the upper respiratory tract based on sIgA1. This process can lead to sterilizing immunity for many respiratory viruses. C Intramuscular or intradermal vaccination leads in many cases to a strong induction of serum IgG but not to an induction in mucosal IgA. While some IgG can also found on the mucosal surfaces of the upper respiratory tract, the lack of sIgA often leaves an individual vulnerable to reinfection of the upper respiratory tract. D Intranasal vaccination can efficiently induce mucosal antibody responses, thereby potentially providing sterilizing immunity in the upper respiratory tract. Systemic immune response are however often lower with this type of vaccination. Currently, all SARS-CoV-2 vaccine candidates in clinical development are given intramuscularly and very few of the >180 vaccine candidates in development are designed to induce mucosal immunity. While mucosal immunity might not be required to protect from severe or even symptomatic disease, it might be required to achieve optimal protection from infection and onward transmission of SARS-CoV2.
If I understand this correctly, the vaccines in development protect the lungs ("lower respiratory tract") but do not "achieve optimal protection from infection and onward transmission of SARS-CoV2." Not to be cynical, but not preventing onward transmission would seem to be "optimal" from the standpoint of opportunities for profit. Readers, am I too cynical?
Groves of Academe
The views of a Bloomberg columnist:
They wanted the moneyhttps://t.co/O8wIxAquEO

— Noah Smith ? (@Noahpinion) September 25, 2020
I wonder what a real cynic would think.
Class Warfare
UPDATE "The Woke and the Un-Woke" [Tablet]. "Consider the response to the novel coronavirus. Actual religious services among Jews, Christians, and Muslim communities were banned, while mass demonstrations were cheered on by elected officials, civic leaders, and public health professionals. New York Mayor Bill de Blasio threatened to arrest attendees of mass gatherings after a funeral in Brooklyn for an Orthodox rabbi drew 2,500 mourners. But he cheered on the protests that followed the death of George Floyd. (One, a 'Black Trans Lives Matter' march in Brooklyn, drew an estimated crowd of 15,000.) In his view, demonstrators who were 'grappling with an extraordinary crisis seeded in 400 years of American racism' deserved prerogatives not merited by 'the devout religious person who wants to go back to services.' De Blasio's statement provides the clearest articulation yet offered by any political figure of the way in which the original understanding of America has been reversed: The state, having aligned itself with one creed over others, no longer serves to protect freedom of religious expression but rather officiates secular doctrines of the establishment anti-religion." • To be fair now, we have case studies of superspreading events from church services, and no case studies of superspreading events from marches. Which makes sense, since church services are indoors, and marches are outdoors. However, I'm not sure this information was available to Deblasio at the time.
News of the Wired
"Covering up the Cracks: The Return of Wallpaper" [Freize]. "How artists from Édouard Vuillard to Dorothea Tanning used wallpaper in their work." I stan for Vuillard:
How artists from Édouard Vuillard (one of my absolute favorite painters) to Dorothea Tanning used wallpaper in their work @frieze_magazine https://t.co/nNFfi4KRzj pic.twitter.com/STNxOz8XAc

— Wendy Perron (@wperrondancemag) September 25, 2020
* * *
Readers, feel free to contact me at lambert [UNDERSCORE] strether [DOT] corrente [AT] yahoo [DOT] com, with (a) links, and even better (b) sources I should curate regularly, (c) how to send me a check if you are allergic to PayPal, and (d) to find out how to send me images of plants. Vegetables are fine! Fungi and coral are deemed to be honorary plants! If you want your handle to appear as a credit, please place it at the start of your mail in parentheses: (thus). Otherwise, I will anonymize by using your initials. See the previous Water Cooler (with plant) here. Today's plant (TH):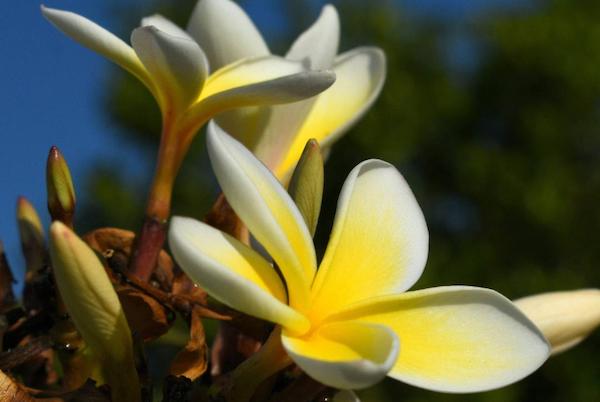 TH writes: "I liked the way the sun was bringing out the colors of this plumeria flower I spotted on one of our walks along the waterfront at Alamitos Bay in Long Beach, California."