By Lambert Strether of Corrente.
This is Naked Capitalism fundraising week. 305 donors have already invested in our efforts to combat corruption and predatory conduct, particularly in the financial realm. Please join us and participate via our donation page, which shows how to give via check, credit card, debit card, or PayPal. Read about why we're doing this fundraiser, what we've accomplished in the last year, and our current goal, strengthening the comments section.
Bird Song of the Day
Alert reader RW searched Macaulay and suggested this link to the Pileated Woodpecker:
Pileated Woodpeckers are very shy but I got one to attack me with the Cornell app. He came to within 3 feet away before he realized his mistake. The woods around my house is full of noisy birds but you never see them, now I can identify them by their songs.

Thanks for all you and Yves do at Naked Cap, I have learned so much reading there.
So, if you read NC on a cellphone, you can go out in the woods and play the Bird Song of the day, and see if any birds react!
#COVID19
At reader request, I've added this daily chart from 91-DIVOC. The data is the Johns Hopkins CSSE data. Here is the site.
Here are the United States regions: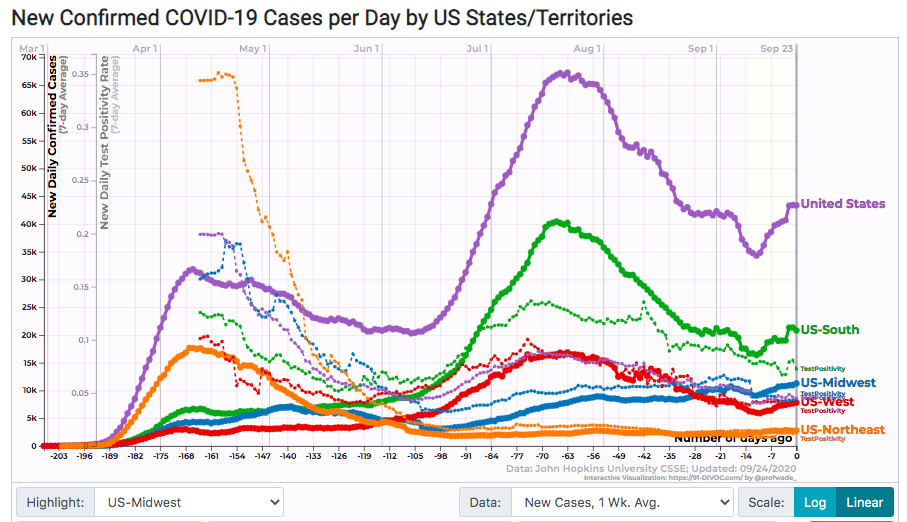 If current trends continue, we could be where we were August 1 in 30 days — the election now being 40 days out.
Here are the Swing States as I conceive them (see below):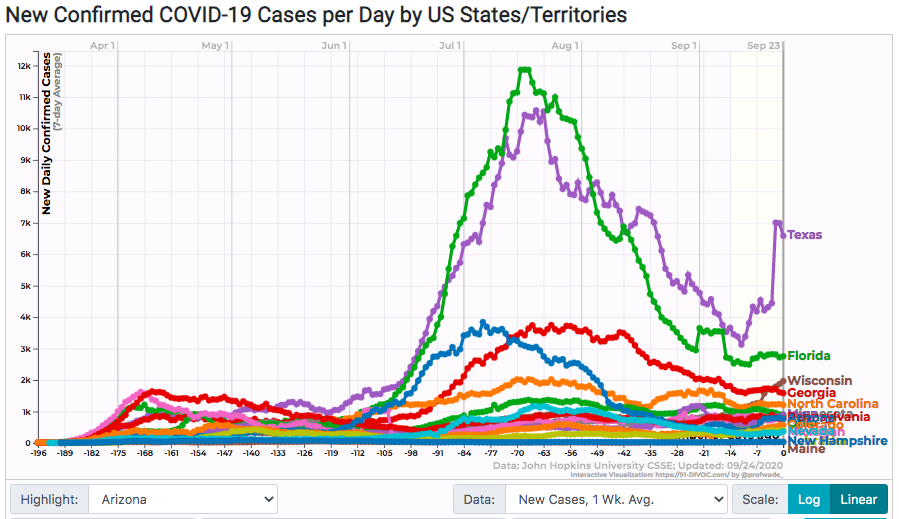 As alert reader anon suggested the day before yesterday, the Texas spike is indeed "a data reporting anomaly" (says the Times).
Politics
"But what is government itself, but the greatest of all reflections on human nature?" –James Madison, Federalist 51
"They had one weapon left and both knew it: treachery." –Frank Herbert, Dune
"They had learned nothing, and forgotten nothing." –Charles Maurice de Talleyrand-Périgord
The electoral map. July 17: Georgia, Ohio, ME-2 move from Leans Republican to Toss-up. Continued yikes. On July 7, the tossup were 86. Only July 17, they were 56. Now they are 91. This puts Biden at 278, i.e. over 270. August 18: Still no changes. August 31: Indiana moves from Likely to Safe Republican. September 9: No changes. September 14: No changes. September 21: No changes. Biden still at 278, Trump increases to 187, 73 are tossups. 187 + 73 = 260, so…. MI, WI, MN looking pretty tempting! For all the sturm and drang, and the polls, the consensus on the electoral college remains remarkably static: Biden ahead, Trump within striking distance. Of course, if Trump is still in striking distance on Election Day, that will count as a loss. Maybe.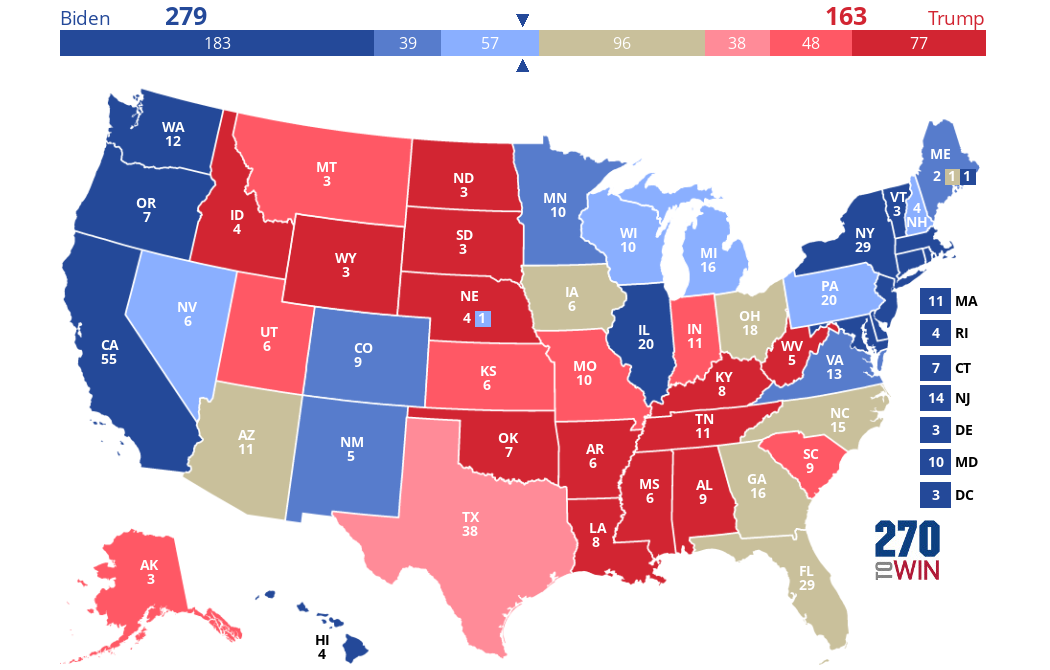 Click the map to create your own at
270toWin.com
The election countdown:
Here is an early voting calendar. Maybe we'll have a whole series of October surprises, since election day is gradually being devalued as an event.
And here are mail-in voting ruies, which naturally differ state by state.
UPDATE Here are is an enormous spreadsheet on voting equipment, so you can check your own jurisdiction (hat tip, UserFriendly. I should really aggregate these onto a map…).
* * *
2020
Here is my list of Swing States, with votes in the Electoral College and selected ballot initiatives in parentheticals):

Arizona (11) (marijuana; taxes(=)
Colorado (9) (taxes, lottery, abortion, paid medical leave)
Florida (29) (minimum wage)
Georgia (16) (declaratory relief)
Iowa (6) (Constitional convention)
Maine-02 (1) (vax)
Michigan (16) (privacy)
Minnesota (19)
Nebraska-02 (1) (payday lending; gambling)
Nevada (6) (marriage)
New Hampshire (4)
North Carolina (15)
Ohio (18)
Pennsylvania (20)
Texas (38)
Wisconsin (10) (crime victims)

Inspired by the thread starting with Arizona Slim's comment here, I went to Ballotpedia and added selected, hopefully hot button, ballot initiatives, because sometimes they affect turnout. If you live in a swing state, please comment if I got the hot buttons wrong!

FL: "Florida attorney general asks for investigation of Bloomberg's fundraising push to cover fines for felons who want to vote" [Sun-Sentinel]. "Florida Attorney General Ashley Moody sent a letter to the FBI and the Florida Department of Law Enforcement this week, asking them to investigate the millions that billionaire Mike Bloomberg helped raise to offset fines and court costs for felons so they can vote. Moody's letter says, in part, an 'even otherwise innocuous offering of an incentive simply to vote could run afoul' of Florida elections laws. 'Incentives could be offered to a voter in a way that would be designed to directly or indirectly cause the voter or a larger group of voters to vote in a particular matter.' This would violate Florida statutes, which make it illegal to 'directly or indirectly give or promise anything of value to another in casting his or her vote,' Moody's letter says." • I thought of Bloomberg's effort as a mitzvah, even if self-interested, to get round a poll tax imposed to thwart the clear will of Florida voters to let felons vote. Sadly, I think Moody has a point.

FL: "If There Was No Florida Democratic Party, It Would Be Easier For Democrats To Win" [DownWIthTyranny]. "The Florida Democratic Party is worse than worthless. If they were just worthless they wouldn't be doing anything. Worse than worthless means they are actively sabotaging Democratic candidates, going so far as telling people various Republicans are their friends (or, in the case of state Sen. Gary Farmer, worse)…. But the state Democratic Party in nowhere to be found in most races, telling candidates in winnable districts that they can't or won't help."

UPDATE FL "Why Florida will be so pivotal once again" [CNN]. "This year, it's pretty clear that Trump has very few paths to the White House without winning Florida. It's possible, but it isn't really realistic… On the other hand, Biden has a number of ways to win without Florida. His easiest path (the states Hillary Clinton won in 2016 and Arizona, Michigan, Nebraska's 2nd congressional district and Wisconsin) and his second easiest path (the Clinton states plus Arizona, Michigan and Pennsylvania) don't rely on Florida…. Put another way, Biden's very likely to win if he takes Florida. Even if we have to wait for the ballots to be counted in other states for Biden to officially get to 270 electoral votes, there's only a minimal chance Trump takes the election.

If Biden loses Florida, we'll likely have to see what happens in the Great Lake (Rust Belt) battlegrounds to have a good understanding of the ultimate outcome. We could be waiting a long while for those Great Lake battleground state results to become clear. Unlike Florida, the outcome in the Great Lake battlegrounds may not be known for days because of mail-in voting."

ME: "UPDATE: Hampden police identify minor who defaced Trump signs, placed dog feces in mailboxes" [WABI]. "Police said she's a minor. They are now talking with those involved. No charges have been filed at this point."

MN: "Suspicious Fire Destroys Trump Supporter's Garage, Truck; Pro-Biden, BLM Graffiti Left At Scene" [WCCO]. "The family's garage, trucks and trailer were burned just after 3 a.m. Wednesday. Graffiti on the garage read, "Biden 2020," "BLM" — shorthand for Black Lives Matter — and the anarchy symbol of an "A" with a circle around it. Two 3 x 5 Trump flags were on the trailer and truck." • I'm dubious. I don't think there's an anarchist in the world who could bring themselves to spraypaint "Biden 2020" on anything>, not even the most trollish of them.

UPDATE NC: "North Carolina Is Already Rejecting Black Voters' Mail-In Ballots More Often Than White Voters'" [FiveThirtyEight]. "In North Carolina, absentee ballots have already been sent back and the state has been updating statistics on those ballots daily. As of September 17, Black voters' ballots are being rejected at more than four times the rate of white voters, according to the state's numbers…. The vast majority of these ballots were rejected because voters made a mistake or failed to fill out the witness information,2 according to state records. A rejected ballot does not necessarily mean the voter is denied his or her vote: North Carolina allows for a process called 'vote curing,' where voters are notified that there's a mistake and given a chance to fix their ballot. But that's not an option in every state. And even that isn't foolproof…. Part of this gap could be due to the fact that many Black voters and voters of color casting mail ballots are doing so for the first time, and first time vote-by-mail voters tend to make more mistakes because they're less familiar with the requirements. That's true in North Carolina, too. Michael Bitzer, a political scientist at Catawba College in North Carolina, compared historical voter records in the state and found that most voters who had their ballot rejected so far voted in person in 2016." • Again, I'm not sure it made sense for Democrats to bet the farm on vote-by-mail when their most loyal constituency would be effectively disenfranchised. But here we are:

it was right to fear in-person voting back in March, but all evidence suggests that we basically have it figured out https://t.co/ERmwquPyTO

— ryan cooper (@ryanlcooper) September 24, 2020

UPDATE OH: "Trump vows to reverse 'blue-collar carnage' in Ohio" [Washington Examiner]. "In a speech in Dayton on "Fighting for the American Worker," his first of two events in Ohio on Monday, Trump accused Biden of being 'a die-hard globalist' who inflicted 'terrible damage' on Ohio's economy during his years in Washington…. The North American Free Trade Agreement, which Biden supported when it was approved in 1993, caused the loss of tens of thousands of jobs in the Dayton area, Trump said. Biden, he added, 'should be begging for your forgiveness.' Trump pointed to China's entry into the World Trade Organization as 'a total catastrophe.' 'That's when China started going up like a rocket,' he added." • Dance with the one that brung ya. And he's not wrong, is he? Turns out that "I alone can fix it" was a little off….

PA: "ELECTION 2020: How 'naked ballots' in Pennsylvania could cost Joe Biden the election" [Pittsburgh Post-Gazette]. "The 2020 presidential election could come down to envelopes. The state Supreme Court in Pennsylvania, a critical battleground state that's seen as increasingly likely to determine who wins the White House, last week ordered officials to throw out 'naked ballots; — mail ballots that arrive without inner 'secrecy envelopes.' Pennsylvania uses a two-envelope mail ballot system: A completed ballot goes into a 'secrecy envelope' that has no identifying information, and then into a larger mailing envelope that the voter signs. 'While everyone is talking about the significance of extending the mail-ballot deadline, it is the naked ballot ruling that is going to cause electoral chaos,' Lisa Deeley, chair of the Philadelphia city commissioners, wrote in a letter to state legislative leaders urging them to change the law to allow the ballots to be counted. Deeley warned there will likely be tens of thousands thrown out — maybe more than 100,000." • Presumably the "secrecy ballot" is there to ensure that the ballot is — follow me closely, here — what we call a "secret ballot." It seems like a really bad precedent to allow them to be counted, since that's an obvious avenue for election fraud (see this election here at CalPERS an example). It was probably also a bad idea for liberal Democrats to go all-in for vote-by-mail, but that's another issue.

UPDATE PA: "Worst-Case Election Scenario: A Pennsylvania Counting Meltdown" [Bloomberg]. "The commonwealth is new to mail-in voting and took weeks to count ballots during its June 2 primary. Counties can't start processing ballots until Election Day, virtually guaranteeing they won't all be tabulated by that night. Pennsylvania was decided by only 44,292 votes in 2016, and its election laws allow for ballot challenges and appeals to drag on, increasing the risk for delayed results… Judging by how Pennsylvania performed in its June primary, there's plenty of reason for alarm. Officials had changed election rules back in October 2019, well before the outbreak of the virus, to allow voters to request a mail-in ballot without having to provide an excuse. In the June primary, almost 1.5 million people cast votes by mail or absentee — increasing to 51% of the total vote from 2% in the 2018 primary…. It took almost three weeks for all 1.5 million mail-in and absentee ballots in the commonwealth to be tabulated. About half the counties were still counting more than a week after the primary, according to a state report. Philadelphia, the most populous, didn't even start counting mail-in votes until the day after the primary while it focused on in-person voting. Officials there needed 15 days to complete the count…. The race is also shaping up to be very close. Biden's advantage in Pennsylvania has been narrowing since July…. Of the almost 2 million mail-in and absentee ballots requested in Pennsylvania through Sept. 17, 67% were from Democrats and only 24% from Republicans, according to the Department of State." • Readers please correct me, but IIRC, Philly uses unauditable touchscreens for in-person voting. If so, that's something Bloomberg should have mentioned.

UPDATE TX: "As Texas college towns emerge as coronavirus hot spots, universities try to keep students from infecting locals" [Texas Tribune]. "In the counties where four-year college students make up at least 10% of the population, including Lubbock, Hays and Brazos, cases have grown 34% since Aug. 19, according to a Texas Tribune analysis. That's compared to 23% in counties with a smaller proportion of students, including larger metropolitan areas like Houston and Dallas that also house universities…. The Texas counties where university students make up the biggest share of the population are home to Texas State University, Texas Tech University, Stephen F. Austin State University, Sul Ross State University, Sam Houston State University, and several A&M campuses, including the flagship in College Station, Tarleton State University, Prairie View A&M University, Texas A&M University-Kingsville and Texas A&M University-Commerce." • I'm filing this here because I won't know what the effect on the vote in college towns will be, or the youth vote in general (depending on where they're registered).

UPDATE TX "Beto O'Rourke and other Democrats think Biden could win Texas — and upend American politics" [Salon]. "Recent polls have shown former Vice President Joe Biden to be surprisingly competitive in Texas, which is a big change from the 1990s and 2000s — when Democratic strategists assumed that Republicans would automatically win the state's electoral votes and that their time and energy would be better spent in Florida, Pennsylvania and other swing states they had a better chance of winning. But that was before Democrat Beto O'Rourke narrowly lost to incumbent Sen. Ted Cruz in 2018. O'Rourke's loss was a major disappointment for Democrats, but as O'Rourke sees it, the fact that he lost to Cruz by only 2% shows that Democratic strategists shouldn't give up on Texas… O'Rourke argues that if Biden could pull off a win in Texas, it would be "psychologically" brutal for the Republican Party. And Democratic strategist David Axelrod told Vox, 'Expanding the map serves two purposes. The first is to keep your options open to make a move late, if the numbers move from possible to promising. The second is to force the other campaign to spend to defend a must-have state for them.'"

* * *

Biden (D)(1): "22 Retired 4-Stars Join Nearly 500 NatSec Leaders in Letter Endorsing Joe Biden" [Military.com]. • Well, I guess that settles it…

Biden (D)(2): "Kamala Harris Has A Vibrant Online Fan Club. But It Also Has A Toxic Side." [HuffPo]. "Members of the KHive, which one member estimated is made up of 50,000 to 60,000 Twitter accounts, see themselves as defenders and boosters of Harris, particularly as she faces an onslaught of racist and misogynistic harassment as the first Black and first Asian American woman to be nominated for vice president by either major party. Harris and her allies have shouted out the group multiple times…. Nearly a dozen people said accounts identified as part of the KHive often kicked off or instigated harassment campaigns against them for originally backing Democratic candidates other than Harris. Often, after the harassment began, self-identified KHive members and other accounts swarmed them on Twitter. The harassment included slurs about people's ethnicity, including calling Black people "house slaves" for backing other Democrats. One Elizabeth Warren supporter, who identifies as gay, said he was told that all "Warren gays should be chemically castrated," after he was the target of a harassment campaign kicked off by a KHive member. A recent high school graduate who supported Bernie Sanders said a volunteer organizer for Harris's presidential campaign tweeted that he "hoped I would be raped in a gas chamber by MAGA nazis" (the teen is Jewish). The Harris supporter deleted the tweet minutes after posting it, according to the teen. Multiple people said their personal information was published online, forcing some to move their families to a different location temporarily for fear they were in physical danger. Two women said KHive members made veiled threats toward their children. One of the women said she received a call from child protective services about her 17-month-old child after an incident with the KHive." • If these incidents had come from Sanders supporters, there would have been a moral panic that lasted for years….

Biden (D)(3):

Trump has people willing to do prison time to get him elected; Biden can't even get folks to man a field office in Michigan.

This just doesn't add up, fuck your polls.

— Donald Trump is a fascist & so are his supporters (@NatSecReporter) September 19, 2020

Trump (R)(1): "Trump to sign order on pre-existing conditions as he gives speech on health care" [MarketWatch]. • Go big or go home!

Trump (R)(2): "The Memo: Trump's strengths complicate election picture" [The Hill]. "Voters in [swing states Florida and Arizona] gave Trump relatively high marks for his handling of the economy. In Arizona, registered voters backing his record on that issue numbered 57 percent, against 42 percent disapproving. In Florida, 54 percent approved of his economic record and 43 percent disapproved. Both findings were significantly better than Trump's overall job approval numbers in either state. If there are 'shy' Trump voters, unwilling to declare their allegiance in interviews with pollsters, it seems plausible they may be found among the ranks of those who believe their financial well-being would fare better under four more years of the president. The findings from the Post-ABC News poll regarding the economy were consistent with other surveys."

* * *

"Pizza to the Polls aims to feed hungry 2020 voters stuck in long lines" [CNN]. "Pizza to the Polls, a nonpartisan grassroots organization, has so far sent 2,068 pizzas to voters casting their ballots in 19 states around the country in the 2020 election. The group hopes to grow its ground game even more as the election gets closer — and the need is expected to grow. 'There's going to be a ton of lines this year,' Scott Duncombe, Pizza to the Polls' co-founder and director, told CNN. 'And so we will hopefully be good to go and spend that pizza money as fast as it comes in.'" • When you "plan" to vote, make sure to include napkins!
Ginsberg Replacement
"The Democrats' Supreme Failure" [Black Agenda Report]. "The Supreme Court is supposed to be the issue that ends all arguments. The fact that the Democrats mishandled this situation so badly is one of the reasons they have deified the late justice Ginsburg. They have to divert attention from the mess they created. The federal courts would not play such a large political role if the Democrats were serious about winning and keeping legislative majorities. When Barack Obama was president they lost more than 900 seats in state legislatures, the House of Representatives and the Senate. The loss of the Senate was particularly devastating. Ginsburg should have stepped down when Obama still had the Democratic Party control needed to nominate a replacement."

"How The Elites Rigged Supreme Court Politics" [American Compasss]. "The trick that helps corporatists in Congress the most is making every single election existential, because when things are existential everything else goes out of the window. How Wall Street conducts business, the growing wealth gap in America, our fatally low birthrates, the inability for Americans to provide for their families, and so many other major problems all go on the backburner in so-called existential times. The never-ending media frenzy about existential times comes as corporate power has become as much if not more so a threat to your life, liberty and pursuit of happiness than a tyrannical government. There is never room in the existential narrative about how the stakes of our economic future and the ability for people to provide for themselves are actually existential, even though the current economic crisis continues ruining people's lives. Americans deserve a chance to vote for someone based on economic issues that determine how we live our lives, rather than a single vote they'll take on the Supreme Court."

"Kavanaugh Emerges as Man-in-the-Middle With Supreme Court Set to Shift Right" [Bloomberg]. "Kavanaugh, who prefers narrower rulings than some of his conservative colleagues, would find himself at the court's ideological center if President Donald Trump succeeds in replacing Ginsburg with a staunch conservative. From there he could decide how far, and how quickly, it turns to the right on some of the country's most divisive issues…. Kavanaugh has also suggested he is less willing than Gorsuch to overturn the court's past decisions, says David Strauss, a constitutional law professor at the University of Chicago School of Law. That could prove important when the court is inevitably asked to overturn the 1973 Roe v. Wade decision, which legalized abortion nationwide." • Commentary: "It's a good thing nobody did anything to permanently alienate him."

UPDATE "The Supreme Court and Normcore" [Crooked Timber]. "the problem is that norms are institutions (more precisely, they are informal institutions that are not supported by formal external punishments but by the expectations of the actors that adhere to them) and institutions do not exist in a vacuum. In game theoretic terms, norm maintenance depends on actors' expectations about "what is off the equilibrium path." In more practical language, norm maintenance requires not just that political actors worry about the chaos that will ensue if the norms stop working. It also relies on the fear of punishment – that if one side deviates from the political bargain implicit in the norm, the other side will retaliate, likely by breaking the norm in future situations in ways that are to their own particular advantage. What this means, pretty straightforwardly, is that norms don't just rely on the willingness of the relevant actors to adhere to them. They also rely on the willingness of actors to violate them under the right circumstances. If one side violates, then the other side has to be prepared to punish. If one side threatens a violation, then the other side has to threaten in turn, to make it clear that deviating from the norm will be costly. A norm governing relations between two opposing sides, where one side acts strategically (to exploit opportunities) and the other naively (always to support the norm) can't be sustained." • Believers in the Norms Fairy, in other words, needs to practice altruistic punishment.

Something missing?

More than 100 of Justice Ginsburg's former clerks meet her casket at the Supreme Court steps https://t.co/uwRWzBSAwj pic.twitter.com/xraaNCPh94

— CNN Breaking News (@cnnbrk) September 23, 2020
Realignment and Legitimacy
Modulo that sneaky "the public," this is pretty much where I am:

America's election administration is extremely decentralized, Trump is extremely unpopular with the public, much of the economic elite, and the military leadership. The threat imo isn't a "coup" as classically imagined, but simply Bush v. Gore 2, this time more egregious.

— Eric Levitz (@EricLevitz) September 24, 2020

The worst I can see happening is a capitol occupation by some gun-humpers. Which will fizzle out. Worse than the Brooks Brothers riot in Miami 2000, but not the end of the Republic. But a less bad, but still horrid Bush v. Gore situation? A 4-4 vote (as the Democrats want, and what then?) or 5-4, or 4-5…. It won't be pleasant.

"Represent" [Interfluidity]. "One source of our discord is majoritarianism, which drives destructive competition between our political factions to win just a tiny margin over the other one. "Majority rules" is a deeply flawed basis for democratic institutions. It conflicts with a more functional virtue, representation, the idea that everybody should have a voice, no one's interests should fall beneath consideration. Under strict majoritarianism, minorities have effectively no voice if a majority organizes to wield power. In liberal democracies, the most catastrophic harms of majoritarianism are (supposed to be) mitigated by minority rights, basic protections and liberties that even organized majorities are not permitted to violate. But even when those are respected, majoritarianism leaves minorities boxed out of any agency in the national project." • As Sanders supporters saw in the 2016 and 2020 Democrat primaries. The whole piece is well worth a read. Interfluidity seems to be on a bit of a roll lately, posting more frequently.
Stats Watch
At reader request, I added some business stats back in. Please give Econintersect click-throughs; they're a good, old-school blog that covers more than stats. If anybody knows of other aggregators, please contact me at the email address below.
Employment Situation: "19 September 2020 Initial Unemployment Claims Rolling Average Again Declined" [Econintersect]. "Market expectations for weekly initial unemployment claims (from Econoday) were 800 K to 905 K (consensus 880 K), and the Department of Labor reported 870,000 new claims. The more important (because of the volatility in the weekly reported claims and seasonality errors in adjusting the data) 4 week moving average moved from 913,500 (reported last week as 912,000) to 878,250."
* * *
Commodities: "New supply constraints may have tea drinkers feeling anxious. Prices of wholesale tea leaves have jumped as a series of logistical issues have supplies tightening…. and the supply-chain troubles are starting to lift consumer prices at U.S. stores" [Wall Street Journal]. "The volatility in a normally stable trade is the latest sign of how the coronavirus-driven lockdowns and changes in consumer buying patterns have roiled commodity markets. Tea is the world's most popular beverage, with about 3.7 billion cups consumed daily. But the pandemic has caused sharp drops in tea consumption at restaurants and cafes while leaving people to brew more tea at home. At the same time, bad weather in some producer countries, labor shortages and transport disruptions have strained supplies.
Shipping: "Consumer Giants Urge Governments to End Shipping's Crew Change Crisis" [gCaptain]. "Chief executives of household consumer brands, from retailer Carrefour SA to food manufacturer Mondelez International Inc. and beverage maker Heineken NV, have signed an open letter calling for measures to allow more crew changes at ports, ensure the safety of overworked seafarers and make sure supply chains don't use forced labor. The letter, which was sent to United Nations Secretary-General Antonio Guterres Wednesday before a General Assembly web conference on seafarers, is the latest call to address a growing humanitarian crisis at sea brought about by the Covid-19 pandemic as cautious governments restrict access to borders and air travel remains curbed. 'We are coming to a tipping point if we don't resolve the issue of crew changes,' Marc Engel, chief supply chain officer at Unilever, which spearheaded the letter, said in an interview. 'There's a huge risk that the global supply chain will start failing. It's an inadvertent situation of forced labor because these seafarers are stuck on these ships. It's a human rights issue.' The call to action by more than two dozen CEOs — members of the powerful Consumer Goods Forum that represents 400 of the biggest consumer retailers, manufacturers and service providers — is one of the strongest appeals by business titans to draw attention to the seafarer crisis." • See NC here on the crew change crisis.
The Bezzle: "JPMorgan Is Set to Pay $1 Billion in Record Spoofing Penalty" [Bloomberg]. "The potential record for a settlement involving alleged spoofing could be announced as soon as this week, said the people who asked not to be named because the details haven't yet been finalized. The accord would end probes by the Justice Department, the Commodity Futures Trading Commission and the Securities and Exchange Commission into whether traders on JPMorgan's precious metals and treasuries desks rigged markets, two of the people said. A penalty approaching $1 billion would far exceed previous spoofing-related fines. It would also be on par with sanctions in many prior manipulation cases, including some brought several years ago against banks for allegedly rigging benchmark interest rates and foreign exchange markets." • A billion dollars is real money, but I bet the reputational damage hurts worse [snicker].
Tech: "Tesla experienced an hour-long network outage early Wednesday" [TechCrunch (EM)]. "Tesla owners were locked out of their vehicles and the accompanying app for about an hour Wednesday morning, thanks to an outage that affected the company's entire network, according to several sources. The Tesla outage was caused by an internal break of their application programming interface (or API), according to sources familiar with the outage. There's a chance that the glitch could have something to do with the rollout of new two-factor authentication security features, which Tesla chief executive Elon Musk called "embarrassingly late," in an August tweet…. Tesla owners were locked out of their vehicles and the accompanying app for about an hour Wednesday morning, thanks to an outage that affected the company's entire network, according to several sources. The Tesla outage was caused by an internal break of their application programming interface (or API), according to sources familiar with the outage. There's a chance that the glitch could have something to do with the rollout of new two-factor authentication security features, which Tesla chief executive Elon Musk called 'embarrassingly late,' in an August tweet."
Travel: "'Tsunami' of hotel closures is coming, experts warn" [Los Angeles Times]. "The Luxe Rodeo Drive is the first high-end hotel in the Los Angeles area to go out of business because of the pandemic, and industry experts point to an unusually high loan delinquency rate among hotel borrowers as a sign that more closures are likely to follow…. The steep decline in tourism and business travel has devastated the hotel industry. 'We anticipate many hotels won't survive,' said Heather Rozman, executive director of the Hotel Assn. of Los Angeles. 'Industry data shows 1 in 4 properties already are struggling to pay mortgages, risking foreclosure.'"
Mr. Market: "Junk bond jitters may signal the start of a stock market capitulation" [MarketWatch]. "nvestors worried about recent turbulence in stocks may want to keep an eye on the near $1.5 trillion high-yield corporate bond market, to help gauge when a more substantial selloff in Wall Street might begin. Analysts often view ructions in the high-yield, or 'junk-bond,' market as a canary in the coal mine, or an early warning to when investors might start taking flight from riskier assets altogether. Key drivers of recent jitters have been a brewing fight over the next Supreme Court judge, dimming prospects for another fiscal stimulus package, the potential for a contested Presidential election after Nov. 3 and the persistence of the COVID-19 pandemic — all threatening to crack the foundation of the market's recent gains. The logic behind why investors should watch high-yield for signs of trouble has been that junk bonds typically are sold by America's most indebted companies, leaving holders of such debt vulnerable to shifting expectations around the U.S. economic recovery."
* * *
Today's Fear & Greed Index: 47 Neutral (previous close: 47 Neutral) [CNN]. One week ago: 53 (Neutral). (0 is Extreme Fear; 100 is Extreme Greed). Last updated Sep 24 at 11:42am. Mr. Market approaches Fear…
The Biosphere
"A Legacy of Healing: Garden's roots were nurtured by grieving mom's sense of fate" [Dorchester Reporter]. "The focus with the garden was always on sustainability, said [Judith Foster], who worked with Speak for the Trees Boston to push for fruit trees and permanent structures over seasonal flower beds. In the years to come, collard greens, strawberries, blackberries, peaches, apples, and other fresh foods grown at the garden will nourish the local community under the stewardship of the Boston Food Forest Coalition and the Mattapan-based Farmers Collaborative… The garden welcomes passersby to explore a "food forest" with fruit trees, plants, and raised bed gardens; a greenhouse for community and educational use; and a community meeting and gathering space with a handful of tables, chairs, and umbrellas." • Excellent public policy on "fruit trees and permanent structures over seasonal flower beds"!
"MapLab: Sounds of Distant Forests" [Bloomberg]. "Merely listening to nature noises may be a way to relax. A pandemic-era mapping project offers one helpful resource for that. 'Sounds of the Forest' collects crowdsourced audio recordings from woodlands and forests around the planet and stitches them onto a digital world map…. Anyone who is inclined can submit their own MP3 along with a location and description of where it's from to the project, which presents the sounds as an open-source library." • Like the bird songs!
"Gov. Gavin Newsom Says California Is Cracking Down on Oil Spills. But Our Reporting Shows Many Are Still Flowing." [Pro Publica]. "Gov. Gavin Newsom on Wednesday defended his administration's record on oil regulation in California, following an investigation by The Desert Sun and ProPublica that showed petroleum companies are profiting off dangerous inland spills. The state enacted regulations last year to curb the spills, known as surface expressions, but the news organizations found that more than two dozen have occurred since then. Three are still running, according to state officials, including one that's spilled more than 2 million gallons of oil and wastewater…. When spills surface, nothing in the 2019 regulations stops producers from turning them into moneymakers. At one spill site, dubbed GS-5, Chevron has made an estimated $11.6 million in the last three years alone, according to an analysis of production data provided by the state."
"Los Angeles hid a methane leak for a year. Activists want the power plant shut down" [Los Angeles Times]. "Residents of Sun Valley and Pacoima breathe some of California's worst air and suffer from asthma-related hospitalizations at rates far higher than most of the state. So when the Los Angeles Department of Water and Power revealed last month that its power plant had been leaking methane gas for at least three years, local outrage was loud and swift…. The plant's compressor units had been leaking gas 'for the last couple years,' one staffer said. The utility had a plan in place to fix the compressors later in the year but decided to go public now because NASA's Jet Propulsion Laboratory had detected the leak as part of an aerial survey, and 'their information is getting more publicized,' Adams told the board." • Well, that's awesome. The leak was so bad it could be detected from space….
Health Care
"Finland deploys coronavirus-sniffing dogs at main airport" [Medical Xpress]. "Finland has deployed coronavirus-sniffing dogs at the Nordic country's main international airport in a four-month trial of an alternative testing method that could become a cost-friendly and quick way to identify infected travelers…. It takes the dog a mere 10 seconds to sniff the virus samples before it gives the test result by scratching a paw, laying down, barking or otherwise making its conclusion known. The process should be completed within one minute, according to Hielm-Bjorkman…. Timo Aronkyto,, the deputy mayor of Vantaa, the capital region city where the airport is located, said the program is costing 300,000 euros ($350,000) – …" One in the eye for Big Pharma. And I would imagine some start-ups are crying into their designer water. And Forbes: "Researchers led by the University of Veterinary Medicine Hanover said eight specialized detection dogs were able to distinguish between samples from infected patients and uninfected controls. After training, the dogs were able to correctly identify 94% of 1,012 saliva samples." • Early and right again!
"A new health IT discipline: Social informatics" [Health Care IT News]. "As the pandemic shines a harsh light on healthcare disparities – with COVID-19 affecting poor, minority and underserved communities to a significantly disproportionate degree – more attention has been focused on social determinants of health [SODH], and how health systems and community groups can better address them to keep these people safe and healthy. But a major challenge with SDOH information, as has been long documented, appears in the difficulties with managing these different data types and integrating them into clinical care. In a new article in the Journal of the American Medical Informatics Association, 'A Call for Social Informatics,' researchers from the University of California, San Francisco describe the challenges and opportunities for a proposed new discipline of health data innovation, and show how it can be formalized into a new domain of study. Various medical organizations – American Academy of Family Physicians and the National Association of Community Health Centers to name just two – have come out in favor screening patients for SDOH. And federal agencies such as the Office of the National Coordinator for Health IT have thrown their support behind efforts to boost technology systems' ability to integrate SDOH data. But a broader and more concentrated effort is needed to build momentum, said UCSF researchers. The good news is there's no shortage of hugely useful socioeconomic data with which to work." • As long as that data includes economics!
"'QALY' quality of life pandemic argument is intellectual malpractice" [Sydney Morning Herald]. "Start with this. Various health authorities around the world use [Quality-Adjusted Life Years (QALYs)] to compute the cost-effectiveness of new treatments. In determining whether taxpayer money should fund a new treatment, evaluators pose two questions: how many QALYs does the new treatment provide, compared to existing treatments? And at what cost?…. these folks use QALYs to compare different treatments within conditions, not to compare different people within treatments…. QALY-boosters say that by converting life years into dollar values it is easy to make such comparisons. But they have either forgotten – or never learnt – their basic first-year microeconomic theory. We could go into excruciating detail, but the next time some would-be economist tries to bamboozle you with such statements just ask them if they recall that a von Neumann-Morgenstern expected utility function is only defined up to a positive affine transformation." • Oh. Sure.
"Medicare Advantage should not 'game the system' but prioritize patient care, honest billing" [Health Care Dive]. "We are especially monitoring an area of concern: abuse of risk adjustment in Medicare Advantage, the managed care program serving 23 million beneficiaries, 37% of the Medicare population, at a cost of about $264 billion annually. We have good reason to pay attention. Our recent report found that Medicare Advantage paid $2.6 billion a year for diagnoses unrelated to any clinical services."
Feral Hog Watch
"The Clock Is Ticking on America's 'Feral Swine Bomb'" [The Atlantic]. Such a great metaphor. "There are as many as 9 million feral swine across the U.S., their populations having expanded from about 17 states to at least 39 over the last three decades…. Ryan Brook, a University of Saskatchewan biologist who researches wild pigs, predicts that they'll occupy 386,000 square miles across the country by the end of 2020, and they're currently expanding at about 35,000 square miles a year. 'I've heard it referred to as a feral swine bomb,' says Dale Nolte, manager of the National Feral Swine Damage Management Program at the U.S. Department of Agriculture. 'They multiply so rapidly. To go from a thousand to two thousand, it's not a big deal. But if you've got a million, it doesn't take long to get to 4 [million], then 8 million.'" • Holy smokes, another multiplicative process!
Black Injustice Tipping Point
"HOA gives homeowner 7 days to remove Black Lives Matter sign" [ABC13]. "There's a battle brewing over yard signs in the Hearthstone neighborhood in northwest Harris County. About two months ago, Gloria Bernardino and her husband put up banners to make their message clear — Black lives matter, so do LGBTQ rights, women's rights, science, and humanity as a whole…. In a letter dated Sept. 2, Sears Bennett & Gerdes, LLP., the law office representing Hearthstone HOA, said the homeowners have seven days to remove their signs and cites their offense as, 'unlawful, noxious or offensive activity shall be conducted or maintained on any lot, nor shall anything be done or permitted to be done thereon that may be a nuisance to the residents of the subdivision.'" • "Noxious"!
Class Warfare
"Isabel Wilkerson's Book "Caste" and the Discontent of a Ruling Class in Crisis" [Black Agenda Report]. "A New York Times reviewer called Isabel Wilkerson's new book Caste: The Origins of Our Discontent "an instant American classic and almost certainly the keynote nonfiction book of the American century thus far." It is neither. Oprah says it "might well save us." It won't. It is a book in this Time, it is not for this Time; by which I mean it neither understands the magnitude of the crisis of our Time, nor the way out of it. Designed to erase race as the central category explaining the American crisis, it also dismisses class, the Black proletariat and the larger working class. In the face of 60 million working people unemployed, underemployed or completely removed from the labor force in this COVID 19 driven depression, Wilkerson's arguments turn attention away from actual racial and class conditions, to a non-material and made-up reality she calls caste. Moreover, she misguidedly substitutes an ill-conceived caste analysis for class analysis; the extreme of petit bourgeois obscurantism. Rather than the real and actual material conditions of the life worlds of the people, Wilkerson makes beliefs, values and ideas her central focus. In the name of caste, she flips reality on its head, from working people to their alleged deeply held beliefs; beliefs so deep in their consciousness that they seldom recognize them. Such analysis works in polite parlor discussion, or in university faculty lounges, but is completely meaningless to the lived experiences of Black folk and workers." • In other words, Wilkerson is a "voice."
"Safely returning clinically vulnerable people to work" [British Medical Journal]. "Before covid-19, an estimated 140 million working days were lost each year to sickness absence, costing the UK £22bn (€24bn; $28bn) each year on health related costs and sick pay. The pandemic could push these figures much higher—potentially up to 15% of gross domestic product, which is clearly unsustainable. It is essential to help clinically vulnerable people get back to work, whether that be homeworking or in their workplaces. Clinicians must take a holistic approach, recognising the wide range of clinical and social interventions that may be needed, particularly by those with multiple health problems." • Kinda like sending the troops with shellshock back into the trenches after their therapy was completed….
News of the Wired
"Your Brain in Love" [Scientific American]. From 2011, still germane. "Researchers have revealed the fonts of desire by comparing functional MRI studies of people who indicated they were experiencing passionate love, maternal love or unconditional love. Together, the regions release neuro­transmitters and other chemicals in the brain and blood that prompt greater euphoric sensations such as attraction and pleasure… Passion also heightens several cognitive functions, as the brain regions and chemicals surge." • Not typographic fonts, one assumes. Or even emojis. Handy chart (Credit: James W. Lewis, West Virginia University (brain) and Jen Christiansen (icons)):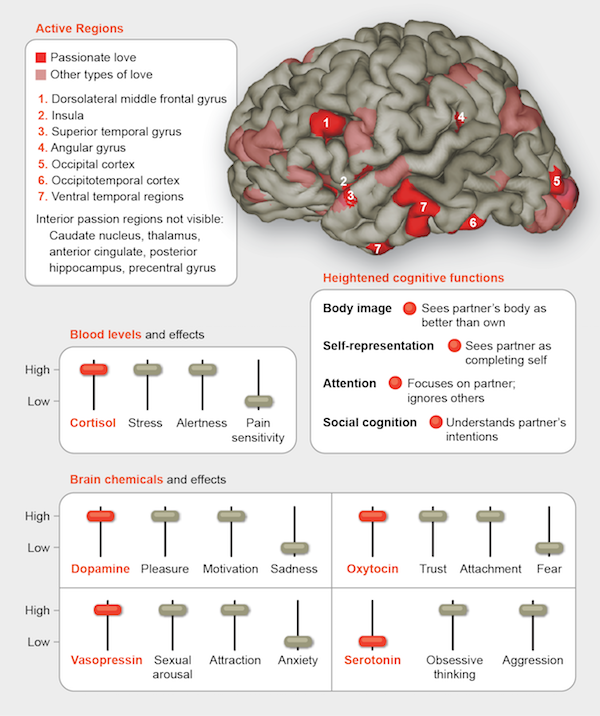 Let's not fetishize the disembodied brain, however; certainly the whole body is involved!
* * *
Readers, feel free to contact me at lambert [UNDERSCORE] strether [DOT] corrente [AT] yahoo [DOT] com, with (a) links, and even better (b) sources I should curate regularly, (c) how to send me a check if you are allergic to PayPal, and (d) to find out how to send me images of plants. Vegetables are fine! Fungi and coral are deemed to be honorary plants! If you want your handle to appear as a credit, please place it at the start of your mail in parentheses: (thus). Otherwise, I will anonymize by using your initials. See the previous Water Cooler (with plant) here. Today's plant: