This is Naked Capitalism fundraising week. 1172 donors have already invested in our efforts to combat corruption and predatory conduct, particularly in the financial realm. Please join us and participate via our donation page, which shows how to give via check, credit card, debit card, or PayPal. Read about why we're doing this fundraiser, what we've accomplished in the last year, and our current goal, burnout prevention.
By Lambert Strether of Corrente.
Patient readers, I got wrapped around the axle on administrivia, and as a result, the politics section, which I always leave until last because it's my favorite, got short shrift. More there soon. –lambert
Bird Song of the Day
Australian birds are said to be raucus, but I was taken with the name "Australian Shoveler" (Spatula (!) rhynchotis). Along with chorus of other birds!
#COVID19
At reader request, I've added this daily chart from 91-DIVOC. The data is the Johns Hopkins CSSE data. Here is the site.
Here are the United States regions: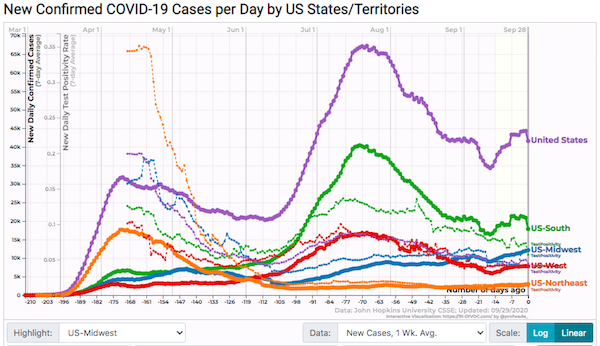 Flattening continues…
Here are the Swing States as I conceive them (see below):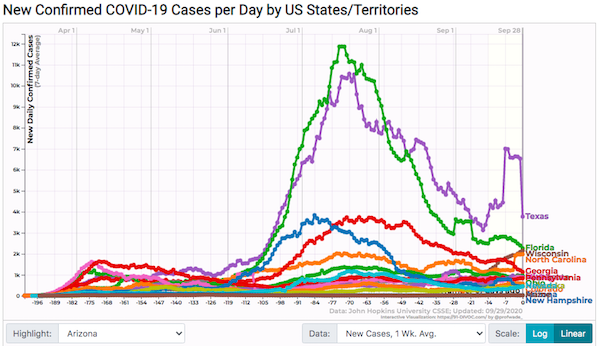 Both Wisconsin and North Carolina look worrisome now, although it looks like Texas got its data under control.
FL: CDC Releases Updated COVID-19 Fatality Rate Data" [Tallahassee Reports]. Turns out Leon County does a little worse than the national rates, which are:
CDC Releases Updated COVID-19 Fatality Rate Data Tallahassee Reports
A quick summary of COVID-19 survival rates is shown below. The summary is based on the CDC table provided at the end of this report.

CDC COVID-19 Survival Rates

Age 0-19 — 99.997%
Age 20-49 — 99.98%
Age 50-69 — 99.5%
Age 70+ — 94.6%
There was a good deal of yammering on the right when these CDC figures came out, along the lines of "ZOMG!!!!! 99%? And you're telling me that Covid is a problem?!?!" It's worth noting that these are fatality rate, and that 1% of 325 million = 3,250,000, a not insignificant number. I grant that our society was an implicit policy of what Engels calls social murder, especially where profit is involved, but openly writing off 3,250,000 people… Well, I was a little taken aback.
NY: "Warnings Issued as Virus Cases Rise in New York" [New York Times]. "Officials are particularly concerned about eight neighborhoods in Brooklyn and Queens, some with large Orthodox Jewish communities, that have accounted for about one-fourth of New York City's new cases in the past two weeks, despite representing about 7 percent of the city's population. On Friday, New York City health officials began carrying out emergency inspections at private religious schools in some of those neighborhoods and threatened to limit gatherings or force closings of businesses or schools if there was not better compliance with social-distancing requirements. The communities are celebrating Jewish high holidays through mid-October, which are marked by religious and family gatherings."
Politics
"But what is government itself, but the greatest of all reflections on human nature?" –James Madison, Federalist 51
"They had one weapon left and both knew it: treachery." –Frank Herbert, Dune
"They had learned nothing, and forgotten nothing." –Charles Maurice de Talleyrand-Périgord
The electoral map. July 17: Georgia, Ohio, ME-2 move from Leans Republican to Toss-up. Continued yikes. On July 7, the tossup were 86. Only July 17, they were 56. Now they are 91. This puts Biden at 278, i.e. over 270. August 18: Still no changes. August 31: Indiana moves from Likely to Safe Republican. September 9: No changes. September 14: No changes. September 21: No changes. September 22: Ohio moves from Toss-up to Leans Republican. . For all the sturm and drang, and the polls, the consensus on the electoral college remains remarkably static: Biden ahead, Trump within striking distance. Of course, if Trump is still in striking distance on Election Day, that will count as a loss. Maybe.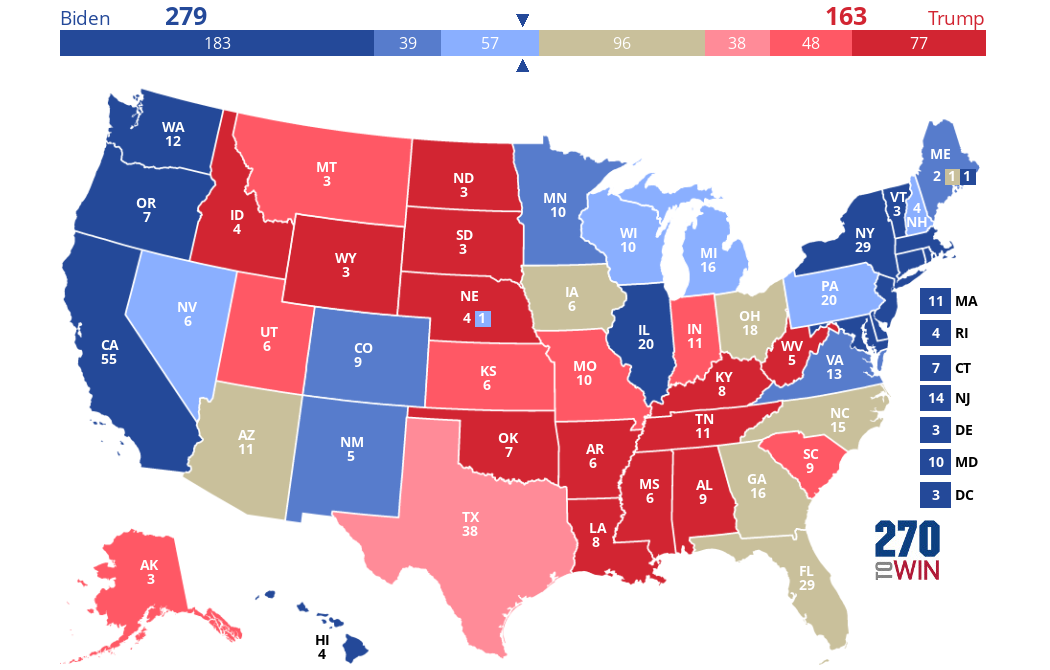 Click the map to create your own at
270toWin.com
The election countdown:
Here is an early voting calendar. Maybe we'll have a whole series of October surprises, since election day is gradually being devalued as an event.
And here are mail-in voting ruies, which naturally differ state by state.
NEW "2020 General Election Early Vote Statistics" [U.S. Elections Project (SlayTheSmaugs)].
"How to Vote in 2020: Everything You Need to Know" [Bloomberg]. "Casting a ballot in the U.S. isn't always easy, with a complex web of varying state rules governing how and when you can vote. The Covid-19 pandemic has introduced even more complexity in 2020, as many states have made significant changes to allow for more early voting or voting by mail. More changes could come as lawsuits in several states wind their way through the courts. That's why Bloomberg News is answering these critical questions so you'll know what you need to do to make sure your vote is counted in the 2020 election."
Here are is an enormous spreadsheet on voting equipment, so you can check your own jurisdiction (hat tip, UserFriendly. I should really aggregate these onto a map…).
* * *
2020
Here is my list of Swing States, with votes in the Electoral College and selected ballot initiatives in parentheticals):

Arizona (11) (marijuana; taxes(=)
Colorado (9) (taxes, lottery, abortion, paid medical leave)
Florida (29) (minimum wage)
Georgia (16) (declaratory relief)
Iowa (6) (Constitional convention)
Maine-02 (1) (vax)
Michigan (16) (privacy)
Minnesota (10)
Nebraska-02 (1) (payday lending; gambling)
Nevada (6) (marriage)
New Hampshire (4)
North Carolina (15)
Ohio (18)
Pennsylvania (20)
Texas (38)
Wisconsin (10) (crime victims)

Inspired by the thread starting with Arizona Slim's comment here, I went to Ballotpedia and added selected, hopefully hot button, ballot initiatives, because sometimes they affect turnout. If you live in a swing state, please comment if I got the hot buttons wrong!

* * *

FL: "The #Resistance and the Retirement Community Inside the Villages in Florida, where election tensions are at an all-time high" [New York Magazine]. "The Villages is located an hour from Orlando, 115,000 boomers populating a 32-square-mile sprawl of golf courses, beige built-to-order ranch homes, and rec-center swimming pools." You can imagine. Let me skip to this quote: "Marr and Sandler both described experiencing a heavy flush of adrenaline as the rumble of golf-cart engines and celebratory horn blowing grew louder." • This reminds me forcibly of how David Graeber described his own adrenaline rush at the Republican National Convention in Philly, as he started running toward the cops with his fellow black bloc friends. Polarization has its charms. This is a vividly written piece well worth a read.

GA: "The six political states of Georgia" [WaPo]. "We've split Georgia into six political "states," starting with Atlanta, where Republicans were struggling before Trump's presidency and have lost ground since. The Atlanta suburbs, six counties with interstate access to the city, have become the state's most competitive region. North Georgia, the Piedmont and South Georgia are solidly Republican, and the party may have some more votes to turn out there. The Black Belt, with fewer votes than these other regions, always backs Democrats — but a turnout difference of just 20,000 or 30,000 votes, with rural Black voters being enthusiastic to cast ballots and confident those ballots will count, could swing a close statewide election." • This is a good series; I should go back and link to it all. (Not sure if the suburban thesis is correct, though. What, after all, is a suburb…)

ME: "How Susan Collins' Appeal to Maine's Seniors Grew Old" [Mother Jones]. "This doesn't bode well for Collins. In each of her past four Senate campaigns, she comfortably defeated her Democratic opponents, with consistent support from her fellow Boomers and Silent Generation voters like Whitley who embody a brand of nonconformist New England moderation that favors split-ticket voting. And these voters play an outsize role. More than a fifth of Mainers are older than 65, and they reliably cast ballots. 'Maine seniors aren't only the most important voting bloc in Maine—they're also the most informed,' says Emily Cain, the executive director of EMILY's List, who once served as the Democratic minority leader in Maine's State House. If Collins loses this November, a freshly mobilized grassroots resistance can take some of the credit. But so too can Maine's seniors, who appear to be abandoning her: While they supported her by a 20-percentage-point margin in 2014, a September poll showed them preferring her opponent by 18 points. This election is shaping up as a referendum on whether Collins' trademark moderation has lost its credibility…. The constant barrage of advertising has made this one of the most expensive Senate races in the country: Collins and [her opponent Sara] Gideon have raised a combined $41 million, and another $41 million has been spent for and against them, a fortune considering Maine has some of the country's most inexpensive media markets." • Gideon opposes #MedicareForAll and supports Medicare buy-in. Emily's List, good job.

NC: "A Month Out from the Deadline, Some Observations on NC's Exponential Absentee by Mail Ballots" [Old North State Politics]. "The fact that over 1 million registered North Carolina voters have requested an absentee by mail ballot is truly amazing (through 9-27, the exact number is 1,076,247 requests), considering that in all of 2016, the total requests for an absentee by mail ballot was a little over 231,000…. within party registrations, 20 percent–or one in five–of all registered Democrats have requested an absentee ballot, compared to under 10 percent of registered Republicans, with registered Unaffiliated voters exactly between the two, at almost 15 percent of their total registered voters. Of the ballots returned and accepted, 3.5 percent of NC's registered voters have made up their minds and cast their vote choices. In other words, the election is over for these voters, even before the first presidential debate has been held. Among the party registrations, 5 percent of all the state's registered Democrats have 'banked' their ballots, with 3 percent of registered Unaffiliated and almost 2 percent of registered Republicans submitting their vote choices. as to what unfolds in the home stretch to November 3." • Which is why I loathe early voting. It encourages party loyalty and de-emphasize campaigns. I'm sure that's why the Democrats, at least, are always talking it up.

OH: "Ohio Democrats dominating absentee ballot requests, possibly creating election night angst" [Columbus Dispatch]. "The outcome of the presidential race in the bellwether Buckeye State appears even more unpredictable than usual. Ohio could be among the states where election fraud is alleged simply because the leader in the presidential vote could shift dramatically on election night and possibly shift back a week-and-a-half later. Before COVID-19 hit, more Ohio Republicans than Democrats voted by mail, generally speaking. Democrats favored voting early in person at their county elections board, or going to the polls Election Day. But in 2020, Democrats are far outdistancing GOP voters in requesting absentee ballots."

OH: "Federal judge rules against voting-rights activists' challenge of Ohio signature-matching rules on absentee ballot applications" [Cleveland.com]. "U.S. District Judge Michael Watson wrote that while Ohio's signature-matching requirements impose a 'moderate' burden on voters, they have other options to cast a ballot if their vote is improperly rejected, including casting a provisional ballot on Election Day. He agreed with Ohio Secretary of State Frank LaRose that the state has a legitimate interest in promoting an orderly and secure election, justifying that burden…. In Ohio, a voter who wants to cast an absentee ballot must fill out a paper application form, providing personally identifying information and signing it before delivering it to their county board of elections. Elections officials then match the signature with a signature contained in that voter's file before deciding whether to send back an absentee ballot. The voting-rights groups contend the state's system of verifying signatures is unreliable, saying the practice of verifying signatures is subjective, especially since voters' signatures change over time. They also contend the state's system of notifying voters of a signature problem doesn't offer enough time for the voter to fix the issue in time for their ballot to be counted." • My signature changes over time, too. Like in minutes. That said, before completely agreeing with the voting-rights groups, I'd need to know what the "personally identifying information" was. (Note that none of this happens when the paper ballots are hand-marked at the precinct, a process that is intrinsically less complex than vote-by-mail.)

PA: "Trump Shifts Focus To Pennsylvania To Shore Up Reelection" [WESA]. "Pennsylvania is anchored by large cities — Philadelphia to the east, Pittsburgh to the west — on opposite ends, each with sprawling suburbs. But the rest of the state is largely rural, comprised of small cities and towns where Trump ran up the score four years ago. He will likely need to again, as his prospects have slipped since 2016 in vote-rich suburban Philadelphia, where he underperformed by past Republican measures. This raises the stakes for his campaign's more aggressive outreach to new rural and small-town voters across the industrial north…. If Trump is to carry Pennsylvania again, he cannot just add new voters in the state's expansive rural areas but must stop the bleeding outside Philadelphia, former Rep. Ryan Costello, a Republican, said…. Republicans also point to an aging population and a shrinking voter-registration edge for Democrats, down 20% from 2016's election to 733,000, according to the latest state data, although the numbers also show that many more non-voting Democrats than Republicans fell off voter rolls in the last four years."

* * *

Biden (D)(1): Pushing Biden Left (A):

Four of the five co-chairs for the @JoeBiden transition team have experience outside of government, three in consulting and one in private equity. pic.twitter.com/jKGxiIWsnJ

— Ben Spielberg (@BenSpielberg) September 29, 2020

Oh, private equity. That's nice.

Biden (D)(2): Pushing Biden Left (B):

Biden transition adds Cindy McCain to advisory board.
"Diversity of ideology and background is a core value of the transition, and today's announcement is another step demonstrating the importance of unifying the country under a Biden-Harris administration" they say in a release

— Alex Thompson (@AlxThomp) September 28, 2020

I had to break it to liberal Democrats, but Assimilating Bush Republicans is not the same as "unifying the country." Very far from it. (Are there Republicans who are West Wing fans, too?)

Biden (D)(3): "Biden Will Restore America's Moral Leadership" [The New Yorker]. • Yes, that's why all those Bush-era war criminals oozed onto his bandwagon. Come on, man.

Sanders (D)(1): True, but relevant?

I don't think Bernie was a perfect candidate but I know for a fact his volunteers would have a GOTV operation that would rival the invasion of Normandy.

— ☭The Situationist International House Of Pancakes☭ (@cranstonl1972) September 28, 2020

See the comment from Simon Wardley below, under "Realignment and Legitimacy."

Trump (R)(1): "Opinion: The economy benefited from a lot of good luck in Trump's first three years, but the luck has run out" [MarketWatch]. "The pandemic exposed the rot in the U.S. economy for all to see. As has been the case for decades, those who have wealth or education or privilege are doing fine, for the most part. With a few exceptions, the pandemic has been nuisance, but not a catastrophe. Not so for millions of their fellow Americans. Those who aren't so lucky or privileged are scrambling to keep a roof over their heads, to put food on the table, to survive on the crumbs they get from unemployment, or to force themselves to physically go into their workplaces, hoping they won't get sick or infect their customers, co-workers, friends and family. The recovery isn't V-shaped, or L-shaped, but K-shaped, with half of the country doing well and the other half falling." • Sort of amazing to see Case-Deaton quoted approvingly in MarketWatch, of all places.

* * *

"Election Monitors Who Watch Hot Spots Worry About the U.S." [Bloomberg]. "The Carter Center, a U.S. nonprofit that has monitored 110 elections in 39 countries abroad since 1989, said on Aug. 28 that it was assigning a team to work at home 'to help build confidence in the process and results.' The decision was unprecedented and marks the first time the organization has detected democratic 'backsliding' in the U.S." • Then after 2000, 2004, and the various shenanigains in 2016, they're slow off the mark.

KY: Apparently, Amy McGrath used some of her RBG windfall to hire the loathesome Mothership strategies. This is their style:

difficult to describe how many levels of offputting this campaign email is pic.twitter.com/rkq3M29kNs

— Talia Lavin (@chick_in_kiev) September 28, 2020

NY: "Voters Across Brooklyn Get Absentee Ballot Return Envelopes with Wrong Name and Address" [The City (TF)]. "The city Board of Elections sent absentee ballots to some Brooklyn voters with return envelopes bearing strangers' names and addresses, THE CITY has learned. In those cases, if a voter fills out their presidential election ballot and sends it in as instructed, their vote could be attributed to another person. As of late Monday, THE CITY had received calls and emails from several voters affected by the apparent screwup in at least five neighborhoods: Sheepshead Bay, Crown Heights, Prospect Heights, Park Slope and DUMBO. Victoria Edel, of Sheepshead Bay, said she received a return envelope with the name and address of a woman who lives one street away and has a last name that begins with a D. 'This is not my ballot, we have this random lady's ballot — it's like they messed this up in a big way,' said Edel, 28. Valerie Vasquez, a spokesperson for the city Board of Elections, blamed a vendor hired by the agency, Phoenix Graphics of Rochester, N.Y., hired to print and distribute absentee ballots in Brooklyn and Queens. She said the board is trying to understand the scope of the problem and what to do about it." • Good, good. TF says the same thing happened to a friend. Has this happened to you?
Our Famously Free Press
"The Bombshell Memory Hole" [Matt Taibbi]. "Like many 'bombshells,' the Times tax story contains real information, including potentially real outrages, like bank fraud or deducting consulting fees paid to his daughter. The headline revelation is Trump as metaphor for American finance generally, showing the appearance of wealth resting atop absurd fictions, with monster debts rolled into the next ice age and losses somehow appearing as his greatest assets, in ways inconceivable to regular people. At the end of the cycle, pundits will conclude that Trump has a story about being rich in place of actual wealth, making him (drumroll please) more like a con man than a tycoon. That this is the same analysis some of us made at the beginning of Trump's national political run eons ago won't matter. Nor will it matter that Trump's returns ought to be as embarrassing to media antagonists and a string of "reputable" politicians as they are to him, given that it was screamed to high heavens for years, from op-ed pages and cable news panels and the floor of the U.S. Senate, that proof of secret links to Vladimir Putin would be found. This idea never had merit — no sane person can think an espionage conspiracy would be detailed in a tax return — but a parade of experts and officials contended just this, including Chuck Schumer, George Will, Rachel Maddow and countless others…." • I'm not sure that Taibbi was cynical enough. The headlines aren't about "American finance" because donors ffs. The headline turned out to be the $750, and inconveniently for that talking point, Trump paid $25 million in Alternative Minimum Tax. And so the story heads for the memory hole….
2016 Post Mortem
A massive takedown of the Cambridge Analytica moral panic of 2016 (which is, naturally, getting a second life in 2020). From dk, a thread:

I see Cambridge Analytica is trending again because of this Channel 4 documentary exposing the Trump campaign's attempted deterrence of Black voters in 2016.

Unpopular opinion: This documentary has some big structural flaws.

Why? Hear me out… https://t.co/Tvyl0iCq39

— Felix M. Simon (@_FelixSimon_) September 29, 2020
Realignment and Legitimacy
The Biden campaign in a nut-shell:

… the problem for our democracy in this modern world is that the cost of manipulation is so low that it's hardly worth trying to do good and educate. Removing challenge from the press just lowers cost even more, to both the harm of the nation and the Conservative party itself.

— Simon Wardley (@swardley) September 29, 2020

"A Theory About Conspiracy Theories" [New York Times]. The deck: "In a new study, psychologists tried to get a handle on the personality types that might be prone to outlandish beliefs." • Now do mainstream macro.
Stats Watch
At reader request, I added some business stats back in. Please give Econintersect click-throughs; they're a good, old-school blog that covers more than stats. If anybody knows of other aggregators, please contact me at the email address below.
Leading Indicators: "26 September 2020 New York Fed Weekly Economic Index (WEI): Index Little Changed In September" [Econintersect]. "The New York Fed's Weekly Leading Index (WLI) continues to show an economy that is marginally worse than seen during the Great Recession. However, this index remains on a recovery trend but the index is little changed in September….. This data set should be considered a high-frequency coincident indicator on a par with the Aruoba-Diebold-Scotti Business Conditions Index produced by the Philly Fed – and both show conditions caused by the coronavirus pandemic are already worse than the Great Recession. However, the Aruoba-Diebold-Scotti Business Conditions Index is improving whilst the WLI is still declining. Logic would say with the partial reopening of the economy – the Aruoba-Diebold-Scotti Business Conditions Index seems to be correct."
* * *
Retail: "Restaurants Are Struggling to Find—and Afford—Patio Heaters" [Restaurant Business]. "Restaurant operators, trying to eke out some sales before the weather turns too cold, say they're now having a hard time finding—and paying for—outdoor heaters…. "'It's actually horrible,' said Benjamin Prelvukaj, co-owner of New York City-based multi-concept operator Benjamin Restaurant Group. 'We're trying to order heaters or rent them and they are close to not existent or very, very expensive.'" • Go long patio heaters?!
Tech: "As Predicted, Google's Search Preference Menu Eliminates DuckDuckGo" [DuckDuckGo Privacy Research]. "As explained in this series, we believe search preference menus — ones that change all search defaults and include the most common Google alternatives — can enable consumers to easily express their search preferences and significantly increase competition in the search market. Our most recent large-sample user testing shows that when a search preference menu is designed properly, then Google's search mobile market share could immediately drop by around 20% (with potentially greater market change shift over time). However, Google's current search preference menu in the EU is not properly designed, evidenced by the just released Q4 2020 auction results, listing which search engines will appear on the menu. DuckDuckGo, despite being the Google alternative that consumers most want to select, will no longer appear in most countries. As a result, many EU residents buying a new Android device will no longer have an easy way to adopt a private search engine…. The central problem with Google's search preference menu is that it is a pay-to-play auction in which only the highest bidders are on the menu. This auction format incentivizes bidders to bid what they can expect to profit per user selection. The long-term result is that the participating Google alternatives must give most of their preference menu profits to Google!" • Good job, Google. I thought EU regulation was tough?
Tech: "Amazon bean-counter, her husband, father-in-law cough up $2.6m after SEC collars them on insider-trading rap" [The Register]. "Amazon has a "zero tolerance" insider-trading policy, something all finance department employees were reminded of by Amazon's CFO personally in September 2017 after another employee was collared for insider trading. All staff who saw the highly confidential information before it became public were also reminded repeatedly in the lead up to the earnings reports that they were not to trade any Amazon securities except with the explicit approval of its legal department, nor tell anyone, including family, any details about the figures. Amazon also imposed blackout trading periods around earnings time. Considering all that, their alleged insider trading efforts were pretty amateurish. They opened no fewer than 11 accounts – all with the same trading platform – and under different family names. They then grew tired of operating each account independently and so, in records clearly provided under subpoena, they asked the trading company to treat them the same and allow all three of them access to the funds." • I dunno. How cynical about Amazon's "zero tolerance" policy should I be, given that the crooks were, as the Register puts it, "Not exactly Ocean's Eleven"?
Tech: "The container shipping industry appears to be under attack. CMA CGM is recovering from an apparent ransomware attack that hit two of the French container line's operations in Asia over the weekend…. [Wall Street Journal]. "The cyberattack is the second against a major container line this year, following an apparent incursion that caused a network outage at Geneva-based Mediterranean Shipping Co. in April. Denmark's Maersk Line and China's Cosco Shipping were also hit in recent years, with Maersk suffering major damage from 2017's notorious NotPetya attack."
Tech: "'Sustained' Cyber Attack Forces Flightradar24 Offline" [Bloomberg]. "Flightradar24.com, the popular flight-tracking website, is experiencing "sustained attacks" on its system and remains unavailable for users as engineers try to fix the issue. No further information was available. Flightradar24 doesn't have an estimate on when its services will resume as the attacks are preventing it from successfully serving legitimate traffic, a spokesman said in an emailed response to queries. The website is among many popular tools and applications that allow users to track commercial and private jets as they fly, identifying the model and age, speed, weather and any distress signal to control towers. They are often the first source of information on airline emergencies and disasters, or even points of reference when a pilot illustrates something in the sky with a flight path."
Mr. Market: "Trump-Biden debate could be 'important catalyst' for investors, Goldman says, but stocks may be stuck in 'fat and flat' range" [MarketWatch]. "Investors are anxiously awaiting the first presidential debate between President Donald Trump and Democratic challenger Joe Biden, which is expected to attract a record-breaking television audience from 9pm Eastern time on Tuesday night. In our call of the day, Goldman Sachs strategists said they remained 'pro-risk' but warned risky assets may be stuck in a 'fat and flat range' unless election uncertainty eased. …. The team said it would take more investor optimism around growth for stocks and other risky assets to breakout in a more sustained way. That would 'likely require falling uncertainty around the U.S. election and positive vaccine developments,' said the strategists, led by Christian Mueller-Glissmann."
* * *
Today's Fear & Greed Index: 49 Neutral (previous close: 49 Neutral) [CNN]. One week ago: 52 (Neutral). (0 is Extreme Fear; 100 is Extreme Greed). Last updated Sep 29 at 12:15pm. Still stuck in neutral!
The Biosphere
"Mars might have salty ponds next to its underground lake, raising the possibility of Martian life" [CNN]. • Dang. I missed Mars.
Health Care
"Boost for vaccine doses planned for poor as virus rages on" [Agence France Presse]. "The WHO said Monday that some 120 million rapid tests for Covid-19 will be made available to low- and middle-income countries at $5 each under a $600 million scheme — as long as funding can be secured. The kits — faster, cheaper and easier to administer than regular standard polymerase chain reaction (PCR) swab tests, but also less reliable — will be rolled out across 133 countries in the next six months. 'This will enable the expansion of testing, particularly in hard-to-reach areas that do not have lab facilities or enough trained health workers to carry out PCR tests,' WHO director-general Tedros Adhanom Ghebreyesus told a virtual press conference. Experts have for months been calling for widespread adoption of this low-cost technology so that people can test themselves several times a week. In the US, President Donald Trump said 150 million tests would be distributed that deliver results in 15 to 30 minutes."
"Talk of a scientific rift is a dangerous distraction in the fight against Covid-19" [Guardian]. "The cardinal rule of coronavirus policy is that you must follow "the science". Or, at the very least, you must say that you are. … Sometimes it is easy for us to separate out false claims about science from real ones…. The real trouble occurs when the science itself appears fractured… caution has always been the point. We are used to scientific advice that is based upon years of peer review and replication. Science on a short timescale is messy and fallible, as this crisis has shown. Basic questions about the transmissibility and effects of the virus are still unresolved months after the outbreak began. The rule, when translating uncertainty into policy recommendations, has been to manage risk." • Hmm. I should perhaps have made the point that the idea is not to "manage risk" but to avoid ruin.
"Warning Signs Flash Ahead of Covid's Second U.S. Winter" [Bloomberg]. "History and science suggest the second winter with coronavirus is likely to be worse than the first. The pathogen is more entrenched and most respiratory viruses circulate primarily in the winter months. 'We haven't had exposure to Covid throughout an entire winter, when more people are indoors and close together for prolonged periods,' said William Schaffner, an infectious disease professor at Vanderbilt University in Nashville, Tennessee. 'We are certainly concerned that Covid could spread even more readily in the winter than it has so far.'"
Protests and Riots
"Cars have hit demonstrators 104 times since George Floyd protests began" [Democrat and Chronicle (Re Silc)]. "Amid thousands of protests nationwide this summer against police brutality, dozens of drivers have plowed into crowds of protesters marching in roadways, raising questions about the drivers' motivations… Witnesses, law enforcement and terrorism experts said some of the vehicle incidents appear to be targeted and politically motivated; others appear to be situations in which the driver became frightened or enraged by protesters surrounding their vehicle….. [Ari Weil, a terrorism researcher at the University of Chicago's Project on Security and Threats] said that by analyzing news coverage, court documents and patterns of behavior – such as when people allegedly yelled slurs at protesters or turned around for a second hit – he determined that at least 43 of the incidents were malicious, and 39 drivers have been charged."
Black Injustice Tipping Point
"Post-It Dreams" [Tressie McMillan Cottom, Medium]. • This on Breonna Taylor is both lovely and tough-minded. Worth reading in full; I don't want to extract it.
"Louisville SWAT Team Told Investigators They Had Concerns About Raid on Breonna Taylor's Apartment" [Vice]. • Oy, too much even for the SWAT teams.
"Fairfax County schools defending $20K presentation from anti-racism scholar" [Fox5]. "The Fairfax County school district is defending its decision to pay $20,000 for an author who spoke to its administration and school leaders about racism for one hour. The speaker is Ibram X. Kendi – the author of How to be an Anti-Racist. The $20,000 price tag means the district paid Kendi more than $300 a minute." • A "voice"… And no, I don't think of McMillan Cottom that way at all, perhaps because I see her as a scholar.
Groves of Academe
"The Students Left Behind by Remote Learning" [The New Yorker]. • The pandemic is having so many salutary effects you can see why elites would want it never to end….
Guillotine Watch
"How to Succeed in Private Banking—or Maybe Get in a Lot of Trouble" [Bloomberg]. "Fees and commissions from just one gilded customer can support a banker and a crew of support staff; collectively they can power entire "private bank" units inside giant financial institutions. These white-glove services hook up the wealthy with everything from investment funds to currency trades to venture investments." • That's nice.
Class Warfare
"Impediments to the Schumpeterian Process in the Replacement of Large Firms" [NBER]. From the abstract: "Using newly-assembled data encompassing up to 75 countries and starting circa 1910, we find that the Schumpeterian process of creative destruction aptly describes the replacement of large firms by other firms, but exceptions to the norm of replacement are not rare and replacement is often not by new firms. Initial firm size and political connections represent the main obstacles to the Schumpeterian process while board interlocks and a corporate culture of innovation play modest roles. Consistent with a theory of political capture, when accompanied by regulations that restrict entry, ."
"How we bend the knee to our HR overlords" [Unherd]. "What kind of meaningful anti-systemic revolution can provoke such immediate and fulsome support from the Hollywood entertainment complex, from the richest oligarchs and plutocrats on earth, and from the media organs of the liberal state? If we are to understand the successor ideology as an ideology, it may be useful here, counterintuitively, to return to the great but increasingly overlooked 1970 essay on the "Ideological State Apparatuses," or ISAs, by the French Marxist philosopher Louis Althusser….. What are these ISAs? Contrasted with the Repressive State Apparatuses — the police, the army, and so on — the ISAs are the means by which the system reproduces itself through ideology: Althusser lists the church, the media and the education system along with the family, and the legal and political system and the culture industry as the means through which the ideology of the governing system is enforced. Althusser here develops Gramsci's thesis that the cultural sphere is the most productive arena of political struggle, and inverts it: instead of being the site of revolutionary victory, it is where the system reasserts itself, neutering the possibility of political change through its wielding of the most powerful weapon, ideology…. How does this apply to the successor ideology? Almost anyone who works in a university or a large corporation will by now have been forced to attend the instruction sessions in the dogma of the new faith which have rapidly become mandatory…. Like the wave of statue-toppling earlier this summer, which immediately subsumed itself into the endless bureaucracy of commissions and panels, overseen by the quangos and opaquely-funded NGOs which actually run this country, we realise that true power in Britain rests neither in the streets nor at the ballot box, but in the hands of the professional managerial class. The spread of the successor ideology is not, despite the urban violence which occasionally attends its spread, a revolutionary moment, but the very opposite, a counterrevolution of HR managers, the means by which managerial liberalism reasserts its authority over the organs of the state." • Fun stuff. Who knew Althusser would come up on the charts again?
"How to get promoted" [Defmacro]. "So far we've talked about how you should act, but what should you actually do? Since the overt objectives are merely performative, you need to determine your actual objectives. Fortunately they're the same in every growing company, so you don't need to do any detective work to discover what they are. Your primary objective is simple— headcount growth ("do a lot with a little" is another shibboleth, don't take it literally). Figure out the baseline headcount growth rate for the company, and grow your team at least as much. Any less, and you'll be left in the dust. More is better— superstars always grow their headcount considerably faster than baseline. Don't worry about what all these people will work on. The devil will conveniently find work for idle hands." • Parkinson's Law all over again!
News of the Wired
Possibly the best brand identity story ever:
Delighted to discover (in my belated read of @PhilipHensher's fantastic review of @alexrossmusic's wonderful sounding 'Wagnerism') that Laughing Cow processed cheese is in fact named after the Valkyries. pic.twitter.com/B1ow1ffM0G

— Fergus Butler-Gallie (@_F_B_G_) September 29, 2020
I've always thought of Basquiat as a light-weight, but after subscribing to the Basquiat artbot for awhile, I now think I was wrong:
Notary, 1983 #neoexpressionism #newyorkart pic.twitter.com/cr4aaMQ91C

— Jean-Michel Basquiat (@artistbasquiat) September 29, 2020
This is like a combination of Willem de Kooing and Paul Klee!
* * *
Readers, feel free to contact me at lambert [UNDERSCORE] strether [DOT] corrente [AT] yahoo [DOT] com, with (a) links, and even better (b) sources I should curate regularly, (c) how to send me a check if you are allergic to PayPal, and (d) to find out how to send me images of plants. Vegetables are fine! Fungi and coral are deemed to be honorary plants! If you want your handle to appear as a credit, please place it at the start of your mail in parentheses: (thus). Otherwise, I will anonymize by using your initials. See the previous Water Cooler (with plant) here. Today's plant: (TH):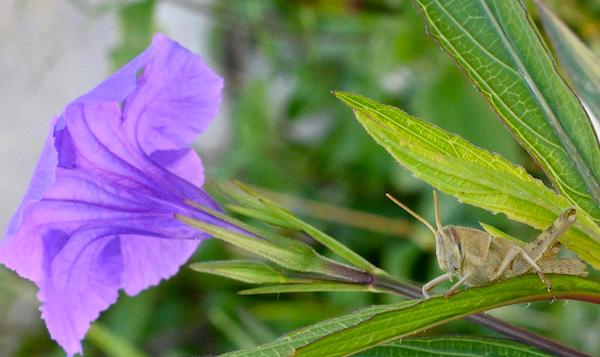 TH writes: "If I were a grasshopper, I might take up residence on a pretty purple flowered plant too. Especially if I could eat it!!!" Symbiosis; the flower provides shade as well as food.