By Lambert Strether of Corrente.
#COVID19
At reader request, I've added this daily chart from 91-DIVOC. The data is the Johns Hopkins CSSE data. Here is the site.
Here again is the Midwest: Illinois, Indiana, Iowa, Kansas, Michigan, Minnesota, Missouri, Nebraska, North Dakota, Ohio, South Dakota, and Wisconsin: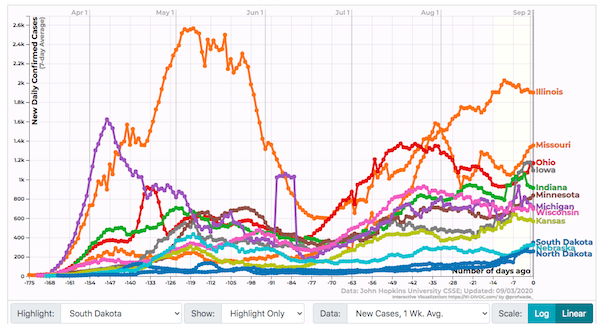 And at reader request, Midwest positivity: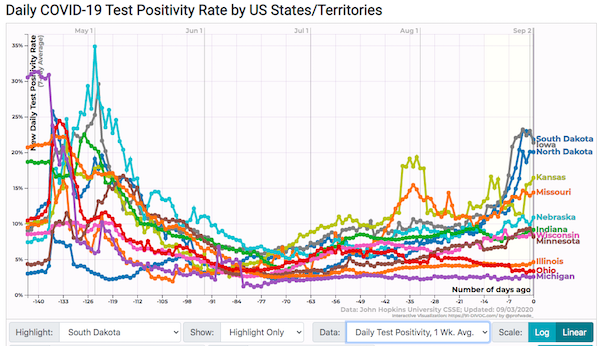 ME: "How an intimate wedding in rural Maine led to the state's largest COVID-19 outbreak" [Boston Globe]. "As of Friday, Maine authorities had linked 123 positive cases to the August 7 wedding, with a quarter labeled as tertiary cases, meaning they were infected by someone who was infected by someone who attended the wedding. On Saturday, the Maine Centers for Disease Control and Prevention announced it was also investigating an outbreak at the Calvary Baptist Church 225 miles away in Sanford, where the officiant who presided over the wedding, Todd Bell, is pastor. There are at least five confirmed cases of the coronavirus among those affiliated with the church, the CDC said. 'What we are dealing with is a giant tube of glitter. You open a tube of glitter in your basement, then two weeks later you are in the attic and all you find is glitter and have no idea how it got there,' Dr. Nirav Shah, the Maine CDC director, said in a Tuesday briefing…. The seclusion and self-dependence of Millinocket seemed to insulate it from the pandemic's perils. But after the wedding, it became clear that in small towns built on close personal connections, those virtues could be hazards, too."
LA: "Sent Home to Die" [Pro Publica]. "[Ochsner West Bank] made a decision in stark contrast to those made by other hospitals in COVID-19 hot spots across the country: At a time when relatives were being kept away from their sick loved ones to prevent the spread of a contagious and deadly virus, Ochsner sent infected patients back into communities to die at home, and be cared for by untrained family members without the proper protective equipment. Under normal conditions, hospice workers make frequent face-to-face visits, especially in a patient's final days. But during the pandemic, when hospice companies were limiting in-person visits, Johnson's family was left to spend her last days alone with her, watching her moan, convinced she was in pain. The city's death statistics reveal an aberration, ProPublica found. Nationally, coronavirus patients aged 85 and older died at home only 4% of the time, according to data from the Centers for Disease Control and Prevention; local coroner records show that in New Orleans, it was 17%."
Midwest: "Weeks after Sturgis motorcycle rally, first COVID-19 death reported as cases accelerate in Midwest" [NBC (Furzy Mouse)]. "Some 260 cases across 11 states had already been recorded before the first death linked to the Sturgis bash, a sometimes raucous event that ran from Aug. 7 through 16 during which the bars were packed and where there was barely any attempt made at social distancing, let alone wearing masks. Since then, the number of coronavirus cases have doubled in South Dakota and there has been an uptick in new cases being reported in neighboring North Dakota, Iowa, Minnesota and Nebraska as well, the latest NBC News Digital figures show."
Politics
"But what is government itself, but the greatest of all reflections on human nature?" –James Madison, Federalist 51
"They had one weapon left and both knew it: treachery." –Frank Herbert, Dune
"They had learned nothing, and forgotten nothing." –Charles Maurice de Talleyrand-Périgord
The electoral map. July 17: Georgia, Ohio, ME-2 move from Leans Republican to Toss-up. Continued yikes. On July 7, the tossup were 86. Only July 17, they were 56. Now they are 91. This puts Biden at 278, i.e. over 270. August 18: Still no changes. August 31: Indiana moves from Likely to Safe Republican. Despite the sturm and drang, and the polls, the consensus on the electoral college remains the same: Biden ahead, Trump within striking distance.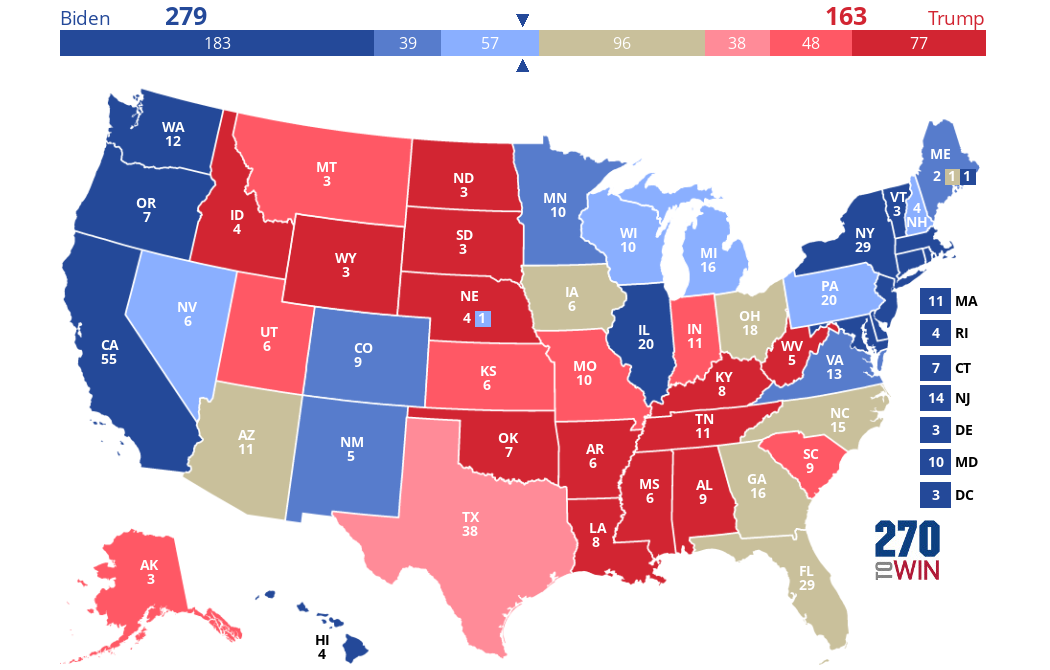 Click the map to create your own at
270toWin.com
So, taking the consensus as a given, 270 (total) – 204 (Trump's) = 66. Trump must win 66 from the states in play: AZ (11), FL (29), MI (16), NC (15), PA (20), and WI (10) plus 1 to win not tie = 102. 102 – 66 = 36. So if Trump wins FL, MI, NC, and PA (29 + 16 + 15 + 20 = 80), he wins. That's a heavy lift. I think I've got the math right this time!
Time to restore the election countdown:
A long time in politics!
2020
Biden (D)(1): "Biden's lead in Pennsylvania shrinks to 4 points in new poll" [Politico]. "A Monmouth University poll conducted in the days after the Republican National Convention and released Tuesday reports that 49 percent of registered voters in Pennsylvania prefer Biden, while 45 percent favor Trump. The previous version of the same Pennsylvania survey, published in July, showed Biden with majority support among registered voters polled and a double-digit advantage over Trump, 53-40 percent."

Biden (D)(2): "A Sister Souljah Moment to Rule Them All" [The New Republic]. "Biden's standing in the polls just hasn't been affected in any obvious way yet by a backlash to protests. Instead, the polling averages suggest that Biden's lead against Trump widened once the demonstrations against the killing of George Floyd took off. Even in Wisconsin, where widely circulated polling from Civiqs taken before the shooting of Jacob Blake showed support for Black Lives Matter had declined from its June peak, Biden's lead has held steady. Still, the basic idea pundits have been thinking through is a valid one. Like Bill Clinton in 1992, Biden really should consider showily denouncing divisive figures within Democratic politics to shore up his remaining vulnerabilities as a candidate. In fact, Biden should denounce Bill Clinton." • GENIUS!

Biden (D)(3): "I need money" [London Review of Books]. "The​ state of Delaware has given the world three gifts: chemicals, debt and Joe Biden. Each promises great things but may deliver undesirable side effects….. Scenes of the young Biden ingratiating himself to Republicans recur during a youth spent winging it, hustling, and depending on the kindness of a series of characters who, in the words of his letters of recommendation, took 'a chance' on him despite his 'lousy marks', because he was 'a natural'. For spring break in his junior year he flew to the Bahamas, despite having only a fraction of an $89 tax refund left to spend. On the beach he met a blonde, Neilia Hunter, who picked up the tab for hamburgers for two and got him into a club for free because a friend of hers was dating the owner. ('I fell ass over tin cup in love – at first sight. And she was so easy to talk to.') By the end of the weekend they had decided to get married. Biden, a mediocre undergraduate at the University of Delaware with a spotty disciplinary record (he once sprayed a dorm adviser with a fire extinguisher), quit the football team and mustered the grades and testimonials for law school at Syracuse. There he managed to scrape through despite a charge of plagiarism – a matter of poor citation, he explains – and won the reluctant approval of Neilia's father, who didn't want to see his daughter marry a Catholic or a Democrat. His father-in-law's generosity set the pattern for Biden's career in politics: he scrambled along on a shoestring budget, showing gratitude and deference to the holder of the purse; he set expectations low and either by a stroke of luck exceeded them or came home empty-handed because he never really had a chance." • 

Biden (D)(4): "Former Michigan governor Rick Snyder: I am a Republican vote for Biden" [Rich Snyder, Detroit Free Press]. • Oddly, or not, Snyder doesn't mention Flint, which happened on his watch.

Trump (R)(1): "Trump's Kenosha visit exposes U.S. divisions over race and policing ahead of November vote" [Los Angeles Times]. "In Blake's neighborhood, stereos blasted the "Cupid Shuffle" as groups danced in the street, some wearing shirts that said "BLAK: Black Lives Activists of Kenosha" and others calling for justice for Blake's nephew, Jacob, who was left paralyzed. Volunteers lined up to register voters and offered free COVID-19 testing. A few blocks northwest, dozens in red Make America Great Again hats cheered for the president's motorcade before he spoke with local officials at Mary D. Bradford High School. Trump did not mention the Blake name, and when a reporter asked about protesters' concerns about racism, the president said that was 'the opposite subject' of what he wanted to discuss. He wanted to talk about the violence that has struck cities and left buildings torched. 'I keep hearing about peaceful protests. I hear it about everything, and then I come into an area like this, and I see the town is burned down,' Trump said. He said protests were really 'acts of domestic terror' and 'anti-American riots.' While much of Kenosha is on alert with boarded-up stores visible well into the suburbs, actual damage is limited to a small stretch of its urban core."

Trump (R)(2): "The Payroll Tax Delay Is Here, But So Is Confusion About It" [NPR]. "With the start of a new month, some workers may get a boost in their take-home pay. The Trump administration has given employers the option to stop collecting payroll taxes for most workers through the end of this year. President Trump announced the move three weeks ago, after failing to reach a deal with Congress on a more comprehensive pandemic relief package. 'This will mean bigger paychecks for working families as we race to produce a vaccine,' Trump said. But as new guidance from the IRS makes clear, the windfall is merely a temporary loan. Unless Congress decides to forgive the taxes, employees will have to repay the money early next year." • Which Congress will do, right?

UPDATE Trump (R)(3): "Trump Call for Voting Twice Sparks Warning From State Official" [Bloomberg]. "Trump, during a Wednesday visit to Wilmington, North Carolina, told supporters, 'If you get the unsolicited ballots, send it in and then go make sure it counted and if it doesn't tabulate, you vote. You just vote, and then if they tabulate it very late, they'll see you voted and it won't count.'… North Carolina's top elections official warned voters against trying to vote twice after President Donald Trump encouraged people who mail in their ballots for November's election to also go to the polls on Election Day."

UPDATE Trump (R)(4): "Trump eviction ban tests limits of CDC authority" [The Hill]. "While the ban could be a crucial lifeline for struggling renters, experts say its legal basis rests on a broad interpretation of a 1944 law. The regulation cited by the CDC gives it power to take whatever action it deems necessary to stop the interstate transmission of an infectious disease. The logic behind the order is that if a renter is evicted and forced to move in with someone beyond state lines, it could further spread COVID-19. 'This does not appear to have been hastily put together,' Wiley said. 'It's clearly written by someone who knows the ins and outs of CDC authority and is interested in pushing the boundaries of it, but in a way that is as defensible as possible in court.' But Wiley said the regulation in question focused mainly on efforts such as fumigation and sanitation practices, making the ban vulnerable to a legal challenge over whether the CDC exercised its power beyond the intent of Congress. 'I absolutely do expect to see legal challenges,' Wiley said."

* * *

UPDATE MA: "Markey's win shows young voters will rally behind incumbents who embrace their causes" [Boston Globe]. "But, for the rising generation of progressive activists who helped return him to the Senate, Markey's win sent a message: The restive left-wing is looking for champions, not just blood — and its passionate army of engaged young voters will rally to the defense of incumbents who partner with them and who embrace their causes." • What's wrong with looking for blood?

UPDATE MA: "Why Joe Kennedy's Senate campaign flopped" [Politico]. "What Kennedy didn't envision was the way Markey would reinvent himself as a darling of the progressive left over the course of the year, harnessing the energy of young voters and climate activists. Sitting on a sizable lead in the polls for much of the race, Kennedy's campaign was reluctant to go negative on Markey. That gave the low-key incumbent, who lived in the shadow of more prominent Bay State Democrats like Elizabeth Warren and John Kerry, the chance to define himself on his own terms…. More important, Markey stepped into the political vacuum created by the departures of Warren and Sen. Bernie Sanders from the presidential primary. Progressives were devastated by the collapse of the two campaigns, which came just before the coronavirus pandemic hit Massachusetts, leaving a cohort of newly unemployed presidential campaign staffers and volunteers — and young high school and college activists — stuck at home with time on their hands. They turned their attention to Markey."

MA: "Pro-Israel Groups Celebrate Victory in Crucial Massachusetts Primary" [Haaretz]. "Neal was endorsed by Democratic Majority for Israel (DMFI), an organization that's trying to strengthen support for Israel within the party, that placed a six-figure ad buy in the district to support the incumbent…. Pro-Israel America, another political action committee supporting Neal, also congratulated the congressman: 'We look forward to continuing our work with congressman Neal to help further strengthen the U.S.-Israel relationship towards a safer and more secure future for both of our great nations.'"

"There's A Big Focus On Suburbs, But Democrats See Potential Gains Farther Out" [NPR]. "The Smiths are part of a worrisome national trend for the GOP: party members who don't think Trump is what Republicanism is supposed to be. And in battleground states, voters like the Smiths could tip the scales, with both of them planning to vote for Democratic presidential nominee Joe Biden. 'I know I would walk over broken glass, through fire, on my hands and knees, to put my finger on that coronavirus ballot if I have to and try to vote this guy out,' [Steve Smith, who works as a landscaper] said. 'And luckily, I live in North Carolina, where I may actually have some impact.'" •
RussiaGate
"The Russian Election Hack That Wasn't (This Time)" [Foreign Policy]. "Areport published Tuesday in a Russian newspaper claiming Russian hackers had seized personal details of millions of U.S. voters sparked panic about a repeat of Russian efforts to sway the U.S. presidential election. The story was shared online by a number of high-profile journalists, political commentators, and national security experts, playing on widespread concerns about Moscow's plans to repeat its successful cyber-meddling in the 2016 election. The only problem: The story was almost entirely false."
Realignment and Legitimacy
"Why Centrists No Longer Understand the World" [Tribune]. "For Anne Applebaum, whose work on Soviet-era history is so respected it landed her the Pulitzer Prize in 2004, it is not the past which is a foreign country, but the present. Her latest book, Twilight of Democracy: The Failure of Politics and the Parting of Friends, offers a snapshot of a political centre in disintegration…. One explanation for the book's tepid diagnosis is that the scale of neoliberalism's breakdown is lost on an esteemed historian and journalist insulated from its worst impacts. This would certainly explain why Applebaum can only comprehend the present conjuncture as the result of mass irrationality and moral failure…. Despite being both retrospectively naïve, and possessed of few insights regarding the future, as a pièce d'occasion for the 2020s Twilight of Democracy is instructive. When historians come to reflect on a centrist intelligentsia in befuddled disarray it will be an excellent resource." • Ouch!

* * *

"Opinion: Oregon's key lessons on voting by mail — after 2 decades of only voting that way" [MarketWatch]. • This is a good description of the Oregon system, and it does seem that there are lot of checks. I would like to know if a Karl Rove-level ratfucking attack has ever been made on it, and, if so, what happened.

"One Reason Voting by Mail Worries Me" [Mike the Mad Biologist]. "If you've taught – from preschool to grad school – you know that no matter how many times or how clearly you give instructions, some students won't follow them…. One of the issues – not problems, but an issue to be aware of – with mail-in ballots is that the instructions create opportunities to reject ballots. To use the example of the recent Kentucky primary, ballots were rejected for failure to sign, failure to sign in the correct place, failure to enclose the ballot in an inner envelope before putting it in the outer envelope…on and on. Petty stuff, but stuff that is going to get your ballot tossed if you don't read and follow directions correctly…. In an election in which a lot of ballots are going to be cast by mail and it is patently obvious that Trump will use every possible mechanism to try to question the legitimacy of the ballots cast, I worry about the potential for these minor, insignificant instructions will toss otherwise valid votes."

UPDATE "Democrats Should Curb Their Enthusiasm for Mail-in Voting" [Rich Lowry, Politico]. "Absentee voting isn't as secure as in-person voting, but there's no evidence of widespread fraud, as Trump repeatedly alleges, sometimes in ALL CAPS. Nor is there any evidence that, at least prior to this campaign, mail-in voting has favored Democrats, as the president also believes. Trump shouldn't be trying to delegitimize the process, a point that journalists have often made, rightly. Yet there hasn't been enough focus on the other side of equation: Does it make sense for Democrats to be such fervent boosters of a process that may lead to a historic number of votes cast in a presidential election not counting? … Only about one-hundredth of 1 percent of in-person votes are rejected, whereas rejection rates of 1 percent are common with mail-in votes, and many states exceeded that during their primaries this year. This should be a five-alarm worry for Democrats. According to polling, almost twice as many Biden supporters as Trump supporters say they'll vote by mail this year. According to NPR, studies show 'that voters of color and young voters are more likely than others to have their ballots not count.' In another universe, if Trump were urging Democrats to stay away from the polls and instead use the method much more likely to get their votes discarded, it'd be attacked as a dastardly voter-suppression scheme."

UPDATE PA "House OKs Changes To Mail-In Voting In Near-Party Line vote" [WESA]. "One key aspect of the [Republican-drafted] bill will allow counties to start processing mail-in ballots three days before Election Day to speed up vote-counting. Democrats, however, want to give counties more time, as many as 21 days before the election. It also prescribes specific locations where voters can deliver mail-in ballots by hand: to a county courthouse, permanent election office and polling places on Election Day. Democrats oppose that provision, too, saying that it effectively bans the drop boxes that Philadelphia and some southeastern Pennsylvania counties plan to use to help handle the avalanche of mail-in ballots in November."

"Mark Zuckerberg's $300 million donation to protect elections must overcome Facebook's past" [Recode]. "The majority of the gift, $250 million, will go to the Center for Tech and Civic Life, a nonprofit popular with many tech philanthropists, which will then regrant the money to local election officials so they can recruit poll workers, supply them with personal protective equipment, and set up drive-through voting. Another $50 million heads to the Center for Election Innovation & Research to be distributed to Secretaries of State across the country." • With only 60 days to collect the money, figure out how to spend it, and spend it? Really?
Stats Watch
At reader request, I added some business stats back in. Please give Econintersect click-throughs; they're a good, old-school blog that covers more than stats. If anybody knows of other aggregators, please contact me at the email address below.
Employment Situation: "29 August 2020 Initial Unemployment Claims Rolling Average Now Under One Million" [Econintersect]. "Market expectations for weekly initial unemployment claims (from Econoday) were 910 K to 1,175 K (consensus 958 K), and the Department of Labor reported 881,000 new claims. The more important (because of the volatility in the weekly reported claims and seasonality errors in adjusting the data) 4 week moving average moved from 1,069,250 (reported last week as 1,068,000) to 991,750… Econintersect watches the year-over-year change in the 4-week moving average. There is always some seasonality that migrates into the seasonally adjusted data, and year-over-year comparisons help remove some seasonality. The four-week rolling average of initial claims is 358 % higher than one year ago (versus the 395 % higher last week)."
Employment Situation: "August 2020 Job Cuts: Highest Ever Jobs Lost-To-Date In A Single Year" [Econintersect]. "Job cuts announced by U.S.-based employers in August totaled 115,762, 116% higher than the August 2019 total of 53,480. August's total is 56% lower than the 262,649 job cuts announced in July…. '[T]he leading sector for job cuts last month was Transportation, as airlines begin to make staffing decisions in the wake of decreased travel and uncertain federal intervention. An increasing number of companies that initially had temporary job cuts or furloughs are now making them permanent,' said Andrew Challenger, Senior Vice President of Challenger, Gray & Christmas, Inc." Hysteresis, here we come–
Employment Situation: "Analysis: More People Got Back to Work in August, but Outlook Dims for Those Still Looking for Jobs" [Morning Consult]. "Recent improvements in the demand for labor are creating two distinct employment paths as the economy recovers. On the one hand, a growing share of workers who are now back to work feels secure in their jobs and does not expect to suffer a loss of employment income over the next four weeks. On the other hand, unemployed workers are losing hope of returning to their prior jobs, and 50% of unemployment insurance recipients are unable to cover their basic expenses with the money they receive from UI benefits. Barring dramatic developments in the spread of the virus, all indicators suggest that U.S. workers are likely to continue experiencing modest employment improvements on average, with unemployed workers likely to experience prolonged unemployment and suffer financial hardship." • Everything's going according to plan!
Productivity: "2Q2020 Final Headline Productivity Improved" [Econintersect]. "A simple summary of the headlines for this release is that labor costs are growing slower than productivity on a quarter-over-quarter basis. On a year-over-year basis – the opposite is true… Please note my productivity analysis at the end of this post which is at odds with the headline view. Doing a productivity analysis during a major recession is a waste of time as productivity should crater especially since the government has paid business not to layoff staff."
Trade: "July 2020 Trade Again Improved But Remains Deep In Contraction" [Econintersect]. "Trade data headlines show the trade balance grew with both imports and exports increasing…. The data in this series wobbles and the 3-month rolling averages are the best way to look at this series. The 3-month average rate of growth improved for imports and exports – but remains in contraction."
* * *
Tech: "Google Wants to Remix News Radio Just for You" [Wired (Re Silc)]. ". Each personalized playlist is structured to mimic a news program typical of what you'd hear on public radio: short clips about the big headlines up front that gradually shift into longer, more detailed stories. The goal is to create a seamless 90-minute broadcast—a mix of radio, podcast snippets, and text-to-speech article translations—tailored to an audience of one." • No.
Tech: "Japan's 'flying car' gets off ground, with a person aboard" (Video) [Tech Xplore]. • I think people are gonna hate those things as much as they hate scooters.
Tech: "Bitcoin Miner Is Scoring 700% Profits Selling Energy to Grid" [Yahooo Finance]. "On a sweltering summer afternoon in West Texas, a cryptocurrency miner backed by billionaire Peter Thiel powered down its data-processing centers for about 30 minutes. During that short window, the company made money not from Bitcoin, but from selling electricity. On hot days without wind, the company, Layer1, can sell its contracted power supplies back into the grid for a profit. Recently, when power prices in Texas topped $200 a megawatt-hour, Layer1 reaped returns of more than 700%, according to its founder and chief executive officer, Alexander Liegl. At night, as power prices drop to zero or lower due to the oversupply of wind energy, it can throttle up operations as much as the circuit boards can handle. When that happens, 'we're getting paid to produce Bitcoins,' Liegl said." • Seems very on-brand.
Mr. Market: "Dow down nearly 600 points as tech shares slump" [MarketWatch]. "After a day of records for the S&P 500 and the Nasdaq Composite on Wednesday, investor optimism waned as large-capitalization technology-related stocks led losses on Thursday. Doubts about traction for further fiscal stimulus from Washington lawmakers may be one factor discouraging investors who have been betting on Republicans and Democrats striking a deal later this month to offer additional relief to American consumers and businesses. On Tuesday, House Speaker Nancy Pelosi said Democrats and Republicans still have "serious differences," following a brief phone call."
Today's Fear & Greed Index: 63 Greed (previous close: 77, Extreme Greed) [CNN]. One week ago: 76 (Greed). (0 is Extreme Fear; 100 is Extreme Greed). Last updated Sep 3 at 12:05pm. Quite the downdraft!
The Biosphere
"Conscientious SUV Shopper Just Wants Something That Will Kill Family In Other Car In Case Of Accident" [The Onion]. • Continuing our conversation on this topic…..
"City of Hoboken Files Climate Suit Against Exxon—'The Most Ruthless, Deceitful, and Unapologetic Climate Polluters on the Planet'" [Common Dreams]. "The city of Hoboken on Wednesday filed a lawsuit against multiple Big Oil players—including ExxonMobil, incorporated in New Jersey—joining an increasing number of state and local governments using litigation in efforts to hold the fossil fuel industry accountable for defrauding the public about foreseen climate crisis damages and to make companies "pay their fair share" of the costs of mitigating greenhouse gas emissions and adapting to a warming planet. The lawsuit (summary pdf) argues that the defendants—ExxonMobil, Shell, Chevron, BP, ConocoPhillips, and the American Petroleum Institute—knew that 'their production, marketing, and sale of fossil fuels would cause global climate change,' but they engaged in a massive 'disinformation campaign' to protect their profits, which would diminish in conjunction with decreased fossil fuel use. "
Health Care
"Trust pharma for coronavirus news? Most people say yes, but more Democrats than Republicans: poll" [Fierce Pharma]. "A new Harris Poll found that while both Democrats and Republicans consider doctors and nurses as well as nationally recognized hospitals like the Mayo Clinic+ the most trustworthy sources, the two groups diverge when it comes to others. Seventy-one percent of Republicans trust the White House and President Donald Trump, but only 28% of Democrats do. On the other hand, 61% of Democrats trust the national news media, while only 36% of Republicans do. . Overall, 71% of people polled said they trust drugmakers actively working on coronavirus vaccines. Breaking that down by party lines, however, shows more Democrats (76%) than Republicans (68%) believe pharma news." • Maybe this trust will, er, pay off when vaccine time comes.
"Gerald Ford Rushed Out a Vaccine. It Was a Fiasco." [New York Times]. "History offers Mr. Trump a cautionary tale. In February 1976, hundreds of soldiers at Fort Dix, N.J., contracted a new strain of the H1N1 virus that seemed to be a descendant of the one responsible for the 1918 flu pandemic, which killed at least 50 million people worldwide and possibly as many as 100 million. Back in those days, the World Health Organization twice a year convened a panel of experts to determine which strains of influenza should be included in that year's flu shots, then provided the necessary 'seed virus' to manufacturers. President Gerald Ford, however, decided to leapfrog the protocol in the face of the news out of Fort Dix." • I'm really of two minds on this. On the one hand, don't we want a vaccine to be developed as rapidly as possible? And wasn't the parallel vaccine development under Project Warp Speed a really good idea? On the other, will profit-driven vaccine companies cut corners, especially under pressure from the administration? On the third hand, don't we, in a democracy, want a President to fight and win an election based on the successful delivery of a vaccine? Next, it's quite clear from the tone of the article that the Times would prefer that the effort fail ("reckless obsession," "desperate words"). So while my understanding is that the data for the effort will be transparent, the coverage of it will be another matter. Finally, I return to my idea that the ideal initial test population would be every single member of Congress, plus every political appointee in the Executive Branch, plus the President. You first!
"Pandemic's Emotional Hammer Hits Hard" [National Public Radio]. "Nearly a quarter of people in the United States are experiencing symptoms of depression, according to a study published Wednesday. That's nearly three times the number before the COVID-19 pandemic began. And those with a lower income, smaller savings and people severely affected by the pandemic — either through a job loss, for example, or by the death of a loved one — are more likely to be bearing the burden of these symptoms. When a population experiences something traumatic, such as a pandemic or a natural disaster, researchers usually expect a rise in mental illnesses in the weeks and months following the event. But the mental health toll of the coronavirus pandemic seems to be far greater than previous mass traumas, says Catherine Ettman, a doctoral student in public health at Brown University and an author of the study, which was published in the current issue of the American Medical Association journal JAMA Network Open." • Again, everything's going according to plan!
"Wear a mask while having sex, Canada's top doctor suggests" [Reuters]. • What a great way to alleviate depression! (Though I grant masks may have a festive aspect.)
Gunz
"Active shooter drills are meant to prepare students. But research finds 'severe' side effects." [NBC]. "A report being released Thursday, obtained in advance by NBC News, found active shooter drills in schools correlated with a 42 percent increase in anxiety and stress and a 39 percent increase in depression among those in the school community, including students, teachers and parents, based on their social media posts… The report, released by the advocacy group Everytown for Gun Safety, relied on research from Georgia Tech's Social Dynamics and Wellbeing Lab, which analyzed 27.9 million tweets and 1,454 Reddit posts that came from accounts with connections to 114 schools in 33 states that held active shooter drills in the 2018-19 academic year. The researchers examined changes in social media posts in the 90 days before and after a drill. The higher rates of anxiety and depression were evidenced by an increase in words such as 'afraid,' 'struggling,' 'nervous,' 'therapy' and 'suicidal.'" • These aren't bugs; they're features. School as preparation for life, eh?
Police State Watch
"Blue Bloods: America's Brotherhood of Police Officers" [Vanity Fair]. "Chicago's Fraternal Order of Police [FOP] is a local chapter of the larger national organization of the same name. The national FOP boasts more than 2,100 such lodges, representing more than 330,000 members, which makes it, according to its website, 'the world's largest organization of sworn law enforcement officers.'…. When Jason Van Dyke was convicted of second-degree murder for the death of Laquan McDonald, the FOP defended him. When four of the officers accused of aiding in the cover-up were fired, a different FOP vice president used the decision as an occasion to impress upon police board members that they should not 'fall to the pressure of the media or the radical police haters.' These men were sworn officers of the law. But they did not look at Van Dyke as a convicted murderer who had broken that law. They did not look at him and see police—a social category, a profession, a uniform one puts on and can take off. They looked at him and saw their brother. They saw a different type of being, bound by an oath that transcends civilian understanding. And by virtue of Van Dyke's being, in their eyes, he could do no wrong."
Black Injustice Tipping Point
"Led by a 105-year-old survivor, lawsuit seeks reparations in 1921 Tulsa race massacre" [CNN]. "Lessie Benningfield "Mother" Randle, was a little girl when an angry white mob rampaged through the city's Greenwood District, known as "Black Wall Street" because it was home to more than 300 black-owned businesses. By the end of the night on June 1, 1921, the 35-city block district was burned to the ground. Contemporary reports of deaths began at 36, but historians now believe as many as 300 people died, according to the Tulsa Historical Society and Museum. The lawsuit was filed Tuesday in Tulsa County District Court by Justice for Greenwood Advocates, a team of civil and human rights lawyers. The plaintiffs include Vernon A.M.E Church — the only black-owned building to survive the massacre — descendants of other victims and the Tulsa African Ancestral Society.The lawsuit claims that the racial and economic disparities caused by the massacre created a public nuisance and an economic blight that remains. It says local government and agencies failed to help the neighborhood rebuild."
Sports Desk
"Study: College Football Is Feudalism" [David Sirota, Too Much Information]. "it is not the unpaid players who most "need" a season. Instead, those with the real financial stake in reopening are the coaches and university officials who are together making huge money off players who are barred from being paid and joining a union to collectively bargain for compensation. Those prohibitions continue thanks to the same lawmakers now demanding the unpaid players risk their lives returning to the football field to generate the revenues that finance coaches' multimillion-dollar pay packages. A new study from researchers at Northwestern University, University of Chicago and University of Michigan found that if Congress permitted Division I college football and basketball players to form a union and collectively bargain for the same revenue share as professional athletes, on average each college 'football player would receive $360,000 per year and each basketball player would earn nearly $500,000 per year.'" • A nice shout-out to Michael Hudson and Naked Capitalism in the comments.
Class Warfare
"As Amazon pulls union-buster job ads, workers describe a 'Mad Max' atmosphere – unsafe, bullying, abusive" [The Register]. "Pallets stacked 10 high when the old rules said a maximum of five; policies to thwart the spread of the COVID-19 virus not followed and co-workers only informed about positive tests a month later; punishing work rates that are constantly changed and used as a weapon; write-ups as retaliation for complaining about racist behavior; and serious injuries dismissed with a Tylenol and an ice-pack. This is the reality of life inside an Amazon warehouse, according to workers The Register spoke to this week…. Away from the number-crunching at corporate headquarters, the work rate has become a weapon that stressed-out managers use to bully and intimidate those on the shop floor, it's claimed. Not only are warehouse workers frequently not told what the required work rate is, the rate changes constantly – sometimes hour by hour depending on the whims of the local operational manager…. Amazon implies it has a single work rate across all its operations, though long-term workers who have spoken to colleagues across America say it varies all the time, and appears to be developed by averaging out the work rate of the top 10 per cent of workers on any given week, which would explain the sometimes daily variances. While expecting everyone to work as hard as the hardest working at all times, those who don't are written up and are fired if they don't improve. Amazon has apparently hard-coded a five per cent failure rate into its system as a way to constantly drive performance improvements." • Yikes. Didn't Microsoft once have a similar system?
"Disdain for the Less Educated Is the Last Acceptable Prejudice" [New York Times]. "Being untainted by the Ivy League credentials of his predecessors may enable Mr. Biden to connect more readily with the blue-collar workers the Democratic Party has struggled to attract in recent years. More important, this aspect of his candidacy should prompt us to reconsider the meritocratic political project that has come to define contemporary liberalism…. It is important to remember that most Americans — nearly two-thirds — do not have a four-year college degree. By telling workers that their inadequate education is the reason for their troubles, meritocrats moralize success and failure and unwittingly promote credentialism — an insidious prejudice against those who do not have college degrees. The credentialist prejudice is a symptom of meritocratic hubris. By 2016, many working people chafed at the sense that well-schooled elites looked down on them with condescension. This complaint was not without warrant. Survey research bears out what many working-class voters intuit: At a time when racism and sexism are out of favor (discredited though not eliminated), credentialism is the last acceptable prejudice." • The Obama Alumni Association will be more than able to compensate for Biden's inferior degree.
News of the Wired
"How to Fail at Writing a Novel" [Connor Wroe Southard]. "You spend three years writing a novel that doesn't work. It makes it through various stages of the process by which novels are sold, and doesn't sell. You decide to stop trying to sell it—not because it hasn't sold, but because you've outgrown it. You've rewritten it in its entirety roughly six times. You've lost count." •
R.I.P. David Graeber:
Yesterday the best person in a world, my husband and my friend .@davidgraeber died in a hospital in Venice.

— Nika Dubrovsky (@nikadubrovsky) September 3, 2020
(Cause not known.) Graeber's last tweet:
I don't know who writes these tweets but they should be fired. This is either awful PR or intentionally trying to alienate someone for internal political reasons. If you're non-ideological, doesn't that mean you're not socialist OR pro-capitalist? Why leave one of the two out? https://t.co/vYxmZqsckD

— David Graeber (@davidgraeber) September 2, 2020
Flashback: "Debt: it's back to the future" [Gillian Tett, Financial Times]. "[In Debt, Graeber's] sweeping narrative history essentially argues that many of our existing ideas about money and credit are limited, if not wrong. Take how we think that money evolved. In modern society, Graeber argues, economists often assume that money emerged as a medium of exchange to replace barter, while virtual credit developed after that. After all, gold is easier to carry around than sacks of potatoes or cows – and credit cards are a very recent invention. However, Graeber asserts this sequencing is wrong: his reading of history suggests that complex debt relations, in the widest sense, emerged before coins circulated (and before complex systems of barter, too). … [T]oday, numerous non-western societies operate with fiendishly complex debt systems, which blur social and economic obligations, even if they barely use 'currency'. Indeed, anthropologists spend a considerable amount of time looking at how these 'debts' bind groups together. 'There is nothing new about virtual money. Actually this was the original form of money,' Graeber argues. 'Credit systems were interspersed with a period of bullion, but credit came first.'"
* * *
Readers, feel free to contact me at lambert [UNDERSCORE] strether [DOT] corrente [AT] yahoo [DOT] com, with (a) links, and even better (b) sources I should curate regularly, (c) how to send me a check if you are allergic to PayPal, and (d) to find out how to send me images of plants. Vegetables are fine! Fungi and coral are deemed to be honorary plants! If you want your handle to appear as a credit, please place it at the start of your mail in parentheses: (thus). Otherwise, I will anonymize by using your initials. See the previous Water Cooler (with plant) here. Today's plant (AM):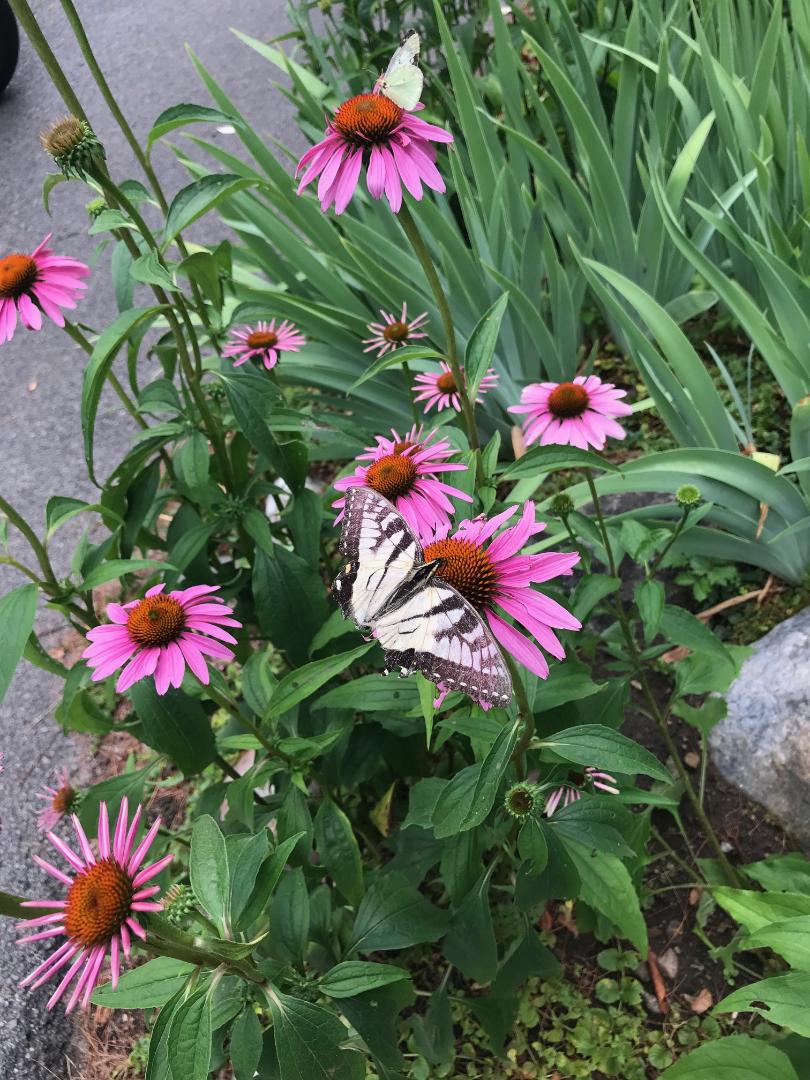 AM writes: "Another day, another flower with a butterfly. At the Green Mountain Golf Course."
* * *
Readers: Water Cooler is a standalone entity not covered by the annual NC fundraiser. So if you see a link you especially like, or an item you wouldn't see anywhere else, please do not hesitate to express your appreciation in tangible form. Remember, a tip jar is for tipping! Regular positive feedback both makes me feel good and lets me know I'm on the right track with coverage. When I get no donations for five or ten days I get worried. More tangibly, a constant trickle of donations helps me with expenses, and I factor in that trickle when setting fundraising goals:
Here is the screen that will appear, which I have helpfully annotated.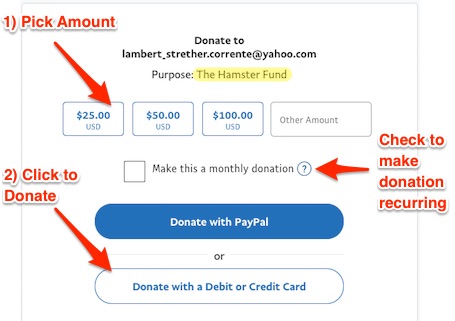 If you hate PayPal, you can email me at lambert [UNDERSCORE] strether [DOT] corrente [AT] yahoo [DOT] com, and I will give you directions on how to send a check. Thank you!