By Lambert Strether of Corrente
As usual, I gathered far too much 2020 material over the weekend, so I'll put some of it in, rather than leave it all on the cutting room floor. –lambert UPDATE All done!
Bird Song of the Day
There were a number of bird mentioned on my flowers post yesterday, including the goldfinch. I don't know if this is a "Lesser" one or not!
#COVID19
At reader request, I've added this daily chart from 91-DIVOC. The data is the Johns Hopkins CSSE data. Here is the site.
Here are the United States regions: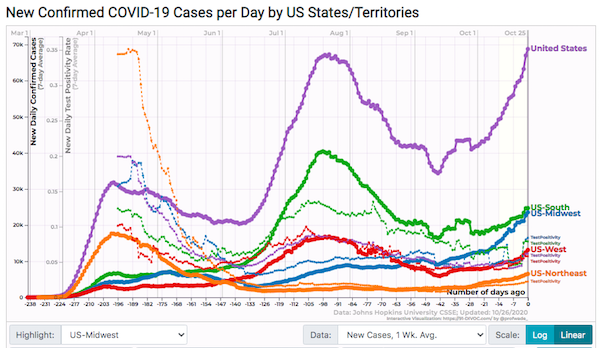 Still rising, if anthing faster. Gonna be interesting to see what happens if the virus is really cranking in November or December, and the FDA says a vaccine is ready…
Here are the Swing States as I conceive them (see below):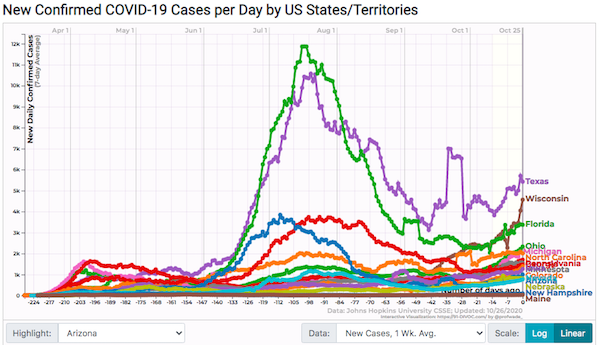 Unmistakable rise everywhere.
Oceania, Eurasia, Eastasia?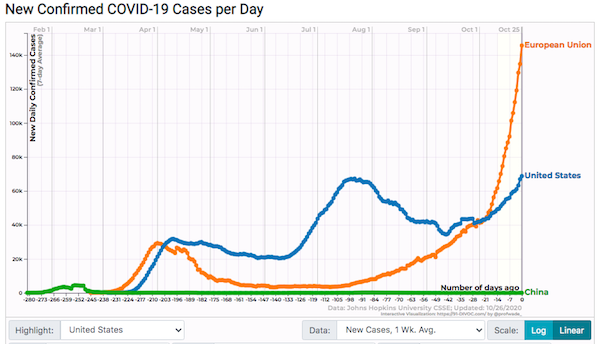 Which system protected its citizens better? (And why are the shapes of each curve so different?
Natural experiment: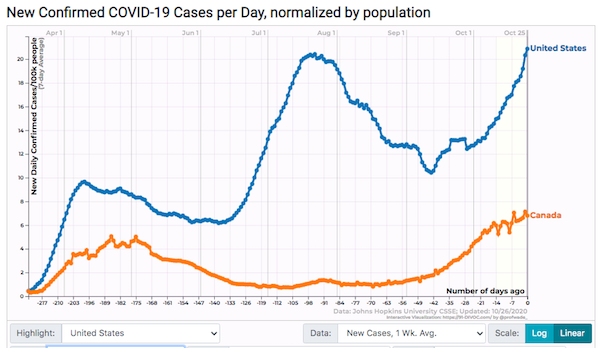 Two multilingual, multicultural countries, of continental scale, from the common law tradition, and with a Federal system and a mixed economy. One has single payer heatlh care and the other doesn't. Of course, there are other differences too, but you'd think somebody would be looking into this….
OR
https://pamplinmedia.com/pt/9-news/485369-391085-all-bowling-alleys-skating-rinks-can-reopen
??? what is the matter with us https://t.co/HxO3YXo1k8

— mrs ghost goes to town (@spindlypete) October 25, 2020
Politics
"But what is government itself, but the greatest of all reflections on human nature?" –James Madison, Federalist 51
"They had one weapon left and both knew it: treachery." –Frank Herbert, Dune
"They had learned nothing, and forgotten nothing." –Charles Maurice de Talleyrand-Périgord
The electoral map. July 17: Georgia, Ohio, ME-2 move from Leans Republican to Toss-up. Continued yikes. On July 7, the tossup were 86. Only July 17, they were 56. Now they are 91. This puts Biden at 278, i.e. over 270. August 18: Still no changes. August 31: Indiana moves from Likely to Safe Republican. September 9: No changes. September 14: No changes. September 21: No changes. September 22: Ohio moves from Toss-up to Leans Republican. September 25: Ohio moves from Leans Republican to Toss-up. September 30: Iowa moves from Leans Republican to Toss-up. October 3: Indiana moves from Safe to Likely Republican; Iowa moves from Toss-up to Leans Republican. October 6: Arizona moves from Toss-up to Leans Democratic; Iowa from Leans Republican to Toss-up; Indiana from Likely to Safe Republican; New Mexico from Likely to Safe Democratic. October 8: NE-2 moves from Toss-up to Leans Democratic. October 13: Indiana moves from Likely to Safe Republican. October 16: Indiana moves from Safe to Likely Republican. October 19: No changes. October 21: NE-1 moves from Likely to Safe Republican. .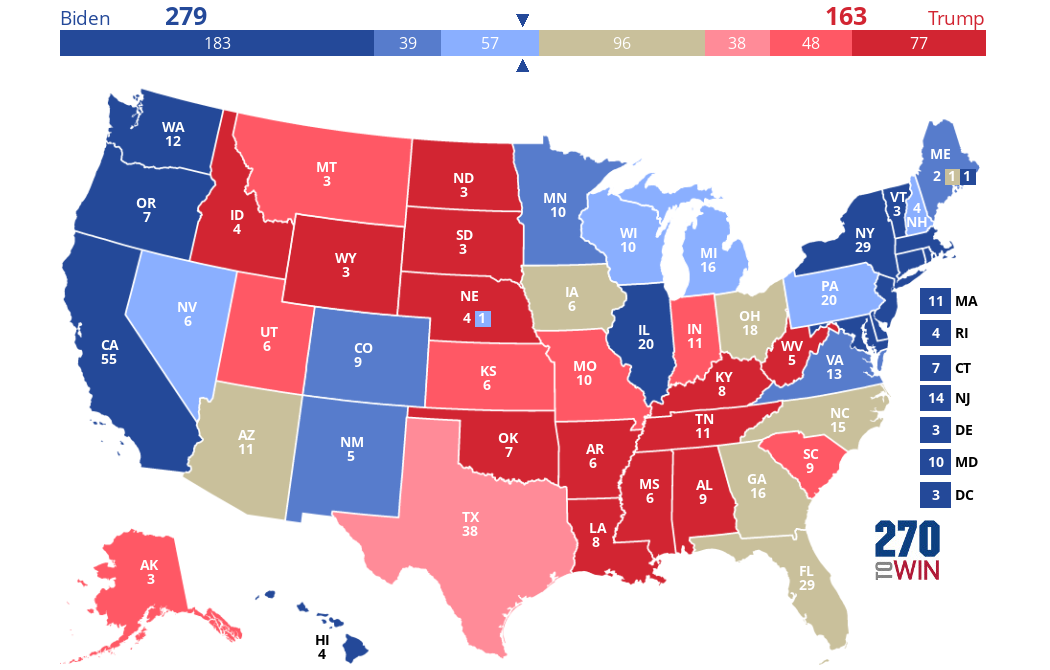 Click the map to create your own at
270toWin.com
The election countdown:
Here is an early voting calendar. Maybe we'll have a whole series of October surprises, since election day is gradually being devalued as an event.
And here are mail-in voting ruies, which naturally differ state by state.
"2020 General Election Early Vote Statistics" [U.S. Elections Project (SlayTheSmaugs)].
"How to Vote in 2020: Everything You Need to Know" [Bloomberg]. "Casting a ballot in the U.S. isn't always easy, with a complex web of varying state rules governing how and when you can vote. The Covid-19 pandemic has introduced even more complexity in 2020, as many states have made significant changes to allow for more early voting or voting by mail. More changes could come as lawsuits in several states wind their way through the courts. That's why Bloomberg News is answering these critical questions so you'll know what you need to do to make sure your vote is counted in the 2020 election."
Here are is an enormous spreadsheet on voting equipment, so you can check your own jurisdiction (hat tip, UserFriendly. I should really aggregate these onto a map…).
"2020 General Election Early Vote Statistics" [U.S. Election Project].
"California Ballots Mailed and Returned Tracker" [Political Data]. • California only, sadly.
"Where's My Ballot?" [Alex Padilla]. "Tracking your vote-by-mail ballot—when it is mailed, received, and counted—has never been easier. The California Secretary of State is now offering Where's My Ballot?—a new way for voters to track and receive notifications on the status of their vote-by-mail ballot. Powered by BallotTrax, Where's My Ballot? lets voters know where their ballot is, and its status, every step of the way." • Ballottrax. Shoulda gone long….
"State Fact Sheets" [Georgetown Universitty]. "[F]act sheets for all 50 states explaining the laws barring unauthorized private militia groups and what to do if groups of armed individuals are near a polling place or voter registration drive."
All the deadlines, rules, and voting hours to know when casting your ballot in the 2020 presidential election" [Business Insider]. "Here are 12 interactive graphics, charts, and maps Insider created to answer your most common questions about voting in 2020."
2020
Swing States

Here is my list of Swing States, with votes in the Electoral College and selected ballot initiatives in parentheticals):

Arizona (11) (marijuana; taxes(=)
Colorado (9) (taxes, lottery, abortion, paid medical leave)
Florida (29) (minimum wage)
Georgia (16) (declaratory relief)
Iowa (6) (Constitional convention)
Maine-02 (1) (vax)
Michigan (16) (oil and gas royalties; privacy)
Minnesota (10)
Nebraska-02 (1) (payday lending; gambling)
Nevada (6) (marriage)
New Hampshire (4)
North Carolina (15)
Ohio (18)
Pennsylvania (20)
Texas (38)
Wisconsin (10)

Inspired by the thread starting with Arizona Slim's comment here, I went to Ballotpedia and added selected, hopefully hot button, ballot initiatives, because sometimes they affect turnout. If you live in a swing state, please comment if I got the hot buttons wrong!

* * *

Congressional District polling:

I do, but it's missing a couple of the district level polls that came out today – which, by the way, paint the same picture.

Full data set: https://t.co/rbGdi2XPzl pic.twitter.com/lvkp1X48CM

— Brandon (@Brand_Allen) October 24, 2020

The right-most column is the interesting one.

2016 v. 2020 in swing states:

ELECTION ALERT: Base of support for TRUMP 2020 ahead of TRUMP 2016 at this point in the race in most battleground states:

Oct 21 2020
⬆️ Arizona +5.3%
⬆️ Florida +2.8%
⬆️ Michigan +8.9
⬆️ North Carolina +2.3%
⬆️ Ohio +.06%
⬆️ Pennsylvania +3%
⬆️ Wisconsin +5.5%

⬇️ Georgia -0.5% pic.twitter.com/Ks7PySCKfa

— Jumptuit (@JumptuitNow) October 22, 2020

* * *

IA: "The weirdest Iowa election year ever winds to a close with competitive races, massive unknowns" [Des Moines Register]. • The reporter emptied their Rolodiex, for both parties. Nothing about facts on the ground at all.

UPDATE PA: "Political division has put rural Pennsylvania on edge" [Financial Times]. "As an overseas correspondent reporting on wars and troubled politics, I met plenty of people skittish or scared about exploring or explaining their beliefs. But that was in Bosnia, Serbia, Iraq or Lebanon, not American communities with names like Cranberry, Economy and Harmony — all in Pennsylvania, a swing state with 20 electoral votes that could once again prove pivotal…. Hours after I quoted her in a story about undecided voters, her supervisor read it online and confronted her. She had no right to speak to a newspaper, she was told. No one should talk politics with media. She texted me at 4.30am: could I please remove the name of her workplace? She feared losing her job, never mind that she had not spoken about her work and hadn't said for sure how she would vote. I tried to point out that in the US free speech is a constitutional guarantee — it comes just before the right to bear arms. It's a right, I said with some irony, that makes America great. I get that, she texted back, 'I'm just trying to save my butt."" • Welcome to the Third World.

UPDATE WI: "With All Eyes on Wisconsin, Partisan Gridlock at State Elections Commission Frustrates Voters and Local Officials" [Pro Publica]. "In the end, the commission deadlocked 3-3 not once but twice over motions to deal with the disputed ballots, leaving each of Wisconsin's municipal clerks to decide on their own what to do. For the state's top agency overseeing elections, such standoffs have become the norm. With the national spotlight on Wisconsin as a swing state that could sway the presidential election, the commission has become increasingly stalemated and ineffective, according to an investigation by Wisconsin Watch and ProPublica."

* * *

Biden (D)(1): "Six former secretaries of Commerce endorse Joe Biden" [CNBC]. • Well, I'm sold.

Biden (D)(2): "Why These Voters Rejected Hillary Clinton but Are Backing Joe Biden" [New York Times]. "Since 2019, Mr. Biden has held an advantage of four to eight points over Mrs. Clinton in key swing districts, according to an analysis by John Hagner, a partner at Clarity Campaign Labs, a Democratic data analytics firm. Polling shows Mr. Biden scoring higher than Mrs. Clinton among a wide range of demographic groups — most notably older voters, white voters and suburbanites. But his advantage is stark among those who sat out the 2016 election or backed third-party candidates. Mr. Biden leads Mr. Trump, 49 percent to 19 percent, among likely voters who backed third-party candidates in 2016, according to recent polling of battleground states by The New York Times and Siena College. Among registered voters who sat out the 2016 election, Mr. Biden leads by nine percentage points, the polls found."

Biden (D)(3): President-in-Waiting Harris on "the ancestors":

Sen. Kamala Harris: "We know the ancestors are relying on us to not let them down when there is so much at stake." pic.twitter.com/kDG27ve6GL

— The Hill (@thehill) October 25, 2020

I would be interested to think what ADOS theorists think of this comment from Harris, given her own ancestry.

Biden (D)(4): President-in-Waiting Harris laughing, but why?

Everything about this clip is infuriating. The right wing framing of the questions and Kamala sprinting away from the real solutions to our problems pic.twitter.com/6sUoOgj3aS

— Secular Talk (@KyleKulinski) October 26, 2020

UPDATE Biden (D)(5): President-in-Waiting Harris, vet:

Sen. Kamala Harris: "We all have PTSD from 2016." pic.twitter.com/h0U7gOvJ05

— The Hill (@thehill) October 25, 2020

Nothing a little brunch won't cure…

UPDATE Biden (D)(6): "Biden Pledges Ambitious Climate Action. Here's What He Could Actually Do." [New York Times]. "Joseph R. Biden Jr.'s $2 trillion plan to fight global warming is the most ambitious climate policy proposed by a leading presidential candidate, a political lightning rod spotlighted on Thursday night when the Democratic nominee acknowledged during a debate that it would 'transition' the country 'from the oil industry.' But no one knows better than Mr. Biden, the former vice president, that it almost surely will not be enacted, even if his party secures the White House and the Senate. Thirty-six years in the Senate and the searing experience of watching the Obama administration's less ambitious climate plan die a decade ago have taught him the art of the possible." • Walking it back before the election?

UPDATE Biden (D)(7): "Opportunity Knocks: Canvassing in the Time of Covid" [The Nation]. "With less than two weeks to Election Day and early voting already underway, Joe Biden's campaign is finally resuming in-person canvassing in battleground states. It's about time. The Biden team's decision earlier this year to impose a moratorium on door-knocking—a party line that local candidates, too, felt pressure to follow—and opt instead for an 'invisible campaign' of ads, calls, and texts was a costly blunder. In-person canvassing is one of the most effective tools a campaign has at its disposal: It motivates volunteers, persuades undecided voters and increases turnout up and down the ballot. Which may be why the Trump campaign—and state GOP organizations—never stopped knocking. So it's welcome news that, after months of condemning canvassing as both dangerous and ineffective, top Democratic operatives have suddenly changed their tone." • Ka-ching.

Buttigieg (D)(5): "Pete Buttigieg Dropped Out of the Presidential Race and Wrote a Best Seller" [New York Times]. • "… his dogs, Truman and Buddy…" The powers-that-be are working so hard to make this homonculus of a candidate a thing.

Trump (R)(1): "Why Trump Has a Serious Chance of Winning. Really" [Washington Monthly]. "First, the president is actually more popular now than on the day he was elected. Yes, that's right. His personal favorability rating around election day in 2016 was 37.5%. Now, it is 43.2%. There are, in fact, hundreds of thousands of Americans (if not millions) who have grown fonder of Trump…. [T]he Biden edge is much smaller than most of the analysis has suggested. Yes, I'd rather be Biden than Trump as we approach the final days of the campaign. But Trump's path to victory is, at this moment, only slightly less likely than it was in 2016 around this time." • Well worth a read; the liberal Democrat triumphalist cacaphony is so loud I can't hear myself think, and I don't think I'm the only one.

Trump (R)(2): "Exclusive: Trump campaign takes over YouTube masthead" [The Hill]. "President Trump's campaign took over YouTube's masthead on Sunday, placing a 7-figure ad buy to secure some of the most coveted and pricey real estate on the internet. The 24-hour takeover features five different ads, with two spots promoting Trump's support among Black and Latino voters, and three spots attacking Democratic presidential nominee Joe Biden on taxes, the former vice president's mental sharpness, and Hunter Biden's foreign business dealings. By Nov. 3, the Trump campaign will have secured the YouTube masthead 20 times this cycle, including on Election Day. Most recently, the Trump campaign took over YouTube for eight days in August for both the Democratic and Republican conventions. YouTube is the second-largest search engine in the world and the masthead has more daily reach than CNN and MSNBC combined."

Trump (D)(3): Not like 2016:

Summary here: https://t.co/vnBoTg6nxU

— Chris Warshaw (@cwarshaw) October 25, 2020

Worth noting that in 2016 Trump districts, this is an extra layer of lethality, on top of deaths in the military and deaths of despair.

UPDATE Trump (D)(4): "The big Trump rallies you don't see" [Washington Examiner]. ""I can't believe there aren't any newspeople here," said Linda of Greene County, Pennsylvania, as she stood among hundreds of cars and pickup trucks idling in long parallel lines in a vast big-box-store parking lot Saturday, waiting to join the Interstate 70 Trump Train. Indeed, although there were carloads of Trump supporters as far as one could see, and many more on the way from Ohio and West Virginia, and this enormous political event was happening less than two weeks before the presidential election, as far as I could tell, I was the only newsperson there. It was the biggest political rally no one saw. And gatherings like it have been happening for months in some of the places President Trump needs most to win if he is to be reelected. And, remarkably, the rallies are not the work of the Trump campaign. The road rally in Washington, Pennsylvania, was organized and staged by local Trump supporters, linked together largely by Facebook, who want to show that enthusiasm for the president in western Pennsylvania and surrounding areas is not just strong but stronger than it was when Trump eked out a victory in Pennsylvania in 2016. If Trump wins this critical state, it will owe in significant part to this organic movement and the energetic organizers who have nothing to do with his campaign." • Worth reading in full. (Washington Examiner, I know, but AFAIK, Byron York doesn't make sh*t up.)

UPDATE Warren (D)(1): "Progressives push for Warren as Treasury secretary, signaling bigger ideological battle if Biden wins" [NBC]. • Well, as long as she's not in the line of succession….

* * *

UPDATE "Early vote total exceeds 2016; GOP chips at Dems' advantage" [Associated Press]. "Campaigns typically push their voters to cast ballots early so they can focus scarce resources chasing more marginal voters as the days tick down to Election Day. That usually saves them money on mailers and digital ads — something the cash-strapped Trump campaign would likely want — and minimizes the impact of late surprises that could change the race…. That split in voting behavior — Democrats voting early, Republicans on Election Day — has led some Democrats to worry about Trump declaring victory because early votes are counted last in Rust Belt battlegrounds. But they're counted swiftly in swing states such as Arizona, Florida and North Carolina, which may balance out which party seems ahead on election night….. One sign of enthusiasm is the large number of new or infrequent voters who have already voted — 25% of the total cast, according to an AP analysis of data from the political data firm L2. Those voters are younger than a typical voter and less likely to be white. So far similar shares of them are registering Democratic and Republican."

She's right:

Rep. @AOC: "There is no place in the United States of America where two, three, four hour waits to vote is acceptable — and just because it's happening in a blue state doesn't mean that it's not voter suppression." pic.twitter.com/OvXtxNQPWS

— The Hill (@thehill) October 25, 2020

"Four in ten supporters of Biden, Trump would not accept election defeat" [Reuters]. "More than four in ten supporters of both President Donald Trump and his Democratic challenger, Joe Biden, said they would not accept the result of the November election if their preferred candidate loses, Reuters/Ipsos poll found….

* * *

"Automatic signature verification software threatens to disenfranchise U.S. voters" [VentureBeat]. "The category of algorithms used to verify signatures on ballots is known as "offline" signature verification because it relies on images of signatures when real-time information (like the downward pressure of a pen) isn't available. Offline signature verification algorithms are trained on datasets that attempt to capture two feature types: global features that describe the signatures as a whole and local features that describe individual parts of the signatures (like symmetry and stroke directions). Several studies on automatic signature verification have been published, most recently by the Central Police University's Department of Forensic Science in Taiwan. The study found that an algorithm trained on an open source dataset from the International Conference on Document Analysis and Recognition attained accuracy between 94.37% and 99.96%. A more comprehensive paper published in the EURASIP Journal on Advances in Signal Processing concluded the accuracy of matching algorithms varied depending on the data used. Identification rates ranged from 74.3% for an algorithm trained on samples from 1,000 writers to 96.7% for an algorithm trained on a 657-writer dataset." • That's a lot of voters. This whole article is well worth a read.

UPDATE Electronic voting machines are super-spreaders:

Some Fort Worth early voting sites lack sanitizer and machines are too close together https://t.co/DzYPOrWt0h

— Fort Worth Star-Telegram (@startelegram) October 26, 2020

Not precisely superspreaders, I admit.

2016 Post Mortem

"Clinton says most Republicans want to see Trump gone but can't say it publicly: report" [The Hill]. "When asked if a female president would have better handled the coronavirus pandemic, the 2016 Democratic presidential nominee said, '. I have no doubt. I mean, I was born for that.'" • Learned nothing, forgotten nothing.
Realignment and Legitimacy
"Game On w/Special Guest Briahna Joy Gray" (podcast) [The West Wing Thing]. "We swear on a stack of bibles, we only asked her to watch ONE episode! The great Briahna Joy Gray joins us to discuss the 114 episodes of West Wing she's watched in the last week, and to talk about Jeb Bartlett's final debate. Also, Star Trek is better than Star Wars." • Gray has a lovely laugh. Very funny.

"Humanity Has Trolled Itself Into An Awaken-Or-Die Situation" [Caitlin Johnstone]. "As if guided by some strange, deep wisdom, humanity has walked itself into a situation where it is holding the knife in one hand and the incense in the other, vowing to kill itself if it cannot attain collective enlightenment by the time the incense burns out. We didn't do it on purpose. We didn't do it because our egos found it to be a gratifying crisis to put ourselves in. We just wound up here, by some bizarre miracle, completely out of left field. Something deep within us has put us in a position where we must necessarily rise to our full potential as a species or go the way of the dinosaur." • Looks like Marianne Williamson — and manipulating the debate rules to shut her out was unconscionable — was onto something.

Williamson

"Chuck Schumer Gets Ripped by Social Media for His Takeaway on 'Suicide Prevention' Amid COVID Relief Talks" [Pop Culture]. One response:

he needed MONEY, not SUICIDE PREVENTION

— i bless the rains down in castamere (@Chinchillazllla) October 25, 2020

C'mon, let's be fair. After all, life expectancy started falling in flyover in Obama's second term, and Case/Deaton published their "deaths of despair" in 2015. So Schumer is reacting pretty quickly, by liberal Democrat standards.

* * *
Stats Watch
At reader request, I added some business stats back in. Please give Econintersect click-throughs; they're a good, old-school blog that covers more than stats. If anybody knows of other aggregators, please contact me at the email address below.
National Activity Index: "September 2020 CFNAI Super Index Moving Average Index Continues To Suggest A Marginal Slowing Of The Economic Rate Of Growth" [Econintersect]. "This index is likely the best coincident indicator of the U.S. economy. A coincident indicator shows the current state of the economy. This month, there was a general slowing across the board for the economy."
* * *
Real Estate: "A third of US hotels could disappear: report" [Yahoo News!]. "A third of hotels in the U.S. could go under due to the coronavirus pandemic, according to a new study. Some 33% of hotel owners expect to hand the keys back to their lender or enter a forced sale situation, according to a September 7 survey of 103 hotels by the Hospitality Asset Managers Association (HAMA)."
Retail: "U.S. factories can't keep up with the demand for goods that Americans are buying as the Covid-19 pandemic persists. Production of consumer products has largely recovered after shutdowns this spring, but… buyers are snapping up items at an even faster pace as companies rush to restock" [Wall Street Journal]. "Car dealers are still seeing their stockpiles dwindle long after vehicle production restarted, paint producers don't have enough cans and appliance makers are short on parts for their factories. Supply-chain disruptions, worker absences and challenges from virus-proofing workplaces are complicating manufacturers' efforts to catch up."
Apparel: "Fast-Fashion Heiress Asks Shoppers to Buy Less in Green Push" [Bloomberg]. "The fashion business produces 20% of the world's wastewater and 10% of carbon emissions – more than all international flights and maritime shipping combined, according to a United Nations report. It takes around 2,000 gallons of water to make a typical pair of jeans, while the equivalent of one garbage truck of textiles is sent to landfills or burned every second…. Some 66% of consumers surveyed in a McKinsey study said they consider sustainability when making a luxury purchase. Still, only 31% of Gen-Z and 12% of baby boomers are willing to pay more for sustainable products, according to the consulting firm."
Shipping: "China's economic rebound is rebuilding confidence in shipping's beleaguered dry-bulk sector. The world's biggest commodity importer is stocking up on metals, grains and other bulk industrial goods… providing a boost for ship operators who had fallen into a deep trough in the wake of the coronavirus pandemic" [Wall Street Journal]. "Bulk carriers now appear to be gaining from China's resurgent growth and Beijing's desire to amass raw materials as a cushion against potential new supply-chain disruptions from rising Covid-19 infections in the West." • Ugh, the last part of the last sentence….
Tech: Robot cars gotta robot (dk):
???
Take 41 seconds and watch this video.
OUTRAGEOUS!!

H/T @StultusVox
cc @Tweetermeyer @PAVECampaign @AlexRoy144 $TSLAQ pic.twitter.com/4neqQxJPwr

— TC (@TESLAcharts) October 25, 2020
I don't drive, so I didn't understand the video. So I asked dk. He wrote:
After the initial start-stop, the car, in the turn lane, takes the turn but first steers wide, then tightens up and doesn't find the lane after the turn, continuing and nearly running into the land divider (see).

With cameras having to resolve near field darkness with bright far field & headlights misdirected. Takes time to adjust from bright to dark. White face of concrete curb resolves before lane lines.

Humans have this problem. Causes lots of fatal crashes around twilight.

Two more examples. Here,

there is a turn at the crest of the hill, difficult for human drivers too, you can't see the turn until you get to the top of the hill. And here: In many states, traffic is permitted to turn right when at an intersection when the light is red. The Tesla is in the turn lane, and has right of way but doesn't take the turn and drives straight through the intersection until the human driver corrects the car.

The first two errors occur in conditions where human drivers might be challenged as well. The third error is bad driving in anybody's book, the wide vision angle of a human would have plenty of clues that the car should be turned and that continuing straight would be a certain hazard.

Granted, these are cherry-picked from what are probably many hours of better performance under better conditions. But what's the point of Autonomous Driving if not to improve performance specifically in these kinds of elevated hazard situations?
Tech: "Big Tech Comes for Podcasts" [Washington Monthly]. "But podcasting's bright future is under increasing threat. The medium stands in danger of being rolled up by monopolistic tech platforms that could come to own and control the marketplace itself. With that power, they could suck away much of the value created by talented podcasters, just as Amazon stole away the income of even many best-selling authors after it came to own and control most of the digital infrastructure on which e-books are sold." • And Facebook and Twitter stole away blogging.
Mr. Market: "Dow drops more than 600 points as COVID-19 cases surge, stimulus stalled" [MarketWatch]. "Stocks slumped Monday as the number of daily U.S. COVID-19 infections hit a record at the end of last week and a final agreement on a new round of aid to the economy remained elusive… Investors are bracing for a deluge of quarterly earnings in the week ahead, including reports from more than a third of the S&P 500, including tech-related highfliers Facebook Inc., Amazon.com Inc., Apple Inc., Microsoft Corp. and Google parent Alphabet Inc."
Mr. Market: "The Blue Wave Reflation Trade Relies on a Big Ask" [Bloomberg]. "U.S. markets are transfixed by the political drama. The extraordinary and polarizing persona of President Donald Trump more or less guarantees this. For the last few weeks, conversation has been framed by the possibility of a 'Blue Wave' in which Democrats take both the Senate and the presidency, and then embark on full-on fiscal expansion. This has fed into a belief in a coming 'reflation' trade, in which growth and inflation at last return after more than a decade. In the wake of this, the dollar weakens, and stock markets around the world take off. Belief in the U.S. growth/reflation trade is now driving everything…. This raises one question about the Blue Wave hypothesis. A big splurge of spending by a Democratic government would require lots of new bond issuance, which would tend to raise yields, while growth should in any case drive higher long-term rates…. So the Blue Wave trade relies not only on a lot of money from a bunch of enthusiastically Keynesian politicians. It also requires the Fed to keep real yields negative, in a way never seen before this year. It's a big ask, but for the time being the world is enthralled by the American political process."
* * *
.
Today's Fear & Greed Index: 48 Neutral (previous close: 66 Greed) [CNN]. One week ago: 61 (Greed). (0 is Extreme Fear; 100 is Extreme Greed). Last updated Oct 26 at 11:36am. Whoopsie!
Rapture Index: Closes unchanged [Rapture Ready]. Record High, October 10, 2016: 189. Current: 181. (Remember that bringing on the rapture is a good thing, so high is better.) This Index doesn't seem to be reflecting the election at all. I'd expect "Beast Government" to be popping, but no!
The Biosphere
"Europe's Green Deal offshores environmental damage to other nations" [Nature]. "Problems lurk behind the rhetoric. First, the EU depends heavily on agricultural imports; only China imports more. Last year, the region bought in one-fifth of the crops and three-fifths of meat and dairy products consumed within its borders (118 megatonnes (Mt) and 45 Mt, respectively). This enables Europeans to farm less intensively. Yet the imports come from countries with environmental laws that are less strict than those in Europe. And EU trade agreements do not require imports to be produced sustainably. In the past 18 months, the EU has signed deals (some pending ratification) covering nearly half of its crop imports — with the United States, Indonesia, Malaysia and Mercosur, the South American trade bloc comprising Brazil, Argentina, Paraguay and Uruguay. Pacts with Australia and New Zealand are on the table. Each nation defines and enforces sustainability differently. Many use pesticides, herbicides and genetically modified (GM) organisms that are strictly limited or forbidden in the EU (see Supplementary information, table S2a). The net result? EU member states are outsourcing environmental damage to other countries, while taking the credit for green policies at home. Although the EU acknowledges that some new legislation will be required around trade, in the short term, nothing will change under the Green Deal."
Health Care
A report on Czechoslovakia from Dr. John Campbell, who comes recommended by alert reader JP: "He has an excellent low-key, dry delivery, and summarizes his presentations at the very beginning so one needn't watch the whole thing if time is at a premium."
I picked this one because we don't hear much about the Czech Republic.
Peak liberalism:
…I wish I could direct this bill to the fucking anti-maskers who in their goddamn selfishness are killing, harming and hospitalizing so many people.

— Kurt "Mask Up, Vote Early" Eichenwald (@kurteichenwald) October 24, 2020
Not, of course, the health insurance company that sent the bill. They're upstanding corporate citizens, and all their bills are legitimate!
Black Injustice Tipping Point
This account is tweeting out the text of a book titled The Accommodation, a history of Dallas. It's very good:
As for the possibility that any of what the business leadership did was self-interested, there is no giving of ground on that point by the oligarchy, even today. There is no compromise where virtue is concerned.

— The Accommodation every hour (@accommodation87) October 14, 2020
"The So-Called 'Kidnapping Club' Featured Cops Selling Free Black New Yorkers Into Slavery" [Smithsonian]. "The Constitution's Fugitive Slave Clause required northern free cities like New York to return the self-emancipated to their southern enslavers, and the NYPD and officers like Rynders were only too willing to comply, conveniently folding their hatred of black people into their reverence for the nation's founding document. Armed with the founders' compromise over slavery, Rynders and his fellow officers, men like Tobias Boudinot and Daniel D. Nash, terrorized New York's black community from the 1830s up through the Civil War…. The familiar dark blue uniforms of the NYPD were not instituted until the 1850s, so African Americans harassed or arrested by the police could not even be sure that they were being accosted by legal authorities. Equally problematic was the fact that neither Nash nor Boudinot earned regular salaries on which they could depend; their ability to support themselves and their families came from fees set by state law, which virtually required officials to arrest as many people as possible. The situation almost guaranteed corruption, and tied the financial interests of the New York police force to the financial interests of southern slaveowners. Not that they needed any push to over-police the black community, but patrollers like Nash and Boudinot had every incentive to use their blanket writ to arrest as many accused fugitive slaves as they possibly could. In fact, their financial well-being depended on it." • Law enforcement for profit is not a new thing.
Class Warfare
"Five Finger Death Punch: A Case Study in Performative Working Class Aesthetics" [Hampton Institute]. "In any given culture, an individual's class is perceived according to their aesthetic choices, such as clothing, speech, activities and affiliations. In the modern US, a "lower class" or "working class" person might wear camouflaged cargo pants and a sports jersey, or a tradesman's uniform when on the job. A "middle class" or "upper class" person might wear slacks and a button-up shirt, or a business suit and watch instead. In late Victorian England, a politician might wear a frock coat and top hat to convey their sophistication to voters, or a tweed suit and cloth cap to break social conventions and show commonality with the average citizen.[2] Regardless of cultural context, class identification is a performance…. One of the most commercially successful American metal bands in the 21st Century, Five Finger Death Punch has carefully crafted their brand to appeal to millions of common Americans, predominantly conservative, white, working-class men. In this case study, I will deconstruct the band's hyper-American "everyman" image to demonstrate how they sell the promise of the "American Dream," ultimately serving the interests of capital. It is my hope that this will help illuminate the impact of working-class performance on American class relations and class consciousness." • Any 5FDP fans in the readership?
We can't do this, because it would give the working class ideas:
The best thing we could possibly do for the working class vis a vis COVID is
1. End the pandemic
2. Provide sufficient economic support until (1) is concluded.

And (1) requires making that support happen outside market labor. pic.twitter.com/A092xoSKdH

— Marshall Steinbaum ? (@Econ_Marshall) October 23, 2020
"I finally gave up…."
lol the psychos who write in to Dear Prudie are the best pic.twitter.com/fd7pTPVeBx

— Will?Menaker (@willmenaker) October 21, 2020
News of the Wired
Baseball really is a great game:
UNBELIEVABLE. ?#WorldSeries pic.twitter.com/kkzidC2d95

— MLB (@MLB) October 25, 2020
* * *
Readers, feel free to contact me at lambert [UNDERSCORE] strether [DOT] corrente [AT] yahoo [DOT] com, with (a) links, and even better (b) sources I should curate regularly, (c) how to send me a check if you are allergic to PayPal, and (d) to find out how to send me images of plants. Vegetables are fine! Fungi and coral are deemed to be honorary plants! If you want your handle to appear as a credit, please place it at the start of your mail in parentheses: (thus). Otherwise, I will anonymize by using your initials. See the previous Water Cooler (with plant)
here
. Today's plant (ChetG):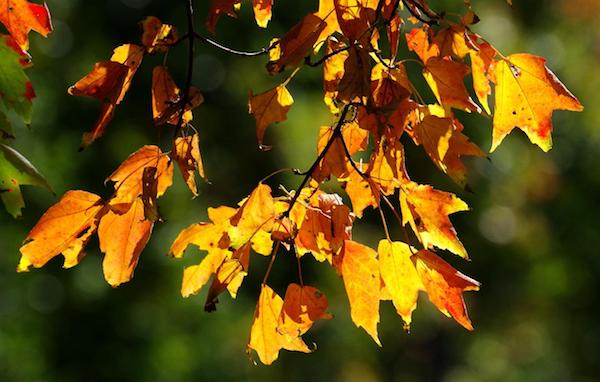 ChetG writes: "I don't seem to take that many plant photos, but there is something
about autumn that makes a difference, especially when backlighting is
involved."
* * *
Readers: Water Cooler is a standalone entity not covered by the recently concluded and — thank you! — successful annual NC fundraiser. So if you see a link you especially like, or an item you wouldn't see anywhere else, please do not hesitate to express your appreciation in tangible form. Remember, a tip jar is for tipping! Regular positive feedback both makes me feel good and lets me know I'm on the right track with coverage. When I get no donations for five or ten days I get worried. More tangibly, a constant trickle of donations helps me with expenses, and I factor in that trickle when setting fundraising goals:
Here is the screen that will appear, which I have helpfully annotated.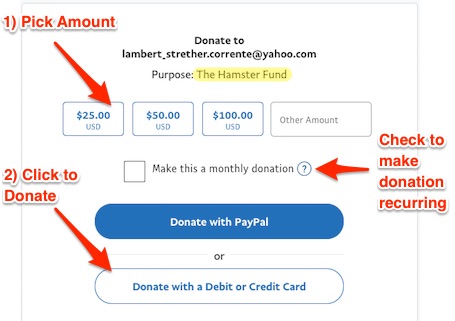 If you hate PayPal, you can email me at lambert [UNDERSCORE] strether [DOT] corrente [AT] yahoo [DOT] com, and I will give you directions on how to send a check. Thank you!