By Lambert Strether of Corrente.
The news is a bit much to process, even for me, so I thought I'd do something completely different. I keep saying, of the plants that readers send in, "This is my favorite flower!" So here are fourteen. (The images I gathered over the web; they are not from my own garden[1], or from readers, sadly, because my file-naming convention for plant images is not sufficiently robust, dang.) In alphabetical order:
Bee Balm (via).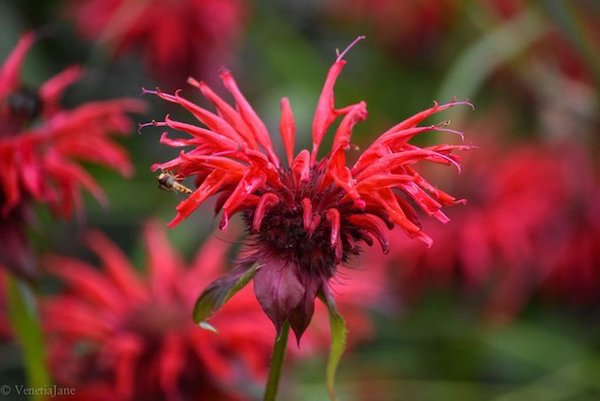 Bee balm is a terrific perennial, because its bright red color attracts hummingbirds; indeed, if I wear a red shirt or sweater, the hummingbirds dive bomb me! In one of the few true plant facts I have retained, its square stem means it belongs to the mint family. Bee balm grows in clumps that are easy to break up and transplant, so you can provide your hummingbirds with multiple targets of opportunity over the seasons.
Black-Eyed Susan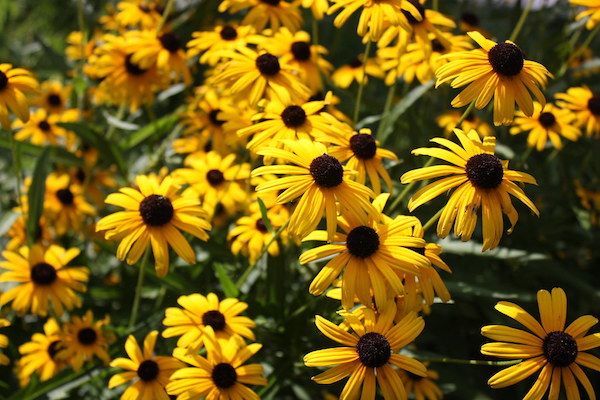 I grew up in the Midwest, and one of my earliest memories is driving West through the corn fields past drainage ditches full of Black-Eyed Susans. Black-Eyed Susans are another perennial that grows in clumps, so you can transplant patches of spot color all round your property. (I like massed color in a garden; it's a pleasure, and easy to do.)
Clover
White clover is flowering again! Please let it flower. In the UK, its leaves are a food plant of the Common Blue butterfly, and its nectar-rich flowers are sought after by all kinds of bumblebees – including this awesome little pollinator in our garden today! ? pic.twitter.com/HiwmXJ43Nh

— Little Green Space ? (@LGSpace) June 9, 2019
White clover, an annual, is the very first thing I plant; I get a couple of pounds of seed, dig up and rake the earth around the periphery of the garden proper, and scatter the seed thickly. In a fine example of stacking functions, the clover outcompetes weeds, at least for a time; supplies nectar to pollinators, as we see; and decoys critters like deer, who eat the clover and go away, instead of venturing further into the garden.
Columbine (via).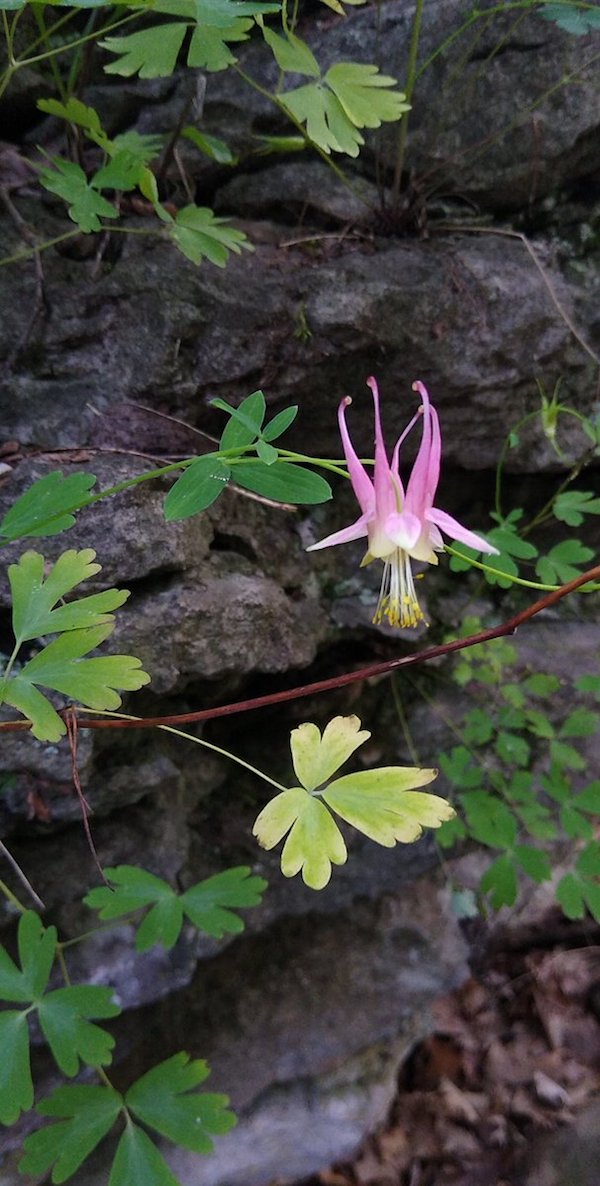 Columbines are self-seeding perennials and hence, in their own shy way, invasive. (The photograph shows columbine growing among the rocks; for some reason, that's where my Columbine like to grow, too.) The graceful and old-fashioned Columbine flowers always remind me of dancers, because in one of the Doctor Doolittle books, a pantomime character named "Columbine," played by Dab Dab the duck, is dressed in a pink tutu.
Forsythia (via).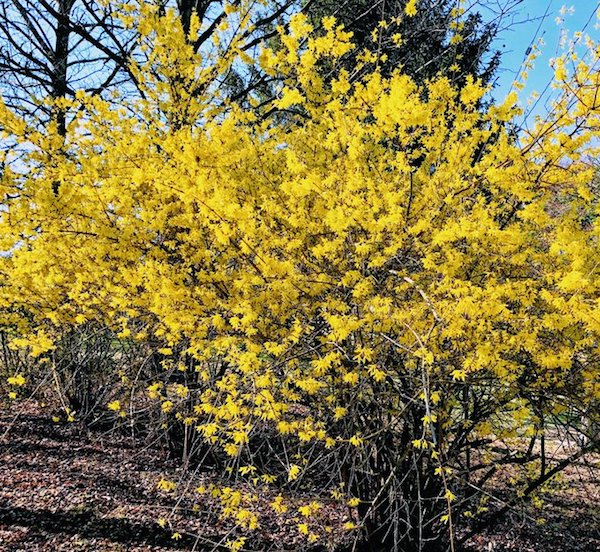 I always feel that Spring has really arrived when the Forsythia (perennial) fires. Except now the Forsythia has gotten all confused, and blooms in September, too.
Honeysuckle (via).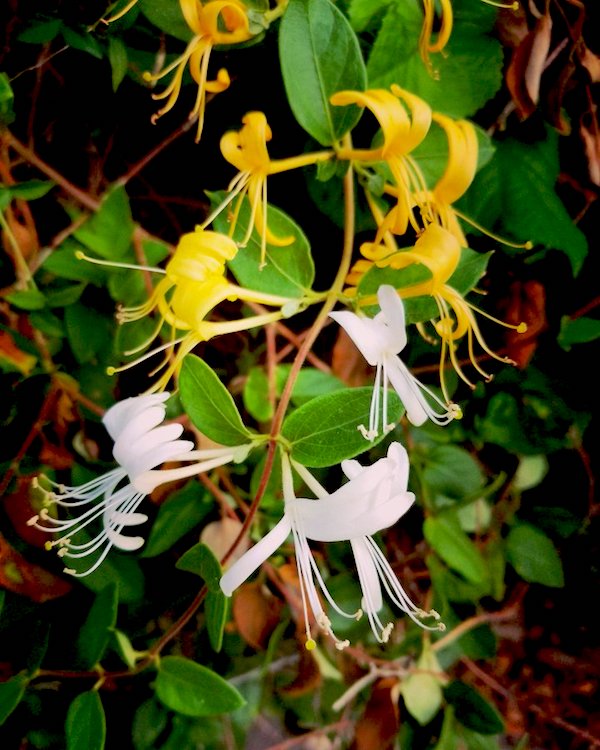 My Southern friends expressed amazement when they discovered I actually had to grow the extremely vigorous honeysuckle; but I originally had three varieties, and the Maine winter eradicated two. They too have old-fashioned and graceful flowers, and pollinators like them.
Iris (via).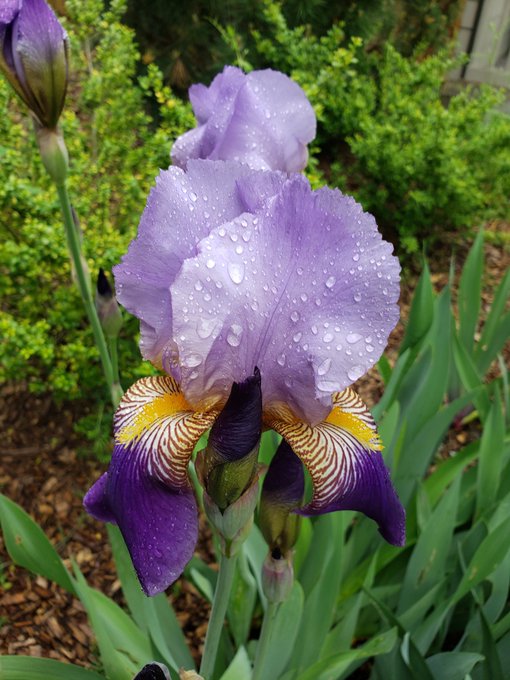 Lovely, fragrant, fleeting, and generally somebody else's, because I can't be bothered to dig up the bulbs and divide them.
Peony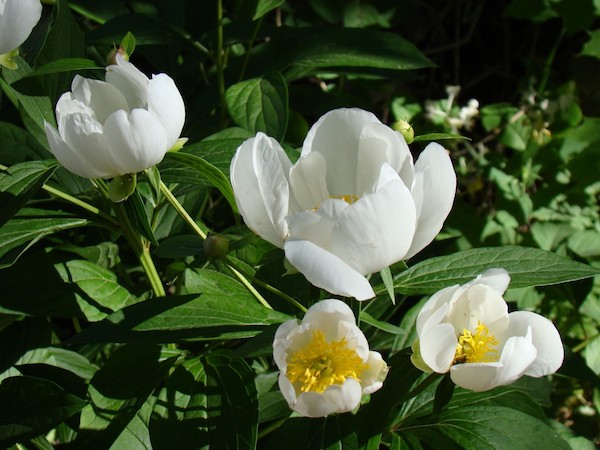 I couldn't find a photo of my favorite stage in the (perennial) peony's life-cycle: When the petals begin to fall on the leaf mulch and change color, they create a rich tapestry of decay
Poppy (via).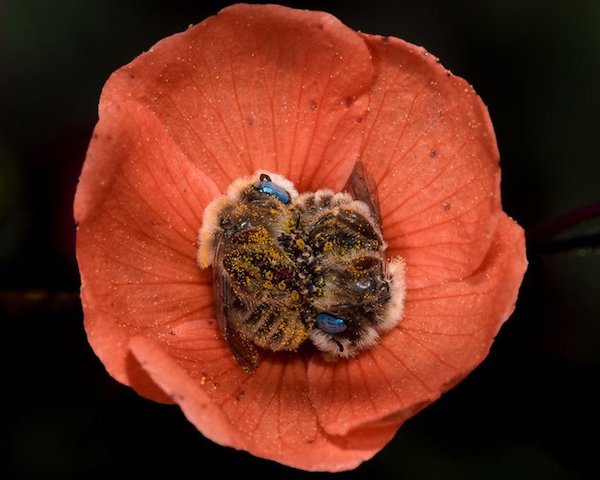 My poppies (reseeding annuals) come from a mix ("Northern Lights") of wildflower seeds that mature at different times, so there is always something in bloom. Poppies are the last. Like sunflowers, they are strongly heliotropic, and it's amazing to see them stretching out, almost at a 45° angle, to catch the last of the sun.
Rose (via).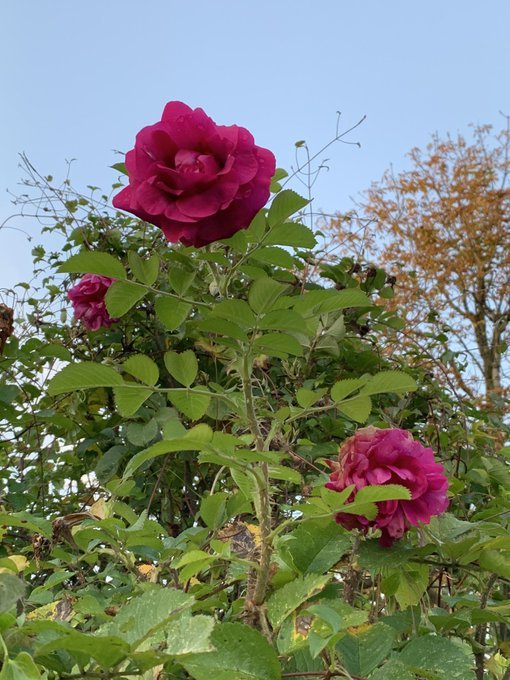 A beach rose, another invasive hardy perennial. We have stacking functions here as well: A lovely scent, with extremely prickly stems that serve as a fence. (Sadly, beach roses are favorites of Japanese beetles, for which I found no remedy that didn't involve work. I finally ended up using neem oil; I can see no purpose for Japanese beetles, which seem to do nothing in life but eat, and yet don't serve as food for other creatures. I guess that makes me a poor candidate for Buddhism.)
Squash (via).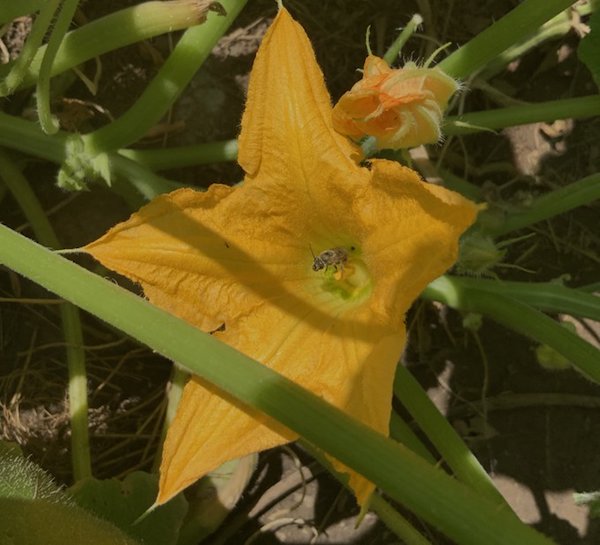 Squash, extremely annual. Squash flowers often come as a pleasant surprise, making a sudden appearance out of the great sun-and-shadow-dappled tangle of vines and tendrils that is a squash patch.
Sunflower (via).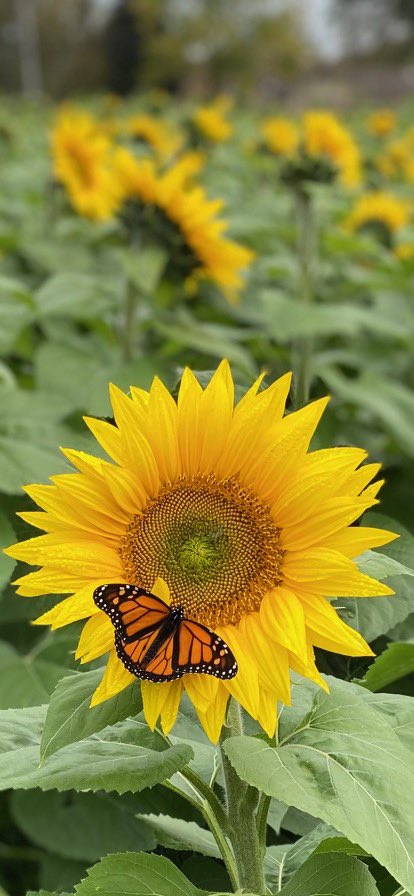 Sunflowers, self-seeding annuals. The more sunflowers, the better! (And that's what sunflowers think, too; they give off toxins from their roots, leaves, stems, flowers, seeds, etc., that impede the growth of other plants or even kill them. However, where the sunflowers grow, I don't care if anything else grows, because the ginormous sunflower patch is such a pleasure, to me and to pollinators.)
Tomatos (via).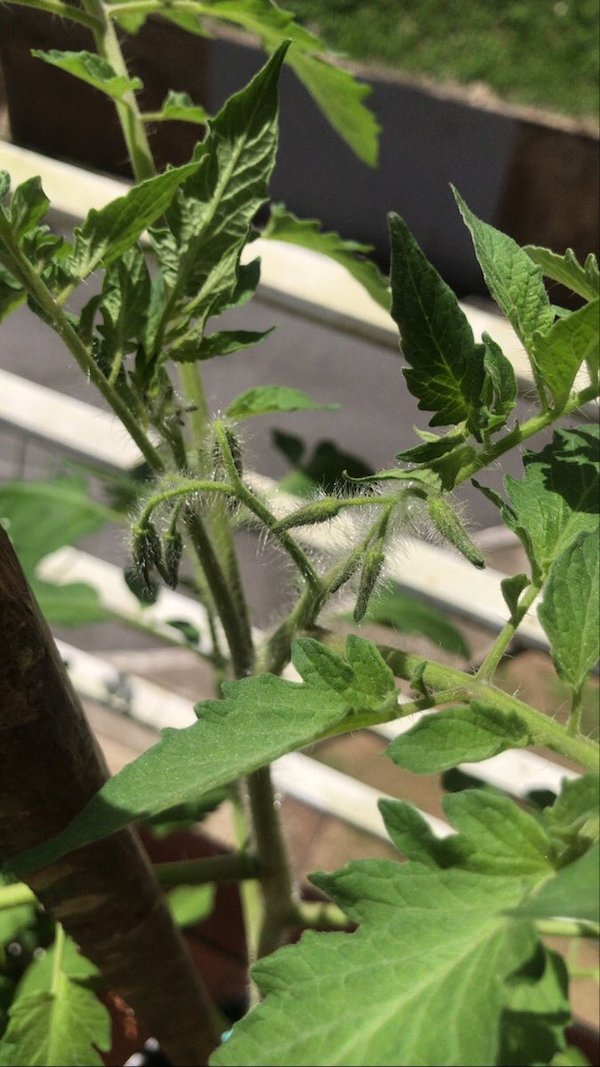 This photograph shows the great moment when you notice your tomatoes (nonhardy perennial) have started to put forth flowers, even if they have not yet bloomed.
Zinnia (via).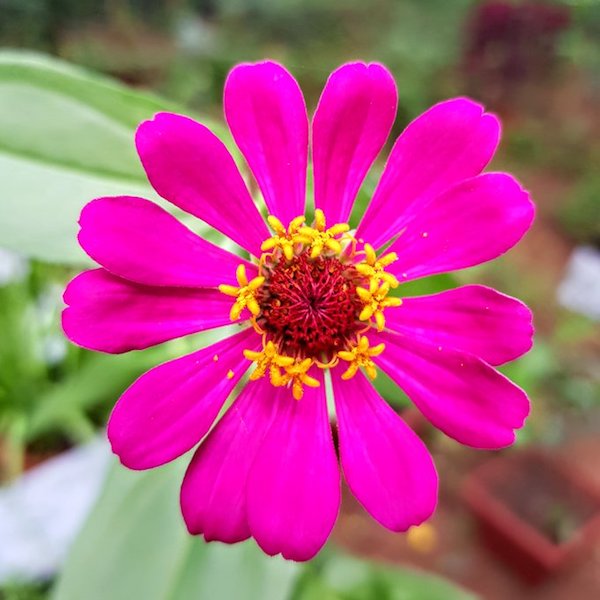 I like zinnias (annual) because they are very easy to grow, they last the whole summmer into the fall, and they come in all colors and sizes. I buy some flats and create masses of colors with them. Pollinators like them too!
* * *
So, if you are feeling some angst, as I am, I hope this post brings a little relief. From Michael Pollan's Botany of Desire ("A Plant's-Eye View of the World):
This book tells a different kind of story about Man and Nature, one that aims to put us back in the great reciprocal web that is life on Earth. My hope is that by the time you close its covers, things outside (and inside) will look a little different, so that when you see an apple tree across a road or a tulip across a table, it won't appear quite so alien, so Other. with us means looking at ourselves a little differently, too: as the objects of other species' designs and desires, as one of the newer bees in Darwin's garden – ingenious, sometimes reckless, and remarkably unselfconscious.
I always find "the great reciprocal web" extremely comforting to cotemplate, which I prefer to do from the midst of it. Readers, what are your favorite plants, and why?
NOTES
[1] I'm committed aesthetically to long exposures with great depth of field, and I never have found a way to photograph flowers satisfactorily with that constraint. Flowers seem optimized to move with the breeze, for some reason! And so all I get is colored blurs. Maybe I should try again, and work with that.