By Lambert Strether of Corrente.
Bird Song of the Day
So that is a thrush!
#COVID19
At reader request, I've added this daily chart from 91-DIVOC. The data is the Johns Hopkins CSSE data. Here is the site.
Here are the United States regions: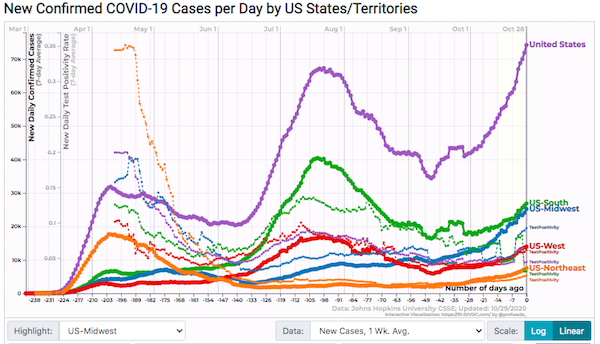 No sign of relief, sadly. (I don't know what other strongly regional countries look like, but the first of our three stairsteps was in the Northeast, the second in the South, and to a lesser extent the West, and the third… everywhere. This pattern merits explanation, and I'm not sure I've seen it. Readers? Whatever our problems may be, we're great at natural experiments!
Here are the Swing States as I conceive them (see below):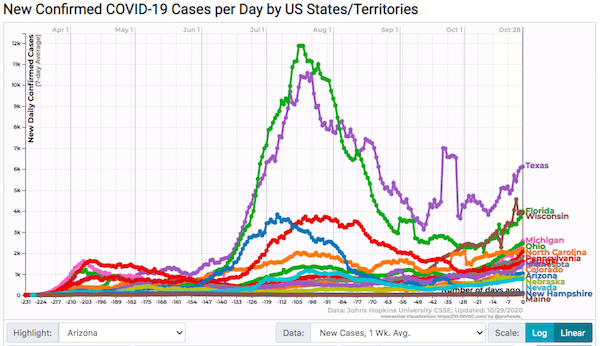 No changes.
"Trump's path to victory narrows as Covid cases surge in Midwest" [Financial Times].
Here are positivity and mortality laid against confirmed cases: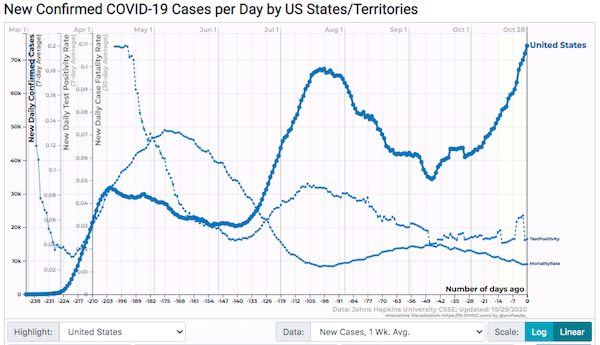 "Trump's path to victory narrows as Covid cases surge in Midwest" [Financial Times]. "But the president's hopes of winning the upper Midwestern states that propelled him to victory in 2016 — Pennsylvania, Michigan and Wisconsin — have taken a blow in recent weeks as a third surge of Covid-19 cases ravages the region and focuses voters' attention on his administration's handling of the pandemic…. FT analysis shows that in battlegrounds where the number of Covid-19 cases has risen more than 7 per cent in the past week, Mr Biden has an average polling lead of 4.3 points. Conversely, Mr Biden's lead in states where the rise in cases is 6 per cent or less is just 1.4 points." Here is the FT chart: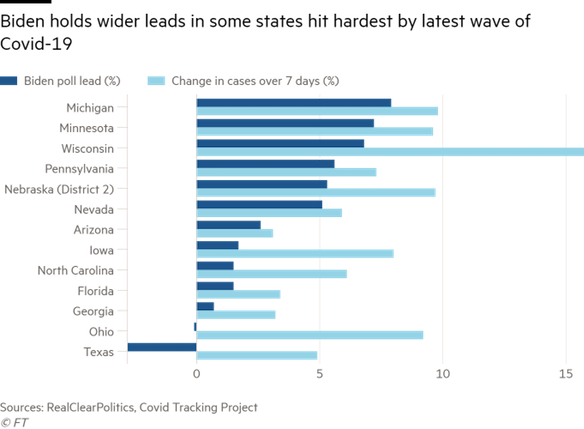 The FT prose confirms my priors. But I'm not sure the chart confirms either. It has occured to me that an area that has already undergone the opioid epidemic and falling life expectancy might take Covid in stride. (This doesn't explain the nationwide rise, of course.)
"Here are all the reasons COVID-19 cases are surging again" [MarketWatch]. The article is worth reading in full, but let me quote the reasons:
1. Falling temperatures mean more people are socializing indoors

2. People are dealing with "pandemic fatigue"

3. This translates to more social gatherings with extended family and friends

4. The return of college students in September is a likely culprit behind this wave of infections
And:
Thanksgiving, however, is going to be a critical holiday and one that is already stressing public health experts. ("The traditional Thanksgiving Day festivities have all the characteristics of the superspreader events," [said Malia Jones, an epidemiologist and associate scientist in health geography at the University of Wisconsin–Madison] said.) It's commonly spent indoors, with extended family that one doesn't see on a daily basis and features a chatty meal that may stretch over several hours. "It's one thing to say, I'm not going to get together with my family for Labor Day," [Chris Meekins, director of health-care policy at Raymond James] said. "It's a completely different level for a lot of folks to say, I'm not going to get together for Thanksgiving, or I'm not going to get together for Christmas."
Worth noting that China scrapped New Years' celebrations in January, and imposed a travel lockdown,
Politics
"But what is government itself, but the greatest of all reflections on human nature?" –James Madison, Federalist 51
"They had one weapon left and both knew it: treachery." –Frank Herbert, Dune
"They had learned nothing, and forgotten nothing." –Charles Maurice de Talleyrand-Périgord
The electoral map. July 17: Georgia, Ohio, ME-2 move from Leans Republican to Toss-up. Continued yikes. On July 7, the tossup were 86. Only July 17, they were 56. Now they are 91. This puts Biden at 278, i.e. over 270. August 18: Still no changes. August 31: Indiana moves from Likely to Safe Republican. September 9: No changes. September 14: No changes. September 21: No changes. September 22: Ohio moves from Toss-up to Leans Republican. September 25: Ohio moves from Leans Republican to Toss-up. September 30: Iowa moves from Leans Republican to Toss-up. October 3: Indiana moves from Safe to Likely Republican; Iowa moves from Toss-up to Leans Republican. October 6: Arizona moves from Toss-up to Leans Democratic; Iowa from Leans Republican to Toss-up; Indiana from Likely to Safe Republican; New Mexico from Likely to Safe Democratic. October 8: NE-2 moves from Toss-up to Leans Democratic. October 13: Indiana moves from Likely to Safe Republican. October 16: Indiana moves from Safe to Likely Republican. October 19: No changes. October 21: NE-1 moves from Likely to Safe Republican. .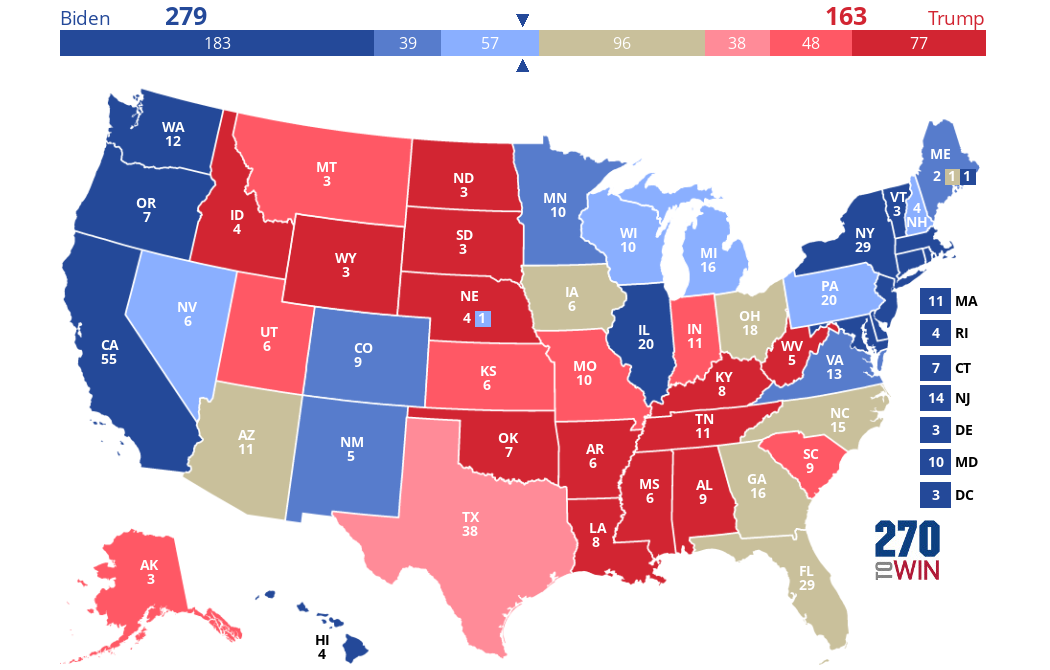 Click the map to create your own at
270toWin.com
The election countdown:
Here is an early voting calendar. Maybe we'll have a whole series of October surprises, since election day is gradually being devalued as an event.
And here are mail-in voting ruies, which naturally differ state by state.
"2020 General Election Early Vote Statistics" [U.S. Elections Project (SlayTheSmaugs)].
"How to Vote in 2020: Everything You Need to Know" [Bloomberg]. "Casting a ballot in the U.S. isn't always easy, with a complex web of varying state rules governing how and when you can vote. The Covid-19 pandemic has introduced even more complexity in 2020, as many states have made significant changes to allow for more early voting or voting by mail. More changes could come as lawsuits in several states wind their way through the courts. That's why Bloomberg News is answering these critical questions so you'll know what you need to do to make sure your vote is counted in the 2020 election."
Here are is an enormous spreadsheet on voting equipment, so you can check your own jurisdiction (hat tip, UserFriendly. I should really aggregate these onto a map…).
"2020 General Election Early Vote Statistics" [U.S. Election Project].
"California Ballots Mailed and Returned Tracker" [Political Data]. • California only, sadly.
"Where's My Ballot?" [Alex Padilla]. "Tracking your vote-by-mail ballot—when it is mailed, received, and counted—has never been easier. The California Secretary of State is now offering Where's My Ballot?—a new way for voters to track and receive notifications on the status of their vote-by-mail ballot. Powered by BallotTrax, Where's My Ballot? lets voters know where their ballot is, and its status, every step of the way." • Ballottrax. Shoulda gone long….
"State Fact Sheets" [Georgetown Universitty]. "[F]act sheets for all 50 states explaining the laws barring unauthorized private militia groups and what to do if groups of armed individuals are near a polling place or voter registration drive."
All the deadlines, rules, and voting hours to know when casting your ballot in the 2020 presidential election" [Business Insider]. "Here are 12 interactive graphics, charts, and maps Insider created to answer your most common questions about voting in 2020."
2020
Swing States

Here is my list of Swing States, with votes in the Electoral College and selected ballot initiatives in parentheticals):

Arizona (11) (marijuana; taxes(=)
Colorado (9) (taxes, lottery, abortion, paid medical leave)
Florida (29) (minimum wage)
Georgia (16) (declaratory relief)
Iowa (6) (Constitional convention)
Maine-02 (1) (vax)
Michigan (16) (oil and gas royalties; privacy)
Minnesota (10)
Nebraska-02 (1) (payday lending; gambling)
Nevada (6) (marriage)
New Hampshire (4)
North Carolina (15)
Ohio (18)
Pennsylvania (20)
Texas (38)
Wisconsin (10)

Inspired by the thread starting with Arizona Slim's comment here, I went to Ballotpedia and added selected, hopefully hot button, ballot initiatives, because sometimes they affect turnout. If you live in a swing state, please comment if I got the hot buttons wrong!

This is totally not a prediction, but like everyone else is doing I played with the 270toWin map (it's easy and interactive; you click on a state to change its color, and the count changes.) But herewith:

I gave Trump both Pennsylvania and Michigan (pale blue in the expert consensus) on the idea there'd be extraordinary Republican turnout on election day. Totally anecdotal! Then I gave Trump the following toss-ups: Florida (local Dems can't get out of their own way), Georgia (feral Republican machine), North Carolina (ditto), and Ohio (Covid won't phase you if you've been abandoned to the opioid epidemic.) Now, if Biden wins Florida (they count fast) and Texas on election night, it's all over, and that's possible, too. (Another map I should make, maybe tomorrow, is a map where neither candidate gets to 270. Since that's the stupidest and most damaging outcome, it's probably a lot more likely than we think.) You can go to 270toWin and make your own maps. If you're deep enough in, send me your map + your theory of the case. Maybe somebody will make the right call!

* * *

"Early voting trends show Democrats falling short in 3 of 4 battlegrounds" [The Hill]. "[I]f people are simply scared to give their opinion to pollsters [or game the system by lying], another option is to look at the breakdown of who has actually voted. Forbes polling indicates that roughly half of all voters plan to vote early, with 62 percent of Democrats planning to vote early while 72 percent of Republicans plan to wait and vote on Election Day. If that happened and independents split evenly (last time Trump won them), then Democrats would need to win early voting at least 70 percent to 30 percent to be on pace to barely overcome a 31 percent to 69 percent disadvantage in partisan Election Day votes. The Elect Project indicates Democrats are only hitting that mark in one of four battleground states where data on the partisan breakdown of early voters is available…. A strong ground game is crucial to Democrats, normally including collecting ballots everywhere from college campuses to nursing homes, and on Election Day driving thousands of vans filled with likely supporters to the polls. None of that is happening because of COVID-19, and the first time they tried to win an election with no ground game resulted in a double-digit loss. The fact that Republicans were knocking on a million doors a week compared to none for Biden until the final weeks will result in Republicans winning Election Day by millions of votes. So far the Democrats have not built the 70 percent to 30 percent edge they need in early voting to wrap up a win." • Well, it's an interesting argument, but I think the autjhor over-eggs the pudding at the end. I think the best Trump can hope for is a squeaker. Just like last time. And I'm extremely dubious he can pull it out.

PA: "Some Pennsylvania counties will count mail-in ballots last" [CNN]. "Pennsylvania's counties have starkly different plans for when they will begin processing their pre-Election Day ballots, with Democratic strongholds moving to get them counted as quickly as possible while other areas plan to tally in-person votes first. Unlike most states, Pennsylvania law does not allow officials to start processing early ballots until 7 a.m. on Election Day. Philadelphia and other areas plan to start work on their mail-in votes at 7 a.m. sharp, officials said, but swing counties like Erie and red ones like Cumberland are intending to wait until after the polls close or even until the next morning to begin."

* * *

Biden (D)(1): "How Joe Biden Is Positioning Himself as a Modern FDR" [Time]. "With just a week before the election, Biden traveled to Warm Springs, Ga., Tuesday to deliver a speech on national healing and economic redemption—and to wrap himself in FDR's mantle. The venue was laden with significance. Not only because Biden is making a late push for victory in Georgia, but also because Warm Springs was where Roosevelt went to convalesce from the paralysis that followed a polio diagnosis in his 30s. Roosevelt had a little white house there, and the place became both a second home to him and a symbol of his fortitude in the face of illness. 'This place, Warm Springs, is a reminder that though broken, each of us can be healed,' Biden said. 'That as a people and a country, we can overcome a devastating virus. That we can heal a suffering world. That yes, we can restore our soul and save our country.'" • Which all sounds great, 'til you look at the record. If you look again at Ornstein's piece on Biden's first 100 days, it's nothing like FDR's first 100 days, which were not marked by cautious incrementalism.

Trump (R)(1): "College-Educated Women Are Fleeing Donald Trump. It Could Cost Him North Carolina" [Time]. "Trump lost [college-educated women] by just 6 percentage points in 2016 nationally. Now? He's down by 37 percentage points coast to coast."

Trump (R)(2): From police scanner Twitter, a play-by-play of the Trump rally debacle in Nebraska:

Medics treating numerous parties with medical issues as they are walking out.

— Omaha Scanner (@omaha_scanner) October 28, 2020

Looks like the root cause was more attendance than planned for, interestingly. Wretched advance work, however.

* * *

"Court declines to reinstate COVID-19 accommodations for elections in Wisconsin" [SCOTUSBlog]. Better, I think, than Bloomberg's coverage, and worth reading in full. "The 5-3 ruling means that the the election will go forward without the accommodations, which included extending the deadline for the receipt of absentee ballots and making it easier for local election officials to work in areas where they do not live." • If there's a common thread to this season's spate of election rulings, it's that the Court is being deferential — perhaps too deferential? — to State legislatures. Making this footnote from Kavanaugh all the more mind-boggling:

The U.S. Supreme Court's conservatives are carving a path that could let President Trump win a contested race #Election2020

Our explainer via @GregStohr on the "Kavanaugh footnote" everyone's talking about https://t.co/uqqkQ40xnU pic.twitter.com/yHHsnl9jfH

— Beth Ponsot (@bponsot) October 28, 2020

Bush v. Gore contained the famous sentence "Our consideration is limited to the present circumstances, for the problem of equal protection in election processes generally presents many complexities," mocked in 2000 as "good for one time only"; not precedential, in other words (although that hasn't stopped other courts from citing it). But here is Kavanaugh citing to it, multiple times, in a footnote. The RBG riots didn't come to anything — brunch awaited — but if anything could cause a Blue "bourgeois riot," it would be a Bush v. Gore replay.

"How to make an election crisis" [Ryan Cooper, The Week]. "Fun fact: With the confirmation of Amy Coney Barrett, the Supreme Court now contains as many Republican campaign lawyers who worked for George W. Bush on Bush v. Gore — the decision that amounted to election theft, and was so ridiculously partisan that it said itself it should not be cited as precedent — as it does Democrats…. A big tell in the Kavanaugh screed is found in this aside: "States want to avoid the chaos and suspicions of impropriety that can ensue if thousands of absentee ballots flow in after Election Day and potentially flip the results of an election." In fact, as Justice Elena Kagan pointed out in a blistering dissent, until all the votes are counted, there is no result to flip."
Realignment and Legitimacy
Filing this here, for reasons that will become obvious:

"An Oral History of the Day Everything Changed" [Garrett Graff, Wired]. "On March 11, 2020, the coronavirus pandemic seemed to crystallize in the national consciousness. Americans look back on the turning point." • Interviews with Mark Cuban, Carolyn Maloney, Elise Stefanik, Douglas Brinkley, Scott Van Pelt, Dan Pfeiffer, Claudia Sahm, Peter Tuz. Gabriella Orr, Philip Rucker, Liz Cheney, and Royce Young, among others; PMCs and upwards. However, Our elites obviously don't read Naked Capitalism:

So, arguably, for the truly alert, March 11 was not the day everything changed, but January 23. (And our elites don't read Taleb either; Joseph Norman, Yaneer Bar-Yam, and Nassim Nicholas Taleb published Systemic risk of pandemic via novel pathogens – Coronavirus: A note on January 26, 2020.) So the question becomes: Why were our elites so oblivious? Were they waiting for Trump to legitimize the crisis? Really?
Stats Watch
At reader request, I added some business stats back in. Please give Econintersect click-throughs; they're a good, old-school blog that covers more than stats. If anybody knows of other aggregators, please contact me at the email address below.
GDP: "Advance Estimate 3Q2020 GDP Shows Record Improvement" [Econintersect]. "The advance estimate for third-quarter 2020 Real Gross Domestic Product (GDP) is a positive 31.4%. This growth is a significant improvement from the previous quarter's decline of 31.4 % if one looks at quarter-over-quarter headline growth. The year-over-year rate of growth also significantly improved but remains in contraction….. I am not a fan of quarter-over-quarter exaggerated method of measuring GDP – but the recovery from the pandemic is not over as the year-over-year GDP growth remains in contraction."
Employment Situation: "24 October 2020 Initial Unemployment Claims Improve" [Econintersect]. "The more important (because of the volatility in the weekly reported claims and seasonality errors in adjusting the data) 4 week moving average moved from 812,250 (reported last week as 811,250) to 787,750… The four-week rolling average of initial claims is 266 % higher than one year ago (versus the 277 % higher last week)." • Modified rapture….
Rail: "Rail Week Ending 24 October 2020 – Modest Improvement Continues" [Econintersect]. "Total rail traffic has been mostly in contraction for over one year – and now is slowly recovering from the coronavirus pandemic…. Container exports from China are now recovering, container exports from the U.S. remains deep in contraction. This week again intermodal continued in expansion year-over-year and continues on a strengthening trendline. However, carloads remain in contraction. But overall, rail is on an improving trendline."
* * *
Mr. Market: "Dow swings over 100 points higher Thursday as investors parse U.S. GDP's record third-quarter rise" [MarketWatch]. "U.S. stock gauges on Thursday were trying to claw back at least a portion of yesterday's rout for the broader market, as investors digested a preliminary reading of the health of the U.S. economy that indicated a massive rebound in growth from the recession caused by the coronavirus pandemic, albeit off an economic base that had shrunk considerably….. Investors fear a tight race that could produce a contested election outcome, potentially leading to weeks of uncertainty and acrimony, while a more clear-cut outcome is seen paving the way for near-term spending to aid the economy." • I remember in 2000, during Bush v. Gore, the word was "closure," and I assume everybody was craved that because our famously entrepreneural and steel-nerved investment community hates uncertainty…
* * *
.
Today's Fear & Greed Index: Blank again [CNN]. I find this a little disturbing, today too. I'll keep putting this up for a bit in the hope of stimulating CNN to fix it, somehow. Especially since Mr. Market is having mood swings.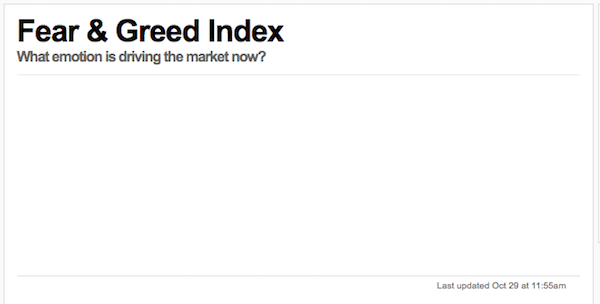 I went into the HTML, and indeed there is the URL to a file with a *.PNG extension there, but when I put that URL into the browser bar, I get a "Cache retrieval failed" message. I sent email to comments@cnn.com, informing them. Perhaps other readers could contact them in other media, like the Twitter. UPDATE CNN bounced it. Dang.
The Biosphere
"A Scientist Who Delights in the Mundane" (interview) [Quanta Magazine]. L. Mahadevan: "While visiting an agricultural college in Bangalore [India] in 2009, I saw a termite mound for the first time during a stroll through campus. I knew little about them but decided it would be a cool thing to study. Termites are considered among the greatest architects on Earth. A couple of years ago, a network of termite mounds in Brazil was discovered that is as large as Great Britain. Inside each mound, which is a few meters tall, millions of millimeter-sized termites live. That's comparable to humans living in buildings a few kilometers high. The mounds are built to harness the environment — places where temperature, humidity and gas concentrations are well controlled. We have studied the function of termite mounds in both India and Namibia, and most recently have begun to understand the principles of how they are built. Our experiments showed that the mound operates like a lung, breathing once a day in response to external temperature changes. And we have a mathematical model that shows how the mound geometry, environmental conditions and termite behavior are all interrelated."
Health Care
"Integrated Single-Cell Atlases Reveal an Oral SARS-CoV-2 Infection and Transmission Axis" (preprint) [medRxiv]. This is super-interesting, looks really good to me, and is well worth a read by our epidemiologists; I really can't excerpt it properly. From the abstract: "Despite signs of infection, the involvement of the oral cavity in COVID-19 is poorly understood….. COVID-19 autopsy tissues confirmed in vivo SARS CoV-2 infection in the salivary glands and mucosa…. Matched nasopharyngeal and saliva samples found distinct viral shedding dynamics and viral burden in saliva correlated with COVID-19 symptoms including taste loss. Upon recovery, this cohort exhibited salivary antibodies against SARS-CoV-2 proteins. Collectively, the oral cavity represents a robust site for COVID-19 infection andimplicates saliva in viral transmission."
Here is the three stair-step pattern again:
I just did a Google Trends search for "loss of taste" and I gasped at the chart shape. pic.twitter.com/K9RpRaVBeu

— ? damned sinker ? (@dansinker) October 27, 2020
"It may be time to reset expectations on when we'll get a Covid-19 vaccine" [STAT]. "he ambitious drive to produce Covid-19 vaccine at warp speed seems to be running up against reality. We all probably need to reset our expectations about how quickly we're going to be able to be vaccinated. Pauses in clinical trials to investigate potential safety issues, a slower-than-expected rate of infections among participants in at least one of the trials, and signals that an expert panel advising the Food and Drug Administration may not be comfortable recommending use of vaccines on very limited safety and efficacy data appear to be adding up to a slippage in the estimates of when vaccine will be ready to be deployed. Asked Wednesday about when he expects the FDA will greenlight use of the first vaccines, Anthony Fauci moved the administration's stated goalpost. 'Could be January, could be later. We don't know,' Fauci, director of the National Institute of Allergy and Infectious Diseases, said in an online interview with JAMA editor Howard Bauchner."
"Ethacridine inhibits SARS-CoV-2 by inactivating viral particles in cellular models" (preprint) [bioRxiv]. These dudes put a patent on this. Nevertheless, from the Abstract: "Here we report that ethacridine, a safe and potent antiseptic use in humans, effectively inhibits SARS-CoV-2, at very low concentrations (EC50 ~ 0.08 μM). Ethacridine was identified through a high-throughput screening of an FDA-approved drug library in living cells using a fluorescent assay. Interestingly, the main mode of action of ethacridine is to inactivate virus particles, preventing binding to the host cells. Thus, our work has identified a potent drug with a distinct mode of action against SARS-CoV-2." • Readers know I like repurposing existing, proven drugs.
Class Warfare
"Men Build Up Placid Surfaces That Women Puncture" (reprint) [David Graeber, Delancey Place]. "Women may have regularly deferred to men as the authoritative voices for representing the community, but as often as not, they would push the men on stage only to subvert their message as soon as they were done with it. Even the old woman who took me to her son to narrate vil­lage history ended up interrupting him, as soon as he was drawing to a close, to tell the story of a notorious local witch — completely shattering the image of solidarity he had just done his best to convey, and causing much consterna­tion among the assembled menfolk. Things like this happened again and again. At times it seemed to take on an almost ritualized cast. In the end, I came to conclusion that it was this very process — men building up the placid surfaces that women would then mischievously puncture and expose — that history and moral discourse really consisted of. The object only existed when it had been halfway ripped apart. … Many argue that all societies distinguish between a public sphere identified especially with men, and domestic sphere, identified especially with women; and that one way that women are suppressed is by being denied full access to the public arena. Bloch argues [Madagascar] is no exception. But one extension of the ritualized nature of public discourse in [Madagascar] is that — as I have already pointed out at some length — authoritative men tend to avoid displays or references to conflict, so that it is especially women who voice it, just as it is especially women who are publicly critical of established verities."
News of the Wired
"The Incredible Story of the Great Cannonball Boom" [GQ]. "On the outside, his Mustang looked pretty much like any other car on the road. Inside was another story. Splayed across Ashmore's dashboard was an array of devices, including a CB radio, a mounted tablet operating Waze and Google Maps, and an iPhone running a timer. Stuck to the inside of the windshield was a radar detector; on the front grille and back bumper were the sensors for a laser jammer. Even more conspicuously, strapped beside and behind Ashmore, where the front and rear passenger seats should have been, huge fuel tanks sloshed with gasoline. A series of hoses connected them—along with another enormous tank, this one in the trunk—to the car's main fuel tank. An officer inspecting Ashmore's rig could have been forgiven for concluding that he was driving a giant gasoline bomb." • This was a rented Mustang. A terrific story that reminds us how enormous this country is.
* * *
Readers, feel free to contact me at lambert [UNDERSCORE] strether [DOT] corrente [AT] yahoo [DOT] com, with (a) links, and even better (b) sources I should curate regularly, (c) how to send me a check if you are allergic to PayPal, and (d) to find out how to send me images of plants. Vegetables are fine! Fungi and coral are deemed to be honorary plants! If you want your handle to appear as a credit, please place it at the start of your mail in parentheses: (thus). Otherwise, I will anonymize by using your initials. See the previous Water Cooler (with plant)
here
. Today's plant (CK):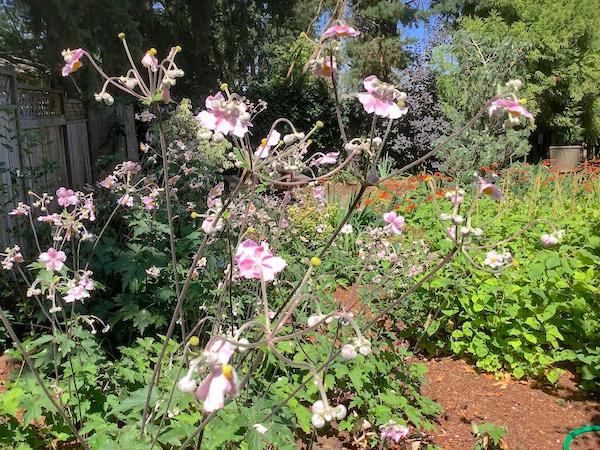 CK writes: "In case you're in the mood to feature another shot of delightful Japanese anemones, here is a photo from this summer."
* * *
Readers: Water Cooler is a standalone entity not covered by the recently concluded and — thank you! — successful annual NC fundraiser. So if you see a link you especially like, or an item you wouldn't see anywhere else, please do not hesitate to express your appreciation in tangible form. Remember, a tip jar is for tipping! Regular positive feedback both makes me feel good and lets me know I'm on the right track with coverage. When I get no donations for five or ten days I get worried. More tangibly, a constant trickle of donations helps me with expenses, and I factor in that trickle when setting fundraising goals:
Here is the screen that will appear, which I have helpfully annotated.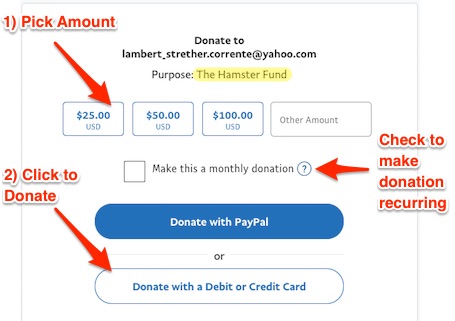 If you hate PayPal, you can email me at lambert [UNDERSCORE] strether [DOT] corrente [AT] yahoo [DOT] com, and I will give you directions on how to send a check. Thank you!