This is Naked Capitalism fundraising week. 1754 donors have already invested in our efforts to combat corruption and predatory conduct, particularly in the financial realm. Please join us and participate via our donation page, which shows how to give via check, credit card, debit card, or PayPal. Read about why we're doing this fundraiser, what we've accomplished in the last year, and our current goal, more original reporting.
By Lambert Strether of Corrente
Patient readers, Trump's case of Covid has completely thrown me off my plan to cover more stories at the state level (as opposed to national punditry and polling) both yesterday and today. I'm now going to go back and add that in. So a pantry clearout awaits. –lambert
Bird Song of the Day
I love the caption: "Display calls heard near the beginning, middle and end of the recording, amidst the marsh's dawn chorus, splash of a beaver tail, and take-off of a duck." Bitterns are said to boom, but if I'm right, I'm hearing more of a gulp "near the beginning, middle and end." Lovely dawn music, though!
#COVID19
At reader request, I've added this daily chart from 91-DIVOC. The data is the Johns Hopkins CSSE data. Here is the site.
Here are the United States regions: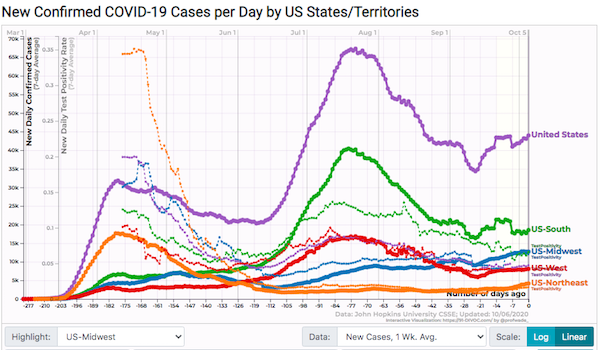 Slight but unmistakable rise in all regions now. Ugh.
Here are the Swing States as I conceive them (see below):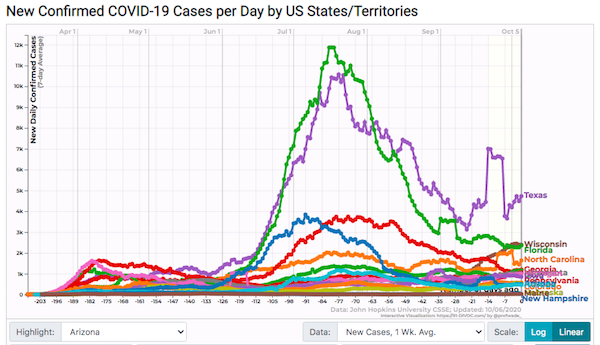 Texas bounces (more data woes), Wisconsin continues steady rise…
Politics
"But what is government itself, but the greatest of all reflections on human nature?" –James Madison, Federalist 51
"They had one weapon left and both knew it: treachery." –Frank Herbert, Dune
"They had learned nothing, and forgotten nothing." –Charles Maurice de Talleyrand-Périgord
The electoral map. July 17: Georgia, Ohio, ME-2 move from Leans Republican to Toss-up. Continued yikes. On July 7, the tossup were 86. Only July 17, they were 56. Now they are 91. This puts Biden at 278, i.e. over 270. August 18: Still no changes. August 31: Indiana moves from Likely to Safe Republican. September 9: No changes. September 14: No changes. September 21: No changes. September 22: Ohio moves from Toss-up to Leans Republican. September 25: Ohio moves from Leans Republican to Toss-up. September 30: Iowa moves from Leans Republican to Toss-up. October 3: Indiana moves from Safe to Likely Republican; Iowa moves from Toss-up to Leans Republican. For all the sturm and drang, and the polls, the consensus on the electoral college remains remarkably static: Biden ahead, Trump within striking distance. Of course, if Trump is still in striking distance on Election Day, that will count as a loss. Maybe.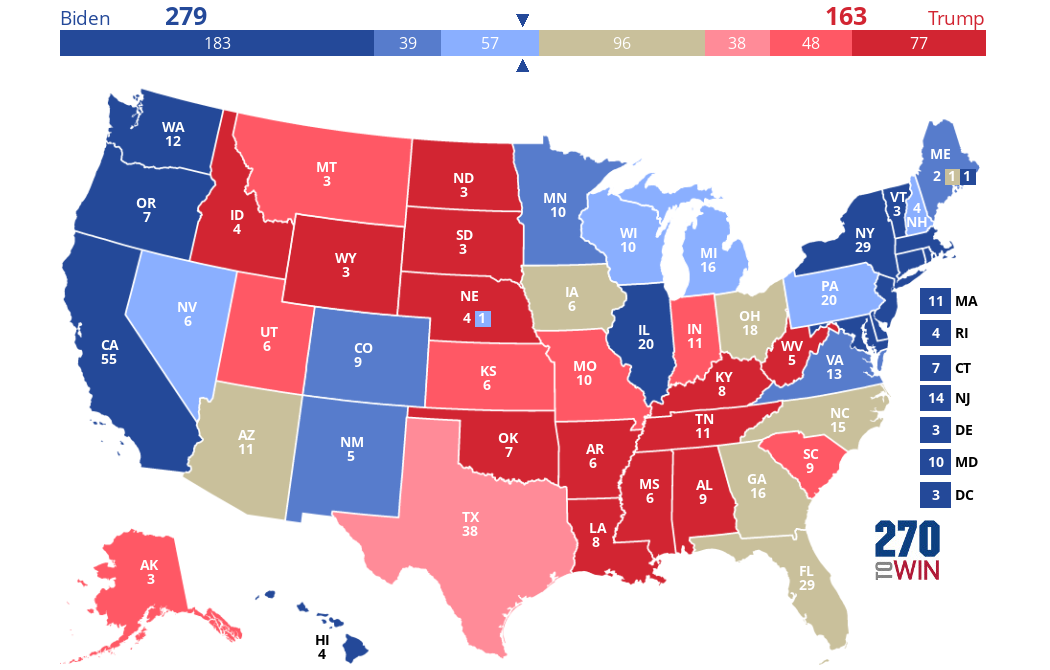 Click the map to create your own at
270toWin.com
The election countdown:
Here is an early voting calendar. Maybe we'll have a whole series of October surprises, since election day is gradually being devalued as an event.
And here are mail-in voting ruies, which naturally differ state by state.
NEW "2020 General Election Early Vote Statistics" [U.S. Elections Project (SlayTheSmaugs)].
"How to Vote in 2020: Everything You Need to Know" [Bloomberg]. "Casting a ballot in the U.S. isn't always easy, with a complex web of varying state rules governing how and when you can vote. The Covid-19 pandemic has introduced even more complexity in 2020, as many states have made significant changes to allow for more early voting or voting by mail. More changes could come as lawsuits in several states wind their way through the courts. That's why Bloomberg News is answering these critical questions so you'll know what you need to do to make sure your vote is counted in the 2020 election."
Here are is an enormous spreadsheet on voting equipment, so you can check your own jurisdiction (hat tip, UserFriendly. I should really aggregate these onto a map…).
* * *
2020
Lambert here: After being stuck in neutral for some time, the 270toWin map — based on consensus among pundits — is starting to move, with this the second change in two days, and the movement is not good for Trump. 27 days is a long time in politics, but it looks to me like Trump is running out of runway. His last debate performance didn't cause Biden to slip a cog, the Durham Report won't drop 'til after the election, the economy is slipping without a stimulus, a colorable claim of having made a vaccine is looking less and less likely, and early voting makes October Surprises less decisive. It is true that Trump's return from the hospital creates enormous narrative opportunity, but we don't know the outcome yet (beyond reinforcing everybody's priors). Brunch awaits!

Trump's Case of Covid

"Moment Trump appears to gasp for air after tearing off mask on return to the White House: Biden leads critics accusing Trump of downplaying COVID by telling America 'don't be afraid of the virus'" [Daily Mail]. "Trump, 74, as he stood on the White House balcony, with one doctor saying he was 'clearly in some distress with his breathing'… Biden, 77, said on Monday night that the president was 'responsible' for his COVID-19 infection and blasted the president's 'macho' attitude of avoiding mask-wearing. 'Anybody who contracts the virus by essentially saying, masks don't matter, social distancing doesn't matter, I think is responsible for what happens to them,' Biden said after Trump posed without a face covering. 'What is this macho thing, 'I'm not going to wear a mask?' What's the deal here? Big deal, does it hurt you? Be patriotic for god's sake! Take care of yourself, but take care of your neighbors,' the Democratic nominee said."

* * *

My timeline was full of theorizing about what dexamethasone was doing to Trump, so here is the basic information I could find. More welcome from readers!

"COVID-19 Treatment Guidelines" [National Institutes of Health]. "The Randomised Evaluation of COVID-19 Therapy (RECOVERY) trial, a multicenter, randomized, open-label trial in hospitalized patients with COVID-19, showed that the mortality rate was lower among patients who were randomized to receive dexamethasone than among those who received the standard of care.1 This benefit was observed in patients who required supplemental oxygen at enrollment. No benefit of dexamethasone was seen in patients who did not require supplemental oxygen at enrollment… [T]he COVID-19 Treatment Guidelines Panel (the Panel) recommends using dexamethasone 6 mg per day for up to 10 days or until hospital discharge, whichever comes first, for the treatment of COVID-19 in hospitalized patients who are mechanically ventilated (AI) and in hospitalized patients who require supplemental oxygen but who are not mechanically ventilated (BI)." • And on the RECOVERY trial–

"Role of corticosteroid in the management of COVID-19: A systemic review and a Clinician's perspective" [Journal of Diabetes and Metabolic Syndrome]. From the Results section: "Of the 5 studies (4 retrospective studies and 1 quasi-prospective study) conducted for evaluating the role of corticosteroids, 3 studies have shown benefit, while 2 studies shown no benefit and there was a suggestion of significant harm in critical cases in one sub-study. RECOVERY trial is the only randomized controlled trial that has shown a significant reduction of death by 35% in ventilated patients and by 20% amongst patients on supplemental oxygen therapy with the dexamethasone, although no benefit was observed in mild cases."

"Dexamethasone in the management of covid-19" (PDF) [British Medical Journal]. "Unresolved questions remain, however. RECOVERY investigators did not explore optimal type of corticosteroid nor timing, dose, or duration of giving this drug class. The dose of dexamethasone used was roughly half the functional corticosteroid dose used to prevent treatment induced acute respiratory distress syndrome in moderate or severe pneumocystis pneumonia. Even though dexamethasone worked, it is not clear whether corticosteroids are the best option for all patients in the second phase of the illness or whether treatment may be less beneficial for some subsets, such as people with diabetes…. Virological measures such as viral load were not reported and would be helpful in future studies as they may ultimately guide treatment decisions, including timing." • Here is a thread on dexamethasone that seems to be knowledgeable:

So Trump is now also receiving dexamethasone. @WHO guidelines very clear that it is to be used only "in patients with severe and critical #COVID19". Guidelines incl. "conditional recommendation not to use corticosteroid therapy in patients with non-severe #COVID19". pic.twitter.com/BuAl5sUdyQ

— Kai Kupferschmidt (@kakape) October 4, 2020

(Most of the press coverage on Trump and dexamethasone is the well-worn liberal Democrat trope that Republicans are insane, but with medicalese.)

"Trump's Covid-19 antibody treatment was partly developed using Singaporean blood plasma" [South China Morning Post]. "One of the two antibodies used in an experimental treatment for US President Donald Trump was developed using blood samples from three patients in Singapore, according to a report by Asian Science Magazine published on Monday The science and technology publication noted that Trump had on Friday received a 'high dose' of an experimental antibody therapy known as REGN-COV2 developed by American biotechnology company Regeneron….. Trump received the antibody cocktail before he was admitted to the Walter Reed National Military Medical Center, and while he was there for three days, he was also given multiple doses of the antiviral drug, Remdesivir and a steroid dexamethasone, usually used to treat inflammation in people who have severe cases of Covid-19…. Dr Jonathan Reiner, a professor of medicine at George Washington University, told CNN: 'The president might be the only patient on the planet ever to receive this particular combination of medicines.'"

Here is my list of Swing States, with votes in the Electoral College and selected ballot initiatives in parentheticals):

Arizona (11) (marijuana; taxes(=)
Colorado (9) (taxes, lottery, abortion, paid medical leave)
Florida (29) (minimum wage)
Georgia (16) (declaratory relief)
Iowa (6) (Constitional convention)
Maine-02 (1) (vax)
Michigan (16) (privacy)
Minnesota (10)
Nebraska-02 (1) (payday lending; gambling)
Nevada (6) (marriage)
New Hampshire (4)
North Carolina (15)
Ohio (18)
Pennsylvania (20)
Texas (38)
Wisconsin (10) (crime victims)

Inspired by the thread starting with Arizona Slim's comment here, I went to Ballotpedia and added selected, hopefully hot button, ballot initiatives, because sometimes they affect turnout. If you live in a swing state, please comment if I got the hot buttons wrong!

"In big states, tiny counties, Trump attacking voting rules" [Associated Press]. "When Donald Trump's campaign took issue with a new rule on processing some votes in North Carolina, it didn't just complain to the Board of Elections and file a lawsuit. It wrote to some of the state's 100 local election offices with extraordinary guidance: Ignore that rule. 'The NC Republican Party advises you to not follow the procedures,' Trump campaign operative Heather Ford wrote in an email to county officials last week. The email urging defiance was a small glimpse at the unusually aggressive, hyperlocal legal strategy the Trump campaign is activating as voting begins. Through threatening letters, lawsuits, viral videos and presidential misinformation, the campaign and its GOP allies are going to new lengths to contest election procedures county-by-county across battleground states. That means piling new pressure on the often low-profile election officials on the frontline of the vote count, escalating micro-disputes over voting rules and seeking out trouble in their backyards. The local approach already is producing a blizzard of voting-related complaints. Trump and his allies have then seized on the disputes, distorted them and used them to sow broad doubts of fairness and accuracy."

FL: "Why Donald Trump is doing surprisingly well in Florida" [The Economist]. " Should Mr Trump win his adopted home state, our model reckons he would be about 50:50 to win in the electoral college. Should he lose Florida, he has almost no chance. The state will probably announce its results on election night, so a win for Mr Biden would make Mr Trump's inevitable doubt-casting about the results that much hollower. Polls show a tight race—much closer than the overall national picture…. Two groups hold the keys to Florida's fortunes: Latinos and the elderly. Mr Trump is overperforming with the first group and underperforming with the second…. Florida's demography—larger than average shares of African-Americans and Latinos—would seem to favour Democrats. Yet too often that has been a curse in disguise, leading Democrats to assume votes rather than hustle for them. Republicans are taking no such chances. Says Mr Gruters, "I was the Trump co-chairman in 2016 for the state, and at the very peak we had 62 staffers. We have 190 on the ground right now…Usually we have multiple events going on across the state on a daily basis." Republicans are fighting for Florida as though Mr Trump's presidency depends on it—which it probably does. He will be hard to beat on his home ground."

FL: "'He just lies': Florida's senior voters suddenly are in play" [Politico]. "Retirees have long flocked to Florida's warm climate and white sandy beaches, where they've gained outsized political sway in the nation's largest swing state. In the 2012 presidential election, voters 65 and older comprised 26 percent of all votes, a number that jumped to 30 percent in 2016…. Trump continues to dominate with older white voters in the state, 54-43, and trails Biden among senior voters of color by 17 points, a much smaller margin than the 54-point advantage Biden has among that group nationally, the Monmouth poll found…. To break out, Biden has put more than $700,000 into a Florida ad highlighting Trump's "planned cuts to Social Security." The ad references an August executive order from Trump that would temporarily suspend the collection of payroll taxes, which fund Social Security. " • No, they don't.

GA: "Glitches in Georgia's High-Tech Electronic Voting System Raise Concerns" [Lifewire]. "The voting problems in Georgia began when officials found a programming error on the state's voting touchscreens. To fix the problem, the state's 30,000 new touchscreens, called ballot-marking devices, will need to be reprogrammed." • And there's no time to debug the patch properly. What could go wrong? Acitvists have their hair on fire, rightly:

?"It's outrageous. They're wiping all of the software,' @MarilynRMarks1 tells [@TheBradBlog] & installing 'new software that's just been written, has not been tested, & has not been certified by the Elections Assistance Commission.'" gapol 1/ https://t.co/8T9jgUlxj5

— Jennifer Cohn ✍? (@jennycohn1) October 2, 2020

Here is a "Summary of Voting System Software Change Issue" (PDF) prepared for the Georgia counties, one lawyer's brief on why the software change is illegal.

NC: "North Carolina Democratic Senate candidate admits to sending sexual texts to strategist" [NBC]. • Ripping a page from the John Edwards playbook, I suppose. And the texts are the pawkiest, dorkiest texts you can imagine!

NV: "Joe Biden is counting on Nevada. Has the COVID-19 pandemic hurt his chances?" [Los Angeles Times]. "Nevada — once reliably Republican but more recently Democratic — is something of a question mark in these closing weeks of the campaign…. Polls taken before President Trump's hospitalization with COVID-19 gave Biden a small but consistent lead over the incumbent, who narrowly lost the state four years ago. However, the great strength of Democrats — the work of political foot soldiers like Magana, 45, who helps tidy the casino at the MGM Grand hotel, and Salgado, 35, a line cook at Guy Fieri's Vegas Kitchen & Bar — has been significantly reduced as a result of the pandemic…. Typically, Democrats prevail by out-registering Republicans and out-hustling them to make sure their partisans vote — especially Latino, Black and Asian American residents of Las Vegas and its sprawling surroundings. While registered Democrats continue to outnumber Republicans both statewide and here in Clark County, the GOP narrowed the gap a bit over the summer by resuming its canvassing weeks before the Culinary Union took to the streets again in August." • Hmm. The Culinary Workers had gone for Sanders when he won the state.

OH: "Trump's mistake by the lake: Taking his own voters for granted" [National Journal]. "The new Fox News poll of Ohio, showing a 5-point Biden lead, pinpointed why Trump is in so much trouble: Members of labor unions, who swung from President Obama to Trump in the previous election, have returned to the Democratic fold. Union households in Ohio now favor Biden by 8 points, 52 to 44 percent. In 2016, Trump carried that same constituency by 13 points, 54 to 41 percent, according to exit polling. That's a whopping 21-point turnaround. . It's easy to conflate Trump's base of hard-core supporters with the much larger pool of his 2016 voters. His base is with him regardless, but Trump won in 2016 by picking off a critical mass of onetime Democrats and independent voters in the Midwest, many of whom have since grown disillusioned with his antics. Amid their disbelief that anyone could vote for Trump without being "deplorable," Democrats once thought these voters were lost for good [identity politics, anyone?]. They belatedly realized that tried-and-true appeals to their economic interests—centered on health care in the midst of a pandemic—still constitute an effective message in these tribal times." • And the beauty party is that they can make that "economic appeal" with a piece of crap like ObamaCare, and not offer anything better!

OH: "In Appalachia, people watch COVID-19, race issues from afar" [Associated Press]. This has an excellent photo essay, too. Very meditative, probably doesn't even belong in this section. But: "In Phil Stevens' little office, crowded with desks piled with paperwork, the occasional car part and the sweet smell of engine oil, he derided the idea that everyone can just get along. 'I'm not going to have a Muslim best bud, you know, because there's a line that you can't cross,' he said. 'But by the same token, the Muslims don't want nothing to do with me. And I'm okay with that because they've got their reasons for it.' Yet, it turned out, he'd fallen in love with a woman who is part Native American. They've been happily married for nearly 44 years."

TX: "Joe Biden can end the drama on election night. All he has to do is win Texas." [Beto O'Rourke and Tory Gavito, WaPo]. "Thanks to Republican efforts to suppress voter turnout, Texas did not expand vote by mail in midst of a global pandemic. As a result, we will know the winner of the Texas presidential election on election night. If Texas turns blue that night, and its 38 electoral votes go to Biden, then Trump would have no viable path to victory, and the election would be over that night, before Trump's lawyers can get through the courtroom doors to stop the vote counts in other states. If Biden wins Texas along with the likely blue states of Colorado, New Mexico, Minnesota and Virginia, he would still win the White House even if he loses all the swing states of Wisconsin, Pennsylvania, Michigan, Ohio, North Carolina, Arizona and Florida. Trump, on the other hand, cannot win without Texas."

TX: "Gov. Abbott forces Harris County to close 11 mail ballot drop-off sites, leaving just one" [Houston Chronicle]. "Gov. Greg Abbott on Thursday declared that counties can designate only one location to collect completed mail ballots from voters, upending some counties' election plans and drawing condemnation and accusations of voter suppression from across the state and country…. Most immediately, it forced Harris County to abandon 11 sites set up to allow voters to drop off their absentee ballots. The proclamation takes effect Friday."

WI:

From a political standpoint, this is a pretty remarkable place for the October COVID hostpot pic.twitter.com/QavXqnVY3V

— Nate Cohn (@Nate_Cohn) October 3, 2020

* * *

Biden (D)(1): "Biden promises to make Roe v. Wade the 'law of the land' if Amy Coney Barrett gets confirmed on the Supreme Court and overturns the 1973 abortion ruling" [Daily Mail]. • Only possible with Democrats having a filibuster-proof majority in the Senate plus the House, obviously. From 2019, a timeline of Biden's views on abortion.

UPDATE Biden (D)(2): "A new challenge for transition planners: Building a government over Zoom" [Politico]. "'If I went to a Hill meeting or a social gathering on Capitol Hill, I would see a lot of people there, and they'd say, 'Hey, you're working on the transition — what's it like? Can we grab coffee? Here's my résumé. A friend of mine is looking to work in Commerce or in Treasury.' Something like that," the aide said. 'You'd see that a lot.' That sort of inside-the-Beltway networking is now a lot harder to come by." • You could view the Adminstrations failed frequent testing policy as an attempt to preserve that easy, natural level of Before Times physical contact.

Trump (R)(1): "Trump on Twitter: 'Don't be afraid of COVID … I feel better than I did 20 years ago!'" [Concord Monitor]. • Commentary:

'I feel better than I did 20 years ago' pic.twitter.com/UB1buLCNmk

— Toby Earle (@TobyonTV) October 5, 2020

Trump (R)(2): "Trump's Covid Debacle" [Rod Dreher, The American Conservative]. "I have mentioned in this space — and I write about inLive Not By Lies— how the Imperial Russian government's botched handling of the 1891-92 famine was a key turning point in the Russian Revolution of 1917. Why? Because it badly shook the confidence of the Russian people in their government's competence. Marxist radicals never really got much traction with the broader Russian public until the famine debacle made people wonder if the system really could be counted on to keep them safe. People began to wonder if maybe the radicals were onto something in their critique of the regime. The Tsarist establishment lost a great amount of credibility with the public, and never, of course, got it back. Trump's failures on Covid, epitomized by his own failure to manage his exposure with regard to White House staffers and supporters, come at a time of historic loss of public faith in institutions. …[W]e are living in an era of great insecurity because of this loss of trust — and Millennials and Generation Z are the most dramatically affected by it…. [T]he fear, anxiety, and eagerness for protection running rampant among Millennials and Gen Z are exactly the things that Hannah Arendt observed as present in pre-totalitarian Russia and Germany. What Trump has done with his own Covid diagnosis is a monumental act of self-sabotage. What he is helping to sabotage is more than his own administration and re-election campaign, I fear."

* * *

About that stimulus:

Bleak but possible scenario I hear from ppl:

1/ No stimulus deal by Nov. 3

2/ Biden wins, Trump loses interest in deal w/ Congress. So: No additional stimulus until Jan. 20 at earliest

3/ New wave of cases Nov-Feb causes severe economic damage just as DC is most paralyzed

— Jeff Stein (@JStein_WaPo) October 6, 2020

If Biden believes he can legislate Roe v. Wader, that means he thinks the Democrats will control both the House and the Senate. In that case, there's absolutely no reason for Pelosi not to take the trillion or so on offer, and bump it up in January. No reason, of course, except to deny the Republicans a legislative success.

* * *

"More than 4 million Americans have already voted, suggesting record turnout" [Reuters]. • Good if you think politics is a team sport; not so good if you think democracy requires candidates and their campaigns to be judged in their entirety.

UPDATE "The face mask 'is almost as much of a symbol as a MAGA hat'" [Poltico]. "But masks are still in heavy rotation in Covid-related TV ads for both parties in suburbs around the country, according to a POLITICO review of more than 400 political ads that aired in September and were collected by Advertising Analytics… [W]hile masks are commonplace for ads in urban or suburban areas — likely a reflection of those places' experience with the coronavirus — masks are less prominent in ads for Democrats and Republicans alike in rural, more GOP-leaning House districts." • This is good reporting, and also describes the effect of social distancing and masking on the industry that produces the ads.

MN: O'Keefe has form:

BREAKING: Liban Osman tells FOX 9 he was offered $10,000 by phony Project Veritas & James O'Keefe "insider" Omar Jamal to say he was collecting ballots for Rep. Ilhan Omar. https://t.co/HMnhq2UqAS

— Zachary Petrizzo (@ZTPetrizzo) October 6, 2020

NY: The Great Assimilation™ continues:

I suppose it was only a matter of time.

Amy McGrath was the first Dem candidate for House or Senate to cut a pro-Trump tv commercial. It was only natural more Democrats would follow.

Max Rose (D-NY) is now running a commercial about how he stood with Trump against DeBlasio!

— Chris Richards ??️ #UnitedLeft (@EclecticRadical) October 5, 2020
The Debates
UPDATE "Pence and Harris to debate through plexiglass because of coronavirus concerns" [Los Angeles Times]. • Hard to find a better metaphor…

"You Won't Hear Kamala Harris Saying "Shut Up, Man" In The VP Debate" [Buzzfeed]. "As they prep her in Salt Lake City, Harris's team has shaped a strategy in part around the reality that she is likely to be perceived differently than the white male candidate standing opposite her. Aides have reviewed studies — including those by the Barbara Lee Family Foundation — about how women candidates pay a high price for negativity and can be harshly punished by voters over issues of honesty, a Biden aide said. For that reason, a campaign aide said, Harris likely won't take on the role of fact-checking Pence, or try to confront him frequently over falsehoods. Harris and her team are weighing, too, the question of how to deal onstage with stereotypes that paint women, and especially Black women, as angry and overly emotional. They are especially aware of how that dynamic could play out with Pence, who is so even-tempered that, in his first vice presidential debate in 2016, he made the mild Sen. Tim Kaine look aggressive." • It will be interesting to see how Pence's staff has prepped him, particularly on Trump's Covid policies, especially Operation Warp Speed.

"End the Corporate-Sponsored Presidential Debates" [Common Dreams]. " I would bet that the vast majority of viewers think the Commission on Presidential Debates is some sort of government agency, established by Congress. Instead, it is a nonprofit 501c3 corporation sponsored by corporate and foundation support. In 2016 major contributors included Anheuser Bush and AARP. In our contemporary politics both candidates compete in trashing Medicare for All and the Green New Deal. CPD expresses a desire to impose a structure that will encourage orderly discussion. Beware of Greeks bearing gifts. The notion of orderliness the Commission endorses and promotes is a major cause of the lowest common denominator politics displayed in the debate. The commission has a history of making it more difficult if not impossible for third parties to participate in the debates…. Members of the two-party establishment complain that third parties are spoilers. Lately, however, there has been little for the third parties to spoil. Historically despite the barriers and outright repression, they have faced third-party populist and socialist movements had a productive influence on the New Deal. There is no perfect electoral system, but especially in the present contest, we need beware of 'reforms' that hide their origin and deprive citizens of an opportunity to participate in their reconstruction." • Certainly every single CPD debate I have seen, and I've seen many, has had the gravitas of a half-time football show. Worse, the focus is on the moderators, and staging suggests that the moderators — drawn from the press — are representatives of the voters to whom the candidates must answer, which is laughably untrue.
Realignment and Legitimacy
"QAnon Supporters Aren't Quite Who You Think They Are" [Wired]. "[W]hile you might also expect the overwhelming majority of the QAnon group to uniformly embrace its core theories, the results were far more mixed. The highest-polling statement was 'Democratic politicians and Hollywood stars are part of a global network that tortures and sexually abuses children in Satanic rituals'—62 percent of QAnon supporters rated it as definitely or probably true. The other three QAnon theories polled—Trump is preparing mass arrests, Mueller was secretly ordered by Trump to investigate pedophiles, and celebrities harvest adrenochrome from children—registered between 44 and 54 percent. Those numbers, however, heavily overstate the level of belief. Toward the end of the poll, Schaffner asked respondents which statements they had heard of before taking the survey. A large number of Qanon supporters, it turned out, were rating as "true" statements that they were encountering for the first time. The "global network" statement only polled at 38 percent when discounting people who had never heard it." • Blood-drinking elites seems pretty on-brand for fin de siecle neoliberalism to me, but apparently that's not a core theory. Interestingly, and oddly, the sourcing "according to Q, the anonymous poster who started the movement" passes without a murmur. Why the heck isn't Q's identity the topic of investigative reporting?

And speaking of The Great Assimilation™:

The White House Christmas Tree that year: https://t.co/I2X3sApnR7 pic.twitter.com/drURxiMztU

— Ali Abunimah (@AliAbunimah) October 5, 2020

I assume readers are familiar with this image? If not, I should really do a post on the Bush years, because they were genuinely horrific, and probably slaughtered many more people than Covid in the United States, albeit faraway brown ones, and with bipartisans support.

Fauci makes a diagnosis:

Dr. Fauci sums it up for all of us.

Via my #FOIA pic.twitter.com/FqG5kZe7E3

— Jason Leopold (@JasonLeopold) October 4, 2020

The same people who named their dogs after Mueller?
Stats Watch
At reader request, I added some business stats back in. Please give Econintersect click-throughs; they're a good, old-school blog that covers more than stats. If anybody knows of other aggregators, please contact me at the email address below.
Leading Indicators: "03 October 2020 New York Fed Weekly Economic Index (WEI): Index Little Changed Since End Of August" [Econintersect]. "The New York Fed's Weekly Leading Index (WLI) continues to show an economy that is below the worst seen during the Great Recession. However, this index remains on a recovery trend but the index is only marginally improved since the end of August."
Employment Situation: "August 2020 Headline JOLTS Job Openings Year-over-Year Growth Rate Declined" [Econintersect]. "The BLS Job Openings and Labor Turnover Survey (JOLTS) can be used as a predictor of future job growth, and the predictive elements show that the year-over-year growth rate of unadjusted private non-farm job openings year-over-year rate of growth declined and remains in contraction…. The unadjusted data this month remained well below average for the rate of growth seen since the beginning of 2019. However, the pandemic effects will drive this data, and forecasts using this data are simply guesses."
Trade: "August 2020 Trade Again Improved But The Trade Deficit Continues To Grow" [Econintersect]. "Trade data headlines show the trade balance grew with both imports and exports increasing…. The 3-month average rate of growth improved for imports and exports – but remains in contraction."
Housing: "August 2020 CoreLogic Home Prices: Home Price Appreciation Jumped to 5.9%" [Econintersect]. "CoreLogic's Home Price Index (HPI) home prices increased 5.9% in August 2020, compared with August 2019, and the gain was up nearly 1% compared to the prior month, when home prices increased 5.1% year over year." • If your assets are in housing or stocks, you're doing OK with Trump, still, amazingly enough.
* * *
UPDATE Fodder for the Bulls: "Silver and Copper Prices Gained in the Quarter. That's a Bullish Sign for the Economy" [Barrons]. "Industrial metals posted gains in the third quarter, with silver up sharply and copper touching its highest prices in over two years, suggesting that the worst of the coronavirus hit to the economy may be over…. The third quarter economic backdrop was 'very supportive of the overall commodity complex,' including industrial metals, says John Caruso , senior asset manager at RJO Futures. 'The 'reflation' trade, assisted by the reopening of the economy and record [Federal Reserve] and government stimulus, helped the metals complex gain plenty of fervor' following the second quarter Covid-19-related shutdown and economic collapse." • "Fervor," you say!
* * *
.
Today's Fear & Greed Index: 47 Neutral (previous close: 44 Fear) [CNN]. One week ago: 44 (Fear). (0 is Extreme Fear; 100 is Extreme Greed). Last updated Oct 6 at 1:09pm.
The Biosphere
"Amid COVID-19, Urban Growers Collective distributes nearly one million pounds of produce" [Chicago Reader]. "[Urban Growers Collective (UGC)] operates eight urban farms on 11 acres of land in Chicago, mostly on the south side, that are aimed at giving underserved and disinvested communities the healthy food they desperately need. And in keeping with its mission, UGC's farms help cultivate economic opportunities for the community alongside their produce production… 'Our biggest pivot was from affordable sales of produce to hunger relief,' says Erika Allen, who cofounded UGC with Laurell Sims in 2017. 'So, donating produce to folks in need as opposed to the economic development model that we've continued.'" • Impressive!
Health Care
"The percentage of Americans who say they would get a Covid-19 vaccine is falling, CNN poll finds" [CNN]. "If a Covid-19 vaccine were widely available at a low cost, 51% of respondents in the survey said they would try to get vaccinated, 45% said they would not try and 4% had no opinion, according to poll findings released on Monday…. The percentage of respondents in the poll who would try to get vaccinated appears to have fallen when compared with results in CNN polls from previous months." • So much for public health. Well done, all.
Also well done, all:
We put this sign up outside the Trump rally yesterday. pic.twitter.com/f45ueYsrx7

— The Good Liars (@TheGoodLiars) September 27, 2020
Liberal Democrats have now weaponized a perfectly useful medical term (and a phenomenon that aerosols also help to explain). Of course, it's not every day you get to demonize your opposition as literally disease-bearing, so one understands the appeal. The savage irony, of course, is that the virus entered the country though globalist entrepots like SEATAC and JFK (and not from Sturgis, ffs): Blue cities, in other words, spreading thence to the rest of the coutnry, as the New York Times shows. And so projection, othering, and complete lack of self-reflection skip merrily onward, together…
UPDATE This thread shows a scientist changing his mind (adopting a new paradigm):
This pandemic should upend how biologists think about virus transmission—for the better. My greatest regret is having parroted received wisdom early on. I said our @NEJM aerosol stability findings were important for HCW 1/n

— Dylan Morris (@dylanhmorris) September 26, 2020
UPDATE This talking point was virulent for a few days, but seems to have disappeared. Here in any case is the definitive takedown:
In a crowded field, my least favourite COVID-19 minimisation troll tactic is the claim that "99.5% of people survive".

An angry thread.

/1

— Nick Brown (@sTeamTraen) September 30, 2020
Screening Room
I leave this to your imaginations:
finally someone is bringing to the screen the sweltering eroticism of tolkein's original text https://t.co/RwJ1f2IYIQ

— I Had A Tweet Joe (@bombsfall) October 6, 2020
"The 100 Sequences That Shaped Animation" [New York Magazine]. " Animators continue to fool us into believing still images can move and breathe, and we in turn remain delighted to live between the frames." One example: "'Whoever's in charge here: Where's the scenery?' Daffy asks through a ruptured fourth wall after his background has turned into a blank white space. From there, the backdrops keep changing and Daffy keeps trying to adjust. But eventually everything goes haywire: The sound goes out, the frame collapses and nearly crushes Daffy, and even Daffy himself gets erased more than once by the butt end of a pencil that enters the frame, presumably via some God-like figure. Every person who worked on Duck Amuck matters, this short tells us, because every piece of a story, if altered or absent, transforms the narrative. That said, special shout-outs go to Mel Blanc for his signature, hilarious escalation of Daffy's exasperation and to legendary composer Carl Stalling for changing up the music with impeccable timing. The big twist is, once again, very Chuck Jones: Turns out it's Bugs Bunny, ever the stinker, who's been sitting at the drafting table and messing with Daffy the whole time. A lot of the works on this list are perfect cartoons, but seriously: This is a perfect cartoon." From YouTube:
Almost as old as I am, and yet very on-brand for gaslit 2020.
UPDATE "On the Origins of "Gaslighting"" [Los Angeles Review of Books]. "Patrick Hamilton's stage play Gas Light (or Angel Street, its United States title) premiered in December 1938, just weeks before Time magazine named Adolf Hitler the "Man of the Year." The events of that tumultuous year include the Blomberg–Fritsch affair, the Anschluss of Austria to Nazi Germany, the annexation of the Sudetenland, the invasion of Czechoslovakia, and the Munich Agreement…." • Amazingly, our understanding of "gaslighting" is inverted from the play's, and the real functionality of gaslit, Victorian homes! Read the whole article for why….
News of the Wired
How did I not know there was a Lovecraft bot:
Lovecraft predicted Limp Bizkit https://t.co/5cBbo2FuHM

— ? Tobias Harris' Contract ? (@tholzerman) October 5, 2020
* * *
Readers, feel free to contact me at lambert [UNDERSCORE] strether [DOT] corrente [AT] yahoo [DOT] com, with (a) links, and even better (b) sources I should curate regularly, (c) how to send me a check if you are allergic to PayPal, and (d) to find out how to send me images of plants. Vegetables are fine! Fungi and coral are deemed to be honorary plants! If you want your handle to appear as a credit, please place it at the start of your mail in parentheses: (thus). Otherwise, I will anonymize by using your initials. See the previous Water Cooler (with plant)
here
. Today's plant (AM):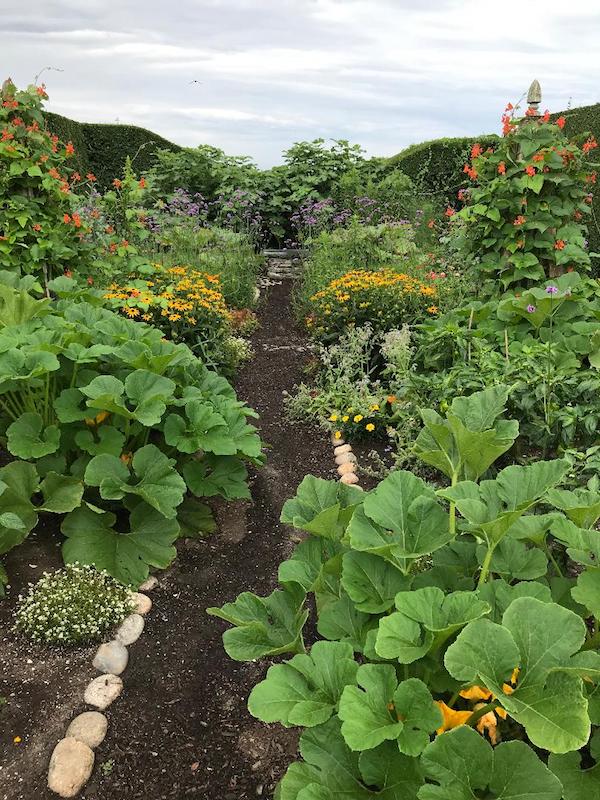 AM writes: "A view of the kitchen garden at Rough Point in Newport, the Doris Duke mansion, now open to the public, July 31. Possibly some squash blossoms in the foreground." Squash, the most vital of all vegetables. I love it when they climb trees.