By Lambert Strether of Corrente.
Patient readers, the server has been a little wobbly today. Hopefully all is well now. –lambert
Bird Song of the Day
The Cornell Lab of Ornithology is back online!
#COVID19
At reader request, I've added this daily chart from 91-DIVOC. The data is the Johns Hopkins CSSE data. Here is the site.
Case count by United States region: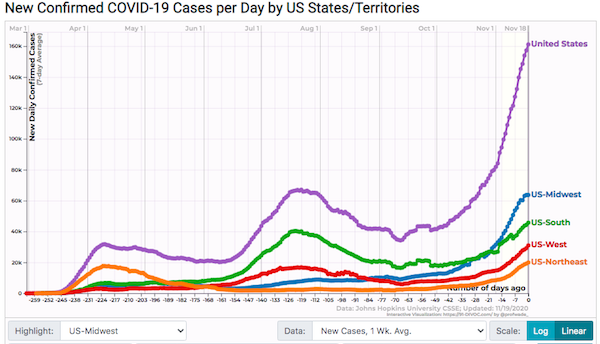 Test positivity by region: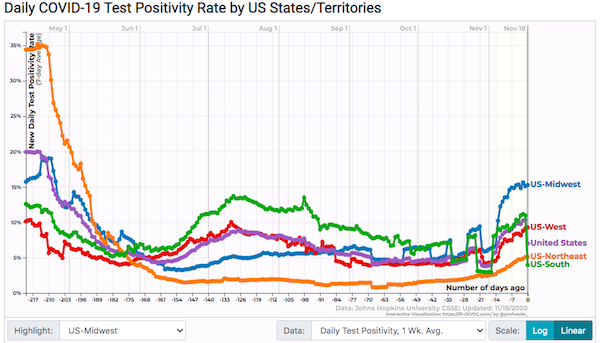 Positivity seems to have plateaued in the Midwest. Not sure why the giant drop in the South (green); presumably a data issue.
Hospitalization by region: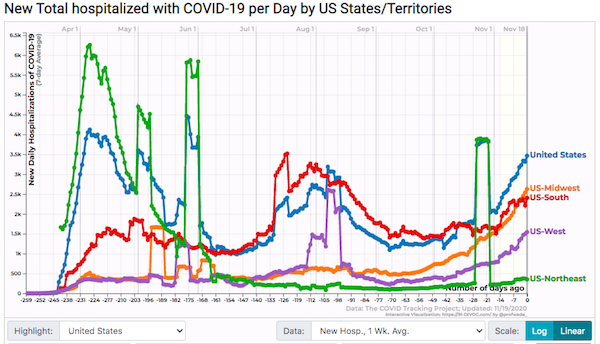 Hospitalization seems to have plateaued in the South.
Case fatality rate by region: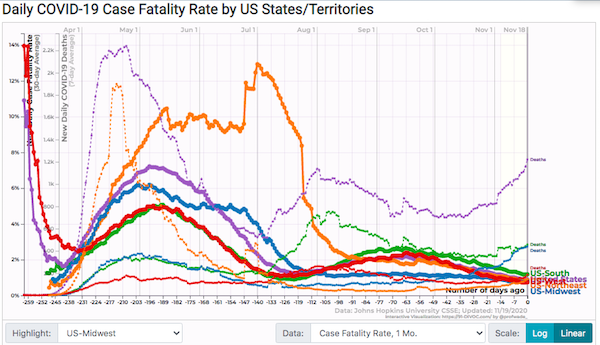 I added the death counts, and yes, deaths are rising as the case count rises; we'll need to watch for that two-week lag.
Politics
"But what is government itself, but the greatest of all reflections on human nature?" –James Madison, Federalist 51
"They had one weapon left and both knew it: treachery." –Frank Herbert, Dune
"They had learned nothing, and forgotten nothing." –Charles Maurice de Talleyrand-Périgord
Election Legitimacy
MI: "Trump campaign drops remaining lawsuit in Michigan" [Politico]. "The Trump campaign withdrew its last remaining federal lawsuit in Michigan Thursday, falsely claiming that local election officials had declined to certify the Detroit-area's vote tabulation even though they voted unanimously to do so Tuesday night." • If you read the entire article, that "falsely claiming" is pretty lazily written.
2020 Democrats in Disarray
I believe that Robbie Mook ran the House operations this time, good job:

New from me and @elena___mejia: After a strong 2020, Republicans will control redistricting of 188 House seats, vs. 47-73 for Democrats. https://t.co/IIC50tEMDW

— Nathaniel Rakich (@baseballot) November 18, 2020

But who deprograms the deprogrammers?

Holy shit. The only thing creepier and more alarming than this tweet is how many times it's been liked and re-tweeted.

If you don't recognize the intense strain of authoritarianism in this new ruling coalition, you see nothing about US politics. Just look at it: https://t.co/70VpAT9SZq

— Glenn Greenwald (@ggreenwald) November 19, 2020

The replies are quite something. Given the authoritarian followership of Democrats who immediately swung to Biden after the Party Leader endorsed him, even in states were he did not only did not campaign, but had no presence whatever, authoritarian views are not surprising.

Utter inability to self-reflect:

It's true, Cuomo was being socially distant and wearing a mask when he sent Covid patients into nursing homes and Cuomo is fine. https://t.co/nUlq3temoG

— Matt Stoller (@matthewstoller) November 19, 2020
Biden Transition
"Biden Insists Lack Of Cooperation From Trump Administration Won't Interfere With 4 Years Of Total Political Inaction" [The Onion]. • The Onion lays down a marker….

"Biden's COVID challenge: Defeat the virus while lifting up all Americans" [Baltimore Sun]. I could have filed this under Class Warfare: "Mr. Biden's approach to addressing the pandemic is crucial. The temptation will be to put the burdens on ordinary Americans, including some of our nation's most economically marginalized communities. The stay-at-home orders this spring likely blunted the epidemic in many places across the U.S. However, the ability to stay home is something that is only feasible for some. Many Americans kept society afloat by continuing to deliver goods, support infrastructure and sustain essential services such as grocery stores, farms, home-care medical services and pharmacies. These jobs that required people to show up to work in a pandemic often are twinned with regular close physical contact, enhancing risk of COVID-19. And those filling these jobs, as University of Chicago labor economists Simon Mongey and Alex Weinberg have noted, are less likely to be white, to have a college degree or to have employer provided health care. And they are more likely to be in the bottom half of the income distribution scale. They are also less likely to have had stable jobs, more likely to have been unemployed in the last year and less likely to be employed full-time. Moreover, this economic precarity often also intersects with crowded living environments, where people are less likely to have at least one room per person available in a household, which makes effective quarantine or isolation challenging, should someone in the household be exposed or fall sick. The pandemic relief bills this spring had little in the way of sustained direct support for ordinary Americans." • If that had been important to Pelosi and the Democrat leadership, they would have included it when they had real leverage. Instead, they concocted the HEROES Act, a messaging bill. Well done, all.

"Will Biden Name a Deficit Hawk to Head OMB?" [Robert Kuttner, The American Prospect]. "Yesterday, I reported that Bruce Reed, one of Biden's top campaign advisers and his most conservative, has not yet been named to a White House job. As I wrote, he is an extreme deficit hawk. I've since learned that Reed is being promoted to head the powerful Office of Management and Budget (OMB). That would be a match made in hell, given the need for extensive deficit spending…. There is a second very senior inner-circle Biden adviser not yet named to a job—Jeff Zients. And like Reed, Zients represents the conservative wing of the Biden crowd. Zients is also a contender for OMB. He's not quite as much of a deficit hawk as Reed, but even closer to Wall Street. Pick your poison."

"Biden national security briefing included two board members of a massive defense contractor" [Popular.info]. "President-elect Biden will take office in 62 days. On Tuesday, the transition announced that Biden and Vice President-elect Harris participated in a "Briefing with National Security Experts."… Who was invited? The intimate gathering of 13 people included two board members from Raytheon Technologies (Raytheon), the world's second-largest defense contractor…. The Biden-Harris Transition Team released an ethics plan that governs the work of the transition. According to the plan, "Transition team members may not participate in any particular Transition matter that they know may directly conflict with a financial interest of the member, an immediate family member, partner, client or other individual or organization with which the member has or has had a business relationship within the past 12 months." In this case, Work and Austin have both a personal and professional financial interest in the future of U.S. national security policy…. The Biden-Harris transition did not respond to a request for comment." • We wanted normalcy, and we're going to get it!

"The New Ruling Coalition: Opposition to Afghanistan Withdrawal Shows Its Key Factions" [Glenn Greenwald]. "What are the real power centers in the U.S., the ones most responsible for its worst acts and greatest dangers? There are many places where that answer resides. One can find it right now in the ongoing effort to denounce the Trump White House for attempting to remove troops from Afghanistan, where the U.S. has been fighting and shooting and bombing in a war now about to enter its 20th year. Take a look at who is demanding that those troops remain, and there you will find the real axis of power — all of its component parts — in the United States." Remember the Russian bounties scam? More: "[T]hus did this union of pro-war Democrats, Cheney-led neocons, the intelligence community and their chosen mainstream media outlets succeed in providing the perfectly crafted tool at the most opportune moment to justify blocking an end to America's longest war. That is precisely the same coalition that drowned U.S. politics for more than three years in the sustained, monomaniacal disinformation campaign about Putin's takeover of the U.S. As Trump again signals that he intends in the lame-duck session to withdraw troops from Afghanistan, this same united coalition is working desperately to block it." •
2020
"Will There Ever Be Specifics in Political Journalism or Reverse Cletus Safaris?" [Mike the Mad Biologist]. "[W}hile coastal news outlets will send out reporters to Trumpist strongholds, the converse doesn't seem to happen. Part of the reason is economic–these outlets might not have the money to do that. But it needs to happen as it's pretty clear that people living in Trump strongholds also have no understanding of what motivates other people (though it's not clear at all if they care to know). Remember how Portland and D.C. were supposedly on fire night after night? This is important, because faced with a resounding defeat, conservatives also need to start the 'healing' work, and they won't be able to do that without understanding Democratic areas." • To be fair, I don't consume a lot of conservative media, and I had to constantly remind myself that Portland wasn't on fire (and that the protests were confined to a small area). I also had to remind myself always to insist on a wide-angle or aerial shot for crowd sizes. So there's a lot of "supposedly" going along on all sides. This whole piece is well worth a read, especially this quote from Froomkin: "Journalists need to stop buying transparently bogus explanations for why people support Trump and figure out what's really going on. As I've written before, this requires a different – actually, more empathetic, and certainly more time-consuming – kind of interviewing style. It means taking a more sociological approach, asking about formative moments, about cultural background and value systems, about education, and, perhaps most importantly, about media diets. It means diving deep into the 'comforting simplicity of tribe,' as the Washington Post's Margaret Sullivan put it." • As long as the sociologist can practice self-reflection….

A country divided:

some people thought I jumped the gun on this, so here are the final numbers, according to the certification report from Cuyahoga County.

My guess is that population decline in East Cleveland is larger than the Census estimate, but turnout decline seems very large, too https://t.co/POcxItLcIr pic.twitter.com/OaejQt4lW1

— Matt Karp ???? (@karpmj) November 19, 2020

Note the vote counts. (Bay Village 2018 population: 15,295; East Cleveland, 17,109.)
Realignment and Legitimacy
"Why the Left Should Ally With Small Business" [The Nation]. "Reuther's support for small business was not some strange anomaly in left-wing politics. For much of the 20th century, labor was allied with small business in the fight for a fair economy. For decades starting in the 1930s, the Democratic Party counted small businesses as a core constituency, alongside organized workers, and made their welfare a central concern of its policy agenda. This fact surprises many today because it's a history long ago abandoned. The shift came in the 1970s, when Democrats embraced the ascendancy of big corporations, reasoning that these large entities were more easily unionized and could deliver more for consumers. In turn, liberals began to see small businesses as not worth fighting for. They were, at best, irrelevant to the left's vision and, at worst, an obstacle to it. Around the same time, conservatives realized that they could lay claim to small-business politics and recast it to propel an agenda that served the economic elite: cutting taxes, weakening democratic institutions, and dismantling labor and environmental protections. The dark irony of this platform was that it swelled the market share of big business at the expense of small. But the right's small-business rhetoric was so successful that many on the left believed it, and it reinforced their idea of small business as inherently regressive, antithetical to worker interests, and opposed to Democratic values."

* * *
Stats Watch
At reader request, I added some business stats back in. Please give Econintersect click-throughs; they're a good, old-school blog that covers more than stats. If anybody knows of other aggregators, please contact me at the email address below.
Manufacturing: "November 2020 Philly Fed Manufacturing Survey Index Declined" [Econintersect]. "The Philly Fed Business Outlook Survey declined but remains well into expansion…. Overall, this report was about the same as last month's report as key elements were mixed. This is a very noisy index which readers should be reminded of is sentiment-based. The Philly Fed historically is one of the more negative of all the Fed manufacturing surveys but has been more positive than the others recently."
Employment Situation: "14 November 2020 Initial Unemployment Claims Rolling Average Continue To Improve" [Econintersect]. "Econintersect watches the year-over-year change in the 4-week moving average. There is always some seasonality that migrates into the seasonally adjusted data, and year-over-year comparisons help remove some seasonality. The four-week rolling average of initial claims is 240 % higher than one year ago (versus the 250 % higher last week)."
* * *
Trade: "Trade protectionism has gone out of style. A surge in new trade restrictions that began in 2017 has waned over the course of 2020… as governments eased some of the barriers they put up early in the coronavirus pandemic. The World Trade Organization says in a report on the Group of 20 leading economies that governments are taking fewer trade actions than they had been and that most recent measures were intended to free the movement of goods across borders" [Wall Street Journal]. "That's a shift from the protectionist fervor that gripped global trade in recent years, including the tariffs that have marked the U.S.-China trade war. Other trade barriers were erected in the early days of the pandemic by countries seeking to protect local supply chains for food and medical goods. Many of those restrictions have fallen as countries have focused on containing the pandemic.
Shipping: "World's biggest shipper remains wary of COVID-19 pandemic" [Channel News Asia]. "'However we remain well aware of the high level of uncertainty the pandemic and associated lock downs continue to pose in the coming quarters,' [Maersk] said. AP Moller-Maersk is based in Copenhagen, operates in 130 countries and employs roughly 80,000 people."
Retail: "Target's plan to use its stores effectively as e-commerce fulfillment centers is paying off. The retailer's comparable sales rose 24.3% in the past quarter… and nearly half the growth came from a 155% jump in digital sales from the same quarter a year ago" [Wall Street Journal]. "Target says more than 95% of those digital orders were fulfilled at stores, a culmination of a concerted plan to have its sprawling sales sites double as distribution points. That added up to a complicated mix of services, including store pickup points for online shoppers, use of the Shipt same-day delivery operation and training store employees to back the fulfillment services. The accelerating pace of e-commerce adoption during the pandemic is getting more attention from retailers."
Retail: "The world's largest retailer believes shopping has changed forever: Morning Brief" [Yahoo Finance!]. "[Walmart's Q3 report] outlined how resilient consumers have remained through the fall and also why pandemic-related changes to shopping habits are likely to stick around…. A big part of this new behavior is the consolidation of trips, whether these are to Walmart stores or any other. Average ticket sizes at Walmart rose 24% in the quarter while the number of transactions fell 14%… And so the the rise of online and hybrid orders is serving as a boost to the company's top line and creates the impetus for a further investment in keeping these sorts of behaviors in place. McMillon says the company is convinced many of these new shopping habits will last past the pandemic. But it's also in the company's interest to make this habit as attractive as possible for customers."
The Bezzle: "Some Fracking Sand Was 'Revolutionary,' or Maybe It Was Just Sand" [Bloomberg]. "One by one, four employees of Fairmount Santrol were ushered into a cramped hotel conference room in Stafford, Texas, where they took turns explaining to their bosses why they thought the company was committing fraud. Some of the it was selling, they said, wasn't so special." • It's not often sand executives get to run a scam!
Tech: "As Antitrust Pressure Mounts, Google to Pull Back Benefit to News Sites That Adopted Its Preferred MobileTechnology" [The Markup]. "Four years after offering special placement in a "top stories carousel" in search results to entice publishers to use a format it created for mobile pages, called AMP, Google announced last week that it will end that preferential treatment in the spring. 'We will prioritize pages with great page experience, whether implemented using AMP or any other web technology, as we rank the results,' Google said in a blog post." • Good. AMP was a grotesque attempt to optimize HTML in Google's favor.
* * *
.
Today's Fear & Greed Index: 62 Greed (previous close: 63 Greed) [CNN]. One week ago: 63 (Greed). (0 is Extreme Fear; 100 is Extreme Greed). Last updated Nov 19 at 11:49am.
The Biosphere
"Legendary Arecibo telescope will close forever — scientists are reeling" [Nature]. "One of astronomy's most renowned telescopes — the 305-metre-wide radio telescope at Arecibo, Puerto Rico — is permanently closing. Engineers cannot find a safe way to repair it after two cables supporting the structure suddenly and catastrophically broke, one in August and one in early November. It is the end of one of the most iconic and scientifically productive telescopes in the history of astronomy — and scientists are mourning its loss. The Arecibo telescope, which was built in 1963, was the world's largest radio telescope for decades and has historical and modern importance in astronomy. It was the site from which astronomers sent an interstellar radio message in 1974, in case any extraterrestrials might hear it, and where the first known extrasolar planet was discovered, in 1992. It has also done pioneering work in detecting near-Earth asteroids, observing the puzzling celestial blasts known as fast radio bursts, and studying many other phenomena. All of those lines of investigation are now shut down for good, although limited science continues at some smaller facilities at the Arecibo site." • Very sad!
Health Care
"CDC recommends Americans to avoid traveling for Thanksgiving" [The Hill]. "'As we're seeing exponential growth in cases, and the opportunity to translocate disease or infection from one part of the country to another, leads to our recommendation to avoid travel at this time,' Dr. Henry Walke, COVID-19 incident manager at the CDC, said in a press call with reporters Thursday. Thanksgiving should be spent with only people living in your households, Walke said. Updated CDC guidance released Thursday also clarifies the definition of 'household' to mean people who have been living in the same home for at least 14 days before celebrations. The update was particularly aimed at college students who typically return home from campus for the holidays, but risk bringing an infection with them this year." • I wonder how many college administrators shut their campuses down..
"A covid-fighting tool is buried in your phone. Turn it on." [WaPo]. "Here's a phone alert you wouldn't want to miss: 'You have likely been exposed.' The coronavirus surge is upon us, and your phone might be able to help. About 100 million Americans now have the ability to get pop-up notifications from local health authorities when they've personally spent time near someone who later tested positive for the coronavirus. But exposure notifications only work if you and the people around you turn them on. Yes, you!… The alerts use software built by Apple and Google into iPhones and Android devices to detect when people (or the phones they're holding) get into close contact with each other. That might sound like a privacy invasion, but they figured out how to track encounters between people in a way that's anonymous — and doesn't store your location — by using the Bluetooth wireless technology in phones…. I'm usually the first person to caution that we shouldn't trust corporations or the government with our sensitive personal data. But after investigating the data flowing out of these state-sponsored apps and services, I haven't found much danger in having them on my phone. Here's why: These systems don't log your phone's location. Instead, they use the clever Bluetooth system that helps phones remember whom you were near without knowing where you were."
"Vitamin D Status in Hospitalized Patients with SARS-CoV-2 Infection" [The Journal of Clinical Endocrinology & Metabolism (Carla)]. From the body of the article: "Vitamin D-deficient COVID-19 patients had a greater prevalence of hypertension and cardiovascular diseases, raised serum ferritin and troponin levels, as well as a longer length of hospital stay than those with serum 25OHD levels ≥20 ng/mL." n = 216.
"Vitamin D and COVID-19 infection and mortality in UK Biobank" [European Journal of Nutrition]. Conclusions: "Our findings do not support a potential link between 25(OH)D concentrations and risk of severe COVID-19 infection and mortality. Randomised trials are needed to prove a beneficial role for vitamin D in the prevention of severe COVID-19 reactions or death."
Guillotine Watch
"Lawsuit: Tyson managers bet money on how many workers would contract COVID-19" [Iowa Capital Dispatch]. • Dear Lord:
The lawsuit was recently amended and includes a number of new allegations against the company and plant officials. Among them:

In mid-April, around the time Black Hawk County Sherriff Tony Thompson visited the plant and reported the working conditions there "shook [him] to the core,"
John Casey, an upper-level manager at the plant, is alleged to have explicitly directed supervisors to ignore symptoms of COVID-19, telling them to show up to work even if they were exhibiting symptoms of the virus. Casey reportedly referred to COVID-19 as the "glorified flu" and told workers not to worry about it because "it's not a big deal" and "everyone is going to get it." On one occasion, Casey intercepted a sick supervisor who was on his way to be tested and ordered him to get back to work, saying, "We all have symptoms — you have a job to do." After one employee vomited on the production line, managers reportedly allowed the man to continue working and then return to work the next day.
In late March or early April, as the pandemic spread across Iowa, managers at the Waterloo plant reportedly began avoiding the plant floor for fear of contracting the virus. As a result, they increasingly delegated managerial authority and responsibilities to low-level supervisors who had no management training or experience. The supervisors did not require truck drivers and subcontractors to have their temperatures checked before entering the plant.
In March and April, plant supervisors falsely denied the existence of any confirmed cases or positive tests for COVID-19 within the plant, and allegedly told workers they had a responsibility to keep working to ensure Americans didn't go hungry as the result of a shutdown.
Tyson paid out $500 "thank you bonuses" to employees who turned up for every scheduled shift for three months — a policy decision that allegedly incentivized sick workers to continue reporting for work..
Tyson executives allegedly lobbied Iowa Gov. Kim Reynolds for COVID-19 liability protections that would shield the company from lawsuits, and successfully lobbied the governor to declare that only the state government, not local governments, had the authority to close businesses in response to the pandemic.
The Sherriff's reaction. Hoo boy. Oh, and "working to ensure Americans didn't go hungry"? "[T]he company increased its exports to China by 600% during the first quarter of 2020."
Class Warfare
"Ideology and Race in American History" [Barbara J. Fields]. From 1982, still germane: "One of the more far-reaching is that that favorite question of American social scientists — whether race or class 'variables' better explain "American reality" — is a false one. Class and race are concepts of a different order; they do not occupy the same analytical space, and thus cannot constitute explanatory alternatives to each other. At its core, class refers to a material circumstance: the inequality of human beings from the standpoint of social power. Even the rather diffuse definitions of applied social science — occupation, income, status — reflect this circumstance, though dimly. The more rigorous Marxian definition involving social relations of production reflects it directly. Of course, the objective core of class is always mediated by ideology, which is the refraction of objective reality in human consciousness. No historical account of class is complete or satisfying that omits the ideological mediations…. Race, on the other hand, is a purely ideological notion. Once ideology is stripped away, nothing remains except an abstraction which, while meaningful to a statistician, could scarcely have inspired all the mischief that race has caused during its malevolent historical career. The material circumstance upon which the concept purports to rest — the biological inequality of human beings — is spurious: there is only one human species, and the most dramatic differences of appearance can be wiped out in one act of miscegenation. The very diversity and arbitrariness of the physical rules governing racial classification prove that the physical emblems which symbolize race are not the foundation upon which race arises as a category of social thought." • Identity politics is based on a category error? Who knew….
"Decomposing the Black-White Wealth Gap in the United States, 1989-2013" (PDF) [Kevin Carney (Master's thesis supervised by Thomas Piketty]. "Figure 6 motivates this analysis. It shows that across all periods of the [Survey of Consumer Finances (SCF)], the wealth of bottom 75 percent of White individuals evolves almost in parallel to the wealth of the entire Black population. If we exclude White individuals at the top, average Black and White wealth look quite similar, both in levels and in growth rates. Table 6 decomposes the dynamics of wealth for Black and White individuals, excluding the top quartile of the White wealth distribution.. [W]e see that the determinants of Black and White wealth accumulation are much more similar when the top quartile of Whites is excluded. In fact, in the aggregate over the entire period covered by the SCF, all three components of wealth accumulation are virtually identical between the Black sample and the restricted sample of the White population. This suggests that ."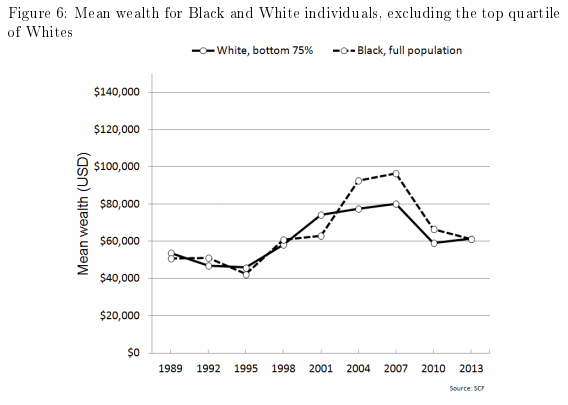 Obviously, this analysis shoud inform the Reparations debate.
The Third World, except with car culture:
Thousands of cars lined up to collect food in Dallas, Texas, over the weekend, stretching as far as the eye can see. pic.twitter.com/xLFGOcBkPK

— CBS News (@CBSNews) November 16, 2020
That will change soon enough….
News of the Wired
No:
I'm using this Amazon Halo Fitbit clone and can't comment on the workout stuff yet, but it has this creepy feature where it listens to every conversation you have and tries to analyze how other people perceive your speech. pic.twitter.com/WCu0S4B6pB

— Quinn Nelson (@SnazzyQ) October 31, 2020
* * *
Readers, feel free to contact me at lambert [UNDERSCORE] strether [DOT] corrente [AT] yahoo [DOT] com, with (a) links, and even better (b) sources I should curate regularly, (c) how to send me a check if you are allergic to PayPal, and (d) to find out how to send me images of plants. Vegetables are fine! Fungi and coral are deemed to be honorary plants! If you want your handle to appear as a credit, please place it at the start of your mail in parentheses: (thus). Otherwise, I will anonymize by using your initials. See the previous Water Cooler (with plant) here. Today's plant (JS):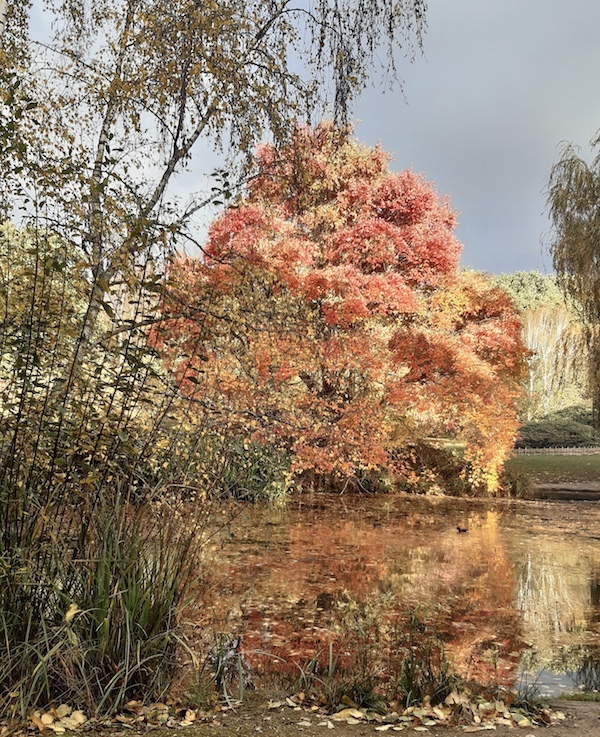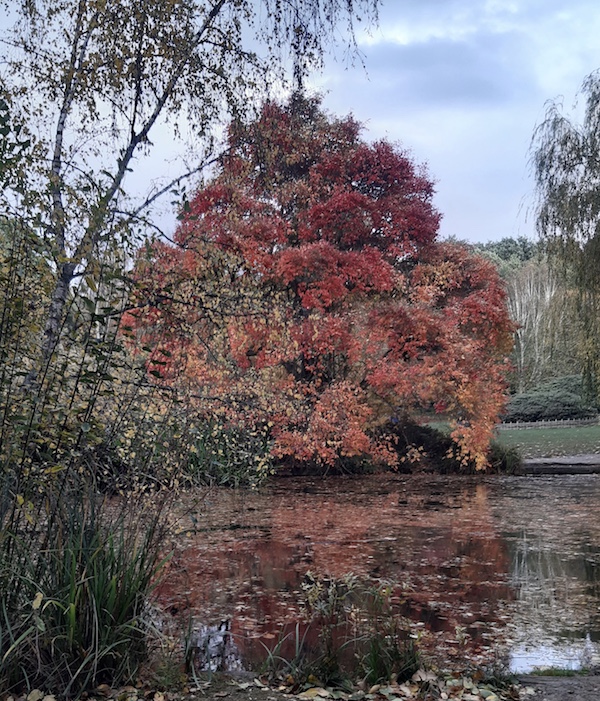 JS writes: "Same tree a few minutes apart. Taken on my phone. I am not a photographer and I used no filters or tricks and I did no editing. This was what I saw."
* * *
Readers: Water Cooler is a standalone entity not covered by the recently concluded and — thank you! — successful annual NC fundraiser. So if you see a link you especially like, or an item you wouldn't see anywhere else, please do not hesitate to express your appreciation in tangible form. Remember, a tip jar is for tipping! Regular positive feedback both makes me feel good and lets me know I'm on the right track with coverage. When I get no donations for five or ten days I get worried. More tangibly, a constant trickle of donations helps me with expenses, and I factor in that trickle when setting fundraising goals:
Here is the screen that will appear, which I have helpfully annotated.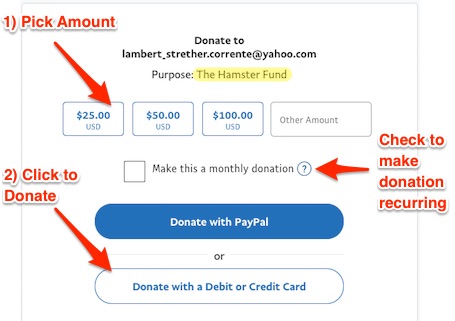 If you hate PayPal, you can email me at lambert [UNDERSCORE] strether [DOT] corrente [AT] yahoo [DOT] com, and I will give you directions on how to send a check. Thank you!