By Lambert Strether of Corrente.
Patient readers, as usual there was an enormous amount of material over the weekend, and I can't get to all of it, since I have a post to complete. I will, however, get to Pfizer. –lambert UPDATE All done!
Bird Song of the Day
Wake up!
#COVID19
At reader request, I've added this daily chart from 91-DIVOC. The data is the Johns Hopkins CSSE data. Here is the site.
Case count by United States region: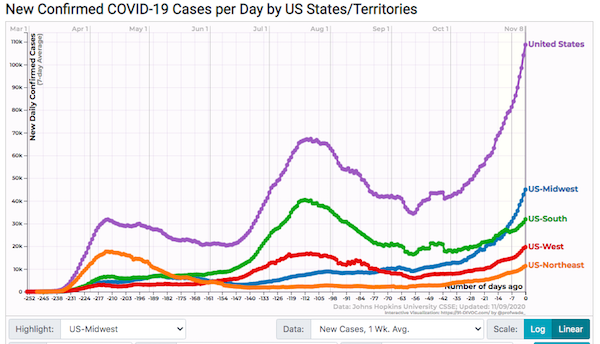 Waiting for the line to go vertical…
Test positivity by region: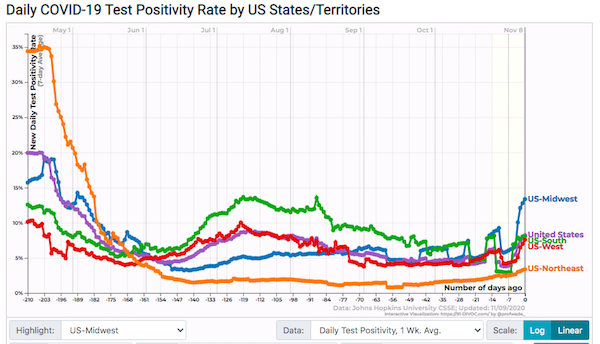 Case fatality rate by region: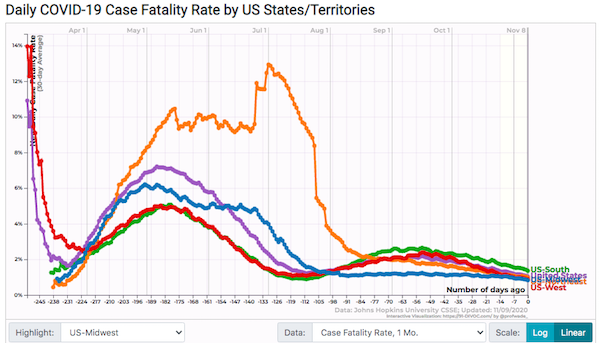 The Northeast (orange) really stands out.
Hospitalization by region: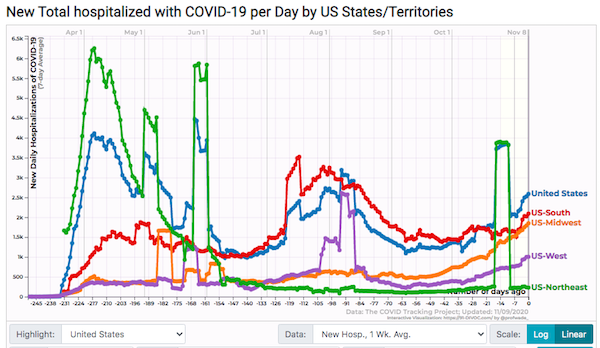 Again, the Northeast (green) stands out for its enormous spikes.
DE: "Coronavirus spike at UD 'directly related' to Halloween parties, spokeswoman confirms" [Newark Post]. "The recent spike in COVID-19 cases at the University of Delaware is a result of numerous large parties over Halloween weekend, a university official confirmed Friday." • Can't believe college administrators had the whole summer to figure out college kids partied.
IN: "Notre Dame AD Jack Swarbrick addresses Clemson postgame field storming" [South Bend Tribune]. "The bookend experience flashed through Jack Swarbrick's mind as he watched a wall of humanity Saturday night coming toward him with relentless conviction to celebrate on Notre Dame Stadium's turf…. Saturday night's game [was] played in a pandemic and the field storm that took place afterward looking like a potential COVID-19 super-spreader event to a curious college football world."
KY: "'Truly frightening.' 2,302 new Kentucky coronavirus cases and 10 deaths." [Herald-Leader]. "Calling the latest case increase "truly frightening," Gov. Andy Beshear announced 2,302 new cases of COVID-19 in Kentucky on Friday — the second highest single-day increase of new cases — lifting the statewide infection total to 117,505. Thursday's increase set a record for most new cases reported in a single day. 'I know we've been in this fight for so long that it's easy to get numb to the scary headlines and high case numbers,' the governor said in a written statement. 'That's normal. It's human nature. But you have to understand this is the most dangerous COVID-19 has ever been in the commonwealth.' Hospitalizations continue to rapidly climb."
RI: The "East Side" is where Brown University is located:
Just took a 60 min walk on the East Side. UNBELIEVABLE HOW MANY PEOPLE NOT WEARING MASKS! I had to zigzag to avoid some and lots of groups not wearing (ie Lippitt Park). And I am not including runners. Easy to see why Covid spread is increasing. @RIHEALTH @ashishkjha

— Neil Steinberg (@NeilDSteinberg) November 8, 2020
Politics
"But what is government itself, but the greatest of all reflections on human nature?" –James Madison, Federalist 51
"They had one weapon left and both knew it: treachery." –Frank Herbert, Dune
"They had learned nothing, and forgotten nothing." –Charles Maurice de Talleyrand-Périgord
2020 Democrats in Disarray
"A Battle for the Soul of the Democratic Party" [Marianne Williamson, Newsweek]. "Donald Trump did not create those situations; those situations created Donald Trump. And if the Biden administration reflexively falls back into the institutionalized patterns of soft injustice that produced the dysfunction to begin with, rather than springing forward into fundamental disruptions of those patterns, then the next truck could be even bigger…. Joe Biden's win is not a healing; it's a reprieve. Now, not later, is the time to make that very clear both to ourselves and to him. The Democratic Party has no basis for self-congratulations at this point. When your opponent is a neo-fascist who has more in common with Mussolini than with Lincoln and has supervised the death of almost a quarter-million Americans, yet all you can do is beat him by a razor-thin margin, that is not a sign that things are going well. It's a sign that some merciful force to be greatly praised came through at the last minute and saved you."

"Before the Dust Has Settled, Corporate Democrats Are Already Attacking AOC and the Left" [David Sirota, Jacobin]. "[M]oney never sleeps, and money is already hard at work trying to make sure nothing fundamentally changes in politics — and if nothing fundamentally changes in Washington, then everything is going to change for the worse in the real world. If you hear people tell you to just shut up and celebrate and take some time off, they are ignoring the insomnia of money. Corporate interests don't rest — they are like a T-1000 Terminator interminably pursuing their prime directives, which is to continue enriching the billionaire class. The election has not deterred them, which means we sleep at our own peril."

"Will the Democrats Ever Make Sense of This Week?" [The New Republic]. "There's a real Goldilocks quality to what Biden seems to have pulled off: a campaign that eroded Trump's strength with core white constituencies without leaning into cultural dog whistles; that got where it needed to with Black voters despite Biden's record on criminal justice and the year's tumult; and that substantively stepped to the left of the last Democratic campaign, even as Biden issued public repudiations of the progressives that got him there. All of it was wrapped up with a bow by a quasi-spiritual message about a return to decency, comity, and bipartisanship. It was the perfect moderate campaign, and it was enough to win. And yet it was also a disaster. Leaving aside the fact that Biden's apparent victory is narrow enough that Trump very plausibly might have won absent the pandemic or with a different political strategy, the campaign did seemingly nothing whatsoever to help Democrats down ballot. The failure to produce a real legislative mandate, as nearly a quarter of a million Americans lie dead in a situation the president has plainly worsened and mismanaged, is a disturbing and catastrophic setback not only for progressives but for moderates telling themselves now that Biden's personal qualities might cajole Senate Republicans into cooperating with him if Democrats fail to take the Senate in January. They will not."
Biden Transition
Dogs heading toward another dogpile?

"GSA Holds the Key to When or If Biden Gets Access to Full Transition Resources" [Government Executive]. "[T]he transition process cannot formally begin until the head of the General Services Administration gives the green light… While the Biden team has been working with the Trump administration for months on the transition and launched its transition website on Wednesday, it does not yet have access to all the transition resources the president elect is entitled to—that determination will be made by GSA Administrator Emily Murphy."

"What's ascertainment? The green light to launch transition" [Associated Press]. "The formal presidential transition doesn't begin until the administrator of the federal General Services Administration ascertains the "apparent successful candidate" in the general election. Neither the Presidential Transition Act nor federal regulations specify how that determination should be made. That decision green lights the entire federal government's moves toward preparing for a handover of power…. The determination clears the way for millions of federal dollars to flow to Biden's transition team and opens the doors of the federal government to hundreds of Biden staffers, so they can begin assessing agency operations ahead of Inauguration Day on Jan. 20." • Here is the more highly colored version of the previous two stories–

"A little-known Trump appointee is in charge of handing transition resources to Biden — and she isn't budging" [WaPo] (not paywalled). "A Trump administration appointee is refusing to sign a letter allowing President-elect Joe Biden's transition team to formally begin its work this week, in another sign the incumbent president has not acknowledged Biden's victory and could disrupt the transfer of power….But by Sunday evening, almost 36 hours after media outlets projected Biden as the winner, GSA Administrator Emily Murphy had written no such letter." • "Refiusing to sign" is not the same as "written no letter." I'm also not aware that our famously free press plays a Constitutional role in calling elections, although doubtless liberal Democrats would like it to, because norms.

Lambert here: I did a little checking (hilariously, somebody has already edited Murphy's Wikipedia entry to reflect the WaPo story). Here's Murphy's bio; she doesn't look like a political operator to me. She was also — like so many judges who later ended up on the Supreme Court — unanimously confirmed by the Senate in 2017, having previously served in the Bush administration. It looks like the transition between an incoming administration and the GSA is governed by a Memorandum of Understanding. Here is Obama's; here is Biden's. If the Biden campaign had concerns about "ascertainment," the time to clarify them would been before the MOU was signed, and not afterwards, in the press.

UPDATE "Government agency tasked with transition process has yet to recognize Biden's victory" [CNN]. "In the meantime, there are informal ways to continue the transition process, said Clay Johnson III, who ran George W. Bush's transition in 2000 at a time when the election's outcome was delayed by more than a month over the disputed results in Florida…. 'Money to support a privately funded transition is easy to raise. (The Biden team) can raise millions of dollars in half a day,' Johnson said."

UPDATE "A Fake GSA Transition Letter Telling Biden, Harris They Won Is Spreading Online" [Newsweek]. "A faked letter claimed to be from the U.S. General Services Administration (GSA) telling Joe Biden and Kamala Harris they have been deemed election victors is spreading online. The mocked-up correspondence dated November 8, which begins 'Dear President-Elect Biden; and is addressed to him under the same title, tells Biden and Harris they are president and vice-president elect for the purposes of the Presidential Transition Act of 1963." • In other words, ascertainment.
2020
* * *

"Four states still counting ballots after US presidential election" [Yahoo News]. "ll outlets have yet to project a final winner in four US states, as of Monday: Alaska, Arizona, Georgia and North Carolina…. [AZ:] Biden has received 49.5 percent of the vote, compared to 49 percent for Donald Trump — a narrow margin of 16,985 votes, with 98 percent of ballots counted…. [GA:] The Democrat currently has a lead of more than 10,350 votes, according to state election data… [NC:] At the moment, Trump is ahead of Biden by about 75,000 votes, with a total of about 50 percent of the vote versus his rival's 48.6 percent…. [AK:] Only 56 percent of the votes have been counted in Alaska, due to the complicated logistics of collecting ballots in the vast state, and cross-referencing absentee ballots to ensure no one voted twice. Trump leads with 62.9 percent of the count so far. No Democrat has won in Alaska for decades…. If Biden wins Arizona and Georgia, as some projections suggest, he will have 306 of the 538 electors — the same number that propelled Trump to victory in what the president has called a "landslide" over Hillary Clinton in 2016." • And then, there are the recounts…

GA: "Great Lakes Justice Center Files Election Crimes Lawsuit" [WBCK] (talk radio with Limbaugh). "The Great Lakes Justice Law Center [here] is filing a new election crimes lawsuit in Wayne County Circuit Court. The Lansing area law firm is representing two Detroit area residents in the action. The suit charges Wayne County elections officials knowingly allowed and supported illegal activities surrounding the Tuesday general election. The suit in Wayne County Circuit Court is asking for an entirely new election to be staged for the county." • Here is the lawsuit (PDF), although there seems to be no docket number, case number, or judge. However, if this stands up, there is now at least one affidavit:

— Matt Finn (@MattFinnFNC) November 9, 2020

Frankly, given how screwed up our voting systems are, I'm amazed there's only one case. The Trump campaign is perhaps having a hard time getting lawyers to work for them…

KS: "Candidate who admitted to revenge porn wins Kansas state House seat" [The Hill]. "A 20-year-old candidate who admitted to spreading revenge porn has apparently won a state House seat in Kansas. Aaron Coleman, a Democrat, was the only candidate on the ballot this week running for Kansas House District 37, though he faced a write-in campaign from two other contenders, including seven-term Democratic incumbent state Rep. Stan Frownfelter, who Coleman defeated in a primary in August. Unofficial election results show Coleman ahead with 3,496 votes compared to 2,013 write-in votes, local ABC affiliate KAKE reported… Coleman thanked supporters on social media Tuesday, saying, "Now that all advance ballots have been counted, a victory of the working class in District 37 appears almost certain. People's Democracy has returned to the free state of Kansas after 110 years.'" • Coleman also supported #MedicareForAll, although The Hill does not mention that.

NY: "Zohran Mamdani Wins Astoria Assembly Seat In Uncontested Race" [Astoria-Long Island Patch]. "Astoria residents have officially sent newcomer Zohran Mamdani to Albany to represent them in the state legislature…. He is a first-time candidate for elected office and a member of the Democratic Socialists of America, or DSA… He was among several DSA-backed candidates who successfully defeated incumbents in the June 23 primary, such as tenant organizer Marcela Mitaynes and nurse Phara Souffrant Forrest, who both defeated longtime Brooklyn assembly members." • Like to see some DSA work upstate….

* * *

"Once Again, the American People Have Misunderstood My Election Entrail-Reading Methodology" [Slate]. "As Chief Haruspex at Ntrailz, where we bring a different and more hepatoscopy-driven perspective to elections than many news organizations, I'm no stranger to misguided outrage from the unenlightened masses. I understand why, to the untrained, ignorant, stupid, stupid, stupid eye of the layman, Ntrailz's "2020 General Election Prophecy: Complete Results" might have looked like some kind of prophecy about the results of the 2020 general election. But when I wrote "Joe Biden will be declared President of the United States in a landslide before the sun sets over Mauna Loa on Election Day, which is to say before 5:54 P.M. Hawaii Standard Time, Nov. 3, 2020," I was talking about a range of probabilities, not making a definite prediction. When I went on MSNBC to announce that Ntrailz's Sacred Rooster had pecked the grains covering the letters "β," "Ι," and "Δ," and excitedly told Rachel Maddow that this "absolutely guarantees a Biden blowout," I assumed anyone with a grade school background in alectryomancy would know I was speaking figuratively…. Once you filter out the noise and misinformation, the election results actually validate important features of our model. I want to explain in a little more detail, so that you can all see exactly why you owe me an apology.
Covid
Filing this under 2020, for reasons that will shortly be obvious.

"Vaccine will be "greatest medical advance in the last 100 years," says Pfizer CEO" [CNN] "'Emotions are very high,' [Pfizer CEO Albert] Bourla told CNN Chief Medical Correspondent Dr. Sanjay Gupta…. He added that the vaccine will be available free to all American citizens. The CEO said Pfizer planned to have more than 1 billion doses available globally next year." The first discordant note: "Bourla did tell CNN that it was unclear how long protection from the vaccine could last." • Of course, we should all pray to the God(ess)(e)(s) Of Our Choice, If Any that this "advance" proves out. Nevertheless–

"What Pfizer's landmark COVID vaccine results mean for the pandemic" [Nature]. "It works! Scientists have greeted with cautious optimism a press-release declaring positive interim results from a coronavirus vaccine trial — the first to report from the final, 'phase III' round of human testing." • So the second discordant note: This was a press release.

No peer review:

*Not peer reviewed

Concurrent manufacturing for 50 mm doses target year end to scale up to over 1 billion in 2021

Not part of Op Warp Speed
Pricing unknown

— Andy Slavitt @ ??? (@ASlavitt) November 9, 2020

The third discordant note.

The Biden team was informed before the press release went out:

2) Biden team was informed last night about the Pfizer vaccine's preliminary findings. And his team is correct in pointing out the vaccine is still months away from public availability. So until then, public health safety measures still needed. #COVID19 pic.twitter.com/FQnLDmU0gX

— Eric Feigl-Ding (@DrEricDing) November 9, 2020

(The Pfizer press release was time-stamped "Monday, November 09, 2020 – 06:45am"; in other words, after "last night".) The fourth discordant note. And the fifth:

"BioNTech, Pfizer stocks soar after COVID-19 vaccine candidate achieves 'success' in first analysis" [MarketWatch] and "Stock futures surge, with Dow futures up 1100 points, after Pfizer vaccine news" [MarketWatch].

Lambert here: Somebody with a paranoid and suspicions disposition would be strongly reminded of remdesivir. Remdesivir was hyped in a press release, and immediately endorsed by an expert ([genuflects] Anthony Fauci), which had the effect of "ramping" (Yves's word) Gilead's stock, in a manner that would have permitted insiders to profit who might have been aware of Fauci's plans before they were executed. We see the exact same pattern with Pfizer's vaccine — only this time, anybody on or associated with Biden's team could have profited. Why not, after all, inform the Biden team with the press release, and not before? Surely there are norms about that? Of course, remdesivir was also a damp squib, sadly albeit profitably for Gilead. One only hopes the same is not true of Pfizer, a company for which fraud is not unknown.

Oh, and either Yglesias is inhumanly wide-eyed and innocent, or he thinks this is sketchy too:

Biden released the names on his Covid task force early this morning and within an hour we had a 90% effective vaccine. Talk about building back better!https://t.co/vKEiDqObk9

— Matthew Yglesias ? (@mattyglesias) November 9, 2020
Health Care
Obama can never fail; he can only failed:

Democrats seem insanely determined to keep running on the ACA to "prove" it wasn't actually a huge political mistake yet it ended up basically dead even with the electorate 51-49. One of their top messages "defend ACA" was not even very popular https://t.co/o7ST6G7nDN

— Jon Walker (@JonWalkerDC) November 8, 2020
Realignment and Legitimacy
"Looks like America":

Stacey Abrams: "It is a privilege in this nation to be able to see yourself reflected in the face of leadership." #Election2020 pic.twitter.com/CoN8GffX44

— The Hill (@thehill) November 8, 2020

Funny, Abrams doesn't look like she's sleeping in her car or in a tent under a bridge. So maybe "privilege" doesn't mean what she thinks it does?

"Nation Sees Fundamental Realignment In Which Voting Demographics Should Be Demonized" [The Onion]. "'Where once it was common sense that Democrats only needed to say non-college-educated whites were bigots voting against their own self-interest, it now seems they'll also need to pin electoral failures on Hispanics who refuse to use the term Latinx. It's a stunning development,' [said Stanford University polling expert Harry Mills]." • Ouch.
Stats Watch
At reader request, I added some business stats back in. Please give Econintersect click-throughs; they're a good, old-school blog that covers more than stats. If anybody knows of other aggregators, please contact me at the email address below.
There are no statistics of note today.
* * *
.
Real Estate: "Homebound workers inject life into suburban malls after downtowns empty out" [Reuters]. "'A lot of people who used to commute to downtowns on a daily basis are not anymore,' said Tim Sanderson, head of Canadian retail at real estate services firm JLL in Toronto. 'Where are they getting dry cleaning done, picking up dinner? … They're doing it in their suburban shopping centre.' Traffic in Canadian suburban malls owned by Cadillac Fairview, the property unit of Ontario Teachers' Pension Plan, is now at more than 70% of pre-pandemic levels, while less than half of shoppers have returned to its downtown malls, Executive Vice President of Operations Sal Ianoco told Reuters. The same story reverberates around the globe." • No quotes from the US, though. Readers? On the other hand–
"How many DFW malls will be left after COVID-19? Three or four, expert predicts" [Dallas Business Journal]. "Dallas-Fort Worth is currently home to 18 malls with a total footprint of 21.2 million square feet, according to Weitzman. After the dust from the COVID-19 pandemic settles, only three or four may be left standing. This is the prediction of Barney McAuley, the new managing director at Edge Capital Markets, the investment services platform of Dallas-based Edge Realty Partners. In his new role, McAuley will be working closely with CMBS lenders and the mall properties across the country that they are coming into possession of. "There are 1,100 malls in America and somewhere between 700 and 800 of them are not going to be malls much longer," McAuley recently told the Business Journal." • If you are a mall maven, this is a fascinating article, with a long interview with McAuley.
Retail: "There's A Mason Jar Shortage Because So Many People Are Getting Into Canning, According To Experts" [Delish]. "When the COVID-19 pandemic first hit the United States earlier this year, people began cooking and baking at home much more frequently as both a way to safely feed their families and as a way to relieve some stress…. CNN reported that there is already a shortage at many retailers nationwide, specifically for double ring mason jar lids. They spoke with Marie Bregg, the owner of Mason Jar Merchant, who said her online sales began to spike in the middle of August, going up 600 percent, and haven't really dropped since. Of course canning is nothing new for many people and it has been done for years—centuries even—as a way to keep food fresh long after you make it. And that's precisely why it's gaining popularity right now. Experts told CNN the surge is probably fueled by a few reasons, such as people adopting new hobbies as they spend time at home. This could be canning itself or even gardening, which can lead to an influx of fresh food, which then leads to canning." • Or people don't have work and are running out of money, so they learn how to grow food. That's how I got into permaculture after The Crash (this being Son Of The Crash).
Tech: "Apple's new Macs could revive the PC chip wars, analysts say" [Channel News Asia]. "Apple will design the chips using Arm technology and have them manufactured by a partner, most likely Taiwan Semiconductor Manufacturing… Arm-based PCs have key differences from Intel-based machines. Because the chips are derived from smartphones where power consumption is a key concern, they tend to claim better battery life than conventional machines. Like smartphones, they also turn on quickly and can remain constantly connected to cellular data networks…. But hurdles remain for Arm-based PCs. Most software written in the past 20 years was for Intel machines, and until it is rewritten, it may have to rely on 'emulation' that could slow down apps." • Ha ha ha, how many apps do you think will get rewritten to force you into The Cloud, and then charge you a monthly rent, so you don't actually own the software? Good job, Apple.
Tech: "People are complaining the Amazon Echo keeps asking them if they want to buy stuff — here's how to turn that off" [CNBC]. "It's these sort of unwanted ads that seems to be annoying some people. I'll show you how to turn them off, but first a reminder why they probably exist in the first place: Amazon can price its Echo speakers lower than some competitors by using it as a way to get you to buy more stuff from Amazon." • Wowsers, monopoly power… In any case, you can open your Alexa app, if you're nutty enough to have it on your phone, and "Turn off the option to "receive personalized recommendations and deals based on your shopping activity," which for some reason is defaulted to "On." He who controls the defaults, controls the world….
Tech:
i still don't get why this would happen. it's not remotely an incendiary tweet or anything, so i don't think it's CENSORSHIP. but it's weird. two impressions, total. really? pic.twitter.com/tBse52B0lg

— Steve Randy Waldman (@interfluidity) November 9, 2020
Shipping: "Vital World Trade Route Roiled by 'Black Swan' Container Crunch" [Bloomberg]. "Shortages of the ribbed steel boxes that have plied the global economy for a half-century are plaguing transpacific routes in particular. The dearth is boosting the purchase price of new containers and lease rates by 50%, snarling port traffic, adding surcharges and slowing deliveries heading into the holidays. A surge in Chinese exports and robust consumer demand in the U.S. help explain the tightness… Shipping liners own roughly half the world's containers, and the rest are owned by lessors."
Supply Chain: "Cold Chain (And Colder Chain) Distribution" [Science]. Dammit, missed this in August. "Let's talk about the 'cold chain'. That's the distribution system for things (like most vaccines) that need to be kept refrigerated until they're used in the clinic. This document from the WHO will tell you a lot more than you ever wanted to know (or thought there even was to know) about the subject. Details get down to how large the packages are (the vials in the middle will feel the effects of refrigeration last, and then warm up the slowest), the design of refrigerated trucks and their airflow, the various options for "cold pack" devices inside containers, where things are placed in chilled storage units of various sizes and how they're retrieved, how long things need to be kept out at room temperature in order to be used and how long they must not be kept at room temperature before they have to be thrown away, and so on. There's a lot of experience with this, and a lot of infrastructure. But let's qualify that last statement: there's a lot of infrastructure in the developed world. Cold-chain distribution has always been a major challenge in places that are remote, less developed, or have generally higher ambient temperatures." • Worth reading in full to understand the issues involved in distributing certain vaccines, including Pfizer's.
The Bezzle: "Airbnb hit with proposed class-action lawsuit from host missing payments" [CNBC]. Here is AirBnB's response: "'When the WHO declared Covid-19 as a global pandemic, we made the difficult decision to activate our longstanding Extenuating Circumstances policy and provide full refunds to eligible guests because public health and safety comes first,' Airbnb said in a statement. 'While we know it had a significant impact on bookings and revenue for our host community, we still believe firmly that it was the right thing to do. The allegations in this complaint are completely frivolous and without merit.'" • "Our longstanding Extenuating Circumstances policy," I love it!
Today's Fear & Greed Index: 57 Greed (previous close: 40 Fear) [CNN]. One week ago: 25 (Fear). (0 is Extreme Fear; 100 is Extreme Greed). Last updated Nov 9 at 11:57am.
Rapture Index: Closes up one on earthquakes (Iran). "A strong earthquake strikes Turkey" [Rapture Ready]. Record High, October 10, 2016: 189. Current: 181. (Remember that bringing on the rapture is a good thing, so high is better.) I'd expect "Beast Government" to be popping with Biden's election, but no!
The Biosphere
"Air pollution and COVID-19 mortality in the United States: Strengths and limitations of an ecological regression analysis" [Science]. "[H]igher historical PM2.5 exposures are positively associated with higher county-level COVID-19 mortality rates after accounting for many area-level confounders."
Health Care
Sounds great:
I will say it again Mark. Even if YOU don't die, you are a link in chain to someone's death.

— Andy Slavitt @ ??? (@ASlavitt) November 7, 2020
Until you realize Slavitt not only opposed #MedicareForAll, but is well-paid to do so.
"The Double Whammy of Seasonal Affective Disorder in a Season of Covid" [New York Times]. "But while the pandemic, with its myriad economic, vocational, educational and social disruptions, is challenge enough for people who are not normally prone to the blues, the days of truncated daylight this November through March could be far gloomier than usual for millions of Americans who suffer annually from seasonal depression…. An estimated 5 percent of the population — one person in 20 — has the full-blown SAD syndrome, said Dr. Norman E. Rosenthal, the psychiatrist who first identified it in the 1980s and then devised an effective treatment…. Most helpful for people with SAD, he said, is exposure to sunlight or its artificial equivalent for 20 to 30 minutes every morning. The standard amount of light needed is 10,000 lux. Sitting under a commercial light box at least one-foot square will do the job…. "A 20-minute early morning walk in the sun is as good as commercial light therapy," Dr. Rosenthal said." • Get moving! (And send me photos of plants you see on your walk :-)
"An Amazonian tea stimulates the formation of new neurons" [Medical Xpress]. "One of the main natural components of ayahuasca tea is dimethyltryptamine (DMT), which promotes neurogenesis —the formation of new neurons—according to research led by the Complutense University of Madrid (UCM). In addition to neurons, the infusion used for shamanic purposes also induces the formation of other neural cells such as astrocytes and oligodendrocytes."
Guillotine Watch
The incentives aren't good anywhere:
I'm an infrastructure architect.

Most code is written like shit. Hardcoded crap all over the place, no commenting, obvious sanity checks missing, obscure dependencies, legacy garbage no one knows anything about…

I promise you those fast food workers couldn't do worse.

— Misty ??️‍⚧ (@MistyOnTap) November 7, 2020
News of the Wired
"The Last Days of Mankind" [Karl Kraus]. "This site contains an annotated translation of Karl Kraus's extraordinary satirical drama of the First World War, 'Die letzten Tage der Menschheit', 'The Last Days of Mankind', by Michael Russell." Here's the Part One of the Prologue. Archduke Franz-Ferdinand has just been assassinated. Seems rather similar to our own day. "In Berlin, things are serious but not hopeless. In Vienna, they are hopeless but not serious." –Karl Kraus
"Mutual Aid Hub" (map) [Town Hall Project]. "Find Mutual Aid Networks and other community self-support projects near you. Reach out to these groups directly via the map above to get involved, offer resources, or submit needs requests." • Interesting?
* * *
Readers, feel free to contact me at lambert [UNDERSCORE] strether [DOT] corrente [AT] yahoo [DOT] com, with (a) links, and even better (b) sources I should curate regularly, (c) how to send me a check if you are allergic to PayPal, and (d) to find out how to send me images of plants. Vegetables are fine! Fungi and coral are deemed to be honorary plants! If you want your handle to appear as a credit, please place it at the start of your mail in parentheses: (thus). Otherwise, I will anonymize by using your initials. See the previous Water Cooler (with plant) here. Today's plant (cjmxc):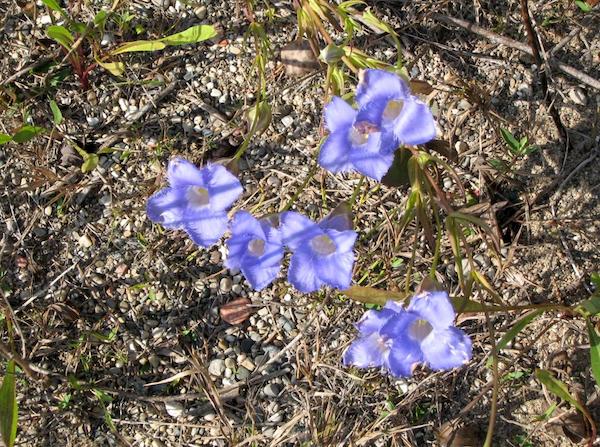 cjmxc writes:
Lambert, I enjoyed seeing your Favorite Flower list and wanted to accept your challenge to offer a pick.

In addition to my recent infatuation with the evening primrose, there is another photo/flower that fits the theme – nature's beauty and toughness in reclamation despite man's destruction. The primrose overcame my building a garage and paving the ground.

The Fringed Gentian overcame – in fact, judging by the search hits, seems to thrive on – significantly more disturbed ground. In this case an area that had been a large gravel/sand mining pit 'given' the State in exchange for a similar site across the road. (That was mined and then developed with luxury homes. No comment). I had hiked this 'outback' section for several years with BC my 4-legged friend when the gentian suddenly appeared in fall of 2008 or 2009. That it appears at the end of summer and into the fall brings a special joy. I also stumbled on this poem by William Cullen Bryant celebrating its beauty and its determination. Being well into autumn myself, the appeal of the both the gentian and the primrose is not surprising.

Unfortunately, the flower will have to try again as this area has been re-leased to a mining operation for 15 yrs during which time it may or may not mine and/or allegedly reclaim mined portions with a 'native short-grass prairie'. I'm glad BC no longer needs it. Screw cement. It hasn't even gotten into 'fixing our damn roads' as far as I know.

And, I think there is reason to bet that someone and their dog will see the gentian again when the operation runs out or goes bust. Or, at least, the gentian will return when man's folly has finally removed him from life's equation.
Does anybody else want to take up this challenge? Something to do before the snow flies!
* * *
Readers: Water Cooler is a standalone entity not covered by the recently concluded and — thank you! — successful annual NC fundraiser. So if you see a link you especially like, or an item you wouldn't see anywhere else, please do not hesitate to express your appreciation in tangible form. Remember, a tip jar is for tipping! Regular positive feedback both makes me feel good and lets me know I'm on the right track with coverage. When I get no donations for five or ten days I get worried. More tangibly, a constant trickle of donations helps me with expenses, and I factor in that trickle when setting fundraising goals:
Here is the screen that will appear, which I have helpfully annotated.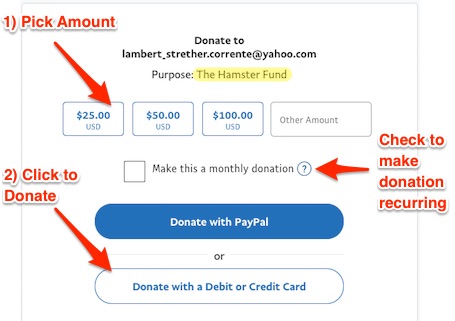 If you hate PayPal, you can email me at lambert [UNDERSCORE] strether [DOT] corrente [AT] yahoo [DOT] com, and I will give you directions on how to send a check. Thank you!