By Lambert Strether of Corrente.
Patient readers, sorry to be a bit late. Every so often by VPN causes my browser to believe I'm in Norway, at which point search results and my mailer UI appear in Norwegian, and I have to spend a few minutes persuading my browser otherwise. More politics shortly. –lambert
Bird Song of the Day
#COVID19
At reader request, I've added this daily chart from 91-DIVOC. The data is the Johns Hopkins CSSE data. Here is the site.
Case count by United States region: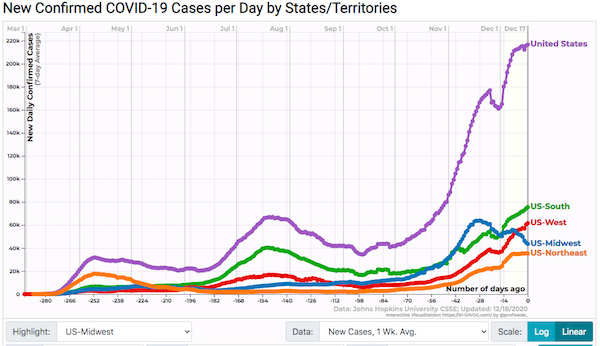 Resuming the upward climb, though at a lesser slope. Looks like the Midwest did it, from the regional data. I feel I'm engaging in a macabre form of tape-watching, because I don't think the peak is coming in the next days, or even weeks. Is the virus gathering itself for another leap?
Big states (New York, Florida, Texas, California) instead of the Midwest: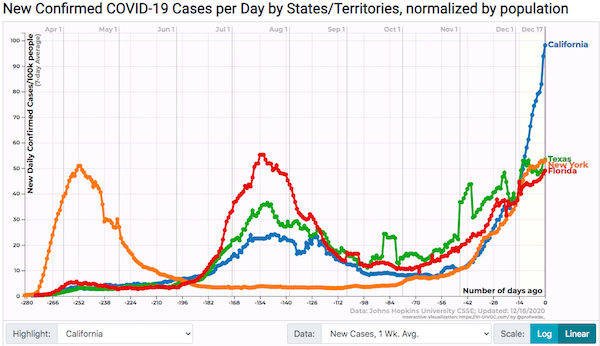 Yikes, California!
Test positivity by region: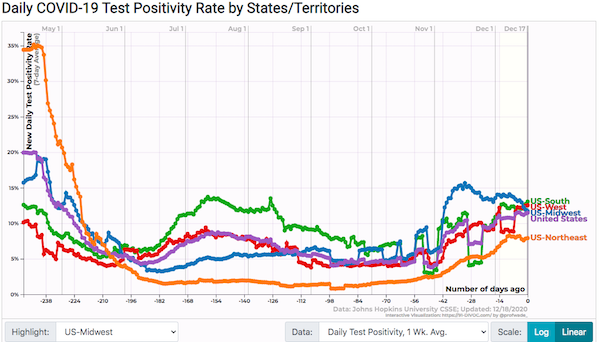 Hospitalization by region: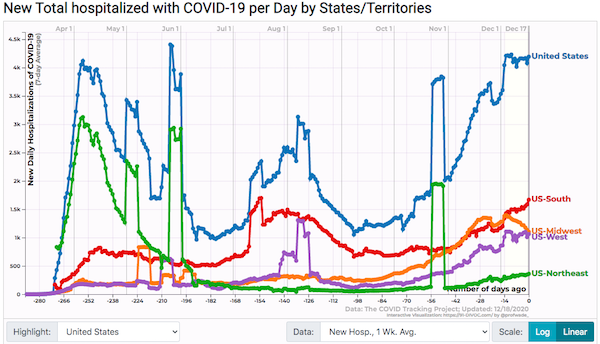 Distinct flattening. Hospitalization is also discretionary; they may also be reducing their admissions rate — relative to cases we cannot see in this data! — to preserve future capacity; or because hospitals have figured out how to send people home.
Case fatality rate by region: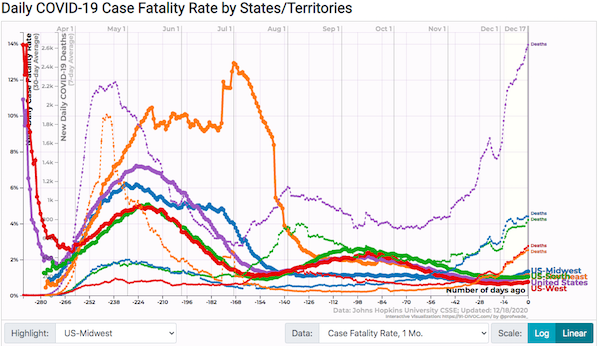 Slight decrease in deaths slope, now driven by the Midwest and the South. I don't much care for that gradual increase in the fatality rate and wonder what's behind it.
Politics
"But what is government itself, but the greatest of all reflections on human nature?" –James Madison, Federalist 51
"They had one weapon left and both knew it: treachery." –Frank Herbert, Dune
"They had learned nothing, and forgotten nothing." –Charles Maurice de Talleyrand-Périgord
Democrats in Disarray
"Here's who is likely to get a second stimulus check under the latest relief package" [CNBC]. "The latest $900 billion pandemic rescue package is set to include support in the form of $300 enhanced weekly unemployment benefits, small business loans, funding to help with vaccine distribution, food assistance and emergency rental relief. The legislation also is expected to include a second round of stimulus payments — up to $600 to $700 per individual, Sen. John Thune (R-S.D.) told reporters on Wednesday. That's about half of the $1,200 maximum stimulus per person provided by the Coronavirus Aid, Relief, and Economic Security Act, also known as the CARES Act. The good news is that new stimulus payments will be available for dependents, including adult dependents such as college students, according to the Washington Post. As for who's getting a check, as of now, lawmakers are basing eligibility on the same income standards established in the CARES Act." • Complex, means-tested, inadequate, an insult to the working class. So liberal Democrats love it. Or in pictorial form:

Congress Giving Congress Giving
Money to Money to
Corporations It's Citizens pic.twitter.com/DBWiv9KHxQ

— Nick #BLM ✊?❄️ (@NickLylesComedy) December 17, 2020
2020
GA: "In Georgia, a Rare Campaign Where People's Eyes Aren't Glued to the Polls" [New York Times]. • Maybe… Maybe… Maybe because people have just had a bad experience with polls?

GA: "Over 1.1 million ballots cast in early voting for Georgia U.S. Senate runoffs" [Reuters]. "The surge in turnout after four days of early in-person voting, and about four weeks of mail-in voting, showed that voter participation in the two races is on pace to rival the records set in the November presidential contest in which Biden defeated Republican incumbent Donald Trump. State data published on Friday showed the number of accepted ballots was just below the level seen at the same point in early voting for November's election. Voting in the Senate runoffs, which are taking place because no candidate won 50% support on Nov. 3, ends on Jan. 5. Biden's razor-thin victory in Georgia last month amid record-high turnout underscored the Southern state's transformation from Republican stronghold to one of the country's most competitive political battlegrounds."
Transition to Biden
UPDATE "'Democracy Has Gotten a Reprieve With Biden's Victory. That's All It Is.'" (interview) [Bernie Sanders, The Nation]. Sanders: "I want to underline that point a dozen times. This is a guy who's crazy and is completely undisciplined. What happens if you have the next person around who is not crazy and is not undisciplined, who does not go around attacking people like Dr. [Anthony] Fauci or the [network] correspondents? Then you're in real danger…. There are a million reasons why a candidate loses. It has to do with the candidate. It has to do with the district. It has to do with the opponent. But I think the main problem is the Democratic Party is not clear about what it stands for." • One thing the Democrat Party stands for is quite clear: No universal concrete material benefits (see Yglesias, amazingly enough, below). No working class empowerment, not even card-check. I suppose I could think of something positive given enough a few minutes — jobs for the boys and girls? — but time presses….

"Cabinet of firsts but first a climate cabinet" [Indian Country]. "President-elect Joe Biden plans to nominate Haaland as interior secretary. The historic pick would make her the first Native American to lead the powerful federal agency that has wielded influence over the nation's tribes for generations. Haaland, who is vice chair of the House committee on Natural Resources, will have a significant role managing public lands. 'Right now,' she said in an earlier statement, 'public lands emit close to 25 percent of the carbon emissions, the total carbon emissions of our country. And that's because this administration has gone hog wild with leasing off land to the gas and oil industry.'" • This is one Biden appointment I'm happy with (and I hope readers don't undeceive me…).

UPDATE "Progressives push for key national security positions under Biden" [The Hill]. "Dozens of progressive organizations will deliver a book to President-elect Joe Biden's transition team on Friday with staffing recommendations for 100 positions in his administration within the national security space. The book contains 100 profiles of left-leaning foreign policy experts and potential positions they could fill. The effort was led by Yasmine Taeb, a Democratic National Committee member and a senior fellow at the Center for International Policy, and Alex McCoy, the political director at Common Defense. Of the 100 people included in the Progressive Foreign Policy Talent Pipeline, about two-thirds are women or people of color, and . The candidates generally advocate for foreign policy restraint and support cutting the budget at the Pentagon and pulling the U.S. out of foreign entanglements." • That's what we like to hear. (I don't know why people see " of progressive organizations" as a strength. It's not. It's a weakness.)

UPDATE Lawrence Wilkerson on Biden's pro-war cabinet" (podcast) [Pushback with Aaron Maté]. Wilkerson: "I don't see a different kind of administration being formed. And it disturbs me because it just means more of the same — a little more calmness, a little more serenity, which lulls everyone into thinking that things are better, when in fact they're not." • To brunch!

UPDATE "Biden: Political efforts to target son amount to 'foul play'" [The Hill]. "When Colbert pressed again on whether Biden could work with Republicans who have targeted Hunter Biden, the president-elect said that he could. 'If it benefits the country, then yes. I really mean it,' he said. 'Because look, there's so much at stake and the American people, I think they can smell the phoniness, smell what's true and not true.'"

UPDATE "Joe Biden Wears a 'Kick Me' Sign" [Politico]. "The conservative mind typically has a natural deference to authority, making Republicans more likely to respond positively to the notion of a president laying down the law and punishing dissenters. The liberal mind typically has a natural skepticism toward authority, and a natural sympathy to the grievances and demands of its own special-interest constituencies, especially when these are groups that historically have faced prejudice." • Dear Lord. Anybody who saw the Party instantly line up behind Biden after the party Leader, Obama, blessed him, and saw Biden win states he hadn't even opened campaign offices in, knows there's plenty of the authoritarian follower in a Democrat loyalist. As for "natural sympathy," read Thomas Frank on how the liberal Democrats systematically betrayed their (former) working class base. Who edited this tripe?
Transition from Trump
"13 Things Trump Got Right" [David Frum, The Atlantic]. In a fine example of bathos, Frum starts with "Stricter Regulation of Vaping." Notable omissions: Deep-sixing TPP, and not getting involved in a ground war (like Iraq) or an air war (like the regime change in Libya). If Frum does not regard those as achievements, that's an implicit assessment of what he thinks Biden is likely to do…

"Never-Trump movement splinters as its villain heads for the exit" [Politico]. "More than a dozen leaders of the never-Trump movement said in interviews that they see their work as far from over once Joe Biden is sworn in on Jan. 20. They want to keep the heat on Republicans who serve as Trump foot soldiers and to provide cover for those who reject far-out conspiracy theories and attacks on democracy. But how to do it is another story. After beating Trump and creating a permission structure for some GOP voters to back Biden, the task now, they said, is to turn back Republicans' embrace of authoritarianism and transform their party in the process. But ask each of the never-Trump leaders what that means, and you get a different answer from each of them."
RussiaGate
"Hackers used SolarWinds' dominance against it in sprawling spy campaign" [Reuters]. "Security researcher Vinoth Kumar told Reuters that, last year, he alerted the company that anyone could access SolarWinds' update server by using the password 'solarwinds123′" • Taking candy from a baby. And now the baby is squalling….

UPDATE "The Russian 'Cyber Pearl Harbor' That Wasn't" [The American Conservative]. "Infiltration and extracting information is not an act of war, but evidence of the typical espionage operations that are conducted against near peer adversaries."

UPDATE "Lawmakers ask whether massive hack amounted to act of war" [The Hill]. • I say nuke 'em. It's the only way to be safe.
Obama Legacy
"Why Did Obama Forget Who Brought Him to the Dance?" [Politico]. "But there's a strange lacuna in A Promised Land, a missing thread that I kept looking for but never found. That thread is his popular base…. But as is by now well known, once Obama entered office, he abandoned this army and staked his presidency on the inside-the-Beltway strategies of his first chief of staff, Rahm Emanuel…. So as I read A Promised Land, I kept looking for hindsight about cardinal political error. Obama offers none. The words 'Organizing for America' don't appear anywhere in the book." • Everytime I read another story about Squandered Promised Land, Obama looks worse.
Realignment and Legitimacy
UPDATE "Inside the Left's New, 'Mature' Political Strategy" [Politico]. "'The Justice Democrats have 10 members in Congress, and the House Democrats have — I think it's a six-seat majority,' says Chakrabarti. 'Now they can negotiate as mature partners at a table. They have real power.'" • Great. Then hold up the relief bill for $1200, ffs.

UPDATE "The real history of race and the New Deal" [Matthew Yglesias, Slow Boring]. "Material benefits trumped FDR's terrible civil rights records." • What the heck's gotten into Yglesias? He keeps writing stuff I agree with.
Stats Watch
At reader request, I added some business stats back in. Please give Econintersect click-throughs; they're a good, old-school blog that covers more than stats. If anybody knows of other aggregators, please contact me at the email address below.
Rail: "Rail Week Ending 12 December 2020 – Improvement Continues" [Econintersect]. "Total rail traffic has two components – carloads and intermodal (containers or trailers on rail cars). Container exports from China have recovered, container exports from the U.S. remain deep in contraction. This week again intermodal continued in expansion year-over-year and continues on a strengthening trendline. Carloads are still in contraction year-over-year this week – but nearing positive territory.But overall because of the strength of intermodal, rail is growing year-over-year."
* * *
Shipping: "Postal Police Officers Blame Mail Theft Increase on Decision to End Neighborhood Patrols" [NBC Washington]. "A policy change could be to blame for increased mail theft across our area, a postal insider told the News4 I-Team. The head of the Postal Police Officers Association says the U.S. Postal Service removed its uniformed officers from patrols that deter those kinds of crimes, instead stationing them inside postal processing facilities. 'It's nuts; it's absolutely crazy,' said Frank Albergo, president of the PPOA. 'They pulled us off the street. There are no more marked postal police vehicles out in the street. I mean, it's actually inviting crime.' Albergo contacted the I-Team after seeing a November investigation featuring Maryland families who reported having checks stolen from blue collection boxes. One eyewitness even saw the thieves in action, using a special arrow key that unlocks all of the blue mailboxes within a given area. Court records show carriers are frequently targeted for their keys." • I had no idea there were marked postal police vehicles. Readers?
Manufacturing: "U.S. Defense Department looks to bolster domestic chip manufacture with new program" [Reuters]. "The U.S. Defense Department will soon start soliciting proposals for a program to provide incentives to boost semiconductor manufacturing capabilities in the United States, according to a posting on a government contracting site. Major American semiconductor companies such as Apple Inc, Qualcomm Inc and Nvidia Corp rely on outside manufacturers such as Taiwan Semiconductor Manufacturing Co Ltd (TSMC) or Samsung Electronics Co Ltd to fabricate their chips in what are called foundries. Most of those foundries are located in Taiwan or South Korea. While Intel Corp operates U.S. chip factories, they are mostly dedicated to manufacturing its own chips rather than doing work for outside clients. The Defense Department is looking to change that dynamic by providing incentives for the development of chip-related intellectual property and the creation of advanced foundries in the United States, according to a notice posted to the website of the National Security Technology Accelerator, a nonprofit group that works to connect private-sector companies to government contract opportunities."
Travel: "COVID-19: TUI boss rejects idea of turning away non-vaccinated holidaymakers" [Sky News]. Chief executive Fritz Joussen told reporters that turning away customers who have not had a vaccine 'would be a mistake.' He insisted that testing would be 'absolutely the important thing." The comments come after the head of Qantas – based in Australia, which has imposed some of the world's toughest travel restrictions – said it would insist in future that international travellers have a vaccine before they fly." • As of now, Joussen is correct: We don't know if any of the vaccines (or whatever it is we all the mRNA platforms) prevent transmission.
Travel: "How Toxic Fumes Seep into the Air You Breathe on Planes" [Los Angeles Times]. The air you breathe on airplanes comes directly from the jet engines. Known as bleed air, it is safe, unless there is a mechanical issue — a faulty seal, for instance. When that happens, heated jet engine oil can leak into the air supply, potentially releasing toxic gases into the plane. For decades, the airline industry and its regulators have known about these incidents — called fume events — and have maintained that they are rare and that the toxic chemical levels are too low to pose serious health risks. But a Times investigation found that vapors from oil and other fluids seep into planes with alarming frequency across all airlines, at times creating chaos and confusion: Flight attendants vomit and pass out. Passengers struggle to breathe. Children get rushed to hospitals. Pilots reach for oxygen masks or gasp for air from opened cockpit windows. Such events are documented in airport paramedic records, NASA safety reports, federal aviation records and other filings reviewed by The Times." • Something to fix while all the planes are still on the ground?
Concentration: "Google Faces U.S. Antitrust Regulators Who Want More Than Just Fines" [Bloomberg]. "On Thursday, after a barrage of antitrust lawsuits, Google mounted a defense of its most valuable business. The response showed it's not a Ma Bell breakup Google fears, but being forced to alter its crown jewel—the search engine…. 'This lawsuit demands changes to the design of Google Search, requiring us to prominently feature online middlemen in place of direct connections to businesses,' Adam Cohen, Google's director of economic policy, wrote in a blog post." • For middlemen, read curators, bloggers, content creators, as opposed to algos (and whoever pays the Google for a top ranking). I think that Google should (a) index everything, which it no longer does, (b) roll the engine back to, say, 2008, when search wasn't crapified, and (c) make the interface a list of blue links. Period. How hard could that be?
* * *
.
Today's Fear & Greed Index: 62 Extreme Greed (previous close: 65 Extreme Greed) [CNN]. One week ago: 76 (Extreme Greed). (0 is Extreme Fear; 100 is Extreme Greed). Last updated Dec 18 at 12:18pm. The Index returns!
Health Care
"The Elderly vs. Essential Workers: Who Should Get the Coronavirus Vaccine First?" [New York Times] (CDC PowerPoint). "Health care workers and the frailest of the elderly — residents of long-term-care facilities — will almost certainly get the first shots, under guidelines the Centers for Disease Control and Prevention issued on Thursday. But with vaccination expected to start this month, the debate among federal and state health officials about who goes next, and lobbying from outside groups to be included, is growing more urgent." CDC has not adopted a policy; the PowerPoint gives options. Pulling out the most inflammatory quote: "Harald Schmidt, an expert in ethics and health policy at the University of Pennsylvania, said that it is reasonable to put essential workers ahead of older adults, given their risks, and that they are disproportionately minorities. ', " Dr. Schmidt said. ''" • Of course, the real solution would have been to pay people to stay home, rather than forcing them into the workplace. That seems not to have occurred to the good Doctor Schmidt, who looks young-ish; I certainly hope he's willing to follow fellow medical ethicist Ezekiel Emanuel when his time comes…
"Can We Do Twice as Many Vaccinations as We Thought?" [Zeynep Tufecki, New York Times]. "Both vaccines are supposed to be administered in two doses, a prime and a booster, 21 days apart for Pfizer and 28 days for Moderna. However, in data provided to the F.D.A., there are clues for a tantalizing possibility: that even a single dose may provide significant levels of protection against the disease. If that's shown to be the case, this would be a game changer, allowing us to vaccinate up to twice the number of people and greatly alleviating the suffering not just in the United States, but also in countries where vaccine shortages may take years to resolve. But to get there — to test this possibility — we must act fast and must quickly acquire more data…. Crucially, though, we should begin immediate single-dose trials, recruiting volunteers from low-risk populations who are first in line for the vaccinations." • Wait. Why are low-risjk populations first in line?
"Texas doctors in rural hotspots left out in cold on vaccine" [Reuters]. "Running in between patients, Dr. Eileen Sprys pauses to catch her breath, tries to gather herself, but cannot mask her frustration: The health care workers in her COVID-besieged West Texas hospital [Medical Arts Hospital in Lamesa, Texas] were left out of the first shipment of the Pfizer and BioNTech vaccine, and they have no idea when they may get it…. Not a single rural hospital in this state that prides itself on its country roots received any doses of the vaccine this week, despite such medical outposts serving around 20% of the state's population, or 3 million people…. Chris Van Deusen, a spokesman for state health services, said there were two big reasons why rural areas were left off the initial Pfizer vaccine shipments. The first is that the smallest shipment contains 975 doses, so the state sent it to hospitals who said they had that many health care workers to inoculate. The second reason is that the Pfizer vaccine needs to be stored in special freezers, which larger facilities were more likely to have. But that reasoning irks the doctors in Lamesa as their hospital had purchased one of those freezers in anticipation." • Nobody could have predicted….
The Biosphere
I don't think Williamson was Presidential timber, but the DNC shouldn't have silenced her, either:
.@SDonziger has been under house arrest for 500 days. For what? For standing up to Chevron…and succeeding. They've chosen to target him to prove a point; we need to support him to prove ours. Environmental activism will not be stopped! Rally tomorrow at noon ET. Spread the word https://t.co/KVGFne5QpF

— Marianne Williamson (@marwilliamson) December 18, 2020
"Astronomers Get Their Wish, and a Cosmic Crisis Gets Worse" [Quanta]. "On December 3, humanity suddenly had information at its fingertips that people have wanted for, well, forever: the precise distances to the stars…. The data comes from the European Space Agency's Gaia spacecraft, which has spent the past six years stargazing from a perch 1 million miles high. The telescope has measured the "parallaxes" of 1.3 billion stars — tiny shifts in the stars' apparent positions in the sky that reveal their distances…. Best of all for cosmologists, Gaia's new catalogue includes the special stars whose distances serve as yardsticks for measuring all farther cosmological distances. Because of this, the new data has swiftly sharpened the biggest conundrum in modern cosmology: the unexpectedly fast expansion of the universe, known as the Hubble tension. The tension is this: The cosmos's known ingredients and governing equations predict that it should currently be expanding at a rate of 67 kilometers per second per megaparsec — meaning we should see galaxies flying away from us 67 kilometers per second faster for each additional megaparsec of distance. Yet actual measurements consistently overshoot the mark. Galaxies are receding too quickly. The discrepancy thrillingly suggests that some unknown quickening agent may be afoot in the cosmos."
Our Famously Free Press
"A Riveting ISIS Story, Told in a Times Podcast, Falls Apart" [New York Times]. "As a result of the review, The Times on Friday published an editors' note that the podcast was "not sufficiently rigorous" and that the episodes presenting Mr. Chaudhry's claims did not meet its standards." • For some reason, this story is all about Chaudhry, and not about how Times reporting foisted a second Curveball on its credulous readership. Sadly, Typos of the Times hasn't gotten to this article yet, but I include another tweet:
"preference" isn't a verb ("using exclusive deals with phone makers like Apple to preference Google's search service over rivals"); say "prefer." "The company . . . is expected use its global network of lawyers" is ungrammatical for lack of "to" before "use." @dmccabe pic.twitter.com/qdQ2SstCNg

— Typos of the New York Times (@nyttypos) December 17, 2020
Making the point that when a news-gathering organization has shoddy copy-editing, it's shoddy all the way through.
Police State Watch
"A Minneapolis cop told Somali American teens he was proud U.S. troops killed 'you folk' during Black Hawk Down. The police union fought to keep his job anyway." [Sahan Journal]. 'If you fuck with me, I'm gonna break your leg before you even get a chance to run,' Officer Roderic Weber told one of the four Somali American teens in the car. 'I don't screw around.' 'Can you tell me why I'm being arrested?' one of the teens asked. 'Because I feel like arresting you,' Weber replied. …. For more than five years, the City of Minneapolis didn't publicly disclose the full events of that day. Now, Sahan Journal has obtained documents and recordings through a public records lawsuit against the city, which reveal for the first time that the Minneapolis officer subjected the teens to a litany of racist comments, within earshot of other officers and a police supervisor. No record has emerged to suggest any of these other officers intervened or reported their colleague to department leadership. The officer's newly discovered words—described as volatile, prejudiced, and horrific by police accountability advocates—highlight the Minneapolis Police Department's often tenuous relationship with people of color, and especially the Somali community. After an internal disciplinary investigation, the police department fired the officer. But the Police Officers Federation of Minneapolis union fought to keep the officer's badge at an employment arbitration hearing over a year after the incident. This process led to a scathing ruling which upheld the firing, calling the officer's language 'about as bad as it gets.'" • Wonder how that investigation into South Bend PD is going….
Department of Feline Felicity
Look on my works, ye mighty:
— Michael ?? (@FloridaManSiam) December 18, 2020
The Conservatory
OK boomer Diamond geezer:
I saw Keith Richards trending and thought the worst, but then I remembered he's immortal. Happy Birthday Dracula#KeithRichards pic.twitter.com/9uSfhNPLAb

— General Nope ? (@GeneralNope) December 18, 2020
Xmas Pregame Activities
No:
Tree's up pic.twitter.com/jUs1H3ukNI

— 70s Dinner Party (@70s_party) December 17, 2020
Guillotine Watch
"The wealthy scramble for COVID-19 vaccines: 'If I donate $25,000 … would that help me?'" [Los Angeles Times]. "They're offering tens of thousands of dollars in cash, making their personal assistants pester doctors every day, and asking whether a five-figure donation to a hospital would help them jump the line. The COVID-19 vaccine is here — and so are the wealthy people who want it first. 'We get hundreds of calls every single day,' said Dr. Ehsan Ali, who runs Beverly Hills Concierge Doctor. His clients, who include Ariana Grande and Justin Bieber, pay between $2,000 and $10,000 a year for personalized care. '.'" • That last sentence is even more frightening than the headline, since it implies that the entire health care system is rotten from top to bottom; everything is for sale.
Class Warfare
In the Matter of the Claim of Colin Lowry, Respondent. Uber Technologies, Inc., Appellant. Commissioner of Labor, Respondent New York State Law Reporting Bureau. No coverage of this yet:
Based upon the record as a whole, . Uber controls the drivers' access to their customers, calculates and collects the fares and sets the drivers' rate of compensation. Drivers may choose the route to take in transporting customers, but Uber provides a navigation system, tracks the drivers' location on the app throughout the trip and reserves the right to adjust the fare if the drivers take an inefficient route. Uber also controls the vehicle used, precludes certain driver behavior and uses its rating system to encourage and promote drivers to conduct themselves in a way that maintains "a positive environment" and "a fun atmosphere in the car." Considering the foregoing, we find no reason to disturb the Board's finding of an employment relationship
"Dear Mackenzie: There's One More Donation You Owe to the World" [In These Times]. "Ama­zon needs a union. And I am hap­py to say: Macken­zie Scott, you can help with that. It's hard to orga­nize a com­pa­ny like Ama­zon, both because it is a larg­er beast than any indi­vid­ual union has resources for, and because it will spend a great deal of mon­ey on lies and intim­i­da­tion to pre­vent its work­ers from exer­cis­ing their fun­da­men­tal right to orga­nize. But mon­ey can help to even the play­ing field. For a small frac­tion of the mon­ey you just gave out — say, $100 mil­lion — it would be pos­si­ble to hire orga­niz­ers nation­wide with the express pur­pose of union­iz­ing Ama­zon." • Yep!
* * *
"Fairfax school board switches to 'holistic review' admissions system for Thomas Jefferson High School" [WaPo]. "The revised admissions process is the most radical change that TJ has seen since its founding in 1985, although school officials have made other adjustments at least eight times over the past decade. Every time, the goal was diversity: TJ has enrolled single-digits percentages of Black and Hispanic students throughout its history. Early in its history, TJ was majority White; in more recent years, it has become majority Asian, with a significant White contingent. (The 2019-2020 student body was 70 percent Asian and 20 percent White.)"The Fairfax County Public Schools board voted Thursday to adopt a 'holistic review' for admissions to Thomas Jefferson High School for Science and Technology, a revision meant to boost diversity at the top-tier magnet school and that ends months of fraught and fiery debate…
"WA school district apologizes for excluding Asians as POC" [Northwest Asian Weekly]. "The North Thurston Public Schools excluded Asian American students as people of color in its latest equity report, called 'Monitoring Student Growth.' The 'students of color; included 'Black, Latinx [sic], Native American, Pacific Islander, and Multi-Racial Students' and the study measured their 'persistent opportunity gaps.' Many Asian Americans were upset and, consequently, the district issued an apology. The school district said the study was to help underperforming groups by 'eliminating achievement and opportunity gaps.'…'We feel it is important to continue the practice of disaggregating data, so we make equity-based decisions. When we reviewed our disaggregated data, it showed that our district is systemically meeting the instructional needs of both our Asian and white students and not meeting the instructional needs for our Black, Indigenous, Multi-racial, Pacific Islander, and Latinx students. The intent was never to ignore Asian students as 'students of color.'"
News of the Wired
"7 Magic Phrases That Make You Instantly Likable on Video Calls" [Michael Thompson]. • Not any more.
Economics (1):
Behavioral economics pic.twitter.com/qydNuG9XiB

— Tatyana Deryugina (@TDeryugina) December 17, 2020
I feel so nudged….
Economics (2):
"Kicking a person is not like kicking a rock." https://t.co/of3UCrCC1W

— Chris Adams (@ChrisAdamsEcon) December 13, 2020
* * *
Readers, feel free to contact me at lambert [UNDERSCORE] strether [DOT] corrente [AT] yahoo [DOT] com, with (a) links, and even better (b) sources I should curate regularly, (c) how to send me a check if you are allergic to PayPal, and (d) to find out how to send me images of plants. Vegetables are fine! Fungi and coral are deemed to be honorary plants! If you want your handle to appear as a credit, please place it at the start of your mail in parentheses: (thus). Otherwise, I will anonymize by using your initials. See the previous Water Cooler (with plant) here. Today's plant (JU):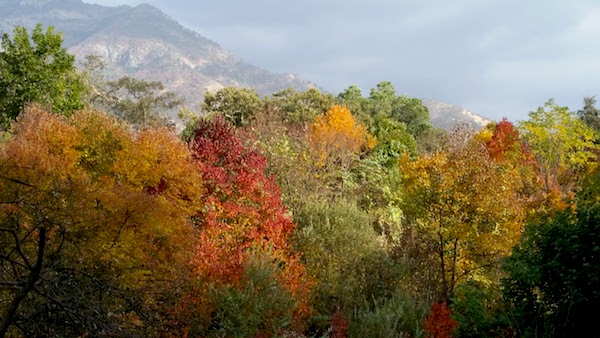 From Three Rivers, CA. Love the autumn haze over the mountains.
Readers, I'm still running a bit low on plants. If you all — and especially readers who have not contributed before! — would kindly send me some more fresh ones, that would be great. Thank you!
* * *
Readers: Water Cooler is a standalone entity not covered by the recently concluded and — thank you! — successful annual NC fundraiser. So if you see a link you especially like, or an item you wouldn't see anywhere else, please do not hesitate to express your appreciation in tangible form. Remember, a tip jar is for tipping! Regular positive feedback both makes me feel good and lets me know I'm on the right track with coverage. When I get no donations for five or ten days I get worried. More tangibly, a constant trickle of donations helps me with expenses, and I factor in that trickle when setting fundraising goals:
Here is the screen that will appear, which I have helpfully annotated.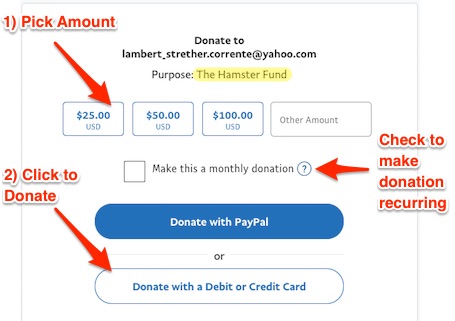 If you hate PayPal, you can email me at lambert [UNDERSCORE] strether [DOT] corrente [AT] yahoo [DOT] com, and I will give you directions on how to send a check. Thank you!