By Lambert Strether of Corrente.
This is the story of Roadside America, "the world's greatest indoor 'miniature village,'" a family-run small business survived for 85 years and three generations, and died when the America it depicted died.[1]. First, I'll describe the miniature village and how it came to be. Then, I'll look at Roadside America as a business. I'll conclude by looking at what happened to the America it depicted.
Roadside America began and ended as a regional tourist attraction; all the coverage of its failure and breakup were from Pennsylvania: Allentown Morning Call, Harrisburg Patriot-New, KYW (Philadelphia), Lehigh Valley Live, Reading Eagle, Sanatoga Post, WNEP (Scranton), and, further afield, the Philadelphia Inquirer. Roadside America's home page is, for now, still up: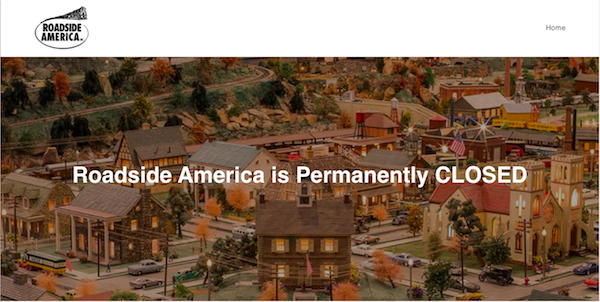 (This appeals to me as a model railroad fan, but the models have appeal in themselves, especially to those in the region.)
Roadside America, the Miniature Village
Wikipedia (sorry) gives a potted history:
Roadside America was an indoor miniature village and railway covering 8,000 square feet (740 m2), created by Laurence Gieringer in 1935. It was first displayed to the public in the home of Mr Laurence Gieringer in Hamburg, Pennsylvania. Word got out about the exciting miniature village after a story was published in the local newspapers, and due to its popularity, Mr. Gieringer moved the display to a recently closed local amusement park called Carsonia Park, where more people could come to see his spectacular miniature village. The display stayed there for a very short time, from 1938 to about 1940 when Mr. Geringer purchased land at the current site of Roadside America to build a larger display in order to accommodate the growing interest. In 1953 [1] the exhibit reopened at the current location, a former dance hall in Shartlesville, Pennsylvania, Exit 23 on Interstate 78, approximately 20 miles west of the Lehigh Valley.
Here is the story of Laurence Gieringer, Founder and model builder, from Penn Live, "'They're priceless to me': As Roadside America's miniatures go to auction, family focuses on memories":
[Roadside America's owner] Dolores Heinsohn, said that the models — painstakingly crafted over thousands of hours, spread across decades — began as a childhood hobby of her grandfather, Laurence Gieringer.

As he grew older and honed his skills, Gieringer began to craft everything to scale — 3/8th of an inch to one foot – and continued making models as a hobby on his off hours. It was a hobby that Gieringer would continue for all of his life, Dolores said…

"He would spend months and months and months on one building alone," Dolores said, adding that he would occasionally take on commission work, or craft a model of a home or business he knew for friends . "And back in those days, they didn't have model kits. He had to improvise and make his own tools for certain things. He made the molds for the metal wagon wheels and door frames. I have all of those things. They're priceless to me."
Like any model railroad, the buildngs went onto a layout — an 8.000 square foot one. From Discover Lehigh Valley, "Roadside America: The World's Greatest Indoor Miniature Village":
The 6,000-square-foot exhibit showed off a panorama of life in the rural United States. It spanned more than 200 years of history and included more than 300 small buildings, countless parked trains filling packed train yards and nine fully-operational railroads. Visitors were able to control three of the railroads with the push of a button, and other push buttons allowed them to control a plethora of animations, bringing the village to life. There also were real water-flowing waterways, hilltop fountains and a huge canyon waterfall.
(I love this stuff!) Roadside America is a lot like Disneyland, train and all, except at Disneyland you are inside the model, not outside it. You are controlling the model (democracy), as opposed to the model controlling you (Fascism). In fact, some decades ago, Disney considered buying Roadside America. The likeness extends to electronics-driven animation. From the Reading Eagle:
Mike Fatovic of Monroe County, who had been visiting Roadside America for 40 years, marveled at the scope and complexity of the basketball-court-sized display.

He recalled how you could push a button and make figures move, an early form of animation. And, how the lighting would turn the display from day into night.

"This was way ahead of its time," said Fatovic, 61, who was bidding on a 19th-century hosiery mill reminiscent of many in Berks County. "It's sad that it's going away."
(I love this stuff!!) Also, the light-show. Again from Discover Lehigh Valley:
One thing you can't miss seeing before you leave is the night pageant. Every 30 minutes they methodically dim all of the lights in the rooms and, using the same methodology, they turn on each of the lights throughout the exhibit. The church lights go on, the train lights go on, and the plane flies high above all to the sound of patriotic music.
(I could do without the patriotic music, but I have very happy memories of running "the trains" round the layout in the dark, lights all aglow. American Flyer trains were big enough to make some noise, and they smelled of hot oil and electricity too. Terrific!)
But, as we saw, the miniatures went to auction. Why?
Roadside America, the Business
Why? A series of unfortunate events.
1) Location. Like many other Pennsylvania small towns, everything changed when the Interstate went through in 1957. From Philly Voice:
When it moved [to the current site[, the site could be accessed from Route 22.

But when the highway became Interstate 78, transportation officials fenced off access, forcing visitors to exit at Shartlesville and enter at the rear of the property.
Furthermore, there was no other reason for tourists to exit the Interstate at Shartlesville. From Classic Toy Trains:
think one of the challanges these days for them was the fact that there is nothing else nearby of similar interest.

Strasburg PA, where the Strasburg Rail Railroad is, has a long list of train and model train attractions, including the ChooChoo Barn. A display similar to Roadside America although not as large or elaberate, but very nice none the less.
2) Tourism dried up. Further, the nature of tourism itself changed. KYW quotes Heinsohn:
The times were getting tough, you didn't have the buses, you didn't have people traveling. The culture has changed, everything was changing.
And Heinsohn in the Inquirer (actual reporters from multiple local papers were all over this story; amazing, in this day and age):
Heinsohn said about 100,000 customers paid to enter Roadside America each year, though attendance had tapered off in recent years. She said the visitors were mostly older, people who would come and sit, to watch the sun set and rise on the world her grandfather built.
Admission was $6.95. Do the math: ~$700,000 a year is ~$60,000 a month. That's not a lot of money, with heating and electric, taxes, and a staff of four, even family (and the gift shop wouldn't make up for it).
3) Lack of capital. With revenues falling, maintenance is the first to go. Classic Toy Trains:
[I]t was going downhill over the past few years. Last few times I went, there were fewer trains running, lots of broken displays and it was a bit rundown. I wish someone could have purchased and upgraded things, while keeping the historic value.
Then the roof starts to go. Lehigh Marketplace:
One of the challenges Roadside America is experiencing is repairing its roof. Having been damaged over the last several years as well as experiencing natural wear and tear, Roadside America has been seeking donations to help repair and replace the roof through a GoFundMe campaign. Luckily the leaks have not yet gotten to the point of damaging any of the exhibits, but through the efforts and generosity of the public, by the time you read this article, it's likely the repair work will have begun.
Next, the Kickstarter to save the business. Philly Voice:
In 2018, employees at the attraction launched a Kickstarter to purchase, renovate and relocate the "world's greatest miniature village." It had been placed for sale by the owners around that time. The project raised more than $10,000, but fell far short of its longshot $750,000 goal.
4) Covid. All the business is doing is moving cash in a circle. The family tries to sell the business. Then Covid delivers the coup de grace. Lehigh Valley Live:
Owners said when Roadside America, 109 Roadside Drive and off Interstate 78, was forced to shut down in March when Gov. Tom Wolf ordered the closure of all non-essential businesses, they remained hopeful a buyer would come forward and commit. As the months passed, the future remained uncertain, the posting stated.
But why wouldn't buyers commit?
5) They'd rather die than change.
The family — very much unlike Walt Disney, bless his heart — seemed to view the "miniature village" as a shrine, rather than a business. From Roadside America's website:
It has been our honor to , and to share our family's history with so many people.
From Lehigh Valley Marketplace:
Brian Hilbert, husband of one of Laurence's great-granddaughters, is the manager. "We have a small and great group of people . One of our longtime employees has been with us for decades and remembers when Laurence was here," Hilbert says.
Hence, the family placed conditions on the sale that made the business unsaleable. From Roadtripper's magazine, "Roadside America's idealized miniature version of the U.S. is for sale—but there are conditions":
The classic attraction has remained virtually unchanged over the years and under the stewardship of the same family since its inception. But nothing stays the same forever and Roadside America is currently for sale—with the stipulation that , and has been since 1953.
The alternative was to sell the property (asking price: $2.295 million; sale price: $1.4 million) and auction the miniatures, and that is what the family did.
* * *
To me, this is a story not worthy of Steinbeck, but Balzac. Heinsohn describes how the grim process of inexorable business failure felt to her. From the Allentown Morning Call:
Q: What was it like making this decision?

A: Extremely difficult. There are no words to completely describe what it feels like, but perhaps the simplest analogy is a game of chess. In the beginning, there are lots of pieces in play, each piece carrying its own advantages and consequences. With each turn, you need to decide which moves to take, always trying to predict and anticipate potential pitfalls. and, in the end, sometimes you win and sometimes you lose. That's business in a nutshell, in my opinion, but with 100 times more variables and emotions.

We've made a lot of moves in 85 years, and enjoyed a lot of wins; so even though our story is ending, we hope that we've inspired others to create their own. It always warms our hearts to hear from the people who truly appreciated the "miniature empire" that Laurence built, and we're choosing to focus on those positive stories.
I have the feeling the many Pennsylvanians have run out of moves, and all would love to focus on positive stories, but some are more able to than others.
Roadside America, the Metaphor
The Americana — and the America — that has been changed. Or lost.
1) The style of model railroading. From Classic Toy Trains:
We visited Roadside America a few times and found it to present model railroading as it was done in the past. There is nothing else like that exhibit anywhere as it is not only an artful creation it represents a period of history like a priceless antique. It is very sad that it is going away.
For those who follow or practice model railroading, this is evident from the layout. Unfortunately, I haven't been able to find this photo again, but it shows a man actually standing on one of the layout's roads (right next to the church). Today's layouts use a lot of styrofoam to make scenery; you don't stand on them. Not to say it's not a great layout, it is; but it's very much of its time.
2) The craft of model making. Requoting Heinsohn on Gieringer once again:
[T[hey didn't have model kits. He had to improvise and make his own tools for certain things. He made the molds for the metal wagon wheels and door frames. I have all of those things. They're priceless to me
Gieringer actually made the machine tools for his miniature village. There's not a lot of that going on these days (though as a Luddite, I don't classify 3D printing as tooling).
3) The village buildings. These were dispersed to the locals, who loved them. From the Reading Eagle:
Berks County landmarks were a favorite of bidders.

The bid on Long's ESSO Service Center on Route 61 north of Reading was $1,325. The old Berks County Courthouse at Fifth and Penn streets was going for $960, and Yellow House Hotel had a bid of $820. The old Kauffman's furniture store on Penn Street had a bid of $725.

The country club in Fairfield, Gieringer's vision of small town America, had a bid of $1,025 and the town's baseball diamond was at $520.
4) The village itself.. I've helpfully annotated the first image I posted, from the Roadside America site: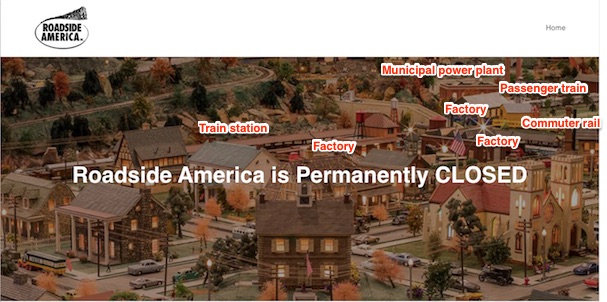 If the layout had been kept current, everything labeled would be gone, turned into vacant lots or abandoned buildings, as Pennsylvania was deindustrialized in the second half of Roadside American's life. And the people who remember what Pennsylvania used to be are aging out.
Conclusion
I loved the description of the old codgers like me who would "watch the sun set and rise on the world her grandfather built." Except it's really rise and set, isn't it? Perhaps we need a new model.
NOTES
[1] This is the "Roadside America" at www.roadsideamerica.co, not "Roadside America: Your Online Guide to Offbeat Tourist Attractions" at www.roadsideamerica.co, although Roadside America is was indeed an "offbeat tourist attraction." The failure to grab the *.com URL for their own business name says something about ithe state of the firm in its final years.