By Lambert Strether of Corrente.
Patient readers, I got wrapped round the axle reading a WHO document. More shortly. –lambert
Bird Song of the Day
Mockingbird, Ecuador.
#COVID19
At reader request, I've added this daily chart from 91-DIVOC. The data is the Johns Hopkins CSSE data. Here is the site.
I feel I'm engaging in a macabre form of tape-watching, because I don't think the peak is coming in the next days, or even weeks. Is the virus gathering itself for another leap?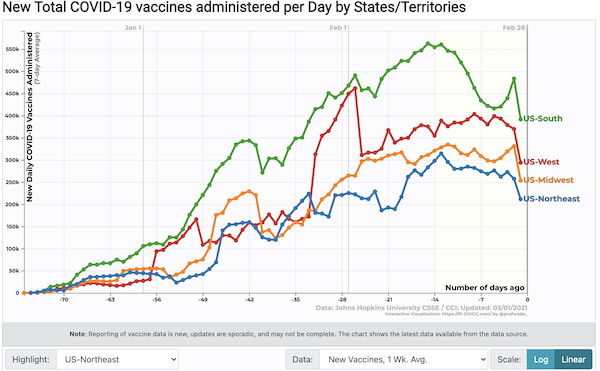 Oof.
Case count by United States region: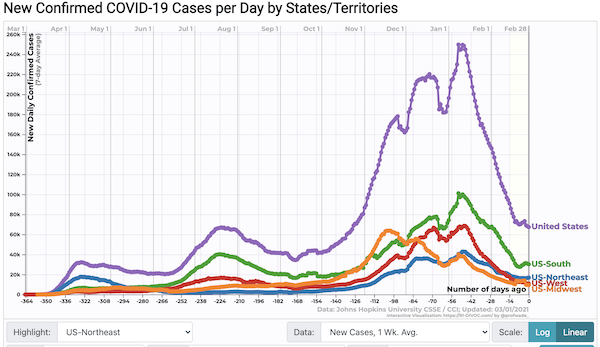 A little uptick in the South, driven by Texas.
Big states (New York, Florida, Texas, California):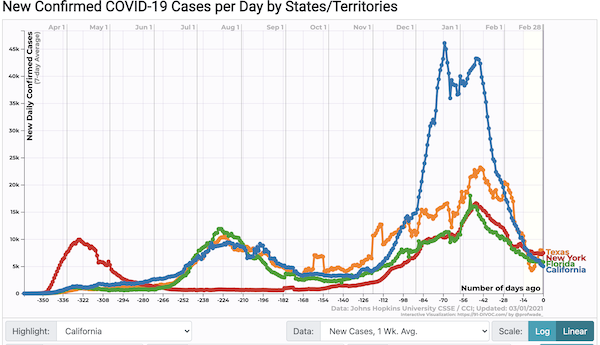 Encouraging to see cases in Texas go up, in that at least we know there's some testing being done.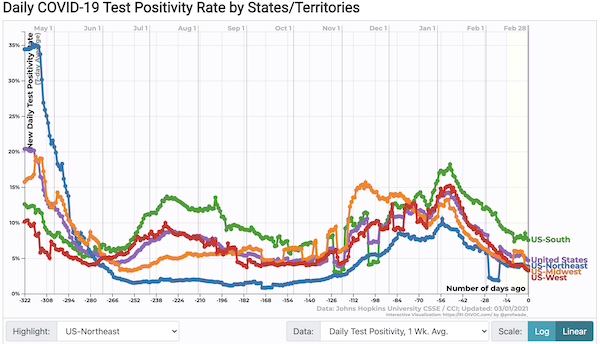 Decline is flattening across the board. Weather? Variants? Regional averages approach 3%, which is what we want to see. (Alert reader TsWkr pointed out it's time to update my test positivity comment, which I just did.)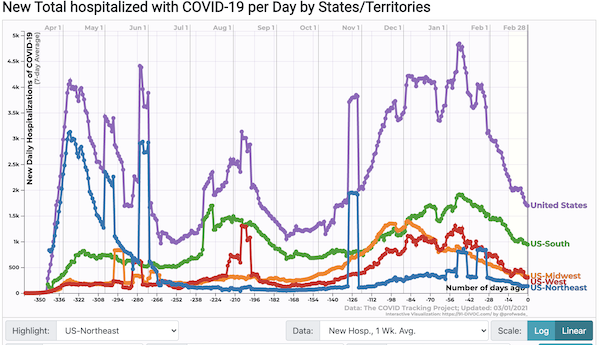 Hospitalization is discretionary; they may also be reducing their admissions rate — relative to cases we cannot see in this data! — to preserve future capacity; or because hospitals have figured out how to send people home.
Case fatality rate (plus deaths):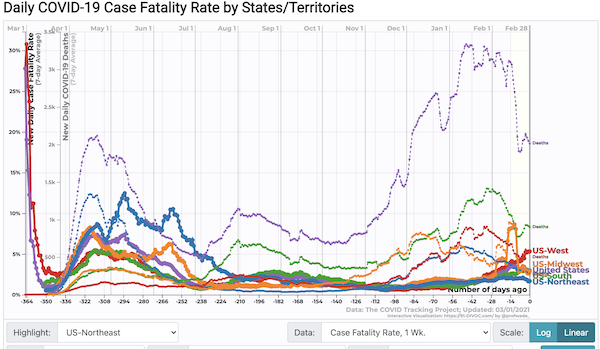 That rising fatality rate in the West (red) is what worries me. Of course, the uptick in deaths isn't good news either.
Trade
"Arcane WTO Pact Takes Center Stage in Vaccine Equity Debate" [Bloomberg]. "n the World Trade Organization's alphabet soup vocabulary, one particular acronym is gaining a lot of attention: TRIPs. Shorthand for the Geneva-based group's agreement on trade-related aspects of intellectual-property rights, TRIPs sets enforceable rules for the protection of trademarks, designs, inventions and other intangible goods in international trade. Today this arcane 1995 agreement has re-entered the political lexicon as a potential tool to save lives and ensure fairness in the pandemic. India and South Africa have offered a proposal that seeks a broad waiver from the TRIPs agreement's rules on the production and export of vaccines and other critical medical goods needed to combat the Covid-19 virus. On its face, it's a simple request. Poorer nations without the means to develop vaccines and other medical technologies should be allowed to do everything they can to treat their citizens without fear of punitive trade retaliation." But: "While India and South Africa say IP rules for vaccines create unnecessary hurdles to ending the pandemic, opponents of the waiver — like the U.S. and European Union — argue that enforceable IP rules are critical tools that incentivize companies to take the kind of risks that resulted in the development and deployment of multiple Covid-19 vaccines in less than a year." • For many, Operation Warp Speed guaranteed a market, ffs. Not much risk there!
Politics
"But what is government itself, but the greatest of all reflections on human nature?" –James Madison, Federalist 51
"They had one weapon left and both knew it: treachery." –Frank Herbert, Dune
"They had learned nothing, and forgotten nothing." –Charles Maurice de Talleyrand-Périgord
Capitol Seizure
"When the Left Attacked the Capitol" [Politico]. • In 1971. I'd completely forgotten about this. What a debacle the whole Weatherman thing was, anyhow.
Biden Administration
Biden on unions, worth a listen:

Workers in Alabama – and all across America – are voting on whether to organize a union in their workplace. It's a vitally important choice – one that should be made without intimidation or threats by employers.

Every worker should have a free and fair choice to join a union. pic.twitter.com/2lzbyyii1g

— President Biden (@POTUS) March 1, 2021

I've gotta say, this is miles better than anything Obama ever said (or did. Remember how he betrayed unions on card check?) Two sentences, however, stood out for me:

The choice to join a union is up to the workers — full stop… Every worker should have a free and fair choice to join a union.

This sounds perilously close to "access to unions," to me. It also stops short of endorsing any actual union (unlike Sanders). The proof of the pudding will be in the eating, when Amazon does the Amazon thing to the Bessemer (and Iowa) workers. What will the Biden administration do then?

"Biden Moves To Reverse One of Trump's Worst Directives" [David Sirota, Daily Poster]. "In a fact sheet detailing new executive actions, the administration says President Biden 'is asking the Department of Labor to consider clarifying that workers have a federally guaranteed right to refuse employment that will jeopardize their health and if they do so, they will still qualify for unemployment insurance.' Biden wants his administration to modify the government's interpretation of existing laws that say recipients of unemployment benefits cannot continue to collect such benefits if they reject offers of 'suitable' work."

"Harris gets a crash course on foreign policy" [Politico]. "The push started early: the day after the inauguration, Harris called the director-general of the World Health Organization to discuss the U.S. role in the global Covid-19 response. Since then, she has held solo calls with Canadian Prime Minister Justin Trudeau and French President Emmanuel Macron, given a speech at the State Department and on Tuesday participated in the first bilateral meeting of the new administration between the U.S. and Canada—an opportunity Biden himself was not afforded when he was vice president… [Halie Soifer, who served as Harris' national security adviser while she was a senator] noted Harris' travel to Israel in 2017, early in her Senate term, and her ',' as well as her work on the Senate Intelligence Committee, where Soifer says Harris played in the 2016 election." • Swell. You can't go wrong with Canada, can you?

Biden Walkbacks: "Senate Democrats nix 'Plan B' on minimum wage hike" [The Hill]. "Under the backup plan, outlined on Friday by Wyden, large corporations would get a 5 percent tax penalty if they paid workers less than a certain amount, with the amount of the penalty increasing over time. Democrats were also looking at giving tax incentives to small businesses to raise their wages. But Democrats have dropped the effort, with one source familiar telling The Hill that there were concerns that working out the details could slow down the overall coronavirus bill. Democrats want to get the bill to President Biden's desk before unemployment benefits expire in a matter of weeks."

Biden Walkbacks: 'Joe Biden says his hands are tied on a $15 minimum wage. That's not true" [David Sirota, Guardian]. "The White House continues to say it is 'fighting our guts out' for Neera Tanden's nomination, even though it might not have enough Senate votes for her confirmation. And yet, the same White House is simultaneously retreating on the minimum wage, seemingly unwilling to force a floor vote on the issue, even though presidential pressure, legislative brinkmanship, and negotiation could change the outcome. In the Tanden situation, in fact, the Biden team is acting like a White House's power of persuasion and legislative arm twisting can potentially move votes for something a president cares about – in this case, the nomination of a Washington insider to a fancy White House job. The real story, then, is that Biden seems unwilling to use the same influence to push as hard as possible for a minimum wage increase that would boost the pay of millions of Americans during an economic emergency. He has the power to at least try – he just seems unwilling to."

Biden Walkbacks:

https://t.co/wFTEKOLqCu pic.twitter.com/rFBHr8lIdo

— David Sirota (@davidsirota) March 1, 2021

The trope familiar to every Democrat blogger from 2003 on. Perhaps that;'s why AOC had to learn it afresh, all by herself…

Excellent long thread on diversity in the Biden administration. Here is the top:

MORE BIDEN ADMINISTRATION PICKS:

➡️Co-founder of firm that represents big defense & tech companies (@ABlinken).
➡️Ex-consultant for data-miner @PalantirTech (Avril Haines).
➡️Senior VP (on leave) of firm that represented embattled Swiss-based mining giant Glencore (@LindaT_G).

— Kenneth P. Vogel (@kenvogel) November 23, 2020

And the tail:

Deputy A.G. nominee @LisaMONACO represented or advised:

➡️@AccentureFed
➡️@Apple
➡️@Boeing
➡️@Cognosante
➡️@ExxonMobil
➡️@Humana
➡️@Kia
➡️@Lyft
➡️@Softbank
➡️@WEAdvisors

She will need ethics waivers to deal with issues affecting the above for 1 year. https://t.co/c2k07LsLRH

— Kenneth P. Vogel (@kenvogel) March 1, 2021
Democrats en deshabille
"Second former aide accuses Cuomo of sexual harassment" [The Hill]. "The former aide added that Cuomo, 63, told her he was open to relationships with women in their 20s." • Yes, thank you for this information. "Luv Gov."

Not objective but true,the facts tell the story.NY had & has its struggles but they're doing way better than what we see elsewhere & no way that happens without the Luv Guv dishing the real 24/7.He works with relentless intensity & NY's better for it.And as a brother, I am proud. pic.twitter.com/M1TrAtQwCo

— Christopher C. Cuomo (@ChrisCuomo) June 25, 2020

"Cuomo apologizes over allegations, calls for NY AG to tap lawyer for independent probe" [The Hill]. Cuomo emits a classic non-apology apology: "I now understand that my interactions may have been insensitive or too personal and that some of my comments, given my position, . I acknowledge some of the things I have said as an unwanted flirtation. , I am truly sorry about that." • Dude.
Republican Funhouse
At CPAC, Biden not hated (!):

Interesting note in @daveweigel's report from CPAC. https://t.co/e9GRvAcMMF pic.twitter.com/ShYuxppdHc

— Michael Kruse (@michaelkruse) February 28, 2021

At CPAC, Lighthizer on Trump:

Lighthizer: "And he may have more. He may have more. He may have more." 8/

— Simon Lester (@snlester) February 28, 2021

USTR Lighthizer doesn't fit easily into the cray cray bucket, though of course who knows these days….

CPAC, 2024: "Trump wins CPAC straw poll with 55 percent" [The Hill]. "Former President Trump won the Conservative Political Action Conference (CPAC) straw poll on Sunday, with 55 percent of respondents saying they would vote for him in a hypothetical 2024 primary. In the straw poll that demonstrated Trump's hold on the GOP, 21 percent said they'd vote for Florida Gov. Ron DeSantis (R) and 4 percent said they'd go with South Dakota Gov. Kristi Noem (R)."
2020
"Exclusive: How Obama went to bat for Warren" [The Hill]. "[T]he new book 'Lucky: How Joe Biden Barely Won the Presidency,' by The Hill's Amie Parnes and Jonathan Allen of NBC, shows Obama helping Warren in an an October 2019 meeting in New York City with a group of powerful Black donors from the corporate world." • Spoiler alert…

"Why Was The National Polling Environment So Off In 2020?" [FiveThirtyEight]. "But one reason the polling in 2020 has received so much attention is that down-ballot polling, namely the generic ballot — which asks respondents whether they plan to vote for a Democrat or Republican in their local race for the U.S. House of Representatives — was also off by a similarly large margin in 2020. In fact, as the table below shows, the House popular vote was 4.2 points more Republican-leaning than the polls anticipated, making it the largest generic ballot polling miss in a presidential or midterm cycle since 2006."
RussiaGate
"Once-secret FBI informant reports reveal wider-ranging operation to spy on Trump campaign" [John Solomon, Just the News]. "The now-declassified operational handling reports for FBI confidential human source Stefan Halper — codenamed "Mitch" — provide an unprecedented window both into the tactics used by the bureau to probe the Trump campaign and the wide dragnet that was cast to target numerous high-level officials inside the GOP campaign just weeks before Americans chose their next president in the November 2016 election…. While current FBI Director Chris Wray has insisted the bureau did not engage in spying on the Trump campaign, Halper's taskings include many of the tradecraft tactics of espionage, including the creation of a fake cover story (he wanted a job at the Trump campaign), secret recordings, providing background on targets, suggested questions to ask and even contact information for potential targets. But the memos' most explosive revelations are the sheer breadth of the FBI's insufficiently predicated dragnet targeting the Trump campaign, and the agents' clearly stated purpose of thwarting any Trump campaign effort to get dirt from Russia that could hurt his Democratic rival."
Realignment and Legitimacy
"The Council for National Policy" [Documented]. "The Council for National Policy (CNP), a 501(c)(3), is an influential network of conservative think tanks, right-wing religious extremists, Republican operatives, elected officials and wealthy GOP donors, which have gathered in secret for nearly four decades to advance their social and political agenda. Documented is releasing its archive of CNP materials below, which include CNP Membership directories (12 individual directories spanning September 2017 to September 2020); CNP 'action steps' from meetings; Members only newsletters; CNP Meeting agendas; with more to follow. Documented has also published 59 internal CNP recordings, from inside CNP meetings between 2017 and 2020, available here." • Quite a trove!

"For a democratic DSA" [Tempest]. I think the key point is this: "National Grievance and Harassment Officer positions should be elected by the convention."
Stats Watch
At reader request, I added some business stats back in. Please give Econintersect click-throughs; they're a good, old-school blog that covers more than stats.
Leading Indicators: "March 2021 Economic Forecast – A Small Step Back" [Econintersect]. "The effectiveness of stimulus programs is significantly undermined when the economic brakes are not released. The last stimulus was banked by the majority, and the new stimulus being legislated currently will likely end up in the bank also. This is the main reason that this economic forecast showed a lower growth rate – poor consumer spending. In the case of our forecasting model, it was not designed to accurately forecast very swift movements – as our model averages to remove noise. That means the relative decline of the forecast index due to the coronavirus pandemic is understated as the decline was swift and the beginning of the recovery was swift. Analyzing the economic data, the real decline during the pandemic lockdown was much deeper than the Great Recession. A recession ends when the economy begins to recover – and the economy is definitely recovering albeit still marginally in contraction year-over-year. This may be the shortest recession ever at 2 to 3 months. HOWEVER, the pandemic is not over and the coronavirus will decide when it wants to release the economy from its grip. At this point, the coronavirus is in control of the economy and all forecasts are simple guesses. Also, there is some slowing of major indicators which are a cause of concern."
Manufacturing: "United States Manufacturing PMI" [Trading Economics]. "Although the rate of overall growth eased from January, it was the second-fastest since April 2010 and was supported by sharp increases in output and new orders. Unprecedented supply chain disruption remained apparent, however, with supplier shortages and transportation delays leading to a substantial rise in input costs. Firms were, however, able to partially pass on input prices to clients through the fastest increase in charges since July 2008. At the same time, employment grew at the steepest rate since September 2014, as business confidence also improved."
Manufacturing: "United States ISM Purchasing Managers Index (PMI)" [Trading Economics] "The reading pointed to the strongest expansion in factory activity since February of 2018. New orders (64.8 vs 61.1), production (63.2 vs 60.7), employment (54.4 vs 52.6) and new export orders (57.2 vs 54.9) increased at faster pace. Also, supplier deliveries slowed (72 vs 68.2) and price pressures intensified (86 vs 82.1, the highest since July 2008)."
Construction: "United States Construction Spending" [Trading Economics]. "Construction spending in the US rose 1.7 percent from the previous month to a seasonally adjusted annual rate of USD 1.52 trillion in January 2021, an all-time high…."
* * *
Finance: "The resilient mechanics within ARK ETFs" [Izabella Kaminska, Financial Times]. "While Redditors were busy congratulating themselves over their amazing discoveries about GameStop shorts, they may have completely missed the exposed structural shorts baked into some of their own favourite innovation ETFs." • Hmm.
Shipping: "Los Angeles Port Congestion Lingers, Slowing U.S.-Asia Trade" [Bloomberg]. "The number of container ships waiting to enter the adjacent ports of Long Beach and Los Angeles remained elevated as goods crossing the Pacific continued to face delays of more than a week to reach docks on the U.S. West Coast. Thirty-three vessels loaded with containers were anchored Sunday outside the biggest gateway for American trade with Asia, compared with 34 a week earlier, and 16 more are scheduled to arrive over the next three days, according to officials who monitor traffic in southern California's San Pedro Bay."
Shipping: "China's exporters hit by global shortage of shipping containers" [Financial Times]. " The surge in exports from China to the west, combined with disruption at ports due to coronavirus, has left many containers out of position, resulting in queues of ships outside ports and soaring freight rates. The Chinese media have dubbed it 'a single box is hard to find."…. Roberto Giannetta, chairman of the Hong Kong Liner Shipping Association, said a lack of truckers and warehouse workers elsewhere in the world inhibited the ability of ports to return containers to China. 'There's a huge number of containers that are just sitting around the middle of nowhere . . . Australia, eastern Europe, middle America,; he said. 'It's like a kind of perfect storm preventing containers from returning back to Asia.'"
Manufacturing: "United orders another 25 Boeing 737 MAX jets to prepare for recovery" [Channel News Asia]. "United Airlines Holdings Inc has ordered 25 new Boeing 737 MAX aircraft to receive in 2023 and moved up the delivery of others as it prepares to replace aging jets and meet expected post-pandemic growth in demand, the company said on Monday…. 'With a number of our aircraft nearing the end of their lifecycle and the growth opportunities that we know will exist in the COVID-19 recovery period, this agreement will help us to grow as demand returns,' Chief Commercial Officer Andrew Nocella said in a memo. In addition to the new Boeing order, United said it has moved up delivery of 40 previously ordered MAX aircraft to 2022 and 5 to 2023, meaning it will have 94 new aircraft in its fleet over those two years."
Tech: "Google Is Paying for More Information in a Break With Its Past" [Bloomberg]. "Google is under growing pressure to pay for information that, for two decades, the search provider snipped from the web — and made a mint from — without paying a penny. Australian and French efforts to force Google to compensate news publishers are only the latest examples of a trend spanning the globe. Canada is considering a similar requirement and rival Microsoft Corp. has urged the U.S. to pass a comparable law. 'If Australia is successful, it could be a precedent for the rest of the world,' said Belinda Barnet, a senior lecturer at Swinburne University of Technology in Melbourne. In response, Google has begun paying for more information, but on its own terms rather than rules imposed by strict new laws. In October, the company committed $1 billion to fund a News Showcase that lets users discover and read stories from a variety of sources." • A "variety of sources" carefully curated by Google and its advisors in the political class (and intelligence communities) no doubt. No thanks.
Tech: "NFTs and a Thousand True Fans" [Andreessen Horowitz]. "Crypto, and specifically NFTs (non-fungible tokens), can accelerate the trend of creators monetizing directly with their fans…. NFTs are blockchain-based records that uniquely represent pieces of media. The media can be anything digital, including art, videos, music, gifs, games, text, memes, and code. NFTs contain highly trustworthy documentation of their history and origin, and can have code attached to do almost anything programmers dream up (one popular feature is code that ensures that the original creator receives royalties from secondary sales). NFTs are secured by the same technology that enabled Bitcoin to be owned by hundreds of millions of people around the world and represent hundreds of billions of dollars of value. NFTs have received a lot of attention lately because of high sales volumes. In the past 30 days there has been over $300M in NFT sales… That said, there are three important reasons why NFTs offer fundamentally better economics for creators. The first, already alluded to above, is by removing rent-seeking intermediaries. The logic of blockchains is once you purchase an NFT it is yours to fully control, just like when you buy books or sneakers in the real world…. The second way NFTs change creator economics is by enabling granular price tiering….. The third and most important way NFTs change creator economics is by making users owners, thereby reducing customer acquisition costs to near zero." • Making users owners. What a concept!
Tech: "How Etsy Prepared for Historic Volumes of Holiday Traffic in 2020" [Code as Craft]. "We take pride in operational excellence, meaning that every engineer takes responsibility not just for their own code, but for how it actually operates in production for our users. When there is an outage, we always have more than enough experts on hand to mitigate the issue quickly. When we hold a Blameless Postmortem, everyone shares their story candidly. When we discover a technical or organization liability, we try to acknowledge it openly rather than hide it. All of this helps to keep our incidents small. Our approach to systems architecture values long-term continuity, with a focus on a small number of well-understood tools, and that provided us the ability to scale with confidence. So while 2020 had more than its share of surprising circumstances, we could still count on minimal surprises from our tools."
Tech: "The designer behind one of the iPad's biggest apps is calling for an end to minimalism" [Fast Company]. In 2012 "a breakthrough app called Paper was released. It transformed the iPad into a slick digital canvas that turned anyone into a professional artist." For example, me! More: "Now Andrew Allen—Paper's lead designer—is hoping he's figured out the next big paradigm of app design…. While companies such as Facebook have used all this new resolution and processing power to explore virtual reality headsets, the software we have on phones and tablets has fallen into a rut of sans serif fonts and hamburger menus. These conventions are largely good for users. When is the last time you opened an app that you couldn't figure out how to use instantly? But they also lack variety and fail to maximize the capabilities of ever-improving iPhone processing power." • So what is Allen selling? Among other things, a weather app with a big fancy font where you can rotate the clouds. With a subscription model. That ain't it, chief. How about something that lets me visualize CO2 in an enclosed space?
Travel: "Bed Bugs Shied Away With Less Pandemic Travel. They're Not Gone" [Bloomberg]. "Terminix said bed bug infestations have declined because people are traveling less and fewer workers go into offices. But reporting of the problem also dropped because people have been reluctant during the pandemic to invite professionals to their homes for hours of treatment…. Pest professionals warn that the bugs are bound to spread again as people resume travel. Bed bug service calls gradually picked up last fall when people began traveling more, said Benjamin Hottel, a technical services manager at Orkin. And the bugs haven't disappeared: They can live for a year without eating,"
* * *
Today's Fear & Greed Index: 65 Greed (previous close: 48 Neutral) [CNN]. One week ago: 58 (Greed). (0 is Extreme Fear; 100 is Extreme Greed). Last updated Mar 1 at 12:29pm.
Rapture Index: Closes unchanged [Rapture Ready]. Record High, October 10, 2016: 189. Current: 185. (Remember that bringing on the rapture is a good thing, so high is better.) You'd think there were Beast Government implications from the Biden Adminstration; apparently not.
The Biosphere
"This complex microbial warfare is taking place in a single drop of water" [Nature]. "Deep in the churning pools of a wastewater treatment plant, microbiologists have uncovered stealth alliances and intrigue that rival human guerilla warfare. The instigator is a microscopic fungus, and its target is rotifers, tiny common aquatic animals that also thrive in wastewater sludge." • Yet another example of how little we know.
Health Care
New guidance from WHO on aerosols, at long last. Handy decision-making chart:
Wonderful guidance from @WHO on ventilation. Here are a couple of pages for non-residential settings. All the things we've been talking about: minimum 10 L/s/person, open doors & windows for cross-ventilation, use exhaust fans, filtration. https://t.co/umMzhiqKza pic.twitter.com/UEZLahi87v

— Linsey Marr (@linseymarr) March 1, 2021
The issue here, I think, is that you really have to understand your building to make these decisions work, because the airflow in every built environment is unique. That's going to be problematic for decision-makers who don't want to involve people on the ground. Here is the document–
"Roadmap to improve and ensure good indoor ventilation in the context of COVID-19" [World Health Organization]. From the executive summary: "The risk of getting COVID-19 is higher in crowded and inadequately ventilated spaces where infected people spend long periods of time together in close proximity. These environments are where the virus appears to spread by respiratory droplets or aerosols more efficiently, so taking precautions is even more important. Understanding and controlling building ventilation can improve the quality of the air we breathe and reduce the risk of indoor health concerns including prevent the virus that causes COVID-19 from spreading indoors." • I don't know if this language is strong enough to warrant purchase of anything, whether ventilation systems of PPE. (Perhaps that is not the goal of a WHO document like this, however; I'm not familiar with how WHO guidance works.) In any case, the droplet paradigm is being dragged, kicking and screaming, toward aersols. I don't see any language here that suggests aerosols are primary mode of transmission.
Sports Desk
"Police Raid F.C. Barcelona and Detain Four People" [New York Times]. "Multiple news media outlets reported that the four people detained were prominent current and former executives of the club: the former president, Josep Maria Bartomeu, who resigned as the club's president last year, shortly before he was to face a vote of no confidence; Oscar Grau, the club's chief executive; Roman Gomez Ponti, its head of legal services; and Jaume Masferrer, an adviser to Bartomeu…. Investigators have been looking into Barcelona's affairs for months, after incendiary revelations suggested the club had secretly hired an external marketing company to produce disparaging social-media content about some of its most important and high-profile players, including Lionel Messi and Gerard Piqué, and other critics of the club's leadership." • It gets better! They hired PWC, and…
Games
"How I cut GTA Online loading times by 70%" [nee.lv]. The conclusion: "If this somehow reaches Rockstar: the problems shouldn't take more than a day for a single dev to solve. Please do something about it :<" • This is written with great clarity. I recommend it to games, programmers, and those who are programmer-adjacent or -curious, and want to see how problem solving in code proceeds. Wow. (Also, Rockstar has internal problems in their business to let this p.o.s. out the door, and have it persist so long.) "How Google's Grand Plan to Make Its Own Games Fell Apart" [Wired]. "In March 2019, Google CEO Sundar Pichai took the stage at the Game Developers Conference in San Francisco to tell gamers [that] Google would launch Stadia, a gaming platform built on the company's cloud infrastructure. Not only that, but Google announced that it would produce its own exclusive titles for the service. It was officially in the business not just of distributing video games but creating them…. Earlier this month, Google announced it was closing Stadia Games and Entertainment, and laying off the 150 game developers it hired to make first-party games for Stadia just a year or two after hiring them. Many of those who lost their jobs still don't have clarity on why. But sources familiar with Stadia's operations believe that after pouring tens of millions of dollars into two game studios, Google couldn't stomach the expensive and complicated creative process necessary to build high-caliber video games—especially considering Stadia's unremarkable subscription numbers."
Imperial Collapse Watch
British McMansions:
It's square to be hipped! Like the unholy pub toilet love spawn of a stunted chateau & an out of town Tesco supermarket. Pinned to the earth with just blazeathon chimneys & chutzpah! Surprisingly not over the pond with @CheapoCrappy but right here in leafy West Sussex! pic.twitter.com/r32NybxSRD

— Shit Planning (@PlanningShit) February 27, 2021
Class Warfare
"Could an Amazon union form in Iowa? The Teamsters say they're organizing employees" [USA Today]. "International Brotherhood of Teamsters Local 238 Organizing Director Buzz Malone said Friday that he has been recruiting workers to organize since November. He said the union has approached '400 to 500' current or former employees, primarily tied to Amazon's distribution centers in Grimes and Iowa City. 'We're going to continue to organize them and turn them into a cohesive group to fight for their wages and conditions here,' Malone said….Malone said the union is demanding from the company higher pay and less stringent rules, particularly regarding how fast warehouse employees and drivers have to work."
"Silicon Valley Bus Drivers Restored Community Rides for Free—By Taking Matters into Their Own Hands" ]Labor Notes]. "With Covid cases surging in their ranks, bus drivers in Santa Clara, California, demanded to resume rear-door boarding, which is proven to reduce the risk of infection. Management of the Valley Transportation Authority (VTA) balked, even blaming the workers for getting sick. Pressure mounted from the leadership of Transit (ATU) Local 265, and from rider and community groups. But it was rank-and-file bus drivers who forced management's hand when they started planning to stop boarding at the front door whether the agency agreed or not. Bosses prefer anything to allowing workers to run the company. On February 3, the agency announced that it would resume rear-door boarding."
Zeitgeist Watch
A long thread that turns out to be about Korean zombie movies:
When you and your friends put your fingers on the ouija board planchette and it starts moving around, there's a chance your friends are just yanking your chain – but just as possible is that your friends are experiencing the ideomotor response.

— Cory Doctorow AWAY UNTIL MAR 15 (@doctorow) February 26, 2021
Interestingly, Korean zombies don't shamble; they run.
News of the Wired
"'To Me, This Penis Is Out of Control'" [The Atlantic]. "The world of Danish children's television is not for the prudish. Kids who turn on the tube in Denmark might be greeted by gratuitous flatulence, cursing, casual nudity, or cross-dressing puppets. One show centers on a pipe-smoking pirate who wallops ninjas and flirts with Satanism. In another, an audience of 11-to-13-year-olds asks probing questions about the bodies of adults who disrobe before them. As Christian Groes, an anthropologist at Denmark's Roskilde University, told me, Danish children's television is not unlike an LSD trip: 'Everything is possible in that universe,' he said, loosely quoting a friend, "and people won't complain about it." But people did complain when the Danes debuted a kids' animated series in January featuring a protagonist with an absurdly long, prehensile penis." • Prehensile? Wait, I thought… Oh.
Good one, Dad:
I was in two minds whether to post this image because I think it's both a little niche and a little arch. pic.twitter.com/FOO4CguVgo

— Moose Allain Ꙭ (@MooseAllain) June 12, 2020
(Actually, modulo the cropping, I love vernacular religious art like this. For me, it's next door to animism.)
* * *
Readers, feel free to contact me at lambert [UNDERSCORE] strether [DOT] corrente [AT] yahoo [DOT] com, with (a) links, and even better (b) sources I should curate regularly, (c) how to send me a check if you are allergic to PayPal, and (d) to find out how to send me images of plants. Vegetables are fine! Fungi and coral are deemed to be honorary plants! If you want your handle to appear as a credit, please place it at the start of your mail in parentheses: (thus). Otherwise, I will anonymize by using your initials. See the previous Water Cooler (with plant) here. Today's plant: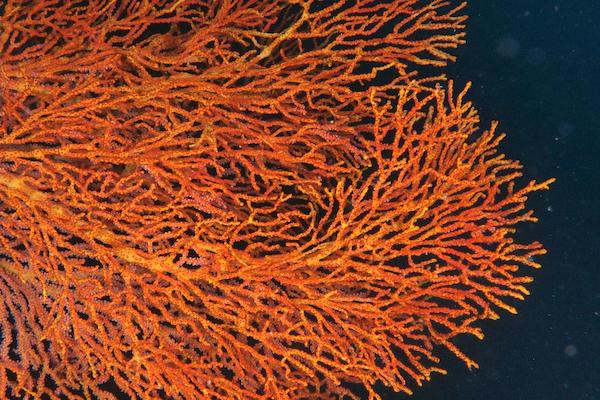 Fan coral. Perhaps Biggest Fan Coral? (The photographer asked not to be mentioned, but what a lovely image.)
* * *
Readers: Water Cooler is a standalone entity not covered by the recently concluded and — thank you! — successful annual NC fundraiser. So if you see a link you especially like, or an item you wouldn't see anywhere else, please do not hesitate to express your appreciation in tangible form. Remember, a tip jar is for tipping! Regular positive feedback both makes me feel good and lets me know I'm on the right track with coverage. When I get no donations for five or ten days I get worried. More tangibly, a constant trickle of donations helps me with expenses, and I factor in that trickle when setting fundraising goals:
Here is the screen that will appear, which I have helpfully annotated.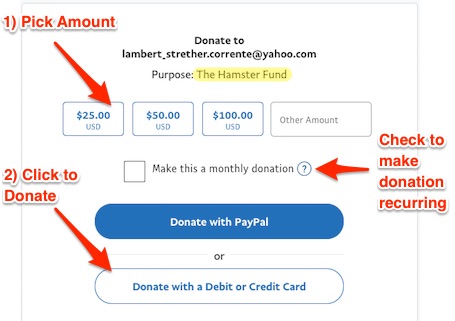 If you hate PayPal, you can email me at lambert [UNDERSCORE] strether [DOT] corrente [AT] yahoo [DOT] com, and I will give you directions on how to send a check. Thank you!