CalPERS continues to demonstrate how far the institution has fallen. It's not a good look that that key actors are broadcasting the CalPERS' diminished state by seeming totally clueless when making fools of themselves.
Marcie Frost, Now Lawyer Extraordinaire
Napoleon crowned himself Emperor of France. One must conclude that Marcie Frost has imperial fantasies in designating herself a member of the California bar, which also requires having a law degree or having completed four years of study in a law office or under a judge.
A CalPERS insider1 described how Frost has taken to labeling internal e-mails from her to non-lawyers as "Confidential Attorney-Client Privileged" and "ACP/AWP" as in "Attorney-Client Privileged/Attorney Work Product". These missives are unquestionably from Frost and not a CalPERS staff lawyer. They are from her e-mail address and signed "Marcie." By their own presentation, these messages are from her and her only, as opposed to a forward of a cut-and-pasted e-mail from a member of the legal department or outside counsel under their signature but sent from Frost's account. These cases do not include any attorney-produced content, such as an attachment from counsel or a summary of or direct quote from in-house or outside counsel.
Is Frost delusional or just the biggest rube sitting as an organizational chief? Let us turn to Cornell Law School:
Attorney-client privilege refers to a legal privilege that works to keep confidential communications between an attorney and his or her client secret.

The privilege is asserted in the face of a legal demand for the communications, such as a discovery request or a demand that the lawyer testify under oath.

Attorney-Client Relationship

This privilege exists when there is an attorney-client relationship.
On top of that, attorney client privilege applies only when an attorney is providing legal advice. Mere business or personal advice, such as how to handle a negotiation, is not protected.
Frost may try to blame CalPERS' General Counsel Matt Jacobs for this embarrassment. Good luck with that. Even though Jacob has made himself notorious for making indefensible legal readings to keep CalPERS executives and the board from having to do the right thing, the spectacle of regular and obvious abuse of the attorney-client privilege claim exposes CalPERS to having a judge correctly question other assertions of privilege. Judges are normally deferential to counsel on claims of privilege. But this level of abuse opens other CalPERS' assertions of privilege to challenge in litigation.
So the only conclusion one can reach is Frost is so high on her deceptions that she thinks she can pretend to be an attorney, the same way she pretended to be enrolled in a degree program at The Evergreen State College that never existed, or she is cringe-makingly ignorant of legal basics despite heading a major financial institution that is regularly involved in lawsuits.
Theresa Taylor, the Investment Committee Chair Who Is Shamelessly Ignorant About Investments
As the lawyers like to say, res ipsa loquitur, the thing speaks for itself:
From a recording of the Investment Committee meeting:
State Controller Betty Yee: [Addressing investment office members] And I have a question related to private equity. We are hearing more and more discussed about these special purpose acquisition companies or SPAC. And I am curious. These are companies that um, sole purpose is to raise capital to take private companies public. And I want to know your take on that. Whether that provides an opportunity, threat or challenge to the private equity investments….

Investment Committee Chair Theresa Taylor: Thank you I never had heard of those. And I saw [Interim Chief Investment Officer] Dan [Bienvenue] nodding his head vehemently. And sounds like something we are not getting in for a while that is for sure.
Needless to say, the recent vogue for SPACs, or Special Purpose Acquisition Corporations, is another case of financiers selling old wine in new bottles. They've been around for decades but had been mainly the province of penny-stock scamsters, who'd create or buy public shell companies, merge actual businesses into them, and run the stock price up and down. I had a former client go this route with monetizing a software venture. His stock would regularly round-trip from 15 cents to a bit over $4. And you'd feel like taking a bath after meeting with the Florida operators who took him public this way). Nevertheless, SPACs have become a fad.
Not only have SPACs been covered by Bloomberg, the Wall Street Journal, Reuters, the Financial Times, and the New York Times, but regularly by general interest publications, including:
In other words, if someone followed the business and finance news even casually, it's hard to have missed SPACs. And that raises the question of how seriously Taylor takes her CalPERS duties.
But perhaps she is trying to bolster the "know nothing" defense that she's deployed in response to a complaint alleging perjury for her failure to report significant amounts of income as required under California's financial disclosure laws. But Taylor was a Tax Compliance Officer for the Franchise Tax Board, so it's hard to think she can credibly claim that she didn't know that SEIU officer stipends weren't income under the law or managed to miss receiving over $30,000, a significant amount compared to the rest of her compensation.
The more likely explanation is no more flattering. Many members of the CalPERS board have stated on the record that they regard CalPERS staff as their only source of information.
But that lame excuse doesn't save Taylor either. Staff in fact makes a point of keeping the board and employees current on important news, which it curates via its "CalPERS Today" weekday e-mail,3 which has headlines, with links to the full text of articles, and a snippet. CalPERS has attempted to educate board members like Taylor about SPACs. Some examples: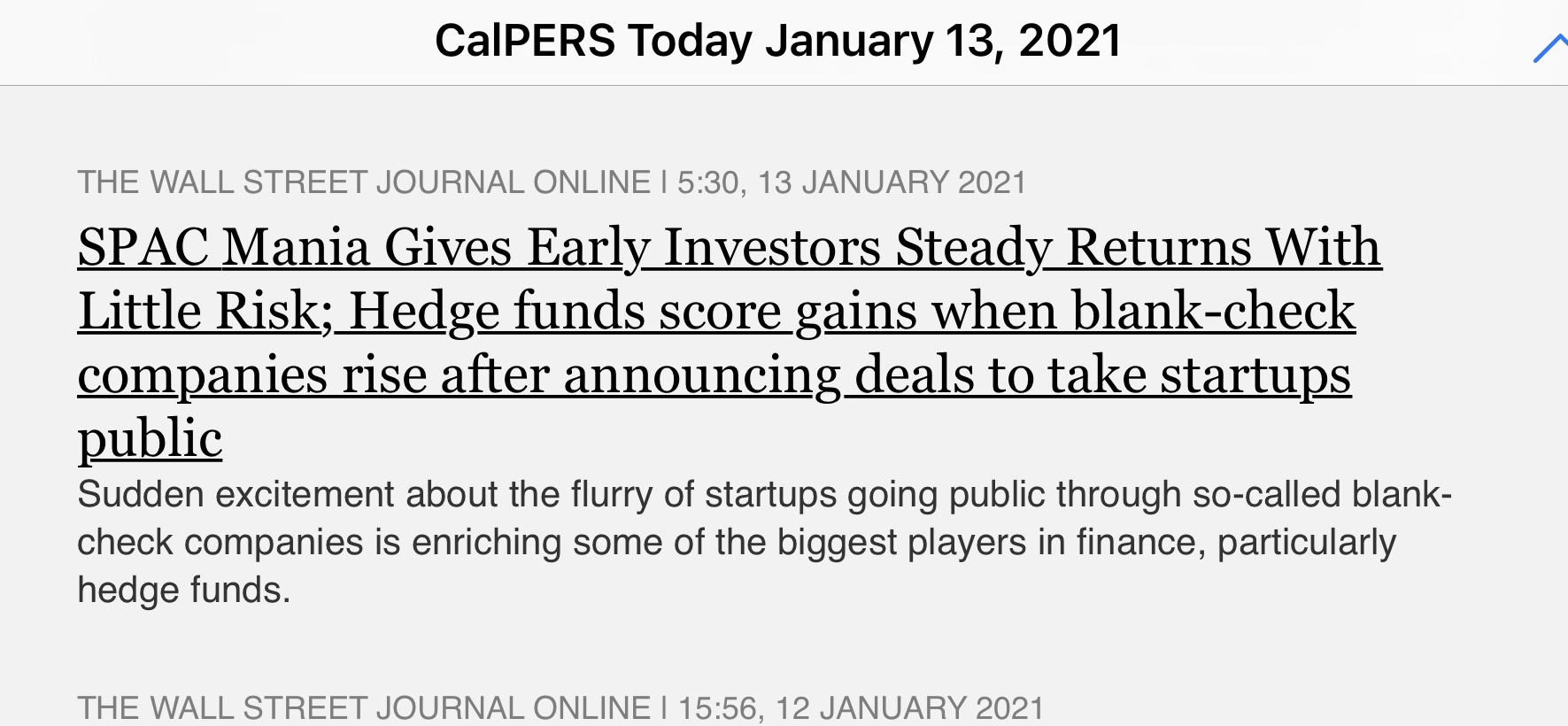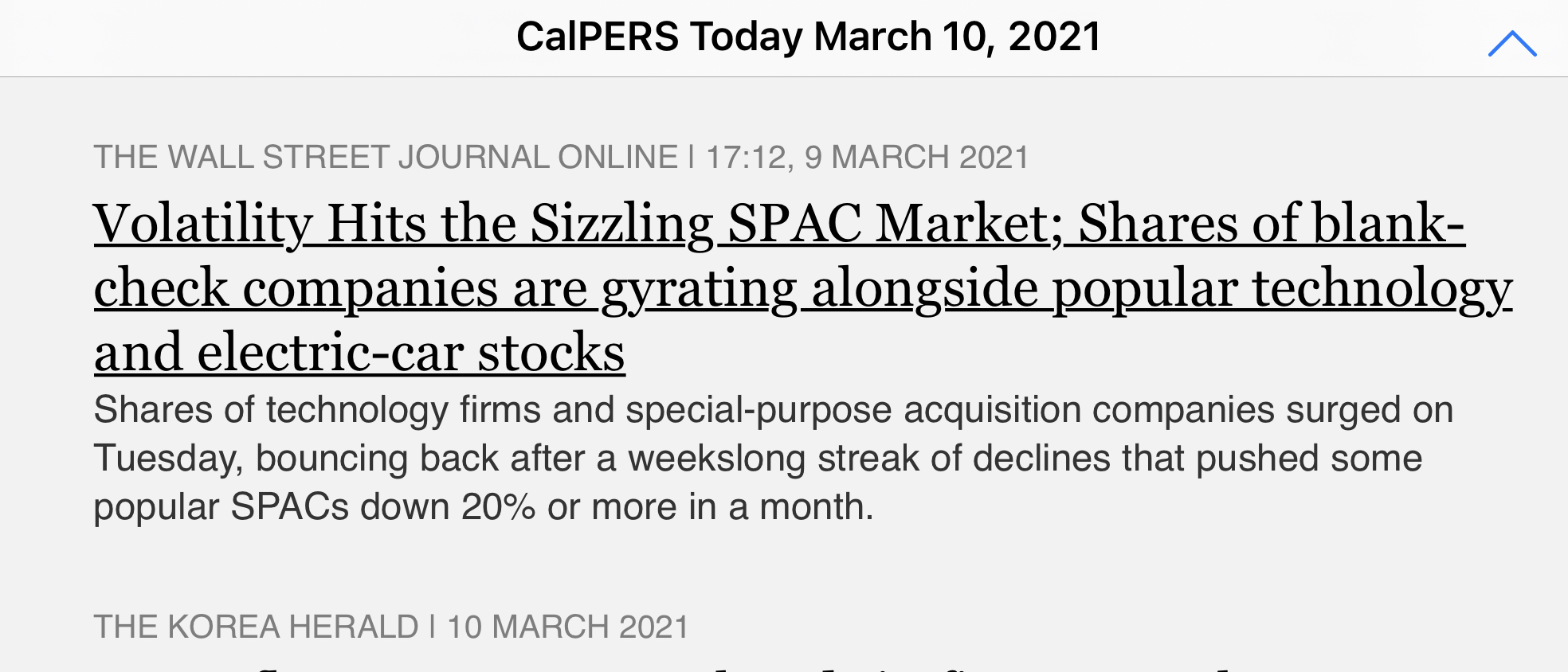 Needless to say, this level of deliberate ignorance and acquiescence is a repudiation of fiduciary duty, particularly at an institution where a former CEO is now in Federal prison for taking bribes and the current CEO has fabricated her background to the degree that would be a firing offense in any well functioning institution.2 Sadly, CalPERS beneficiaries and California taxpayers are along for this ride.
_____
1 CalPERS loves blaming a particular board member for any and all unfavorable press. This story did not come to me from a board member. Frost and her minions are apparently in denial that more than a few staff members are unhappy with her background fabrications and scapegoating, particularly since many of them worked hard to attain their educational and professional credentials.
2 Frost's falsehoods go beyond misrepresenting her education during and after she was hired. See:
CalPERS' CEO Marcie Frost's Misrepresentations Regarding Her Education and Work History During and After Her Hiring

Financial Times Publication Confirms Accuracy of Our Reporting on CalPERS CEO Marcie Frost's Resume Misrepresentations; Board Refuses to Investigate and Instead Attacks Us
3 This is the successor to the "Daily News Summary," which we exposed as a massive, long-term, flagrant copyright violation, leading to a multi-million dollar settlement with Dow Jones (surprisingly most other pubs were less willing to defend their intellectual property and either did nothing or entered into much more modest settlements).