By Lambert Strether of Corrente.
Bird Song of the Day
At reader request, it's Owl Week at the Naked Capitalism Water Cooler. Here we have an American Barn Owl. This clip was hard to find, because most of the really intriguing sonograms turned out to be night-time insect noise!
#COVID19
At reader request, I've added this daily chart from 91-DIVOC. The data is the Johns Hopkins CSSE data. Here is the site.
I feel I'm engaging in a macabre form of tape-watching, because I don't think the peak is coming in the next days, or even weeks. Is the virus gathering itself for another leap?
I'm holding the vaccination chart in abeyance until I look at data issues at DIVOC-19 and/or Johns Hopkins, after I get the rest of the post done.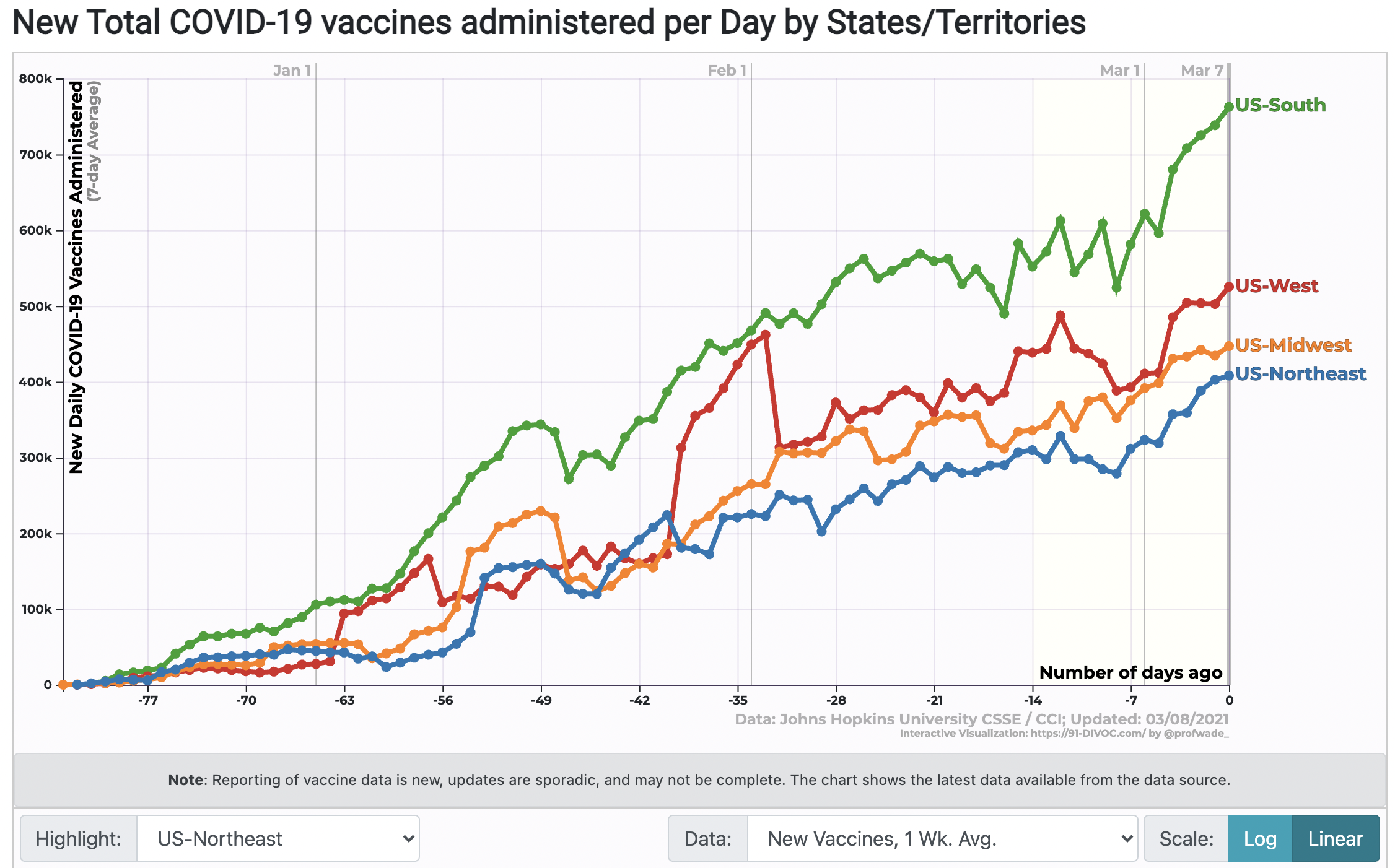 Patient readers, I must apologize for mistaking a data artifact for data. Alert readers cpm and shrewd wookie pointed out the vaccination decline I was worried about didn't conform to the data in the New York Times, which showed a steady increase. I had allowed my priors, which include both pessimism and a distrust of the (paywalled) Times and the institutional media generally, to get in the way of double-checking the data. From the 91-DIVOC data log, the Johns Hopkins data was successfully merged over the weekend, meaning that whatever pipes were clogged got unclogged. So I have restored the chart. Thanks again to alert readers cpm and shrewd wookie. The NC commentariat is the best commentariat. However, I still stand by this comment–
Early in February, I said a simple way to compare Biden's performance to Trump's on vaccination would be to compare the slopes of the curves. If Biden accelerated vaccine administration, the slopes would get steeper. What I expected was that that the slopes would remain the same; that the fragmented, Federalized, and profit-driven lumbering monstrosity that we laughingly call our "health care" "system" would not respond to "energy in the executive," but would continue on its inertial path.
–>
Case count by United States regions: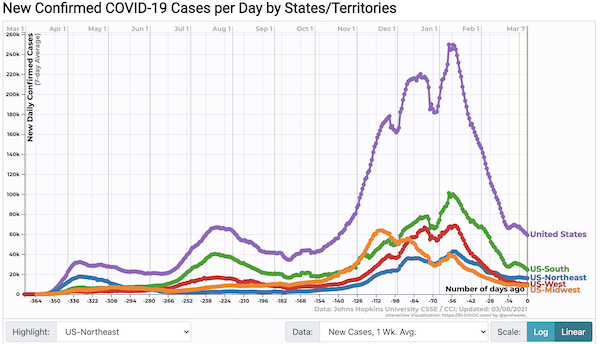 South heads downward again, Northeast flat.
Big states (New York, Florida, Texas, California):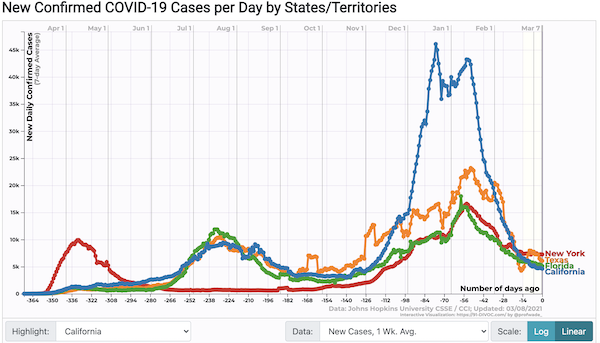 Texas drops below New York.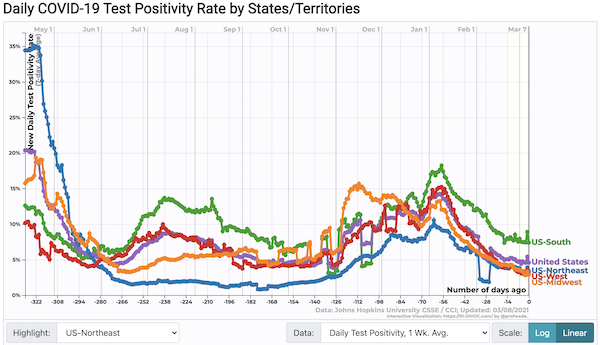 Jumps in the South.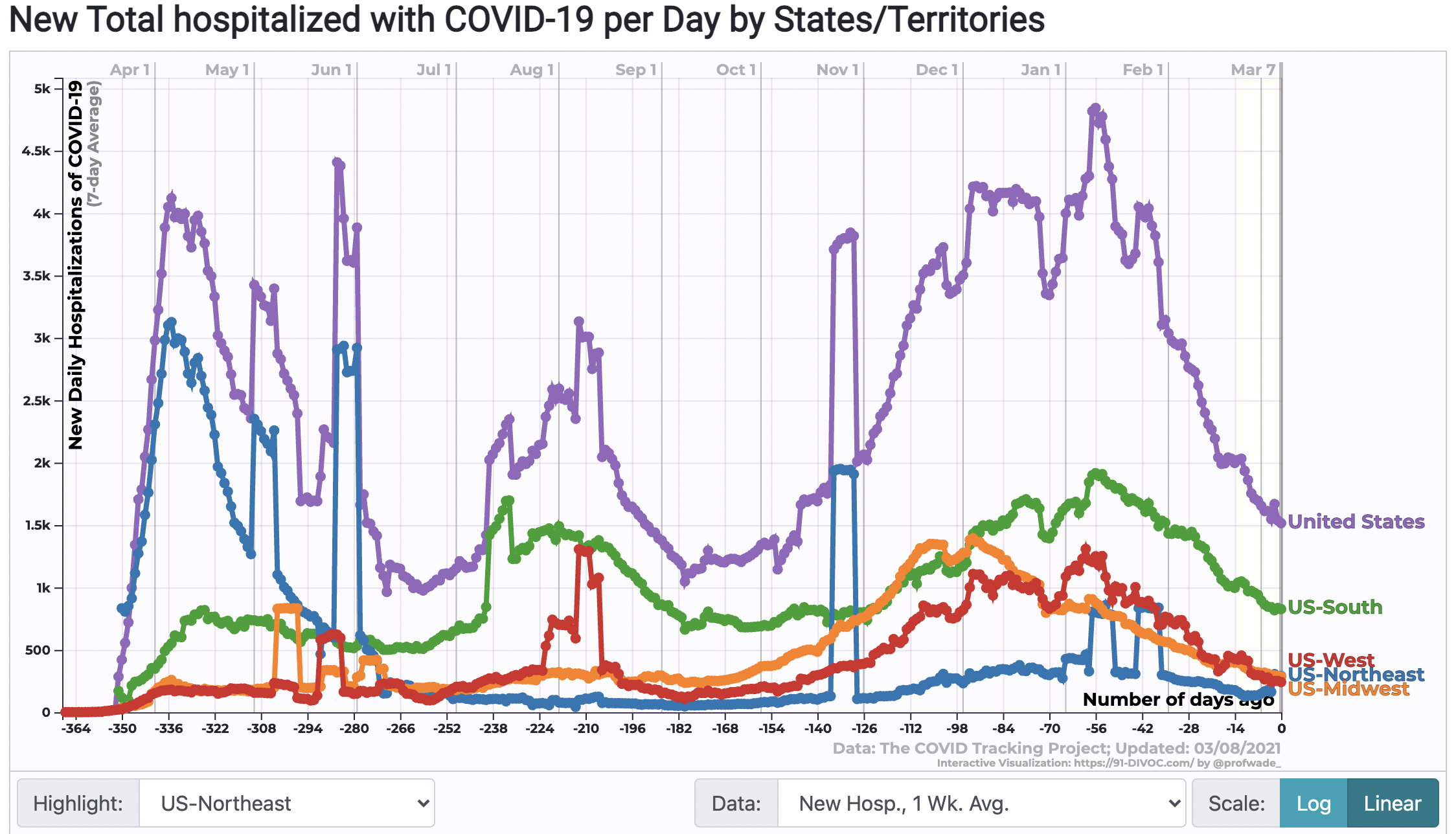 Hospitalization is discretionary; they may also be reducing their admissions rate — relative to cases we cannot see in this data! — to preserve future capacity; or because hospitals have figured out how to send people home.
Case fatality rate (plus deaths):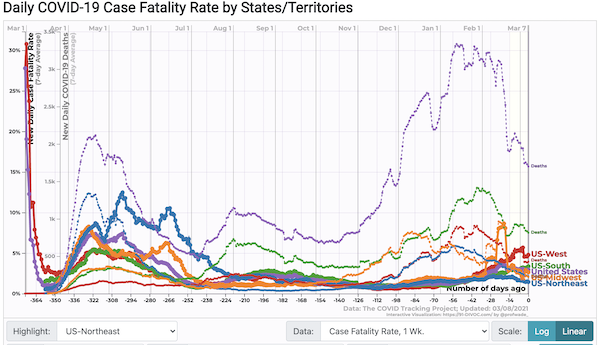 That fatality rate in the West (red) is rising still, which is what worries me. Now it's at it's highest in over a year. It's not going vertical, which is what I feared. Is the reason nobody else is worrying about this is that it's not really a problem? Is this some sort of statistical artifact as well?
Politics
"But what is government itself, but the greatest of all reflections on human nature?" –James Madison, Federalist 51
"They had one weapon left and both knew it: treachery." –Frank Herbert, Dune
"They had learned nothing, and forgotten nothing." –Charles Maurice de Talleyrand-Périgord
More to come. –lambert UPDATE All done!
Capitol Seizure
Maybe so:

Incredible story:

∙ Man joins Facebook group recommended by algorithm

∙ Is invited into encrypted chat

∙ Learns of plot to kidnap Gov Whitmer and harm police

∙ Becomes FBI informant & testifies against plotters

Amazing @joeguillen & @omarabdelb: https://t.co/46KslQWGyO

— Justin Hendrix (@justinhendrix) March 5, 2021

Or an innovative form of parallel reconstruction. Not that I'm foily.
Biden Administration
"Building the big one: Behind the scenes of Biden's $1.9 trillion bet" [Phil Mattingly, CNN]. This is from February 11, but I'm posting it because the reporter seems to have gotten the big things right — granted, for a liberal Democrat's definition of right — on the relief package, before the sturm und drang began. "For all of Biden's talk of bipartisanship, Democrats now had the power to move their top priority without a single Republican vote. It was the same situation as 2009, when the Obama administration rushed to pass a relief package during his first month in office. Back then Democrats lowered the size of the plan to garner some Republican support, a decision many of them came to regret during the slow recovery that followed. This time would be different. From the outset, the common goal among Biden's team was to go big — even if that meant going it alone." • Let me use this story as a hook for remarks on the relief package. First, it's remarkable that conventional wisdom has now become that the Obama administrations response to the last Crash was a debacle. Schumer + Biden > Reid + Obama (with Pelosi, I suppose, being an equally pernicious constant throughout). Who knew? Even more remarkable is that "deficits don't matter" (as Dick Cheney put it) has also become conventional wisdom. Not remarkable at all is that all those who were were wrong are still in power, and that all those who were right — particularly the MMTers, but also the left in general — are not. We saw the same pattern with Iraq. As for the details of the bill, $1.9 trillion can't help but have a good impact, as did CARES. The childcare provisions are probably good, even if they only last for a year. That said, the bill does, late and partially, what should have been done long ago and universally: Pay Americans for staying home. It's also noteworthy that the bill carefully reinforces means-testing at every opportunity. The bill also continues the immiseration of the working class because it does not raise the minimum wage. Liberal Democrats gotta liberal Democrat.

Oh, and here's Mattingly on the famous $2,000 checks:

"If you send Jon and the Reverend to Washington, those $2,000 checks will go out the door," Biden said during a campaign stop in Atlanta the day before the runoff election.

And in the very next paragraph:

After Warnock and Ossoff both won, Biden's team made those checks — an additional $1,400 to the $600 already disbursed — a central selling-point for the proposal

Do you know a check that works like that? Not "out the door" and "already one-third out the door" at the very same time? I sure don't. The double-think is absolutely remarkable, by which I mean perfectly normal.

And speaking of checks, this is important, and Mondaire Jones is a Representative, so I assume he knows whereof he speaks:

🔊 Listen up:

To determine eligibility for the $1,400 survival checks, the IRS will use your most recent tax return.

So if you lost your job, lost income, or had a kid in 2020, file your taxes as soon as possible!

— Mondaire Jones (@MondaireJones) March 7, 2021

Holy moley, what an insane system! Why not — hear me out — just send a check for the same amount to everybody, and claw back later from the rich if you want? Instead of this goofy rigamorale that leaves your rent check depending on whether the IRS processed your return on time or not! But you'll pry means-testing from liberal Democrats' cold, dead hands.

UPDATE "The Senate's Second COVID Recovery Vote-A-Rama, Vote-by-Vote" [Jonathan Cohn]. • Very useful tick tock. Worth skimming.

UPDATE "The Daily 202: Kamala Harris is playing an unusually large role in shaping Biden's foreign policy" [Olivier Knox, WaPo]. "It's too early to say whether the president will formally entrust Harris with a specific national security portfolio, the way President Barack Obama handed Biden Iraq, Ukraine, and relations with Turkey after a 2016 coup attempt there. But the skills, knowledge and relationships she is building as vice president could serve her well if Biden — at 78, the oldest person ever to take the oath — bows out after one term, leaving the former California senator his designated heir." • I like Knox, but this is shameless puffery planted by anonymous administration sources. What Harris knows about foreign policy comes from her service on the Senate Intelligence Community. So, great.

* * *

Krysten Sinema (1):

Sen. Kyrsten Sinema practicing her NO vote pic.twitter.com/umAWQV0fQf

— Sabrina🌹 (@abelinasabrina) March 8, 2021

Where's the backpack? Kristen Sinema (2)

One reason I became disillusioned with progressives is because the progressive infrastructure cultivated and trained Kyrsten Sinema, and candidates like her, for years. Sinema in the mid-2000s was a bisexual punk cheerleader and organizer against Bush. Lifestyle branding.

— Matt Stoller (@matthewstoller) March 5, 2021

* * *

UPDATE "Two Cheers for Joe Manchin" [Jeet Heer, The Nation]. "The crucial point to understand is that the move from the second position (of House Democrats) to the third position (the first Senate deal) is essentially a wash. Going from $400 to $300 is a loss, but it is made up for by tax forgiveness. The final Manchin deal is a genuine trimming, cutting the top-up for three weeks of potential beneficiaries. Given the economic suffering, it's a miserly move. But it's a bad policy detail that pales besides the massive positive benefits of the stimulus bill as a whole." • I agree that tax forgiveness is good. What liberal Democrats and the political class generally don't seem to understand is that bills and checks are now, and tax code is later. If you're drowning a mile out, it makes no difference that the Democrats moved the shore one-half mile closer.

UPDATE "Manchin's next power play" [Axios]. "Manchin said the infrastructure bill can be big — as much as $4 trillion — as long as it's paid for with tax increases. He said he'll start his bargaining by requiring the package be 100% paid for." • Attaboy.
Democrats en deshabille
"Cuomo faces mounting Democratic backlash as top New York state lawmakers call for resignation" [CNN]. The lead: "The walls are closing in." Where have we heard that before? More: "Powerful state Senate Majority Leader Andrea Stewart-Cousins called for her fellow Democrat's resignation on Sunday after two more former aides came forward alleging inappropriate conduct by the governor, including one who accused Cuomo of making an unwanted sexual advance in a Los Angeles hotel room more than two decades ago while she worked for him as a paid consultant.

Stewart-Cousins' decision to join a growing number of state Democratic lawmakers pushing for Cuomo, who has repeatedly denied inappropriately touching anyone, to step down upped the pressure on the three-term governor as his grip on the state capitol he has ruled for a decade appears to be slipping." • So, following the logic through, here, thousands of dead elders in nursing homes are "appropriate." Which makes sense when you look at the record: Covid, deaths of despair, no Medicare for All, etc. Our political class sure knows how to make the hard choices.
Realignment and Legitimacy
Redistricting:

This is really neat: The good folks at @PlanScore just launched a new feature where you can upload a proposed or existing redistricting map for a dozen key states (FL, GA, IL, MA, MD, MI, NC, PA, TN, TX, VA, WI) & instantly analyze the map's partisan bias: https://t.co/ld7wRKptXW https://t.co/CJfqQXvIOz

— Stephen Wolf (@PoliticsWolf) March 5, 2021

UPDATE "Taibbi is Right: Wither Marcuse" [Midwest Socialist (flora)]. " As long as Marcuse's central ideas linger in the background of Leftwing thought, the Left will never be able to mobilize the type of majoritarian movement necessary to transform power. People do not willingly join movements whose intellectual leaders fundamentally do not see them as capable of making their own decisions….. The supposedly transclass radicals that consumed so much of the New Left's energy, largely due to Marcuse's influence, were not transclass at all. In actuality, they were college-educated middle-class individuals. They kind of people who had immense access to education and leisure largely because of social democracy's economic prosperity…. Despite Marcuse's sympathetic words towards "the outsiders and the poor, the unemployed and unemployable, the persecuted colored races, the inmates of prisons and mental institutions," his real goal was always the "absolutist rule by our intellectual betters." The reason is simple. When a social identity is established through an intellectualized cultural aesthetic, support for oppressed groups becomes an extension of that aesthetic. Solidarity only exists to the point where it does not threaten that aesthetic radicalism." • Well worth a read.
Stats Watch
Wholesale Inventories: "United States Wholesale Inventories" [Trading Economics]. "Wholesale inventories in the US increased 1.3 percent month-over-month in January of 2021, in line with preliminary figures, and following an upwardly revised 0.6 percent gain in December. Inventories of durable goods were up 1.2 percent, with those of computer equipment recording the biggest gain."
* * *
Tech: "How SEO Is Gentrifying the Internet" [Current Affairs]. Hard to excerpt this one, though it's worth reading to make sense of your crapified search experience. Basically, "Since the 1990s, SEO marketing has been a lucrative pursuit for the world's most scruple-free douchebags." But I'm not familiar with any of the techniques. Since Google downranks us for Links, we can't make SEO our business model, and so nobody at NC writes with SEO in mind. Read with confidence!
Tech: "I haven't bought new pants for years, why do I have to keep buying new PCs?" [The Register]. "We've got pants that have lasted longer than some computers, thanks in part to the excesses of the likes of Apple and Microsoft." • Due to exigent circumstances, I had to buy another laptop. Reader, I got a bottom-of-the-line iPad, because I didn't and don't have time to configure and learn Linux, even an easy version. (Plus, I need Lightroom.) Nevertheless, I had to spend a lot of time removing functionality I didn't want. For example, I don't want to be Notified about anything, ever. I don't want any animation. I don't want Siri advising me, or indeed knowing anything at all. And so on and on and on. More bloat, maintained by very smart and well-paid people who could be doing something useful with their time.
Tech: "Amazon is filled with fake reviews and it's getting harder to spot them" [CNBC]. "Since Amazon's early days, reviews are the one big metric customers have relied on to determine the quality and authenticity of a product. Amazon's listings often have hundreds or thousands of reviews, instead of the handful found on competing marketplaces. But many of those reviews can't be trusted. Thousands of fake reviews have flooded Amazon, Walmart, eBay and others, as sales have skyrocketed." • Of course, Amazon uses some crap AI, because human moderation has yet to be scaled.
The Economy: "Yellen says Biden COVID bill to fuel 'very strong' U.S. recovery" [Reuters]. "U.S. Treasury Secretary Janet Yellen said on Monday that President Joe Biden's $1.9 trillion coronavirus aid package will provide enough resources to fuel a "very strong" U.S. economic recovery, but will not address longstanding inequality problems. She repeated her expectations that the package would allow the United States to return to pre-pandemic "full employment" levels by next year." • For perspective:
"Scariest Job Chart"
Worst of Great Recession: Down 6.29%
Now: Down 6.21% pic.twitter.com/h60rokHaln

— Bill McBride (@calculatedrisk) March 6, 2021
"The Scariest Job Chart" ran regularly during the last Crash.
* * *
Today's Fear & Greed Index: 61 Greed (previous close: 51 Neutral) [CNN]. One week ago: 66 (Greed). (0 is Extreme Fear; 100 is Extreme Greed). Last updated Mar 8 at 12:39pm. Mr. Market came back from the Nineteenth Hole on Sunday no longer in a grey mood.
Rapture Index: Closes up 1 on Oil Supply/Price. "Oil prices have hit a yearly high" [Rapture Ready]. Record High, October 10, 2016: 189. Current: 180. (Remember that bringing on the rapture is a good thing, so high is better.) Worth noting we are now at Record Highs. Angst in the Heartland?
Health Care
UPDATE "Interim Public Health Recommendations for Fully Vaccinated People" [CDC]. From today: \
The following recommendations apply to non-healthcare settings.

Fully vaccinated people can:

Visit with other fully vaccinated people indoors without wearing masks or physical distancing
Visit with unvaccinated people from a single household who are at low risk for severe COVID-19 disease indoors without wearing masks or physical distancing
Refrain from quarantine and testing following a known exposure if asymptomatic

For now, fully vaccinated people should continue to:

Take precautions in public like wearing a well-fitted mask and physical distancing
Wear masks, practice physical distancing, and adhere to other prevention measures when visiting with unvaccinated people who are at increased risk for severe COVID-19 disease or who have an unvaccinated household member who is at increased risk for severe COVID-19 disease
Wear masks, maintain physical distance, and practice other prevention measures when visiting with unvaccinated people from multiple households
Avoid medium- and large-sized in-person gatherings
Get tested if experiencing COVID-19 symptoms
Follow guidance issued by individual employers
Follow CDC and health department travel requirements and recommendations
As usual, CDC suppresses all mention of aerosol transmission, emphasizing physical distance and not ventilation. So, don't bother to open windows, don't invest in filtration, feel free to enter poorly ventilated spaces and stay a long time, etc.
UPDATE The end of the Atlantic's Covid Tracking Project:
Our daily update is published. States reported 1.2 million tests, 41k cases, 40,212 hospitalized COVID-19 patients, and 839 deaths. This is our final day of data collection after a very long year. pic.twitter.com/fKDkp3iL03

— The COVID Tracking Project (@COVID19Tracking) March 8, 2021
I hope that means The Atlantic thinks the pandemic is over, but maybe it means they think it's no longer a story. That would be bad.
"Multitude of coronavirus variants found in the US — but the threat is unclear" [Nature]. ""It's a Wild West," says Jeremy Kamil, a virologist at Louisiana State University Health Sciences Center in Shreveport who co-led a team that, last month, spotted a fast-rising variant in Louisiana, New Mexico and elsewhere. In the absence of clear data on a variant's behaviour, 'it's as if there's an unofficial policy that every variant is a variant of concern until proven otherwise', says Kamil." • Amazingly, the article lauds the UK's unified national sequencing effort, without mentioning that the NHS might have something to do with it.
Groves of Academe
I should probably file this under Guillotine Watch:
It left me cold. He did not seem to get that, for a graduate student, it was not funny to have a senior faculty from a top tier university whisper into his ear that he would feel pleasure rejecting his work. But there is more. /5

— César A. Hidalgo (@cesifoti) February 24, 2021
The whole thread is worth reading.
The Agony Column
"MiB: Controlling Your Limbic System Determines Your Financial Success" [Barry Ritholtz, The Big Picture]. The advice part: "The human limbic system controls our emotion, behavior and long-term memory (among other functions). '' So says Dr. William J. Bernstein, Ph.D., M.D., retired neurologist, principal in the money management firm Efficient Frontier Advisors, and author of several best-selling books on finance." The political economy part: "The book focuses on three of our key characterizations: Humans are the Apes that tell stories, imitates others, and seek status. This combination ultimately leads to group dynamics where an entire population can become deeply entrenched in a belief system, that before it is revealed as false, runs amuck. The consequences range can include economic collapse, personal financial ruin, and 1000s of deaths."
So I'm in class or at work, and an on-demand mental health top-up from an AI is gonna solve whatever problem I'm having:
For part one, see: https://t.co/BHL9E74jki

— Hope Doherty (@EHopeDoherty) March 6, 2021
"There's a Better Way to Parent: Less Yelling, Less Praise" [The Atlantic]. Yeah, yeah, ancient wisdom from the periphery vouchsafed to bougie traveller. Nevertheless: "In the U.S., when a child calls you a name or smacks you, many parents think that the child is pushing your buttons, that they're testing boundaries and want to manipulate you. The Inuit parents and elders I interviewed almost laughed when I said that. One woman said something like, 'She's a kid—she doesn't know how to manipulate like that.' Instead, what they told me is that young children are just these illogical, irrational beings who haven't matured enough and haven't acquired understanding or reason yet. So there's no reason to get upset or argue back—if you do, you're being just like the child."
"Reading John Gray in war" [Aeon]. "it was only through [the English philosopher John] Gray that I saw the similarities between the doctrines of Stalinism, Nazi fascism, Al-Qaeda's paradoxical medieval, technophile fundamentalism, and Bush's 'war on terror'. Gray showed that they are all various forms (however incompatible) of utopian thinking that have at their heart the teleological notion of progress from unenlightened times to a future utopia, and a belief that violence is justified to achieve it (indeed, from the Jacobins onwards, violence has had a pedagogical function in this process)….. [S]cientific knowledge and the technologies at our disposal increase over time, but there's no reason to think that morality or culture will also progress, nor – if it does progress for a period – that this progress is irreversible. Gray points to the re-introduction of torture by the world's premier liberal democracy during the war on terror as an example of the reversibility of progress. The irreversibility idea emerged directly from a utopian style of thinking that's based on the notion that the end justifies the means. Such thinking is often accompanied by one of the defining characteristics of the Iraq and Afghanistan campaigns: hubris." • I like the framing that violence has "a pedagogical function."
Zeitgeist Watch
"The Core Message of Meghan and Harry's Oprah Interview: Racism Drove Us From the Royal Family" [Time]. "It was explicit in perhaps the most shocking allegation: that a member of the royal family came to Harry while Markle was pregnant with their son Archie with "concerns and conversations about how dark his skin might be when he was born." Meghan is American and identifies as biracial." • Commentary:
I am definitely not the first to say it but if tonight interested you at all you should absolutely check out the Diana episodes of @yourewrongabout, here's the first: https://t.co/y6pqkg5lDv

— Paige Lavender (@paigelav) March 8, 2021
I can't vouch for this particular podcast, but I've had good luck with "You're Wrong About" on other topics.
Class Warfare
Why the DNC had to keep her off the debate stage:
If our goal was to eradicate poverty, we would eradicate poverty.

— Marianne Williamson (@marwilliamson) March 7, 2021
News of the Wired
America in the 60s:
100 Cans, 1962 #warhol #popart pic.twitter.com/dCgdOkTIRJ

— Andy Warhol (@artistwarhol) March 8, 2021
America in the 70s:
The council has spoken pic.twitter.com/5pIpaKyELN

— 70s Dinner Party (@70s_party) March 4, 2021
Far more surreal than anything Warhol ever produced!
* * *
Readers, feel free to contact me at lambert [UNDERSCORE] strether [DOT] corrente [AT] yahoo [DOT] com, with (a) links, and even better (b) sources I should curate regularly, (c) how to send me a check if you are allergic to PayPal, and (d) to find out how to send me images of plants. Vegetables are fine! Fungi and coral are deemed to be honorary plants! If you want your handle to appear as a credit, please place it at the start of your mail in parentheses: (thus). Otherwise, I will anonymize by using your initials. See the previous Water Cooler (with plant) here. Today's plant (HH):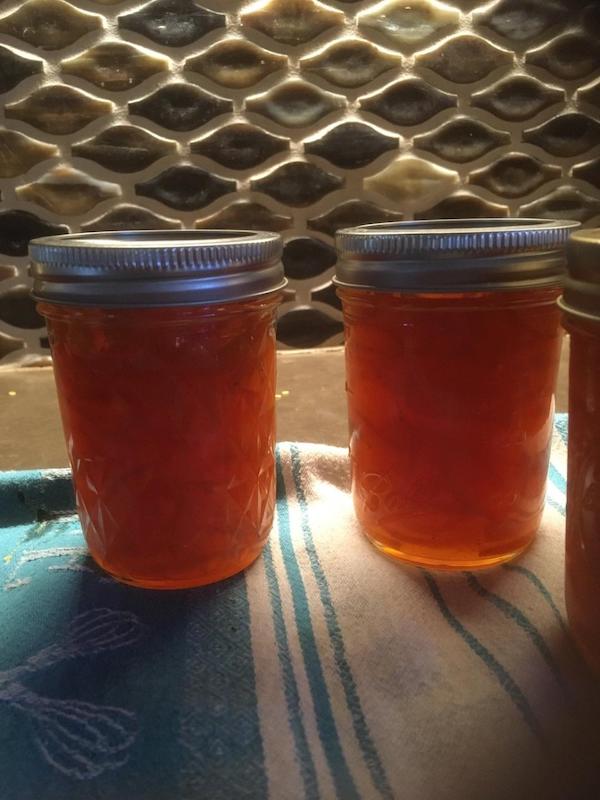 HH writes: "I waited until today to take these photos, because we wanted to see how our second batch would turn out. Our first batch, while tasty, had some processing issues (cooking for too long, basically — caused some caramelization). In these photos of today´s batch, there is a deep orange, barely translucent color. The first batch was opaque and very dark, and so we are unsure whether it should be called 'marmalade' or just 'candied orange rind.'" Holy moley, look at that glow! (I suppose I should declare processed plants honorary; I think activities like canning, pickling, and drying are to be encouraged. But no plant meals, please; nothing plated.
* * *
Readers: Water Cooler is a standalone entity not covered by the recently concluded and — thank you! — successful annual NC fundraiser. So if you see a link you especially like, or an item you wouldn't see anywhere else, please do not hesitate to express your appreciation in tangible form. Remember, a tip jar is for tipping! Regular positive feedback both makes me feel good and lets me know I'm on the right track with coverage. When I get no donations for five or ten days I get worried. More tangibly, a constant trickle of donations helps me with expenses, and I factor in that trickle when setting fundraising goals:
Here is the screen that will appear, which I have helpfully annotated.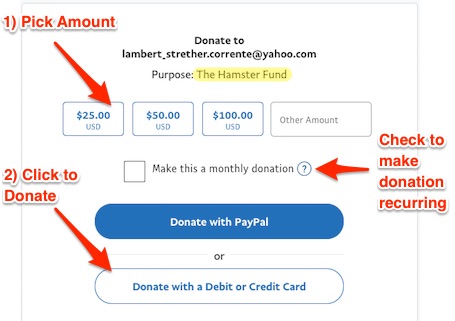 If you hate PayPal, you can email me at lambert [UNDERSCORE] strether [DOT] corrente [AT] yahoo [DOT] com, and I will give you directions on how to send a check. Thank you!