By Lambert Strether of Corrente.
On Sunday Night, CNN ran a special, "Covid War: The Pandemic Doctors Speak Out " ("Covid War") which gave rise to the narrative embodied in the following headlines (which cross the political spectrum, from the Independent to the Daily Mail):
All these stories are basically wrappers for a Fauci quote from "Covid War," which I'll get to, and if you look carefully, the headlines are pretty vague. What does "pioneered" mean, and is OWS "the project"? What "decision" did Fauci make? What does "started the ball rolling" mean?
So how much credit should we give Fauci? How much credit should we give to Operation Warp Speed? And what is the over-arching narrative that the Biden administration, through Fauci, and with the help of CNN, is trying to construct?
First, let's get the question Fauci's role in Operation Warp Speed (OWS) out of the way. He had none. Here is the OWS org chart: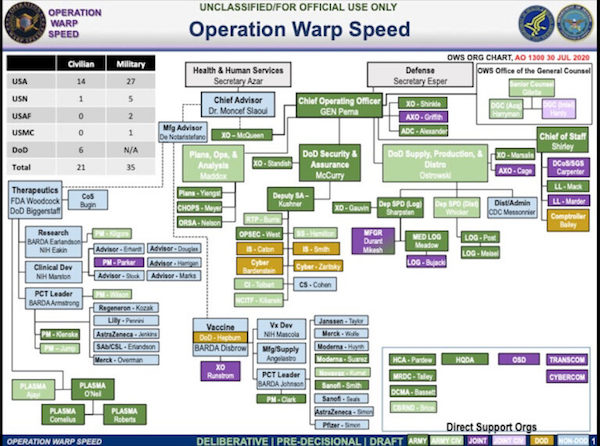 Fauci appears nowhere on it, nor does his institutional base, the National Institute of Allergy and Infectious Diseases, of which he is Director. Of course, that doesn't mean that Fauci did not interface or liaison with OWS. But he played no role within it. If you will look at the bottom middle of the chart, you will see the vaccine developers involved: Johnson and Johnson (Jannsen), Merck, Moderna, Novavax, Sanofi, AstraZenaca, and Pfizer (the agreement with Pfizer was for purchase only).
Now let's see what Fauci actually said on CNN. There are no clips up on the Internet yet, but here is a CNN transcript. The interview is Sanjay Gupta, chief medical correspondent for CNN
UNIDENTIFIED FEMALE: 40 percent increase in New York hospitals in just 24 hours.

FAUCI: That's a big number. When I saw what happened in New York City.

UNIDENTIFIED FEMALE: Refrigerated trucks are now being mobilized as makeshift works.

FAUCI: Almost over running of our health care system. It was like, oh, my goodness. And that's when it became very clear that . We have a number of vaccine candidates may have been the best decision that I've ever made with regard to an intervention as the Director of the Institute.

GUPTA (voice-over): were a giant success for the doctors, for science and for the world. But remember, a vaccine does nothing for the patient on the table. In this case, the hundreds of thousands who perished before science could save them.
Gupta clearly assigns credit for all the vaccines to Fauci, who "oversaw" them, and if Fauci disagreed, the transcript doesn't show it. How Fauci oversaw OWS vaccine development without being on OWS's org chart is a question that I'm not sure science can answer; perhaps Fauci's oversight was supernatural.
Turning to what Fauci said, we have the curious date of "January 10." (At this point, we remember — oh my goodness — that Fauci was saying people didn't need to mask up as late as February 15). What happened on January 10?
Here's "the decision" that happened on January 10. From Science Magazine. The institutional players are Fauci's NAIAD, and the The Coalition for Epidemic Preparedness (CEPI), essentially a globalist vaccine accelerator NGO[1].
Each of the three efforts that CEPI supports began within hours after Chinese researchers first posted a sequence of 2019-CoV in a public database. That happened on Friday evening, 10 January, in Bethesda, Maryland, home of the U.S. National Institute of Allergy and Infectious Diseases (NIAID). Barney Graham, deputy director of NIAID's Vaccine Research Center, began to analyze the sequence with his team on Saturday morning. The following Monday, Graham discussed his findings with researchers at Moderna, a vaccinemaker. On Tuesday, they signed a deal to collaborate.
(The other two CEPI efforts were Innovio and the University of Queensland. Innovio's vaccine is expected in the second quarter of this year. The Queensland trial was cancelled.) So, of the six OWS vaccines (excluding Pfizer) we see that Fauci's NIAID "oversaw" only one, Moderna, despite Gupta's grotesque distortion and Fauci's unblushing acceptance of it.[2]
Fauci described the Moderna/NIAID effort this way in Scientific American on January 22, 2020:
How long will it be before we have a vaccine for this virus?

We've already started to develop a vaccine. We got the [genetic] sequence from the Chinese. We're partnering with a company called Moderna to develop a messenger RNA–based [mRNA] platform for a vaccine. We will likely have a candidate in early phase I trials for safety in about three months. That doesn't mean we will have a vaccine ready for use in three months; even in an emergency, that would take a year or more. But we're already on it.
Here Fauci, correctly, says "a vaccine" (singular), Moderna, versus Gupta's "life saving and record-breaking vaccines" (plural), which Fauci allows to stand uncorrected.
So, I give Fauci full marks for his January decision to fire up an mRNA development effort with CEPI, NAIAD, and Moderna. If Fauci wishes to think of himself as a "pioneer," have at it, say I. That in no sense means that he "oversaw" all vaccine development. It also does not mean that Fauci's program architecture was best for the American people. Fauci's program architecture had a single-threaded development process with an NGO accelerator funded in the millions. OWS's program architecture had parallel development process funded in the billions.
Fauci understand the problem: Risk. From an interview Fauci did on Face the Nation:
MARGARET BRENNAN: How do you speed up that timeline and how do you fix the problem you said you have, which is finding a manufacturer?

DR. FAUCI: Right. Well, first of all, MARGARET, that one year timeline would be the world's indoor record of ever getting a vaccine out, at least to be able to early deploy. You can't do any better than that. If you go any faster, you'll be cutting dangerous corners.

MARGARET BRENNAN: And no manufacturer, yet?

DR. FAUCI: Oh yeah manufacturers. Once you get a vaccine that, you know works,.

MARGARET BRENNAN: All right. So you're still looking for a partner on that?

DR. FAUCI: I think we're gonna get them–
Meaning he doesn't have them–
MARGARET BRENNAN: OK.

DR. FAUCI: –because I'm seeing interest on the part of pharmaceutical companies that we did not see with SARS and other outbreaks.
Here is how OWS handled risk. From NC, "Trump's "Operation Warp Speed" Covid-19 Vaccine Development Program: Dominated by Military Personnel, Accused of Corruption":
I have been remiss in not covering Operation Warp Speed (OWS), the public/private partnership the Trump administration set up to develop a vaccine for Covid-19. Bloomberg described the origin and purpose of OWS back in April, in "Trump's 'Operation Warp Speed' Aims to Rush Coronavirus Vaccine":

The Trump administration is organizing a Manhattan Project-style effort to drastically cut the time needed to develop a coronavirus vaccine, with a goal of making enough doses for most Americans by year's end.

Called "Operation Warp Speed," the program will pull together private pharmaceutical companies, government agencies and the military to try to cut the development time for a vaccine by as much as eight months, according to two people familiar with the matter.

Vaccine development is typically slow and high risk. The project's goal is to cut out the slow part, the people said. Operation Warp Speed will use government resources to quickly test the world's most promising experimental vaccines in animals, then launch coordinated human clinical trials to winnow down the candidates.

.

The project will cost billions of dollars, one of the people said. And it will almost certainly result in significant waste by making inoculations at scale before knowing if they'll be safe and effective — meaning that vaccines that fail will be useless. But it could mean having doses of vaccine available for the American public by the end of this year, instead of by next summer.

The parallel development and manufacture of vaccines seems, well, innovative to me, and in a good way. Since the alternative to a vaccine is ruin, the project really shouldn't be descibed as "wasteful."
In short, the OWS program architecture minimized risk by guaranteeing the pharmaceutical companies a market, and by developing multiple vaccines in parallel; one was likely to pan out even if all the others failed; in the end, we got at least three. By contrast, Fauci's program architecture, at the very best, would have given us a single vaccine (and Moderna a monopoly), and at the worst, nothing at all. I don't want to sound like a squeeing MBA-clutching fan boy, but it feels to me like a business or engineerin imagination — I don't know who, and I'm not saying Trump — came up with OWS, and Fauci's imagination was not adequate for the task.
A final word on the propaganda effort in which the Biden Administration, Fauci, and the press are colluding. First, the American public has already been primed for crediting Fauci with "the life saving and record-breaking vaccines," as Gupta baselessly puts it. I tried to track down the origin of "Fauci ouchie," referring to the jab, and gave up with some Etsy links in June 2020. He's somehow managed to get all the vaccines named after him, so posts like this, sadly, are swimming against the tide. Second, a cult of personality is accreting around "America's Doctor,", much one did around Hero Of The Resistance™ Robert Mueller; people named their dogs after him. For example:
Am I sewing Dr. Fauci tea towels for someone?

Yes, yes I am. 😂💉🦠 pic.twitter.com/4j8YKBZbFg

— Jen (@Sprigglebear) March 28, 2021
Finallly, Teh Science. From the White House, this charming video:
We know you have questions about the COVID-19 vaccines but not always time to do your own research, so we asked Dr. Fauci to try to answer some of them in 15 seconds or less.

Wondering how they were developed so quickly? See if he can beat the clock (and get your answer, too) ⬇️ pic.twitter.com/SjprxxuFFT

— White House COVID-19 Response Team (@WHCOVIDResponse) March 28, 2021
Readers know I love science. But I don't confuse science with "the science," and I certainly don't confuse either with scientists, and especially not scientists embedded in a political faction. In the video above, Fauci carefully erases a program architecture that was superior to his own and of great benefit to the American people, by giving all the credit to science. It's as if he gave all the credit for the success of the Manhattan Project to Oppenheimer, Teller, et al., and none to General Leslie Groves (or FDR, for that matter). He does so having allowed a television personality to make baseless claims about his responsibility for all vaccine development, although his efforts, albeit showing great initiative, hastened the development of one vaccine among many.
NOTES
[1] From CEPI's About page:
CEPI is an innovative global partnership between public, private, philanthropic, and civil society organisations launched in Davos in 2017 to develop vaccines to stop future epidemics.

Our mission is to accelerate the development of vaccines against emerging infectious diseases and enable equitable access to these vaccines for people during outbreaks.
[2] Fauci knows very that that OWS played a crucial role in developing and delivering Modena's vaccine. Here is a photo from the Defense Department: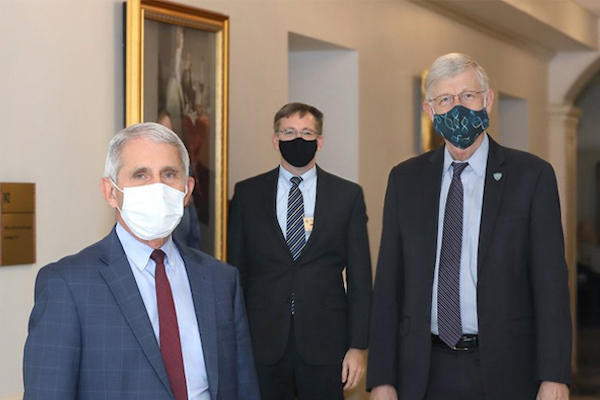 The caption:
From left: Drs. Anthony Fauci, head of the National Institutes of Health's National Institute of Allergy and Infectious Diseases; Matt Hepburn of the Defense Department; and Francis Collins, NIH director, stand for a photo at NIH in Bethesda, Md., July 27, 2020, while launching the first efficacy trial of an investigational vaccine for COVID-19 under Operation Warp Speed.
The "first efficacy trial of an investigational vaccine" was, as it happened, Moderna. From the NIH press release describing the July 27 event:
(S-2P). SARS-CoV-2 is the virus that causes COVID-19; the spike protein on its surface facilitates entry into a cell. Moderna's mRNA-1273 uses the mRNA (messenger RNA) delivery platform to encode for an S-2P immunogen. The investigational vaccine directs the body's cells to express the spike protein to elicit a broad immune response. A Phase 1 clinical trial found the candidate vaccine to be safe, generally well-tolerated and able to induce antibodies with high levels of virus-neutralizing activity. Moderna initiated Phase 2 testing of the vaccine in May 2020.
Credit where credit is due. And:
Moderna is leading the trial as the regulatory sponsor and is providing the investigational vaccine for the trial. The Biomedical Advanced Research and Development Authority (BARDA) of the U.S. Department of Health and Human Services' Office of the Assistant Secretary for Preparedness and Response and NIAID are providing funding support for the trial. that aims to accelerate the development, manufacturing and distribution of medical countermeasures for COVID-19.
And credit where credit is due. Would it really have been so hard for Fauci to interrupt Gupta and at least utter some generalities about "team effort"?