Lambert here: Yves apologizes for a missing original post. She was going to post on a paper that turned out, on examination, to have so much wrong with it that she has to email allies to figure out how and why it went off the rails.
The Wolf That Discovered California Smithsonian
In defense of the misunderstood short seller The Hill
How Much Did Libor-Rigging Cost? U.S. FDIC Finally Has an Answer Bloomberg
The Lordstown Motors Mirage: Fake Orders, Undisclosed Production Hurdles, And A Prototype Inferno Hindenberg Research (dk). SPACs are like CalPERS? Say it's not so!
Illegal Content and the Blockchain Schneier on Security
Travelers sitting on billions of dollars in unused flight vouchers ABC
Big Money Joins Rush for Carbon, Fueling Bets Prices Will Soar Bloomberg
#COVID19
Drugmakers Promise Investors They'll Soon Hike Covid-19 Vaccine Prices The Intercept. The deck: "Pfizer, Moderna, and Johnson & Johnson pledged affordable vaccines — but only as long as there's a "pandemic." So, one more reason for triumphalism.

Covid-19: A call for global vaccine equity British Medical Journal

Vaccination and non-pharmaceutical interventions for COVID-19: a mathematical modelling study The Lancet. Since it's a model, I won't quote figures, but here is the Interpretation: "Although novel vaccines against SARS-CoV-2 offer a potential exit strategy for the pandemic, success is highly contingent on the precise vaccine properties and population uptake, both of which need to be carefully monitored."

* * *

Dogs successfully trained to detect asymptomatic cases Bangkok Post (Furzy Mouse). I've been stanning for sniffer dogs for, like, a year, since the approach first surfaced. If our public health care system wasn't so insular and sclerotic, it would have long ago realized that an ideal use case for detecting asymptomatic cases with sniffer dogs would have been [drumroll] the schools [pounds head on desk], and we would have trained the dogs; have the "school resource officers" (cops) handle them. But n-o-o-o-o-o!

* * *

SARS-CoV-2 transmission without symptoms Angela L. Rasmussen, Saskia V. Popescu Science. From the body, this remarkably huffy passage:

Academic debates about the frequency of different transmission routes reframe exposure risk reduction as a dichotomy rather than a spectrum, confusing rather than informing guidance. Rather than targeting transmission by either inhalation or contact, infection prevention efforts should focus instead on the additive nature of risk reduction and the need for continued vigilance in community-based infection prevention measures,

It's not clear to me that the aerosols community will take kindly to having their essential work characterized as an "academic debate." It is clear to me that transmission via particles that fall (ballistic) vs. particles that float (aerosols) is a "dichotomy" drawn from the world of physics, and not ideologically imposed on it, even if characterizing such movements is fine-grained and situational. Finally, with no model of transmission other than "It's all of them!", all Rasmussen can do is present a smorgasbord of risk reduction techniques, with no rationale for choosing between them. For example, "including" is doing more work than any single word should ever have to do. CDC's school re-opening guidance conforms to Rasmussen et al.'s "additive" approach by dis-including ventilation. Is that OK? Having read the article's prose several times, I'm still not sure, which, I suppose, makes this article another contribution to "academic debate."

COVID Symptoms, Symptom Clusters, and Predictors for Becoming a Long-Hauler: Looking for Clarity in the Haze of the Pandemic (preprint; PDF) medRxiv (important). "We utilized electronic health records (EHR) from community-dwelling individuals (n=1407) with confirmed SARS-CoV-2 infection (via PCR) to determine symptoms and symptom clusters…. Table 1 shows sample distribution related to age, ethnicity, and sex. Figure 1 shows distribution of individuals reporting symptoms at days 0-10; approximately 68% of the total group exhibited symptoms, with 32% being asymptomatic." Yikes. The Times headline, then — Many 'Long Covid' Patients Had No Symptoms From Their Initial Infection" — is correct, albeit not the focus of the Abstract.

Timing the SARS-CoV-2 index case in Hubei province Science. The final sentence: "Although there was a pre-tMRCA ["the time of most recent common ancestor"] fuse to the COVID-19 pandemic, it was almost certainly very short. This brief period of time suggests that future pandemics with similar characteristics to the COVID-19 pandemic permit only a narrow window for preemptive intervention."

The Elephant In the Room: Herd Immunity via Tragedy Zeynep Tufecki, Insight

* * *

3 Ways the Pandemic Has Made the World Better The Atlantic

What have we learnt from a year of Covid? FT. I guess we learned not to do it again. I'm [family-blogged] if I know what we did.

U.S. Exceptionalism Created Deadly COVID-19 Failures Foreign Policy

14 Lessons for the Next Pandemic NYT. An insular discussion that ignores the world's experience. See How the West Lost COVID in New York Magazine earlier this week for perspective.

We're ready for the pandemic to end. So are brands. Vox
China?
AstraZeneca Vaccinations Continue Vietnam Weekly
Myanmar
Jokowi calls for Asean high level meeting on Myanmar crisis The Star

Crackdown triggers exodus from Myanmar's Yangon The Straits Times. People returning to the villages they had been sending money home to.

Garment workers in Myanmar fight for democracy, livelihoods AP. Yikes. Who wants that?

'If the Military Leaders Win, There Will Be No Unions': Myanmar Garment Workers on the Strikes Against the Coup Labor Notes. Curiouser and curioser:

Businessman tells @RFABurmese abt 30 black-clad sword-wielding men turned up at his Chinese-run factory in Shwepyitha, Yangon on March 14 n set it on fire. Culprits "are not young men" but tattooed, "middle-aged" men #Myanmarcoup #WhatsHappeningInMyanmar https://t.co/f1g2O8BUTB

— Tan Hui Yee (@Tan_Hui_Yee) March 19, 2021

Outed by online campaign, children of Myanmar junta hounded abroad Reuters
Deportation of a minor: how a 'corrosive' policy sank cosy relations between Australia and New Zealand Guardian
Syraqistan
The secret talks that nearly saved Gaddafi Independent
The Historical Roots of the Somali Election Crisis Hood Communist
Children still working in gold mines in the DR Congo, human rights groups say France24
UK/EU
Sturgeon 'misled parliament' over role in Salmond investigation, committee finds Sky News

UK audit reform proposals: Full of sound and fury but likely to amount to nothing Francine McKenna, The Dig

Climate targets mean our draughty UK homes need serious attention FT. But that contradicts our need for ventilation in the Covid pandemic. As for example:

@kprather88 Our room in a relatively new hotel. We live together and are vaccinated but OMG and it's still climbing. This is what LEED certification looks like (and this building is not even LEED Gold). pic.twitter.com/NZBV1FqLx5

— Shannon Spires (@twit_spires) March 17, 2021
"LEED (Leadership in Energy and Environmental Design) is the most widely used green building rating system in the world."
How a Colombian Smear Campaign Rocked Ecuador's Presidential Election CEPR
'I've Been Targeted With Probably the Most Vicious Corporate Counterattack in American History' Esquire. Provides a good angle on our Latin American policy, among other things. Well worth a read, and kudos to Esquire.
New Cold War
Aaugh! A Brief List Of Official Russia Claims That Proved To Be Bogus Matt Taibbi, TK News
Biden Administration
Trump Post Mortem
Agency review finds some Trump administration CDC guidance was not grounded in science or free from undue influence CNN

A Trump Tax Break Kicked Off a Race to Redraw U.S. Census Maps Bloomberg
Little evidence of increased demand for property in Opportunity Zones so far Brookings
Democrats en Deshabille
Report: FBI Now Probing Cuomo's Corporate Immunity Law Daily Poster
Huge Security Hole Discovered in Vote System Software Used by Dozens of States Last Year: 'BradCast' 3/17/2021 Bradblog. The fools who ran Trump's election challenges focused on Dominion, and not ES&S, both giving them a free pass and polluting the entire election tech discourse, good job.
Capitol Seizure
The FBI wants your help USA Today
Health Care
Backed by Amazon Care and Intermountain, a new coalition lobbies for policy changes around at-home care STAT
Big Brother Is Watching You Watch
What Happens When Our Faces Are Tracked Everywhere We Go? NYT. "[ClearView] could let companies track us as pervasively in the real world as they already do online."
Imperial Collapse Watch
Top U.S., Chinese diplomats clash at start of first talks of Biden presidency Reuters. Good grief. First Biden calls Putin what every head of state is, now this. Is The Blob trying to get us into a two-front war?

Life after death for the neoconservatives Asia Times
Atlanta Shootings Live Updates: Suspect Had Visited Targeted Spas Before, Police Say NYT
Black Injustice Tipping Point
Excluded From the Start Cleveland Park Smart Growth
North Carolina sends 6-year-olds to court. Why some say it's time for change. Winston-Salem Journal
Class Warfare
Lawmakers Look to Spruce Up Gig Work Rather Than Replace It Bloomberg

Unionizing showdown bedevils Audubon E&E News
A New Twist Reveals Superconductivity's Secrets Quanta
Listen to The Sound of Perseverance: Not the death metal album, but NASA's Mars rover on the move The Register
Antidote du jour (via):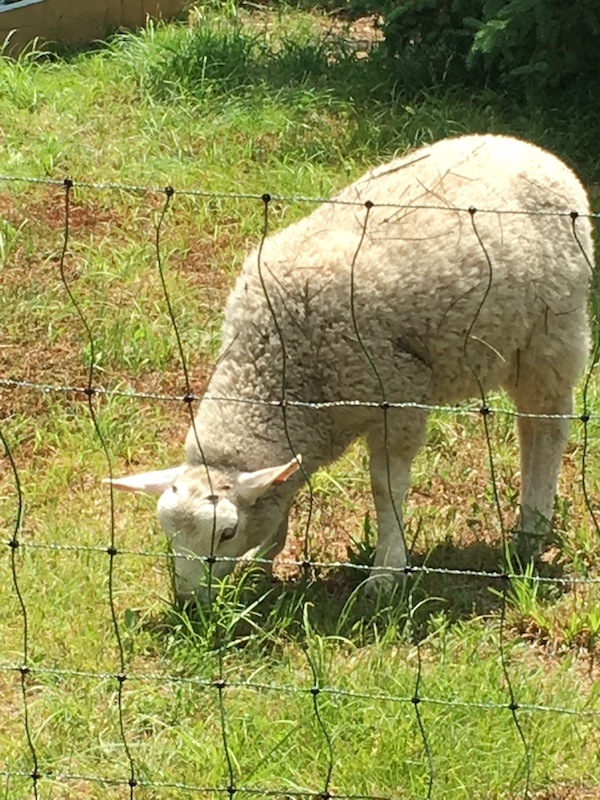 Bonus antidote:
Just born. Triplet #lambs #lambing2021 #lambing #sheep First this year. pic.twitter.com/FUKjIpqbmF

— Alastair Bruce (@AlastairBruce_) March 6, 2021
Double bonus antidote:
A video shot by a tourist shows goats walking on the roof as firefighters try to usher them to safety pic.twitter.com/XMk84NAnzO

— Reuters (@Reuters) March 17, 2021
See yesterday's Links and Antidote du Jour here.