By Lambert Strether of Corrente.
Bird Song of the Day
More from Amazonia.
* * *
#COVID19
At reader request, I've added this daily chart from 91-DIVOC. The data is the Johns Hopkins CSSE data. Here is the site.
I feel I'm engaging in a macabre form of tape-watching.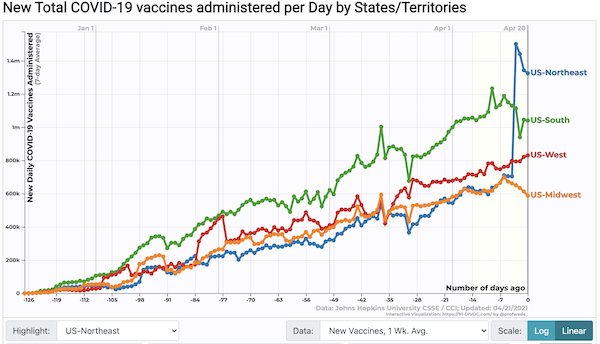 The Northeast jump is down to an enormous data error; the CDC data doesn't show it, so it's down to Johns Hopkins of DIVOC-19; I've written the maintainer.
Case count by United States regions: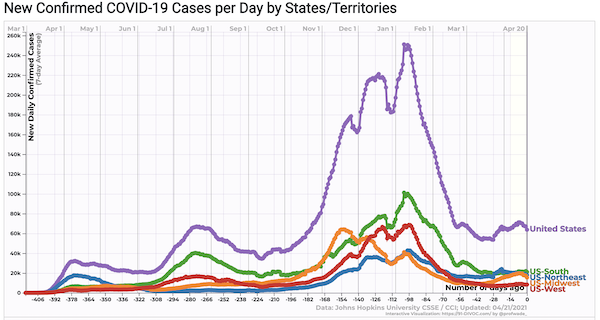 Good news two days in a row.
AL
https://apnews.com/article/health-alabama-coronavirus-d3ada27e9600ee95d306f7d0458d8ab9
Re Silc
The Midwest in detail: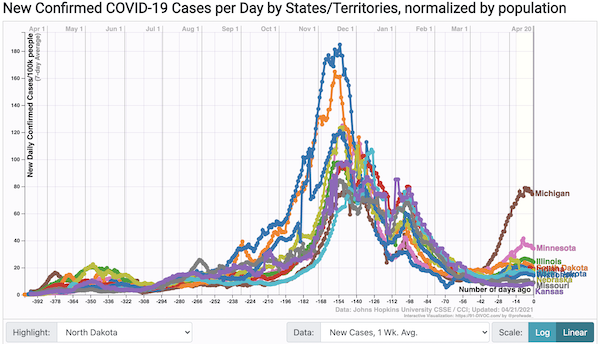 Michigan and Minnesota heading down, along with their neighbors (Could be that people actually do listen when Governors ask them do so stuff, but enough, and enough of them?)
Big states (New York, Florida, Texas, California):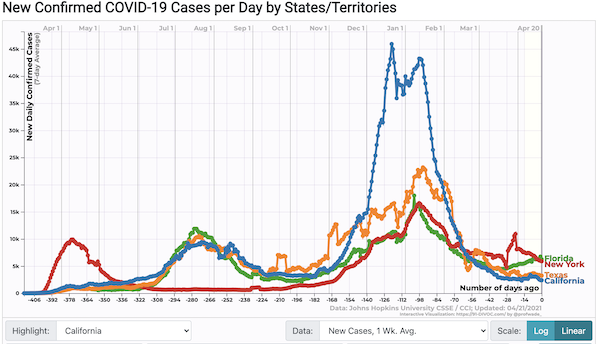 Florida, by a nose. California not following.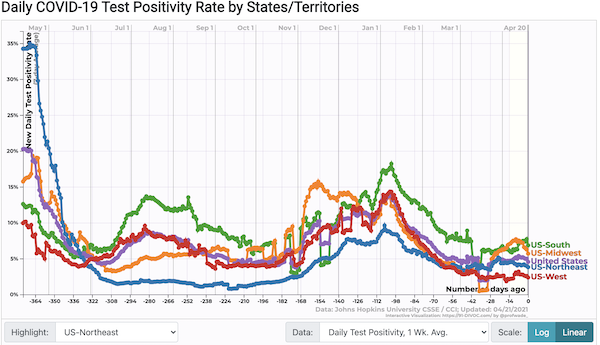 Midwest increases.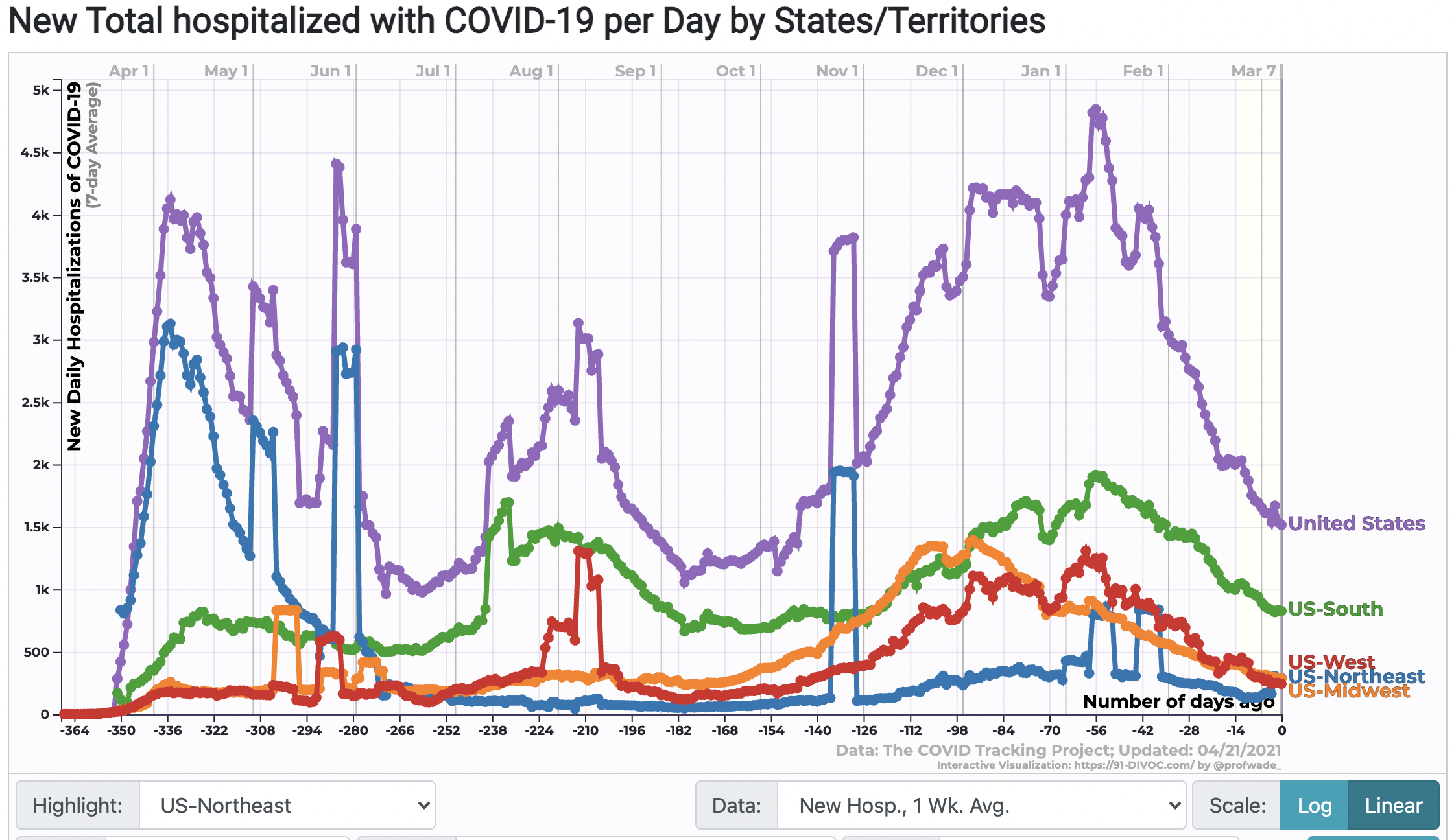 Still heading down.
Case fatality rate (plus deaths):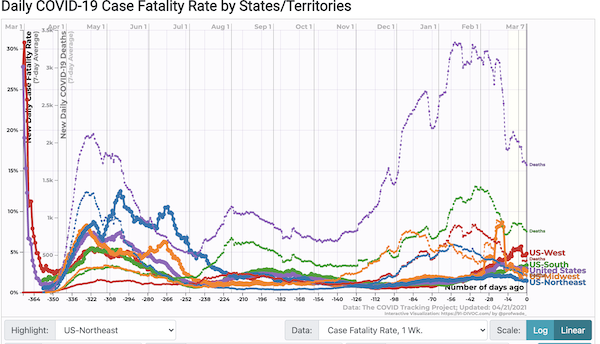 Good to see those deaths dropping. The fatality rate in the West is increasing again, for some reason as unknown as why it dropped.
* * *
Politics
"But what is government itself, but the greatest of all reflections on human nature?" –James Madison, Federalist 51
"They had one weapon left and both knew it: treachery." –Frank Herbert, Dune
"They had learned nothing, and forgotten nothing." –Charles Maurice de Talleyrand-Périgord
Capitol Seizure
"There are hundreds of posts about plans to attack the Capitol. Why hasn't this evidence been used in court?" [NBC]. "'There are thousands of posts — with tens of thousands of comments — detailing plans to travel to Washington and engage in violence against the U.S. Capitol,' said Daniel Jones, a former FBI analyst and longtime Senate investigator who is now president of Advance Democracy. 'The ultimate end goal of this violence was, on behalf of Trump, to disrupt the Congress and overturn the presidential election." • Yes, the Großer Generalstab, right there in plain sight. (Amazingly, this is the NGO that's driving the story: Check out the website. Looks like they need to do some fundraising….)
Biden Administration
"Joe Manchin Mocked Bernie's $15 Minimum Wage Bill at Lobbyist Event" [Jacobin]. Of course Manchin, but also this: "[Sean] Kennedy, who previously served in the Obama White House as a special assistant to the president for legislative affairs, has become the public face of corporate opposition to a $15 minimum wage." • Thanks, Obama!

"'Problem Solvers' Threaten Biden's Infrastructure Plan Over Rich Donor Tax Break" [Read Sludge]. A bipartisan group of representatives led by New York Democrat Tom Suozzi is now playing hardball to get the SALT cap repealed and lower tax bills for their wealthiest constituents. In January, Suozzi, the vice chair of the Problem Solvers Caucus, and six other members of the caucus introduced the SALT Deductibility Act to strike the cap on SALT deductions from the tax code. Last week, Suozzi drastically ramped up his efforts by threatening to block Biden's infrastructure spending and tax package unless the tax cut for the rich is added. "No SALT, no deal," Suozzi said in a statement. He's being joined in his threat by Problem Solvers Caucus Co-Chair Rep. Josh Gottheimer (D-N.J.) and Rep. Bill Pascrell (D-N.J.). With Democrats currently having a slim majority in the House with multiple vacant seats, if just two Democrats sided with Republicans on an otherwise party-line vote they could potentially block the infrastructure bill.
Realignment and Legitimacy
"F.D.R. Didn't Just Fix the Economy" [Jamelle Bouie, New York Times]. "Roosevelt had to prove to all Americans that self-government worked; that it could restore confidence and tackle the economic crisis without compromising the principles of the revolution and the founding. That's why Roosevelt embraced public employment and its direct line to ordinary Americans, so government could 'restore the close relationship with its people which is necessary to preserve our democratic form of government.' That's why he would direct his administration to build dams in the Tennessee Valley, bridges in California's Bay Area and a second tunnel connecting New Jersey and New York — to show Americans that the government could do big things and do them well. The New Deal libraries and parks and postal offices and other buildings also stand as monuments to collective effort and the public good, to the idea that democracy works best when it works for most of us, and that through this effort, we come closer to the 'more perfect union' of our Constitution's preamble. The New Deal was not perfect. It liberated some Americans from want at the same time that it deprived others of their freedom. It opened new opportunities for Black Americans — providing jobs, education and even housing to citizens who lived in need of each — at the same time that it, as Rauchway writes, 'left existing segregation untouched and even expanded it into new areas, perpetuating it for new generations.' And yet the breakthrough of the New Deal — the way it reshaped the nation's politics and transformed the relationship between state and citizen — set the stage for the social revolutions of subsequent decades. The New Deal brought, in Roosevelt's phrasing, '' to American life." • Throwing down the gauntlet, here.

"The Politics of Cultural Despair" [John Ganz]. "I think the very formulation—"the politics of cultural despair" is a very accurate description of a mode that's becoming dominant on the right and it helps us to conceptualize a certain combination of conspiracism, belief in pervading social and political decadence and corruption, and the embrace of or sympathy with outbursts of violence. The sense one gets from many members of the intellectual right and seemingly among their public is that as a society we have reached a point where the social maladies of liberal society are intractable and only some kind extraordinary expedient can effectively combat them. There is a kind of giving up on the conventional institutions of American life and a belief that only desperate gambits like electing a disruptive leaders like Trump or preventing the electoral college vote from being counted will be effective measures to carry out Right wing politics. Extremist violence or some imagined dictatorial seizure of power, when not explicitly endorsed, is rationalized as a consequence of the state of society and politics. This is all combined with a kind of morbid fixation on the perceived cultural depredations of liberalism: an obsession with the presence of cultural products that are believed to contaminate or corrupt a more healthy sexual or racial order that existed in the past. In this imaginary world, sinister forces lurk behind every facet of liberal society: the most apparently milquetoast and moderate liberals are actually in the thrall of hardcore revolutionary Marxist ideology. It's tempting to silo this mood of cultural pessimism on the right, which is its more natural home I think, but it finds certain echoes in sections of the left that view themselves as defeated and dispirited in the wake of Bernie Sanders' primary loss and view every apparent liberal adoption of a left-wing sounding programs as an example of trickery or co-option." • This is the most sophisticated instantiation of Horseshoe Theory I've ever read!

"Pastor Arrested for Buying 39 Cars With PPP Loans" [The Roys Report]. "A Maryland pastor is facing a potential 20 years in prison for fraudulently obtaining $1.5 million in Payback Protection Program (PPP) loans, which he then used to buy 39 cars, authorities say." • Why 39?
Stats Watch
Trucking: "March 2021 Trucking Is Either Outstanding Or Contracting" [Econintersect]. "Headline data for the CASS Freight Index show that truck volumes show volumes improved month-over-month – and the year-over-year growth is now in double digits. In the opposite corner, the American Trucking Association (ATA) index declined and is in contraction year-over-year. The CASS index is inclusive of rail, truck, and air shipments. The ATA truck index is inclusive of only trucking industry member movements (ATA's tonnage data is dominated by contract freight). I put a heavier weight on the CASS index year-over-year which is more consistent with rail and ocean freight. Econintersect tries to validate truck data across data sources. It appears this month that the truck employment rate of growth continues to improve. Please note using BLS employment data in real-time is risky, as their data is normally backward adjusted (sometimes significantly). Additionally, Econintersect believes that the BLS is not capturing all truck employment."
* * *
Commodities: "New Lithium Giant Emerges to Feed Surging Battery Demand" [Bloomberg]. "A planned $3.1 billion merger of two Australian miners is set to create one of the world's biggest producers of lithium products key to meeting fast-growing global demand for electric vehicle batteries….. Lithium raw materials are most commonly extracted at brine operations which pump liquid from underground reservoirs into vast evaporation ponds, or in traditional hard rock mines. China is the biggest player in electric vehicle batteries, with the majority of the world's production capacity, and has a stranglehold over processing of the required commodities."
Credit: "$12.3 Trillion in Stimulus Killed the Debt Default Cycle" [Bloomberg]. "Almost all fear of bankruptcy has been obliterated from debt markets even though the global economy is still struggling under the worst health crisis in a century. The simplest way to see this is quite basic: The lowest-rated companies are enjoying the cheapest borrowing costs in history. All-in yields on corporate debt rated triple-C and below have fallen to about 8% from as high as 20.2% as recently as March 2020, ICE Bank of America index data show. Investors have raced one another to lend billions of dollars to cruise companies and airlines even as they bleed cash. The amount of U.S. junk-rated debt included in the Bloomberg Barclays U.S. High Yield bond index has surged to a record face value of $1.53 trillion from $1.2 trillion in October 2019." • Crack pipe, anyone? And isn't this moral hazard? And is this any way to allocate capital? And speaking of crack–
Finance: "Dogecoin Rips in Meme-Fueled Frenzy on Pot-Smoking Holiday" [Bloomberg]. On 4/20: "Fans are driving Dogecoin higher to mark a day known for celebrating pot smoking…. In the past week, Dogecoin has jumped more than 400% and now has a market value of more than $51 billion… The likes of Bitcoin and Ether are still up about 90% and 180%, respectively, this year as the crypto industry matures." • Or not: "'There's a tribe of investors, many of them millennials, who see it as a cause, a movement,' said Antoni Trenchev, the co-founder of crypto-lending firm Nexo. 'Dogecoin is symptomatic of the zeitgeist happening before our very eyes.'" • I sure will be glad when we get this carbon trading thing really rolling. And more crack–
The Bezzle: "A New Threat to New York's Clean Energy Goals: Bitcoin Mining" [New York Focus]. "A decade ago, the bankrupt owner of the Greenidge power plant in Dresden, New York, sold the uncompetitive coal-fired relic for scrap and surrendered its operating permits. For the next seven years, the plant sat idle on the western shore of Seneca Lake, a monument to the apparent dead end reached by the state's fossil fuel infrastructure. But today, Greenidge is back up and running as a Bitcoin mining operation. The facility hums with energy-hungry computers that confirm and record Bitcoin transactions, drawing power from the plant's 106-megawatt generator now fueled by natural gas. The mining activity is exceptionally profitable, thanks to an 800 percent rise in Bitcoin's price since last April. Seeking to ride the boom, the plant's new owners plan to quadruple the power used to process Bitcoin transactions by late next year. Environmental advocates view Greenidge's ambitions, if left unchecked, as an air emissions nightmare. And they fear that dozens of other retired or retiring fossil-fueled power plants across New York could follow Greenidge's example, gaining new life by repurposing as Bitcoin miners or other types of energy-intense data centers." • And more crack–
The Bezzle: "Massachusetts regulators seek to revoke Robinhood's license; brokerage sues" [Reuters]. "Massachusetts regulators on Thursday sought the revocation of Robinhood's broker-dealer license after charging that it encourages inexperienced investors to place risky trades without limits, while the online brokerage sued to invalidate a new rule underlying the case." • And more crack–
Tech: Robot buses:
China's first autonomous bus line started commercial operations in Yongchuan district of SW China's Chongqing on Monday. The L4 autonomous driving bus can carry 19 passengers at a cruise speed of 40 to 60 kilometers per hour. pic.twitter.com/raeiengxpO

— China Science (@ChinaScience) April 16, 2021
That road looks more like a railroad than a road…
* * *
Today's Fear & Greed Index: 56 Greed (previous close: 47 Neutral) [CNN]. One week ago: 50 (Neutral). (0 is Extreme Fear; 100 is Extreme Greed). Last updated Apr 21 at 12:21pm. Looks like readers want to keep this. Thank you!
Health Care
"Top Canadian WHO adviser under fire after downplaying airborne threat of COVID-19" [CBC]. "Dr. John Conly, an infectious diseases physician and professor of medicine at the University of Calgary, not only denied that aerosol transmission is a primary route of transmission, despite mounting evidence to the contrary, but also said that N95 masks can cause "harms" — including acne. 'Any time you look at benefits, you need to look at harms, of which there are many harms with N95s — and I think to ignore them you are at your peril," Conly told a panel discussion at the University of Calgary on April 9 on the role of airborne transmission in the COVID-19 pandemic. 'There is acne, also issues with eczema, conjunctivitis, CO2 retention; there has been decreased O2 concentrations in pregnant women — many side-effects to this.' His comments on oxygen and carbon dioxide have been largely discredited, with a 2014 study in the American Journal of Infection Control showing no significant differences in levels between pregnant and non-pregnant women wearing N95 masks. The WHO's position is there's a possibility that aerosol transmission can lead to outbreaks of COVID-19 in certain situations. A change in stance from the WHO on aerosol transmission as the main driver would have huge implications on the need for increased air ventilation and better personal protective equipment for health-care workers and essential workers around the world." • And we know "huge implications" translates to–
The institutional reaction to "Ten scientific reasons in support of airborne transmission of SARS-CoV-2" in the Lancet:
45/ Reaction from higher ups in large Public Health agency (confidentially thru colleague)

They still don't think it's airborne, based on these considerations:

– there are still not enough good masks
– ventilation changes would be expensive

Not a joke, this is what I was told

— Jose-Luis Jimenez (@jljcolorado) April 20, 2021
"Filtration Efficiency of Hospital Face Mask Alternatives Available for Use During the COVID-19 Pandemic" [JAMA]. From last March, still germane. Handy chart:
2/ N95s maintained top-level protection despite speaking/movement/ head turning compared to medical grade surgical masks #covid19 pic.twitter.com/ipUlsH4zdp

— Abraar Karan (@AbraarKaran) April 19, 2021
C'mon, let's be reasonable. Everybody knows surgeons are the only HCWs who talk or move their heads!
"No-prescription, rapid COVID-19 home tests to be sold at CVS, Walgreens and Walmart beginning this week" [USA Today]. "Consumers will be able to buy rapid coronavirus tests without a prescription this week at three national chain retailers, an expansion that comes as the nation's vaccination effort accelerates and states relax distancing requirements and mask mandates. Abbott Laboratories' BinaxNOW coronavirus self-test kits will be shipped to CVS Pharmacy, Walgreens and Walmart locations, and also will be sold online. The two-test kit, which last month received Food and Drug Administration emergency-use authorization for serial screening, will cost $23.99, the company said. Another rapid test made by Australia-based Ellume will be sold at CVS stores in Rhode Island and Massachusetts for $38.99. It also can be purchased online or at most CVS stores in other states by the end of May. These retail tests eliminate another barrier for people who want to test themselves without visiting a doctor or a telehealth provider. Both tests deliver results in about 15 minutes and don't require a lab." • haven't seen any reviews on accuracy….
"More on meta-epistemology: an epidemiologist's perspective" [Whitney R. Robinson, Insight]. "Principle 1. "Look to previous phenomena to know what questions to ask… Principle 2. "Observed versus expected." In other words, "Pay attention to unexpected data that has no natural constituency and to lack of data that are in high demand"… Principle 3. Beware of 'sticky' priors." • Worth reading in full, since the application is "How One Epidemiologist Decided Whether to Send Her Children to Group Childcare."
"America's incredibly successful pilot of universal health care" [Ryan Cooper, The Week]. "Last weekend, I finally got my first coronavirus vaccine shot (the Pfizer/BioNTech version), at one of the FEMA sites here in Philly. It was without question the best experience I have ever had with American medicine. The National Guard troops and volunteers had the process down to a science — along with hundreds of others, I just answered a few quick questions, sat down, got my shot, and then scheduled my second appointment while waiting to make sure I had no allergic reaction. The whole thing took about 20 minutes from start to finish. I didn't have to get out my insurance card, or fork over any co-pays or co-insurance, or fill out a stack of paperwork, or sit in a waiting room for hours. I didn't get a bill at a 10,000 percent markup, or have to argue with my insurance company about whether FEMA is in-network, or spend weeks fighting some enormous surprise bill afterwards. I just got the care I needed and went on my way. : treatment that is free at the point of service, funded by the government. When we have a truly dire need for medical care, the status quo health care system is simply too complicated and broken to get the job done."
The Agony Column
"What rude jibes about Caesar tell us about sex in ancient Rome" [Psyche]. "Like many premodern societies, the Romans rarely if ever identified people by their sexuality, at least not in terms of what gender their sexual partners were. To be sure, they had categories for types of sexual activities, but not for the sexual identities we use today. The terms 'homosexual', 'heterosexual', 'bisexual' and so on are modern inventions. There is no evidence for the existence of the concepts themselves, and Romans didn't define people by the gender of their sexual partners. But that doesn't mean the kinds of sex we'd label with those words didn't exist – far from it…. And in all these combinations and activities, we see again and again that it isn't the genders involved or the acts themselves that the Romans cared about, but the question of who's doing it, and who's being done to. That's where gender and status suddenly mattered – a lot. The key thing, for a Roman, was that your sexual participation lined up with your perceived gender. The essence of masculinity was to be the penetrator, while to be vulnerable to penetration was to mark yourself as nonmale…. The flip side was that, as long as the man was doing the penetrating, he was (usually) living up to his masculine duties – and it didn't matter whom exactly he was penetrating."
Water
"There are no clear winners in the West's water wars" [High Country News]. "The inevitable train wreck has not yet happened, for two reasons. First, Lakes Mead and Powell – the two largest reservoirs on the Colorado – can hold a combined 56 million acre-feet, roughly four times the river's annual flow. But diversions and increased evaporation due to drought are reducing water levels in the reservoirs. As of Dec. 16, 2020, both lakes were less than half full. Second, the Upper Basin states – Utah, Wyoming, Colorado and New Mexico – have never used their full allotment. Now, however, they want to use more water. Wyoming has several new dams on the drawing board. So does Colorado, which is also planning a new diversion from the headwaters of the Colorado River to Denver and other cities on the Rocky Mountains' east slope."
Black Injustice Tipping Point
We get press releases:
Seriously, read it again knowing what we know: pic.twitter.com/XqPWCpoxeQ

— Jake Tapper (@jaketapper) April 20, 2021
"This Is Not Justice. It's Self-Preservation." [New York Magazine]. "More than a legal referendum on Chauvin's conduct, the trial was a bilateral effort to defend the virtues of policing….. The crux of the prosecution focused on whether Chauvin's behavior was deviant enough to warrant consequences. Close to a dozen former and current police officials — mostly from Minneapolis, but elsewhere too — testified against the former officer, who last spring was video-recorded kneeling on Floyd's neck for more than nine minutes until the 46-year-old Black man died. …. Killing people is not usually a problem for American police, who on average kill roughly 1,000 civilians a year, including fatally shooting more than 400 unarmed people total since 2015… Thus, the rebuke of Chauvin by his fellow officers should not be interpreted as institutional opposition to needless death. It is a preservationist response to the questions of legitimacy that arise when an officer gets caught on camera torturing a handcuffed man to death…. Throwing Chauvin under the bus in court is a good way to reassure people that this system can and does work the way they want it to…. "This case is called the State of Minnesota v. Derek Chauvin," said prosecutor Steven Schleicher. "This case is not called the State of Minnesota v. the Police. Policing is a noble profession … and there is nothing worse for good police than a bad police, who doesn't follow the rules, who doesn't follow procedure, who doesn't follow training, who ignores the policies of the department, and the motto of the department: 'To protect with courage, to serve with compassion.''"
"I Wish I Were Relieved" [HuffPo]. "It felt like a shift was happening, like maybe we could finally be optimistic about real change. But through the remainder of 2020 and into 2021, fervor for fighting for a world where Black people are humanized and protected faded. Then, just a week prior to the verdict announcement, 20-year-old Daunte Wright was fatally shot 10 minutes away from the building where the judge announced the conviction. I refuse to tell anyone how to process or react to this news. It's surely an anomaly and a piece of hope that one day some future generation will live in a system that doesn't kill Black people. But I can't celebrate right now. I can't celebrate because Floyd didn't ask for any of this. He was going to the store, for God's sake. He didn't ask to be a martyr, he asked for breath in his lungs. "
"Pelosi criticized over thanking George Floyd for 'sacrificing your life for justice'" [USA Today]. "'Thank you, George Floyd, for sacrificing your life for justice. For being there to call out to your mom — how heartbreaking was that — call out for your mom, 'I can't breathe," Pelosi said. Floyd's name 'will always be synonymous with justice,' she said. However, many people took issue with Pelosi's phrasing, noting that Floyd did not willingly "sacrifice" his life, but rather was murdered." • Nancy.
specifically, Pelosi's words struck me as cribbing from King's obituary for James Reeb, a white UU minister who went down to Alabama and was murdered after dining with some of the other marchers.

That is a very different relationship of the dead to sacrifice and martyrdom. pic.twitter.com/HshaNePk5P

— Kelsey D. Atherton (@AthertonKD) April 20, 2021
"Chauvin verdicts reduce pressure for police reform" [Axios]. "Senior Democratic and Republican aides — who would never let their bosses say so on the record — privately told Axios the convictions have lessened pressure for change. They noted the aftermath of mass shootings: time and again, Congress has failed to pass gun control legislation, and the conversation ultimately moves on until another terrible event occurs." • Then again, a lot of Congress critters watched the verdicts on TV…
Class Warfare
"Lessons from Labor History for Organizing Amazon" [Labor Notes]. "Amazon did everything it could to stymie the union drive; no surprise there. That's what capitalists do and any organizer who expects, or hopes for, "fair" treatment should find another line of work. (Which is not to say that unions shouldn't use every opportunity to expose corporate duplicity and inhumanity.) But we should remember that whatever Amazon does to coerce or intimidate its employees pales in comparison to what employers in previous eras were able and willing to do, up to and including murder…. Tom Girdler at Republic Steel amassed a private arsenal that dwarfed the civil defense resources of many major cities (though the Chicago police did the killing at the Memorial Day Massacre, allowing Girdler to preserve his ammunition). Ford and General Motors employed networks of company spies and vigilantes who ensured that organizers were beaten and fired, and blacklists guaranteed that they couldn't find employment anywhere else…. Yet despite the raw power those corporations possessed—Jeff Bezos is a piker compared to the tycoons of yesteryear—workers organized and won. Amazon too can be overcome."
"Inside a Long, Messy Year of Reopening Schools" [The New Republic]. "When it comes to workplace safety, avoid taking an employer at their word. They also highlight something that, following dragged-out reopening fights, has been confusing to worn-out parents and community members, who are unclear why the pledges made by school districts have been insufficient to persuade educators to return more quickly: Isn't this enough? Aren't you letting perfect be the enemy of the good? These dynamics are compounded by a raft of shifting and not infrequently conflicting local, state, and federal public health guidelines—which can and are routinely used to accuse each side of "not following the science." Even in February, following the release of the long-awaited Biden Centers for Disease Control and Prevention school reopening guidelines, experts quickly came out with contrasting opinions on the recommendations. Some felt the CDC shouldn't have tied in-person learning to community transmission rates, despite evidence linking the two. Others thought the CDC should tie them but believed their metrics were too conservative. Others were frustrated the CDC stuck to recommending six feet of social distancing, and yet still others criticized the agency for downplaying the role of ventilation. (Two weeks after releasing its guidance, the CDC responded by releasing additional recommendations on school ventilation.)" • I'm filing this under Class Warfare, not Health Care, because of the strong role of the unions. The whole piece is worth a read. ("releasing additional recommendations on school ventilation" misstates the politics of what CDC did. These are separate, standalone documents not part of the school re-opening guidance per se (and with every click-through you lose readers). The CDC and its DIrector, Rachel Walensky, have ferociously resisted making aerosols and ventilation bulleted talking points in their routine, public communications.
Another press union drive:
✊ The @thisisinsider/@BusinessInsider US editorial staff have organized one of the largest @nyguild union drives for a digital media company to secure what we've built and strengthen it.

Here's why 300+ members of our newsroom are taking this step.
https://t.co/frA7c35GAO pic.twitter.com/0UOmjadaur

— Insider Union (@InsiderUnion) April 19, 2021
"No One Told Me Being Middle Class Meant Wearing My Retainer Forever" [Culture Study]. "My braces went on when I was in fifth grade. They didn't come off for nearly three years. I'd go in every month to get them tightened, and would cry from the pain for days afterwards…. What I'm trying to say is that my parents paid thousands of dollars for me to be tortured by small pieces of metal and rubber in my mouth over the course of three years. I had big protruding buck teeth and a crossbite. It was never a decision, it was a given. Those braces were for my dental health but they were also for my middle-class future…. There are other, less medically pertinent sites of continual middle class maintenance. For women in the amorphous life stage before it becomes "acceptable" to have classy gray "woman of a certain age" hair, it's eliminating evidence of it, often at a significant cost. There's teeth whitening, and sun spot eliminating, and facial hair waxing, and appropriate moisturizing. Make-up isn't enough; in fact, too much make-up, particularly on an aging face, is "too much." Breast implants have to be replaced. Botox has to be refreshed. None of these tasks are one-and-done. They're monthly, quarterly, yearly costs." • This is excellent.
"The devastating cost of the Big Tech billionaires' immense wealth" [Fast Company]. "The barons' financial advantage over the average person is extraordinary. While their median net worth is $90.2 billion, the net worth of the median white American household is $189,000, while that of Black American families is $24,000. In other words, the median Big Tech billionaire is more than 477,000 times wealthier than the median white American family, and more than 3.7 million times wealthier than the median Black family…. What is to be done? Even when billionaires commit to giving away their wealth, they invariably give to undemocratic, private institutions. This allows billionaires—not democracies—to set global priorities." • "What is to be done," eh? When you've lost Fast Company…
News of the Wired
"Scientific conclusions need not be accurate, justified, or believed by their authors" [Haixin Dang & Liam Kofi Bright, Synthese]. "When stating their central claims scientists should not be held to the kind of norms we hold assertions to if collective inquiry is to flourish. At the least, properly put forward scientific public avowals frequently do not and need not satisfy those norms of assertion that have been discussed in the analytic epistemology literature. Public avowals in science ought to be governed by a different norm….Underlying all our arguments is the conviction that a scientific research community must ensure its members must spread out across logical space. We must allow for the exploration of different theories, by different methods, and accept that there will be different positions adopted as time goes by and results accumulate. Perhaps inquiry shall prove to be a process of never ending adjustment, and this will be our state in perpetuity. Or perhaps we may eventually learn from science what is actual. But even if so, in order to get there, we must allow that in the midst of inquiry, scientific public avowals will frequently be defences of implausible possibilities."
* * *
Readers, feel free to contact me at lambert [UNDERSCORE] strether [DOT] corrente [AT] yahoo [DOT] com, with (a) links, and even better (b) sources I should curate regularly, (c) how to send me a check if you are allergic to PayPal, and (d) to find out how to send me images of plants. Vegetables are fine! Fungi and coral are deemed to be honorary plants! If you want your handle to appear as a credit, please place it at the start of your mail in parentheses: (thus). Otherwise, I will anonymize by using your initials. See the previous Water Cooler (with plant) here. Today's plant (JK):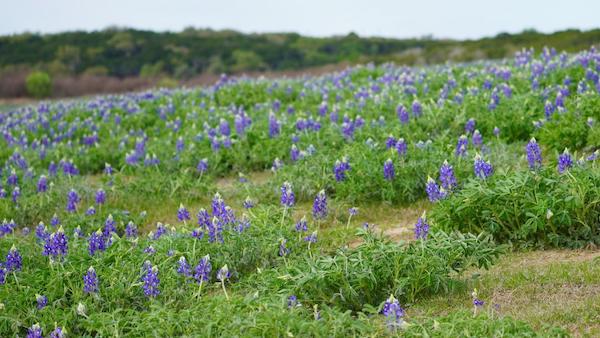 JK writes: "The Bluebonnets are just starting to come up in central Texas. In another week these will be twice as high with all the spots where you can still see grass in this shot filled in." Gorgeous!
* * *
Readers: Water Cooler is a standalone entity not covered by the recently concluded and — thank you! — successful annual NC fundraiser. So if you see a link you especially like, or an item you wouldn't see anywhere else, please do not hesitate to express your appreciation in tangible form. Remember, a tip jar is for tipping! Regular positive feedback both makes me feel good and lets me know I'm on the right track with coverage. When I get no donations for five or ten days I get worried. More tangibly, a constant trickle of donations helps me with expenses, and I factor in that trickle when setting fundraising goals:
Here is the screen that will appear, which I have helpfully annotated.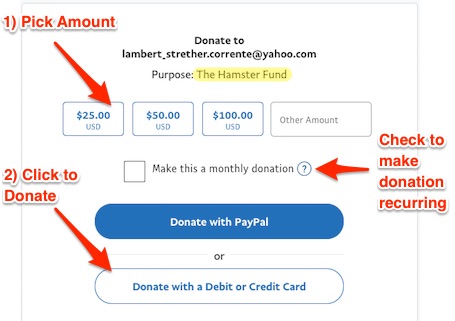 If you hate PayPal, you can email me at lambert [UNDERSCORE] strether [DOT] corrente [AT] yahoo [DOT] com, and I will give you directions on how to send a check. Thank you!