By Lambert Strether of Corrente.
Bird Song of the Day
Another migratory bird from the Birds of the Atlantic Flyway.
"The secret life of the Grey Plove‪r‬" (podcast) [Conversations]. "Andrew Darby is a writer who recently became fascinated by the life of a dovish migratory bird called the grey plover. Each year thousands of these birds fly heroic distances, non-stop from the Gulf of St Vincent in South Australia to the mudflats off the Chinese coast near Shanghai. From there they fly up to the Arctic Circle. Until recently, the exact location of their breeding ground at the top of the planet was a mystery." • This is wonderful episode, from an Australian Broadcasting Podcast that's also good.
* * *
#COVID19
At reader request, I've added this daily chart from 91-DIVOC. The data is the Johns Hopkins CSSE data. Here is the site.
I feel I'm engaging in a macabre form of tape-watching.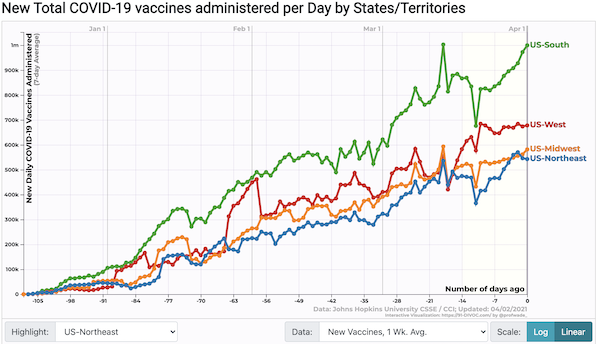 Early in February, I said a simple way to compare Biden's performance to Trump's on vaccination would be to compare the curves. If Biden accelerated vaccine administration, the rate of vaccination post-Inaugural would kink upward, as the policies of a more effective administration took hold. They have not. The fragmented, Federalized, and profit-driven lumbering monstrosity that we laughingly call our "health care" "system" has not responded to "energy in the executive," but has continued on its inertial path.
Case count by United States regions: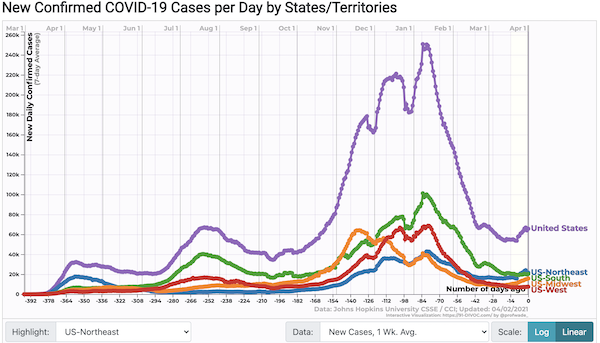 An ugly upward trend, now with a downward blip, I'm guessing caused by a drop in New York (see the chart of Big Sttates below). All I can say is that if you have a system that has worked for you, keep at it. And avoid closed, crowded, close-contact settings, evem so-called outdoor dining. Don't share air!
ME: "Maine sees highest single-day increase in new coronavirus cases in weeks" [Bangor Daily News]. "For the second day in a row, Maine saw the highest single-day increase in new coronavirus cases since the winter surge in virus transmission rolled back, with 401 new cases and one death….. The most cases have been detected in Mainers in their 20s, while Mainers over 80 years old make up the majority of deaths. More cases and deaths have been recorded in women than men." • Commentary:
Yet Mills thought it was a good idea to open buffets and let bars stay open after the kitchen closes, and worse let outsiders come in without quarantining. Way to keep Mainers safe, Mills.

— Coffee Simmer ☕ (@CoffeeWithADas1) April 2, 2021
MI and ND:
GUT PUNCH—Michigan & North Dakota #COVID19 cases surged 52% in 1 week.

"It is absolutely alarming," Emily Toth Martin, an epidemiologist. "Felt like a gut punch. We're going to have to go through hard work again to get the numbers down." @juliebosman 🧵 https://t.co/WeV58nOQSK pic.twitter.com/w8IdiZNB7C

— Eric Feigl-Ding (@DrEricDing) April 1, 2021
Big states (New York, Florida, Texas, California):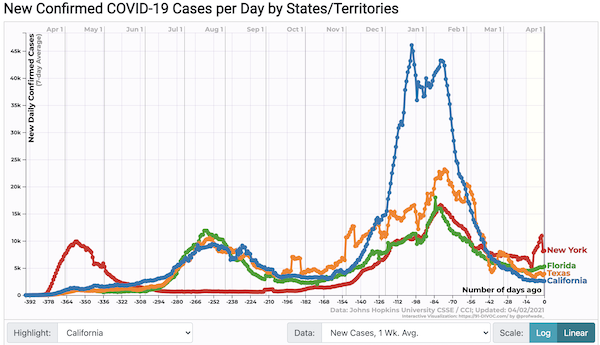 Big drop in New York. Hopefully, it's not a reporting issue.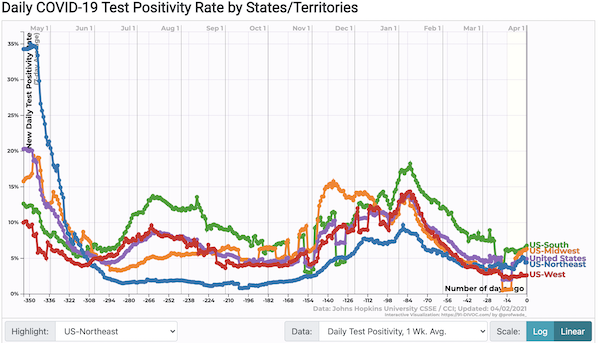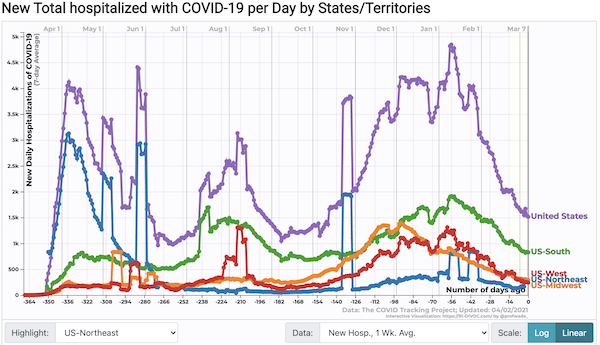 Hospitalization data is the best data we have, because hospital billing is a highly functional data acquisition system (ka-ching). That said, hospitalization is discretionary; they may also be reducing their admissions rate — relative to cases we cannot see in this data! — to preserve future capacity; or because hospitals have figured out how to send people home.
Case fatality rate (plus deaths):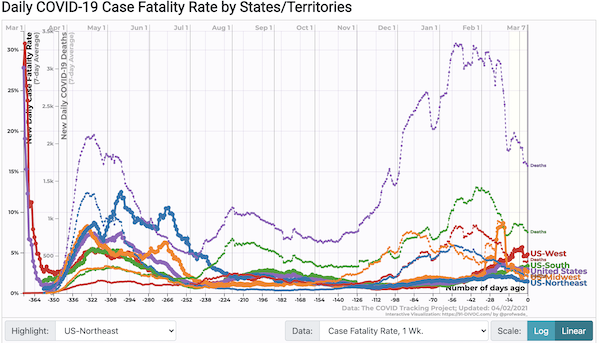 Good to see those deaths dropping. The fatality rate in the West is dropping now, for some unknown reason.
* * *
Politics
"But what is government itself, but the greatest of all reflections on human nature?" –James Madison, Federalist 51
"They had one weapon left and both knew it: treachery." –Frank Herbert, Dune
"They had learned nothing, and forgotten nothing." –Charles Maurice de Talleyrand-Périgord
Biden Administration
"1 big thing: Why cable hates Biden's $100B internet plan" [Axios]. • Since the cable industry is extremely popular, the Biden administration had better tread carefully.

"Biden Passes Alzheimer's Test With Flying Colors, Silencing Doubters" [Caitlin Johnstone]. From April 1 (obviously): "In a surprise move, President Biden live-streamed himself taking a cognitive test with a White House physician today in order to silence speculation that he is suffering from any type of degenerative neurological disease…. The president then went on to sign multiple executive orders halting deportations of undocumented immigrants, freeing the children from detention camps at the border, mandating a $15 an hour minimum wage, re-entering the Iran deal, pressuring Saudi Arabia to end the genocide in Yemen, and honoring many promises he'd made along the campaign trail, placing a wide distance between the Trump administration's policies and his own."

From the day before April 1:

Major Biden telling his side of the story after second biting incident. pic.twitter.com/bUKXXni6Wa

— SG (@GREENESJ333) March 31, 2021

"Congress could be even worse — Norms of cooperation are alive and (relatively) well" [Roll Call]. "Congress of today is far more cooperative than appearances suggest. And this is in no small part because of norms, the informal rules and ideas members hold about what is appropriate…. Contrary to headline-grabbing displays of discord, in the Congress of today, older norms of cooperation are alive and relatively well. In my book, "A Social Theory of Congress: Legislative Norms in the Twenty-First Century," evidence gathered on the Hill and from current and former members and staff tells a story of a Congress where norms of cooperation continue to flourish…. But norms are changing. Unlike the Congress of the past, today norms of cooperation exist alongside norms of conflict. Members believe it is appropriate to engage in obstructionist behavior, and nonconformity and even partisanship itself are norms of the modern Congress. Members now see it as a norm to use the rules to obstruct routine legislative business. They may even engage in acts of extreme disruption, such as the 2016 Democratic sit-in on the House floor over gun control or the Republican storming of a Democratic-led House impeachment hearing in 2019."
Democrats en Deshabille
What a waste:

Rep. @AOC on the border: "What is happening here is not the same as what happened during the Trump administration, where they took babies out of the arms of their mothers." pic.twitter.com/d5lVhTxWUi

— The Hill (@thehill) April 2, 2021
Republican Funhouse
"Why the effects of Republican efforts to limit voting aren't clear" [CNN]. "Let's take a look at two ways of voting Republicans are trying to limit: vote by mail and early Sunday voting…. [T]he idea that expanded absentee voting was responsible for Trump's defeat and President Joe Biden's victory nationally is far from clear. Democrats won a load of elections (including the 2018 midterms) in the Trump era when mail voting was far more limited than it was in 2020. There's nothing inherently Democratic about voting by mail. … Sunday early voters made up only about 72,000 of 5 million votes cast in the [Georgia] election. We don't know exactly how these groups cast a ballot, but we can estimate. We'll assume those White voters and voters of color who voted early on Sunday voted the same way as those who voted early overall in those demographic groups. With that estimate, Biden's margin would have shrunk by between about 6,000 and 7,000 votes. This would not have been enough to erase Biden's statewide win of a little less than 12,000. It is also fairly safe to assume at least some portion of those Sunday early voters would vote on other days of the week, if early in-person voting was disallowed on Sundays. We know at least some did in Florida's 2012 election, when some Sunday early voting was eliminated there after the 2008 election."

"Americans Oppose Many Voting Restrictions — But Not Voter ID Laws" [FiveThirtyEight]. "the public strongly supports one of the other major stipulations of Georgia's new law: the ID requirement for absentee voting. That latest YouGov/The Economist poll found that Americans support requiring a photo ID in order to vote absentee, 53 percent to 28 percent. And Georgians are even more supportive: 74 percent of registered voters in the UGA/AJC poll backed requiring voters to include a copy of their photo ID or other documentation in order to vote by mail. Only 22 percent were opposed. Indeed, voter ID laws — which Republicans have pushed for years — are quite popular in general." • So just have some liberal-leaning squillionaire fund IDs for those without them. If you really want to expand the electoral base, that is.

Boehner's revenge:

John Boehner's new book is fire. This should be the new benchmark for political memoirs, if you can't keep it this real, then don't even bother writing it. https://t.co/m2dDrGshwX pic.twitter.com/FsU51S5sOW

— Carlos Mucha (@mucha_carlos) April 2, 2021
Trunp Legacy
"Canción de Trump" [Idiot Joy Showland (ObjectiveFunction)]. Let it never be said that good old-fashioned blogging is no longer going on. (We just can't find each other because The Platforms crapified everything.) This is the best description of Trump The Man that I've ever read, and best of all it's not hysterical or preening. A small sample: "There is nobody on earth that speaks like Donald Trump. He is a language community of one. What he speaks isn't even a jargon, it's just bizarre. On the one hand, his speech is utterly impoverished. It's incapable of conveying almost any of the major human experience. Everything he says is somehow integrally inappropriate. Here is a man who once described Frederick Douglass as 'an example of somebody who's done an amazing job and is being recognised more and more.' Like something out of Gertrude Stein: the black sludge of words, the sticky deposits left once language and communication have gone. But at the same time, his speech is incredibly fecund. The rolling rhythmic intensifiers that turn it into something like music, the way things are always very nice, very special, very good, or very, very, very… bad. Trump's language never exhausts itself; he can fit a potentially infinite number of words between one concept and the next. This language really is a virus; a blob from outer space, breeding. Everyone I know has tried, at some point, to imitate it, and we all think we're very clever. (Watching the chickens peck around the garden, I sometimes imagine them in his voice. We love mealworms, folks, don't we love mealworms? Very wonderful mealworms, very nice and very delicious to eat. We love laying an egg.) But Trump invented this virus; he cooked it up in . We just copy and pass it on. Infected. Transfixed." • Well worth a read (including the long section in italics in the end, which is about the left and Biden, not Trump.

"The Memo: The mystery of post-presidency Trump" [The Hill]. "The $64,000 question is whether the former president would consider another run for the White House in 2024. Such an effort would be aimed in part at seeking vindication after his defeat at Biden's hands last November. The word from inside the Trump circle is that no decision will be made on that score until at least the 2022 midterms. But Trump wants to remain viable — and part of the political conversation — while he weighs his options. 'Do I think Trump would walk into the nomination? Yes. Anyone claiming otherwise is not being honest,' said one former Trump campaign adviser. 'But he could very easily look at what he is doing with his life and say, 'I would much rather be a kingmaker than put myself through this bullshit again.' In 2024, he can be either the king or kingmaker.' Either way, he will have plenty of money to advance his goals."
2020
"GOP hardball pays off as Rita Hart drops IA-02 election contest" [Bleeding Heartland]. "Democrat Rita Hart announced on March 31 that she was withdrawing her contest of the election in Iowa's second Congressional district, where Republican Mariannette Miller-Meeks was certified the winner by six votes out of more than 394,000 cast. Hart's decision gets House Democrats out of a jam. For all the bad-faith Republican accusations about supposed plans to 'steal' the seat, it's long been clear the votes weren't there to reverse the IA-02 outcome, no matter what an investigation determined. Last week, Democratic members of Congress began going on the record saying Iowa's certified results should stand."
Realignment and Legitimacy
Diangelo is worth every penny:

Relative to 8 years ago, white liberals now report substantially warmer feelings toward non-whites than whites, with the change being driven by a large increase in negative ratings of white people as a group. Ideology only correlated with out-group ratings among white voters. https://t.co/cpfE68UWW1 pic.twitter.com/yW8MWS4VXU

— (((David Shor))) (@davidshor) March 29, 2021

And but this entire thread by the always acute Ed Harrison is well worth a read:

Correction: voter suppression WILL turn me into a one-issue voter https://t.co/yhtYn63Yac

— Edward Harrison (@edwardnh) March 26, 2021

No:

Which one gives you more faith in America? I can't decide they are all so great.

— Matt Stoller (@matthewstoller) April 1, 2021
Stats Watch
Employment Situation: "March 2021 BLS Jobs Situation – Job Gains Excellent For A Second Month In A Row" [Econintersect]. "The headline seasonally adjusted BLS job growth was significant and well above expectations, with the unemployment rate improving from 6.2 % to 6.0 %…. Very good growth. The economically intuitive sectors were mixed for economic growth. The rate of further recovery will be dependant on the coronavirus effects."
Employment Situation: "U.S. Stock Futures Gain on Strong Jobs Data: Markets Wrap" [Bloomberg]. "U.S. equity futures rallied after data showed the biggest jobs increase in seven months, adding to evidence that the economy is picking up steam. Most other markets were closed for Good Friday. S&P 500 futures extended gains after the March jobs report, which said employers added 916,000 workers, and February employment was revised up. The yield on the 10-year Treasury added three basis points to 1.70%."
Employment Situation: "Everything Roses? Under The Hood Of The March Jobs Report" [Heisenberg Report]. "Checking the usual "structural damage" indicators, the March report showed the percentage of total unemployed jobless for 27 weeks or longer rose again. It hit 43.4% in March's report, up from 41.5% the previous month. The number of job loses counted as "permanent" fell marginally, but the total is still more than two million higher than it was 13 months ago. Specifically, there are more than 3.4 million Americans in the "permanent" category. That series remains extraordinarily elevated (figure below)…. Ultimately, though, the "all roses" characterization is probably a semblance of accurate, although the Biden administration will invariably say there's much more work to be done."
Rail: "Rail Week Ending 27 March 2021 – Improvement Continues As Comparisons Now To Pandemic Lockdown On Year Ago" [Econintersect]. "Week 12 of 2021 shows the same week total rail traffic (from the same week one year ago) improved according to the Association of American Railroads (AAR) traffic data. Total rail traffic has been mostly in contraction for over one year – and now is recovering from the coronavirus pandemic… We are now seeing great rail growth as the data is being compared to the coronavirus lockdown period last year."
* * *
Tech: "Testing Google's Claim of Quality" [Knowledge (INSEAD]. "Taken together, our experiments suggest that Google provided fewer and lower-quality reviews compared to its competitors. Yet in 2011, only a year after the tech giant entered the online reviews market, it had amassed 3 million reviews – 20 percent that of then-market leader Yelp, which had a six-year head start. Google also directed fewer users to Yelp: In 2012, 85 percent of Yelp user traffic came from Google; by mid-2016, that figure had fallen to 68 percent, even though Google's overall share of the internet search market held stable at around 65 percent. While the outcome of the Google antitrust lawsuit is far from certain, our paper provides experimental evidence suggesting that some practices of platform businesses may undercut competition and stifle overall market growth. Consumers, in turn, may end up with fewer choices and lower-quality products." • Now do search.
Tech: "The Free Software Foundation's leadership crisis worsens" [ZDNet]. "In short, while RMS supporters seek to paint their opponents as being outsiders, many of those opposing his return have spent years of their lives supporting free software at the highest levels both as programmers and leaders. The FSF can either wither and die as an RMS fanclub or it can reinvent itself as an organization that really does put software freedom first rather than as a prop for its founder's ego. "
Tech: "A Rite Against Cryptoart" [The Comics Journal]. "[J]ust like almost any other cryptocurrency, Cryptoart is a motherfucker when it comes to chugging down our oxygen with unimaginable greed and desperation… selling art through NFTs is not really the said revolutionary and healthy alternative to the Fine Arts world it's been promoted as; it is literally the exact same circle of gatekeepers, speculators, fake experts, ruthless opportunists and straight up thieves – but now when you sell your "painting" to a "gallery", you need to imagine that you've hired a special transport company that then escorts your painting via a convoy of 20 off-road vehicles, each farting away colossal amounts of exhaust while skirting the planet in the opposite direction from the shortest route, for SOME reason. (But don't you worry! The technology is about to go "green" pretty soon – maybe by 2040?)" And this intriguing concept: "In his neat little book on hyperobjects Timothy Morton argues that global warming (or "climate change") as one of the titular "hyperobjects", so colossal in size that we are simply unable to see it in its entirety and realize the full scope of it. We were never ready to meet it, and the speed of its development exceeded any possibilities of human imagination, so, when faced with global warming on rational level, we can only resort to postmodernist irony, denial or hypocrisy." • Hyperobjects. Hmm.
* * *
Today's Fear & Greed Index: 58 Greed (previous close: 51 Neutral) [CNN]. One week ago: 40 (Fear). (0 is Extreme Fear; 100 is Extreme Greed). Last updated Apr 1 at 5:15pm. One year ago, just after the end of the Before Times: 22 (Extreme Fear). Last update 5:15pm April 1. The intern checked out on the next-to-the-last day?
The Biosphere
"Book Review: How Everyday Chemicals May Affect Fertility Rates" (review) [Undark]. "[Shanna] Swan contends that fertility has dropped significantly over the past 40 years, not just among humans but across the animal world. Swan, a respected epidemiologist and professor of environmental medicine and public health at Mount Sinai's Icahn School of Medicine, has been conducting research in this field since the 1980s… The book grew from a 2017 paper in which Swan and her co-authors observed that human sperm counts had dropped by around 50 percent to roughly 60 percent between 1973 and 2011…. Among the many potential culprits — which also include obesity, unhealthy lifestyles, and delayed parenthood — one comes to the fore for Swan: our exposure to chemical compounds, particularly phthalates, which make plastics flexible and give shampoos their creamy consistency. Phthalates are endocrine-disrupting chemicals (EDCs) that alter the hormonal systems regulating human health. Depressingly, they are called "everywhere chemicals" — and are present across the spectrum of our daily lives…. The repercussions for other species are significant, according to Swan. The hardest chapter to read is on declining fertility in animals. Swan outlines how scientists are finding polar bears with low testosterone levels, seals in the Baltic Sea with uterine fibroids, and female sea-snails that developed male sex organs after exposure to under-water chemicals…. How have we gotten to this point? The United States is largely doing nothing; and news that the European Commission is "phasing out" some of the more poisonous substances from commercial use is hardly more reassuring. With more than 85,000 commercial chemicals in circulation, regulation remains light, and many products people assume are safe have simply never been tested. In addition, Swan argues that the concepts used to determine harm are outdated. The idea that higher doses are the most toxic to humans underlies most regulation in Europe and the U.S.; but in some cases, exposure to lower doses over prolonged periods is just as harmful but more insidious, she writes." • Seems monocausal. Nevertheless, it looks like Count Down: How Our Modern World Is Threatening Sperm Counts, Altering Male and Female Reproductive Development, and Imperiling the Future of the Human Race is one more book to read.
Water
"Megadrought: New Mexico farms face uncertain future" [High Country News]. "ON THE RIO GRANDE, one of the Southwest's major lifelines, this year is expected to be among the driest in recent history. New Mexico officials project drought conditions to be worse than they've been since the 1970s. The upcoming season highlights a difficult reality in this state: Farming and ranching to pay the bills could become an unsustainable way of life in New Mexico, as the water supply dwindles and farms resort to pumping more groundwater to irrigate. And while state lawmakers and regulators have a wealth of information on the current and future water crises, there has been little interest in radical changes to water policy. In an attempt to address the immediate water challenges, hydrologists with the New Mexico Interstate Stream Commission are taking the rare step of asking farmers along the river, as well as a major tributary, the Rio Chama, to either cut back their farming this year or brace for a short irrigation season." • Invade Canada. Pipe the water down.
Health Care
Walensky's disinformation propagating successfully:
I tweeted this unambiguously great news this morning — 8 hours later my mentions are still dominated by COVID scolds & doomsayers who are pathologically incapable of admitting that things are getting better https://t.co/2rvv6qCjlP

— Peter Hamby (@PeterHamby) April 2, 2021
As I show in this morning's Links, the headline quoted in the tweet is deceptive. But that's what propagates, good job.
"Pandemic Vaccines: How Are We Going to Be Better Prepared Next Time?" (PDF) [Med]. "in case of an emerging pandemic, billions of doses will be needed within months, which requires a huge production capacity. This is a problem that is not easy to solve. We need vaccine production plants around the globe that can shift to pandemic vaccine production within days. Some of this infrastructure exists already, depending on the vaccine platform chosen. However, it is likely that this capacity needs to be increased significantly. Many of these production plants will not produce product most of the time but will still need to be kept fully prepared. Building and maintaining this infrastructure will likely be very costly, but currently it is the only way to guarantee that production capacity is ready when needed. It will also be important to secure global supply chains and store appropriate glass vials, syringes, etc., in quantities required to package at least 2 billion doses. Finally, distribution pathways need to be established and plans for global vaccine distribution need to be drawn up and agreed on." • Well worth a read.
We need more central planning:
I just got my J&J One and Done at Lambeau Field Mass Vaccination Site. Had to turn down an $8000 load. They need to figure out a better way for over-the-road truck drivers! J&J walk in sites are needed at truck stops!

— margie gilles (@mgilles_2000) April 1, 2021
Our Famously Free Press
"Substack raises more money, but is that a good thing?" [Columbia Journalism Review]. "Axios reported on Tuesday that Substack is raising another $65 million in venture financing, which will give the newsletter-publishing platform a theoretical market value of $650 million….. One fear is that in order to generate the revenue its investors require, Substack will have to increase its fees or increase the amount of control it has over its authors, or both….. Substack is also fighting another battle, one focused on the question of whether it is making explicitly editorial decisions when it pays certain writers — including Matt Yglesias, Scott Alexander, and Frederik de Boer — through its Pro program."
"BBC Four to become archive channel as cost-cutting drive continues" [Guardian]. "BBC Four is to cease commissioning new programmes and become an archive-focused channel as part of the ongoing significant cost-cutting drive across the corporation. The originator of acclaimed shows such as Charlie Brooker's Wipe franchise, the Emmy-nominated drama Burton & Taylor and the Bafta-winning comedy Detectorists, BBC Four will now be repositioned as the "home" of archived content, the broadcaster confirmed. While it is not being shut down altogether, the overhaul means the channel will no longer commission original content, but will continue to broadcast performances such as the BBC Proms, BBC Young Dancer and BBC Young Musician." • What?!?!? They're shutting down "In Our Time"? No more "Melvyn and his Friends"? What a debacle. Hopefully, the show can move to… Substack?
Police State Watch
"Santa Clara police union in hot water over its donation ask" [San Jose Spotlight]. "In a move that seems straight out of a mafia playbook, the union representing Santa Clara's police officers solicited donations from businesses in exchange for police department support. In its '2021 Business Supporter' flyer, sent to local retailers, the Santa Clara Police Officers' Association said, 'Place our decal in your window, and we will direct our 'FRIENDLY'S' to support you!"' • Welcome to the Third World!
Class Warfare
"Alabama Amazon union vote: When will we know who won?" [AL.com]. "Observers of the count say it will likely be next week before the public portion of the vote count is open to the media…. About 5,800 ballots were sent out in early February for the mail-in vote, encompassing both full-time and part-timers. Election terms stipulate that workers who quit or are discharged for cause after a payroll period ending Jan. 9 are ineligible to vote. It's unclear how many of those workers received ballots. During the early portion of the count, representatives for the company and the union check the names of everyone who voted against the official employee roll. Either side can contest a person's eligibility to vote. Those ballots are then set aside. The remaining ballots are then counted. The media will be able to observe this portion of the election, which will be decided by a simple majority."
"Fired, interrogated, disciplined: Amazon warehouse organizers allege year of retaliation" [NBC]. "The day after Jonathan Bailey organized a walkout over Covid-19 concerns at an Amazon warehouse in Queens, New York, he was, he said, 'detained' during his lunch break by a manager in a black camouflage vest who introduced himself as ex-FBI. Bailey, who co-founded Amazonians United, a network of Amazon workers fighting for better pay and working conditions, was ushered to a side office and interrogated for 90 minutes, according to testimony filed to the National Labor Relations Board, or NLRB. The manager asked exactly what Bailey had said or done to get his fellow workers to join the walkout. When Bailey declined to explain, the manager shifted his tone. He told Bailey that some people 'felt hurt' by what he did and that it 'might be seen as harassment,' Bailey said. 'It was already a pretty intense conversation. But it became very clear they were trying to intimidate me,' Bailey said. 'Being accused of harassment is a very dangerous thing.' A week later, Bailey received a formal write-up for harassment, although his managers would not tell him whom he had allegedly harassed, nor what he had allegedly said or done, according to his NLRB testimony." •
"Colectivo Union Election Finishes" [Urban Milwaukee]. "For the past two weeks, the workers have been filling out and mailing their ballots for the election overseen by the National Labor Relations Board (NLRB). Tuesday, March 30th was the final day that workers had to get their ballot to the NLRB regional office… For months [IBEW Local 494] attempted to organize the non-management employees of 18 cafes in three cities along with delivery drivers, coffee roasters and workers at the Colectivo-owned Troubadour Bakery. If successful, the effort would turn Colectivo into the largest unionized coffee chain in the nation, according to a story by In These Times. The story also reported that Colectivo has let workers go in retaliation for their support of the union… In February, the organizers and IBEW 494 filed a petition for a union election with the NLRB. Organizers had repeatedly told Urban Milwaukee they would not seek an election until they had a solid majority of workers' authorization cards returned. These cards grant a labor organization the authority to represent you, but federal labor law does not require your employer to recognize this authority — necessitating the union election." • Remember when Obama promised to pass card check? Good times.
* * *
"Catherine Liu Hates Her Friends" (review) [Dan Wright]. Review of Virtue Hoarders: The Case Against the Professional Managerial Class. This is spot on: "I wish I could overstate how influential Sorkin has been on the PMC brain. Sorkin himself acknowledges his work is geared towards upper class liberals, and revealed in an Aspen Institute interview with David Brooks (because of course) that The West Wing pilot bombed in its first test screening in 1999, and was only saved by Warner Brothers convening another test screening made up of viewers who: came from households making over $75,000 a year, had at least one person in the household that was college educated, had a home subscription to The New York Times, and had home internet access (relatively rare in '99). And scene." • Good clean fun.
"'Whole Generations Of Fathers' Lost As COVID-19 Kills Young Latino Men In NJ" [Gothamist].
"361 young Latino men [were] killed by COVID-19 since the state's first pandemic death a year ago. These men account for nearly half—43%—of the confirmed coronavirus fatalities among adults under 50 years old, even though Latino men comprise only 12% of this young adult population…. COVID-19 killed young Hispanic men in New Jersey at four and a half times the rate of Hispanic women, twice the rate of young Black men, and seven times that of young white men…. 'We knew from early on in the pandemic that it was young Latinos at working age who were unable to shelter in place or work remotely,' said Estevez. He said the pandemic compounded existing health and labor disparities prevalent in the Latino community." ¨• Lots of interesting details on the dangers of car washes as a workplace.
Sadly, no:
This but unironically pic.twitter.com/nSdlamBB2W

— James Medlock (@jdcmedlock) March 23, 2021
News of the Wired
"Consider the Pigeon, a Surprisingly Capable Technology" [IEEE Spectrum]. "Luckily for those wanting to set up a pigeon-net, understanding how the birds know where to go isn't important. You just have to train them to fly between two points. This is best done through the time-tested incentive of food. By feeding the birds in one location and housing them in another, you can teach the pigeons to fly the route. It's also possible to train pigeons to return home from unfamiliar locations. In competitive races, the birds can travel up to 1,800 kilometers [PDF], although 1,000 km seems to be a more normal upper limit. Throughout the 19th century, pigeons carried messages tucked inside small tubes strapped to their legs. Typical routes included islands to mainland cities, rural villages to city centers, and other places where telegraph wires had not yet connected communities." • So if you really don't like digital communication….
Best Twitter cat thread ever:
We delivered everyone's birthday wishes. pic.twitter.com/NMJpVJADFF

— Grand Designs Outer Chaos (@bombsfall) April 2, 2021
Happy birthday to Sid, one of the bright spots in an otherwise grim year.
* * *
Readers, feel free to contact me at lambert [UNDERSCORE] strether [DOT] corrente [AT] yahoo [DOT] com, with (a) links, and even better (b) sources I should curate regularly, (c) how to send me a check if you are allergic to PayPal, and (d) to find out how to send me images of plants. Vegetables are fine! Fungi and coral are deemed to be honorary plants! If you want your handle to appear as a credit, please place it at the start of your mail in parentheses: (thus). Otherwise, I will anonymize by using your initials. See the previous Water Cooler (with plant) here. Today's plant (Carla):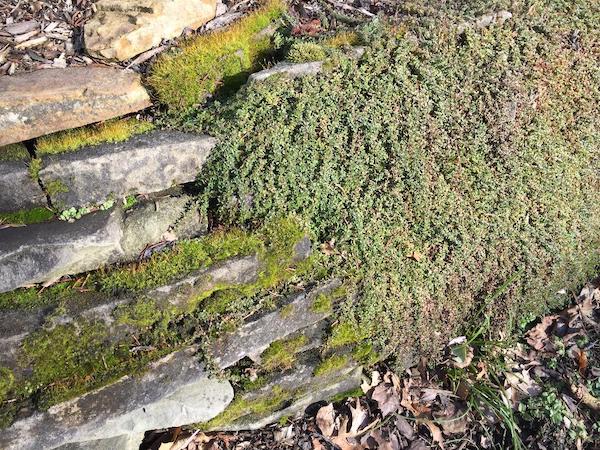 Carla writes: "Moss & thyme, creeping over a rock wall in February 2021." Had we but moss enough and thyme [ducks]….
Readers, thank you very much for the big initial response of spring plant images. But I'm still feeling a little short…
* * *
Readers
: Water Cooler is a standalone entity
not
covered by the recently concluded and — thank you! — successful annual NC fundraiser. So if you see a link you especially like, or an item you wouldn't see anywhere else, please do not hesitate to express your appreciation in tangible form. Remember, a tip jar is for tipping!
Regular positive feedback both makes me feel good and lets me know I'm on the right track with coverage
. When I get no donations for five or ten days I get worried. More tangibly, a constant trickle of donations helps me with expenses, and I factor in that trickle when setting fundraising goals:
Here is the screen that will appear, which I have helpfully annotated.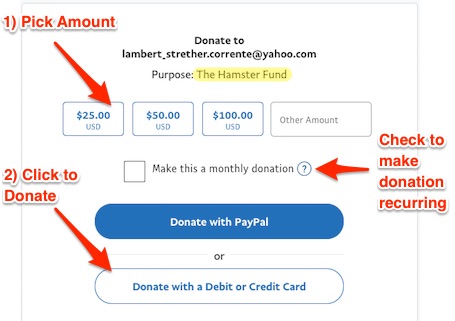 If you hate PayPal, you can email me at lambert [UNDERSCORE] strether [DOT] corrente [AT] yahoo [DOT] com, and I will give you directions on how to send a check. Thank you!