Why Animals Don't Get Lost The New Yorker
Mapping the World's Key Maritime Choke Points Visual Capitalist (dk).
The Suez Grounding Was an Accident. The Next Blocked Chokepoint Might Not Be. Defense One (Re Silc).
Global chip supply chain increasingly vulnerable to massive disruption, study finds Reuters (Re Silc).
Banks must act to control fraud epidemic FT
Markets pass the Archegos test Axios
#COVID19
CDC Data Suggests Vaccinated Don't Carry, Can't Spread Virus New York Magazine. I don't know what New York Magazine's editors were thinking when they wrote that headline. It's not just wrong, it suppresses the key story, which begins in paragraph five:

Though the study is an impressive piece of evidence of the effectiveness of the Moderna and Pfizer vaccines, some public-health experts pushed back on Walensky's pandemic-changing takeaway. "," Dr. Peter Bach, director of the Center for Health Policy and Outcomes at Memorial Sloan Kettering Cancer Center, told the New York Times on Thursday. "," Bach added, ""

Even the Centers for Disease Control hedged on Walensky's claims. "," a CDC spokesperson told the Times. "It's possible that some people who are fully vaccinated could get Covid-19. The evidence isn't clear whether they can spread the virus to others. We are continuing to evaluate the evidence."

"Spoke broadly." Are you [family blogging] kidding me? Rejecting the (not entirely unwarranted) hypothesis that Walensky is stupid and/or incompetent, she spoke as she did to generate the headlines that were in fact generated, and which is all most people read. A Noble Liar, just like Fauci. If anything goes badly wrong with one of the vaccines, these bozos — weeping, or not — will bring down not only the public health care system, but PMC credibility generally (not such a good thing, if you need experts in degrees in Bubblegum and Baling Wire to manage a system that is, in fact, held together with bubblegum and baling wire). It's madness. (I also expect much better of New York Magazine. And no, "suggests' doesn't cut it.)

BNT162b2 Vaccination in People Over 80 Years of Age Induces Strong Humoral Immune Responses with Cross Neutralisation of P.1 Brazilian Variant (preprint) The Lancet. Interpretation: "These data demonstrate that the mRNA vaccine platform delivers strong humoral immunity in people up to 96 years of age and retains broad efficacy against the P.1 Variant of Concern." n =100.

Coronavirus: Pfizer jab 'stopping 91% of cases in first six months' BBC. "[T]he crucial question of how long the protection from the vaccine lasts remains unanswered." Since we have no data after six months, yes. Has it really been six months?

Giving Everyone a Fair Shot International Monetary Fund

Company producing J&J vaccine had history of violations AP. American manufacturing has problems. Who knew?

History of AstraZenaca, a thread:

That promise was broken. The Gates Foundation pushed the racist lie that poor people can't make safe vaccines – despite world-leading production facilities in the Global South – and convinced the university to sell exclusive rights to Astrazeneca.https://t.co/EEdch3x9ze

2/

— Cory Doctorow (@doctorow) March 31, 2021

* * *

Young vs. old:

ONS survey data out today- looking at the pandemic by age paints a heterogenous picture. We appear to be having two different pandemics- one accelerating among young children since schools re-opened, alongside declines in older age groups possibly due to vaccination/lockdown 🧵 pic.twitter.com/N3PLTYc69X

— Deepti Gurdasani (@dgurdasani1) April 1, 2021

* * *

Resistance from health experts and business owners could doom 'vaccine passports' even before they launch STAT

Are We Much Too Timid in the Way We Fight Covid-19? Ezra Klein, NYT. "One problem is no one, on either side of this debate, really knows what will and won't destroy public trust." Perhaps we'll find out.
The Antiscience Movement Is Escalating, Going Global and Killing Thousands Scientific American. Fund a lot of citizen science under "Build Back Better," and problem solved.
China?
Philippines, US discuss Chinese activities in West Philippine Sea The Rappler

Hong Kong's Avoidable Tragedy Is Complete Bloomberg
Myanmar
Russia strides into diplomatic void after Myanmar coup FT

Myanmar parallel parliament raises stakes in fight for ethnic support Nikkei Asian Review. Well worth a read. Key sentence: "Min Aung Hlaing [junta chief] and the [State Administration Council] do not have a clear territorial base. The junta enjoys modest support among the security forces and some economic elites but nowhere are their supporters in the majority." If the "ethnic armed groups" (i.e., proto states) can get their heads around the Franklin's (apocryphal) statement that "We must, indeed, all hang together or, most assuredly, we shall all hang separately," then Federalism in Myanmar might have a chance. Perhaps the Tatmadaw's behavior is concentrating their minds.

A parallel govt emerges post-coup Bangkok Post. Overstated, but possibly; see above.

Too many fires for comfort (1):

A fire broke out in Nant Tha Ward, Pyigyidagun Township, Mandalay at around 5 am today (Apr 1). It started from an overheated electrical equipment and affected 130 households. Residents said a shelter has been set up at the local religious community hall. #WhatsHappeningInMyanmar pic.twitter.com/2s7zpL2Kkb

— Myanmar Now (@Myanmar_Now_Eng) April 1, 2021

Too many fires for comfort (2):

Fire incidents happened in Ruby Mart and Gandamar Whole Sale 2AM this morning.
Reportedly, Firemen and police came to the scene since the fire started.
Ppl are also wondering who started the fire during the curfew(8PM-4AM).
?crd #Apr1Coup#WhatsHappeningInMyanmar pic.twitter.com/tldqYIoMSa

— Uchiha Kunoya (@KunoyaUchiha) April 1, 2021

The fire next time?

— Go Gyi Hla (@go_hla) April 1, 2021

Now do timber, rubies, and jade. More on the Chinese pipeline:

As Chinese pipeline has become newsworthy again am posting link to the excellent documentary film on it "Across" made 2015 by Myanmar filmmakers Phyo Zayar Kyaw, Pyae Zaw Phyo, Kaung Sint. This is a shortened 60 min version of the 90 minute film. Link 👉https://t.co/l1oisTKR4k pic.twitter.com/4zenoTrEQk

— Rangoon (@Rangoon_Film) April 1, 2021

Myanmar 'traitors' hounded in online anti-coup campaign Channel News Asia
The Koreas
Vengeance is served with a jackhammer or death metal: South Koreans strike back at noisy neighbors LA Times
Airtel Africa Gets $100 Million Boost From Mastercard PYMNTS.COM
Syraqistan
Biden Plans Afghanistan Train Wreck The American Conservative
UK/EU
New Cold War
Team Biden's Russian Policy: Major Differences From Trump's Strategy Valdai Discussion Club. This is very good.

Blinken to Germany: Stop Nord Stream II! Counterpunch
RussiaGate
Meet the Russiagate Prober Who Couldn't Verify Anything in the Steele Dossier Yet Said Nothing for Years RealClearInvestigations
Ex-CFTC chair joins Citadel Securities 27 days after leaving regulator FT
Biden Administration
White House moves to reshape role of US capitalism The HIll. About time.

Biden to review executive authority to cancel student debt NBC

Exclusive: House Democrats, NGOs Send Letters to Federal Reserve Pushing for More Specific Climate Action Morning Consult. So Morning Consult is a news-gathering organization….

The "Root Cause" of Central American Migration Is Broken U.S. Policies The New Republic (Re Silc: "I have seen this time and time again over my career, not even looking at history before me. USA USA wiped out small local farmers by dumping pl480 corn for decades. Supporting the right wing elites over land reformers for decades goes without saying."
The Strange New Doctrine of the Republican Party David Frum, The Atlantic. Strangely parallel to the liberal Democrat embrace of censorship.
I've Been Sleeping With A Shovel Under The Bed Defector. In politics, AITA?
The Pandemic Is Undoing the World's Populists Bloomberg
Democrats en Deshabille
Rahm Emanuel Headlines Event For Group Fighting $15 Minimum Wage Daily Poster

SF school board member Alison Collins sues district, colleagues over response to her tweets San Francisco. It's almost like identity politics was designed to set people at each other's throats. At this point, one remembers that "intersectionality" was devised by a lawyer…

Is OBAMA now cancelled? Latino activists oppose Chicago suburb naming school after Barack and Michelle because ex-president was 'the deporter-in-chief' Daily Mail. Apparently, Obama destroying a generation of Black wealth with his foreclosure policies does not merit cancellation. It's a funny old world….
Why we are concerned about Georgia's new election law Brad Smith, Microsoft (dk).
A corporate reckoning on voter suppression Popular Information
Obama Legacy
Runaway American Dreams The Baffler
Opposing All Governments Equally Is Supporting The Most Powerful Government Caitlin Johnstone
Gunz
New Gun Control Measure Would Put Firearms In Difficult-To-Open Hard Plastic Packaging The Onion
Black Injustice Tipping Point
Chauvin should have ended force against Floyd, after he was cuffed and on the ground, supervisor said NBC
A new lawsuit could change how Amazon does business with 3rd-party sellers forever Business Insider
Class Warfare
The British Monarchy Will Not Survive Late Capitalism — And Harry and Meghan Are Proof Jacobin
'It smelled like pain and regret': inside the world of competitive hot chilli eaters Guardian (Re Silc).
The Perishable Past Patrick Wyman
New Tool Strips Manipulative "Dark Patterns" From Mobile Apps IEEE Spectrum. On "dark patterns," see NC here.
Institutional supercycles: an evolutionary macro-finance approach National Institute of Economic and Social Research. Sounds interesting:
We build upon the Minskyan concepts of 'thwarting mechanisms' and 'supercycles' to develop a framework for the analysis of the dynamic evolutionary interactions between macrofinancial, institutional and political processes. Thwarting mechanisms are institutional structures that aim to stabilise the macrofinancial system. The effectiveness of such structures changes over time, creating a secular cyclical pattern in capitalism: the supercycle. We develop a macrofinancial stability index and identify two supercycles in the postwar period, which we label the industrial and financial globalisation supercycle respectively…. sThe supercycles framework can be used to explain and anticipate macroeconomic, financial and thus political developments, and moves beyond conventional approaches in which such developments are treated as exogenous shocks.
Anticipate, eh?
Antidote du jour (via):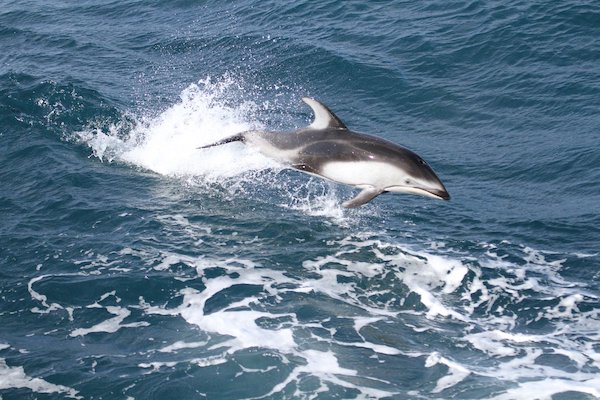 Bonus antidote:
ON THE MOVE: "Super pod" of dolphins spotted off the Southern California coast, gracefully swimming alongside a whale watching boat. https://t.co/w6KsO4Xk8O pic.twitter.com/MOKGNae4Mj

— ABC News (@ABC) April 1, 2021
See yesterday's Links and Antidote du Jour here.