Many white collar workers seem to be enthusiastic about the work from home trend, now freed of time-eating commutes, office politics, and hovering bosses. It's hardly a secret that Covid-induced fear of commuter trains, busses and elevators has led CEOs to revamp operations and allow employees who can to work remotely. It has already radically reshaped the residential real estate market, with professionals who have extra cash hoovering up houses in exurbs or other states with lower costs of living but reasonable amenities.
But is this shift a lasting development? Remote work is hardly a new concept, as outsourcing and offshoring of lots of tasks, such as coding, call centers, and legal research attests. Despite the press and broker enthusiasm for this shift, it's likely to wind up being rolled back significantly post-Covid. Some of the reasons why:
CEOs overwhelmingly dislike work from home. A Wall Street Journal survey late last year found that by more than a 2:1 margin, CEOs thought the costs and risks of working from home outweighed the benefit. And the minority camp consisted of CEOs who said they'd made it work, or were willing to have work at home continue post-Covid on a limited basis.
Illustrative quotes:
"There's sort of an emerging sense behind the scenes of executives saying, 'This is not going to be sustainable.'" —Laszlo Bock, chief executive of human-resources startup Humu and former HR chief at Google

"I don't see any positives. Not being able to get together in person, particularly internationally, is a pure negative." —Reed Hastings, co-chief executive of Netflix Inc., on working from home

"We tried it…It's just not the same. You just cannot get the same quality of work." –Rajat Bhageria, CEO of robotics startup Chef Robotics, on what the company learned in attempting to work remotely
The overwhelming majority of academic studies on work from home have found those employees are less productive. The only exception was one in the US from the employees themselves, who have incentives to score themselves well if they enjoy their new freedom.1 But their perception isn't the one that counts. It's that of the higher ups.
"Productive" isn't just the worker's perception that he is executing his tasks more efficiently at home; his bosses and co-workers may incur frictions in defining his tasks, coordinating them, and reviewing his output that can considerably or more than offset any perceived increase of his efficiency in isolation. A survey of small and medium-sized US firms found that working from home reduced productivity by 20% on average; a Japanese study found a decline of 30% to 40%. Some of the reasons why: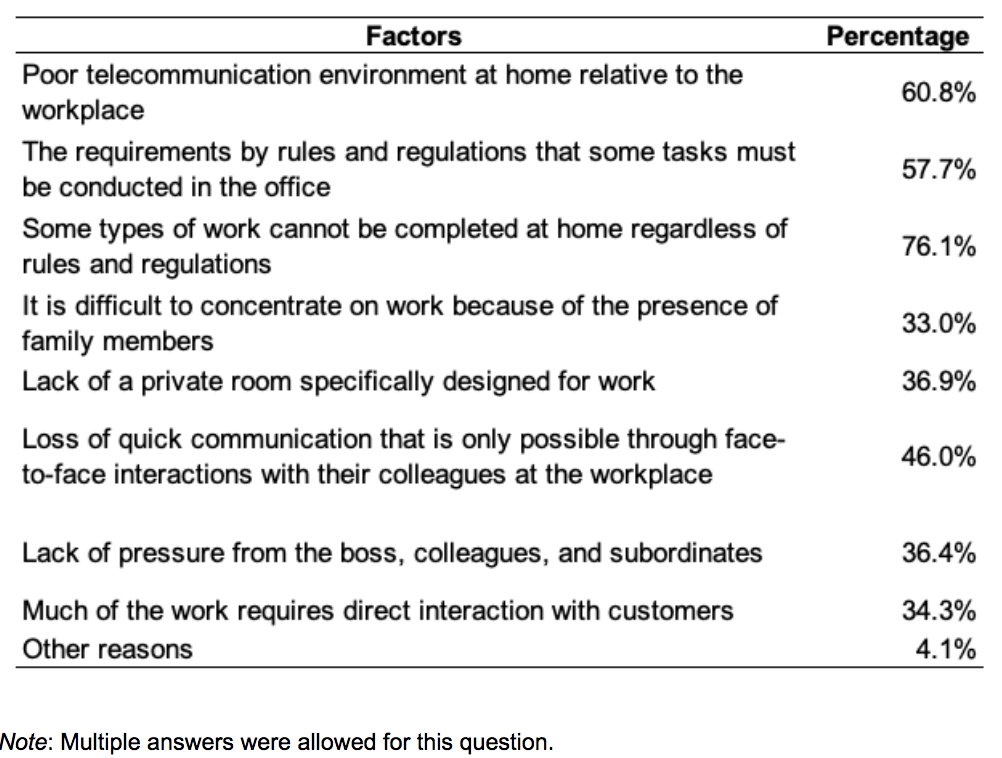 The problems with remote work will become more pronounced over time. Those of you old enough to remember the dot-com era may recall predictions that traditional companies would become largely passe because the Internet make it possible for free-lancers to team up and collaborate and outmaneuver the dinosaurs. That didn't happen, even at the margins. The reason was obvious to me at the time: the considerable cost of negotiating and contracting.
At a decently-managed company, the whole is greater than the sum of the parts. People learn from each other, not just in the formal sense, but also how to get along with and get the best out of their peers and bosses.
That all comes under stress save for roles where the employee regularly works autonomously on well-defined tasks. Zoom meetings are a poor substitute for the much freer give-and-take you have in live sessions (and mind you, I hate meetings). You don't have good approximations of the informal corridor or lunch line or bathroom chat where you exchange some information that might be consequential. And it's very difficult to train and acculturate new employees remotely.
A colleague argued that a big reason that work at home was viable was that organizations were essentially frozen during Covid. Workers wouldn't be changing jobs due most employers having to get their footing in the new normal and not being in expansion mode, plus the difficulty of getting in-person interviews. The reduction in turnover means that established relationships continue even though the teams and managers have to work out new routines.
The longer this continues, the more the interpersonal networks start to fray. Some will retire and need to be replaced or have their duties redistributed. So managers in companies where a fair amount of the tasks require collaboration or close oversight are likely to find work at home performing less well the longer it goes on.
Hybrid working is hard to implement. Some CEOs have found that the distribution of tasks in their operation has enabled them to operate efficiently in a work at home framework. Others, either due to wanting to appear worker-friendly or finding some roles can be performed well at a remove, have said they expect to implement a hybrid approach going forward, with some employees working at home and others back at the office full time, and some working part time at home.
This is super messy from a managerial standpoint. Even though work at home is popular with employees, except these flexible approaches to be cut way back. As Forbes explains:
There are real risks inherent with the leading return-to-work hybrid system. Companies will have to ensure that their employees don't take advantage of the system by collectively deciding to work remotely on Mondays and Fridays, to the disadvantage of other co-workers. It can become a logistical nightmare for managers to have impromptu meetings, as everyone is operating on a different schedule and in varied time zones. A supervisor needs to keep in mind who is working where and when they are available.
Wired confirmed this impediment in Remote Work Has Its Perks, Until You Want a Promotion:
But adopting remote work has costs less easily tracked on a spreadsheet. One of the biggest is coordinating and managing workers spread across locations and time zones, and able to meet only virtually…

Darren Murph, head of remote at GitLab, a software startup with more than 1,200 workers in more than 65 countries but not a single office, agrees. He likens combining traditional offices with a large remote workforce to mixing oil and water. "You're going to have to work really hard to make sure remote workers don't feel like a second class," he says.
The employee arms race means many will find quickly that working at home comes at a career cost. Even with the societal need for as many employees as possible to stay away from the office, both some Silicon Valley employers and Deutsche Bank proposed paying remote workers less. Tech firms argued that employees should not be able to Californicate their pay to a lower-cost area like Oregon or Utah; Deutsche proposed cutting work at home pay by 5% and giving it to those who had to keep coming in.
But there's a big reason why employees themselves may start retreating from work at home: unless all of their competitors are spending as much time away from the office as they are, they are likely to be disadvantaged in pay and promotions. They ones who turn up more often will benefit from more opportunistic interactions, better company intel, and more face time with managers and executives.
From The People Space in 2021:
In 2020 US payment processor Stripe offered a one-time payment of $20,000 to employees who opted to move out of San Francisco, New York or Seattle. The rub? It came with a salary cut of up to 10%.

Stripe is not the only one. California-based VMware has also introduced a similar policy for employees who move to less-expensive cities while other tech giants Facebook, Twitter and ServiceNow have all considered such measures.

Now new research from executive research firm Leathwaite finds 45% of HR leaders believe that, if employees who work remotely are based in locations with a lower cost of living and without a commute, it should impact their fixed salary and bonus potential. Meanwhile nearly four in 10 expect the promotion prospects of employees who opt to work remotely on a permanent basis to be impacted.
And that's before you get to the fact that pre-Covid, employees who worked remotely some or all of the time were generally at a disadvantage in terms of advancement. For instance, from BBC in 2017:
But the problems with working from home begin right from the start. That's because we think everybody can do all aspects of their job away from the office.

That's what Esther Canonico found in a recently published study of 514 workers. Canonico, a fellow with the London School of Economics Department of Management, says the at-home workers in her study didn't receive any training or guidance in how to pull off the transition. It added up since nearly half of the 514 people she studied either worked from home full-time or had some flexibility in their schedules.

If you've done it yourself, you know that working from home is not as simple as opening your laptop and getting down to business. Training—something some of us loathe and others of us can't get enough of—can make the difference between failure and success away from the office…

Then there are the everyday pitfalls that can lead to serious career damage or stagnation, Canonico said. For instance, if you aren't in the office and your presence isn't felt, you're likely to miss out on new projects and opportunites as they're doled out to someone the boss sees every day.

In fact, new research from the University of Arizona shows 40% of employees who were working from home feel disconnected from the company's strategic direction and one-third feel like they don't get support from bosses, according to Joe Carella, assistant dean of executive education at University of Arizona's Eller College of Management.

"People working from home become professionally and personally isolated," Canonico says. "They say 'out of sight, out of mind'."
But according to bestselling management author and CNBC contributor Suzy Welch, working from the comfort of your home or coffee shop can easily become "a career killer."…

"Here's the truth," says Welch. "The best work in an organization, the important work, it never gets done on the phone, or over email or on Slack."

Instead, she says, "it is almost always facilitated by relationships and understandings that only happen when people are together physically." Great teams are built on "the banter, the lunches, the late nights, the jokes, the asides, the shared ah-has!"

That type of bonding, she says, "builds layers of trust, and trust is a career's rocket fuel. You can fly without it, but you can't soar."
And Wired during the pandemic:
That will be challenging if Facebook and other remote-curious tech companies keep most managers and top executives onsite amid the conference rooms, snack stations, and foosball tables. Choudhury says a hybrid of remote and office work is hard to pull off without disadvantaging people offsite who receive less attention from leadership, while onsite workers can more easily cater to executives and win promotions. "That's a recipe for disaster," he says. "To do it well you have to have all or the majority remote, and you have to have managers who are remote."
In other words, to the extent that particular companies preserve significant work at home populations, it will because they've figured out how to use it to lower costs. That means not just office space but over time paying employees in lower cost locations less. Big companies know just as well as Rahm Emanuel never to let a crisis go to waste.
____
1 A widely-reported US survey found that men working at home scored themselves as more productive and women less. While it's not hard to see that women with kids would get stuck with minding them while also trying do to their day jobs, as we indicated earlier, the men's self-rating does not factor in the overall organizational perspective. And on top of that, the survey didn't indicate how they found their respondents. If this was entirely or significantly a Web survey, it's a garbage-in, garbage out exercise.