I had suggested that Lambert include this shaggy dog story about our Covid vaccine misadventures in Links, but Lambert thought it was sufficiently revealing, in a bad way, that it was worth fleshing out and presenting as a post to see if other readers had encountered similar obstacles to getting a shot.
Mind you, for us, these were merely annoying time sinks. But imagine if you were an hourly worker or a retiree on limited income who didn't drive and had prevailed on a friend for the ride to and from the pharmacy, and didn't have time for this level of run-around.
My mother, one of their aides (a former NYC taxi driver) and I wanted to get a Johnson & Johnson vaccine at Publix. For those of you not from this part of the world, Publix is an employee-owned grocery chain in the South.
We have been isolated and using all sorts of prophylactics and wearing procedure masks in the house and KN95s when venturing out. These measures seemed to be the reason that neither my mother not I got Covid from one of our aides when she had a confirmed case in January.
Nevertheless, your humble blogger is getting surgery in 2 weeks. Going to a hospital not vaccinated seemed to be a wee bit too much risk.
However, the process of getting the vaccine was Gawd-awful. Mind you, I have never gotten a shot at a pharmacy, so I do not have a basis for comparison. But this experience was enough to deter me from ever going that route again.
The Publix website says it has J&J and Moderna. At least that much is correct. It says you can walk in but also offers appointments:

We wanted to make sure of supply so we thought an appointment was preferable. But the site offered only AM slots and only (oddly) a couple of days out the current week and nothing beyond that. I am not an AM person, so that was out.
On a regular grocery run, we had the aide go to the pharmacy to find out if there would be any risk of supplies being out if three of us showed up for a J&J shot in the PM.
The pharmacist said you had to sign up on the site (despite the site clearly saying otherwise) and they did J&J vaccinations only on Mondays and Tuesdays due to it being a small store. He also recommended accessing the site on a computer as opposed to a device.
I tried signing up. The only date offered was the following day, a Thursday, which the pharmacist had said was not a J&J day. I replicated this error just now after clicking the button to choose a J&J jab: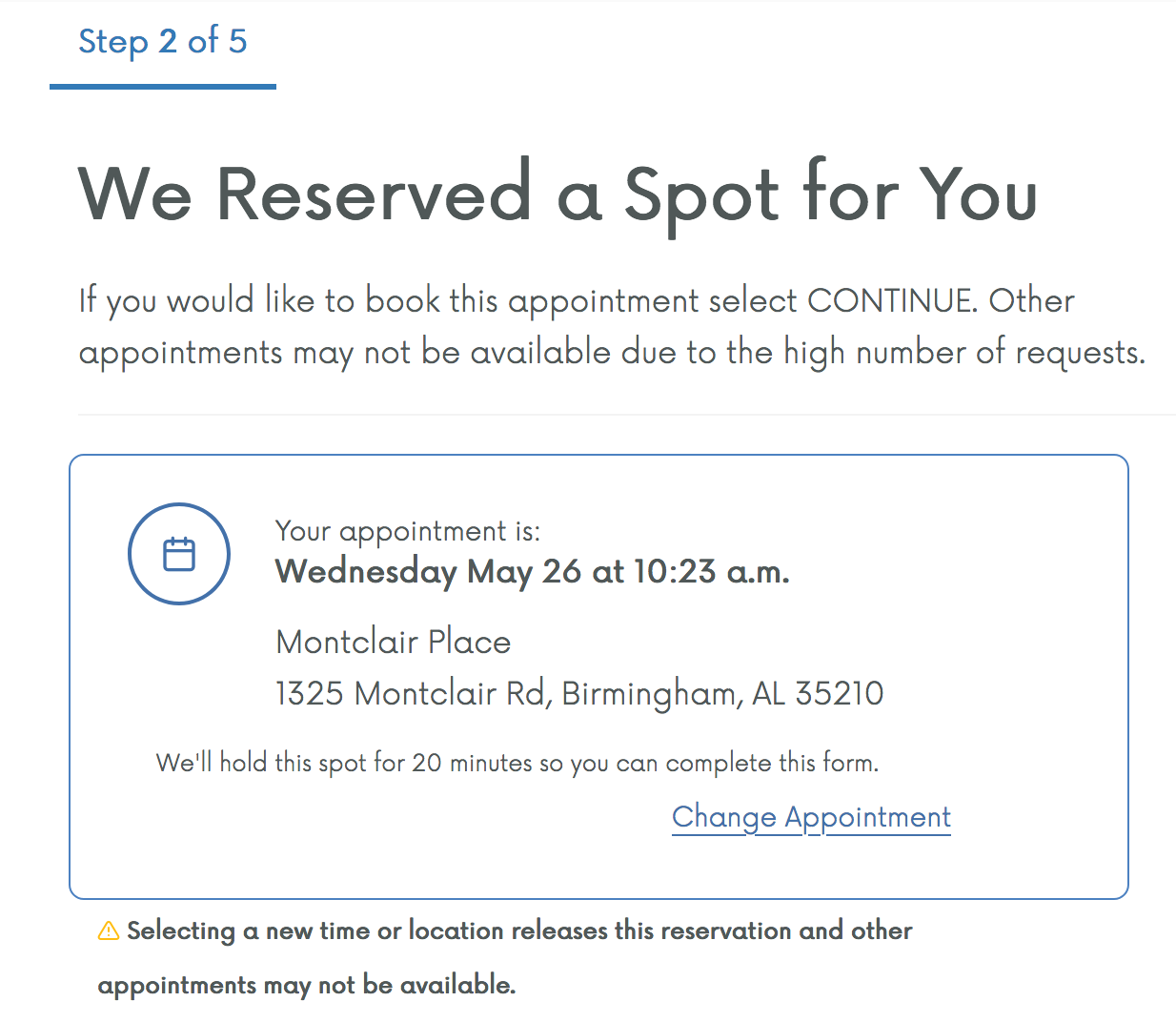 The site also no dates beyond the current week.
I had the aide photograph the relevant site pages from my laptop and go back to the pharmacist. He said he was sorry and he'd hold 3 shots for Tuesday afternoon. He advised us to get there between 2 and 3, preferably 2 and 2:30, and said he'd be there.
We arrived before 2. We were told the pharmacist we had dealt with was not on that day (!!!) but the employees on duty would take care of us.
It took over an hour and half to get the shots due to paperwork, or more accurately, billing. So the whole process took almost 2 hours.
They had no problem with the aide who has no insurance and was nervous about getting the shot. She says she'd never been vaccinated which I am sure is not true but means she hasn't taken any as an adult. This is a brain cancer survivor who also was paralyzed for 3 years due to an accident and had major back surgery (a rod in place of her lower spine) to be able to walk again. So it's not as if she hasn't had some dealings with doctors.
They did have to spend more time with me because my Cigna plan does pay for drugs but does not have a pharmacy plan (I have to pay and submit for reimbursement). They wanted a pharmacy card. They had to call Cigna, which struck me as absurd.
They went on tilt with my mother. They wanted her "red white and blue" card, as in a Medicare card. My mother is in a Medicare Advantage plan1 and carries only 2 cards, one its pharmacy card and one the "everything else" card. Local hospitals not in her network accept that card, as do the ambulance services.
The staff kept insisting they needed her Medicare card, which I am highly confident she has never needed. The Medicare site confirms that belief. In its very first paragraph on the page about Medicare cards:
When you're enrolled in Medicare, you'll get your red, white, and blue Medicare card in the mail. If you're automatically enrolled, you'll get your red, white, and blue Medicare card in the mail 3 months before your 65th birthday or your 25th month of getting disability benefits. Your Medicare card shows that you have Medicare health insurance. It shows whether you have Part A (listed as HOSPITAL), Part B (listed as MEDICAL), or both, and the date your coverage begins. If you have Original Medicare, you'll use it to get your Medicare-covered services. If you join a Medicare Advantage Plan or other Medicare health plan, in most cases, you'll use your plan's card to get your Medicare-covered services.
The Publix staff then had to call my mother's Medicare Advantage plan (oh, and said they needed the last four numbers of her SSN, which I was not happy to have to provide) to get her Medicare number. That took a while.
Mind you, 40% of Medicare insureds opt for Medicare Advantage.2 This can't have been the first time this has come up at Publix, but all the scrambling suggested otherwise.
So I am left wondering: was this snafu the result of poor data specification by the Feds, or poor implementation by Publix?
The pharmacy employees were friendly and did their best to put a good face on this situation. One staffer even wheeled my mother back to her car.
From what readers have said, in well run injection sites, the total throughput time, including observation, is about an hour. We had assumed, due to going at a slack time, that it might be an hour and half at worst.
Instead, due to this exercise taking so long, the aide had to rush back to the house to get my mother out of the car and settled (she had to leave a task for the next aide), since she had a paid gig right after her shift here.
I was the only one to suffer from side effects: some soreness at the injection site, which abated in a few hours (and might not have happened at all had I not done shoulder exercises day prior) and a bad case of chills due to sitting in a thin sleeveless shirt for nearly two hours under an air conditioner blast. I was shivering before I got the shot. No joke, it took me a couple of hours in bed in a house kept at 75 degrees with lots of blankets to get my hands and feet warmed up back up to body temperature.
Oh, and vaccine hesitancy is real. Our other aides are all certified nursing assistants. None has gotten a Covid vaccination, including the one who already had Covid.3 The latter is the most interested in getting it but has little confidence in the little guidance she has gotten as to how long to wait after her infection.
The other two are leery because they know people in their circles who have had bad reactions, both the "had to stay at home for a couple of days" variety (which for hourly workers is a very bad outcome) and some who were out of whack longer. None had heard of horror-story level side effects, but the severity and frequency of the ones they know about has led them to distrust official advice.
In keeping, my mother asked the pharmacy employee who took her to the car what she though about masks. She said, "I want to keep them. I think it's too soon to stop."
___
1 She and my father joined the HMO affiliated with the University of Alabama before he retired. This Medicare Advantage plan includes that HMO. For someone as old and feeble as she is, she spends remarkably little time with doctors and takes only one medication on a regular basis.
2 I hate to tell you but I can see why. One plan that covers Parts A and B, the gap insurance, plus usually Part D, is a hell of a lot more appealing than having to buy bits and pieces and needing accounting-level attention to detail to figure out if anything fell through the cracks.
3 She got her case in early January, and vaccine distribution in Alabama was very limited as of then. She has just started her own small home health care aide agency, so I suspect also she would have had difficulty in substantiating her status as a front line health care worker. So she can't really be faulted.