Yves here. Take your hats off to my former Communist home. New York's citizens beat Amazon's effort to locate in Queens, which would quickly have rendered a remaining relatively low-rent, close proximity borough much less affordable. And now they are opposing a corporate Trojan horse masquerading as a pro-union measure. Guess its backers thought no one would read the small print. Or that deliveristas might be a force to be reckoned with, and win the support of the building workers union.. Oops.
By Josefa Velasquez and Claudia Irizarry Aponte. Originally published at THE CITY on May 25, 2021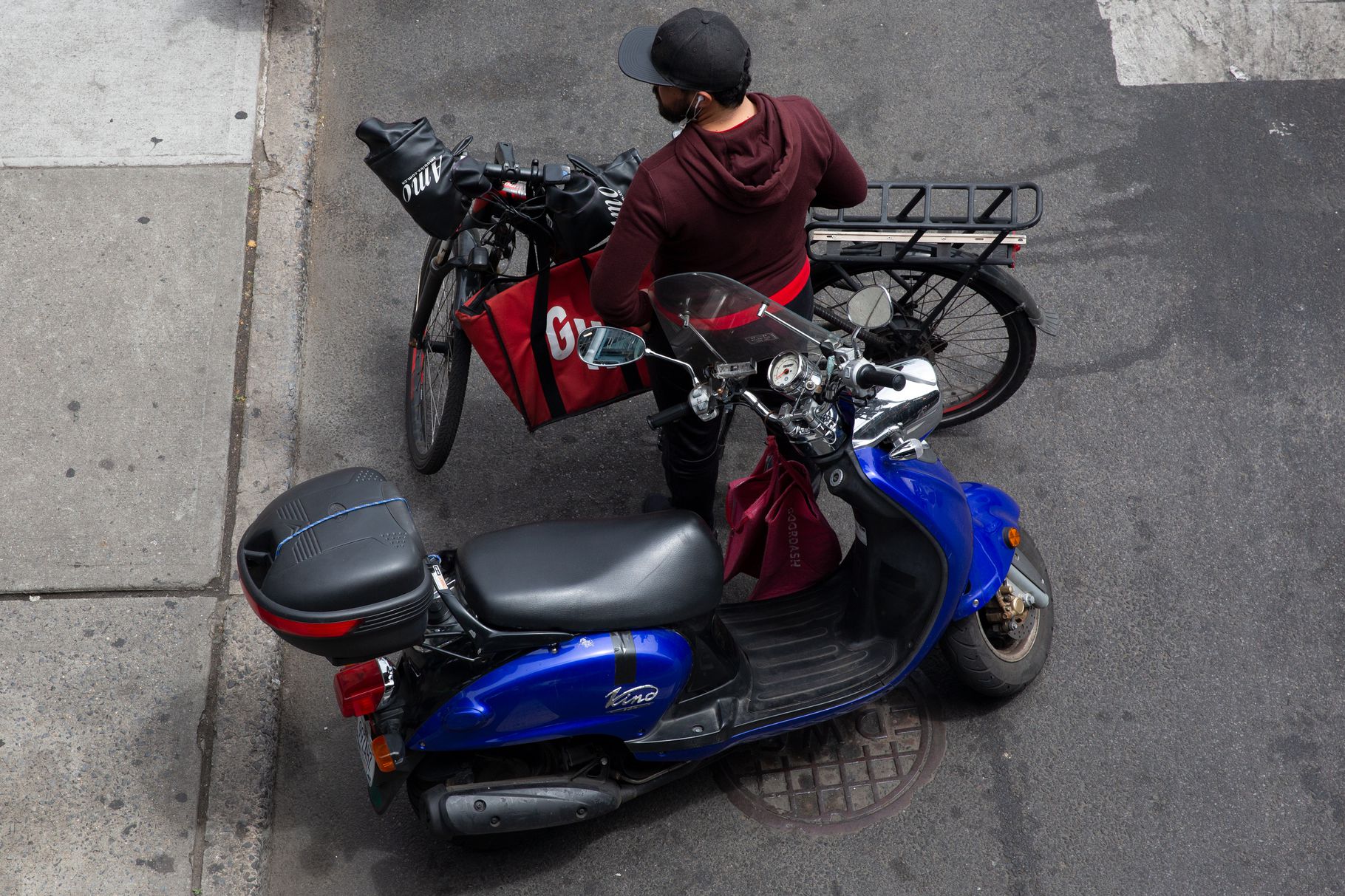 A delivery worker takes a break in Bensonhurst, Brooklyn, May 24, 2021. Ben Fractenberg/THE CITY
The fate of a state proposal that would allow some app-based gig workers to join a union is in doubt after key players, including a collective of food delivery workers, came out against the measure Tuesday.
Los Deliveristas Unidos — a group of mainly immigrant food delivery couriers — and service workers union 32BJ SEIU announced they oppose the effort, which would grant workers some bargaining power but shop short of reclassifying them as employees entitled to full labor rights.
The delivery group declared itself "opposed to any legislative proposal that is pre-negotiated without delivery workers' input, and that directly impacts our industry, work conditions, and the well-being of our families," in a statement released late Tuesday morning.
Also coming out against the measure: the Transport Workers Union, after initially voicing its support.
A bill has been drafted and was expected to be introduced later this week by state Sen. Diane Savino (D-Staten Island/Brooklyn).
Because federal labor law does not allow workers who are not company employees to bargain a traditional union contract, the measure would create an alternative path under which a state labor panel would set rules covering gig workers.
As part of that arrangement, workers wouldn't be allowed to publicly protest or walk off the job.
'Erodes Worker Power'
But the draft bill language shows that the workers would concede certain rights from the get-go. Notably, unions would be forbidden to strike or demonstrate against an employer, under what's known as a labor peace agreement.
Another provision would bar local governments from creating a minimum wage for workers or the app industry, as well as forbidding any local taxes, fees or surcharges.
"This bill isn't worth it for us, it erodes worker power," Sergio Ajche, a delivery worker and Los Deliveristas Unidos member, told THE CITY in Spanish.
"I think it's silly that these companies would try and sneak this behind our backs when we're already organized at the grassroots," he added. "We're very aware that our organizing — our protests, our marches, our movement — poses a threat to tech companies."
Sergio Ajche addresses the crowd of delivery workers at Foley Square on April 21.
Sergio Ajche addresses the crowd of delivery workers at Foley Square on April 21. Claudia Irizarry Aponte/THE CITY
The food workers, who call themselves deliveristas, are supported in their organizing by the Workers Justice Project.
"What a lot of these companies don't understand is that they may have capital and economic power, but we have people power," Ajche said.
Savino told THE CITY via a spokesperson that the proposal represents a "foundational plan for gig workers in the ride sharing and delivery economy," including the right to organize and bargain, worker's compensation, and unemployment insurance.
"No state allows localities to regulate those areas, and New York will not do that now," Savino said in a statement. "The draft legislation is under discussion, and will continue to evolve with further input from affected individuals and entities until all parties are satisfied. Failing to pass anything means we leave here and leave 200,000 plus workers with nothing. No union, no workers compensation, no unemployment. Nothing. That is not an option."
Rolling Back Support
High-profile support from the Transport Workers Union also melted once the bill's details emerged, after months of conversations between tech companies and the New York State AFL-CIO.
TWU President John Samuelsen said Tuesday that his union, an AFL-CIO member, would "stand with the workers" who oppose the measure. Samuelsen had been involved in discussions over the bill in recent weeks, but said he would defer to groups like Los Deliveristas Unidos.
"If they don't want this particular bill, we will support them and work with them to craft a bill [that] satisfies the workers," Samuelsen told THE CITY.
After learning details of the draft bill late Friday, leadership of Los Deliveristas Unidos huddled over the weekend and again on Monday.
According to people familiar with the discussions, the workers were particularly concerned that the bill could restrict their ability to protest or walk out of their jobs, which they have already done at least three times in the last year, first last October and most recently in April.
During an interview with THE CITY on Monday, Samuelsen said that he could not support the draft legislation if workers aren't able to demonstrate against the companies.
"If it comes down to it and there's a stalemate at the bargaining table, workers have to be able to engage in — at least the threat of — collection action in order to move issues," Samuelsen said.
His latest remarks represent a shift from the union's initial support of the concept, which he described to THE CITY last week as an "extremely advanced piece of legislation."
The New York State AFL-CIO stopped short of withdrawing its support of the bill. "Our goal has always been to get gig workers rights and protections that they do not currently have," the organization's president, Mario Cilento, told THE CITY in a statement.
"We will continue to work with our affiliates and the app-based workers to try to get this done. If there are other ideas, we are open to them," he said. "No one ever said this would be easy, but this is all part of the normal legislative process."
Representatives from San Francisco-based tech company DoorDash, the dominant food app platform nationally, did not respond to requests for comment.
In a report to investors earlier this month, the company stated that any requirement to reclassify workers as employees would have an "adverse impact on our business, financial conductions and results of operations."
Opponents of the bill argue it would undermine a proposal at the federal level called the PRO — or Protect the Right to Organize — Act, a sweeping reform of national labor law which seeks, among other things, to grant full employment rights to independent contractors nationwide.
Gaining Power
The bill took another blow as 32BJ came out in opposition Monday evening.
"We believe that legislation that addresses gig economy and other misclassified workers should at minimum maintain gains made by workers at the local level, retain existing state protections, and allow localities the power to establish improved standards," said president Kyle Bragg in a statement. "It should also afford workers a real voice and the ability to truly expand and strengthen their labor rights, benefits, and protections."
The building workers' union — which was instrumental in winning city fast food workers an unprecedented $15 minimum wage six years ago and secured a $19 minimum for workers at Port Authority-run airports by 2023 three years ago — has been aiding the Deliveristas. The union is providing legal and legislative support to the delivery workers as they seek reforms in the City Council and in Albany.
Last month, City Council members introduced bills after months-long conversations with Los Deliveristas. Among the bills: measures to boost wages, ensure tips get to workers and to fine restaurants and bars that refuse to allow a delivery worker to use the restroom — charging $50 for the first offense and $100 for every subsequent violation.
In New York City, drivers for Uber, Lyft and other for-hire vehicle platforms secured a guaranteed minimum wage in 2018 and were also granted unemployment benefits, something usually afforded to employees but not independent contractors.
"The proposal we have examined does not provide for those conditions and jeopardizes critical wins that workers have fought for over the years. What we have seen so far is not good for these workers in particular, or any working New Yorker," Bragg added.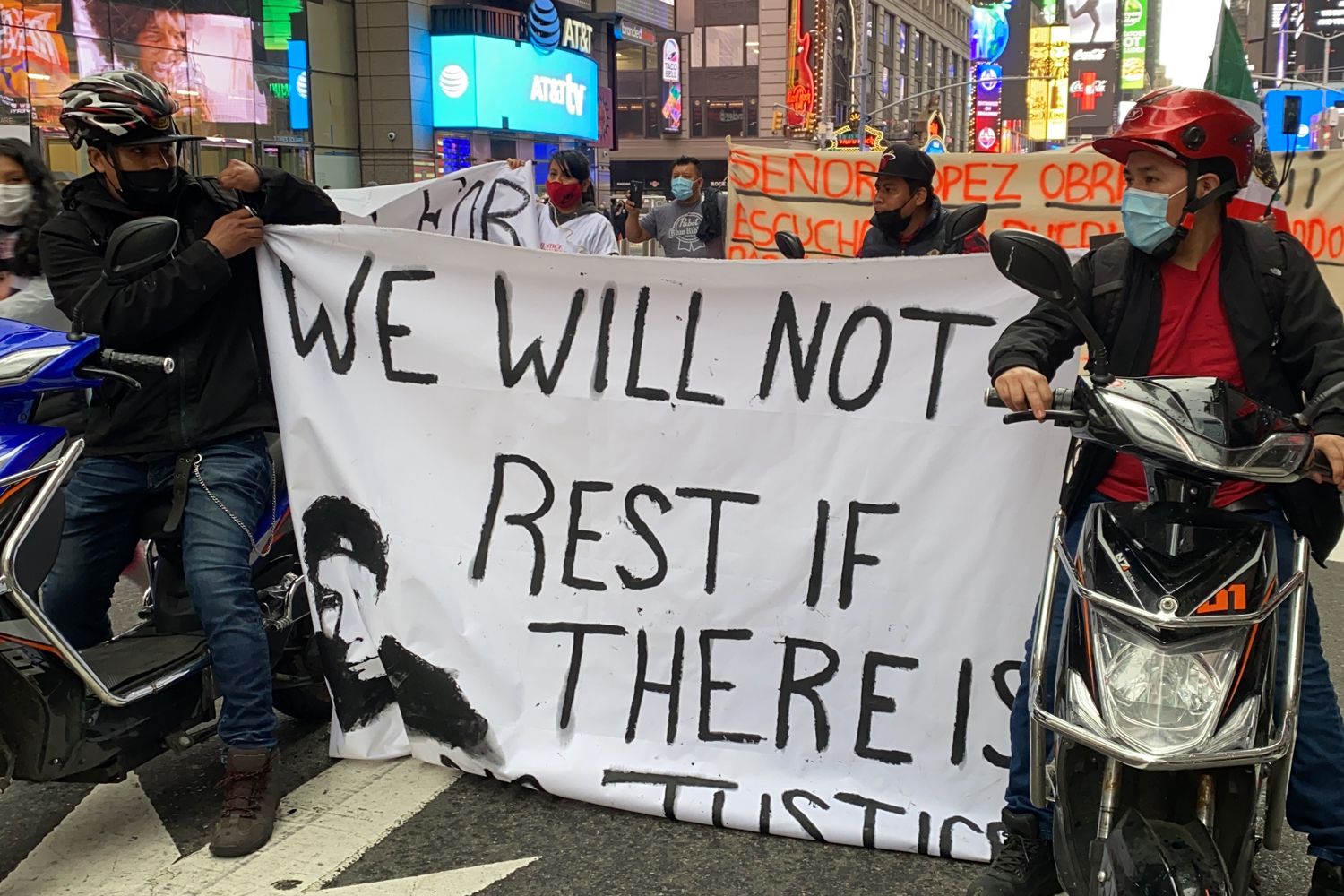 Los Deliveristas Unidos protest in Times Square on April 21. Claudia Irizarry Aponte/THE CITY
The Taxi Workers Alliance, a collective representing taxi and app-based drivers, came out against the bill last week following an initial report in Bloomberg News that talks were in the works.
After seeing details, alliance executive director Bhairavi Desai reiterated the group's opposition.
"The bill reads like Uber's fantasy novel — they get everything they want: ultimate deregulation, a phony union to give them cover, and workers at their mercy with no labor law or right to strike to build their power," Desai said in a statement.
Cash Cabs
Still in favor of Savino's bill is the Independent Drivers Guild, an affiliate of the International Association of Machinists funded by Uber that represents 80,000 New York City ride-hailing drivers.
The surcharge could mean a windfall for a gig-worker union. With hundreds of thousands of e-hail rides daily in the five boroughs, it's worth potentially tens of thousands of dollars in income per day from ride-hail drivers in New York City alone.
In a statement, driver-organizer Tina Raveneau said that members "cannot afford to wait another month, another year, or another legislative session to begin exercising the right to collective bargaining."
She added: "While the legislation itself will not immediately gift us all of the changes and improvements we need, the power we will gain from having the right to bargain will give us the opportunity to negotiate for those changes and to win a better life for ourselves and our families."
Last week, the head of the group said the vast majority of their drivers want union representation.
Representatives for Uber and Lyft did not respond to requests for comment.
Under the draft proposal, the unions that would represent gig workers stand to gain handsomely.
They would add thousands of new members to their ranks while collecting 10 cents from consumers for every ride and delivery in New York as a "representation fee," according to the draft proposal reviewed by THE CITY. Those fees would be separate from any membership dues that workers would agree upon.
The surcharge could mean a windfall for a gig-worker union. With hundreds of thousands of e-hail rides daily in the five boroughs, it's worth potentially tens of thousands of dollars in income per day from ride-hail drivers in New York City alone.
Desai said that the surcharge "turns unions into a customer-funded liberal charity instead of a means to build worker power."
She added: "This bill needs to be shredded."


This story was originally published by THE CITY, an independent, nonprofit news organization dedicated to hard-hitting reporting that serves the people of New York.