Tasmanian devils born on Australian mainland after 3,000 years BBC (resilc)
It's Hard Work to Restore Rio's Christ the Redeemer, but the Views Are Amazing Atlas Obscura. (Chuck L)
Massachusetts store owners rescue woman's $1m lottery ticket from trash Guardian
Out of this world! Stunning winning photos from the Milky Way Photographer of the Year competition 2021 are revealed Daily Mail (Kevin W)
Denmark plans to build a massive wind-energy hub on artificial island in the North Sea Yale Climate Connections
Greenland's Melting Glaciers Are Polluting Coasts With Shocking Amounts of Mercury Science Alert (Chuck L)
Ethane analysis points to severe underestimation of methane emissions in oil and gas production Academic Times
Airships for city hops could cut flying's CO2 emissions by 90% Guardian (resilc)
New Diagnostic Tool Predicts The Risk of Alzheimer's With Astonishing Accuracy of 90% Science Alert (Chuck L)
#COVID-19
More than 30 countries could face oxygen crises similar to India amid COVID-19 surges The Week (resilc)
US joins calls for transparent, science-based investigation into Covid origins Guardian. Moi: "Please tell me what problem gets solved by having an answer either way." Resilc: "Cold war ramps up."
Chinese embassy in U.S. says politicising COVID-19 origins hampers investigations Reuters
Totally left out': Thailand's expats anxious as march toward immunity passes them by Coconuts Bangkok (furzy)
Science/Medicine

Indian Covid-19 variant has spread to at least 53 territories worldwide, says WHO France24 (resilc)

This study ⬇️ now in Annals of the Rheumatic Diseases https://t.co/Jo6vxhhqO2 #IC https://t.co/oPBDJO0lGN

— Hilda Bastian, PhD (@hildabast) May 27, 2021

U.S. CDC looking into heart inflammation in some young vaccine recipients Reuters

Immunity to the Coronavirus May Persist for Years, Scientists Find New York Times (David L). The triumphalism is so blinding, I'm gonna have to wear shades. Breakthrough infections among the recently vaccinated suggest otherwise.

How science has been corrupted Undark (Peter W). From early May, still germane.

Hiltzik: In defense of the COVID lockdowns Los Angeles Times (resilc)

Asia

China's vaccine helping hand divides viral Taiwan Asia Times (Kevin W)

US warns citizens to reconsider any travel to Japan as athletes prepare for the upcoming Tokyo Olympic Games ABC Australia (Kevin W)

US downgrade of Japan's Covid safety is simple math Asia Times

Australia

Melbourne lockdown: Fears over outbreak sparks restrictions BBC

Ridiculously framed question that got the answer it deserved. pic.twitter.com/VnR2CujJvP

— Dr Vaccine Sharma (ethnic mum) (@drvyom) May 27, 2021

UK/Europe

'Lions led by donkeys': Johnson damned over COVID as unfit for office Sydney Morning Herald (Kevin W)

Dominic Cummings Tells a Chilling Story of British Failure Bloomberg

What a day. Four straight hours of of testimony from a self-interested narcissist who has weaponised falsehood challenging the record of a self-interested narcissist who has weaponised falsehood.

— Ian Dunt (@IanDunt) May 26, 2021

It's like Aesop's Fables for cunts.

— Ian Dunt (@IanDunt) May 26, 2021

Boris is in trouble now…. https://t.co/KtoIH6bLnD

— Roland Smith (@rolandmcs) May 27, 2021

Up to 8,700 patients died after catching Covid in English hospitals Guardian

US

Finance/Economy

Cummings: PM discussed scrapping Bank of England independence as Covid struck Telegraph
China?
Washington is playing a losing game with China Responsible Statecraft

Steve Wynn May Face Justice Department Action for Role in China's Push to Expel Businessman Wall Street Journal
Nicaragua's First Black Presidential Candidate Keeps Getting Targeted by the Cops Vice (resilc)
"The decision… means that both sides won't be able to upgrade a patchwork of bilateral treaties…, Brussels warned that these bilateral deals "will inevitably age"… without the broader partnership treaty, "no new agreements… will be concluded." https://t.co/s1qsWHcMfq

— David Phinnemore (@DPhinnemore) May 27, 2021
Swiss abandon years of EU talks and reject treaty BBC (Kevin W)
Old Blighty
Brexit Britannia flotilla steams East Asia Times (Kevin W)
New Cold War
Roman Protasevich – Arrested In Belarus – Is A Western Government Financed Neo-Nazi Moon of Alabama (Chuck L)
Syraqistan
Loosening the Tie to Israel CounterPunch

Afghanistan's post-US conundrum is mutating Asia Times (Kevin W)
Big Brother is Watching You Watch
Drug dealer jailed after sharing a photo of cheese that included his fingerprints CNN (BC)

Oracle Peddled Software Used for Spying on U.S. Protesters to China Intercept
Imperial Collapse Watch
Surprise! Upgrading America's Nuclear Arsenal Will Be Stupefyingly Expensive Popular Mechanics (resilc)

How American Journalism Became a Mouthpiece of the Deep State American Conservative

America Dominant Again (in Arms Sales) TomDispatch
Trump
"They got the mother lode": Former federal prosecutor says grand jury has "everything" on Trump Salon

Are Trump's Scottish Golf Courses a Front for Money Laundering? Vanity Fair. A small corroborating detail: my brother and sister in law are master players at maximizing the value of frequent traveler points. They went on and on and on about how terrific (as in did not make sense economically) the deal they got at Trump Turnberry. It was way out of line with other hotel/resort packages.

What we know about grand jury in Trump probe The Hill. A more cautionary take.
Biden
Biden faces growing pressure to take action on antisemitism The Hill
GOP Civl War
GOP gambles with Pelosi in opposing Jan. 6 commission The Hill. Ahem, given the history of commissions, they should cooperate.
Gunman who killed eight co-workers at California transit facility knew victims well, mayor says CNN
Black Injustice Tipping Point
George Floyd sister says Biden broke promise on bill BBC (resilc)

Amy Cooper, White Woman Who Called 911 on Black Birder, Sues Over Firing New York Times (Kevin W). The last thing she should want to do is have this incident back in the press. Only reason I can fathom is she can't get a job at anything dimly approaching her old level, so she perceives she has little downside.
Police State Watch
Revisiting "Russiagate": If Trump was Putin's Asset, Why Did Obama Sign an NDAA that Enhanced Presidential Powers? Ghion Journal
Climate activists hail breakthrough victories over Exxon and Shell Financial Times (David L)
Judge Shopping in Bankruptcy Adam Levitin, Credit Slips
Catching up: McDonald's board members sued over 'lavish' $56 million severance for fired CEO Easterbrook Chicago Tribune in April and last week: McDonald's shareholders reelect board members despite criticism over ex-CEO's firing CNBC
Distribution of Bitcoin mining hashrate as of April 2021, by country Barry Ritholtz
Exclusive: Biden looks abroad for electric vehicle metals, in blow to U.S. miners Reuters (resilc)
Will NFTs Transform Tattoos Into Bankable Art? New York Times (Dr. Kevin)
Warren, Quarles spar over Fed role in banks' Archegos losses American Banker
Senate Prepping $10 Billion Bailout Fund for Bezos Space Firm Intercept. This is such a gimmie, why don't the Feds wind up owning a chunk?
Class Warfare
How the 1 percent's savings buried the middle class in debt Chicago Booth (Scott). This is based on the bogus loanable funds theory. Loans do not come out of pre-existing pool of savings. Loans create deposits. But at a 50,000 foot level, what this analysis highlights is worse: middle class debt slavery is strongly correlated with, and therefore likely directly connected to, the growing wealth of the super-rich.

There is no justification for cutting federal unemployment benefits Economic Policy Institute

Most executives say they want more contract and temp workers. A majority of those workers say that's not good enough. Business Insider

A New Crop in Pennsylvania: Warehouses New York Times (resilc)

Nearly 1 in 3 new stores opening in the US is a Dollar General https://t.co/UXBMahJdyB

ht @DionRabouin

Just following up on my last thread. This trend of lower end retailers is indicative of underlying economic distress

— Edward Harrison (@edwardnh) May 27, 2021
Antidote du jour. Tracie H: "A Desert Cottontail bunny joins the White-tailed Antilope Squirrels (AKA chipmunks) for a tasty meal of bird seed."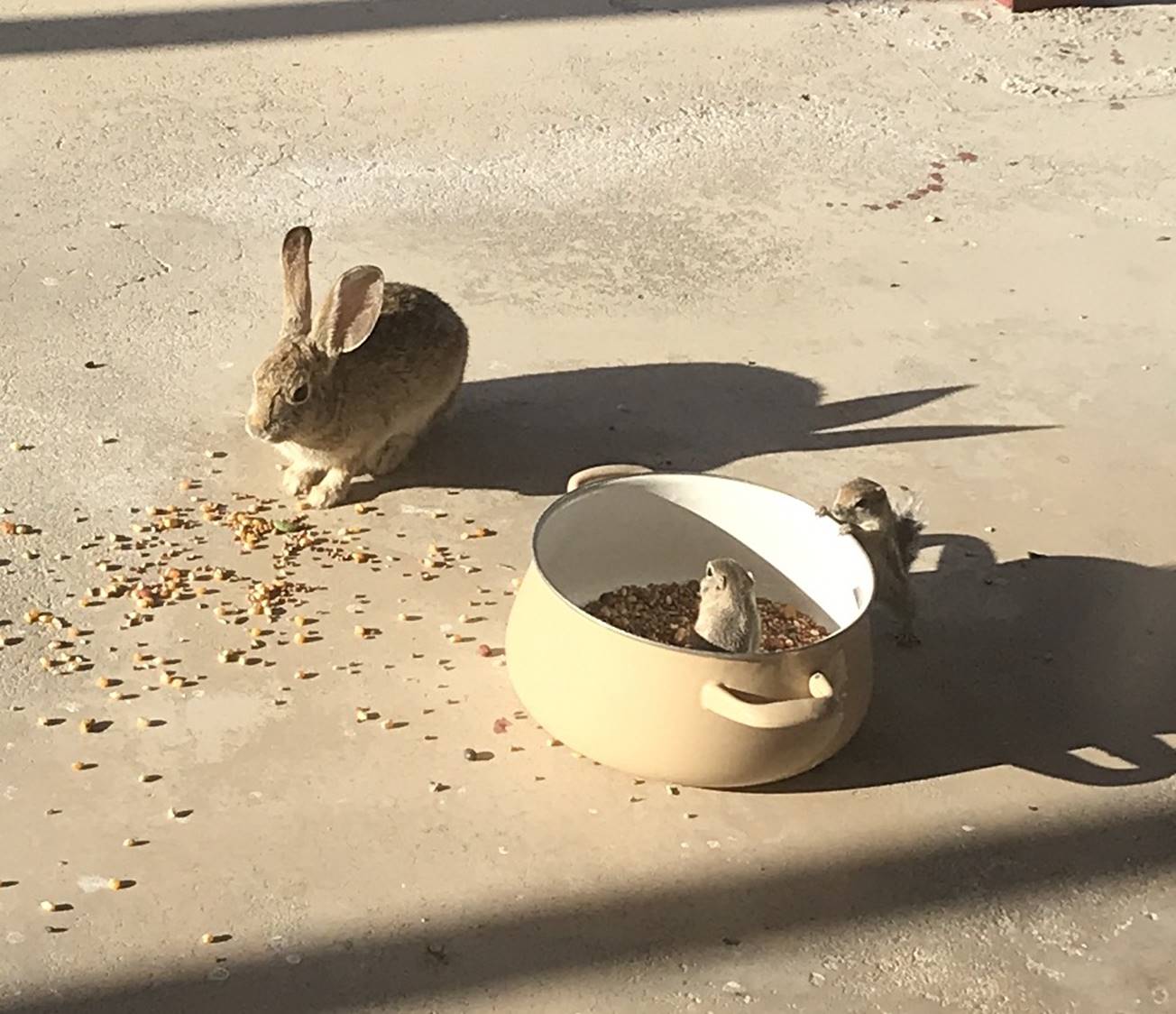 And a bonus (guurst):
Mother stork makes sure that chicks stay dry in spring rain in video shared by ecologist Anton Sasin. Nests for endangered Oriental storks are protected and monitored by the team of ecologists in the Russian Far East; the project is supported by regional WWF @wwfRU pic.twitter.com/4sP2YGffH0

— The Siberian Times (@siberian_times) May 25, 2021
See yesterday's Links and Antidote du Jour here.