I hate to have to belabor the obvious, but having seen first hand how shallow the notion of freedom of the press is in the US,1 it is instructive to watch the hissy fit and rapid moves to inflict punishment on Belarus for crimes against journalists (or rather a journalist) and forcing a passenger plane in its airspace to land. This story is the lead item in the Financial Times: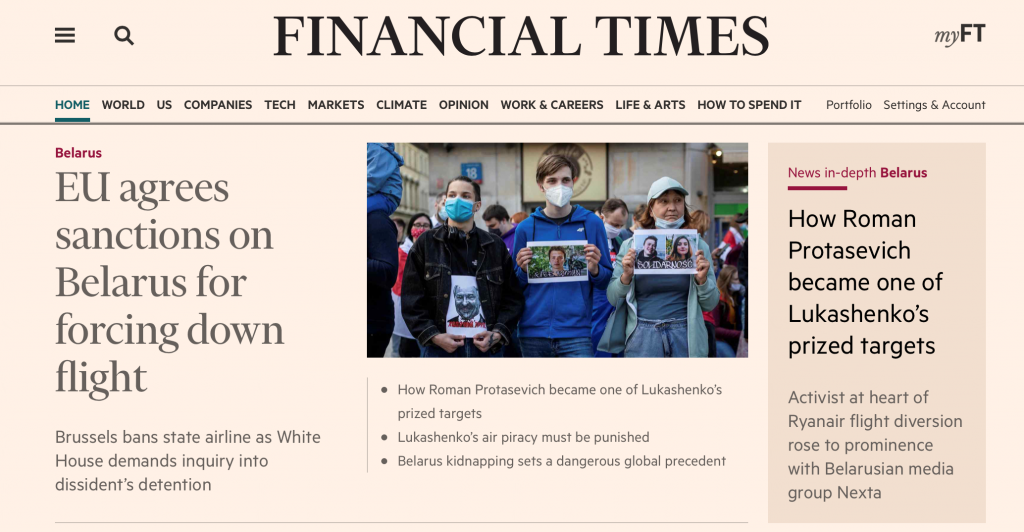 And getting plenty of attention in other major platforms:
European Union leaders have agreed on new sanctions against Belarus, including a ban on the use of EU airspace and airports, over its forced diversion of a plane to the capital of Minsk in order to arrest an opposition journalist. https://t.co/7EDDhdc7sf

— The Associated Press (@AP) May 24, 2021
Needless to say, this reaction came with impressive speed. By contrast, there admittedly was some consternation (or was it morbid interest?) about the butchering of Jamal Khashoggi, but no rush to impose sanctions, even though it was widely believed that Mohammed bin Salman authorized Khashoggi's execution.
Muhammad bin Salman used a bonesaw to silence Jamal #Khashoggi while #Erdogan used his police to silence Faruk Omar #Gergerlioğlu but make no mistake both Khashoggi and Gergerlioğlu were SILENCED! #Turkey #HumanRights pic.twitter.com/ckAenTRuMB

— @Hevallo (@Hevallo) April 6, 2021
The Saudis also threatened UN investigator Agnès Callamard.
Mind you, we are not saying the Belarus government is a nice lot. They did force a Ryanair flight from Athens to Vilinus carrying opposition leader/journalist Roman Protasevich and his partner Sofia Sapega to land. The pink paper suggests that Protasevich has been roughed up:
A pro-Lukashenko channel on the messaging app Telegram published the first footage of Protasevich since his arrest as the EU leaders were meeting. The activist appeared disheveled and said he was in a jail in Minsk but claimed he was being treated well, despite the bruises visible on his face.

"I am also co-operating with the investigation and giving evidence of my guilt in organising mass disturbances," he said. He faces 15 years in prison on the charges.
The US is apparently too convinced of its moral purity to see that we are in pot calling the kettle black mode. Our government is determined that Julian Assange rot in a dank pit for his sin of posting footage that showed US armed forces perpetrating a war crime. It's one thing to hear allegations, quite another to have the goods. That was compounded by his later sin of publishing allegedly hacked documents that Hillary Clinton believes were the fruit of Russian dastardliness and cost her the 2016 election.
Independent parties have no trouble seeing what is going on:
Exactly, Assange is guilty of journalism and truth.

— PaulShilly ?? (@shillcock_paul) April 11, 2019
And that's before getting to Assange having been a de facto prisoner in the Ecuadorian embassy for seven years, at a cost to his health, before being incarcerated in the UK, largely in punitive solitary confinement while awaiting trial, then being given the Hannibal Lecter treatment in court. This is the lot that sees fit to judge other countries on how they treat dissidents?
Glenn Greenwald is all over another layer of this hypocrisy, the consternation over the diversion of the Ryanair flight. As he points out in As Anger Toward Belarus Mounts, Recall the 2013 Forced Landing of Bolivia's Plane to Find Snowden:
U.S. and E.U. governments are expressing outrage today over the forced landing by Belarus of a passenger jet flying over its airspace on its way to Lithuania. The Ryanair commercial jet, which took off from Athens and was carrying 171 passengers, was just a few miles from the Lithuanian border when a Belarusian MiG-29 fighter jet ordered the plane to make a U-turn and land in Minsk, the nation's capital…

[Belarus' long-time authoritarian leader Aleksandr] Lukashenko's own press service said the fighter jet was deployed on orders of the leader himself, telling the Ryanair pilot that they believed there was a bomb or other threat to the plane on board. When the plane landed in Minsk, an hours-long search was conducted and found no bomb or any other instrument that could endanger the plane's safety, and the plane was then permitted to take off and land thirty minutes later at its intended destination in Lithuania. But two passengers were missing. Protasevich was quickly detained after the plane was forced to land in Minsk and is now in a Belarusian jail, where he faces a possible death sentence as a "terrorist" and/or a lengthy prison term for his alleged national security crimes. His girlfriend, traveling with him, was also detained despite facing no charges….

There is little doubt that the forced landing of this plane by Belarus, with the clear intention to arrest Protasevich, is illegal under numerous conventions and treaties governing air space. Any forced landing of a jet carries dangers…This act by Belarus merits all the condemnation it is receiving.

Yet news accounts in the West which are depicting this incident as some sort of unprecedented assault on legal conventions governing air travel and basic decency observed by law-abiding nations are whitewashing history. Attempts from U.S. officials such as Blinken and E.U. bureaucrats in Brussels to cast the Belarusians' behavior as some sort of rogue deviation unthinkable for any law-respecting democracy are particularly galling and deceitful.

In 2013, the U.S. and key E.U. states pioneered the tactic just used by Lukashenko. They did so as part of a failed scheme to detain and arrest the NSA whistleblower Edward Snowden. That incident at the time caused global shock and outrage precisely because, eight years ago, it was truly an unprecedented assault on the values and conventions they are now invoking to condemn Belarus….
Please read Greenwald's account in full. He gives a detailed history of the disgraceful diversion and 12 hour seizure of the plane of Bolivian president Evo Morales, including Morales himself. Morales had made the mistake, during an official visit to Russia, of saying Bolivia would be willing to give Edward Snowden asylum during the time when Snowden was holed up in the international transit zone in Moscow. Morales' jet was forced to divert not due to interception by a military plane, but by EU nations on its flight path revoking its right to use their air space. The presidential plane was forced to backtrack and make an unscheduled landing in Vienna, where it was boarded in violation of international law. He concludes:
None of what happened with this Morales incident has any bearing on the justifiability of what Belarus did on Sunday. That the U.S. and its E.U. allies committed a dangerous international crime in 2013 does not mitigate the criminal nature of similar actions by Belarus or any other country eight years later. The dangers of forcing down airplanes in order to arrest someone who is suspected to be on that plane are manifest. The danger increases, not decreases, as more countries do it.

But no journalist, especially Western ones, should be publishing articles or broadcasting stories falsely depicting Sunday's incident as an unprecedented assault that could be perpetrated only by a Russian-allied autocrat. The tactic was pioneered by the very countries who today are most vocally condemning what happened.
More incisive comments:
Western media solidarity against official Nato enemy Belarus in sharp contrast to media solidarity— with Nato ally Israel, and against AP journalists—after IDF deliberately bombed Gaza media center to "vent its frustrations".
This isn't amnesia, this is fucking dementia.

— Mark Ames (@MarkAmesExiled) May 24, 2021
And finally, from Craig Murray:
The USA, France, Spain, Portugal, Italy and Austria combined to force down President Eva Morales' jet in Vienna in 2013 after the CIA falsely reported whistleblower Edward Snowden was on board. The monumental cynicism of these nations in sanctioning Belarus for a directly comparable action is sickening, even by the standards of western hypocrisy. Indeed, to force down a Presidential jet covered by diplomatic immunity is a greater offence to international law than Belarus forcing down the Ryanair flight.

Both actions are wrong. You will excuse me also for pointing out that there is no sanction on Israel for targeting over 30 news organisations in Gaza and bombing them.

Perhaps I might go still further and mention that as I am about to go to jail for dissident blogging, I see the western powers as having limited moral authority to complain of Belarus jailing dissident bloggers?
This is not the behavior of confident leaders. Sadly, we have found you don't even have to rise to the status of being a dissident blogger to get on an official enemies' list.2
________
1 Some of the stories from the sorry PropOrNot episode:
2 H.R.1 (the "For the People Act") Legitimizes WaPo's McCarthy-ite PropOrNot "Reporting," Institutionalizes Ballot Marking Devices, and Cripples Minor Parties