By Lambert Strether of Corrente.
Patient readers, as usual I accumulated too much over the weekend to sort. More in a bit. –lambert UPDATE All done!
Bird Song of the Day
Lyrical!
* * *
#COVID19
At reader request, I've added this daily chart from 91-DIVOC. The data is the Johns Hopkins CSSE data. Here is the site.
I feel I'm engaging in a macabre form of tape-watching. I've been thinking of new charts to monitor to alert us to the next outbreak, assuming there is one, but for now, the data from the South means I'll stick to the status quo.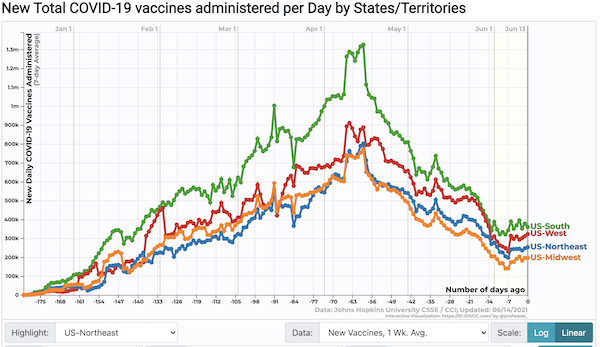 Now an uptick in the South That's unfortunuate, just as we're opening up.
Case count by United States regions: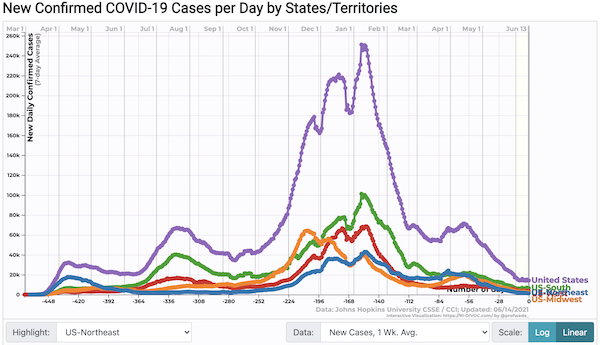 Continued good news, though perhaps the decrease is slowing a little?
Here are the case counts for the last four weeks in the South (as defined by the US Census: Alabama, Arkansas, Delaware, Florida, Georgia, Kentucky, Louisiana, Maryland, Mississippi, North Carolina, Oklahoma, South Carolina, Tennessee, Texas, Virginia, West Virginia, and the District of Columbia):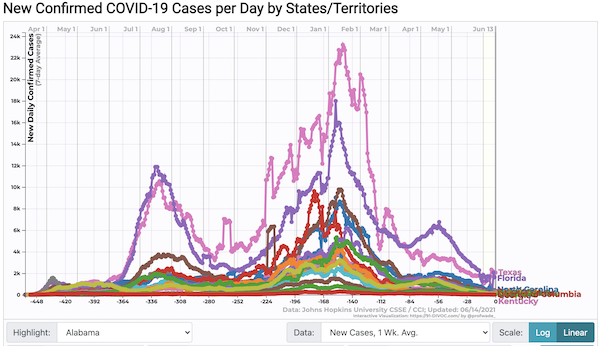 Looks to me like Florida, capital of Latin America, has joined Texas in breaking away from the pack.
Big states (New York, Florida, Texas, California):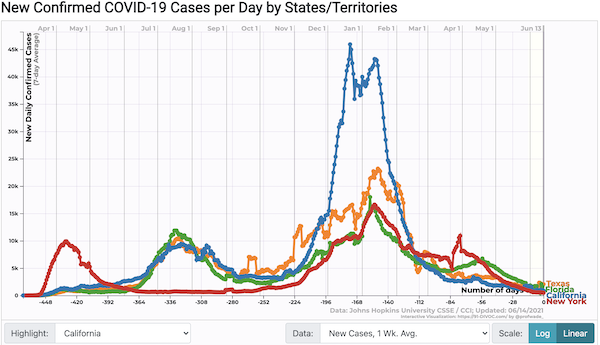 Not entirely good news.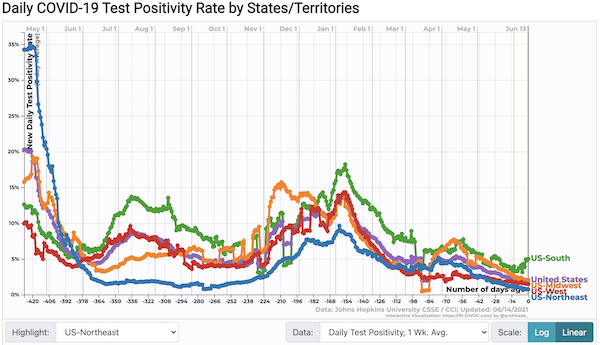 Up in the South,
Hospitalization (CDC):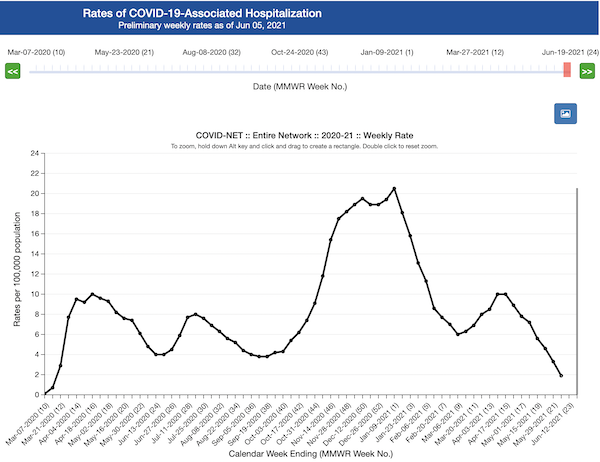 Continued good news.
Deaths (Our World in Data):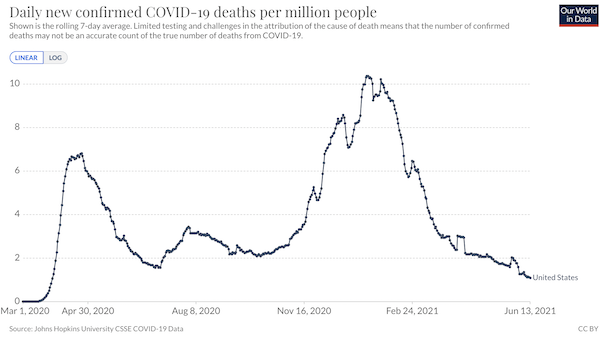 Continued good news.
Covid cases worldwide: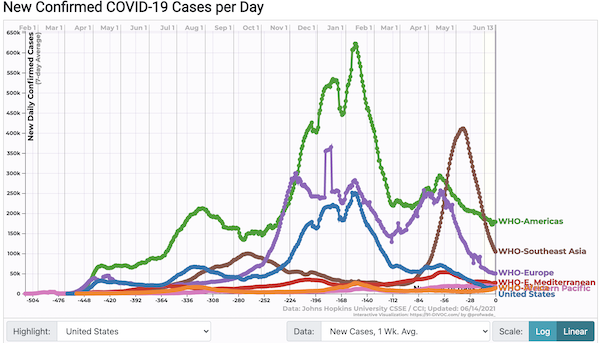 * * *
Politics
"But what is government itself, but the greatest of all reflections on human nature?" –James Madison, Federalist 51
"They had one weapon left and both knew it: treachery." –Frank Herbert, Dune
"They had learned nothing, and forgotten nothing." –Charles Maurice de Talleyrand-Périgord
Capitol Seizure
"Oregon House ousts GOP rep for helping protesters enter state Capitol" [The Hill]. "The Oregon House on Thursday voted 59-1 to expel Republican state Rep. Mike Nearman, who was accused of helping far-right protesters enter the state Capitol in December. The vote is the first time the legislative body has ejected a sitting representative…. [Nearman] simply said it is against the Oregon Constitution to close the state Capitol to the public and it was 'a place they had a right to be, a place the legislative assembly had no right to exclude them from.'… Oregon House Republican Leader Christine Drazan said the incident could have led to someone's death. '[Nearman] made a decision to intentionally come up with a plan to let people into the building [when] he did not know how that would turn out and he was comfortable with that,' Drazan said… 'I am not comfortable with that. There could easily have been a death on that day.'"
Biden Administration
Oh, dear:

Biden confuses Syria-Libya three times. He also appears to boast that Russia's inability to "provid[e] for the basic economic needs of people" in Syria is a point of US leverage. I assume he means the US sanctions that, like Biden, US media won't mention. pic.twitter.com/j0ui5K10ht

— Aaron Maté (@aaronjmate) June 13, 2021

"Biden to name Pulse Nightclub a national memorial" [USA Today]. "President Joe Biden said on the fifth anniversary of a mass shooting at the Pulse Nightclub in Orlando, Florida, that he will sign a bill naming the site as a national memorial. The deadliest attack on the LGBTQ community in U.S. history left 49 people dead and 53 people wounded as 'Latin Night' was being celebrated at the club. Biden said in a statement Saturday that he has 'stayed in touch with families of the victims and with the survivors who have turned their pain into purpose' and described the club as 'hallowed ground.'" • See Vox: "New evidence shows the Pulse nightclub shooting wasn't about anti-LGBTQ hate." But The Narrative is all-important, especially when it allows Biden to perform empathy.
Trump Legacy
"Biden's ex-COVID adviser faults Trump administration for "deadly sins" at start of pandemic" [CBS]. "In an interview with 'Face the Nation,' Slavitt said the country would have grappled with the pandemic last year regardless of who was in the White House, but detailed the three errors made by the prior administration: Former President Donald Trump's downplaying of the virus and its existence; his quashing of dissent from public health experts; and his stoking of divisions across the country."
Republican Funhouse
UPDATE "Maricopa County Audit Tests an Already Fractured Arizona GOP" [The Dispatch]. "[T]he real power lies with Randy Pullen, former chairman of the Arizona Republican Party and treasurer of the Republican National Committee. Pullen now serves as the Maricopa County audit liaison alongside fellow audit spokesman Ken Bennett, who previously served as president of the Arizona Senate and secretary of state of Arizona…. Pullen claims that the recount will be completed by the end of June. As of Wednesday, more than 1.7 million of the county's 2.1 million ballots have reportedly been counted…. . Audit organizers also aren't being shy about their long-term goals. 'What will come out of this is the entire process for how you do this large of an audit will be written up,' Pullen said. "It will be a plan that someone else can take and use as the basis for doing something similar to this.' The idea is already gaining traction among rogue Republicans in swing states. Three members of the Pennsylvania Senate toured Maricopa County's election site Wednesday and told reporters they plan to launch a similar audit in their own state…. Pullen later informed me that all of the volunteers for the audit have signed nondisclosure agreements and are prohibited from speaking with reporters." • Oh. Seems legit. Very good wrap-up.
Realignment and Legitimacy
UPDATE "Recall fever strikes California as angry voters take on politicians in large numbers" [Los Angeles Times]. "During the first five months of 2021, active recall efforts — those in which an official step has been taken — have targeted at least 68 local officials in California, according to a Times analysis. The total has already surpassed the number of local recall attempts seen during four of the last five years in California, according to Ballotpedia, a nonpartisan website that tracks American politics and elections…. The increase in recall attempts targeting local school board members has been "unprecedented," said California School Boards Assn. spokesperson Troy Flint. School board members account for two-thirds of the local officials targeted for recall this year, with many campaigns targeting multiple members of the same board. It's too soon to say whether the upswing in filed recall attempts will actually lead to more special elections later this year. More than a few of those 68 attempts have already fizzled. Several stalled out of the gate with filings that didn't meet election code standards, while others failed to gather enough signatures during the requisite timeline."

UPDATE "Column: Why the Democrats' voting rights bill will fail and what they can do about it" [Doyle McManus, Los Angeles Times]. "HR 1's collapse comes at a time when electoral democracy is under threat. Republican-controlled state legislatures are still passing new laws to make it harder to vote. So it's time to stop mourning HR 1, which has always been a long shot, and start thinking about what needs to happen next…. First, Senate Majority Leader Charles E. Schumer of New York should take Manchin at his word that he genuinely wants to pass bipartisan voting reforms, and ask him to convene his vaunted negotiating group of 20 Senate centrists to work on them…. Second, Democrats should expand a second election reform measure, the John Lewis Voting Rights Advancement Act, which Manchin says he supports. The bill would update the 1965 Voting Rights Act, which required states with a history of racially discriminatory laws to seek Justice Department approval for new election rules. The Supreme Court effectively gutted the law in 2013, but left room for Congress to pass an improved, updated version…. Third, and perhaps most urgent, Congress needs to make it harder for anti-democratic politicians to overturn the results of the next presidential election. That means rewriting the 1877 Electoral Count Act, a once-forgotten but justly maligned statute that Trump tried to use last year to block the certification of Joe Biden's electoral vote….The law allows state legislatures to overrule their own voters in the event of a 'failed election,' without defining what a failed election might be." • More auto-kinbaku-bi. The Democrats tied themselves up in knots by refusing to put a horse's head in Manchin's bed and abolish the filibuster, gaining an enormous jouissance of helplessness, as they so often do. McManus offers some sensible ways out, so we'll see if anything comes of it. I doubt it. This addresses the "failed election" issue–

UPDATE "What Happens When Republicans Simply Refuse to Certify Democratic Wins?" [David Atkins, Mother Jones]. "So what happens in 2024 if President Biden or Vice President Harris win the Electoral College, but local Republicans on county boards with majority Democratic votes refuse to certify the election; when state legislatures who have seized control of certification refuse to certify their state tallies; when a potential Republican majority in the House of Representatives refuses to certify the Electoral College tally? What happens when they refuse to certify Democratic wins in purple state Senate races, throwing control of the Upper Chamber into limbo and chaos? What happens if Biden/Harris wins the popular vote by 8 million votes and 30 electoral college votes, only to see Republicans in states like Georgia and Wisconsin decide that their GOP legislatures will send electors for Trump or Tucker Carlson or Josh Hawley instead? What happens if Democrats legitimately add to their lead in the Senate, only to see Republicans refuse to certify those tallies as well, keeping GOP Senators in place for the next session?" • I must say that the Democrat Party establishment body language is pretty relaxed about all this. As BradBlog comments:

How Years of Dem Inaction on Election Integrity Opened the Door to Phony GOP 'Fraud' Claims: Today's #BradCast

Guest: Election integrity advocate @jennycohn1 with callers ringing in…

FULL STORY, LISTEN: https://t.co/rwYg1mtZag pic.twitter.com/oloq7FQoLO

— Brad Friedman (@TheBradBlog) May 25, 2021

"An SUV rammed into protesters in Minneapolis, killing one and injuring another. Then protesters yanked the driver out." [CBS]. "A vehicle drove into a group of protesters in Minneapolis late Sunday night, injuring two, and one of them later died at a hospital, police said. The motorist may have been under the influence of drugs or alcohol, according to investigators. The demonstration was the latest in the Uptown neighborhood since a Black man wanted on a firearms possession charge was shot and killed there by law enforcement earlier this month." • The shot man's name was Winston Smith, which is a little too on-the-nose.

"The Delusions of the Radical Centrist" [Eric Levitz, New York Magazine]. One cheer for Lindism: "Lind's worldview has its insights. His contention that democracy is hollow in the absence of working-class organization is empirically sound and badly underemphasized in elite discourse. His insistence that America's "meritocracy" is a "mostly hereditary class system" is similarly well-founded. And his account of the college-educated's near-monopoly on social power in contemporary society is edifying. It is easy for urban professionals to take our preeminence in the mainstream media, popular culture, and Democratic Party for granted. But our disproportionate cultural and (within blue America) political power is real and historically novel." But: "Nevertheless, Lind's insistence that America's dominant class is a (vaguely defined) professional elite — rather than a smaller cohort of ultrarich capitalists — is tendentious at best. And this is far from the only defect in his political analysis." • Well, the Kossacks work for the Czar. This isn't hard.

"TWISTED SOURCES: How Confederate propaganda ended up in the South's schoolbooks" [Facing South]. • Propaganda works. And Joseph Goebbels would be proud of the work that the United Daughters of the Confederacy did.

Cults:

Like the Qstuff we can all easily see that's culty or at least having lots in common with weeping, pleading Protestant sects. But the stuff in Patagonia zip-ups promising eternal future prosperity with equally empty but more business school grad friendly vocabulary? Not so much.

— John Leavitt 🌹 (@LeavittAlone) April 10, 2021
Stats Watch
Inflation: "United States Consumer Inflation Expectations" [Trading Economics]. "Median year-ahead inflation expectations in the US jumped for the 7th straight month to a new record high of 4 percent in May of 2021. Expectations also went up for home price and rent price changes, earnings, income, and spending growth. Meanwhile, median inflation expectations at the three-year horizon increased to 3.6 percent from 3.1 percent, the second-highest level ever. The increase at both horizons is particularly pronounced among respondents age 60 and over and among those with a high school degree or less."
* * *
Marketing: "Are advertisers coming for your dreams?" [Science]. "[B]rands from Xbox to Coors to Burger King are teaming up with some scientists to attempt something similar: "Engineer" advertisements into willing consumers' dreams, via video and audio clips. This week, a group of 40 dream researchers has pushed back in an online letter, calling for the regulation of commercial dream manipulation. 'Dream incubation advertising is not some fun gimmick, but a slippery slope with real consequences,' they write on the op-ed website EOS. 'Our dreams cannot become just another playground for corporate advertisers.' Dream incubation, in which people use images, sounds, or other sensory cues to shape their nighttime visions, has a long history. People throughout the ancient world invented rituals and techniques to intentionally change the content of their dreams, through meditation, painting, praying, and even drug use. Greeks who fell ill in the fourth century B.C.E. would sleep on earthen beds in the temples of the god Asclepius, in the hopes of entering enkoimesis, an induced state of dreaming in which their cure would be revealed. Modern science has opened a whole new world of possibilities. Researchers can now identify when most people enter the stage of sleep where much of our dreaming takes place—the rapid eye movement (REM) state—by monitoring brain waves, eye movements, and even snoring. They have also shown that external stimuli such as sounds, smells, lights, and speech can alter dreams' content. And this year, researchers communicated directly with lucid dreamers—people who are aware while they are dreaming—getting them to answer questions and solve math problems as they slept. 'People are particularly vulnerable [to suggestion] when asleep,' says Adam Haar, a cognitive scientist and Ph.D. student at the Massachusetts Institute of Technology who co-authored the letter." • But… the money!
The Bezzle: "Airbnb and Vrbo are teaming up to shut down repeat party house offenders" [CNBC]. "Airbnb and Vrbo, Expedia's home-sharing unit, are teaming up to combat repeat 'party house' offenders. The companies announced Friday they're developing the Community Integrity Program, an industrywide collaboration to share information on removed listings and strengthen action against repeat offenders They're asking other short-term rental industry companies to join the program, which is intended to launch in the U.S. in the coming months." • Took them long enough.
The Bezzle: Go back to your other day job:
Study:

• 1992-2006, >75% of all day-traders quit w/i 2 years
• Negative Aggregate performance of all traders over 15-years.
• Only 1 out of 100 day traders earned profits over time

Are ya feeling lucky? https://t.co/ZbCQ3U2ce0 pic.twitter.com/1BmW5OP8BY

— Barry Ritholtz (@ritholtz) June 12, 2021
The Bezzle: "'Fiat is Immoral, Evil Money': 3 Days in Miami with the Bitcoin Faithful" [Decrypt]. "More than 12,000 of them paid for tickets to the two-day conference ($1,500 for standard tickets, $19,795 for "Whale Passes" that come with an extra day of networking and a few VIP parties), and an estimated 50,000 people descended on the city for the weekend, with or without tickets to the conference. It's the biggest in-person event Miami has hosted since before COVID-19 lockdown, and the biggest Bitcoin conference ever."
Tech: "What are you legally allowed to say at work? A group of fired Googlers could change the rules." [Recode]. "The National Labor Relations Board (NLRB), the US's top enforcer of labor rights, just expanded its complaint against Google to include three more fired Google workers. Those former employees say the company retaliated against them for protesting its work with US Customs and Border Protection (CBP)… The NLRB first filed its complaint against Google in December 2020, saying the company was "interfering with, restraining, and coercing employees" who were exercising their legal rights to discuss workplace issues with their colleagues, including firing two employees. In an amended complaint filed this Wednesday, the San Francisco regional office of the NLRB stated Google was similarly in the wrong for firing three other employees involved in workplace organizing around the same time… Meanwhile, tech companies such as Coinbase and Basecamp have tried to quell internal debate by banning political discussion at work entirely. But the Google NLRB case shows that when politics are inherently intertwined with a company's business — something that often applies to tech companies when their services are used globally by billions of people, including national governments and world leaders — those boundaries can blur. Generally, employees don't have a constitutional right to free speech at work. But under US labor law, companies are not allowed to punish workers for discussing wages or working conditions in what's called "protected concerted activity." Typically, though, the type of activities that are protected are ones that more obviously relate to the terms of workers' employment, like asking for better shifts or refusing to work in an unsafe environment. In this case, the three Google workers being added to the complaint, all software engineers, were not asking for higher wages or longer lunch breaks. Instead, they were protesting work that they viewed as unethical."
Manufacturing: "Ascend by Cirium Weekly Team Perspective: Boom – is it all just noise?" [Cirium]. "The big news item last week was the announcement that United Airlines had agreed to purchase 15 Boom Overture Supersonic Transport (SST) aircraft. There are huge technical, financial, environmental and certification challenges for Boom, and it is an arguably strange decision from an airline that has recently made much of its environmental and sustainability targets…. At Mach 1.7 the Overture cannot be scheduled for two round-trip transatlantic flights per day. Time zones mean a regular 7pm departure from New York would arrive at London at 4am. Thus the extremely high purchase price ($200 million?) will be spread over comparatively low monthly utilisation of perhaps 2,000-2,500 hours a year. In summary, it seems extremely doubtful a new SST will enter service this decade. Instead the technological focus is likely to remain on reducing fuel burn and retaining the flexibility to deal with future business cycles and shifts in demand." • Interesting!
The Economy: "Seven High Frequency Indicators for the Economy" [Calculated Risk]. For example, travel: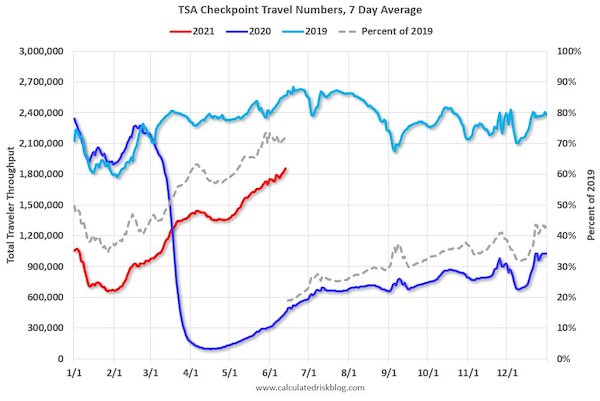 The Fed: Monetary policy and the labor market?
電車を動かす副業してる pic.twitter.com/fZRU9k7I8n

— 天下のちゃんゆき@ばなもん (@yuki_banamon) June 12, 2021
* * *
Today's Fear & Greed Index: 52 Neutral (previous close: 54 Neutral) [CNN]. One week ago: 49 (Neutral). (0 is Extreme Fear; 100 is Extreme Greed). Last updated Jun 14 at 12:50pm. Still stuck in neutral!
Rapture Index: Closes up one on drought. "Several nations are suffering from drought conditions" [Rapture Ready]. Record High, October 10, 2016: 189. Current: 187(Remember that bringing on the rapture is a good thing, so high is better.)
The Biosphere
"Newly detailed nerve links between brain and other organs shape thoughts, memories, and feelings" [Science]. "But new studies have shown signals carried by vagal fibers climb beyond the brainstem, revealing a broad interoceptive network in the brain that interprets internal changes, anticipates the body's needs, and sends commands to fulfill them. The network includes brain regions involved in more complex cognition, which means the nerves monitoring the body's basic workings also respond to—and influence—how we remember, process emotion, and even construct our sense of self." • So much for mind-body separation?
Health Care
It's beyond ridiculous that YouTube/Google is playing this role, in general and in this particular case:
In this tweet YouTube is spreading deadly misinformation. It is creating the false impression that Ivermectin is ineffective against COVID. The evidence is discussed in the video. If there is disagreement on the evidence discussion is required. #FollowTheSilence #CensorshipKills https://t.co/uF7BjZ3tRP

— Bret Weinstein (@BretWeinstein) June 12, 2021
YouTube flipflopped on the lab leak theory, and within months. But it's not that YouTube shouldn't be playing the censor; it's that they shouldn't exist at all. They should be broken up, along with the other platforms.
Our Famously Free Press
"Why Has Local News Collapsed? Blame Readers." [Politico]. "In 2009, just as the apocalypse befell the newspaper industry but while local news was still in relative abundance, many readers gave it an apathetic shrug. A Pew Research Center survey from that year found that an astonishing 42 percent said they would miss their paper 'not much' or 'not at all' if it vanished. They said this even though 74 percent conceded that civic life would suffer 'a lot' or 'some; if their local newspaper died. Their apathy ultimately expressed itself in financial terms…. For all the praise directed at local news and the importance of preserving it, the dirty secret of today's newspapers is that there's not all that much local news coverage to save anymore. A 2018 Duke University study of 16,000 local news outlets (including broadcasters) in 100 communities deemed only about 17 percent of articles as truly local (i.e., they took place in or were about the local municipality), and just over half were hard news. Another 2018 finding by Pew revealed that only 16 percent of Americans get their news "often" from a newspaper, further lowering the status of the press. Another marker of how scarce local news has become: Last year, when Facebook went prospecting for local news to include in a new section called 'Today In,' it found that one in three of its users lived in places where there wasn't enough local news published to sustain the section. 'New Jersey was the worst place for finding local news on Facebook, with 58 percent of users unable to do so on any day in the last month,' Recode reported. Maybe what the Pew respondents were really saying is you can't miss what's already gone." • It's really, really hard to believe that there's no local news in New Jersey. (I'm also not sure I agree with the thesis. The Patch network, late of AOL, exists. Currently they are in 1254 communities. Now, whether any of the Patch sites are hard-hitting scandal sheets I don't know, but their stories are always as good as the wires. So maybe Political, Pew, etc., aren't looking in the right places.
"The Podcasting Hype House From Hell" [The Verge]. "But with Vincer and the hype house, Himalaya got more than it bargained for. In less than a year, what was intended to be a schmoozy haven for creators turned into a perplexing world of cocaine, dog poo, and unpaid bills, according to more than a dozen people who spoke with The Verge. All the stories centered on one man: Vincer…. t'sIt's simultaneously easy and incomprehensible to understand how Vincer has lasted in the industry for years. He's charismatic, funny, and has conviction on whatever he's selling you. Plus, he's fun — if you're the type of person who likes partying with your boss." • Turns out that the Chinese money (Himalaya) was smaller and dumber than hyped….
The Conservatory
Several readers mentioned Drive-By Truckers in yesterday's Musical Interlude on The Clash, so herewith:
The Tube
"Mare's Hair" [Los Angeles Review of Book]. The lead: "I have consulted with several friends and we all agree that Mare's roots index a year or two of neglect, max. What happened?" This is really great. Since I don't watch TV, I can't speak of the show ("Mare of Easttown"), but I must admit that as a guy I never would have thought of this angle (which does seem to be worth looking at, given the rest of the critique). Well, the light bulb goes on, I guess!
Imperial Collapse Watch
"4 Toilet Habits From Around The World (That Will Surprise The Average American)" [Cracked]. As opposed to most toilet paper-heavy cultures, many parts of Mexico have a strict 'no flushing TP; rule. Instead, 'used' scraps of toilet paper are to be discarded in a trash can like all the other scraps. The reason for this is obvious. Mexico isn't exactly flush with sanitation funds — and that public project money has an easier time finding its way into someone's pocket than in their pipes. As a result, public sewer systems have such old and frail poop chutes they easily strain under the weight of a few wadded-up balls of paper. What's less obvious is why Mexico, but also many other places like Greece, Beijing, Ukraine, and Egypt, have nevertheless clung to toilet paper… But all of these countries have something else in common aside from having to handle their wastebaskets wearing Medieval plague beaks; they're all victims of "sanitary imperialism." As former colonies or poor neighbors of the U.S. and the UK, they were prime targets of these world powers' push to make their pooping habits the world standard in the early twentieth century. Through world fairs, model homes and, most importantly, the moving pictures, the West threw its flush toilets ticker tape parades and touted them as one of the benchmarks of a civilized society. Unfortunately for those nations on the periphery of this influence sphere, America forgot to mention that their old sewer systems were in no way compatible with the new model — thereby creating a double system far too expensive to adapt in either direction– a unique kind of frustration felt only by the people of Mexico and anyone who has ever upgraded to a new Macbook."
Class Warfare
"What the Rich Don't Want to Admit About the Poor" [Ezra Klein, New York Times]. "The truth of our politics lies in the risks we refuse to accept, and it is rising worker power, not continued poverty, that we treat as intolerable. You can see it happening right now, driven by policies far smaller and with effects far more modest than a guaranteed income."
"Why The New Yorker's Stars Didn't Join Its Union" [New York Times]. "[Editor David Remnick] has tried to be reassuring, even as the prospect of putting out the print magazine without editorial staff members looms. No matter what happens, Mr. Remnick told writers on one recent Zoom call, he would not ask them to cross virtual picket lines." • But perhaps they would, all on their own. Love me, love me, love me, I'm a labor aristocrat…
News of the Wired
America is back!
holy shit I think we have hit peak Crappy Cheapo! pic.twitter.com/iXRDbmO48H

— Crappy Cheapo Architecture (@CheapoCrappy) June 10, 2021
Avoiding a collision:
— people who died but are doing well (@jamorreram0) June 8, 2021
* * *
Readers, feel free to contact me at lambert [UNDERSCORE] strether [DOT] corrente [AT] yahoo [DOT] com, with (a) links, and even better (b) sources I should curate regularly, (c) how to send me a check if you are allergic to PayPal, and (d) to find out how to send me images of plants. Vegetables are fine! Fungi and coral are deemed to be honorary plants! If you want your handle to appear as a credit, please place it at the start of your mail in parentheses: (thus). Otherwise, I will anonymize by using your initials. See the previous Water Cooler (with plant) here. Today's plan (lyman alpha blob):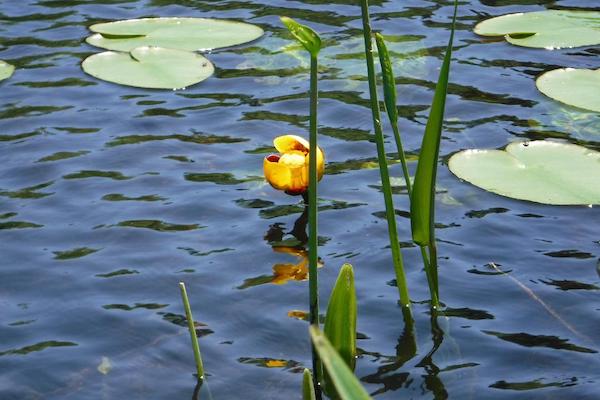 lyman alpha blob writes: "More water lilies from Maine." A symbol of enlightenment…
* * *
Readers: Water Cooler is a standalone entity not covered by the recently concluded and — thank you! — successful annual NC fundraiser. So if you see a link you especially like, or an item you wouldn't see anywhere else, please do not hesitate to express your appreciation in tangible form. Remember, a tip jar is for tipping! Regular positive feedback both makes me feel good and lets me know I'm on the right track with coverage. When I get no donations for five or ten days I get worried. More tangibly, a constant trickle of donations helps me with expenses, and I factor in that trickle when setting fundraising goals:
Here is the screen that will appear, which I have helpfully annotated.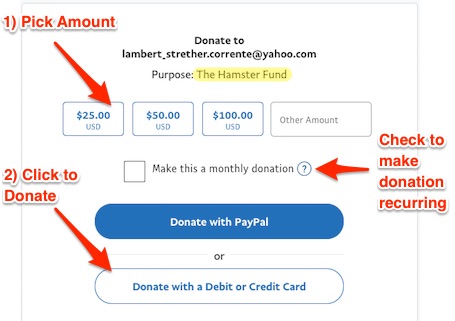 If you hate PayPal, you can email me at lambert [UNDERSCORE] strether [DOT] corrente [AT] yahoo [DOT] com, and I will give you directions on how to send a check. Thank you!2:00PM Water Cooler 6/8/2021