By Lambert Strether of Corrente.
Bird Song of the Day
Extended solo.
"'Terribly scary' situation as birds die, go blind in D.C. area" [Bird Watching]. "In the last 10 days, people in the Washington, D.C., metro area have been reporting increasing numbers of sick, blind, injured, and dead birds. For the most part, they have been juvenile Common Grackles, European Starlings, and Blue Jays. 'Eye issues were reported in what otherwise looked like healthy juvenile birds, causing blindness and the birds to land and stay on the ground,' said the Animal Welfare League of Arlington in a statement. 'Animal Control is now seeing additional species of birds affected. Other agencies and localities across the region and state are reporting similar issues.' City Wildlife, a wildlife rehab nonprofit in Washington, said on its blog that the eye issues lead to "blindness and neurological problems affecting the birds' balance and coordination. Other regional agencies are reporting the same, as well as many dead fledglings. Some people commenting on Facebook and elsewhere speculate that people are spraying chemicals to deal with the current cicada emergence and that may be impacting the birds. There is absolutely no reason to spray cicadas, as the Animal Welfare League of Arlington said on Twitter." • In a related post: "Wildlife experts in Washington, D.C., and nearby states say they have not identified the cause of recent deaths of many birds in the region, but they are encouraging the public to temporarily cease feeding birds to avoid the potential spread of disease at feeders." • Readers, have any of you noticed something similar in your area?
* * *
#COVID19
At reader request, I've added this daily chart from 91-DIVOC. The data is the Johns Hopkins CSSE data. Here is the site.
I feel I'm engaging in a macabre form of tape-watching. I've been thinking of new charts to monitor to alert us to the next outbreak, assuming there is one, but for now, the data from the South means I'll stick to the status quo.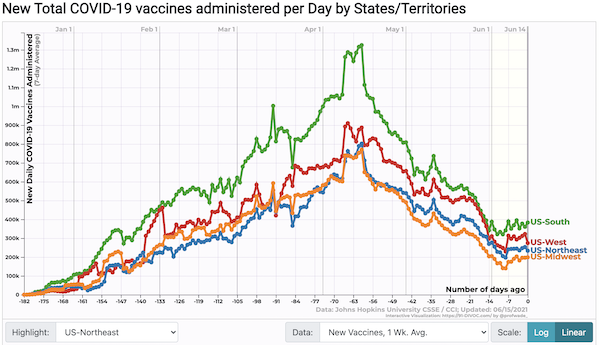 Up and down, up and down, with a trendline that's slighly up.
Case count by United States regions: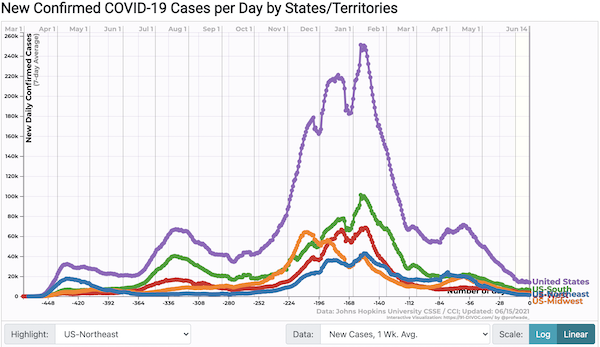 Case decline has now clearly flattened.
Here are the case counts for the last four weeks in the South (as defined by the US Census: Alabama, Arkansas, Delaware, Florida, Georgia, Kentucky, Louisiana, Maryland, Mississippi, North Carolina, Oklahoma, South Carolina, Tennessee, Texas, Virginia, West Virginia, and the District of Columbia):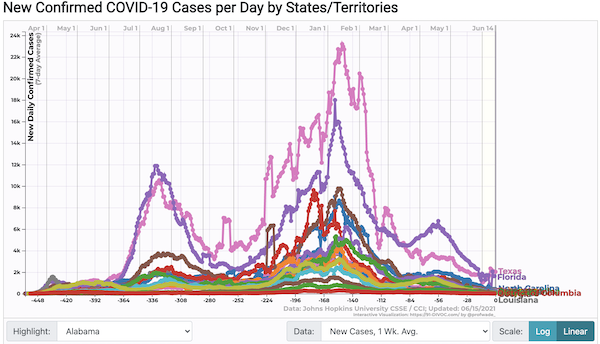 Florida, capital of Latin America, has joined Texas in breaking away from the pack.
I've been yammering about Texas and Florida for a few days, and now we have some stories:
TX: "Texas COVID hospitalizations increase as Delta variant spreads and vaccination rate remains flat" [WFAA]. "The new Delta variant of COVID-19 first discovered in India and responsible for India's outbreak is growing across the U.S. and Texas. Last week, it made up 2% of cases in the CDC's Southwest region, which includes Texas. Now it's up to 10%…. The weekly average of COVID hospitalizations in Texas has gone up four days in a row, which hasn't happened since mid-April. The current hospitalization level, 1,571 patients, is still far below the state's peak, but Sims says the deadly winter the state and country just experienced should be a lesson to not wait until the spread gets worse…. Texas vaccinations have slowed, though, with 46% of eligible Texans fully vaccinated, one of the lowest rates in the country. The U.S. is now unlikely at its current pace to meet President Biden's goal of 70% of Americans vaccinated by July 4."
FL: "Florida's first weekly-only COVID-19 report shows increase" [News4Jax]. "orida just changed how it reports COVID-19 cases, deaths, testing rates and vaccination data from daily to weekly, calling it a transition from an emergency response to a more traditional public health response. The Department of Health's first weekly-only report, released Friday afternoon, showed 12,157 new cases of coronavirus among Florida residents, 10.5% increase in cases over the week ending June 4…. County vaccination rates range from a high of 67% in Sumpter County, home of The Villages, to a low of 27% in rural Baker and Union counties. Clay County's rate is 39%; Duval's is at 45%, Nassau is at 48% and St. Johns County's rate is 59%."
FL: "Despite highest rate of COVID-19 infection in NE Florida, Baker County residents saying no to vaccine" [News4Jax]. "State data show 3,557 Baker County residents have had COVID-19 cases and there was an 8.8% positivity rate among people tested within the county in the past week — the highest rate of coronavirus infection in the region and among the highest in Florida….. Most of the Baker County residents who spoke with News4Jax on Saturday said they aren't getting the shot. Some people said they don't feel comfortable with the vaccine. One person told News4Jax now that most everything has reopened, they don't feel a need to get it. 'They believe that their body is a temple and a vessel and they have a right not to take the shot just as well as a person that wants to take the shot has the right to take the shot,' one resident said."
Big states (New York, Florida, Texas, California):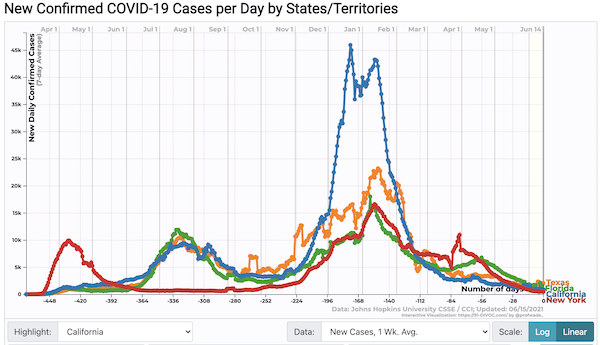 Not entirely good news.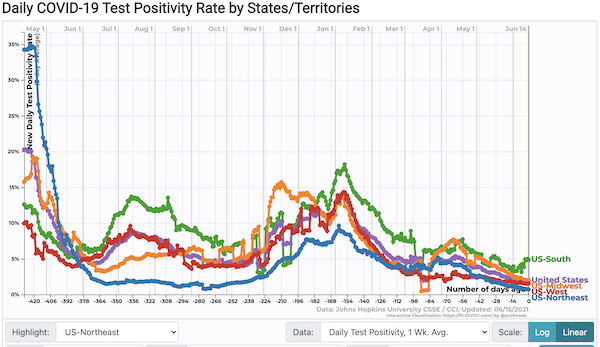 Up in the South,
Hospitalization (CDC):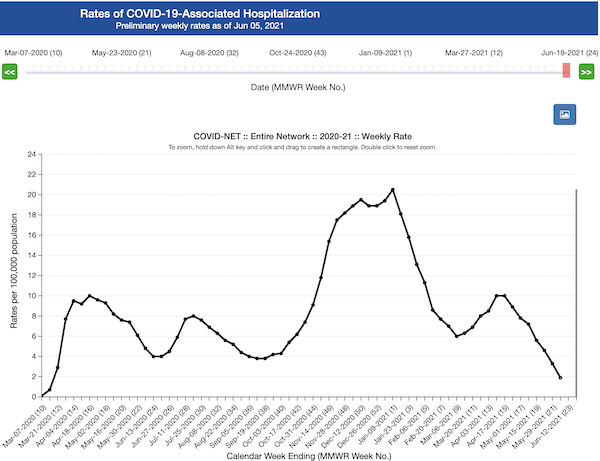 Continued good news.
Deaths (Our World in Data):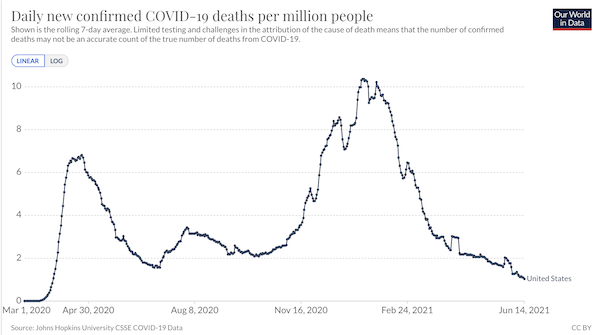 Continued good news.
Covid cases worldwide: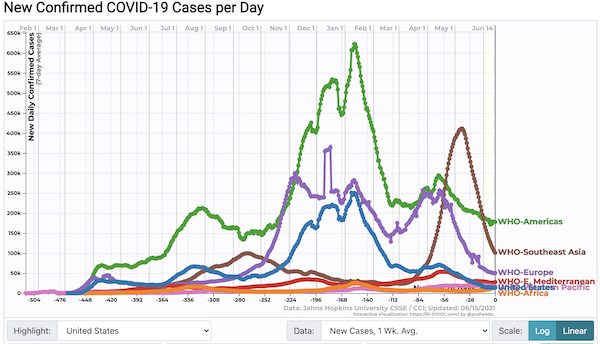 Monroe Doctrine countries not doing so hot.
* * *
Politics
"But what is government itself, but the greatest of all reflections on human nature?" –James Madison, Federalist 51
"They had one weapon left and both knew it: treachery." –Frank Herbert, Dune
"They had learned nothing, and forgotten nothing." –Charles Maurice de Talleyrand-Périgord
Biden Administration
Biden runs late for his G7 presser. AP:

President Biden is now 2.5 hours late to his news conference at NATO. No explanation yet from aides.

— Jonathan Lemire (@JonLemire) June 14, 2021

And NBC:

President Biden is more than 2 hours late to his NATO news conference. No explanation from the White House for the extended delay. pic.twitter.com/SN3JbgH5He

— Peter Alexander (@PeterAlexander) June 14, 2021

"Ukrainian tweet scrambles Biden's press conference" [Politico]. "Just before President Joe Biden started his news conference Monday, Ukraine President Volodymyr Zelensky tweeted that NATO agreed that his country could join the alliance…. Biden was running late, two hours late, and the tweet suddenly what could be causing a delay." • "Appeared" means Politico doesn't even have a source; they're making excuses for the guy. Come on. Two-and-a-half hours? If Jed Bartlett was held up for two hours, no matter the issue, it would be worth a whole West Wing episode. And then there's this–

"Biden Repeatedly Mixes Up Names Of 2 Countries During G-7 Speech" [HuffPo]. "President Joe Biden raised eyebrows on Sunday when he repeatedly mixed up the names of two countries during a news briefing at a summit of world leaders in the United Kingdom. Biden referred to Syria as Libya three times in the span of 90 seconds while speaking about potential areas where the United States can partner with Russia despite the countries' fraught relationship."

And then there's this:

After pool holds for nearly two hours, Biden and Erdogan sit silently in front of cameras

Biden eventually says "we had a very good meeting."

When told press couldn't really hear him, he said "because I didn't say anything."

Nothing else. No other words before pool moved out pic.twitter.com/VbqSNW01V7

— Jonathan Lemire (@JonLemire) June 14, 2021

Lambert here: I try not to do armchair diagnosis. That said, Biden is frail; I remember the video of an aide clearly leading him in the 2020 primaries. Biden can rise to the occasion, and for hours at a time (as debates, meetings, and speeches show). But there are other times when he does not. And we can be 100% certain that the press will cover for him, as Politico did here (think back to the way the lid was slammed on the Hunter Biden story). Something to monitor…

* * *

It's certainly odd that President-in-Waiting Kamala Harris was in South Carolina, and not at G7:

"Is he dead yet?" pic.twitter.com/Md8TLNpZ75

— Dan Wright (@DanSWright) January 22, 2021

We didn't say "the late Joe Biden." We said "Biden's late." Calm down.
Stats Watch
Manufacturing: "Industrial Production: "May 2021 Headline Industrial Production Improves" [Econintersect]. "The headlines say seasonally adjusted Industrial Production (IP) improved month-over-month – and remains in expansion year-over-year due to comparison to the recession period one year ago. Our analysis shows the three-month rolling average improved."
Manufacturing: "June 2021 Empire State Manufacturing Index Declines" [Econintersect]. "The Empire State Manufacturing Survey index declined but remained in expansion….This report is considered a little worse than last month."
Inflation: "May 2021 Producer Price Final Demand Inflation Continues To Rise" [Econintersect]. "The Producer Price Index (PPI) year-over-year inflation increased from +6.2 % to +6.6%."
Retail Sales: "Headline Retail Sales Slowed in May 2021" [Econintersect]. "Retail sales slowed according to US Census headline data. The three-month rolling average improved. Year-over-Year growth also declined due to the reopening after the lockdown period one year ago."
Housing: "April 2021 CoreLogic Single-Family Rents: Single-Family Rent Growth Rate More Than Doubles Year Over Year in April" [Econintersect]. "The Single-Family Rent Index (SFRI) shows a national rent increase of 5.3% year over year, up from a 2.4% year-over-year increase in April 2020. While rent growth dipped significantly last April at the start of the pandemic, rising affordability issues and supply shortages in the for-sale housing market and ongoing demographic pressure from aging millennials have continued to place upward pressure on the single-family rental market — leading to the largest annual rent price increase in nearly 15 years in April 2021."
* * *
Commodities: "Column: A nickel refinery tops U.S. battery metals wish list: Andy Home" [Reuters]. "But the Department of Energy (DOE) has identified Class 1 nickel, the type best suited to lithium-ion batteries, as both key vulnerability and key opportunity. The United States is import-dependent across the spectrum of battery metals with large parts of the supply chain captured by China, a problematic international trading partner. However, the nature of the dependency differs by mineral, starting in the ground. The United States, for example, 'has lithium resources and domestic corporations well-versed in recovery and refinement globally', according to the report [commissioned by the Biden administration]. The ambition, therefore, is to stimulate more domestic mining and, even more importantly, domestic processing through a potential mix of purchasing guarantees, federal funding and research and development into enhanced recovery technology. … When it comes to nickel, however, the only active U.S. mine – Eagle in Michigan – is due to retire in 2025 and domestic deposits are small and low grade. There is no domestic nickel processing capacity outside a limited amount of by-product salt production. Yet this particular battery metal is the one likely to experience the most significant demand increase over the coming years, the report says, with 'market indications that there could be a large shortage of Class 1 nickel in the next 3-7 years.'"
Commodities: "Chlorine Shortage Hits Pool-Happy America" [Bloomberg]. "Planning to float around in a pool? Well, there's also a shortage of the chlorine tablets that are commonly used to zap parasites and prevent algae from growing in the water. So prices are soaring there, too. The chlorine squeeze is especially acute because Americans are more pool-happy than ever. Demand for pool upgrades and new construction skyrocketed during the pandemic as stuck-at-home consumers focused their spending power on sprucing up their backyards. Even pool owners who didn't do any extra work started using their pools more; what else was there to do? The trend was a big help to the industry: Pool Corp., a distributor of maintenance supplies and related products, generated a record $3.9 billion in revenue in 2020. The chlorine market likely would have been able to keep up were it not for a fire at a BioLab chemical plant in Louisiana last August in the wake of Hurricane Laura, Stuart Baker, vice president of business development at Hayward, said in a phone interview. The damage rendered the plant inoperable, taking out a facility responsible for a significant portion of the popular chlorine tablets produced for the U.S. market. There are few alternative domestic sources of supply, and Chinese imports are complicated by freight issues fouling up other parts of the global supply chain and U.S. tariffs, industry experts say. About two-thirds of the 5.2 million residential in-ground pools in the U.S. use traditional chlorine systems, and that means the problem will affect the vast majority of pool owners, Baker said. But few consumers seem aware of the issue." • General practioners beware, if pool water isn't sanitized.
Shipping: "If You Thought The Ever Given Blocking The Suez Canal Was Bad, What's Coming Could Be Worse" [Forbes]. "The container ship Ever Given blockage of the Suez Canal earlier this year attracted global attention to how disruptions to maritime trade routes could impact global supply chains. But recent Covid-19 outbreaks in southern China, Southeast Asia, and Taiwan are threatening to cause more pain as their effects ripple through supply chains over the next few weeks and months. A Covid-19 outbreak led to a five-day traffic halt for inbound container deliveries to the Yantian International Container Terminal in Shenzhen at the end of May. Yantian is the largest container terminal in the Pearl River delta, and one of the largest in the world. It has natural deep-water berths that can handle the largest container ships like the Ever Given… The outbreak led to a shutdown of the west side of the terminal, though it continued to operate at around 30% of its overall capacity. Last year they told me that their worst truck backup stretched 20 kilometers. Recent reports of extensive traffic backups suggest that this time it might have been even worse. At times as many as 40 container ships were waiting for a berth, which reminds us of the back-ups this year on inbound ships at the Ports of Los Angeles and Long Beach…. All this news tells us that the world's supply chain woes are not over, and more broadly, that the Covid-19 pandemic is not over. Until all the world is vaccinated and gets the contagion under control, we can expect continued disruption and surprises." • And then, of course, there's the next pandemic. I'm not sure how to short tight coupling, but it might be a good idea. Maybe somebody who actually plays the ponies can suggest something.
Shipping: "The Ever Given Crew Are Still Stuck at Sea" [Foreign Policy]. "All over the world, seafarers endure the same tragic fate: stuck on their ships, sometimes for years, because shipowners and governments can't solve their disagreements. Sometimes, they're eventually turned over to authorities after committing no crimes. They're the hidden victims of the world's increasing dependence on shipping…. For crews in limbo, stuck really means stuck: Although a seized or abandoned vessel is typically anchored at a harbor, crews are not allowed to leave it. And the situation is worse for crews of abandoned ships, who have no idea when they'll be released from their floating prisons. As long as they remain on board, the ship's owners should technically pay them, although unscrupulous owners typically have no intention of paying their abandoned ships' crews even if they do stay on board….. The International Labour Organization's database of abandoned vessels contains countless such stories." • I'm not sure crews are the victims of something as abstract as "dependence."
Manufacturing: "Millions of sleep apnea devices recalled over cancer risks" [The Hill]. "Leading global medical device company Phillips issued a major recall Monday for several of its ventilator products amid reports of health risks associated with use of its devices…. Some of the possible health risks reported to Phillips included headaches, inflammation, respiratory issues and toxic and carcinogenic effects and other irritations. The devices that are under recall are the Phillips Bi-Level Positive Airway Pressure (Bi-Level PAP), Continuous Positive Airway Pressure (CPAP) and mechanical ventilator devices featuring polyester-based polyurethane (PE-PUR) sound abatement foam. Devices with the PE-PUR foam could disintegrate into particles which enter the device's air pathway and be inhaled by the user, exposing the individual to possible harmful chemicals. Both devices focus on treating sleep apnea."
Supply Chain: "The Real Solar-Panel Price Crisis Hasn't Begun Yet" [Bloomberg]. "Panel modules that cost $1,870 per kilowatt in 2010 were changing hands for $163 per kW last year, turning photovoltaic, or PV, power from an expensive curiosity into a technology that's remaking the energy system…. That trend has come juddering to a halt in recent months. The price of panel modules is up nearly 15% so far this quarter. If that continues, it would represent only the seventh quarter out of the past 45 when prices have failed to decline. An industry whose growth model is predicated on continually falling costs is having to cope with its first bout of inflation. Raw materials are to blame. Prices for polysilicon, the shiny, semi-metallic substance from which both solar panels and computer chips are made, have been surging as stepped-up plans for renewable installations crash into the supply chain problems of a global economy awakening from Covid-19. At $29.41 a kilogram, PV-grade polysilicon is now as expensive as it's been since 2012, and costs nearly three times its $10.57/kilogram price at the end of last year."
Supply Chain: "Girl Scouts have millions of unsold cookies" [NBC]. "The Girl Scouts have an unusual problem this year: 15 million boxes of unsold cookies. The 109-year-old organization says the coronavirus — not thinner demand for Thin Mints — is the main culprit. As the pandemic wore into the spring selling season, many troops nixed their traditional cookie booths for safety reasons. The impact will be felt by local councils and troops, who depend on the cookie sales to fund programming, travel, camps and other activities. The Girl Scouts normally sell around 200 million boxes of cookies per year, or around $800 million worth. By early spring, when troops usually set up booths to sell cookies in person, U.S. coronavirus cases were still near their peak. Hundreds of girls opted not to sell cookies in person. Online sales and even a delivery partnership with Grubhub failed to make up the difference."
* * *
Today's Fear & Greed Index: 52 Neutral (previous close: 54 Neutral) [CNN]. One week ago: 49 (Neutral). (0 is Extreme Fear; 100 is Extreme Greed). Last updated Jun 14 at 12:50pm. Still stuck in neutral!
The Biosphere
"Drought is here to stay in the Western U.S. How will states adapt?" [NBC]. "Water is increasingly scarce in the Western U.S. — where 72 percent of the region is in "severe" drought, 26 percent is in exceptional drought, and populations are booming. Insufficient monsoon rains last summer and low snowpacks over the winter left states like Arizona, Utah and Nevada without the typical amount of water they need, and forecasts for the rainy summer season don't show promise. This year's aridity is happening against the backdrop of a 20-year-long drought. The past two decades have been the driest or the second driest in the last 1,200 years in the West, posing existential questions about how to secure a livable future in the region. It's time to ask, "Is this a drought, or is it just the way the hydrology of the Colorado River is going to be?" said John Entsminger, the general manager of the Southern Nevada Water Authority."
"Looming California Heat Wave May Strain Electricity Supplies" [Bloomberg]. ""Triple-digit heat" is expected to begin Tuesday and last through June 18, though it's not expected to trigger rolling blackouts like those that left more than a million Californians in the dark last August, the California Independent System Operator said Friday. Demand for electricity will likely surge enough that the agency advised power plant operators to defer scheduled maintenance, starting Wednesday afternoon."
"Human-food feedback in tropical forests" [Science]. "When modern humans occupied all tropical forests (13,000 to 45,000 years ago), they began to alter the natural processes that shaped these ecosystems . As human societies accumulated knowledge, practices, and technologies, they spread domesticated species and landscapes. For instance, the Brazil nut tree (Bertholletia excelsa) has been cultivated by Indigenous peoples for millennia and today is a dominant species in the Amazon basin. In Amazonia, many forests are also dominated by pequi and pequia trees (Caryocar spp.) with signs of domestication (2, 6). In South America, and later in Central America, cacao has been cultivated for more than 5000 years, which has led Theobroma cacao to dominate many forests. Araucaria seeds have also been cultivated in the Brazilian Atlantic Forest, which expanded the distribution of Araucaria angustifolia (10). The same happened with many arboreal species that have edible fruits and seeds in other tropical forests: in Africa with coffee seeds of Coffea spp., oil palm groves of Elaeis guineensis, and locust beans of Parkia biglobosa, and in Borneo and Papua New Guinea with sago palm (Metroxylon sagu), breadfruit (Artocarpus spp.), pandanus nuts, and marita red fruits (Pandanus spp.). Tropical forests are therefore centers of polyculture agroforestry, where numerous edible arboreal species have been cultivated. These areas are also centers of plant domestication, where globally important staple crops originated, such as maize, manioc, yams, and bananas. ." • As shown back in 2005 in Charles C. Mann's wonderful 1491, in the chapter on Amazonia (see NC on Mann and edible forests here).
Health Care
"Was Trump right about hydroxychloroquine all along? New study shows drug touted by former president can increase COVID survival rates by 200%" [Daily Mail]. "The authors of the new report state: 'We found that when the cumulative doses of two drugs, HCQ and AZM, were above a certain level, patients had a survival rate 2.9 times the other patients. 'By using causal analysis and considering of weight-adjusted cumulative dose, we prove the combined therapy, >3 g HCQ and > 1g AZM greatly increases survival in Covid patients on IMV and that HCQ cumulative dose > 80 mg/kg works substantially better.'" • Patients on ventilators. I'm not sure about this, simply because so many of the studies done to refute HQs claimed effectiveness as a prophylactic were done in hospitals. Irrelevant to that use case, but relevant here.
"Health Ministry drops ivermectin, hydroxychloroquine from COVID-19 treatment guidelines" [Business Today]. India. "The Directorate General of Health Services (DGHS), under the Health Ministry, has dropped drugs such as hydroxychloroquine, ivermectin, doxycycline, zinc and multivitamins that were earlier prescribed by doctors to asymptomatic or mildly symptomatic COVID-19 patients from the revised guidelines issued by it for treatment of infection. However, the new guidelines have not been approved by the Indian Council of Medical Research yet. The revised guidelines said no medication is required for asymptomatic cases, while anti-pyretic and anti-tussive medicines have been prescribed for symptomatic relief in mild COVID-19 cases."
"Risks when trying to optimize a Complex System (any Complex System) : Global vaccination during a pandemic might not be such a good idea…" [systems perestroika – éminence grise]. "The Bossche paper can be found here. The gist of the paper is that it might be a very bad idea to force an extremely fast paced vaccination program upon the entire population of the world, *during* an ongoing pandemic – the overall result of such a strategy might end up being a virus that learns how to defeat *all* human immune system defense mechanisms. Basically, an arms race where the virus eventually will break the last remaining component of human immune defense. At which point the entire human race is in really deep sh*t." • Well, we're hardly vaccinating the "entire population of the world." So that's alright, then. Some responses to Bossche here and here.
The Conservatory
Reminds me of my model trains:
#acid #experimentalmusic #eurorack #techno #electronicmusicproducer #modularsynth #synthesizer #tb303 #tr909 pic.twitter.com/zgDCccHeXR

— Adam (@_re_verse_) June 14, 2021
Sports Desk
"He Made Sticky Stuff for MLB Pitchers for 15 Years. Now He's Speaking Out." [Sports Illustrated]. The deck: "Aces texted him and hurlers across baseball used his "stuff." After the Angels fired him, this clubhouse attendant wants to know why he's the lone fall guy." • Well, somebody's got to be the lone fall guy. Seems like baseball is like everything else: "Criminal behavior incentivized at the highest level," as Matt Stoller put it this morning. Of course, doctoring the ball isn't criminal; it's only a pervasive form of cheating. But still.
Black Injustice Tipping Point
"Forget what you know about 1619, historians say. Slavery began a half-century before Jamestown" [USA Today]. "ST. AUGUSTINE, Fla. For David Nolan, watching the nation commemorate the 400 year anniversary of the first arrival of slaves from his home here in the United States' oldest city is frustrating. Nolan, a local historian, author and civil rights activist, insists it only advances a false, racist belief that Englishmen founded America and created the system of slavery that defined this country. 'It makes me want to scream,' says Nolan. 'Tou're robbing black history.' The truth is Spaniards settled in St. Augustine, Florida, with enslaved blacks more than a half-century before any arrived in Jamestown, Virginia, in 1619 aboard a ship captured by English pirates. Historical records document the presence of black slaves dating back to their arrival in what was known as Spanish Florida in 1565. They built military forts, hunted food, cut wood and later even created a settlement for freed blacks, Fort Mose. But the influence and significance of the Spanish on the country's founding was ignored and lost as English laws, language and culture established a stronghold in the new nation."
At least one Union soldier knew exactly what slavery was and opposed it:
wiped out of Existence and men of pure motives settle the land where they can live in peace with their fellow man and may peace soon be restored to our land."

Took my breath away when I read this diary entry the first time. Still does.#civilwar #northwon #shenandoahcampaign pic.twitter.com/Ftg6N4pwkT

— Ⓥ📝⚖️ (@BadSeedBooks) June 15, 2021
"Why Confederate Lies Live On" [The Atlantic]. At the Whitney Plantation in Louisiana: "Did the white visitors, I asked [Yvonne, the site's director of operations], experience the space differently from the Black visitors? She told me that the most common question she gets from white visitors is 'I know slavery was bad … I don't mean it this way, but … Were there any good slave owners?' She took a deep breath, her frustration visible. She had the look of someone professionally committed to patience but personally exhausted by the toll it takes. 'I really give a short but nuanced answer to that,' she said. 'Regardless of how these individuals fed the people that they owned, regardless of how they clothed them, regardless of if they never laid a hand on them, they were still sanctioning the system … You can't say, 'Hey, this person kidnapped your child, but they fed them well. They were a good person.' How absurd does that sound?' But so many Americans simply don't want to hear this, and if they do hear it, they refuse to accept it. After the 2015 massacre of Black churchgoers in Charleston led to renewed questions about the memory and iconography of the Confederacy, Greg Stewart, another member of the Sons of Confederate Veterans, told The New York Times, 'You're asking me to agree that my great-grandparent and great-great-grandparents were monsters.'" • Hmm. This whole article is well worth a read.
News of the Wired
I am not wired today. Maybe tomorrow!
* * *
Readers, feel free to contact me at lambert [UNDERSCORE] strether [DOT] corrente [AT] yahoo [DOT] com, with (a) links, and even better (b) sources I should curate regularly, (c) how to send me a check if you are allergic to PayPal, and (d) to find out how to send me images of plants. Vegetables are fine! Fungi and coral are deemed to be honorary plants! If you want your handle to appear as a credit, please place it at the start of your mail in parentheses: (thus). Otherwise, I will anonymize by using your initials. See the previous Water Cooler (with plant) here. Today's plant (Bob or Janet):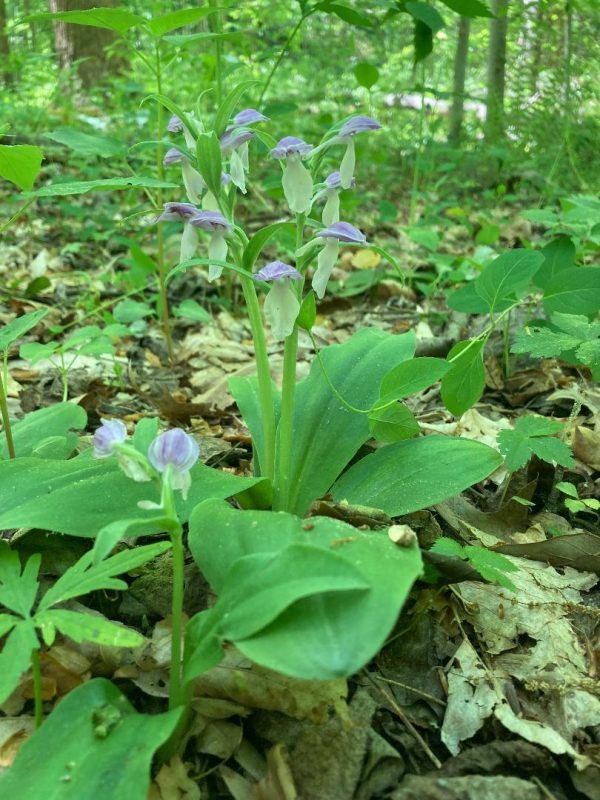 * * *
Bob or Janet writes: "A rather large showy orchis, on a south facing slope in northern Virginia."
Readers: Water Cooler is a standalone entity not covered by the recently concluded and — thank you! — successful annual NC fundraiser. So if you see a link you especially like, or an item you wouldn't see anywhere else, please do not hesitate to express your appreciation in tangible form. Remember, a tip jar is for tipping! Regular positive feedback both makes me feel good and lets me know I'm on the right track with coverage. When I get no donations for five or ten days I get worried. More tangibly, a constant trickle of donations helps me with expenses, and I factor in that trickle when setting fundraising goals:
Here is the screen that will appear, which I have helpfully annotated.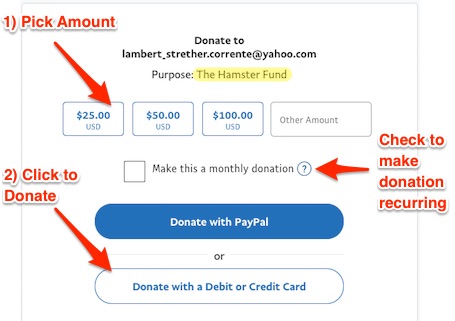 If you hate PayPal, you can email me at lambert [UNDERSCORE] strether [DOT] corrente [AT] yahoo [DOT] com, and I will give you directions on how to send a check. Thank you!2:00PM Water Cooler 6/8/2021