By Lambert Strether of Corrente.
Bird Song of the Day
Another bird species spotted in Russia — [waves!] — but this audio is from the Portugal. It's hard to believe there's a species called the "Thick Knee." With barking dog.
* * *
#COVID19
At reader request, I've added this daily chart from 91-DIVOC. The data is the Johns Hopkins CSSE data. Here is the site. I feel I'm engaging in a macabre form of tape-watching….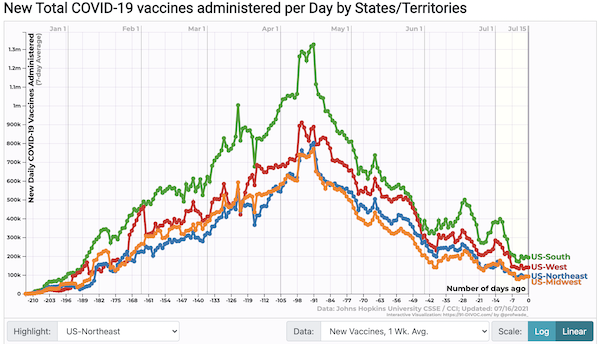 Flattened, interestingly. This after only 48% of the US population is fully vaccinated. And our public health establishment has discredited non-pharmaceutical interventions like masking, and has been fighting treatment tooth and nail, as hard as they fought aerosols, good job.
Case count by United States regions: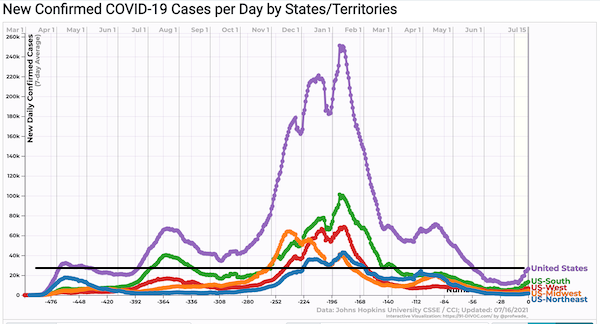 Every day, the non-triumphalist black line goes a little higher. We should know the impact of travel and all the family gatherings by July 4 + 14 call it July 21 or so. And of course summer camp, Bible School, etc. (Note that these numbers are if anything understated, since the CDC does not collect breakthrough infections unless they involve hospitalization, and encourages states and localities not to collect the data either.)
MN: "A St. Paul postal worker begged for stronger COVID protections. She ended up spending 6 weeks in the hospital" [Minnesota Public Radio]. The headline is deceptive. This is the story: "According to the USPS' official count, about 200 of the St. Paul facility's 1,500 employees have fallen sick with COVID-19. But state Health Department records obtained by ProPublica show that the Postal Service often missed or didn't disclose cases. The state tracked clusters of cases linked to the St. Paul building, many of which do not show up in the USPS' count…. As ProPublica and the USPS inspector general later detailed, the USPS doesn't have enough health care staff to identify and quarantine every exposed worker. The inspector general also reported that the agency had no strategy to fill those roles. At the time, 21 percent of the USPS' nurse positions were vacant. The nurses are responsible for interviewing sick workers, doing contact tracing to identify exposed workers and clearing people to come back to work."
Covid cases top ten states: for the last four weeks (hat tip, alert reader Lou Anton):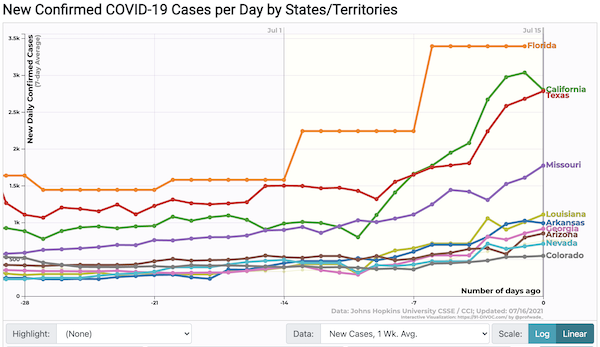 Missouri coming up on the outside.
NEW From CDC: "Community Profile Report July 15 2021" (PDF), "Rapid Riser" counties, this release: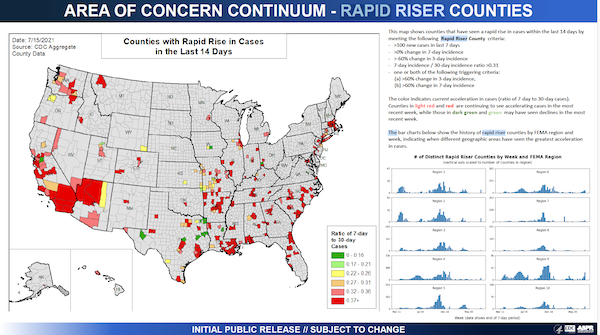 Last release: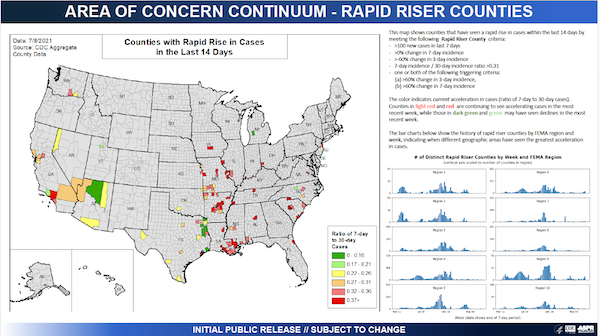 (Red means getting worse, green means bad but getting better. This chart updates Tuesdays and Fridays, presumbly by end-of-day.)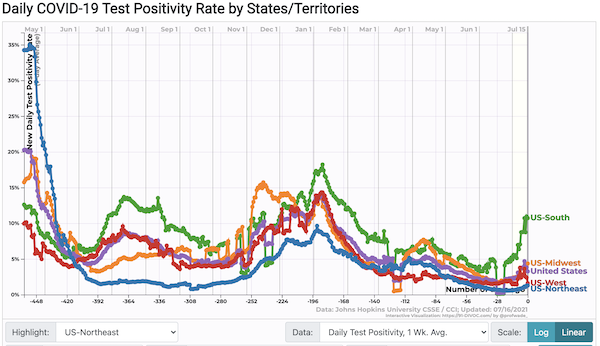 South running away with the field.
Hospitalization (CDC):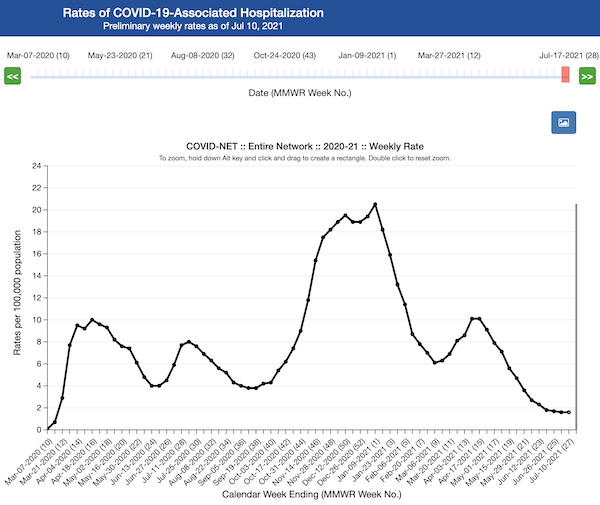 No bad news yet.
Deaths (Our World in Data):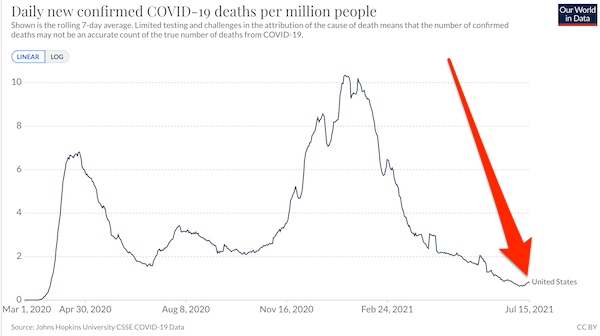 Bad news.
Covid cases worldwide: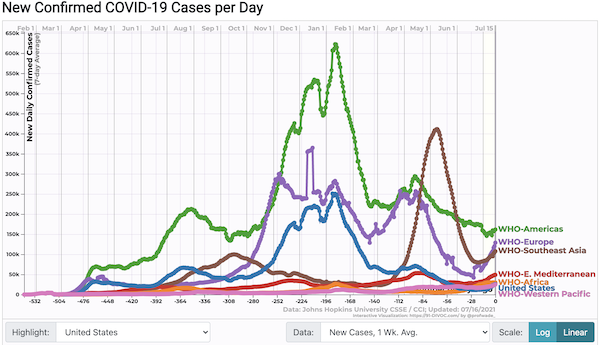 Every region is trending up.
* * *
Politics
"But what is government itself, but the greatest of all reflections on human nature?" –James Madison, Federalist 51
"They had one weapon left and both knew it: treachery." –Frank Herbert, Dune
"They had learned nothing, and forgotten nothing." –Charles Maurice de Talleyrand-Périgord
Biden Administration
"GOP messaging guru Luntz advised Biden's Covid task force" [Politico]. "'The cable networks in particular were using language that was not helping the cause,' Slavitt said in an interview. '[Luntz's] whole point is that, you hear CNN say 'Republicans, conservatives aren't getting vaccinated, they're vaccine hesitant.' It becomes a self-fulfilling prophecy and it creates a wedge, it talks down to people. And that was not helpful.' … While Slavitt said Luntz's research was useful, he also said that the framework he provided was one the White House had already been adopting. In the end, it solidified their belief that a hyper-local strategy to encourage vaccinations — which included having doctors reach out to their patients about the vaccine — was the right one…. 'I don't know why they came up with this strategy, I don't know why they recommended it. The likelihood of success is extremely low,' said Luntz. 'You have to either know the person or trust a person. Someone who shows up at your door isn't someone you know or trust.'" • Anyhow, cable and the cable-adjacent are still doing exactly the same thing, which is not likely to be forgotten, and it doesn't seem that Luntz and the White House meshed all that well. I do give points for effort, however!

"Press Briefing by Press Secretary Jen Psaki and Surgeon General Dr. Vivek H. Murthy, July 15, 2021" [The White House]. Psaki: "We're flagging problematic posts for Facebook that spread disinformation. We're working with doctors and medical professionals to connect — to connect medical experts with popular — with popular — who are popular with their audiences with — with accurate information and boost trusted content. So we're helping get trusted content out there…. [W]e have empowered, engaged, local voices, because they are often the most trusted voices — doctors, medical experts, clergy — you know, people who are members of — civic leaders in communities." Oh, so the "trusted voices" are funded. Good to know.

Lambert here: If what the White House is doing now had been in place in early 2020, anything other than the following conventional wisdom from "trusted sources" would have been censored: Travel bans don't work (they do), masks are not needed (they are), and covid is transmitted by touch (it's airborne). For example, here is what the "trusted voices" were saying when Covid in the United States was just getting rolling:

One of my faves is this highly coordinated pile-on of "experts" & media gaslighting abt risk of covid while ppl were literally dropping dead in streets of China, Iran etc. They all knew, but wanted to make sure you were more worried abt flu, during the flu season that never was! pic.twitter.com/teX37qi5qc

— Dana Parish (@danaparish) July 15, 2021

Anything else would be "disinformation," and censored. IMNSHO, the aerosol thought collective never would have caused the paradigm shift to airborne transmission under Psaki's regimen, because a lot of that war was conducted on Twitter. The pushback on aerosols from WHO, CDC, the infection control and public health communities was extraordinary, but if they had managed to get the Federal government to declare that aerosol transmission advocacy was misinformation, that would have stopped the shift cold. And a lot of lives would have been lost.

"Child tax credit payments started hitting bank accounts today. Here's what you need to know." [NBC]. "Most of the roughly 39 million families who are eligible have filed taxes recently or received stimulus checks and do not need to take any additional steps to receive the monthly benefit. But an estimated 4 million to 8 million eligible children are at risk of missing out because their families are not required to file taxes or they have not done so. Non-filing households tend to be more vulnerable and the most in need of assistance. And although the Biden administration has rolled out a number of online portals where families can update their information, cumbersome government websites, language and technology barriers, and a general lack of public awareness threaten the impact of the program." • Using the Internal Revenue Service for this purpose is a kludge. Though I grant building a new system is something we probably cannot do. So here we are.

"Senate nears pivotal vote on bipartisan infrastructure deal that's still unwritten" [Politico]. "The Senate left town Thursday with the fate of a bipartisan infrastructure package uncertain, despite Majority Leader Chuck Schumer's attempt to force it forward by advancing a floor vote next week. Schumer has scheduled the vote for next Wednesday, a hardball tactic Democrats hope will allow them to pass President Joe Biden's domestic agenda before the August recess. But negotiators face several outstanding issues, both on funding mechanisms and spending priorities…. Several Senate Republicans read Schumer's Wednesday vote as an effort to sink the bipartisan talks, given the absence of legislative text and the likelihood that members will not yet have a score from the Congressional Budget Office by Wednesday. 'Why in the world would you vote for something that hasn't been written yet,' asked Sen. John Cornyn (R-Texas), a McConnell confidante. 'I don't know whether Sen. Schumer is just setting this all up to fail so he can then move to the budget. That may part of his Machiavellian scheme.'"

"Student loan forgiveness: Biden promise to forgive $10,000 in debt remains unfulfilled" [Yahoo Finance]. "Joe Biden's campaign website for the 2020 presidential election stated that a President Biden would "forgive a minimum of $10,000/person of federal student loans," which would erase all of the student debt for 15 million of the nearly 45 million American borrowers. Nearly six months into his presidency, that promise remains unfulfilled." • Pissant to begin with, and now less than that. Idea: I could put the six hundred bucks Joe Biden owes me toward my student loan!
Democrats en Deshabille
UPDATE "A Massachusetts Democrat Flush With Pharma Cash Echoes Industry Talking Points" [HuffPost]. "The group of centrist Democratic lawmakers who announced their concerns in May about H.R. 3, House Democrats' prescription drug affordability bill, featured plenty of the usual suspects, including Rep. Scott Peters (D-Calif.), who received the seventh-most contributions from pharmaceutical industry PACs and led an unsuccessful pressure campaign to stop the Biden administration from supporting a waiver of international patent rules for the COVID-19 vaccine. But politics watchers were more surprised to see Rep. Jake Auchincloss (D-Mass.), a freshman from a liberal district, as the lead co-author, along with Peters, of the group's letter to House Speaker Nancy Pelosi (D-Calif.). The Auchincloss-Peters letter echoed the pharmaceutical industry's familiar concerns that H.R. 3, a bill that would empower Medicare to negotiate lower prescription drug prices, would discourage research and development. Auchincloss, Peters and eight of their colleagues instead called for a bipartisan bill that would "preserve our invaluable innovation ecosystem."…. Federal campaign finance data provides a potential explanation for Auchincloss' prominent role in the effort to make H.R. 3 friendlier to prescription drug makers. During his 2020 run, Auchincloss benefited from the support of a super PAC ― a rarity for a first-time candidate competing for an open seat ― that was funded in significant part by figures with close ties to the pharmaceutical industry. The single-largest donor to the pro-Auchincloss super PAC, Experienced Leadership Matters, was Dr. Laurie Glimcher, Auchincloss' mother, who gave $105,000 of the group's $575,000 haul. Glimcher, president of Boston's Dana-Farber Cancer Institute, holds a seat on the board of directors of GlaxoSmithKline, a British pharmaceutical giant. Patrick Ronan, CEO of Greenleaf Health, which consults pharmaceutical companies seeking FDA approval for drugs, contributed $5,000 as well. (Auchincloss' sister Kalah is an executive vice president at the company.)" • Ka-ching.

UPDATE "The Left's Curious Silence About the Medicare For All Demonstrations" [Counterpoint]. "On July 24th there will be a long overdue national mobilization for Medicare For All, with a big event planned in Washington D.C. while 40+ other cities across the nation have marches and/or rallies planned by local coalitions of progressive groups. Such an event would normally be enthusiastically supported by all sections of the Left. Interestingly, however, the lead-up to the mobilization has exposed deep divides, proving that universal health care isn't actually a point of unity — but one of real controversy among Leftists. Some of the biggest names on the Left have been noticeably absent in their promotion — or even mention — of the demonstrations, while some of the biggest politicians and organizations linked to the Medicare For All movement have seemingly united to shun the national day of action."

UPDATE "Neal Paid Leave Plan Excludes 42% of New Mothers" [People's Policy Project]. "To be eligible for paid leave under the old FAMILY Act proposal, you need to have worked at least 6 quarters, worked for the lesser of 20 quarters or half the quarters since your 21st birthday, and worked in the last 12 months. According to the CBO, this work history requirement would render 30 percent of new parents ineligible for the FAMILY Act's paid leave benefit. More recently, an alternative to the FAMILY Act, which was proposed by Representative Richard Neal, has been gaining traction in the House. Under this alternative, " After calculations: "Using this rough method, 42 percent of women who give birth in a given year will not be eligible for paid leave under Neal's plan because they do not satisfy the 30-day work requirement rule. For various technical reasons, I have not tried to do the same analysis for fathers, but I would suspect the percentage is lower for them. Needless to say, this is a really bad way to design a program and also comically inattentive to the realities of pregnancy. For many women who are employed in physical or hazardous jobs, working in the last 30 days of pregnancy is extremely difficult if not impossible." • Smearing Alex Morse to re-elect Richard Neal is already paying dividends!
Republican Funhouse
UPDATE "Top House antitrust Republican forms 'Freedom from Big Tech Caucus'" [The Hill]. "Rep. Ken Buck (Colo.), the top Republican on the House Judiciary antitrust subcommittee, is forming a new 'Freedom From Big Tech Caucus' along with a handful of other GOP lawmakers who supported antitrust bills advanced by the committee last month, the congressman announced Friday. Rep. Lance Gooden (R-Texas) will serve as co-chairman of the caucus. Other founding members of the caucus include Reps. Madison Cawthorn (R-N.C.), Burgess Owens (R-Utah) and Paul Gosar (R-Ariz.). The caucus will aim to unite Republicans in Congress to 'rein in Big Tech' through 'legislation, education, and awareness.' The announcement outlines a focus on antitrust reform, including restoring 'the free and dynamic digital economy,' promoting 'competition and innovation,' and supporting small businesses. Additionally, the caucus said it will aim to protect privacy and data rights, protect children from harmful content online and 'end political censorship.'" • I wish there were some sort of metric for Google's crapification….
Realignment and Legitimacy
UPDATE 1.4 million 501(c)(3)'s seems like rather a lot:

In FY20, the #IRS received 89,477 applications for new 501(c)(3) public #charities. It denied only 61 of them. There are now more than 1.4 million charities. https://t.co/aJS94upIov #nonprofitsector pic.twitter.com/tyl4wOX97u

— Tony Macklin (@tonymacklin1) July 16, 2021

If we want to euthanize the NGOs, this might be a good start.
Stats Watch
Retail: "Headline Retail Sales Marginally Improved in June 2021" [Econintersect]. "Retail sales marginally improved according to US Census headline data. The three-month rolling average declined. Year-over-Year growth also declined due to the comparison to reopening after the lockdown period one year ago…. Retail sales have fully recovered their pre-virus levels overall. The real test of strength is the rolling averages which slowed. Overall, this report is considered about the same as last month."
* * *
UPDATE Apparel: "100-Teen Poll: What Is Actually Cool to Buy in 2021? We surveyed high schoolers around the country. Here,19 takeaways about how teens shop." [New York Magazine]. I confess that reading The Strategist is one of my guilty pleasures. However, this is interesting: "A substantial difference between this year's poll and the one we did two years ago is that teens, when asked to name the people who most inspire their shopping habits, seemed far less interested in big celebrities and influencers with millions of followers (like, say, Devon Lee Carlson). Instead, they tended to bring up smaller social-media presences with follower counts in the 10,000 to 200,000 range. We talked to a handful of these so-called micro-influencers…."
UPDATE The Bezzle: From the "founder" of Dogecoin:
Despite claims of "decentralization", the cryptocurrency industry is controlled by a powerful cartel of wealthy figures who, with time, have evolved to incorporate many of the same institutions tied to the existing centralized financial system they supposedly set out to replace.

— Jackson Palmer (@ummjackson) July 14, 2021
UPDATE The Bezzle: "Facebook's alternative facts" [Cory Doctorow, Pluralistic]. "Early in the company's history, Zuckerberg defended his "real names" policy by saying that anyone who objected was 'two-faced.' It's hard to overstate how deranged this is: surely Zuckerberg presents a different facet of his identity to his spouse, his kids, his shareholders, his co-workers and the press. It's not 'two faced' to talk to your boss differently from how you talk to your lover. However, by forcing billions of Facebook users to confine themselves to a single identity, Zuckerberg does make it easier to target them with ads. This "two-faced" business is just an attempt to will a radical, sociopathic norm into existence. This attitude permeates Facebook's corporate conduct: remember the 'pivot to video?' Facebook wanted to compete with Youtube – the number two supplier of display advertising, after FB itself – so it declared that videos were very popular on Facebook. Not that videos would be popular – they were already popular. The company told its media and ad partners that they were missing out on a gold-rush because FB users loved watching FB videos. Media companies literally laid off their newsrooms in order to hire video production teams based on this intelligence. The entire media- and ad-ecosystem reoriented itself around Facebook's market intelligence. There was just one problem. Facebook was lying. FB users weren't watching its videos, and Facebook knew it. The company was just betting that if it convinced media companies to spend billions making videos, its users would watch them. This fraud devastated the media world, first by triggering waves of layoffs of experienced journalists to make way for young video producers, then by killing or hobbling their employers and triggering another wave of mass layoffs. Zuckerberg knows it's not 'two-faced' to show different parts of yourself to different people. Facebook knew that no one was watching FB videos. They were just betting that they could fake it until they made it – the core tenet of gaslightism." • Even more amazing: Media executives actually believed Zuckerberg. Or perhaps they already wanted to gut the newsrooms, and Zuckerberg just handed them the excuse. After all, they didn't pivot back to reporting, did they?
Manufacturing: "FAA orders inspections of Boeing 737 cabin air sensors" [Seattle Times (Allan)]. "More than 2,500 Boeing Co. 737 jets in the U.S. will have to be inspected after the company and regulators discovered a potential flaw in a pressure switch that could lead to pilots becoming incapacitated. The Federal Aviation Administration said airlines and operators should inspect cabin pressure switches, which help ensure there's sufficient air to breathe as planes climb to higher altitudes. The failure rate of the switches is 'much higher than initially estimated' and poses a safety risk, the FAA said in a directive posted to the Federal Register website Thursday." • Not sure if this second story is connected–
Manufacturing: "Valve troubleshooting led to crew incapacitation aboard Qantas 737-300F" [Flight Global]. "After the aircraft landed, it was discovered that the original fault was related to a sensor in the overheat detection system. It was also discovered that the aircraft had . These, added to the crew's troubleshooting efforts, caused the cabin's air supply to fall."
* * *
Today's Fear & Greed Index: 25 Fear (previous close: 29 Fear) [CNN]. One week ago: 37 (Fear). (0 is Extreme Fear; 100 is Extreme Greed). Last updated Jul 16 at 1:55pm.
The Biosphere
"The Truth Behind the Amazon Mystery Seeds" [The Atlantic] (NC, August 2020). Yes, it was a brushing scam. As almost every story at the time pointed out! But: "If true, this raises a different question, one that may be more about contemporary media storytelling than agronomic perils: How and why was the great Chinese-seed mystery of the summer of 2020 ever allowed to seem like a mystery at all? As I tried to figure out what happened last summer, I came across one place where two opposing forces—the imperative of telling the simple, apparent truth, and the impulse toward the rich gratifications of fever and froth—ran up against each other in a way that I found unexpectedly delightful: the Facebook page of the Washington State Department of Agriculture. This page had somehow become the clearinghouse for reports of seeds from all over the country; a single matter-of-fact post on July 24 received more than 22,000 comments. People shared photos; people shared jokes ("who had magic seeds on their 2020 apocalypse bingo card?"); people freaked out. And, with calmness and fortitude, the page's moderator strove to moderate…" • Entertaining!
Health Care
"SARS-CoV-2 test positivity rate in Reno, Nevada: association with PM2.5 during the 2020 wildfire smoke events in the western United States" [Nature]. Results: "We found that a 10 µg/m3 increase in the 7-day average PM2.5 concentration was associated with a 6.3% relative increase in the SARS-CoV-2 test positivity rate, with a 95% confidence interval (CI) of 2.5 to 10.3%. This corresponded to an estimated 17.7% (CI: 14.4–20.1%) increase in the number of cases during the time period most affected by wildfire smoke, from 16 Aug to 10 Oct." Significance: "Wildfire smoke may have greatly increased the number of COVID-19 cases in Reno." From the Discussion: "In addition to the mechanisms mentioned previously, where PM2.5 enhances the pathogenicity of viruses by modifying immune responses and facilitating the transport of the virus into the lungs, a third possible mechanism specific to SARS-CoV-2 may involve the ACE2 receptor, the molecular target for the virus. . It is unclear whether this mechanism requires long- or short-term exposure to air pollution, or whether in vivo effects might differ from in vitro effects. However, in vitro studies suggest that relatively short exposure to PM2.5 may induce cellular changes and inflammations." • Sounds like the measures to resist PM2.5 are similar to the only ones I can think of for Delta: Double mask, Badger seal, box fans. Additional suggestions welcome (since I have no specific knowledge of wildfire smoke).
Black Injustice Tipping Point
UPDATE "Sharpton, Crump shifting focus to white teen killed by police in Arkansas" [The Hill]. "The Rev. Al Sharpton and civil rights attorney Ben Crump are shifting their focus to a white teenager who was killed by police in Arkansas, after advocacy efforts that largely focused on Black individuals who have died during police encounters…. Crump, who represented Floyd's family after the incident, has also represented the families of Breonna Taylor and Michael Brown, both of whom were fatally shot by police. Sharpton and Crump are now drawing attention to the death of 17-year-old Hunter Brittain, who was fatally shot during a traffic stop on June 23. An officer was relieved of his duties earlier this month after failing to turn on his body camera during his alleged involvement in Brittain's death. Crump told The Washington Post in an interview that Brittain's death will help muster 'greater interracial support' amid a push to pass the George Floyd Justice in Policing Act in Congress because 'his blood is now on this legislation, just as Floyd's and Breonna Taylor's blood is.'"
"Young Black Activists Helped Change The State Flag. They Intend To Change The State." [Mississippi Free Press]. "BLM Sip organizer Timothy Young, 22, said he wants people to know that their work did not stop after the crowd dispersed on June 6, 2020, or after the state flag came down several weeks later….Moments after stepping off the stage, Young received an offer to interview for a position at Mississippi Votes—a youth-led voting-rights organization that works to empower young voters and increase access to democracy in the Magnolia State. He now works there as a digital content creator." • A-a-a-n-d right into an NGO.
Class Warfare
""Fat Back & Biscuits": On Clyburn, CRT, & Capitalist Realism (Part 1) (podcast) [Briahna Joy Gray and Virgil Texas, Bad Faith]. • This is absolutely terrific, and it's also great to hear sharp Marxist thinkers who are not Adolph Reed (much as I love Adolph Reed). This podcast with Boots Riley is very good too. Riley has interesting things to say about Occupy Oakland (before black bloc poisoned the well). From Grey:
‼️New @BadFaithPod: "Fat Back & Biscuits":Clyburn, CRT, & Capitalist Realism‼️

"Clyburn is the epitome of…the Black mis-leadership class…This is the same guy who's talking abt 'I don't know no Black Socialist' w a statute of WEB Du Bois behind him"https://t.co/dHP6egulCO pic.twitter.com/5XUzkNuCGC

— Briahna Joy Gray (@briebriejoy) July 15, 2021
"Interview With Professor Adolph Reed" (interview) [Matt Taibbi, TK News]. • I know this is in Links, but I wanted to pair it with the above too. I also do think that Reed, despite or perhaps because of the fact that he's very funny ("I'm prepared to grant that the DiAngelo's heart is in the right place — at least, on the left side of her chest") is also just a little bit of a trickster. I don't think he really answers Halper's first question, for example. Interesting nonetheless!
"In the Image of Jonestown" [The Nation]. "The images of good dissent are frequently segregated: Good oppressed people make a good peaceful protest, and good white people make some good difficult decisions. After a hard night of deliberation, Lincoln frees the slaves. The utopian visions that fall under the most scrutiny are always the ones where people from different backgrounds rise up together in the name of a radical reimagining of the world. The paradox is that while the scrubbed-history utopians call for 'unity' or 'togetherness,' they also quietly disqualify every example of solidarity, whether Harper's Ferry, the Rainbow Coalition, or the foot washers of Cary…. Today, history itself has become a front in the culture war. Several state legislatures have passed vaguely written laws that effectively ban the teaching of this country's racist past. Videos of concerned parents screaming at school boards about critical race theory go viral every day. These efforts should be called what they are: an attempt to turn the narrative of last summer from an organic uprising of millions of Americans from all racial and class backgrounds into a conspiracy run by intellectuals, Marxists, and the progressive elite. It's incumbent on anyone who cares about emancipatory politics to resist these laws and the chaos they will unleash, but if we are ever to get out of these endless culture wars, we must also rethink the space these linear histories take up and ensure that we're not just replacing one fully determinative, alluringly symmetrical narrative with another. We must stop thinking that the problems of the present can only be understood by finding corollaries in the past. Not everything is Jonestown, including Jonestown."
News of the Wired
"An AI Bourdain Speaks From the Grave" [Kottke.org]. "I have been trying not to read too much about Morgan Neville's documentary Roadrunner: A Film About Anthony Bourdain before I have had a chance to watch it, but the few things I have read about it have given me some pause. From Helen Rosner's piece about the film drawn from an interview with Neville: 'there were three quotes there I wanted his voice for that there were no recordings of,' Neville explained. So he got in touch with a software company, gave it about a dozen hours of recordings, and, he said, 'I created an A.I. model of his voice.' In a world of computer simulations and deepfakes, a dead man's voice speaking his own words of despair is hardly the most dystopian application of the technology. But the seamlessness of the effect is eerie.'" • Kill it with fire.
So how many stories in Inc. are written by an AI:
What in the world pic.twitter.com/tR9APKPJCo

— Casey Toner (@ctoner) July 16, 2021
I know my emotional intelligence is hardly pure, like (I would imagine) most humans. Sheesh.
"7 Reasons We Love Rembrandt on His Birthday" [artnet]. "6. He liked dogs." • 1642: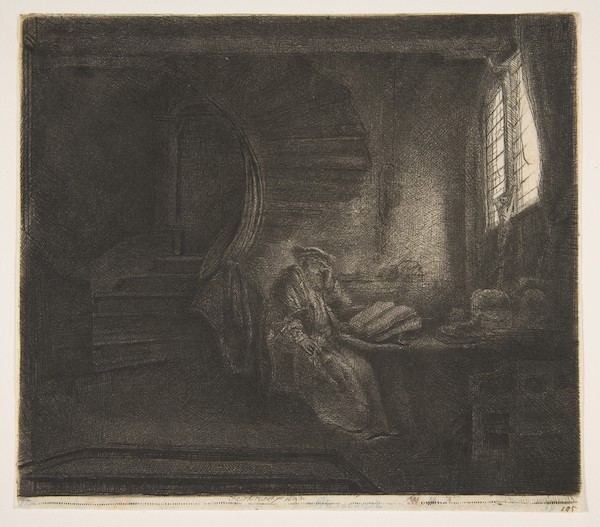 * * *
Readers, feel free to contact me at lambert [UNDERSCORE] strether [DOT] corrente [AT] yahoo [DOT] com, with (a) links, and even better (b) sources I should curate regularly, (c) how to send me a check if you are allergic to PayPal, and (d) to find out how to send me images of plants. Vegetables are fine! Fungi and coral are deemed to be honorary plants! If you want your handle to appear as a credit, please place it at the start of your mail in parentheses: (thus). Otherwise, I will anonymize by using your initials. See the previous Water Cooler (with plant) here. Today's plant (JU):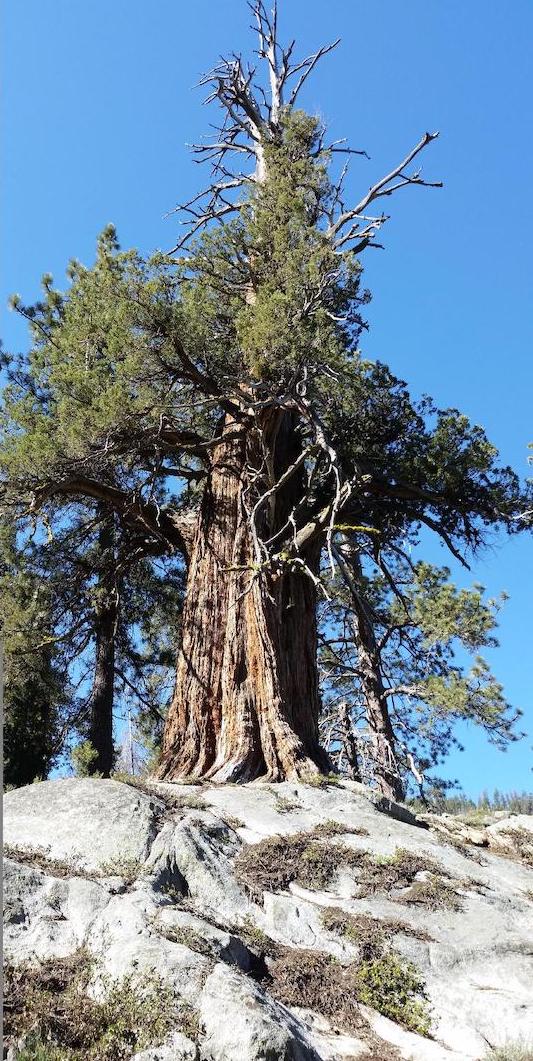 JU writes: "The Giant Juniper in Mineral King-Sequoia NP, 8 feet wide at eye level (25 feet around in circumference). It's probably 1,500 years old i'd guess, and has quite the perch on a small island of dirt in an ocean of granite."
* * *
Readers: Water Cooler is a standalone entity not covered by the recently concluded and — thank you! — successful annual NC fundraiser. So if you see a link you especially like, or an item you wouldn't see anywhere else, please do not hesitate to express your appreciation in tangible form. Remember, a tip jar is for tipping! Regular positive feedback both makes me feel good and lets me know I'm on the right track with coverage. When I get no donations for five or ten days I get worried. More tangibly, a constant trickle of donations helps me with expenses, and I factor in that trickle when setting fundraising goals:
Here is the screen that will appear, which I have helpfully annotated.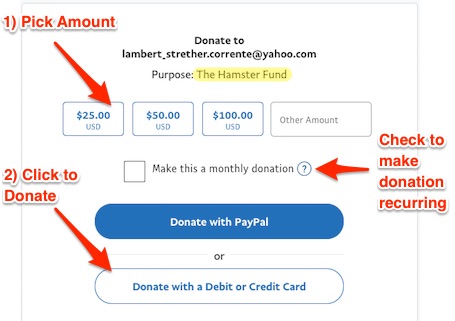 If you hate PayPal, you can email me at lambert [UNDERSCORE] strether [DOT] corrente [AT] yahoo [DOT] com, and I will give you directions on how to send a check. Thank you!2:00PM Water Cooler 6/8/2021