By Lambert Strether of Corrente.
Bird Song of the Day
What a chorus!
* * *
#COVID19
At reader request, I've added this daily chart from 91-DIVOC. The data is the Johns Hopkins CSSE data. Here is the site.
I feel I'm engaging in a macabre form of tape-watching. I've been thinking of new charts to monitor to alert us to the next outbreak, assuming there is one, but for now, the data from the South means I'll stick to the status quo.
Now all rising together. Kamala did the trick? Hard to believe.
UPDATE "'A tough slog': White House struggles to increase vaccination rates as Delta variant surges" [Politico]. This ran last week, but I want to re-up it. "Top Biden administration health officials trying to slow the spread of the Covid-19 Delta variant have largely given up on the possibility of reinstating mask and social-distancing rules in favor of a grassroots vaccine education campaign…. Instead, the federal government will try to convince hesitant Americans to get vaccinated by working with state officials and trusted community members to communicate the benefits of the shots, the three senior officials said. The president's team is not confident that the new campaign will change hearts and minds, the two officials said, but it is falling back on old messaging in part because top administration officials are unsure what other tactics will work… Over the last two weeks, officials from the CDC, HHS and the White House Covid-19 Task Force have formulated a plan to work with local officials, including mayors, to knock on doors in areas with low vaccination rates to talk with people about signing up for the shot." • I have to give credit; it seems to be working.
Case count by United States regions: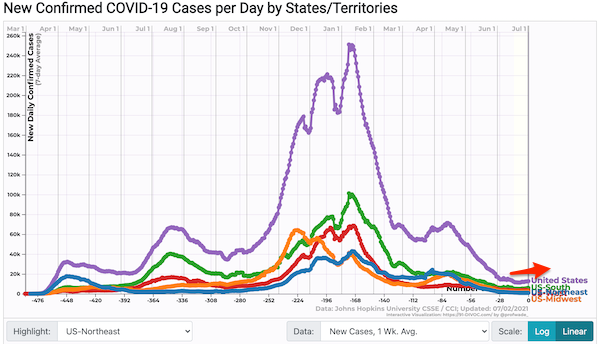 I have added an anti-triumphalist red arrow to express my displeasure at the upward trend, even if we're not seeing exponential growth.
Note that one of the narratives seems to be that there will only be pockets of cases in unvaccinated juridictions (i.e., blame the deplorables for a public health messaging, delivery, and performance debacle). Be that as it may, we can see the effects in this aggregate, in the aggregated data for Texas and Florida, and in the Top Ten states (all below). Nothing like the runaway train in the first days and weeks, but the train is rolling. It would certainly be nice if this trend isn't signaling the changeover from Alpha to Delta.
NV: "Nevada now has higher COVID-19 case rate than any other state" [Las Vegas Review-Journal]. "Nevada's case count continues to rise at a significant rate, and the state now has a higher seven-day case rate per 100,000 people than any other state in the country, according to data from the Centers for Disease and Control and Prevention. The state's two-week positivity rate, which essentially tracks the percentage of people tested for COVID-19 who are found to be infected, increased sharply by 0.4 percentage points to 5.5 percent, according to state data. The rate has been increasing since it hit a recent low of 3.3 percent on June 9. It is now higher than the 5 percent threshold recommended by the World Health Organization to prevent the virus from spreading."
Here are the case counts for the last four weeks in the South (as defined by the US Census: Alabama, Arkansas, Delaware, Florida, Georgia, Kentucky, Louisiana, Maryland, Mississippi, North Carolina, Oklahoma, South Carolina, Tennessee, Texas, Virginia, West Virginia, and the District of Columbia):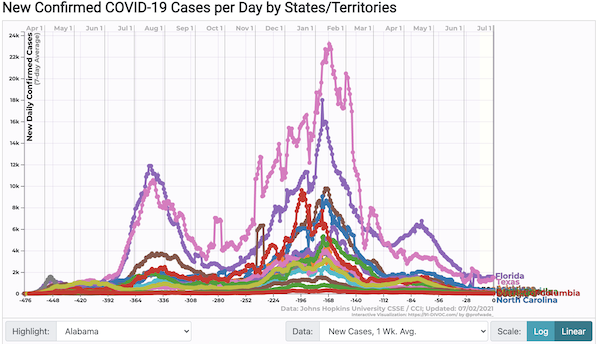 Texas and Florida, capital of Latin America, neck and neck.
Covid cases top ten (hat tip, alert reader Lou Anton):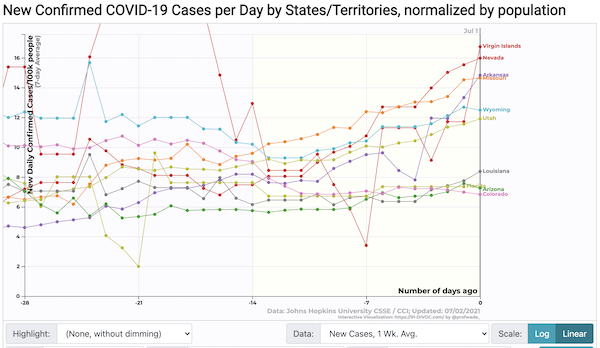 Tourist states disproportionately represented. Let's hope it stays in Vegas.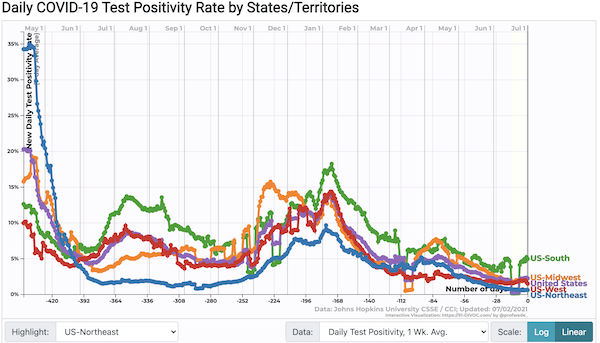 South bounces back.
Hospitalization (CDC):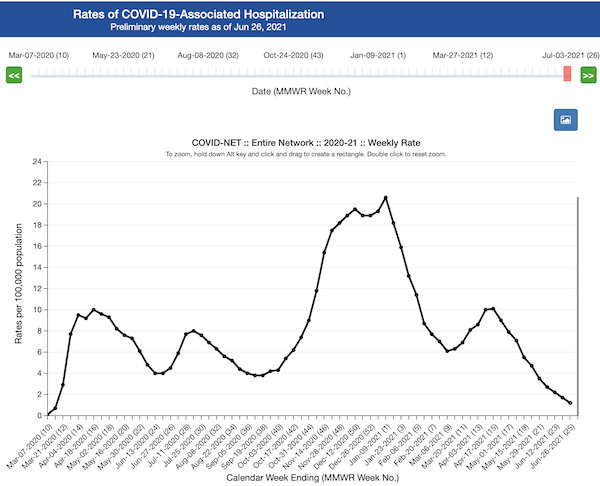 Continued good news.
Deaths (Our World in Data):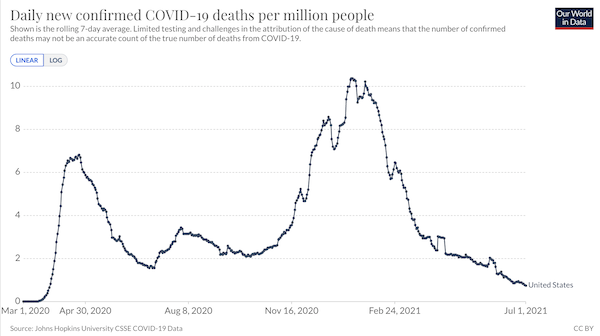 Continued good news.
Covid cases worldwide: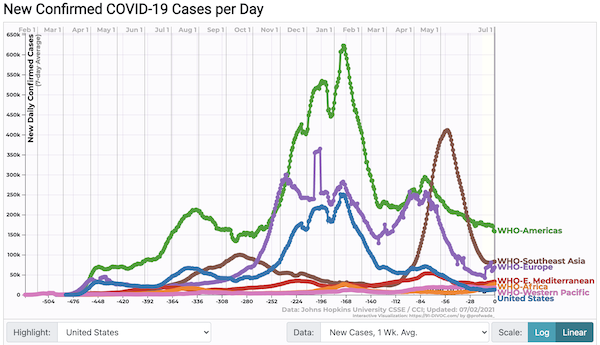 * * *
Politics
"But what is government itself, but the greatest of all reflections on human nature?" –James Madison, Federalist 51
"They had one weapon left and both knew it: treachery." –Frank Herbert, Dune
"They had learned nothing, and forgotten nothing." –Charles Maurice de Talleyrand-Périgord
Biden Administration
"Inside Biden's new "domestic terrorism" strategy" [Off-Guardian]. "in an act of startling prescience, the incoming administration had been talking about a new 'Domestic Terrorism Bill' for well over three months before the "riot" happened. The media had been calling for one for at least six. Major universities were writing papers about it. It's funny how often that happens, isn't it?" • On Biden's National Strategy for Countering Domestic Terrorism. A must-read.

UPDATE "As Western Wildfires Worsen, FEMA Is Denying Most People Who Ask For Help" [NPR]. "During last year's fire season in Oregon, FEMA didn't approve roughly 70% of claims. That's after FEMA says it filtered out applications it had deemed potentially fraudulent. In California, FEMA didn't approve 86% of claims. But FEMA hasn't said, despite repeated requests, how many of those it believed were fraudulent or if the denial rates indicate people are being wrongly denied. The investigation also found that the very tools FEMA uses to screen out fraudulent claims are blocking people who did lose their homes from getting help. FEMA's automated application-review system rejects applicants if it can't verify a person's identity or residence, for example. In essence, FEMA's system tends to deny first and require applicants to appeal and try to undo the denial. Most people either give up or struggle to navigate the process." • Everything's going according to plan.

UPDATE "Joe Biden and the Age of Blaxhaustion" [Elie Mystal, The Nation]. "Black people delivered the presidency to Joe Biden…. Biden promised to remember who put him in power, and when it comes to how his administration looks, he more or less has. But when it comes to what his administration does, the results so far have been predictably underwhelming. The white, right, and mainstream media loves to tag Biden as some kind of secret socialist, quietly pushing an anti-cop agenda at the behest of Black Lives Matter and conducting critical race séances in the White House basement. But this administration is not radical, not anti-racist, and not moving nearly fast enough to advance actual policies that will secure the fundamental rights of the people who put it in charge." • I hate to seem churlish, but perhaps the Black Misleadership Class — this is the real referent for Mystal's "Black people" — have bad political judgment and backed the wrong horse, exactly as they did in 2016.

UPDATE "Scoop: Biden allies launch new advocacy group" [Axios]. "Allies who spent tens of millions to get Joe Biden elected are now launching a nonprofit advocacy group aimed at promoting the president's legislative agenda, Axios has learned. Unite the Country Now will swell an already formidable stable of independent pro-Biden outfits trying to get his top policy goals past recalcitrant congressional Republicans and some tough-to-wrangle Democrats. It also will provide an avenue for Biden's top financial supporters to step up with large contributions to a group dedicated to backing the president. Unite the Country Now is a nonprofit offshoot of the similarly named Unite the Country, a super PAC that dropped nearly $50 million supporting Biden's 2020 campaign. Mark Doyle and Amanda Loveday, the Democratic operatives behind it, officially incorporated the sister nonprofit in D.C. last week." • Grifters gotta grift.
Democrats en Deshabille
"Sen. Kyrsten Sinema's former staffers detail a 'demoralizing' office environment where they were afraid to 'mess up in any way' while working for the Arizona Democrat" [Business Insider (dcblogger)]. • Sadly, this is paywalled, so I can't get the detail. But it seems that Harris and Klobuchar are not the only ones.

UPDATE "New York's Election Mess Is Not the Fault of Ranked-Choice Voting" [The Nation]. "In a nutshell what happened is this: One week after Election Day, the Board of Elections ran its first ranked tally of votes in the Democratic primary for mayor. Voters had been allowed to rank their top five choices. In cases where a voter's first choices failed to gain traction, the recalculation process then redistributed votes to their next choices. It's a simple process that is carried out on a regular basis in other cities (such as San Francisco), states (such as Maine), and nations (such as Australia and Ireland). But, in New York City, the Board of Elections screwed things up. Royally. And the board is repeating at least some of the mistakes it's already made—guaranteeing even more chaos and controversy. On Tuesday afternoon, the board surprised election observers with an announcement that the nine-point lead enjoyed by Brooklyn Borough President Eric Adams in the initial count had shrunk to two points. Civil rights lawyer Maya Wiley, who had been in second place, was now in third and listed as 'eliminated.' The new second-place candidate was former New York sanitation commissioner Kathryn Garcia, who on the basis of transferred votes had moved up from third. Savvy election watchers quickly noted, however, that the numbers didn't add up. It looked as if an extra 140,000 votes had been added to the overall total. The board acknowledged that there was a 'discrepancy' and pulled the 'results' that had been posted hours earlier. Then, after a chaotic few more hours, the board acknowledged that 'approximately 135,000 additional records' had been included. The 'additional records' were test ballots that had not been cast by actual voters. In an epic screw-up, they had been included so-called 'test ballots'—which were not cast by voters—with the more than 900,000 actual votes in the pool used for the ranked-choice voting calculation…. But, wait, there are still as many as 125,000 uncounted absentee ballots." • By Hanlon's razor, this is stupid and not evil. But in Maine, both political parties and the press absolutely hated RCV and tried multiple times to overturn it. I would be surprised if something similar wasn't happening in New York, even if it's just a matter of giving the incompetent enough rope.
2022
"She predicted the blue wave — now she's trying to prevent a big red one" [Salon]. Bitecofer: "There's no media ecosystem that's focused on how crazy the Republican Party is." • That's wrong, wrong to the level of hallucination.

"Rachel Bitecofer's Approach Might Not Be Good for Winning Elections, But It Would Be Good for America" [No More Mister Nice Blog]. "I'm here for the message that Democrats need to do more messaging that says simply: We're good. The other party is bad — and, in this moment especially, One reason to vote for us is that our opponents are crazy and dangerous." • Maybe the memos I've been getting aren't really from Democrats, but from some other party I've never heard of? Idea: Let's call the Republicans stupid, too. That's something Democrats don't do nearly enough of.
Republican Funhouse
UPDATE "McConnell's process approach to policy" [Axios]. "McConnell has yet to endorse the bipartisan deal. It's unclear whether he even supports the underlying substance. If he doesn't, then the process argument over the sequencing of the bills doesn't matter."
Trump Legacy
"Column: In surprise upset, historians rule that Trump was not the worst president ever" [Michael Hiltzick, Los Angeles Times]. "This year, Trump failed to beat out a triumvirate of slavery-era presidents who have occupied the three bottom rankings in every survey: Franklin Pierce, Andrew Johnson and James Buchanan."
Realignment and Legitimacy
Build back better?

— Brooke Jarvis (@brookejarvis) June 28, 2021

Will we really be able to do that? Better in what sense and for whom?

"Learning to Love the Machine: Some Assembly Required" [Washington Socialist]. "What I hope to address here is what happens after we've beaten the machine. Whether you support realignment, a party surrogate, the dirty break or clean break, socialists of all stripes should reckon with the fact that we may need to rebuild, at the local level, the very thing we've been fighting for years if we want to retain and expand political power. The left needs to build our own political machines — ones that are fully active between elections, that can deliver real material gains for working people through mutual aid, protect our elected officials from new challengers, develop accountability to an organized base and promote an organizational loyalty that is only possible when you consistently show up for people over time. I view this as the only path forward for the left electoral project in this country that avoids co-optation (into the Democratic establishment) or alienation (from a material politics that can actually deliver results)."

"India Walton's Historic Victory in Buffalo Needs Defending" [Jacobin]. "ast week, democratic socialist India Walton won the Democratic primary in Buffalo's mayoral race. Socialists and progressives across the country celebrated Walton's victory, which surprised many, as the former union nurse had never held political office when she defeated four-term incumbent Byron Brown. The Buffalo mayor's office has been occupied by a Democrat without exception since 1966. Usually, winning the Democratic Party primary seals the deal, with the general election passing by unnoticed. But Byron Brown, the city's longest-serving mayor, is refusing to accept defeat. Brown has now announced that he will run a write-in campaign against India Walton to preserve his office. The Left should take the challenge seriously, as Brown's write-in campaign will have friends in high places, both within and beyond Buffalo city limits." • I hope Brown didn't steal all the money, like the Democrat loyalists in Nevada did.
Stats Watch
Employment Situation: "June 2021 BLS Jobs Situation – Job Gains Excellent" [Econintersect]. "The headline seasonally adjusted BLS job growth was on the high side of expectations, with the unemployment rate worsening from 5.8 % to 5.9 %…. The economically intuitive sectors were positive for economic growth. The rate of further recovery will be dependant on the coronavirus and the knock-on effects."
Manufacturing: "United States Factory Orders" [Trading Economics]. "Factory orders in the US surged 1.7 percent month-over-month in May of 2021, following a downwardly revised 0.1 percent drop in the previous month and slightly higher than market forecasts of a 1.6 percent gain. Transportation equipment recorded the biggest rise (7.7 percent), namely ships and boats (88 percent) and nondefense aircraft and parts (27.9 percent). Orders for primary metals increased 2.2 percent while orders for computers and electronics (-0.3 percent) and fabricated metals (-1.4 percent) were lower."
Trade: "May 2021 Trade Balance Worsens" [Econintersect]. "Trade data headlines show the trade balance worsened with imports rising faster than exports…. The data in this series wobbles and the 3-month rolling averages are the best way to look at this series. The 3-month average rate of growth improved for imports and exports."
Rail: "Rail Week Ending 26 June 2021 – Continued Slowing In Intuitive Sectors" [Econintersect]. "Total rail traffic has two components – carloads and intermodal (containers or trailers on rail cars). This week again both carloads and intermodal continued in expansion year-over-year – with the rate of acceleration of growth slowing. We review this data set to understand the economy. The intuitive sectors (total carloads removing coal, grain, and petroleum) expanded 15.5 % year-over-year for this week. We primarily use rolling averages to analyze the intuitive data due to weekly volatility – and the 4 week rolling year-over-year average for the intuitive sectors slowed from +20.6 % to +16.0 % When rail contracts, it suggests a slowing of the economy."
* * *
Housing: "The Real Lender on Your Mortgage Could Be the Federal Reserve" [Bloomberg]. "Why, again, is the Federal Reserve adding $40 billion a month to its holdings of mortgage-backed securities when the mortgage market doesn't seem to need any federal assistance? … Fed Chair Jerome Powell is trying to keep the Federal Open Market Committee united behind continuing to buy MBS and Treasuries as a way to hold down interest rates and promote economic growth. The recovery, he says, is incomplete. The U.S. still had 7 million fewer people employed this May than in February 2020, before the pandemic struck. But he hasn't done a wonderful job of articulating why buying MBS is the right medicine for the economy. It is not, he says—not—a way to support the housing market…. Or something like that. A market intervention as big and enduring as the Fed's in housing finance requires a strong and understandable justification."
Retail: "Grocery stores are pulling perishable food, covering aisles in plastic sheets, and running sprinklers on their roofs as they battle a record heat wave" [Business Insider]. "Grocery stores in Washington have been forced to pull perishable goods from shelves and turn off entire refrigerated sections as the state experiences record-shattering temperatures…. The weather makes it difficult for refrigerators and freezers to maintain low temperatures. A reporter for a Fox affiliate in Seattle said the heat had caused refrigerators to malfunction at an Albertsons store in Mill Creek, Washington. The grocer was forced to pull several perishable goods from its shelves, including meats, lettuces, and dairy items, the reporter said, adding that the store posted signs telling customers it couldn't provide several refrigerated foods and cordoned off the empty aisles. Other stores in the state have used similar tactics. Some Fred Meyer stores in Washington put plastic covers over refrigerated goods to keep in the cool air, dozens of posts on social media suggested. A Fred Meyer spokesperson was not immediately available to comment…. Two people said on social media that at least two Fred Meyer locations had turned on roof sprinklers to help maintain air-conditioning and freezer units. People in Washington posted pictures of grocery stores with empty freezer aisles and refrigerators wrapped in plastic. Some people said aisles of Gatorade and electrolyte drinks had been cleared out, while others said they'd seen crowds of shoppers trying to beat the heat." • Ingenious….
Tech: "Northwest heat wave demonstrates world's growing cooling needs" [Axios]. "What we're watching: How much of the world's growing global cooling needs will be met with highly efficient units and buildings, use of heat pumps, low-impact coolants and systems plugged into grids with high amounts of zero-carbon power remains to be seen. A separate IEA report last month, which models a global energy system that achieves "net-zero" emissions by 2050, finds it's possible to massively expand cooling in an emissions-friendly way. In that scenario, the number of air conditioning units in emerging and developing economies specifically rises by 650 million by 2030 and another 2 billion by 2050. But under their hugely ambitious model — not a prediction! — a basket of clean technologies nonetheless helps to cut CO2 emissions from the world's buildings by 95% by 2050." And: "Cities that establish cooling centers, [Michael Oppenheimer, a climate scientist at Princeton University] said, may not be placing them in the most accessible areas. He noted that in Chicago, about one-third of cooling centers are located in police precincts. 'Think about that in [the] context of the populations least likely to have air conditioning,' he said." • Wowsers, Chicago.
Tech: There's a metaphor here:
This Tesla was found self driving around a secluded on fire completely empty. More info in the comments. pic.twitter.com/2ZbOfOqJEc

— ★But★No★Smoking★Pistol★ (@BKopernikus) July 1, 2021
Tech: Is Google run by MBAs?
I just received a two factor authentication SMS from Google that included an ad. Google's own Messages SMS app flagged it as spam.

What a shameful money grab. pic.twitter.com/NeStIndR6q

— Chris Lacy (@chrismlacy) June 29, 2021
Manufacturing: "Supply is a growing concern in a U.S. automotive sector that's seeing no shortage of demand. Several car makers racked up double-digit sales gains in the second quarter…. and J.D. Power estimates new-vehicle sales in the first half of the year likely exceeded the pre-pandemic level of two years ago" [Wall Street Journal]. "But the rate of sales also slowed sharply at the end of the quarter, and analysts say that's likely because inventories are withering as the global semiconductor shortage crimps production. Dealers started June with about 1.5 million vehicles on their lots or en route to stores, down 42% from the same time in 2020 and down 23% from the start of May. Association of American Railroads figures show shipments of cars and auto parts on U.S. railroads were off nearly 71,000 carloads, or 21.3%, from the same period in 2019."
"The Economy": "Seven Reasons to Be Extremely Optimistic About the Economy Right Now" [Slate]. "You might be wondering how it is that restaurant sales have recovered even though they're employing so many fewer workers than in the Before Times. The answer likely lies partly in the QR codes you've been scanning every time you want to pull up a menu, instead of waiting for a server. The pandemic forced businesses to make do with fewer employees, leading many to invest heavily in new software to automate parts of their business. The result, as the Wall Street Journal's Greg Ip recently observed, is that we seem to be "in a productivity boom." By the end of the first quarter of 2021, output per hour was up 4.1 percent compared with a year earlier, the biggest increase in a decade. Part of the reason productivity jumped so much during 2020 was simply that businesses laid off so many workers in the service sector, where productivity tends to be lower. The startling thing, as Bloomberg Opinion's Noah Smith has explained, is that productivity growth actually sped up at the beginning of 2021, just as many of those employees returned to work—the opposite of what you'd expect to happen. Investment in software also accelerated from January to March. That suggests a more fundamental shift is taking place: The crisis may have finally made some businesses move into the 21st century. Productivity growth is a crucial ingredient to a healthy, expanding economy. It's how we learn to do more with less labor, freeing people to do other, more valuable jobs. It also allows businesses to raise wages without having to raise prices, since their employees generate more revenue. But despite the last decade's worth of advances in tech, productivity was extremely sluggish in the years after the Great Recession. That's what makes this recent burst so exciting; it's not just the silver lining of a terrible year, but even, potentially, the end to a long period of relative stagnation." • Hmm.
* * *
Today's Fear & Greed Index: 44 Fear (previous close: 45 Neutral) [CNN]. One week ago: 44 (Fear). (0 is Extreme Fear; 100 is Extreme Greed). Last updated Jul 2 at 12:30pm.
Health Care
The vaccinated transmitting to the unvaccinated:
6) Also notice (4 o'clock position) that many of the unvaccinated-to-unvaccinated first initially started from a vaccinated-to-unvaccinated transmission chain!!! This demonstrates why vaccinated people still need to mask up damnit!

(This is a subtweet at a public health agency) pic.twitter.com/09aSa4EVqj

— Eric Feigl-Ding (@DrEricDing) July 2, 2021
I confess that I can't make head of tail of this diagram, which comes from this site (just shut down by the government of Singapore (!)). From that site: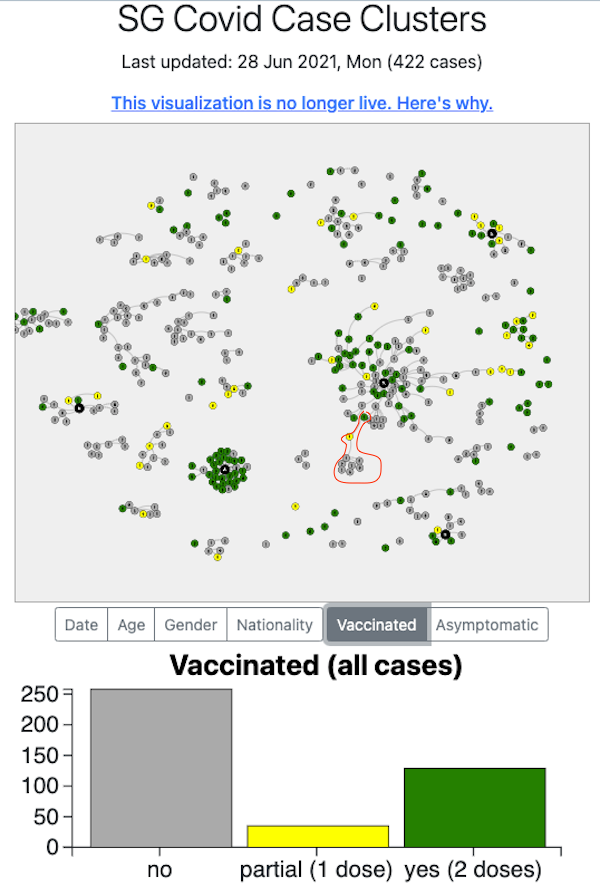 I think what you are looking for is chains of transmission from green (2 doses) to yellow (1 dose) or grey (not vaccinated). I have outlined one such chain in red, so such transmission does exist.
The Biosphere
"Wildfires and the air quality inside your home" [Elliott Gall]. The basic concept is to create a "clean room." "Step 5: . Air cleaning is essential to creating a clean room. Rely on proven approaches that remove harmful pollutants from air. For particles, fibrous filters (sometimes called just "filters" or "mechanical filters") have a long track record of testing and study.¹⁰ Filters remove particles from air by collecting them on the fibers of the filter. You can read more about filtration and other air cleaning approaches via ASHRAE's air cleaning position statement.¹⁰ Electronic, ionizing, chemical fogging, radical generating, or other "additive" air cleaners have not (to the author's knowledge) demonstrated CADR or efficacy under wildfire conditions that would enable the type of predictions regarding intervention effectiveness made here."
"What's Up With Alaska's Wild, Wondrous, 'Warm-Blooded' Bumblebees?" [Atlas Obscura]. "Of the nearly 50 bumblebee species documented throughout the United States, almost half can be found in Alaska, including four species found nowhere else in the country. Big-bodied and covered in thick, insulating hair (on a Zoom call, [Jessica Rykken, entomologist for Denali National Park and Preserve] holds up a board of fat, furry, pinned specimens, some the size of her thumb), the bumbles have other cold weather survival skills, including, well, twerking. While bees in general can rapidly vibrate their flight muscles, independent of flying, to generate warmth, bumblebees are particularly good at it. 'They use those flight muscles to raise their body temperature 30 degrees in five minutes,' says Rykken. That rapid rise in heat allows them to fly on cold, even snowy days, when other insects are grounded. And, while other social bees, including honeybees, will cluster to keep their queen, brood, and each other warm, bumblebees can survive solo. A Bombus queen can actually transfer the heat generated with its flight muscles into its abdomen to keep its eggs warm. 'They thermoregulate quite amazingly,' says entomologist Derek Sikes, curator of the insect collection at the University of Alaska Museum. Sikes says bumblebees are 'actually warm-blooded: They generate heat, it's just not constant, the way mammals do. But it is internal, not just from basking in the sun.'"
Our Famously Free Press
""I'm always skeptical": Sixty news consumers discuss their mistrust in the news" [Columbia Journalism Review]. "Despite higher engagement, interviewees also expressed deep skepticism about the news. Many said it was impossible to fully trust any particular news source, because they felt that all journalists were biased, and the news they produced was reported—either deliberately or unintentionally—in ways that would best serve their political agendas. 'It's all slanted, in my opinion,' one interviewee said. Participants' sense that the news media is biased was a strike against all news outlets, including those they felt were biased in the same direction as their own political beliefs. … f news consumers do not feel they can wholly trust any particular news outlet, we wondered, then how do they determine the truth about what's going on in the world? The answers we heard were consistent: interviewees pointed to their own thoughtfulness, critical thinking skills, and independent-mindedness as evidence that they were qualified to vet the news. This was true regardless of age, political affiliation, or education level. 'I'm always skeptical,' one person said. 'If the journalists are asking for the right facts, then I'm okay. If the journalists aren't asking for the right facts, I wonder why they're not asking for the right facts.' Our respondents viewed themselves as capable of piecing together ideologically slanted half-truths they noticed in the news. They also felt compelled to corroborate news reports themselves. 'You shouldn't take the article as gospel,' one interviewee said. 'You should still do some research and determine if what they're saying is correc One person said he typically Googles facts on his iPad while watching the news. In other words, our respondents saw a need––and had faith in their own ability––to do journalists' jobs for them."
MOVE-class work from the LAPD, good job. Thread:
A copaganda all timer. The LAPD botched blowing up confiscated fireworks in a largely black and brown neighborhood injuring 17 people and this is the headline. https://t.co/ui9kmKwuhL

— Adam H. Johnson (@adamjohnsonNYC) July 2, 2021
Groves of Academe
"The Battle for 1776" [New York Times]. "'1776 really gets a pass,' [Robert Parkinson, an associate professor at Binghamton University in New York, is the author of "Thirteen Clocks," a recent study of how patriot leaders exploited fears of rebellious slaves and 'merciless Indian savages' (as the Declaration puts it) to rally colonists to the cause] said. 'Race was at the center of how the founding actually happened.'" • "At the center" is doing a lot of work there. Are we really saying that if the property relation of chattel slavery had not been profitable — to many, North and South — the Revolution would have proceeded — or even been able to?
"1619 Project creator Nikole Hannah-Jones granted tenure after weeks of media furor" [WSWS]. "A review of the New York Times' archive shows that Hannah-Jones has bylined just 23 articles for the newspaper since December 2014 and nothing since June of last year. It is not uncommon for professional journalists to produce one hundred or more articles in any given year. This is not limited to lower-level beat reporters, but includes well-known columnists and journalists who generally produce several columns per week…. A final note on the issue of tenure. The increasingly difficult conditions in academia are well known, with tens of thousands of graduate students and adjuncts toiling under immense pressure with little economic and job security. While tenure was once relatively common, reaching a peak of 57 percent of faculty in 1975, according to Tufts Magazine, the American Association of University Professors reports that only 21 percent of the academic workforce in the United States is currently tenured. The overwhelming majority of academic staff today are non-tenure track, often working paycheck to paycheck and from one contract to the next. It is rare for someone to enter academia with a tenured professorship position, since most universities require a years-long probationary period. This is all of little concern to Hannah-Jones, who has been offered a permanent position, not because of the quality of her journalistic output, but because of her celebrity and the political role of the racialist narrative that she promotes."
Another astonishing grift, up with which Canada's Carleton University seems all to willing to put. Thread:
1/ Sebastien Malette is a White man whose #redface cosplay and extremist beliefs now threaten the very existence of the Metis Nation. The outcome of Malette & Co's vision would be the forced ethnic replacement of Metis people in their own governing institutions by White people. pic.twitter.com/FpOqbQS1gU

— nomoreredface (@nomoreredface) June 30, 2021
Spoiler: Malette gets tenure.
Guillotine Watch
"The Cabin Porniest Cabin of All Cabins Is For Sale" [Curbed]. • Looks like a Thomas ("Painter of Light") Kinkade painting come to life, if "life" is the word I want. Avert! Kill it with fire!
Class Warfare
"A History of 'Americanitis,' the Nervous Condition That Comes With Living in America" [Discourse Blog]. "The exact origins of the term "Americanitis" are a bit unclear, but the affliction was considered to be an extension of neurasthenia. That term was popularized by neurologist George Beard, who wrote an 1881 book called American Nervousness, which purported that humans have a limited natural supply of nervous energy, and that life in America was depleting it. The fast-paced hustle and bustle of urban life, industrialization, a population boom, and encroaching technology and noise levels were all to blame for a society that was overworked, underslept, and brimming with "excessive nervous tension." As writer Elbert Hubbard succinctly put it, Americanitis was the result of 'an intense desire to 'git thar' and an awful feeling that you cannot.' Americanitis wasn't just seen as a form of mental illness or a nervous condition, it was cited as a cause of adverse physical health effects including worsening eyesight, dizziness, headaches, impotence, lack of motivation, aches and pains, weight loss, high blood pressure, heart attack, fainting, irritability, depression, insanity, and somehow, both insomnia and fatigue…. In 2021, it often feels like we're living in a particularly bad age of pricey wellness bullshit, but it really is a time-honored tradition in this country. The scam of turning these problems (some simply the byproducts of being alive, some very real mental and physical health issues, some a direct result of a failed social system) into consumer goods has been at work since time immemorial. ." • A principle with broad application, and really, given the givens, how could things be otherwise?
"Midwestern Logistical Small Talk" [Plough]. "Most poignant to me is [Scott Beauchamp's] discussion of what he calls 'Midwestern Logistical Small Talk,' in which the conversation revolves around basic logistical data – have you eaten? did you have a good flight? – making 'language into a comfortable and familiar meeting place where facts beget facts and everyone has equal access,' enabling 'a pragmatic type of communion.' But the shared world created by Midwestern Logistical Small Talk can't be deployed amid the hipster-speak he encounters in Brooklyn, which back in the late 2000s was still the pivotal node of a slowly vanishing world of apolitical aestheticism (now replaced by an attachment to fashionable politics as earnest as the earlier attachment to MGMT and The Strokes). For this crowd, no amount of logistical data will explain Scott's time in the Army. Partly this is a matter of geography, as Scott notes, but it's also a matter of class. Around the time I left the service, the richest twenty percent of zip codes in America sent the smallest number of kids to the military (the poorest twenty percent were also underrepresented – recruiters claim the ravages of poverty make more poor kids ineligible). The conversations Scott so ably mocks are, undoubtedly, mostly with the children of privilege for whom America is supposed to be a land of opportunities (and in those years specifically opportunities for self-expression), not sacrifices." • Read all the way to the end.
News of the Wired
A blow-by-blow tweet storm of the Battle of Gettysburg fought (appropriately enough) on what would today be called the Fourth of July weekend:
It's around 0730 on the sunny, already-humid morning of July 1, 1863. One of the many blue-coated cavalry patrols and videttes posted to the roads surrounding the town of Gettysburg, Pennsylvania spots the movement of heavy columns of butternut uniforms west of the town

— Angry Staff Officer (@pptsapper) July 1, 2021
"In Praise of Painting; Dutch Masterpieces at The Met" [The Met]. "In a single year, 1566, Protestant iconoclasts destroyed an estimated ninety percent of art in the Netherlands. It was the beginning of the Dutch revolt against Spanish Catholic Rule. Suddenly, public spaces once full of art were stripped bare. Artists in this new Dutch Republic could no longer rely on church and court commissions. So painters experimented, developing genres new to European painting—like landscape and still life—and humanistic themes took center stage. Continue on to explore these innovations and how they still have tremendous impact on our view of art today." • This is one of those stupid, mobile-friendly interactive posts, but it is interesting, and the paintings are lovely. Also, moar iconoclasm!
* * *
Readers, feel free to contact me at lambert [UNDERSCORE] strether [DOT] corrente [AT] yahoo [DOT] com, with (a) links, and even better (b) sources I should curate regularly, (c) how to send me a check if you are allergic to PayPal, and (d) to find out how to send me images of plants. Vegetables are fine! Fungi and coral are deemed to be honorary plants! If you want your handle to appear as a credit, please place it at the start of your mail in parentheses: (thus). Otherwise, I will anonymize by using your initials. See the previous Water Cooler (with plant) here. Today's plant (DD):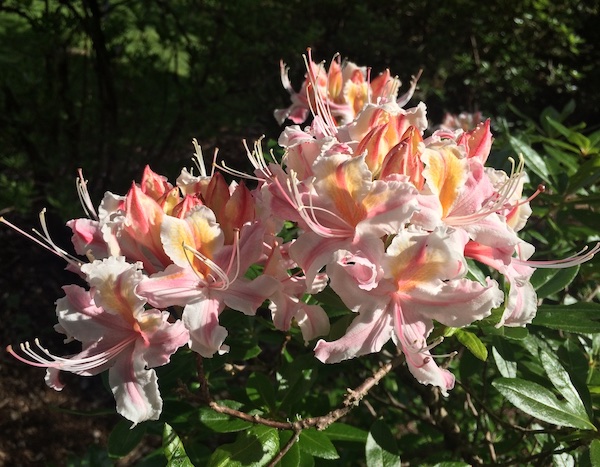 DD writes: "Attached are from the Lake Wilderness Arboretum in Maple Valley, WA, a place I just discovered after living in the area for 24 years. I'm an ignoramus about flowers, but the helpful signs there identified these as Deciduous Western Azaleas. I didn't even know deciduous flowers were a thing, but they sure are purdy."
* * *
Readers: Water Cooler is a standalone entity not covered by the recently concluded and — thank you! — successful annual NC fundraiser. So if you see a link you especially like, or an item you wouldn't see anywhere else, please do not hesitate to express your appreciation in tangible form. Remember, a tip jar is for tipping! Regular positive feedback both makes me feel good and lets me know I'm on the right track with coverage. When I get no donations for five or ten days I get worried. More tangibly, a constant trickle of donations helps me with expenses, and I factor in that trickle when setting fundraising goals:
Here is the screen that will appear, which I have helpfully annotated.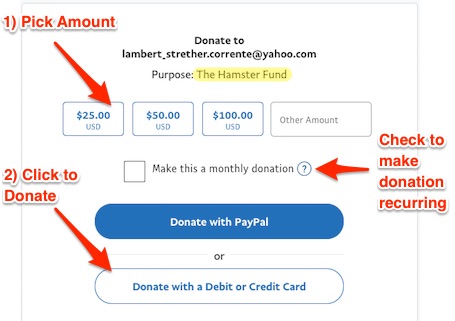 If you hate PayPal, you can email me at lambert [UNDERSCORE] strether [DOT] corrente [AT] yahoo [DOT] com, and I will give you directions on how to send a check. Thank you!2:00PM Water Cooler 6/8/2021