By Lambert Strether of Corrente
"The augmentation of the complexity and intensity of the field of intelligent life." –Ursula Leguin, The Left Hand of Darkness
I'm not sure what I encountered in my perambulations through the biosphere that drove me to write about the world's second largest rodent, the beaver[1]. (The largest is the preternaturally placid capybara, a far less interesting and impactful creature, albeit also semiaquatic.) Beavers are nocturnal, and I would see one come out at dusk on the Stillwater, swimming with amazing speed upstream away from the falls, leaving a silver wake, carrying material to stock or build its lodge (which it was quite noisy about; the Stillwater is quite still).
That is what is intrigues about the beaver: Like humans, the beaver is a builder. From the U.S. Fish and Wildlife Service:
Beavers need two to three feet of ice-free water year round. To maintain the necessary water level, beavers construct dams. Piled logs and trees are secured with mud, plants, rocks and sticks. They also build canals to float and transport branches and logs for food and construction. Food for the winter is stored in underwater food caches; beavers eat bark, leaves, aquatic plants, roots and grasses.There are two types of dens beavers use as food caches depending on water fluctuations: bank dens and lodges. Lodges are constructed where water levels are more stable, as in ponds or lakes. The same lodge is used by a family year after year and may house up to ten beavers at a time. The main room of the lodge is often more than 3 feet tall and 4 to 5 feet wide.
The lodges seem like quite comfortable little homes:
Within each lodge beavers will hollow out a chamber where they sleep, eat, groom each other, and the baby kits are born and nursed each spring. Beddings of grasses, reeds and wood chips are changed regularly. In order to breathe fresh air beavers do not apply mud to the peak of the lodge, creating a ventilation shaft. Note: If you have an opportunity to visit a beaver lodge on a very cold winter day, look very closely and you may see the beaver's breath escaping from this chimney-like peak, or even hear the murmurs of the beaver family inside!

Each lodge contains at least two water-filled tunnels leading from the chamber to the pond so the beavers can enter and exit the lodge underwater without being spotted by predators. The walls of the conical lodge are very strong due to layers of mud and sticks, and are extremely insulated. Even with subzero outside temperatures it will not drop below freezing inside the lodge due to retained body heat from the family of beavers.
But what beavers build that's really interesting is dams, that create the ponds[1] that surround their lodges:
The simple answer is that beavers build dams to deepen watercourses, so that they can create "lodges" that can be better defended from modern predators including bears, wildcats, otters and other mammalian forebears with whom the beavers shared prehistory. It seems that deep water is particularly important to beavers. Lakes and ponds allow for a kind of floating structure of sticks and branches that can be accessed from a secret hole beneath, a key real-estate feature that reduces the need for terrestrial entrances through which land-based predators can climb. Upon finding shallow watercourses, colonising beavers immediately begin damming, creating canals along which trunks and branches can be dragged along to add to this, their anti-predator superstructure. In these lodges, beavers rear their young and see out winter, safe and sound.
Here is a magnificent diagram (credit illustrator Bill Donohoe) of the entire lodge and dam complex, showing details of the construction: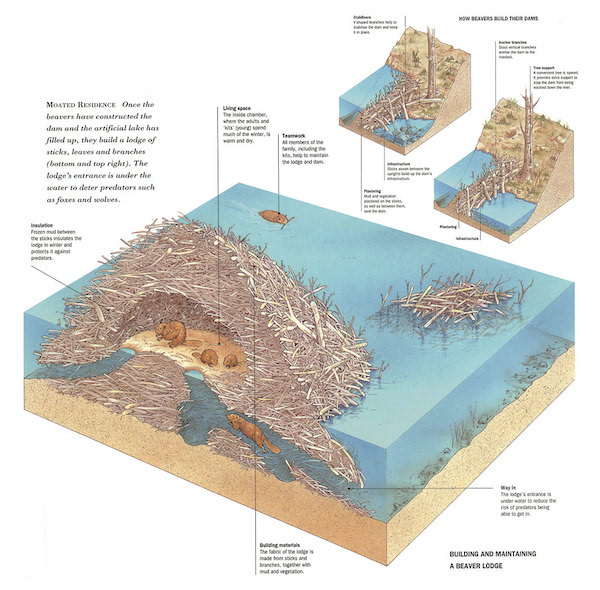 And here is a beaver dam encountered in nature: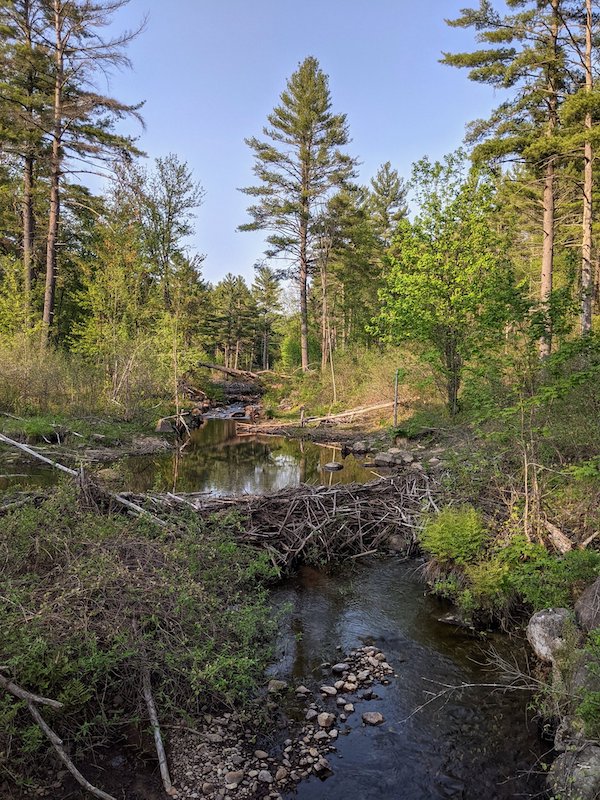 Woudn't it be nice to encounter something so beautiful on a walk through the forest! Readers can just look at the photograph to see the ecological niches such a wetland creates: The pools and streams, the shady nooks, the sticks and vegetable matter; beaver dams have been said to encourage songbirds, salmon, ducks, frogs, and who knows what else. Moose? Yes, moose. That's why beavers are considered a keystone species[2]:
The North American beaver is a keystone species, a unique organism that supports the entire biological community.

"To acknowledge that beaver create environments that store water and help sustain other creatures is insufficient. Beaver are nothing less than continent-scale forces of nature and in part responsible for sculpting the land upon which Americans built their communities."

— Ben Goldfarb in Eager: The Surprising Secret Life of Beaver, 2018
But that dam was only a small one:
A Canadian ecologist has discovered the world's largest beaver dam in a remote area of northern Alberta, an animal-made structure so large it is visible from space.
Another such "animal structures" being, oh, Manhattan. More:
Researcher Jean Thie said Wednesday he used satellite imagery and Google Earth software to locate the dam, which is about 850 metres (2,800 feet) long on the southern edge of Wood Buffalo National Park….

Construction of the dam likely started in the mid-1970s, said Thie, who made his discovery quite by accident while tracking melting permafrost in Canada's far north.

"Several generations of beavers worked on it and it's still growing," he told AFP in Ottawa.

Thie said he recently identified two smaller dams sprouting at either side of the main dam. In 10 years, all three structures could merge into a mega-dam measuring just short of a kilometer in length, he said.

The region is flat, so the beavers would have had to build a massive structure to stem wetland water flows, Thie said, noting that the dam was visible in NASA satellite imagery from the 1990s.

"It's a unique phenomenon," he said. "Beaver dams are among the few animal-made structures visible from space."
Here is that dam (the resolution is what it is):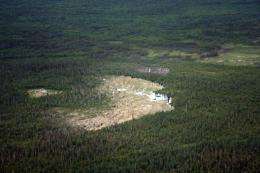 Beavers, then, are not merely keystone species; they can and do re-engineer the landscape on a very large scale. Turning less rhapsodic and more science-adjacent, beaver re-engineered landscapes have effects on carbon capture (good) and methane generation (potentially bad).
Turning first to carbon, we find the following in Geophysical Research Letters, "Landscape‐scale carbon storage associated with beaver dams":
Beaver meadows form when beaver dams promote prolonged overbank flooding and floodplain retention of sediment and organic matter. Extensive beaver meadows form in broad, low-gradient valley segments upstream from glacial terminal moraines. Surveyed sediment volume and total organic carbon content in beaver meadows on the eastern side of Rocky Mountain National Park are extrapolated to create a first-order approximation of landscape-scale carbon storage in these meadows relative to adjacent uplands…

I present landscape-scale estimates of cumulative sediment and organic carbon storage associated with beaver dams in mountainous headwater catchments within Rocky Mountain National Park (RMNP) in Colorado, USA, as an example of the regional assessments necessary to understand the cumulative effects of reduced beaver populations.
And, presumably, carbon capture with increased beaver populations[3]. More:
Although values of carbon storage can be refined, the trends indicated in this analysis are robust: beaver meadows store the great majority of carbon along rivers in these mountainous headwater catchments; this source of carbon storage cumulatively represents ~8% (relict) to 23% (active) of estimated total landscape carbon storage; and riverine carbon storage has declined substantially with the replacement of beaver meadows with drier "elk grasslands" [Wolf et al., 2007]. The estimated 23% of total landscape carbon storage within active beaver meadows also agrees well with an earlier estimate of 25% of total carbon storage in unconfined valley bottoms that included beaver meadows and old-growth forest with substantial downed wood.
That seems like a lot of carbon.[4]
On a more granular level, we have from Geoderma, "Beaver pond effects on carbon storage in soils":
The density and stratigraphy of carbon storage was studied in soils of boreal beaver meadows, graminoid wetlands that develop after a beaver pond is abandoned and drained, at Voyageurs National Park on the U.S.–Canada border, where beaver re-colonized the landscape during the latter half of the 20th century. Carbon density was measured to a depth of 60 cm by collecting volumetric samples in mineral soils from the side walls of hand-dug trenches….. [C]arbon density to a depth of 60 cm was still significantly greater in beaver meadow pedons …. than in adjacent forest soils that had not been impounded…. The difference was attributed to the accumulation of graminoid [here, in contrast to forbs (!)] plant debris in thick surface O horizons [topsoil[5]. Volumetric carbon concentrations were greatest in O horizons, and a linear regression between O horizon thickness and carbon density was significant.
And we learn from "Beaver Ponds and the Carbon Cycle" that beaver-pond peat is better than bog peat:
Carbon takes a variety of forms in beaver ponds and beaver meadows, including live plant biomass, standing dead biomass, soil organic matter, soil carbonates, dissolved organic carbon, and trace gases….The slow decomposition rate of beaver meadow plant litter under anaerobic conditions promotes the accumulation of organic (O) soil horizons, which have a calculated mean residence time of 69 years. The carbon per unit area in soils that were formerly impounded by beavers (15.1 ± 6.8 km C m−2) was nearly twice that of adjacent never-impounded forest soils (8.2 ± 2.9 km C m−2). Beaver meadow sedge peat mineralization was compared with that of bog peat in long-term (80-week) laboratory incubations. Beaver meadow sedge peat had significantly higher carbon mineralization rates under all incubation conditions except aerobic incubation at 15 °C (other treatments were anaerobic incubation at 15 and 30 °C and aerobic incubation at 30 °C).
In other words, all those sticks and all that rotting plant matter adds up to — switching to scientific terminology here — a boatload of carbon captured, because beavers work to the landscape scale. And carbon capture is a Good Thing, especially if we leave the carbon in the ground.
However, beaver ponds and meadows, besides being carbon sinks, are also methane sources[6]. In Phys.org, "Effects of growing beaver population on habitat and methane gas emissions", we find the process explained:
Beavers are skilled at building dams in rivers to create standing open-water ponds and neighboring wetlands. Such ponds are generally shallow, with dams seldom being more than 1.5 metres high. Carbon builds up in the oxygen-poor pond bottoms and methane is generated. This climate warming gas cannot adequately dissolve in the shallow water and is released into the atmosphere.

According to Whitfield, it has long been known that release of methane from beaver ponds to the atmosphere is more intense than for other types of wetlands. To quantify methane release, his team estimated the size of the current global beaver population. They also determined the area covered by beaver ponds.

Whitfield's team found that global beaver numbers have grown dramatically, to a population of over 10 million. The Eurasian population could grow by an additional four million. In the process of population recovery, beavers have dammed up in excess of 42,000 square kilometres of aquatic pond areas, which are bordered with over 200,000 kilometres of shoreline habitat.

Parallel to the increase in beaver populations is also a notable increase in methane emissions because of their pond-building efforts. At the end of the 20th century, beaver activities contributed up to 0.80 teragrams (or ) of methane to the atmosphere each year. This is about 15 percent of what wild cud-chewing animals, such as deer or antelope, contributed.
(This contribution is expected to grow.) By comparison, the US oil and gas industry emits 13,000 million kilograms of methane a year. But (expanding on this post on ponds at NC) there is also the issue that beaver ponds in the warming Arctic also release methane. From WBUR, "The Unusual Connection Between Beavers, Permafrost And Climate Change":
As temperatures warm and boreal beavers migrate north, they're creating ponds — more than 10,000 of them — that are flooding millennia-old permafrost. When thawed, permafrost can release dangerous greenhouse gasses such as carbon and methane.

University of Alaska Fairbanks researcher Ken Tape says the beavers are, in effect, creating dangerous oases around the Arctic. He's one of the authors of a recent study on beavers and permafrost….

The influx of beavers building ponds is starting to thaw the permafrost — land that's been frozen for at least two years but often hundreds or thousands of years — under the ground.

Permafrost makes the beavers moving up into the tundra a global concern. When beavers flood the tundra to make ponds, the water transfers heat to the ground and starts thawing the permafrost, releasing the greenhouse gases stored inside, he says.
Leaving us, I suppose, with a public policy issue. Since beavers work to landscape scale, do they also work to planetary scale? What if they — with a little help from us — do manage to convert the Arctic permafrost into an enormous wetland? What do we do? Exterminate them again?
I am inclined to believe not, because I don't think "the science" at this point can do more than serve as a heuristic, probably because I don't trust models as anything more than heuristics. (Suppose Google did in fact engineer a working quantum computer and managed to model the climate with it. Would we trust the data or the algorithms of their model? Why?) I feel — underline — that the way forward is through more (natural[7]) complexity, not less. A world with Arctic wetlands engineered by beavers could end up being preferable to a world where the Arctic as it has been is basically a tear-down anyhow. It's likely preferable to a world where the Arctic becomes an enormous tree plantation to feed BECCS plants. I understand this is an aesthetic judgment. And perhaps that's what an animist would think. Readers?
NOTES
[1] Here is a good presentation on beaver biology from the National Park Service. Among other adaptions, beavers have pelts to keep them warm while swimming, flat tails that they use like rudders while swimming, big front teeth, and webbed back feet. Their front feet are like hands, but without thumbs, perhaps fortunately for us. Beavers eat the bark, buds, stems, and twigs of trees. "Because a beaver's front teeth grow all the time, a beaver must constantly chew on wood to trim the teeth down." There are only two species of beaver: The American beaver (Castor canadensis), and the Eurasian beaver (Castor fiber).
[2] We discuss keystone species (and food webs) further here. What appeals to me about the beaver-as-builder is that they are keystone species without being predators, unlike wolves or sea otters.
[3] I am going to skip over both the ugly story of how we homo sapiens (yeah, right) nearly exterminated the beaver in order to make hats from their fur, and the happier story of how we brought the beaver back through a combination of regulation and rewilding, globally. I might make this the topic of future post. There is, for example, the question of whether wetlands are more important than real estate development.
[4] And when you see the neat "hockey stick" curves, you wonder if the stories they tell include the carbon storage services lost when we nearly exterminated the beaver, besides the carbon we dumped in the atmosphere by burning fossil fuels.
[5] See Naked Capitalism here for a diagram of soil horizons, including horizon O.
[6] Nobody seems to know how it all nets out. "Beaver ponds can indeed be large sources of potent planet-warming greenhouse gases such as methane and nitrous oxide, says Jennifer Edmonds, an aquatic ecologist at the University of Alabama, Tuscaloosa. (Over the course of a century, methane traps heat in Earth's atmosphere about 25 times as effectively as carbon dioxide; nitrous oxide does so almost 300 times as effectively over the same interval.) But considering the whole landscape, she adds, 'if I had to bet, I'd bet that [the beaver meadows] are storing more carbon than they're producing.'" Perhaps it's not knowable?
[7] Whatever that means. Ecological?