By Lambert Strether of Corrente.
I know that the heat wave in the Pacific Northwest and Canada is serious, but this will be an extremely silly post about cats, mostly made from tweets. (Actually, the cats won't think it's silly, nor will their staff. But nevertheless.) At the end, I'll get more serious. But here we go–
Thinking ahead:
Cat getting high on catnip before the heat cranks up in #Seattle today. pic.twitter.com/8YmVJP9xTr

— debookie (@debookie) June 28, 2021
Catsicles:
I did a thing. Made a cat popsicle to beat this heat! I froze some leftover chicken stock in an ice cube tray and… voila! pic.twitter.com/gjH9a4R6IK

— BERTA (@_breitBERT) June 29, 2021
Cat under a cold wet towel:
Gus sporting his cooling cape. What is a cooling cape? Well it's a frozen wet kitchen towel. But doesn't it look cool? Cats don't do well in this heat. So sometimes you have to give some assistance. #wawx #PNWheatwave #CatsOfTwitter pic.twitter.com/aQbkDWKFqw

— Dr. Mary K Butwin ☁️🌋☁️ (@butwinmk) June 28, 2021
Your biggest fan:
My friends' cat perfectly captures my attitude toward this heat wave. pic.twitter.com/FKtNrn1hfN

— James L. Sutter (@jameslsutter) June 26, 2021
Ice house:
Kittycat house built on ice packs. Beat the heat cat style #catmom #CatsOfTwitter #crazycatparents pic.twitter.com/uTcva6n2GN

— McKnight (@rilmcknight) June 28, 2021
Ice pack:
My cat was melting in the heat so I gave her an ice pack pic.twitter.com/eqrOjeWMOU

— Steph! ZERO to ONE 🍊 (@UnicornSocks13) June 21, 2021
Ice box:
I couldn't find a hotel so we put our cat in the freezer for a little 😞 pic.twitter.com/0nFHdlWd6Z

— Sabu (@SabShowalter) June 28, 2021
Staycation:
I took my cat to a hotel to survive the heat pic.twitter.com/r1fuEwRe4m

— Kinsey 🔜 Kyoto (キンセイ) (@KinsZilla) June 28, 2021
But the hotel stay doesn't necessarily go well. Poor Mr. Onion!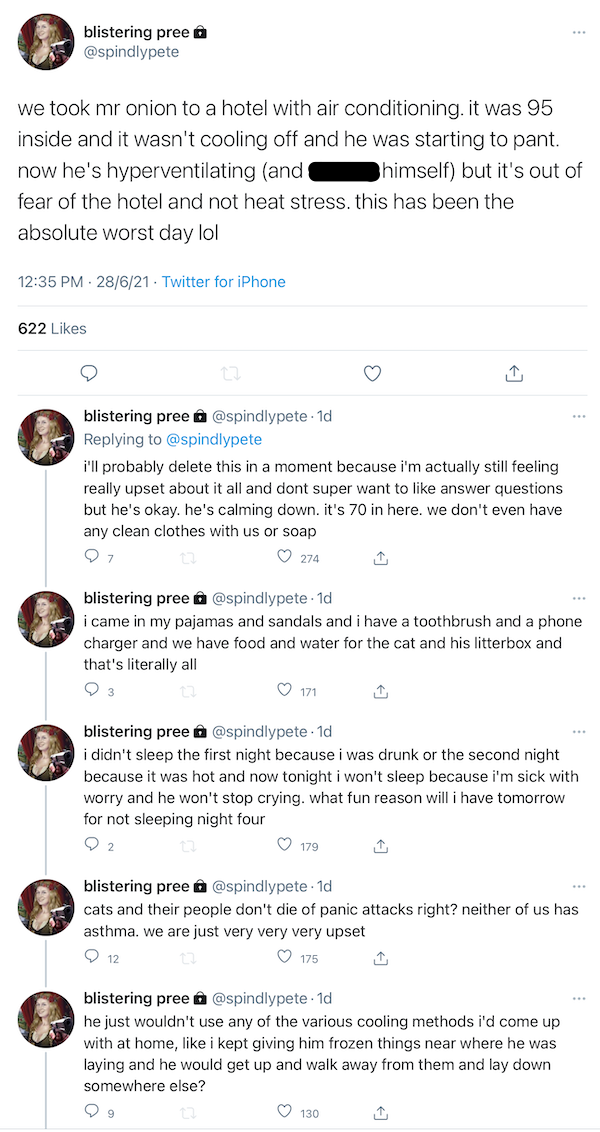 Throwing shade:
My cat and dog are staking out their spots for the warm weather but my other cat is inside under a bed and I think he has the right idea. Hopefully you're making plans to deal with the heat too. pic.twitter.com/8FYuoyLFel

— Washington State DOT (@wsdot) June 24, 2021
The cool of the evening:
I can't stand this heat for long.
I look forward to summer in winter, and in this heat I long for snowfall.#CatsOfTwitter #cats pic.twitter.com/h7S1t3SmC9

— Gilla (@Gilla77524414) June 24, 2021
Hard to believe: a cat on a leash!
* * *
Turning serious, and turning from cats to their staff, I am fortunate in two ways: First, I don't mind the heat, even if it's not dry, up until around 95°F/35°C (which I admit is practically chilly by comparison to what's happening out West now and also not the proper metric, as we shall see in a moment.). Second, I have no experience managing a heat wave beyond opening a window and turning on a fan. Closing the windows and blocking them with tinfoil + cardboard + a blanket is just way beyond anything I have ever been called upon to do. All of which is a roundabout way of saying that I'm about to present three threads on heat management that are very detailed and seem sensible, but I can't claim to have vetted them based on experience. So do click through weigh in! Herewith:
From Maine, a thread:
Don't make yourself eat, don't force your kids to eat. Eating when too hot will cause vomiting. Have fruit and jello in the fridge and make them unlimited for the heatwave. I KNOW your toddler will want to eat jello all day. It's okay today. Cold fruit/jello keep them hydrated.

— Sniggles (Bitchcraft & Niggatry) (@ArnicaxRoss) June 27, 2021
From Arizona, a thread:
1. Cover your windows with a combination of cardboard covered with aluminum. Aluminum helps dissipate heat. This why heatsinks in computers use them.

2. Have a misting unit outside and towels covering your windows. The combination will help cool things down.

— Rock Light (@MightyRockLight) June 27, 2021
From Australia, a thread:
The escape part is very serious here – if you have a location with AC that you can go to, *go there*. I know COVID makes public places like cinemas and malls unattractive, but if you're vaxxed, or can accept the risk, spend as much time in these places as you can.

— Lee Davis-Thalbourne (@passerkirbius) June 27, 2021
I'm actually rather hopeful at seeing how much information is being shared — besides the cat pictures — because I have the feeling we're going to be doing a lot more of this.
I mentioned that temperature as such ("95°F/35°C") is not the metric to watch. Here is a thread on "wet bulb" temperature, which is:
"Wet bulb" temperature is the temperature + relative humidity at which water stops evaporating off a "wet" thermometer bulb. If air is sufficiently humid (saturated w/ water vapor), evaporation will no longer cool the bulb, and it gets continuously hotter.

— (((Matthew Lewis))) has some Shoup for you (@mateosfo) June 29, 2021
Why this matters:
However, key interaction here is evaporation, which is controlled in part by a) amount of energy in the sweat (how much heat it is carrying) and b) how much moisture is already in the air. E.g., when people tell you "it's a dry heat" as if it's "more tolerable," they are correct.

— (((Matthew Lewis))) has some Shoup for you (@mateosfo) June 29, 2021
While humans can survive temperatures of well over 50C when humidity is low, when both temperatures and humidity are high, neither sweating nor soaking ourselves can cool us. What matters is the "wet-bulb" temperature – given by a thermometer covered in a wet cloth – which shows the temperature at which evaporative cooling from sweat or water occurs. .

A 35C wet-bulb temperature was once thought impossible. But last year scientists reported that locations in the Persian Gulf and Pakistan's Indus river valley had already reached this threshold, although only for an hour or two, and only over small areas.
Presumably, therefore, wet bulb temperature is something that you would wish to measure before it's too late. Here is a video showing wet bulb instrumentation:
If you want to build your own instrumentation, apparently a wet bulb thermometer is useful when smoking or drying meat (!), so here are directions. It is also possible to make a wet bulb thermometer with common household materials:
A thermometer left naked and exposed to the air will measure the ambient temperature. If you wrap the bulb of the thermometer in wet cloth, by contrast, the evaporating water from the wet cloth will cool the thermometer down, and its temperature will be cooler than it would be otherwise. The less moisture in the air, the more rapidly the water on the wet cloth will evaporate, and the cooler the wet bulb temperature will be. The lower the wet bulb temperature compared to the dry bulb temperature, the lower the humidity.

You need an absorbent material to soak up water and stay in contact with the tip of your thermometer — preferably made from cotton and with a thicker inner layer coupled to a looser outer layer. An old shoelace or bootlace is ideal; alternatively, you can buy wicks made for this purpose from science supply stores. Whether you buy a wick or use a bootlace, you'll want to place the wick in a vessel, such as a beaker full of water, so that it soaks up the moisture. Then put one end of the wick around the temperature probe on your thermometer. Water will travel up the wick through capillary action, while the tip of the thermometer remains continually moist. The temperature on your thermometer is now the wet-bulb temperature.
If we review the measures taken by the cat's collective staff, as well as the tips provided from Maine, Arizona, and Australia, we can see that they all make, well, pre-collapse assumptions: That there will be electrical power, that there will be water, that there will be hotels, and so forth. Air conditioning is a given. Wet bulb instrumentation assumes batteries, power, in some cases WiFi, and long life in the casing and the sensor. It might be wise to start re-thinking those assumptions while there's still time.
I was recently struck by these two images, especially the top one:
I've been psyched up on underground systems recently; just today I was reading about qanat-type "wells" and underground cooling in Persia: https://t.co/4beJbzeqlj pic.twitter.com/VSSaR18pAZ

— don chomei (@rathervue) March 3, 2021
I am not advocating for this particular design; I don't think we'll be digging qanats any time soon. What struck me is that the builders were conscious of the wind and the earth. (I have become very conscious of ventilation during the current pandemic, and was already conscious of drafts, that is wind, when sealing and insulating the house[1], so I find this confluence interesting. We have to start being conscious of the air, visualizing it…). I once visited a teak house in Southeast Asia that was cool in the staggering heat, because it was properly situated to catch the breeze, was raised off the ground on stilts, shadowy on the inside, and had enormous eaves (apparently Australian houses often have awnings all around, serving the same purpose).
All of which is to say, it makes sense to start imagining what life without air conditioning would look like, and reconfiguring one's living — and working? — space accordingly. Pergolas, for example; trees; vines, all for shade. It's possible, if we learn from cultures other than our own (including permaculture).
And now to feed the cat a chicken-soup ice cube!
NOTES
[1] The house pinned the meter on the blower door test!