By Lambert Strether of Corrente.
Bird Song of the Day
Busy little creature!
* * *
#COVID19
At reader request, I've added this daily chart from 91-DIVOC. The data is the Johns Hopkins CSSE data. Here is the site.
I feel I'm engaging in a macabre form of tape-watching. I've been thinking of new charts to monitor to alert us to the next outbreak, assuming there is one, but for now, the data from the South means I'll stick to the status quo.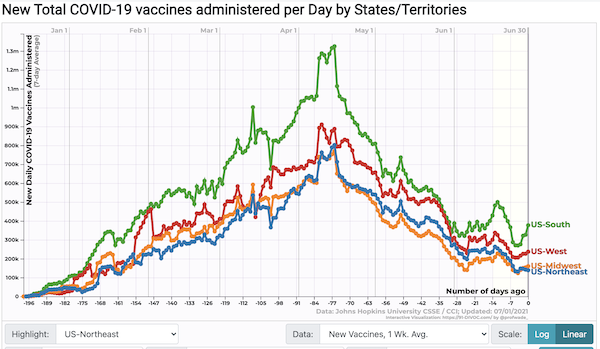 Now all rising together. Kamala did the trick? Hard to believe.
"Not Over" [Eschaton]. "I'm not predicting bad things, but I don't think people get that cases are shooting way way way up in the UK, one of the most vaccinated places on Earth." In chart form:
Anyone who doubts the #DeltaVariant wave is coming only needs to look at Israel🇮🇱 and UK🇬🇧—two of the most heavily vaccinated countries in the world. Hospitalizations are increasing ⬆️ in both countries too. US🇺🇸 is ~1 month behind UK—but US vaccinations are slowly. #COVID19 🧵 pic.twitter.com/9LXAONCzzK

— Eric Feigl-Ding (@DrEricDing) July 1, 2021
Of course, the United States is of continental scale, unlike Israel and the UK. Nevertheless, it's not over.
Case count by United States regions: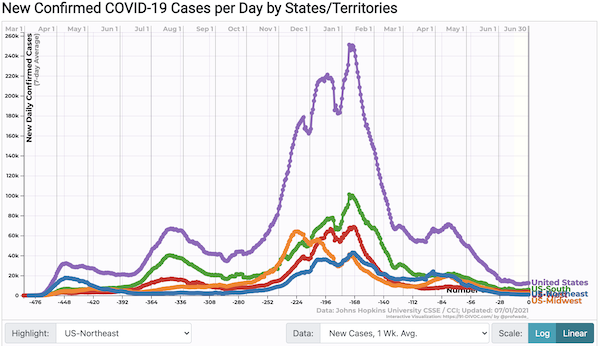 Trend is now slightly up, which is not supposed to be happening. (Note that one of the narratives seems to be that there will only be pockets of cases in unvaccinated juridictions (i.e., blame the deplorables for a public health messaging, delivery, and performance debacle). Bew that as it may, we can see the effects in this aggregate, in the aggregated data for Texas and Florida, and in the Top Ten states (all below). Nothing like the runaway train in the first days and weeks, but the train is rolling. It would certainly be nice if this trend isn't signaling the changeover from Alpha to Delta.
Here are the case counts for the last four weeks in the South (as defined by the US Census: Alabama, Arkansas, Delaware, Florida, Georgia, Kentucky, Louisiana, Maryland, Mississippi, North Carolina, Oklahoma, South Carolina, Tennessee, Texas, Virginia, West Virginia, and the District of Columbia):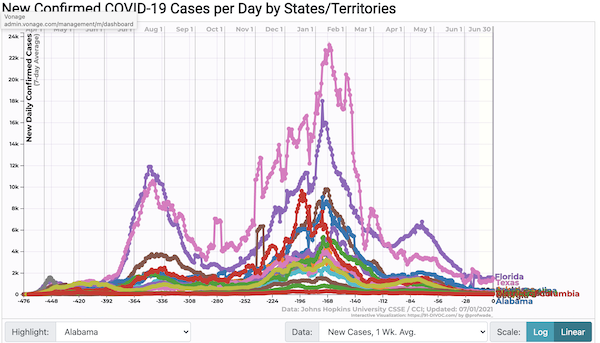 Texas and Florida, capital of Latin America, neck and neck.
Covid cases top ten (hat tip, alert reader Lou Anton):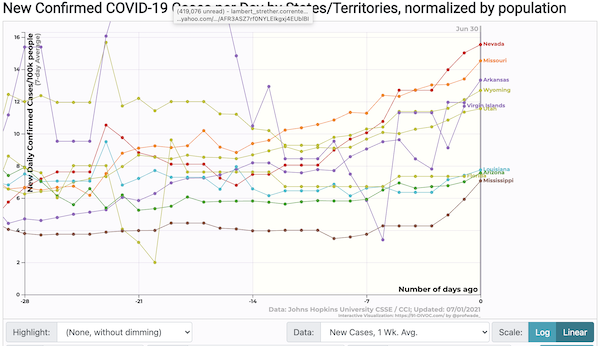 Tourist states disproportionately represented. Let's hope it stays in Vegas.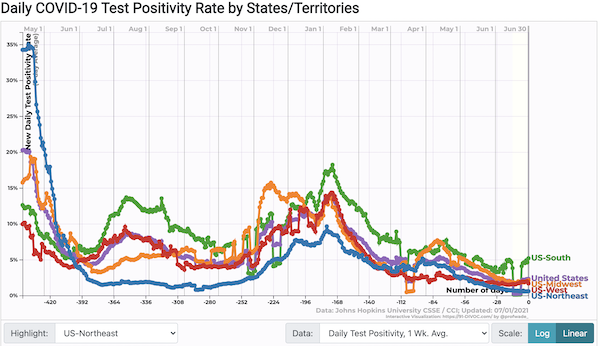 South bounces back.
Hospitalization (CDC):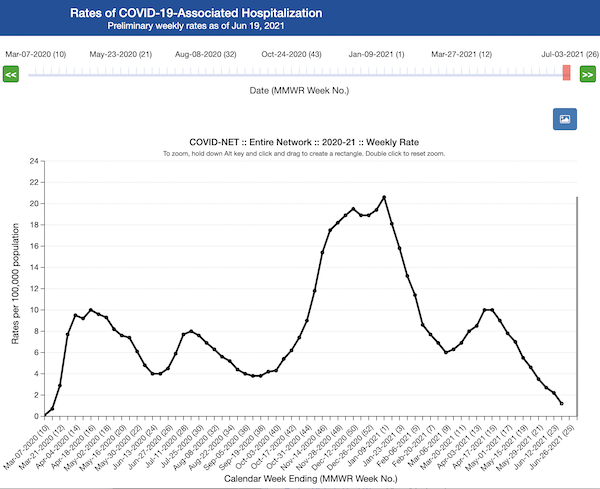 Continued good news.
Deaths (Our World in Data):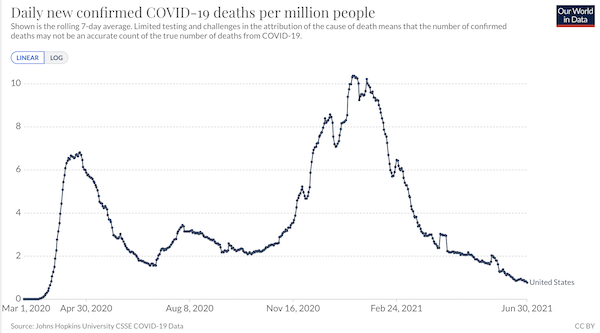 Continued good news.
Covid cases worldwide: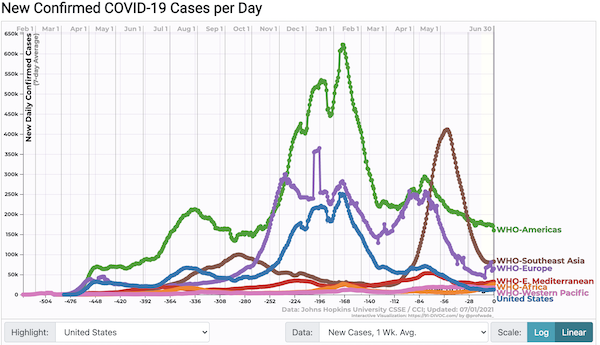 * * *
Politics
"But what is government itself, but the greatest of all reflections on human nature?" –James Madison, Federalist 51
"They had one weapon left and both knew it: treachery." –Frank Herbert, Dune
"They had learned nothing, and forgotten nothing." –Charles Maurice de Talleyrand-Périgord
Capitol Seizure
"Pelosi names Cheney to serve on the select committee investigating the Capitol attack" [New York Times]. "Her appointment to the committee appeared to be an attempt by Democrats to bring a degree of bipartisanship to an investigation that G.O.P. leaders have fought mightily to block and have already dismissed as an unfair and one-sided inquiry. 'I'm honored to serve on the Jan. 6 select committee,' Ms. Cheney said in a statement. 'Our oath to the Constitution must be above partisan politics.' Ms. Pelosi selected Representative Bennie Thompson, Democrat of Mississippi, as its chairman and chose a number of her closest allies to serve on the panel, as well as some centrists who represent conservative-leaning districts."

"Inside the Capitol Riot: An Exclusive Video Investigation" [New York Times]. "One of the biggest questions hanging over the aftermath of Jan. 6 was whether the riot was planned and carried out by organized groups. By identifying and tracking key players throughout the day, we found that most — even some at the forefront of the action — were ardent, but disorganized Trump supporters swept up in the moment and acting individually." • I notice that the Times is now using the word "riot," and not "insurrection." Well done.
Biden Administration
"Pelosi stands by infrastructure strategy despite pushback" [CNN]. "House Speaker Nancy Pelosi indicated on Wednesday that she stands by her assertion that the House won't take up a bipartisan infrastructure deal until the Senate passes a more sweeping package through budget reconciliation, a position that has drawn criticism from Republicans and caused some anxiety among moderate House Democrats…. The comments from the speaker come after she said last week, 'Let me be really clear on this: We will not take up a bill in the House until the Senate passes the bipartisan bill and a reconciliation bill.' Emphasizing the point, she said, 'There ain't gonna be no bipartisan bill, unless we have a reconciliation bill.' Democratic leaders are pursuing a dual track approach to infrastructure, pushing for a bipartisan bill while also setting the stage for the Senate to pass a package that would only require Democratic votes and would include priorities left out of the deal."
2020
"New poll shows how Trump surged with women and Hispanics — and lost anyway" [Politico]. "Every piece of evidence since the November election suggests Donald Trump made significant inroads among blocs of voters thought to be out of reach to the controversial now-former president. And he still lost the popular vote by roughly twice the margin he did in 2016 — enough for Joe Biden to flip five states Trump won and capture the Electoral College. A new analysis from the Pew Research Center shows why: Even as Trump was narrowing Democrats' margins with white women and Hispanic voters, Biden was surging with other groups, like suburbanites, white men and voters who identified as independents, that propelled him to victory…. While the survey release does not break down Hispanic voters by country of origin, the authors do remind readers that the Hispanic vote is 'not a monolith' and link to an October 2020 blog post headlined, 'Most Cuban American voters identify as Republican in 2020.'" • Must be causing brain melt among the idpol factions, but — and that I have to say this makes me want to spew — it looks like Chuck Schumer was right: "For every blue-collar Democrat we lose in western Pennsylvania, we will pick up two moderate Republicans in the suburbs in Philadelphia, and you can repeat that in Ohio and Illinois and Wisconsin." If only Hillary hadn't been such a lousy candidate! Commentary:

The things that divide Latino voters are very similar to the things that divide Anglo voters https://t.co/3Zwne3ejOS

— Nick Riccardi (@NickRiccardi) July 1, 2021
Republican Funhouse
UPDATE "Democrats Raise Ethical Concerns Over GOP Donor's $1 Million Funding of Border Deployment" [Military.com]. "A billionaire's $1 million donation to fund a South Dakota National Guard mission to the U.S.-Mexico border has raised questions of whether the military is effectively for hire, and Democrats in the state are investigating the legality of the issue, Military.com has learned. Willis and Reba Johnson's Foundation, helmed by billionaire Willis Johnson, pledged $1 million to South Dakota to cover the estimated cost of deploying some 50 guardsmen to the border for up to two months, according to a state government email reviewed by Military.com." • Yikes. General Willis's Army. What could go wrong?

"The GOP's Dark Money Court Machine" [David Sirota, Daily Poster]. "The Concord Fund is the new parent nonprofit of the Judicial Crisis Network, a secretive dark money group that has been bankrolling campaigns to install GOP judges and funding conservative advocacy campaigns around the country since 2004. After Ginsburg's death in September last year, the Judicial Crisis Network immediately started spending millions on ads calling on Senators to 'ignore the extremists, stick to precedent, and confirm the nominee,' who had not yet been named. The group then spent millions more to support Barrett's confirmation after former President Donald Trump selected her to replace Ginsburg. The Concord Fund's latest IRS tax return shows the organization raised $20.4 million between July 2019 and June 2020. While the group is not required to publicly disclose its donors, the tax return shows it received $14.3 million — nearly 70 percent of its total revenue at the time — from a single anonymous source."

"Satanists are furious that Boehner compared Ted Cruz to the Dark Lord" [Raw Story]. • From 2016. Happy, innocent times!
Trump Legacy
UPDATE "MAGA Maoism" [Project Syndicate]. "There is a disturbingly strong historical analogy to the Republican Party's transformation into a cult of personality: the Communist Party of China under Mao Zedong. At the CPC's Lu Mountain Plenary Meeting in 1958, Marshall Peng Dehuai pointed out that Mao's judgment was flawed, and that he could no longer be trusted as primus inter pares. The only question was whether the other party grandees could move ahead without Mao's charismatic link to the party's gullible base. But Mao struck first. While party officials like Peng Zhen, Luo Ruiqing, Lu Dingyi, Yang Shangkun, and Deng Xiaoping were purged, Peng and Liu Shaoqi both turned up dead, and the rest of the grandees got with the program. That program was the total chaos of the Cultural Revolution. Recognizing that those who had benefited from the initial purges would need to be kept insecure and toothless, Mao continued to shake things up. Chen Boda was purged, Lin Biao was eliminated, and Deng – with his reputation for bureaucratic competence – was brought back into the fold, only to be purged again after being threatened with the promotion of Wang Hongwen (backed by the rest of the "Gang of Four" and Kang Sheng) and then Hua Guofeng. Through all this shuffling, only two personnel qualifications mattered: obsequiousness and powerlessness. If the official in question fulfilled both, he would be praised, honored, and promoted. If he lacked one or the other, he would be taken down a peg, sent to work as a pipefitter, or assassinated (the one exception was Zhou Enlai, whose unfailing sycophancy perhaps made up for the fact that he wasn't entirely powerless). This process could be sustained because there was always an ample number of party officials who saw the chaos as an opportunity for their own advancement. But while deferentially doing Mao's bidding could yield career advantages, he was old, low on energy, and on his way to meeting Karl Marx in the great beyond. So, the court intrigue continued, with officials falling over each other to "work toward the Chairman," even though nobody but Mao's nephew and closest aide could claim to understand his incoherent grunts and scrawls. Even after Mao's death, various factions competed to show that they had been truer to his wishes than anyone else." • I think this is an interesting analogy, which could use a little historical grounding in party structure, not to mention political economy. Fun, though!
Realignment and Legitimacy
UPDATE "What if American Democracy Fails the Climate Crisis?" [New York Times]. Kim Stanley Robinson: "Well, we are stuck in an international system of nation-states, and we don't have time to invent and institute any kind of alternative world governance, so we have to use what we've got. But we also have the Paris agreement, and climate equity was written into it so that developed rich nations were tasked with paying more and doing more and helping the historically disadvantaged and even colonized nations. Executing all that is, of course, a different story…. It is a fragile system. It could become like the League of Nations. In the future, to the extent that there will be historians, they may look back and say it was a good idea that failed. People may look back to our time and say, Here was a crux, and then they blew it. This is the power of the basic science-fictional exercise of looking at our own time as if from the future, thus judging ourselves as actors in creating history. From that imaginary perspective, it can sometimes become blazingly obvious what we should do now. fade to insignificance when you take the long view and see us teetering on the edge of causing a mass-extinction event that would hammer all future living creatures." • "Fade to insignificance"? For whom? See Tooze and Doctorow under Class Warfare.
Stats Watch
Coincident Indicators: "New York Fed Weekly Economic Index (WEI): Index Declined" [Econintersect]. "The New York Fed's Weekly Leading Index (WLI) marginally declined this past week. This index's trend is improving based on the 13-week rolling average."
Construction: "May 2021 Headline Construction Spending Marginally Slows" [Econintersect]. "The headlines say construction spending marginally slowed month-over-month. Our analysis shows the rolling averages improved. Consider this report better than last month even though US Census thinks it is worse. There was a general revision to the data for the last 2.5 years."
Empoyment Situation: "Initial Unemployment Claims Rolling Average Contiues To Modestly Decline" [Econintersect]. "Market expectations for weekly initial unemployment claims (from Econoday) were 370 K to 400 K (consensus 387 K), and the Department of Labor reported 364,000 new claims. The more important (because of the volatility in the weekly reported claims and seasonality errors in adjusting the data) 4 week moving average moved from 398,750 (reported last week as 397,750) to 392,750."
Employment Situation: "June 2021 Job Cuts Fall to Lowest Monthly Total Since 2000" [Econintersect]. "Job cuts announced by U.S.-based employers fell 16.7% in June to 20,476 from 24,586 cuts announced in May. Last month's total is the lowest monthly total since June 2000, when 17,241 job cuts were recorded."
* * *
Tech: "Facebook launches newsletter product Bulletin, its Substack rival" [Reuters]. "Facebook said it would not take a cut of Bulletin creators' revenue at launch and that creators can choose their own subscription prices. It is launching the platform with a number of high-profile personalities and writers, including sportscaster Erin Andrews, author Malcolm Gladwell and "Queer Eye" star Tan France."
Tech: "Inside Neeva, the ad-free, privacy-first search engine from ex-Googlers" [Fast Company]. • Would you pay five bucks a month for non-crapified search?
Tech: "SCOTUS to wrongfully accused terrorists: 'drop dead'" [Cory Doctorow, Pluralistic]. "Transunion's secret files on you include a tickbox for 'suspected terrorist.' Transunion wrongly accused 8,000 people of being terrorists. It discovered its error and violated its statutory duty to inform the people it had wronged. The Supremes just ruled that those wronged people aren't allowed to sue Transunion for accusing them of being terrorists and making that judgment available to its customers, including government agencies, employers and landlords."
Tech: "Breaking Up Amazon Won't Get the U.S. Its Next Tesla" [Bloomberg]. "There's one important difference between the U.S. and other countries when it comes to its flagship companies: the U.S. keeps minting new ones. Apple Inc., Amazon.com Inc., Microsoft Corp., Alphabet Inc.'s Google and other U.S. technology champions are all relative newcomers. The average age of companies in the S&P 500 stock index has gone from more than 60 years in the mid-20th century to less than 20 years today. Meanwhile, the most valuable car company in the world is now Tesla Inc., which was founded in 2003. This gives the U.S. an advantage over Europe and Japan, which create relatively few new giants — and it should eventually be an advantage over China, when that country's companies age."
Manufacturing: "United orders 200 Boeing 737 MAXes, 70 Airbus A321neos" [Leeham News and Analysis]. "The deal is the carrier's largest, as well as the industry's largest 'in a decade.'* The order is for 50 737 MAX 8s, 150 737 MAX 10s and 70 A321neos. 'United will replace older, smaller mainline jets and at least 200 single-class regional jets with larger aircraft,' the airline said…. United also said it will refurbish its entire fleet to expand premium seating. 'United Next," the name of its refleeting, refurbishing and branding campaign, will increase the total number of seats per departure by 30%." • A focus on domestic travel,then?
* * *
Today's Fear & Greed Index: 41 Fear (previous close: 39 Fear) [CNN]. One week ago: 35 (Fear). (0 is Extreme Fear; 100 is Extreme Greed). Last updated Jul 1 at 2:31pm.
Health Care
On vaccinations from 2010:
I think that "public health" and "medical freedom" really are diametrically opposed world views, and the latter view is held by a minority but a very noisy one. It doesn't help that Biden and Walensky caved to them and that liberal Democrats, in general, seem unable to mount a robust and coherent defense of "public health" — other than calling their opponents stupid and declassé, their goto options in all cases — or indeed of the very notion of "public" ("asset recycling," i.e. selling off public infrastructure to the highest bidder, briefly made an appearance in discussion of the infrastructure bill-that-is-not-yet-a-bill, and then vanished. If asset recycling passes, it will be worse than anything Trump ever did). "Medical freedom" as an ideology has to be fought head on ("The right to infect others shall not be infringed." Oh?)
UPDATE And speaking of failing to mount a coherent defense of "public health," from Don Lemon Tonight (transcript):
LEMON: You know, the U.S., the president had wanted 70 percent of people to have some degree of vaccination, right, or second dose. So my question is the U.S., we're going to fall short of what President Biden's goal of vaccinating 70 percent of adults with at least one dose by July fourth.

Largely because of states like Alabama, Arkansas, my home state Louisiana, Mississippi, Wyoming, they have less than 35 percent of the population fully vaccinated. A former FDA commissioner Dr. Scott Gottlieb is concerned that there'll be very dense outbreaks in these areas. What do you think, Dr. Fauci?

FAUCI: Yes. I agree with Dr. Gottlieb. That is something that we are very concerned about. When you have such a low level of vaccination super-imposed upon a variant that has a high degree of efficiency of spread, what you are going to see among under-vaccinated regions, either states, cities or counties you're going to see these individual types of blips. . You're going to have areas where the vaccine is high where there is more than 70 percent of the population has received at least one dose.

When you compare that with areas where you may have 35 percent of the people vaccinated, you clearly have a high risk of seeing these spikes in those selected areas. The thing that's so frustrating about this, Don, is that this is entirely avoidable, entirely preventable. If you are vaccinated you diminish dramatically your risk of getting infected and even more dramatically your risk of getting seriously ill. If you are not vaccinated, you are at considerable risk.
"Almost like." We're seven months into the Biden administration, so the public health establishment can't blame Trump any more. It's Clinton's "deplorables" all over again. Write 'em off, say I.
"The Public-Health Calculus Has Shifted" [The Atlantic]. "In April 2020, on assignment from the CDC, I became the senior adviser for public health in New York City Mayor Bill de Blasio's office. My job was to lead the strategy for fighting COVID-19. In that capacity, I spent as much time talking with lawyers and writing affidavits as I did analyzing the latest COVID-19 research. In those days, 'following the science' of public health was fairly straightforward: It meant mandating masks and physical distancing, promoting widespread testing and isolation when necessary, and, crucially, restricting the right of businesses and other entities to welcome people from different households indoors. When New York City and New York State ordered such measures, we were sued by restaurants, bars, and gyms. Our successful defense against these suits rested on several facts. First, everyone was at risk from COVID-19. Second, in the absence of a vaccine, the only effective way to reduce the risk of illness was to reduce the risk of exposure, and the only way to do that was for everyone to sacrifice for one another by wearing masks, maintaining distance, and exercising constant vigilance. Third, any indoor gathering of people from different households risked transmission to large numbers of people from different social networks. (Where such gatherings were unavoidable, such as in schools, strict precautions were required at all times.) Finally, and most important, widespread community infection could lead to two existential threats: the collapse of the health-care system, and an extended period of mass death on the scale of what New York experienced in the horrific early phase of the pandemic." And: "n the United States, public-health agencies often state their overarching mission as maximizing the quality and length of life with a particular focus on reducing inequalities in outcomes. But their legal authority to regulate residents' civil liberties derives from a narrow source: the responsibility to protect public safety, as delegated to states in the police-powers clause of the Tenth Amendment. Just as average citizens lack the ability to stop a terrorist or extinguish a wildfire, they also lack the expertise and technology to address major health threats. Individuals cannot, for example, identify a product that caused an E. coli O157 outbreak and take it off grocery-store shelves. And yet for public-health agencies to use their authority, expert opinion is not enough. They also need broad community consensus that the government is justified in invoking its police powers. "
"Could editing the genomes of bats prevent future coronavirus pandemics? Two scientists think it's worth a try" [STAT]. • No.
The Biosphere
"Why Methane Is Climate's Low-Hanging Invisible Fruit" [Bloomberg]. "Methane is the primary component of natural gas, and leaks can happen anywhere along the natural gas supply chain, from the wellhead to the homes and businesses where the fuel is burned…. Leaks from energy infrastructure are the easiest and cheapest sources of methane to identify and fix. There's also an economic incentive: Producers can make up for the cost of repairs by selling the extra gas they capture. There are also efforts to create a natural gas standard that would certify emissions associated with production and transport. As much as 80% of measures to curb methane from oil and gas operations, and up to 98% from the coal sector, can be implemented at no cost or at a savings, according to the United Nations' 2021 global methane assessment. Officials also hope to cut down on the venting (releasing) of natural gas that often happens when there's no available pipeline capacity or when producers are only interested in capturing the oil from a well. Some of that gas is flared (burned) to convert the methane into carbon dioxide, but environmentalists and some investors have pushed for limits on flaring because not all the methane is combusted in the process. Instead, excess gas could be reinjected into the ground…. Methane emissions generated from human activity could be cut by 45% by 2030 with readily available technology, a step that could avoid nearly 0.3 degrees Celsius (0.5 degrees Fahrenheit) of warming by the 2040s, according to the UN assessment."
"Facing future wildfires, a community fights for its forest" [High Country News]. "[T]he fire spared the towns, in part because of a forest-thinning project that had started the spring before in the Hughes Creek drainage, an area of wooded canyons set between the communities and the backcountry. After years of planning by the Lemhi Forest Restoration Group, a local collaborative convened by a conservation nonprofit, thick stands of trees had been selectively logged to help protect homes. The logging didn't leave dramatic gashes of downed trees or abrupt, clear-cut expanses; it had been designed to thin the forest, turning tightly packed clumps of overgrown trees into roomier groves that a person could easily stroll through without getting snagged. In a sense, that's what thinning is supposed to encourage wildfires to do: amble along the forest floor rather than brush up against tree branches and carry flames from trunk to treetop, torching entire stands and making firefighting untenable. Along the Highway 93 corridor, the thinning had helped keep the fire at bay. 'These treatments were well placed, well implemented and were clearly a practice that paid significant dividends,' a 2013 Forest Service report on the fire concluded. The thinned spots were places where fire crews could comfortably dig fire lines and set backburns, as long as the weather cooperated. 'From a safety standpoint, (the firefighters) didn't feel like we were putting them in a bad situation,' Cluff said."
"Toronto destroys community garden at local park without warning" [BlogTO]. "A community garden, located right next to the greenhouse near Trinity Bellwoods' community centre was bulldozed as part of last Wednesday's chaos. The garden had been tended to and cared for by a group of volunteers and local community members who dedicated their time to adding some beauty and diverse plant life to the park. 'The group was given no warning prior to this removal, which meant all their personal property, time, energy, and love was just thrown out, along with the community's canoe, which symbolized the Lost Rivers project that was generously donated by the David Suzuki Foundation.' According to Hui, part of the reason given to them about why the garden was bulldozed was that city officials were concerned that something could have been stashed or hidden within the garden." • I'm surprised the city hasn't paved it over. Perhaps that's in the works.
"All the right words on climate have already been said" [Nieman Labs]. • Hard to excerpt. Worth reading in full.
Our Famously Free Press
"Biden's Chief of Staff Is Worried About 'Everything.' Except the Midterms." [New York Times]. Kara Swisher interviews Ron Klain. This caught me eye: "I think the platforms need to do better. I think particularly Facebook needs to do better. And I need to give them some credit in the sense that there's a lot of accurate information on Facebook. I think Facebook itself has built a number of tools to help people find vaccines and so on and so forth. But I've told Mark Zuckerberg directly that when we gather groups of people who are not vaccinated and we ask them, why aren't you vaccinated, and they tell us things that are wrong, tell us things that are untrue, and we ask them where they've heard that, the most common answer is Facebook. And so we know it has become a giant source of misinformation and disinformation about the vaccines. So I am worried about this problem of misinformation, disinformation driving vaccine hesitancy in our country, and of course, in other countries, too." • Suppose we could invent a Magic Board™ that would enable Facebook to moderate all content such that it fell within the spectrum of conventional wisdom. the Magic Board™ would have been wrong, outright wrong, on travel bans, masks, and aerosol transmission. In other words, it would have conveyed disinformation (since the conveyed information was selected with intent). The Magic Board™ would also have insisted that the lab leak hypothesis was CT (the conventional wisdom changed) and that Ivermectin is outside the spectrum (when it should clearly be inside). And that's for starters. What Klain really wants is for Facebook to reflect the current liberal Democrat zeitgeist, whatever it may be. The real way to prevent the instant and world-wide transmission is to introduce a lot more friction into the system. A good start would be breaking up Facebook. (I would set a ceiling on the number of accounts. 2.85 billion monthly active users is far too many; 100 million is more reasonable; even more reasonable would be the circulation of the Wall Street Journal (2.84 million). It's certainly possible to make a nice living at a smaller scale than Facebook, so why not break it up?
Water
Games
"Robbing The Xbox Vault: Inside a $10 Million Gift Card Cheat" [Bloomberg]. "The Xbox gift card came with a string of 25 letters and numbers. The digits, known as a 5×5 code, were sent in an email, but they were no different from the numbers and letters etched onto the gift cards hanging off tall racks near the checkout aisle at CVS or Target, arrayed in a Rubik's Cube of colors. These stores sell them on behalf of Apple, Applebee's, Disney, Domino's, and pretty much every other company you can think of, including Microsoft Corp., which markets its cards under the Xbox brand. The cards themselves, of course, are worthless, but each 5×5 code corresponds to a dollar amount…. In this way, gift cards can be thought of as a sort of digital currency, not unlike Bitcoin. The comparison may seem silly, given that gift cards date to the bygone era of Blockbuster Video, but today there are online marketplaces where anyone can trade gift card codes for Bitcoin and then turn the spoils into cash. These markets inevitably attract speculators and, because trades can be conducted anonymously, scammers." • But of course!
"Sony Charging Devs At Least $25,000 For PlayStation Store Visibility" [Kotaku]. "In a furious tirade on Twitter, independent games publisher Iain Garner of Neon Doctrine has unleashed his frustrations with trying to publish games on a major games console—one he says that isn't made by Microsoft. During the spleen-venting, he suggests that getting prominent promotion for a game from the platform holder requires spending at least $25,000. According to financial figures we've had verified by another source, if it's Sony he's talking about, that can reach as high as $200,000. Without naming either Sony or PlayStation (presumably allowing room for us to think he might mean the Atari VCS), British developer and publisher Garner details just how difficult he has found it to gain support, store presence, and even launch discounts, when releasing games on the platform." • Good to see Sony giving the little guy a leg up. (I don't know about Sony games, but though I love Sony (and Zeiss) glass, and I love the Sony sensor, the UI/UX in Sony camera software is absolutely brutal. Something wrong, there.)
Sports Desk
"Tour de France fan who caused massive crash when riders hit cardboard sign arrested" [ABC Australia]. • Looking at the cameras, not the riders.
The Agony Column
"I Learned How to Cope with Agoraphobia. The Pandemic Eroded It All" [Vice]. "For a year and a half, my anxiety's natural instincts—to stay at home, surrounded by trusted people—became the way of things. I no longer had to force myself to run a daily gauntlet of low-level fear. Unchallenged, the fears became stronger, and multiplied. I have seen an erosion, and then a disappearance, of my abilities, gradually and then faster and faster, into the big black maw of a fear that's swallowed my life and left me little…. From my enforced distance, the heady period being heralded as "Hot Vax Summer" doesn't feel all that different from the ways in which we were expected to contend with, or ignore, the disease at the height of its deadly ferocity in this country. The president told us to go out and spend while tens of thousands were dying; expectations of productivity never waned, no matter how much stress we were under. Now, what meager aid has been offered is being yanked away, and the vast constellation of loss we have endured must be left hushed. Go out and spend: time in the sun and money in the bar, and subsume yourself in breathless companionable laughter and don't think for a moment about what you lost, or you're weak and strange. It is so very unnatural, and so very American, and I want my piece of this sweet and terrible lie and can't have it." • This is a lovely piece, well worth a read. (I don't mean to mock it by filing it here; this is just the category where it goes!)
Groves of Academe
"A New Macroeconomics?" (PDF) [Jón Steinsson]. "During the time theory was dominant in macro, much progress was made on the theoretical front. But being so dominated by theory, the field was very exposed to another problem: Researcher will often introduce a carefully constructed friction in a critical place in their model and focus their analysis on the implications of this friction. But all other markets in the model are typically modeled as being perfectly competitive for simplicity. The typical researcher is so used to assuming that virtually all markets are perfectly competitive that they are often completely blinded as to the consequences of these assumptions. They take as given certain implications of these perfect markets assumptions as though they were inevitable consequences of logic as opposed to the consequences of obviously false simplifying assumptions that they and everyone they know have made for years and years." • It seems to me that the default assumption should be that markets are not perfectly competitive. Take, for example, the market in macroeconomists.
Class Warfare
Pinning this from Adam Tooze:
….. Whatever our choice of terms, we can hardly avoid the conclusion that if there is to be an energy transition, under prevailing conditions (an assumption some may wish to challenge), it is this social class that must make it, simultaneously as decision-makers, consumers and investors. And it must be made across the entire world. .
* * *
"Corruption" [Cory Doctorow, Pluralistic]. "'Corruption' conjures images of bags of cash changing hands in deserted parking garages, but I'd like to propose a simple and concrete definition that goes beyond that: 'Corruption' is when something bad happens because its harms are diffused and its gains are concentrated." • This is different from Teachout's view (and the Framers') and very interesting. It implies, for example, that capitalism is corrupt by definition, given that capital accumulation causes harms and is concentrated.
"Young American Adults Are Dying — and Not Just From Covid" [Bloomberg]. "In March, a National Academies of Sciences, Engineering, and Medicine committee summed up the current state of knowledge in a 475-page report on "High and Rising Mortality Rates Among Working-Age Adults." Advances in overall life expectancy stalled in the U.S. after 2010 even while continuing in other wealthy countries, the committee summed up, attributing this mainly to (1) rising mortality due to external causes such as drugs, alcohol and suicide among those aged 25 through 64 and (2) a slowing in declines in deaths from internal causes, chiefly cardiovascular diseases. There are lots of different ways to analyze this disturbing turn of events, and the fact that much attention so far has gone to the plight of the middle-aged makes sense in that middle-aged people are a lot likelier to die than younger adults. The 3.7% increase in mortality from 2010 through 2019 for those aged 55 through 64, for example, amounted to almost four times as many deaths as the 25.2% increase among those aged 25 through 34. Still, a 25.2% mortality increase over nine years amounts to a staggering setback, far worse than any other age group experienced over that period. It was followed up in 2020 with an also staggering 24.5% one-year increase, which made for a 55.8% rise since 2010. "
WOW:

1. "Staggering" "25.2% mortality increase over nine years" for young adults (25-34) in America — with deaths surging also in *2020*. Not primarily COVID but homicides and drug overdoses seem to be likely causes, writes @foxjust https://t.co/akUVId9CKp pic.twitter.com/oOmmTmwHRZ

— Brad Wilcox (@BradWilcoxIFS) June 30, 2021
We seem to be awfully good at swinging the scythe through large population segments.
News of the Wired
I seem not to be wired today. Perhaps tomorrow.
* * *
Readers, feel free to contact me at lambert [UNDERSCORE] strether [DOT] corrente [AT] yahoo [DOT] com, with (a) links, and even better (b) sources I should curate regularly, (c) how to send me a check if you are allergic to PayPal, and (d) to find out how to send me images of plants. Vegetables are fine! Fungi and coral are deemed to be honorary plants! If you want your handle to appear as a credit, please place it at the start of your mail in parentheses: (thus). Otherwise, I will anonymize by using your initials. See the previous Water Cooler (with plant) here. Today's plant (Eureka Springs):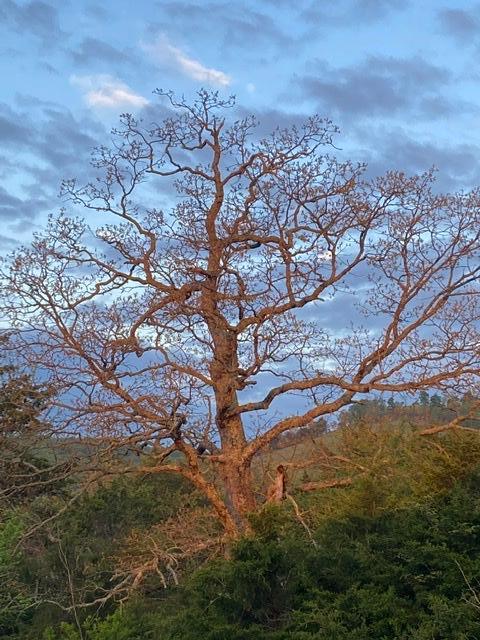 Eureka Springs: "On my phone due to lightning which recently zapped my mac mini which is now in the shop for repair. My old oak in full bloom at sunrise here in the Ozark Mountains. Some three hundred miles southwest as the crow flies behind this tree Amfortas the hippie is probably out herding cats. This time of year blue and painted buntings love it most. Filling my world in their song. A couple of weeks back we watched a bald eagle catch a large roadrunner then accidentally drop it from a couple hundred feet in this view."
* * *
Readers: Water Cooler is a standalone entity not covered by the recently concluded and — thank you! — successful annual NC fundraiser. So if you see a link you especially like, or an item you wouldn't see anywhere else, please do not hesitate to express your appreciation in tangible form. Remember, a tip jar is for tipping! Regular positive feedback both makes me feel good and lets me know I'm on the right track with coverage. When I get no donations for five or ten days I get worried. More tangibly, a constant trickle of donations helps me with expenses, and I factor in that trickle when setting fundraising goals:
Here is the screen that will appear, which I have helpfully annotated.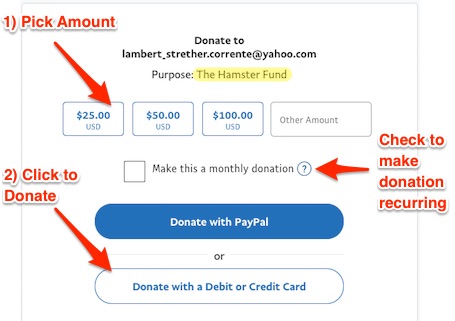 If you hate PayPal, you can email me at lambert [UNDERSCORE] strether [DOT] corrente [AT] yahoo [DOT] com, and I will give you directions on how to send a check. Thank you!2:00PM Water Cooler 6/8/2021