By Lambert Strether of Corrente.
Bird Song of the Day
So all geese don't sound identical (to human ears). Stretch this out for an hour and it would be a Philip Glass composition.
* * *
#COVID19
At reader request, I've added this daily chart from 91-DIVOC. The data is the Johns Hopkins CSSE data. Here is the site. I feel I'm engaging in a macabre form of tape-watching….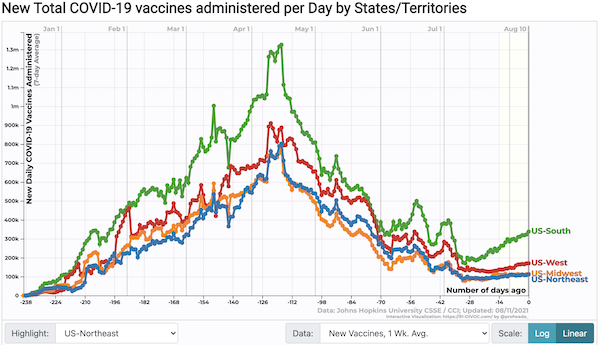 50.3% of the US is fully vaccinated, a big moment, breaking the psychological 50% barrier. Every day, a tenth of a percentage point upward.
Case count by United States regions: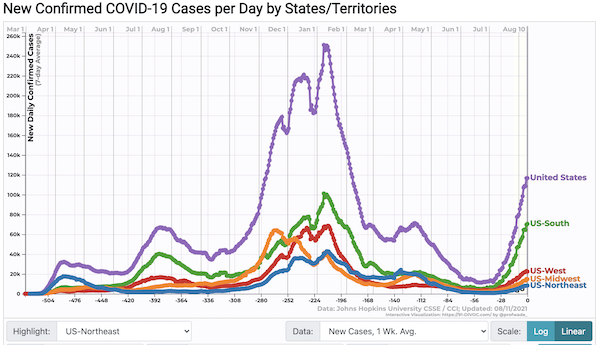 As far as reaching the peak of January 8, 2021, with 295,257 cases per day … I'm not that pessimistic (modulo a new variant brought into the country by our ridiculously lax policies on international quarantines). What we might call, after Everest, the "First Step" (November 25, 2019) with 178,466 looks in striking distance, especially if the case count purple line continues go near vertical. When you look at those "rapid riser" counties on the CDC map, you've got to think this rise has a way to run. If things go on as they are, we should hit the first step just in time for Labor Day. But what do I know, I'm just a tape-watcher.
Covid cases top ten states: for the last four weeks (hat tip, alert reader Lou Anton):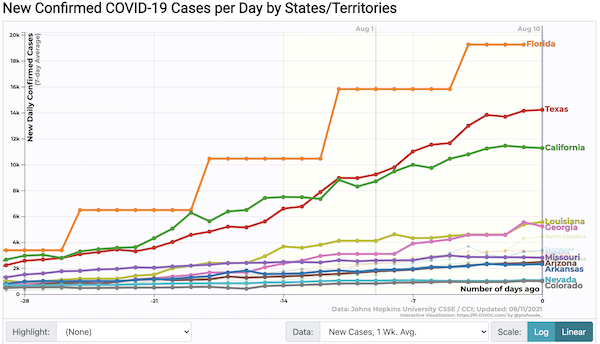 California slows again. Texas slows now too. A long thread on the Florida data kerfuffle:
An update… Florida and CDC have changed the definition of cases. It was the difference in cumulative case totals.

Now it appears to be the number of cases opened on a particular day (provisional so there will now be adjustments in case counts).

Source: https://t.co/MX2hjJIM2B pic.twitter.com/YaUNMyqlrt

— Scott Herr (@scottdavidherr) August 10, 2021
If every other state is sending the CDC data daily, and Florida wants to send its data with several days bundled together, of course you're asking for screw-ups. (Although way back in the beginning of the pandemic, I seem to recall the CDC's justification for faxed data was that individual CDC data scientists had cultivated relationships with their counterparts at state level. Clearly that wasn't happening here.)
Also Florida:
I'm sorry but our local McKeel should be ashamed of themselves. This is the most ridiculous thing I have read today, using freedom from masks as a reward, holy crap….the parents should be calling the school pic.twitter.com/pEp6mn1h3b

— Kirsten Vandetti (@KVandetti) April 28, 2021
Using exemption from a public health measure as a reward… Why have "public health" at all, then? (McKeel is, of course, a charter.)
From CDC: "Community Profile Report August 9, 2021" (PDF), "Rapid Riser" counties, this release: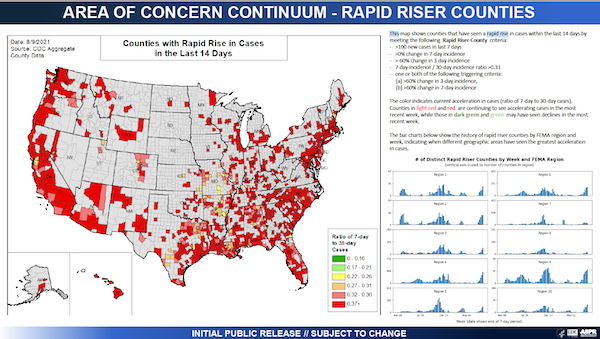 California and Nevada got redder again. This map blows the "Blame Bubba" narrative out of the water. Not a banjo to be heard. Previous release: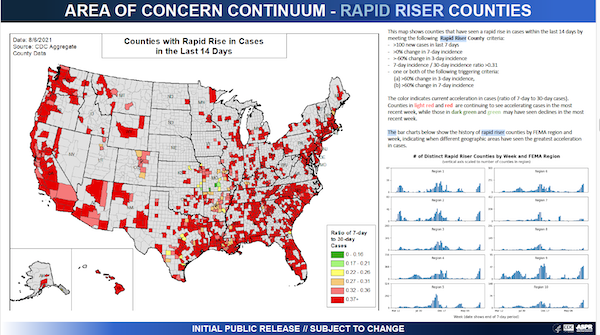 (Red means getting worse, green means bad but getting better. This chart updates Tuesdays and Fridays, presumbly by end-of-day.)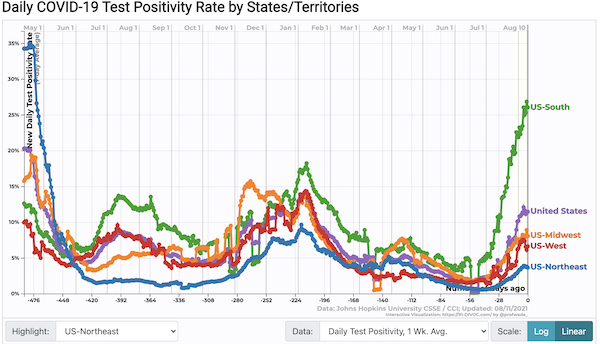 South running away with the field. But other regions now playing catch-up.
Hospitalization (CDC):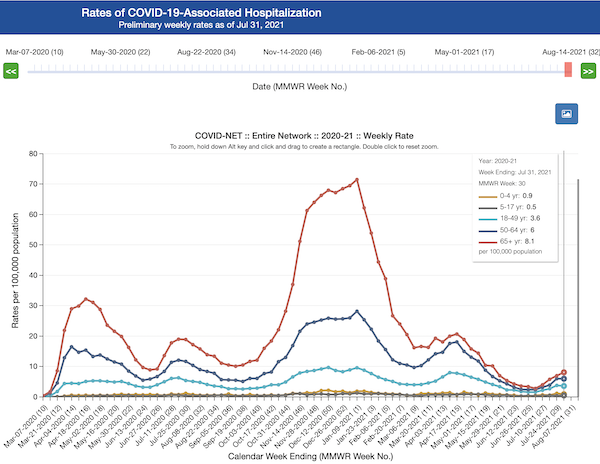 Here the CDC's hospitalization visualization, from the source above: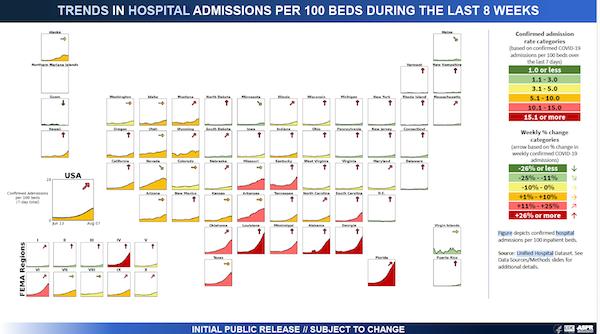 The, er, red states (Florida, Louisiana) are as yet still buried in the aggregated national data. But there's more red now.
Deaths (Our World in Data):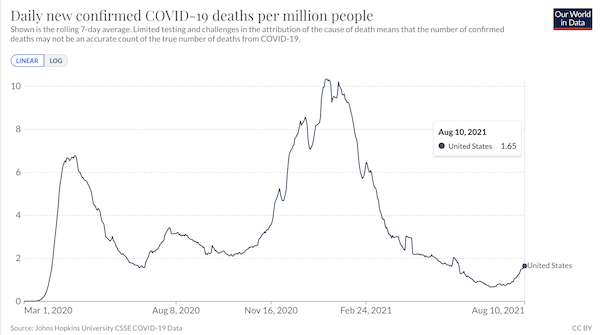 Deaths definitively rising, although nowhere near meriting an anti-triumphalist black line, being an order of magnitude less than there were at peak. (Adding: I know the data is bad. This is the United States. But according to The Narrative, deaths shouldn't have been going up at all. Directionally, this is quite concerning.)
Covid cases worldwide: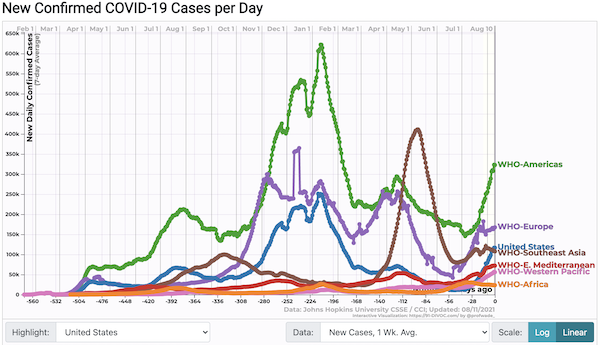 Every region is trending up. US sphere of influence under the Monroe Doctrine not doing so well.
* * *
Politics
"But what is government itself, but the greatest of all reflections on human nature?" –James Madison, Federalist 51
"They had one weapon left and both knew it: treachery." –Frank Herbert, Dune
"They had learned nothing, and forgotten nothing." –Charles Maurice de Talleyrand-Périgord
Capitol Seizure
UPDATE "DHS' Rigid Security Protocols Contributed to Inadequate Jan. 6 Response, GAO Says" [GovExec]. "No government entity made a request for a National Special Security Event or a Special Event Assessment Rating, two designations that the Government Accountability Office said would have allowed the department to coordinate security in advance of the planned protests and rallies that precipitated the violence…. Homeland Security typically awards NSSE or SEAR designations after a request from a governor or federal official. NSSE events are rare and have included inaugurations, conventions and state of the union addresses. SEARs are more common and include the annual Cherry Blossom Festival in Washington or the Super Bowl. After a request is made, a working group makes a recommendation and the DHS secretary determines whether to grant it. After a designation, the Secret Service coordinates a response. … On Jan. 6, President Trump held a rally at the Ellipse just south of the White House. GAO noted that some, but not all, previous presidential rallies were deemed SEARs. Homeland Security officials faulted the D.C. government for failing to make a request, but city officials said they did not believe they had the authority to request a special event designation on federal land. That confusion contributed to an inadequate response, GAO said…. Homeland Security rejected GAO's findings, saying it already factored the context of events into its security operations. NSSE designations take months to determine, department officials added. They argued that local officials should have known their ability to make a special request and therefore no policy clarifications were necessary." • (Here is the report.) Well, the last thing we want — right? — is the DHS donning cowboy hats and riding to the rescue whenever they feel like it. Here is the DHS Fact Sheet on SEAR designation: State, local, and Federal officials "voluntarily submit" SEAR requests to DHS. It is true that the District of Columbia is not a state, local, or Federal government, and so may indeed not have felt they had the right to make a request, and would have had to defer to Federal officials on Federal land. Leaving open the question of why no Democrat official did so.
Biden Administration
"That was me, people!"

Two days after the UN put out a report it called a "code red for humanity," warning that climate change is close to spiraling out of control. https://t.co/QlB5IJ9DFI

— Branko Marcetic (@BMarchetich) August 11, 2021

UPDATE "Biden's $1.2 trillion infrastructure bill could take years to transform U.S." [WaPo]. "Substantial pots of funding are likely to be quickly disbursed, particularly for updating existing projects, such as repaving the nation's roads. But major public works projects often have to go through a lengthy process — from federal agency to locality to private builder — and may not result in new usable infrastructure for years…. The long-term nature of the benefits may push completion of many of its projects into the next administration, which could complicate who receives its political payoff. The White House maintains that the package will create both short-term and lasting economic benefits for the nation, and pointed to polls showing it is widely popular among voters of both parties." • We also haven't had much luck with big construction projects recently. From Construction Physics: "Universities, hospitals, and airports all have extremely involved project management processes, and huge amounts of government requirements and oversight. As administrative costs rise – the more involved the government is in projects – the worse the US does compared to other countries. This tracks with US performance on infrastructure projects, where US performance is similarly government-involved and similarly poor. This seems to confirm at least in part the administrative overhead theory, and suggests a model: Other western countries have a great deal of government involvement in all aspects of building. This makes much of their construction more expensive on average. But for projects which require a great deal of government involvement (such as hospitals or airports), this changes from a drawback to a benefit, as the higher quality of their civil service leads to lower project costs." As I read this, the low quality of our civil service is the issue. Readers?

UPDATE "The bipartisan infrastructure bill gives taxpayers a good bang for their buck" [The Hill]. "One of the reasons infrastructure projects cost significantly more in the United States than similar ones in other countries is our byzantine permitting process. The bill directs permitting agencies to cut average approval times to less than two years for major projects and includes several provisions to help make that happen without sacrificing important social and environmental protections… To help steer money toward the most productive and innovative projects, the bill includes over $100 billion for competitive grant programs that use criteria such as benefit-cost analyses to award funds efficiently. Compared to similar programs in the past, the ones in this bill include substantially more funding and flexibility for complex projects, such as those involving multiple modes of transportation. The bill also funds several pilot programs, including some to promote the use of technologies that can improve productivity, and creates an Advanced Research Projects Agency for infrastructure (ARPA-I) to do additional research. These provisions could lead to groundbreaking innovations that help bring U.S. infrastructure costs down to international norms over the long term." • Maybe. If we don't have the know-how to manufacture plutonium pits (Links, this morning) cost-benefit analysis won't help a whole lot.

UPDATE "After 8 Months, Cities And States Are Still Sitting On Rental Aid" [HuffPo] "States, counties and cities with populations of at least 200,000 were eligible for the money, which offers up to 15 months of rental assistance to low-income individuals (12 months of past-due payments and three months for the future). But that money has been incredibly slow in getting to the people who need it the most. Through June, only 15 states and the District of Columbia had spent 10% or more of their Emergency Rental Assistance Program funds, which were initially approved by Congress in December. And in roughly 40 states, counties and cities, not a single cent from ERAP made it out the door during that time, according to an analysis of Treasury Department data by HuffPost. Some of those places were smaller counties, but others were states (New York at $801 million) or territories (Puerto Rico at $325 million) sitting on hundreds of millions of dollars. The problems stem partly from the fact that Congress has never thrown so much money at an anti-eviction program, so officials at lower levels of government have struggled to find their footing. 'In most cases they couldn't scale up an already-existing program, or if they could scale up an existing program, that program was tiny compared to the funding available now,' said Ann Oliva, a housing policy expert at the Center on Budget and Policy Priorities. 'That explains some of the lag.'" • Once again, civil service issues.

"Biden's Climate Plans Are Stunted After Dejected Experts Fled Trump" [New York Times]. Deck: "Hundreds of scientists and policy experts left the government during the Trump administration. The jobs remain unfilled six months into President Biden's term." •  And nce again, civil service issues. Just like the FDA Commissioner's job, in the molasses-brained Biden administration.
Democrats en Deshabille
"The Next Face of the Democratic Party" [Edward-Isaac Dovere, The Atlantic]. "Ask pretty much every Democrat in Congress and beyond is confident that Representative Hakeem Jeffries of New York will be the next speaker of the House, if Democrats manage to hold on to their majority next year—or the minority leader if they lose it. Democratic members of Congress won't talk about any of this publicly, as if Pelosi might suddenly appear and pull their hearts from their chests. Jeffries, carefully, left it at telling me that growing up in a Black church taught him to respect and value his elders. But none of the two dozen Democratic members of Congress and party insiders I spoke with privately could present a serious alternative to Jeffries. He'd have the support of the Congressional Black Caucus, which is stacked with influential members." • Well, if a cesspit of corruption like the CBC is for Jeffries, he should do very well.

And speaking being reminded of Democrat leadership:

Uraba lugens, "the mad hatterpillar", is a caterpillar that goes around with its old shedded heads stacked on as hats [read more: https://t.co/b2QKYBskak] pic.twitter.com/YMiOerM4km

— Massimo (@Rainmaker1973) August 11, 2021

I've been averting my eyes from the California referendum (ctlieee):

This is a little noticed reality that needs enormous amplification. In California's recall, if Gavin Newsom gets under 50%, California would likely have a lunatic Trumpist as governor. If Diane Feinstein dies or resigns, there would be a lunatic Trumpist appointed to replace her

— Norman Ornstein (@NormOrnstein) August 10, 2021

Well, one California governor was an actor, so why not a talk show host, or a YouTuber? Because the Democrats, despite having turned California into a one-party state, have done so well?

UPDATE "The Real Question Is Why Andrew Cuomo Took So Long to Fall" [Zephyr Teachout, The Nation]. "Cuomo himself was a disaster, but New York hasn't had a governor leave in dignity in years—and that is not a fluke; it is a flaw in the office. The governor's control over appointments and over the budget creates such a gross concentration of power that the executive branch can promise enormous rewards—and threaten terrible retribution—based on loyalty. When I ran against him in 2014, I met several lawmakers who secretly cheered me on—but socially distanced themselves from me in public because they were so scared Cuomo would punish them by hurting their careers or their constituents. One lawmaker said every time he talked to me he'd get a phone call from Joe Percoco—the governor's right-hand man, now in prison for corruption—asking what the problem was. The power New York's Constitution gives governors makes them feel invincible—and stop being responsive to the needs of the public. Recent research proves what observers of human behavior have said for thousands of years: Powerful people are more likely to interrupt others, not look at people when they are speaking, and to be rude, hostile, and humiliating. They are more self-centered, losing the capacity to even guess what others feel or want; power seems to take away not only compassion but the ability to even see other people's needs. Not to put too fine a point on it, but people who are given power in psychology experiments are more likely to touch others inappropriately. New York's current constitutional structure, in other words, sets up the state for abuse, and while we need to celebrate the outstanding work by Tish James and the incredible bravery of survivors—and of lawmakers who didn't keep quiet when the governor asked them to—we also need to reflect: How can we avoid this in the future? New York needs some constitutional restructuring, as a matter of both culture and law. The Legislature, not the executive branch, should be leading on the budget."

"Who Said It: Cuomo or Your Ex?" [New York Magazine]. "Let's give this man the send-off he deserves: a dumb little quiz about which quotes are from his resignation speech and which are something your ex probably said while you were breaking up."

President Handsy on Governor Handsy:

Biden says Cuomo has "done a helluva job" as governor. "That's why it's so sad," he adds.

— Rick Klein (@rickklein) August 10, 2021

You know what make me sad? The corpses.
Realignment and Legitimacy
Stats Watch
There are no official statistics of interest today.
* * *
Real Estate: "How Condo Buildings End" [Slate]. "Making condos is easy. Unmaking condos is hard. When River City became a "deconversion" target in 2016, Chicago required 75 percent of owners to vote for a sale. (It's now 85 percent.) Once that happened, everyone else was compelled to sell at the agreed-upon rate. Chicago-based developer Marc Realty made three offers over two years for River City. After owners agreed to sell for $100 million, Marc canceled the sale and dropped the offer by $10 million. While owners pondered the lower bid, Marc pitched additional deals to the holdouts—a process some owners on both sides of the vote later categorized in a lawsuit as bribery. Even after Marc's hard bargaining, the sale was Chicago's priciest deconversion recorded and its largest by unit count. River City is a rental building again… Stories like this make Chicago the perfect place to understand how condos usually meet their end—not in a pile of rubble, but in a buyout that leaves some owners feeling lucky and others feeling betrayed."
Concentration: "Canada's two big railroads are racing each other in a bid to consolidate the North American freight rail sector. Federal regulators plan to issue a key ruling by the end of the month that would potentially clear the way for Canadian National Railway $30 billion acquisition of Kansas City Southern… even as Canadian Pacific Railway is trying to get back into the picture with an increased offer to acquire the U.S. carrier" [Wall Street Journal]. "The Surface Transportation Board is considering Canadian National's bid to create a voting trust for its purchase, a critical step in the acquisition process. The STB's timeline means Kansas City Southern shareholders may vote next week without clear indication of whether the STB will bless the deal.
Commodities: "Billionaire-backed mining firm to seek electric vehicle metals in Greenland" [Reuters]. "Mineral exploration company KoBold Metals, backed by billionaires including Jeff Bezos and Bill Gates, has signed an agreement with London-listed Bluejay Mining (JAY.L) to search in Greenland for critical materials used in electric vehicles. KoBold, which uses to hunt for raw materials, will pay $15 million in exploration funding for the Disko-Nuussuaq project on Greenland's west coast in exchange for a 51% stake in the project, Bluejay said in a statement." • So it's a scam, then?
Shipping: "Ports face biggest crisis since start of container shipping" [Financial Times]. "There are currently 353 container ships stuck outside ports around the world, more than double the number from earlier in the year, according to real-time data from logistics company Kuehne+Nagel. In some cases, such as the ports of Los Angeles and Long Beach in the US where there are currently 22 ships waiting for a berth, it will be up to 12 days before the ships can drop anchor and unload their containers, ready to be distributed to factories, warehouses, shops and homes across the US. The logjam has caused stock shortages and delays to deliveries, raising prices and frustrating consumers at a time when a pandemic-led boom in online shopping has increased demand for next-day delivery." • ZOMG twelve days. "Everything is amazing and nobody is happy."
The Bezzle:
Uber is a bezzle ("the magic interval when a confidence trickster knows he has the money he has appropriated but the victim does not yet understand that he has lost it"). Every bezzle ends.

Uber's time is up.

— Cory Doctorow (@doctorow) August 10, 2021
Doctorow is also highly complimentary to Hubert Horan and NC:
It's mid-2021. Uber is going broke.

Yesterday, Horan published his 26th (!) analysis of Uber, breaking down its Q2-21 financials. It's been quite a year.https://t.co/knyA23DFp9

23/

— Cory Doctorow (@doctorow) August 10, 2021
OTOH, perhaps Uber is and was always a straw: Unprofitable as a firm, Uber could — I don't know how to do the math on this — be profitable for the capitalist class taken as a whole; destroying public transportation but more importantly legalizing new forms of exploitation by creating the new class of gig workers (which we should all be, right?)
Tech: "Apple's New 'Child Safety' Initiatives, and the Slippery Slope" [John Gruber, Daring Fireball]. Although independent, Gruber is an Apple insider, so this article veers between bemusement and a case for the defense. Here is one technical nugget: "A big source of confusion seems to be what fingerprinting entails. Fingerprinting is not content analysis. It's not determining what is in a photo. It's just a way of assigning unique identifiers — essentially long numbers — to photos, in a way that will generate the same fingerprint identifier if the same image is cropped, resized, or even changed from color to grayscale. It's not a way of determining whether two photos (the user's local photo, and an image in the CSAM database from NCMEC) are of the same subject — it's a way of determining whether they are two versions of the same image. If I take a photo of, say, my car, and you take a photo of my car, the images should not produce the same fingerprint even though they're photos of the same car in the same location. And, in the same way that real-world fingerprints can't be backwards engineered to determine what the person they belong to looks like, these fingerprints cannot be backwards engineered to determine anything at all about the subject matter of the photographs." • That's helpful on the technical side, but the central issue is that Apple is rummaging through your photos, after marketing itself as a privacy company. Apple says it's only if you keep your photos in the Cloud, but that's what they say now. Apple says they're doing it for a good purpose, but a good purpose will soon be replaced by a bad one. More commentary:
People are telling me that Apple are "shocked" that they're getting so much pushback from this proposal. They thought they could dump it last Friday and everyone would have accepted it by the end of the weekend.

— Matthew Green (@matthew_d_green) August 10, 2021
Manufacturing: "What in the Hell Is Going on With Boeing's Starliner?" [Gizmodo]. "New details are emerging about a technical problem that prevented NASA and Boeing from conducting a test launch of a CST-100 Starliner spacecraft last week. The problem appears to be more severe than previously believed, casting doubt on plans to launch the spacecraft later this month…. Specialists are working to "restore functionality" to 13 valves in the spacecraft's propulsion system, as NASA explained in a recent statement. These valves, as NASA says, "connect to thrusters that enable abort and in-orbit maneuvering," and they failed to open during the countdown on August 3, resulting in the scrub." Thirteen? IIRC, initial coverage mentioned a "valve," singular. More: "Keith Cowing, a former NASA employee and editor of the site NASA Watch, made his opinion known yesterday in a painfully brief post: 'How—why—did this spacecraft—one that is supposed to eventually fly humans—ever make it to the launch pad without fully operational propulsion valves in the first place? Just wondering.'" • Magical thinking?
Supply Chain: "Food supply chains are getting whipsawed by the changing direction of the pandemic recovery. U.S. restaurants are seeing the early-summer return by customers start to turn downward…. as the Delta variant of the coronavirus triggers new outbreaks around the country and sends many Americans back to eating at home" [Wall Street Journal]. "Black Box Intelligence says national restaurant same-store sales in the week ending July 25 were the worst weekly performance in the last five weeks, although they remained higher compared to the same period in 2019. Some states and cities seeking to tamp down the variant spread are restoring some restrictions and some restaurant operators are trying to assess emerging requirements to check vaccination status of customers. For foodservice suppliers, that could mean a revival of the disruptions of 2020, including operations tailored more for supermarket sales and to-go options for restaurants."
* * *
Today's Fear & Greed Index: 38 Fear (previous close: 36 Fear) [CNN]. One week ago: 26 (Fear). (0 is Extreme Fear; 100 is Extreme Greed). Last updated Aug 11 at 12:08pm.
The Biosphere
Slowdown of Earth's spin caused an oxygen surge Live Science (Furzy Mouse).
Health Care
A long and excellent thread on Covid vaccines and the immunocompromised:
🧵 recent studies on Covid vax in people who are immunocompromised: none are randomized trials. But first, 3 new trials are kicking off … 1/21

— Hilda Bastian, PhD (@hildabast) August 11, 2021
"No, the Unvaccinated Aren't All Just Being Difficult" [New York Times]. "Vaccinations have risen lately in response to the spread of the Delta variant, but rather than keeping its foot on the gas and throwing every idea, every resource at the problem, the White House has started to shift the blame onto those who still haven't gotten a shot. President Biden grumbled that he has struck a 'brick wall' in persuading more Americans to get the shot. Last week, taking aim at those he called 'unvaccinated, unbothered and unconvinced,' he said, 'If you're out there unvaccinated, you don't have to die. Read the news.'… The current approach is to argue that access has increased and it's everyone's individual responsibility to get a shot — and if you don't, it's on you… Those who aren't yet vaccinated are much more likely to be food insecure, have children at home and earn little. About three-quarters of unvaccinated adults live in a household that makes less than $75,000 a year. They are nearly three times as likely as the vaccinated to have had insufficient food recently. Many of them have pressing concerns they can't just put aside because they need to get a vaccination…. like agriculture and manufacturing that don't allow them to step away from work. They work long hours and may prioritize time with their families or communities when they finally get a break. People who have multiple jobs may find it impossible to schedule a shot in between all of their shifts. And yet 43 percent of the unvaccinated say they definitely or probably would get it or are unsure, according to Julia Raifman, an assistant professor at the Boston University School of Public Health." • Lol, so last year we were all thanking essential workers, especially those who worked from home and depended on deliveries. Now, we're all blaming them. Especially those who work from home and depend on deliveries.
"A giant trial of COVID-19 treatments is restarting. Here are the drugs it's betting on" [Science]. "After months in the doldrums, one of the world's largest trials of COVID-19 treatments is finally restarting. Solidarity, a global study led by the World Health Organization (WHO), will test three new drugs in hospitalized COVID-19 patients: the cancer drug imatinib, an antibody named infliximab that is used to treat autoimmune diseases, and artesunate, an antimalarial. The medicines have been shipped to Finland, the first country to have all approvals in place, says John-Arne Røttingen of the Norwegian Institute of Public Health, who chairs the study's executive group. "I expect that the first patients will probably be recruited there any day," he says. Other countries could soon join SolidarityPlus, as the new phase has been dubbed; more than 40 are in the process of getting ethical and regulatory approvals. When the original Solidarity trial started in March 2020 it was a first: an effort to test drugs in dozens of countries simultaneously in the middle of a pandemic. By late in the year it had delivered verdicts on four treatments—none showed a benefit—but then became mired in negotiations with pharmaceutical companies and regulatory delays" • So, months too late, treatment becomes a priority once more.
"What are the obligations of pharmaceutical companies in a global health emergency?" [Ezekiel Emanuel, et al., The Lancet]. "Pharmaceutical companies have special obligations in this emergency, which follow from their indispensable capacity to help to end the pandemic by developing, manufacturing, and distributing COVID-19 vaccines. However, the capacity to help alone does not fully specify companies' obligations. Additionally, market-based arrangements, with patents, marketing exclusivity, and confidentiality clauses, give pharmaceutical companies the freedom to choose what treatments to research and develop, how to price and distribute their products, and whom to furnish with products through bilateral agreements. Indeed, companies need not produce vaccines or infectious disease therapies at all. Patents and exclusivity, alongside the absence of price controls or requirements for technology transfer, also permit companies to charge higher prices than they otherwise could. Governments adopt intellectual property rights, limited pricing regulations (ie, each country has its own pricing, with no one country controlling the pricing, at most being able to set limits on the prices that can be charged), trade agreements, and other limited interventions (eg, manufacturing, inspections of facilities, etc) in the hope of incentivising the development, manufacturing, and distribution of socially valuable products. Everyone—including pharmaceutical companies—agrees that business as usual is unacceptable in a pandemic." • Why isn't it an ethical obligation for governments to make Big Pharma dispensable?
"EXCLUSIVE: VA decides against adding Biogen's Aduhelm to its formulary as PBM shuns controversial Alzheimer's drug" [Endpoints News]. "The Department of Veterans Affairs has decided to not include Biogen's pricey new Alzheimer's drug Aduhelm on its formulary, and its PBM even went so far as to recommend against offering it, noting 'the lack of evidence of a robust and meaningful clinical benefit and the known safety signal.'" • Ouch.
"China's Covid-Zero Strategy Risks Leaving It Isolated for Years" [Bloomberg]. • "Fog in Channel: Continent Cut Off".
Games
"The World Of Warcraft Community Is In Shambles At The Moment" [Kotaku]. "World of Warcraft has been bleeding players since the start of the year. Add to that the drama swirling around a big-time streamer and the general toxicity that festers in just about every online gaming community and you have a recipe for bad stuff to happen. Simply put: It's tough to look at certain corners of WoW and not feel like Community's Donald Glover carrying pizzas into a room that's on fire. Even before Activision Blizzard became the center of a California lawsuit alleging widespread sexual harassment and discrimination, the active player population of Blizzard's flagship MMO had been falling year after year. A lot of players have been unhappy with recent expansions, and some have even tried to piggyback general complaints about the state of the game onto larger discussion of what's wrong with Blizzard's work culture. The exodus appeared to fly into overdrive in early July, however, when the massively popular WoW streamer Asmongold decided to start streaming Final Fantasy XIV: A Realm Reborn instead. If community frustration over a lackluster Chains of Domination update and generous free trials for the competing MMO supplied the tinder, Asmongold was the match, and recently he and his fans have been taking direct aim at WoW's developers."
Our Famously Free Press
"The Covid States Project: A 50-State Covid-19 Survey Report #60: Vaccine Misinformation, From Uncertainty To Resistance" (PDF) [The Covid States Project]. This bullet point jumped out: "People aged 25 to 44, , and Republicans are most likely to hold vaccine misperceptions, with over 25% in each group marking at least one misinformation statement as true." • Wait. You're telling me it's not Bubba? (IIRC, although I'm too lazy to find the link, a lot of anti-vax activism in California was also high socioeconomic status; parents who would afford to send their kids to a hospital with no problems.)
"How anti-vaxxers weaponized Ivermectin, a horse de-wormer drug, as a COVID-19 treatment" [Salon]. • The headline is, in fact, outright disinformation. Ivermection is approved for some human uses by the FDA, and has a very long and unproblematic history. Outside the FDA's jurisdiction, it is widely used on humans in tropical medicine ("More than 2.5 billion doses of the drugs have been used by humans in the last 30 years to treat malaria, dengue fever and even the Zika virus besides it main role as an anti-parasitic drug"). To call it "horse medicine" is simply a lie, sadly picked up and amplified even by fine scientists on the side of the angels:
Friend's dog got the runs. Vet prescribed a medicine. Friend asked me to check out if it was safe to give the dog. I Googled it – ivermectin. They also use it to worm horses. It's not an antiviral it's an antihelminth that was (I think) around when I went to Med school in 1977.

— Trisha Greenhalgh (@trishgreenhalgh) August 2, 2021
Class Warfare
"Your first job could significantly impact your heart's health later in life, a new study suggests" [CNBC]. "Last Friday, researchers from the University of Cambridge, Bristol, and the University College London's Social Research Institute published a health and socioeconomic study of more than 12,000 British study participants over the span of several decades. Their findings, published in the Journal of Epidemiology and Community Health: Participants who were more educated and held managerial positions in their first few jobs had healthier hearts 20 years later than those who didn't." • I'm guessing there are confounders.
"Evidence for multiple sources of inductive potential: Occupations and their relations to social institutions" (preprint) [PsyArXiv]. From the Abstract: "Several current theories have essences as primary drivers of inductive potential: e.g., people infer dogs share properties because they share essences. We investigated the possibility that people take occupational roles as having robust inductive potential because of a different source: their position in stable social institutions. In Studies 1-4, participants learned a novel property about a target, and then decided whether two new individuals had the property (one with the same occupation, one without). Participants used occupational roles to robustly generalize rights and obligations, functional behaviors, personality traits, and skills. In Studies 5-6, we contrasted occupational roles (via label) with race/gender (via visual face cues). Participants reliably favored occupational roles over gender for generalizing rights and obligations, functional behaviors, personality traits, and skills (they favored race/gender for inferring leisure behaviors and physiological properties). Occupational roles supported inferences to the same extent as animal categories (Studies 4 and 6). In Study 7, we examined why members of occupational roles share properties. Participants did not attribute the inductive potential of occupational roles to essences, they attributed it to social institutions. In combination, these seven studies demonstrate that any theory of inductive potential must pluralistically allow for both essences and social institutions to form the basis of inductive potential." • In other words, identity politics is a pile of [family blog]. One can only wonder why it is so heavily promoted.
News of the Wired
"What's the visual symbol for 'pasture-raised' meat? There isn't one—yet" [The Counter]. "In recent years, especially among professionals concerned with sustainability, the food industry has been awash in discussions about how best to communicate to consumers the (often complex) value of certain agricultural practices, from pasture-raised meat to regenerative farming to holistic managed grazing. Many of these terms have precise definitions and don't exactly lend themselves well to clean visuals. The Foodicons Challenge, which has sourced judges and designers from 80 countries, also aims to be international in scope: Each sketch that a designer proposes should be legible to more than just the population of a small handful of countries. … Eventually, Shedroff hopes that the Foodicons symbols will be added to restaurant menus, buffet signage, retail food packaging, and to the boxes that are shipped from suppliers—farmers, fishermen, and so on—to their corporate buyers. Once the judges finish their critiques later this summer, all of the final icons will be posted to the Noun Project, a database of icons and logos popular among graphic designers. The group will also present them at the United Nations 2021 Food Systems Summit in September and to the World Food Forum in October."
* * *
Readers, feel free to contact me at lambert [UNDERSCORE] strether [DOT] corrente [AT] yahoo [DOT] com, with (a) links, and even better (b) sources I should curate regularly, (c) how to send me a check if you are allergic to PayPal, and (d) to find out how to send me images of plants. Vegetables are fine! Fungi and coral are deemed to be honorary plants! If you want your handle to appear as a credit, please place it at the start of your mail in parentheses: (thus). Otherwise, I will anonymize by using your initials. See the previous Water Cooler (with plant) here. Today's plant (SC):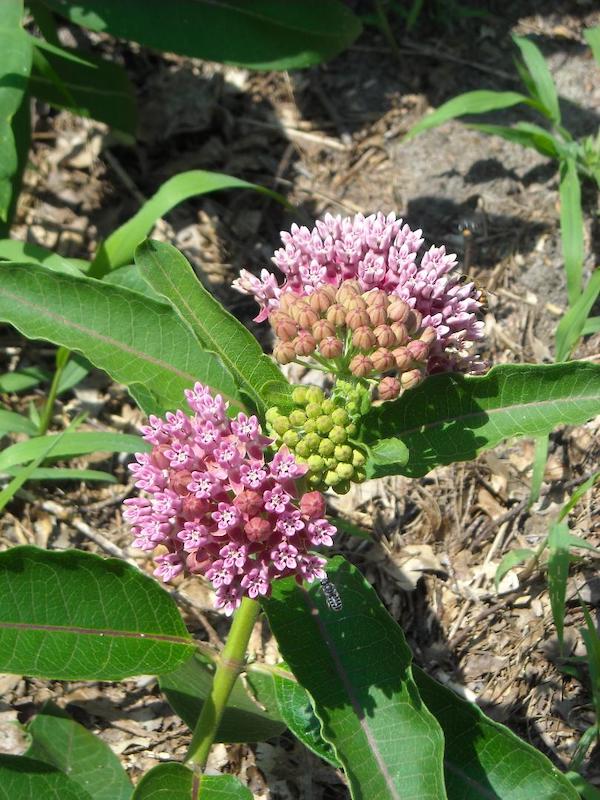 SC writes:
"The attached photo shows 4 blossom clusters at various stages on the most mature of the (I hope) Purple Milkweed starts that I set in soil a few weeks ago, hoping to get some blossoms and seed for the sake of 2022 starts.

As noted in a prior plantidote, I have been waiting for these plants to produce blossoms so that I could verify that the seed vendor sent Purple MW (and not Common, which happened from a different seller in a prior attempt some years ago). These are definitely more purplish than the blossoms on the colony of Common MW that resulted from that prior attempt, but the hue is not as intense as the images of Purple MW that come up in searches. So I remain a bit in doubt. Perhaps NC readers may recognize this variety better than I am able to.

I feel confident that this is not Swamp MW, as the leaves are large and wide (a feature of both Common and Purple); Swamp MW leaves are narrower. Perhaps the shape of the seed pods will be decisive — Common MW has fat prickly seed pods, while Purple MW pods are slimmer and smooth. If this is Common again, I may call it quits on the "grow Purple MW from seed" agenda; two failures over several years would be a bit disheartening. These are much prettier than my Common MW colony and perhaps are worth propagating for distribution, whatever they are; I think they would find takers if offered gratis and that might help a little to improve the local Monarch habitat.

I'll know what the seed pods are like in a few weeks. There does seem to be range of hues in Google image results on "Purple Milkweed" searches; the palest that I have found are still a bit more vivid than mine. Perhaps the less vividly hued images get selected against for upload because they aren't as eye-pleasing, so that search results are not a fair sample of what the population of plants actually looks like.
* * *
Readers: Water Cooler is a standalone entity not covered by the recently concluded and — thank you! — successful annual NC fundraiser. So if you see a link you especially like, or an item you wouldn't see anywhere else, please do not hesitate to express your appreciation in tangible form. Remember, a tip jar is for tipping! Regular positive feedback both makes me feel good and lets me know I'm on the right track with coverage. When I get no donations for five or ten days I get worried. More tangibly, a constant trickle of donations helps me with expenses, and I factor in that trickle when setting fundraising goals:
Here is the screen that will appear, which I have helpfully annotated.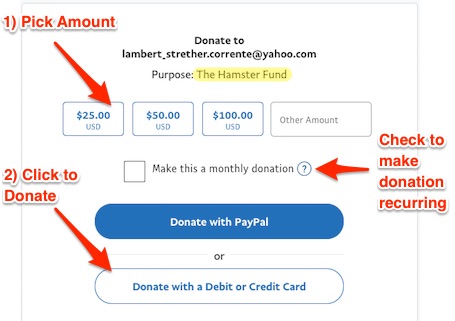 If you hate PayPal, you can email me at lambert [UNDERSCORE] strether [DOT] corrente [AT] yahoo [DOT] com, and I will give you directions on how to send a check. Thank you!2:00PM Water Cooler 6/8/2021