By Lambert Strether of Corrente.
Bird Song of the Day
The stork is clapping its bill!
* * *
#COVID19
At reader request, I've added this daily chart from 91-DIVOC. The data is the Johns Hopkins CSSE data. Here is the site. I feel I'm engaging in a macabre form of tape-watching….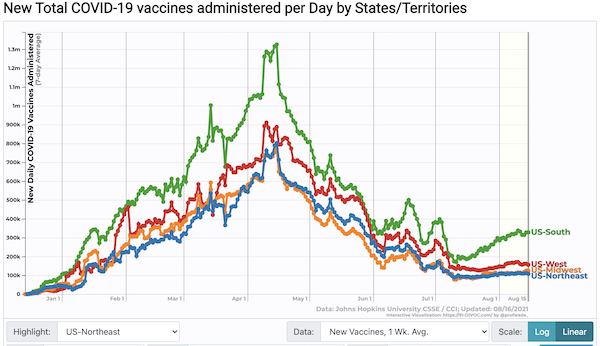 Back up in the South.
50.7% of the US is fully vaccinated, a big moment, breaking the psychological 50% barrier. Every day, a tenth of a percentage point upward.
Case count by United States regions: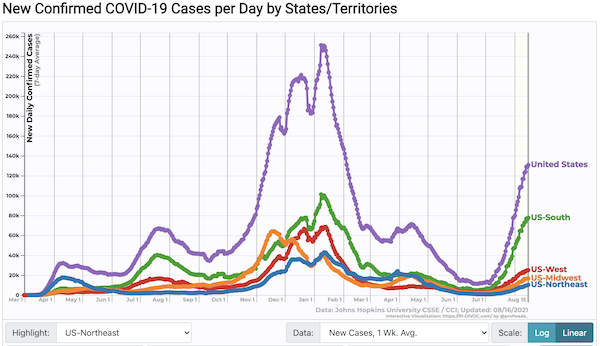 Still near vertical. As far as reaching the peak of January 8, 2021, with 295,257 cases per day … I'm not that pessimistic (modulo a new variant brought into the country by our ridiculously lax policies on international quarantines). What we might call, after Everest, the "First Step" (November 25, 2019) with 178,466 looks in striking distance, especially if the case count purple line continues go near vertical. When you look at those "rapid riser" counties on the CDC map, you've got to think this rise has a way to run. If things go on as they are, we should hit the first step just in time for Labor Day. But what do I know, I'm just a tape-watcher.
Covid cases top ten states: for the last four weeks (hat tip, alert reader Lou Anton):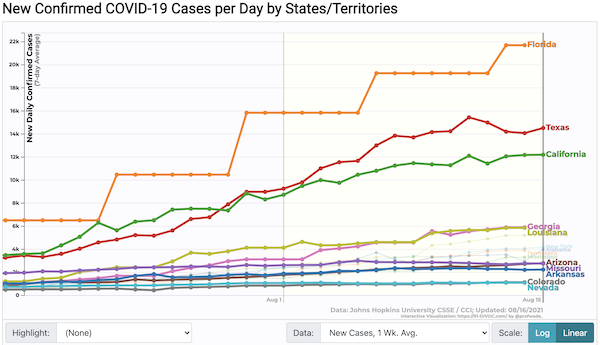 California is Texas's wingman. Meanwhile, Florida staggers ahead.
NEW From CDC: "Community Profile Report August 11, 2021" (PDF), "Rapid Riser" counties, this release: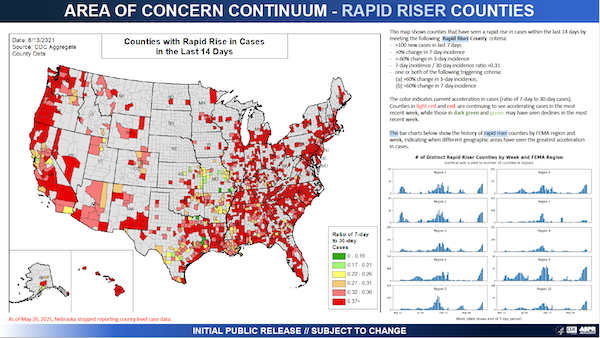 More red to pink and pink to yellow out west, more yellow and green in Texas and Missouri. The rest of the county looks just as red to me. This map blows the "Blame Bubba" narrative out of the water. Not a banjo to be heard. Previous release: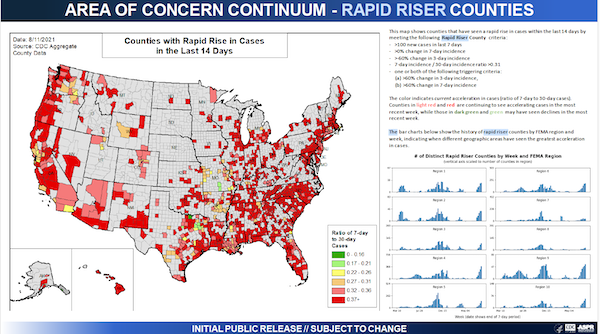 (Red means getting worse, green means bad but getting better. This chart updates Tuesdays and Fridays, presumbly by end-of-day.)
South running away with the field. But other regions now playing catch-up.
Hospitalization (CDC):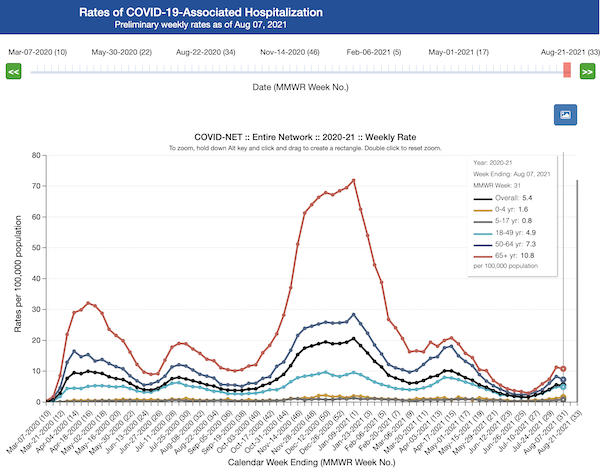 A little dip across all age groups, oddly.
NEW Here the CDC's hospitalization visualization, from the source above: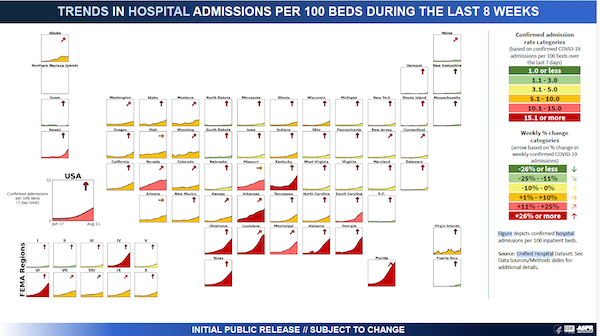 Yet more red states now, still in the South. Not good.
Deaths (Our World in Data):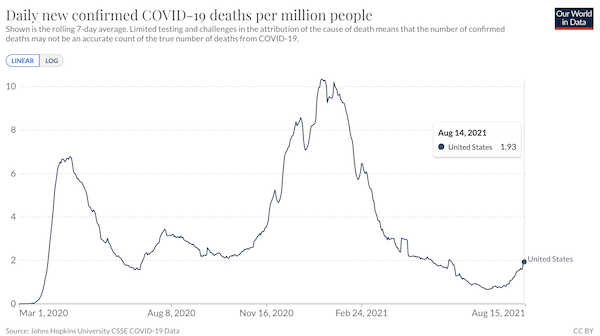 Deaths on trend rising, although dipping lately; nowhere near meriting an anti-triumphalist black line, being an order of magnitude less than there were at peak. (Adding: I know the data is bad. This is the United States. But according to The Narrative, deaths shouldn't have been going up at all. Directionally, this is quite concerning.)
Covid cases worldwide: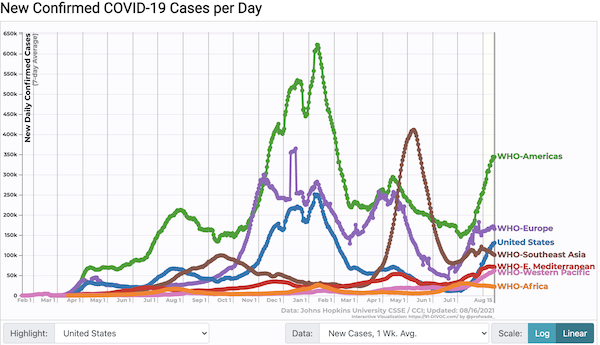 Southeast Asia doing better, I presume because little-covered Indonesia is past a peak. US sphere of influence under the Monroe Doctrine not doing so well.
* * *
Politics
"But what is government itself, but the greatest of all reflections on human nature?" –James Madison, Federalist 51
"They had one weapon left and both knew it: treachery." –Frank Herbert, Dune
"They had learned nothing, and forgotten nothing." –Charles Maurice de Talleyrand-Périgord
Biden Administration
"Democratic Leaders Are Finger-Wagging Over the IPCC Report. They Should Look To Themselves." [In These Times]. "The Biden administration has rejected a firm and immediate phaseout of coal and has reversed on his pledge to halt oil and gas drilling on federal land, which is now poised to hit levels not seen since President George W. Bush (while a judge blocked an administration attempt to ban new drilling on these lands, environmentalists say Biden could still use his executive power to stop new drilling). As climate reporter and author Kate Aronoff noted in The New Republic, Biden's plan to promote electronic cores, which he has emphasized as central to his climate agenda, is threadbare. ​​"So what is the White House doing to make good on its promise of sparking an E.V. revolution?" writes Aronoff. ​"Last week, the White House announced that it had reached a nonbinding deal with the country's biggest automakers that half their new vehicles would be electric, plug-in hybrid, or hydrogen-electric by 2030." According to Aronoff, that deal is less ambitious than some of the industry's own pledges."
Democrats en Deshabille
"Former Iowa Democratic Party Chair Troy Price named director of New Hampshire Democratic Party" [Des Moines Register]. "Troy Price, the former chair of the Iowa Democratic Party who resigned following the chaotic 2020 Iowa caucuses, has been named executive director of the New Hampshire Democratic Party — which hosts the nation's first presidential primary election." • I think this is the best. Isn't it the best? The payoff was slow in coming, but here it is.

"A Gallery Sells Hunter Bidens. The White House Says It Won't Know Who's Buying." [New York Times]. Host, giving tour: "That's an authentic Biden." Guest: "Certainly a first!"
RussiaGate
"Still in the game: Will Durham's report throw a slow curveball at key political players?" [Jonathan Turley, The Hill]. "U.S. Attorney John Durham's investigation has been slow in coming, but on Friday, a report surfaced that he is pitching evidence to a grand jury in an investigation started back in May 2019. The Durham investigation is now longer in duration than former special counsel Robert Mueller's investigation, and many people long forgot that Durham — made a special counsel at the end of the Trump administration — was even still in the game. The report in The Wall Street Journal said Durham is presenting evidence against FBI agents and possibly others in the use of false information or tips at the start of the Russia investigation in 2016. Those "others" could include a virtual who's who of Washington politics, and even if they are not indicted, Durham could implicate some of the most powerful figures in politics in his final report, expected in the coming months." • "Could."
Realignment and Legitimacy
Optimistic, diverse, dynamic, moving forward:

it would literally be cheaper to just put out free food stations god liberals suck pic.twitter.com/tQ2Cl0cNlN

— Mac 🇵🇸 (@GoodPoliticGuy) August 13, 2021

"The Memo: Fall in white population could add fuel to nativist fire" [The Hill]. "The white population declined in absolute terms for the first time in U.S. history over the past decade, census figures showed on Thursday. The total number of non-Hispanic white people was around 191 million last year. A decade earlier, the figure was 196 million. The white share of the population declined from about 64 percent in 2010 to around 58 percent in 2020. Meanwhile, the Hispanic share of the population edged up 2.4 percentage points over the last decade to 18.7 percent, the Black share of the population remained broadly stable at 12.4 percent and — another striking finding — the number of people who identify as belonging to more than one race soared. sxPeople who identify as biracial or multiracial now account for about 10 percent of the U.S. population. Those are welcome changes for the tens of millions of Americans who embrace a more diverse nation."
Stats Watch
Manufacturing: "United States NY Empire State Manufacturing Index" [Trading Economics]. "The New York Empire State Manufacturing Index fell to 18.3 in August of 2021 from a record high of 43 in July and well below market forecasts of 29, pointing to a slowdown in factory growth in the NY state. …. Looking ahead, firms remained optimistic that conditions would improve over the next six months, with substantial increases in employment and prices expected."
Treasuries: "United States Net Treasury International Capital Flows" [Trading Economics]. "The United States recorded a capital and financial account surplus of USD 105.3 billion in May of 2021, up from a revised USD 100.1 billion in the prior month. Foreign investors sold USD 93.4 billion in Treasuries in May, compared with an inflow of USD 49.6 billion the previous month. Meanwhile, foreigners sold USD 30.2 billion of long-term US securities."
* * *
* * *
Big Pharma: "Moderna Receives FDA Fast Track Designation for Respiratory Syncytial Virus (RSV) Vaccine (mRNA-1345)" (press release) [Moderna]. For 60+. "Respiratory syncytial virus is a common respiratory virus that generally causes cold-like symptoms. In the United States and areas with similar climates, RSV infections occur primarily during fall, winter, and spring. Most people recover in a week or two, but RSV can be serious, especially for infants and older adults. RSV is the most common cause of bronchiolitis and pneumonia in children younger than one year of age in the United States and can result in pneumonia and respiratory distress in older adults. According to the U.S. Centers for Disease Control and Prevention, in the United States, RSV leads each year, on average, to approximately 58,000 hospitalizations among children younger than five years old, 177,000 hospitalizations among adults 65 years and older and 14,000 deaths among adults 65 years and older. There is no approved vaccine available today for RSV."
The Bezzle: "It's Not Just Tesla: All Other Driver-Assist Systems Work without Drivers, Too [Car and Driver (dk)]. The deck: "Driver-assistance systems have become commonplace, and our testing found none of them can sniff out drivers aggressively misusing them." • And in both airplanes and restaurants, "aggressive misuse" is becoming much more common. I would be surprised if this were not true on the road as well. I wonder how many AI systems treat human behavior as a constant.
The Bezzle: "Drone delivery is bullshit" [Cory Doctorow, Medium]. "Prime Air was the centerpiece of a massive PR push, with school tours of a 'secret' facility and showy promotional videos (high-sfx sf movies, really). Execs said drones would arrive 'within months.' But after the PR wins, the organization became a do-nothing boondoggle where employees openly drank beer at their desks at 10AM. All of this raises the question: why? Why spend millions on something that was obviously not going to work out? . Amazon's automation claims — about drones, warehouse robots, and self-driving delivery vehicles — masks their ghastly labor abuses. This is especially useful when automation is used to make workers' lives worse.
The more automated an Amazon warehouse is, the more workers it injures. Amazon warehouses injure more workers than any other kind of warehouse. Seen in this light, many of tech's worst promises become less silly: Uber promises self-driving cars to distract us from its exploitative labor practices. Imaginary self-driving cars are a way to make worker misclassification seem temporary." • That's a good theory. And what a miserable exercise in capital misallocation.
Tech: "Excerpt: How Google bought Android—according to folks in the room" [Ars Technica]. "The team continued pitching to VCs, and found some success. Charles River Ventures and Eagle River Holdings were both interested. While they were waiting on paperwork from those firms, Google called them in for a third meeting. This time, there were more people in the room, and Google was ready to talk specifics. Andy and his team had assumed they were coming to give an update on the company's progress since the last meeting. But in the middle of the presentation, Nick remembered, "They just said, '. We just want to buy you.'" • So Californian?
Tech: "I was offered $500k as a thank-you bounty for pilfering $600m from Poly Network, says crypto-thief" [The Register]. "The mysterious miscreant who exploited a software vulnerability in Poly Network to drain $600m in crypto-assets, claims the Chinese blockchain company offered them $500,000 as a reward for discovering the weakness. Most of the digital funds have been returned over several transactions. 'We appreciate you sharing your experience and believe your action constitutes white hat behaviour … Since, we believe your action is white hat behaviour, we plan to offer you a $500,000 bug bounty after you complete the refund fully,' the thief wrote in their transaction metadata, seemingly quoting or paraphrasing a message received from Poly Network."
Manufacturing: "Intel is looking for government help in its bid to take a leading role in reconfigured semiconductor supply chains. Chief Executive Pat Gelsinger and board members have met with Biden administration officials to push a multibillion-dollar chip-investment plan… while also looking for the European Union to help offset a difference of as much as 40% in costs between setting up within the bloc as opposed to Asia" [Wall Street Journal]. "Intel's efforts are part of a broader bid to reset global semiconductor supply chains in an industrial world growing more dependent on the central role of microprocessors in sophisticated technology. Computer chips have become so critical to national security and economic growth that the U.S. and Europe don't want to depend on any single foreign supplier, especially China."
Today's Fear & Greed Index: 45 Neutral (previous close: 43 Fear) [CNN]. One week ago: 35 (Fear). (0 is Extreme Fear; 100 is Extreme Greed). Last updated Aug 16 at 12:28pm.
Rapture Index: Closes up one on earthquakes. "A powerful magnitude 7.2 earthquake struck southwestern Haiti" [Rapture Ready]. Record High, October 10, 2016: 189. Current: 188 (Remember that bringing on the rapture is a good thing, so higher is better.)
Health Care
They get letters:
This doctor picked the wrong patient to upcode. pic.twitter.com/CNNeBv2OQI

— Adam Sacarny (@asacarny) August 16, 2021
This looks like a business model to me, if some clever developer could create a templating system driven by the codes that would autogenerate letters for clients (though possibly better directed to hospitals not doctors). For upcoding, see NC here, here, and here.
* * *
"Pfizer Gang Is Pfinished" [The Atlantic]. "In April, Nicholas was stoked to have gotten Pfizer's COVID-19 vaccine, the "status vaccine," which was also the vaccine for 'hot people,' and the vaccine that got a person conditionless admission to the 'Pfizer Gang.' He made a new forum on Reddit—r/pfizergang, obviously—where people like him could engage in celebration and memes and funny jokes about how Pfizer was better than Moderna, but not make jokes containing misinformation, because Moderna is actually very good also, and everyone should get vaccinated. There was to be no anti-vaccine discussion whatsoever, and why would there be?… It was an incredible spring: Uptake of the vaccine was on the rise, and the president was dropping hints about a perfect, normal summer…. But actually: By July, hearts [whose?] were getting heavy again. The Delta variant was ripping through an unvaccinated population still numbering in the tens of millions, much of which continued to refuse a shot that was readily available. Resentment had been building [where?] around the vaccine divide; there was frustration from the White House and widespread unease [where?] about the "hot vax summer" that now felt [to whom?] like something else." • "Hot vax summer" my Sweet Aunt Fanny. The hive mind of non-essential workers gave themselves permission to screw like minks once vaccinated and wrote a lot of stories about it. But the celebration turned out to be, well, premature. Hits you right in the feels.
"Scientists unlock clues to determining how safe vaccinated people are from Covid-19" [STAT]. "scientists who are still trying to understand what immunity to the coronavirus looks like, how robustly vaccines protect us over time, and how protected people are who've had and recovered from Covid-19. Now, a year and a half into the pandemic, researchers are starting to flesh out exactly what these look like, a step that could help track the durability of immunity and speed the development of additional vaccines. In a preprint paper last week, a group of researchers from both academia and U.S. health agencies reported their findings of the immune correlates for Moderna's Covid-19 vaccine. The study demonstrated the link between the level of antibodies in a person's system and how protected they are against Covid-19, validating the hypothesis that antibodies could be used as a measure that signifies overall protection. 'We saw a very clear correlation that the higher the level of antibody produced by vaccines, the less likely you were to become sick with Covid-19,' said Christopher Houchens, one of the authors of the paper and a biologist at the U.S. Biomedical Advanced Research and Development Authority. The team is working on similar studies for the other vaccines that received support from Operation Warp Speed, including Johnson & Johnson's and AstraZeneca's, while other research groups are investigating other vaccines used around the world.:
Community movement during the pandemic (Our World in Data):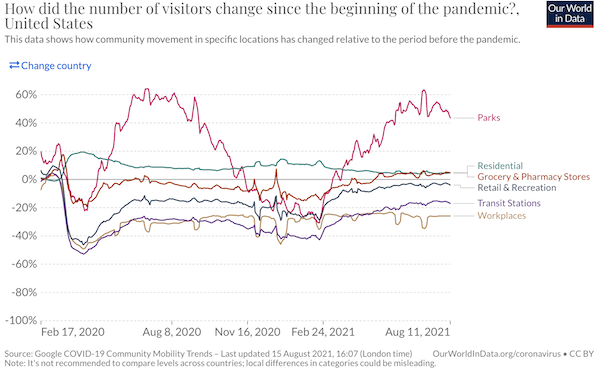 "Physicians Turning to Side Gigs for Extra Pay: From Insurance Reviewer to Real Estate Agent" [MedScape]. "The side gig, also known as 'side hustle,' has become a popular way for physicians to create additional income or pursue a passion project. COVID-19–related income loss has inspired more doctors to take up side gigs, but the trend predates 2020. To gauge the prevalence of side gigs among physicians, Medscape surveyed more than 2500 practicing doctors in the United States about their side gigs ― what they do, what they earn, and what they hope to gain. Thirty-seven percent of doctors currently have a side gig. Physicians who have had a side gig for at least a year answered that they've sought additional income for an average of 10 years. 'I have seen physicians pursue side gigs more and more in recent years,' says David Beran, DO, emergency physician and writer. 'Sometimes they are clinical jobs, sometimes they're not clinical but medical, and sometimes they're neither.' Men (two thirds) are more likely to have a side gig than women (one third), according to the survey." • Certainly an encouraging indicator….
The Biosphere
"Some of the world's biggest oil companies are turning to startups to help plot a low-carbon future. Energy giants including BP, Royal Dutch Shell and France's TotalEnergies are bolstering their venture capital arms by increasing their budgets, hiring more staff and doing more deals… as they try to future-proof their profits while investors and governments raise the pressure to cut emissions" [Wall Street Journal]. "PitchBook estimates that a handful of oil companies are now among the most active clean-tech investors by number of deals closed, with activity ramping up amid the shift to technologies like electric vehicles and solar and wind power." • We're sure they're not buying the startups to kill them?
There should be a bridge in DC like this:
tw//spiders

The lights draw in insects, so spiders have happily spun webs on every light. And the position of the lights means that the entire bridge casts ENORMOUS MOVING SPIDER SHADOWS along its entire length pic.twitter.com/HsOuGdblBc

— Rosemary Mosco (Bird And Moon Comics) (@RosemaryMosco) August 14, 2021
"Hear the 'Sound' of a Spacecraft Flying Past Venus" [Gizmodo]. "BepiColombo is a joint mission to Mercury by the Japanese space agency JAXA and the European Space Agency… BepiColombo's first image of Venus came to Earth a few days ago. The Italian Spring Accelerometer (ISA) aboard the spacecraft recorded the craft's acceleration as it Venus whipped it around. The research team working on that instrument has since translated the acceleration data into audible frequencies, so we can actually hear BepiColombo's transit of Venus, in a sense." • Here is is:
And the Venusian solar wind:
Under the Influence
"University of Alabama sorority rush has taken over TikTok. Users can't look away." [NBC]. "When Greg George first saw TikTok videos of young women at the University of Alabama going through the sorority recruitment process, also known as "rush," he was confused….. But soon, he said, he was completely invested in the lives of students more than 1,200 miles away — and more similar videos began to appear on his For You page, TikTok's infinite scrolling homepage. George is among the roughly 19.6 million people in the last week who have viewed TikTok videos that include the hashtag #AlabamaRush and among the 55.6 million who have seen videos with the hashtag #BamaRush." But reading all the way to the end: "[TikTok user Jenn Ficarra, 29, of Los Angeles] who made her own TikTok videos showing off how invested she is in the lives of the future sorority sisters, said she thinks the other reason so many people are so invested in following the recruitment efforts is that the issues facing our world, such as climate change and the coronavirus, are so heavy and hard to face. #BamaRush TikTok, she said, is a nice distraction, albeit a temporary one. 'It's been kind of nice to forget a minute at a time that the world is ending,' Ficarra said." • Oh.
Zeitgeist Watch
Skyscrapers made of data:
Tuxedo, 1982 https://t.co/EKglHcolHn #basquiat #neoexpressionism pic.twitter.com/76Vmfj5ARK

— Jean-Michel Basquiat (@artistbasquiat) August 14, 2021
Pre-Matrix, too.
Where's the loyalty:
Chase Bank employees in Canton, MI left during a robbery in progress and didn't even bother to tell customers or help them leave, said a customer.

The bank robber himself was actually more helpful in letting the customers know they should leave, he said. https://t.co/qcUhh7spGO pic.twitter.com/IkgNzJ4eMx

— Niraj Warikoo (@nwarikoo) August 14, 2021
Guillotine Watch
"The Polo Lounge at the Dorchester Hotel: 'Dismal food at inexplicable prices' – restaurant review" [Guardian]. "A few years ago, my less than positive review of the Parisian gastro palace Le Cinq was dismissed by the management as 'rich bashing'. Here, it's the restaurant that seems to be bashing the rich, flogging them dismal food at inexplicable prices. At the end, a perky waiter asks me how it all was and in my gruesome passive-aggressive way I say, 'Fine'. She replies, 'Amazing.' I think: 'Yeah, let's go with that.' I have a bill for over £370 for a meal that included a dreadful salad, terrible crab cakes, mediocre pasta, and a grossly overpriced rosé. If that isn't amazing, I really don't know what is."
Class Warfare
A little too on the nose:
EXCLUSIVE: Following a highly competitive auction, @AmazonStudios has acquired a star vehicle that will have Emily Blunt playing Kate Warne, the first woman to become a detective at the Pinkerton Agency https://t.co/OrmoeXwYII pic.twitter.com/AjLkG4njmh

— Deadline Hollywood (@DEADLINE) August 12, 2021
News of the Wired
"How social learning amplifies moral outrage expression in online social networks" (abstract only) [Science] (press release). "[W]e find that positive social feedback for outrage expressions increases the likelihood of future outrage expressions, consistent with principles of reinforcement learning. In addition, users conform their outrage expressions to the expressive norms of their social networks, suggesting norm learning also guides online outrage expressions. Norm learning overshadows reinforcement learning when normative information is readily observable: in ideologically extreme networks, where outrage expression is more common, users are less sensitive to social feedback when deciding whether to express outrage. Our findings highlight how platform design interacts with human learning mechanisms to affect moral discourse in digital public spaces."
"How naughty was the past? The hidden depths of the medieval church" [History Extra]. "Animals in medieval art need to be seen within their wider context, instead of ascribing each single motif with a meaning. Not only in stained glass, but more commonly in manuscripts, borders were decorated with exotic animals, grotesque hybrids, animals mimicking humans, humans in animal form, and mythical creatures performing lewd and humorous antics. In fact, animals are used throughout medieval art as iconographical representations or portraying allegorical qualities." • We should have animals in addition to emojis.
Grateful Dead and model railroads. What the Venn Diagram on this one?
My #nscale mini-world values every decade of @GratefulDead music. 90s at Riverbend. 80s at The Warfield and 70s at Fillmore East. 60s are in the works. Who says you can't have it all! #gratefuldead #nscaletrains @Gratefuldeadsub pic.twitter.com/qJl3fJSNLa

— caseyjones_nscale (@mw_carlson) August 7, 2021
Fun group (hat tip alert reader Geo):
I can't hear the jug. What the heck is it supposed to be? The bass?
* * *
Readers, feel free to contact me at lambert [UNDERSCORE] strether [DOT] corrente [AT] yahoo [DOT] com, with (a) links, and even better (b) sources I should curate regularly, (c) how to send me a check if you are allergic to PayPal, and (d) to find out how to send me images of plants. Vegetables are fine! Fungi and coral are deemed to be honorary plants! If you want your handle to appear as a credit, please place it at the start of your mail in parentheses: (thus). Otherwise, I will anonymize by using your initials. See the previous Water Cooler (with plant) here. Today's plant (SV):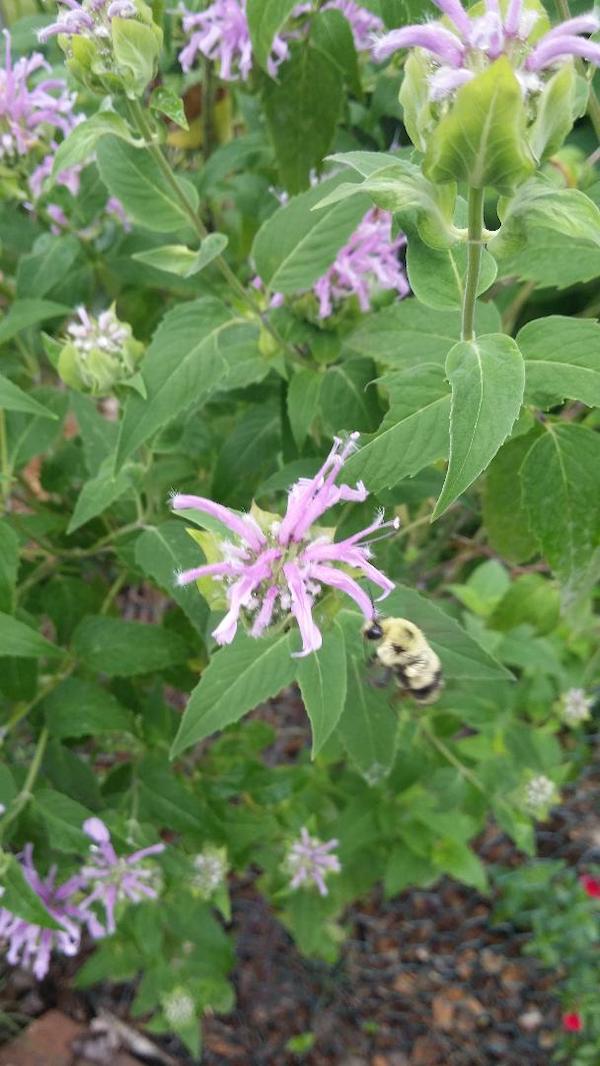 SV writes: "Bumbler on Bergamot."
* * *
Readers: Water Cooler is a standalone entity not covered by the recently concluded and — thank you! — successful annual NC fundraiser. So if you see a link you especially like, or an item you wouldn't see anywhere else, please do not hesitate to express your appreciation in tangible form. Remember, a tip jar is for tipping! Regular positive feedback both makes me feel good and lets me know I'm on the right track with coverage. When I get no donations for five or ten days I get worried. More tangibly, a constant trickle of donations helps me with expenses, and I factor in that trickle when setting fundraising goals:
Here is the screen that will appear, which I have helpfully annotated.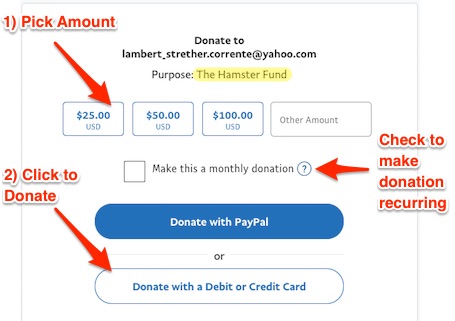 If you hate PayPal, you can email me at lambert [UNDERSCORE] strether [DOT] corrente [AT] yahoo [DOT] com, and I will give you directions on how to send a check. Thank you!2:00PM Water Cooler 6/8/2021