By Lambert Strether of Corrente.
I got a late start today. More later. –lambert
Bird Song of the Day
A juvenile (cheeping?) and an adult (quietly clapping?).
* * *
#COVID19
At reader request, I've added this daily chart from 91-DIVOC. The data is the Johns Hopkins CSSE data. Here is the site. I feel I'm engaging in a macabre form of tape-watching….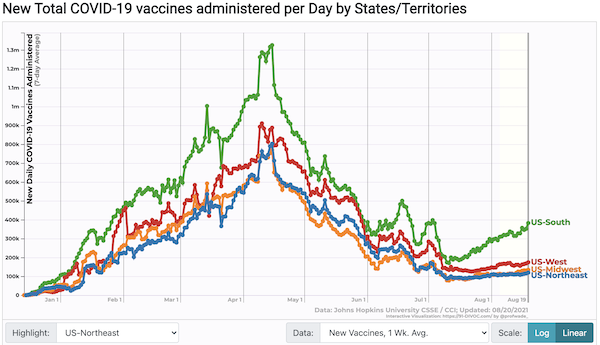 Back up in the South.
51.1% of the US is fully vaccinated, a big moment, breaking the psychological 51% barrier. Every day, a tenth of a percentage point upward. However, as readers point out, every day those vaccinated become less protected, especially the earliest. So we are trying to outrun the virus… (I have also not said, because it's too obvious, that if by Bubba we mean The South, then Bubba has done pretty well.)
Case count by United States regions: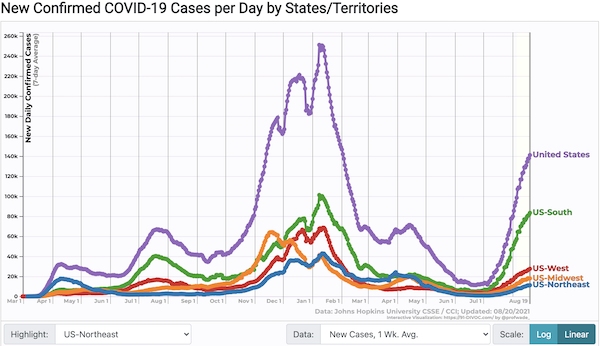 I would say we've moved off the vertical a bit, conforming to the drop in "Rapid Risers" and the drop in positivity. The South begins to slow, but other regions still rise. Still lots of momentum. As far as reaching the peak of January 8, 2021, with 295,257 cases per day … I'm not that pessimistic (modulo a new variant brought into the country by our ridiculously lax policies on international quarantines). What we might call, after Everest, the "First Step" (November 25, 2019) with 178,466 looks in striking distance, especially if the case count purple line continues go near vertical. If things go on as they are, we should hit the first step just in time for Labor Day. But what do I know, I'm just a tape-watcher.
Covid cases top ten states: for the last four weeks (hat tip, alert reader Lou Anton):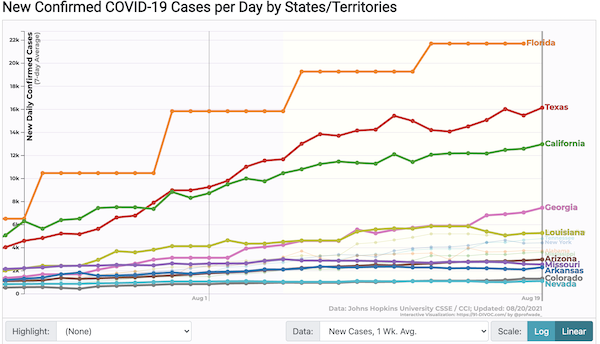 California is Texas's wingman. Meanwhile, Florida staggered ahead. What's with Georgia v. Louisiana?
NEW From CDC: "Community Profile Report August 19, 2021" (PDF), "Rapid Riser" counties, this release: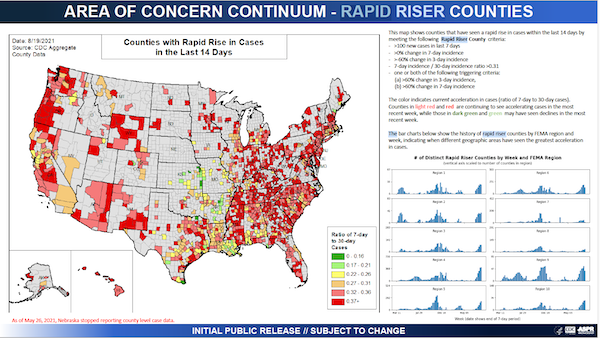 California, the South, the Acela Corridor all more pink. Kansas and Oklahoma more green, part of the general improvement of the Mississippi Valley. Remember, however, that this chart is about acceleration, not absolute numbers. This map, too, blows the "Blame Bubba" narrative out of the water. Not a (Deliverance-style) banjo to be heard. Previous release: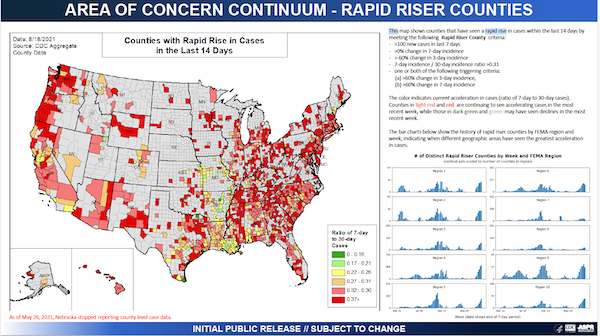 (Red means getting worse, green means bad but getting better. This chart updates Tuesdays and Fridays, presumbly by end-of-day.)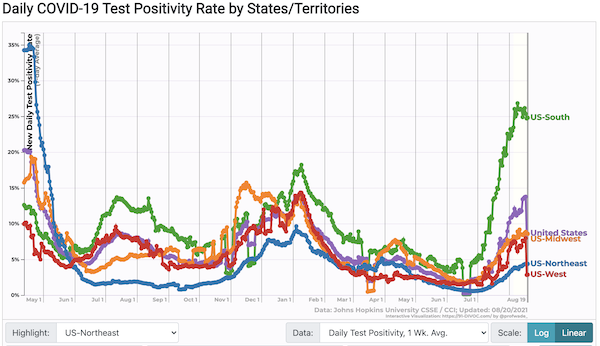 Drop in the South, and an enormous drop in the West. Could be data.
Hospitalization (CDC): Dammit, this one's gone dark. I wish CDC wouldn't do this. Here the CDC's hospitalization visualization, from the source above: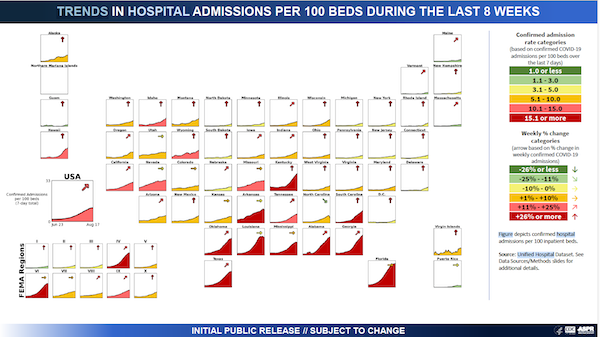 Yet more red states now, still in the South. Not good.
Deaths (Our World in Data):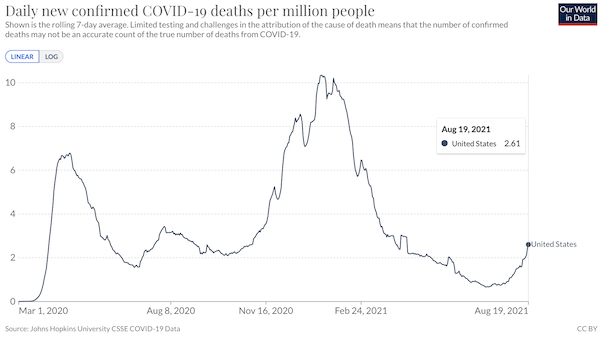 Deaths on trend rising; nowhere near meriting an anti-triumphalist black line, being an order of magnitude less than there were at peak. (Adding: I know the data is bad. This is the United States. But according to The Narrative, deaths shouldn't have been going up at all. Directionally, this is quite concerning.)
Covid cases worldwide: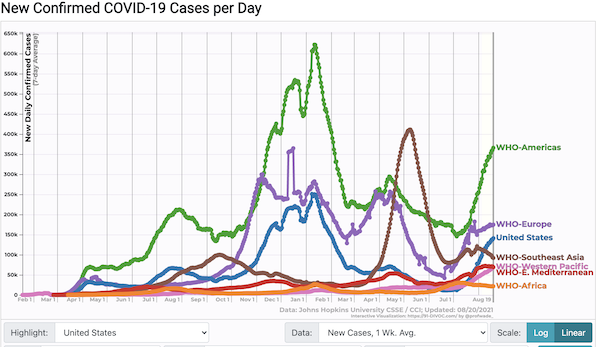 Southeast Asia doing better, I presume because little-covered Indonesia is past a peak. US sphere of influence under the Monroe Doctrine not doing so well.
* * *
Politics
"But what is government itself, but the greatest of all reflections on human nature?" –James Madison, Federalist 51
"They had one weapon left and both knew it: treachery." –Frank Herbert, Dune
"They had learned nothing, and forgotten nothing." –Charles Maurice de Talleyrand-Périgord
Capitol Seizure
"Exclusive: FBI finds scant evidence U.S. Capitol attack was coordinated – sources" [Reuters]. "Though federal officials have arrested more than 570 alleged participants, the FBI at this point believes the violence was not centrally coordinated by far-right groups or prominent supporters of then-President Donald Trump, according to the sources, who have been either directly involved in or briefed regularly on the wide-ranging investigations. 'Ninety to ninety-five percent of these are one-off cases,' said a former senior law enforcement official with knowledge of the investigation. 'Then you have five percent, maybe, of these militia groups that were more closely organized. But there was no grand scheme with Roger Stone and Alex Jones and all of these people to storm the Capitol and take hostages.'" • Assuming the FBI itself didn't organize any "grand schemes." Again, they do have form.
Biden Administration
"Biden Says Taliban in 'Existential Crisis' Over Role in World" [Bloomberg]. "'Let me put it this way: I think they're going through sort of an existential crisis about do they want to be recognized by the international community as being a legitimate government,' Biden told George Stephanopoulos of ABC News in an interview that aired Thursday morning. 'I'm not sure they do.' Biden's comments point to a looming question of whether the U.S. will recognize the Taliban as Afghanistan's government after they swiftly took control of the country, including the capital city of Kabul. The U.S. has already taken steps to block money from flowing to the Taliban and could opt to negotiate relief from economic sanctions if they agree to block international terrorist groups such as al-Qaeda and protect the rights of women and minorities. But any dealings with the Taliban will be politically fraught for Biden, who has already faced widespread criticism on Capitol Hill, where lawmakers from both parties are calling for more information about the crisis. The House Intelligence Committee is to receive a classified briefing on Afghanistan on Monday from representatives of several intelligence agencies, according to an official familiar with the plans." • Because of course they are.

UPDATE "Biden Afghanistan policy counts on war weary Americans to lose interest" [The Hill]. " President Joe Biden is brushing off criticism of his administration's chaotic Afghanistan withdrawal because he and his aides believe the political fallout at home will be limited, according to White House allies and administration officials…. The strategy is based on internal and public polling that shows the Afghanistan withdrawal had been by far the most popular decision Biden has made, even though the issue was not central for most voters." • Not if the press has anything to do with it.

"Biden admin cancels student debt for borrowers with severe disabilities" [The Hill]. "The Biden administration announced on Thursday the latest in a series of student loan reprieves forgiving the debt of borrowers with total or permanent disabilities (TPD). More than 323,000 borrowers will be covered under the loan discharge, which will total more than $5.8 billion. Borrowers will be identified through existing data supplied to the Social Security Administration." • I'm happy for them. But does the Biden Administration really think that, well, tokens will make the problem go away?

UPDATE "Three U.S. senators test positive for COVID-19" [Reuters]. "Three U.S. senators – Republican Roger Wicker of Mississippi, Democrat John Hickenlooper of Colorado and independent Angus King of Maine – disclosed on Thursday they had tested positive for COVID-19. All three had been vaccinated against the coronavirus." • So maybe breakthrough infections will start getting some attention?
Our Famously Free Press
The Moustache of Understanding:

Kids, this is what it was like. pic.twitter.com/BlWrjCe8LL

— mattgallagher0 (@MattGallagher0) August 20, 2021

Yes, it was very bad.

"The Media Is Helping Hawks Win the War Over Biden's Withdrawal" [Eric Levitz, New York Magazine]. "In recent days, much of the mainstream media has comported itself as the Pentagon's Pravda…. The mainstream media has an obligation to hold the Biden administration accountable for its errors. But we also have an obligation to contextualize the events of the day. As is, the news industry is helping hawks recast an indictment of martial adventurism into an object lesson in the hazards of military restraint."

"Where are the anti-war voices?" [Popular Information]. "Yesterday's newsletter detailed how the media is largely overlooking voices that supported Biden's decision to withdraw from Afghanistan. Instead media reports are almost exclusively highlighting criticism of the withdrawal — often from people complicit in two decades of failed policy in Afghanistan. We have reason to believe that this is not an accident. On Wednesday, Popular Information spoke to a veteran communications professional who has been trying to place prominent voices supportive of the withdrawal on television and in print. The source said that it has been next to impossible:

I've been in political media for over two decades, and I have never experienced something like this before. Not only can I not get people booked on shows, but I can't even get TV bookers who frequently book my guests to give me a call back…

I've fed sources to reporters, who end up not quoting the sources, but do quote multiple voices who are critical of the president and/or put the withdrawal in a negative light…. In so many ways this feels like Iraq and 2003 all over again.
Democrats en Deshabille
For once, I have something good to say about Democrats. Two of them!

FYI, that's India Walton with Kathy Hochul (who's from Erie County) at a fundraiser in West Seneca. https://t.co/aTnh3S1jQl

— C.M. Lewis // Pass the #PROAct (@thehousered) August 20, 2021

Hopefully with Hochul's support, the Buffalo Democrats won't abolish Walton's office because they don't like the fact that she won it.

UPDATE "India Walton Won Big With Renters in Buffalo" [Jacobin]. " So I got the voter files from the New York State Board of Elections to find out: who are the voters that led India Walton to a win in Buffalo's Democratic mayoral primary? There's a simple answer: renters. Renters — who, in Buffalo, tend to live in less valuable, lower-quality housing and earn less than homeowners — strongly favored Walton over Brown. More than 64 percent of ballots in the primary were cast by people whom the data suggest rent rather than own their homes, roughly proportionate to recent Census Bureau estimates showing that about 60 percent of households in Buffalo are renter-occupied. And my statistical estimates suggest that Walton won that demographic by a landslide, capturing over 61 percent of the renter vote." • Now do San Francisco. And New York. And… And…

* * *

UPDATE "Congress's hip-hop legislation is the latest symbolic gesturing that doesn't improve Black lives" [CNN]. "In a recent move that seemed to go largely unnoticed, the Senate unanimously passed a resolution designating August 11, 2021, as Hip-Hop Celebration Day, August 2021 as Hip-Hop Recognition Month and November 2021 as Hip-Hop History Month. … [T]he resolution served as a reminder that, since last summer's Black Lives Matter protests, there have been no national policy achievements that might radically alter the experiences of Black Americans."
Republican Funhouse
UPDATE "Dan Patrick blames COVID surge on unvaccinated African Americans, prompting widespread backlash" [Houston Chronicle]. "'The COVID is spreading, particularly, most of the numbers are with the unvaccinated,' Patrick said in response to a question about people attacking the policies of Governor Greg Abbott, who is embroiled in legal battles with school districts and counties that have required masks despite the Republican governor's ban on such mandates. 'The Democrats like to blame Republicans on that,' continued Patrick, a Republican. 'Well, the biggest group in most states are African Americans who have not been vaccinated. Last time I checked, over 90 percent of them vote for Democrats in their major cities and major counties.'" • I have no doubt that many Republicans have actively worked to make life worse for Black people. That said, one would think that the party whose unofficial motto for several years has been "Listen to black women," would have taken effective measures to make sure that Blacks did not have the lowest vaccination rate of any major identity vertical, and especially for the poor and working class black woman, many of whom are essential and/or health care workers. They did nothing of the kind. Instead, all we get is "Blame Bubba," useful only as deflection and Pilate-style handwashing.

UPDATE "How Trump uses fundraising emails to remain undisputed leader of the GOP" [The Hill]. • Basically, Trump has an effective email operation that sounds a lot like the Democrats' Mothership operation.
RussiaGate
"Forty-four Republican senators demand Durham report be made public" [The Hill]. "He reportedly wanted to have the review finished by the end of this summer, but the newspaper reported that the target date will likely be delayed, according to people familiar with the matter. Durham is reportedly looking into criminal charges against lower-level FBI officials and tipsters who possibly fed false leads to the FBI during the 2016 investigation." • Barr really did Biden a solid with the timing on this.
Realignment and Legitimacy
"Requiem For The 'Stan" [IM 1776]. "At times I'll be grinding through my Normie job, or on my porch, or driving in my truck and I'll remember how the sunrise felt there on patrol. How bright the stars were as we pulled security at night (I have never seen so many!). Then as we prepared for Stand-To, as the Army has done since back when it was fighting the French and the Indians, the darkness softened to gray, then yielded to sunrise, and you clung to the fading coolness as you watched the merciless sun take its sweet time getting into position to torment you and your buddies for the rest of the day. As BOB (the "Bright Orange Ball") cracked the horizon, a word would come down from somewhere on high, and the legion would rise to start the day's march in pursuit of Haji. Though we owned little on our person and were cogs in a great machine lumbering along for nebulous political ends beyond our ken, there was something liberating about it as well. To be with other men, venturing outside The Wire with weapons in hand, on the hunt…it stirred up something. Some primal sense of rightness; that we were close to realizing some fundamental purpose in the quick of our being. At the risk of romanticizing it though, I also remember the butcher's bill. There were men I knew whose lives ended in Afghanistan. Good Lord, looking back, they were so young. One was a friend. 'Speedo' was going to get married when he got home. There were children, too. I have never known silence like I found in the village where almost an entire generation of their young had been killed simply because a pilot had missed." • Some offensive sexist remarks, too. But this sentence: "Something is coming and we can all feel it. We could even back then." • I agree. Alert reader vlade linked to a tune appropriate for the times here. Here's the YouTube version of a great peformance:

YouTube periodically takes this down; it's worth a listen before that happens again. The band is terrific, too.

"Demography Is Not Destiny" [Adam Serwer, The Atlantic]. "Neither the fiction of race nor the political identities that emerge from it are necessarily permanent. The party of white supremacy can become the party of civil rights. Yesterday's 'beaten men from beaten races' can help rescue the world from fascism, just as New Deal stalwarts can someday become Reagan Democrats. The pro-immigrant communities of yesteryear can become the nativists of the future. The radicals of the past can grow into the middle- and upper-class establishment. Those once seen as bearing the "hallmark of oriental despotisms" may become tomorrow's 'model minorities.'… The census may herald a more inclusive and harmonious future, or it may simply foreshadow yet another moment in American history when some borders shift while others remain closely guarded. But what the census cannot tell you is where lines of partisan identity will be drawn. It can tell you how Americans define themselves, but not how their politics flow from that definition. The census cannot tell Americans who they will become; that we must decide ourselves."
Stats Watch
Leading Indicators: "13 August 2021 ECRI's WLI Growth Rate Decline Continues" [Econintersect]. "ECRI's WLI Growth Index which forecasts economic growth six months forward again declined but remains in expansion…. This index accurately forecast that the economy would be in expansion year-over-year in the first and second quarters of 2021. It is currently forecasting an ever slowing rate of economic growth for the rest of this year and into next." • Wait, what year is next year? Oh… 2022.
* * *
Retail: "Amazon is taking another swing at blending physical and digital retail. The online behemoth plans to open several U.S. sites resembling scaled-down department stores and offering items from top consumer brands as well as its own private-label goods" [Wall Street Journal]. "The aim is to expand Amazon's reach by allowing customers to inspect clothing and other goods before they buy and also exposing the tech company's products to shoppers who otherwise might not have tried them. Amazon's rise to e-commerce dominance disrupted traditional retail, accelerating the decline of malls and taking market share from physical store operations. But the company has also been adding outposts for years that sell books, groceries and other items through a network aimed at harvesting data and providing new shopping experiences. Bigger storefronts with more products could also bolster Amazon's logistics network, bringing goods even closer to customers." • I dunno. What business is Amazon in, here? Bricks and mortar but kinda like sh*tty second growth after an enormous forest fire?
Retail: "The Delta variant is throwing retail planning for a loop. Rising Covid-19 cases are casting doubt on the staying power of a recent rebound in clothing sales… as Macy's, Kohl's and other merchants juggle supply-chain problems with uncertain consumer demand" [Wall Street Journal]. "Shoppers refreshed their wardrobes this summer on expectations that life would return to normal as schools reopened and workers headed back to the office. Online marketplace FashWire says sales of dresses and other items are slowing as consumers revert to shopping habits from earlier in the pandemic and swap going-out clothes for loungewear. The uncertainty comes as retailers are also coping with factory shutdowns in Asia and congestion at the ports, with some importers pulling shipments forward to guard against holiday-season shortages. That risks saddling retailers with unsold inventory if demand fizzles."
Shipping: "Shipping Moving Towards Zero-Emission Period, but Pace is Still Quite Slow" [Hellenic Shipping News]. "The shipping industry has a central role in the global supply chains with vessels on average carrying more than 80% of worldwide trade by volume. Regulators, maritime companies and financial institutions act to drive the sector towards decarbonization. The maritime industry is one of the few sectors not particularly discussed on the Paris Agreement on climate change. The industry is estimated to be responsible for approx. 3.0% of global CO2 emissions, but several scientists have projected that the sector could account for 17% of the total annual CO2 emissions by 2050."
Travel: "Travelers are canceling trips with COVID numbers rising again: 'It was really kind of heartbreaking'" [CBS]. "After a rebound in travel this summer, people are once again canceling plans for trips because of the surging number of COVID cases. In a recent survey, 27% of respondents said they postponed a trip and more than 54% said the Delta variant has made them less interested in traveling right now….. There's been a 33% increase in people buying cancelable tickets…. For all the people canceling plans, a sizable number still plan to stick to their trips. 26% of people say they plan to travel in October, according to a recent survey."
The Bezzle: "The Insane, Ongoing Saga of a $600 Million Crypto Theft" [Bloomberg]. "DeFi is one of the hottest, fastest growing areas of the cryptocurrency world, a mini-industry that promises to remove all the middlemen from finance — no banks, no brokers, no custodians. Like bitcoin, DeFi uses blockchain, the distributed ledger technology that crypto is built on, but takes that concept and squares it. Instead of one chain, there are many platforms — hence, the decentralized aspect — that can be used for all kinds of so-called smart contracts that trigger financial transactions when certain conditions are met. That's where Poly Network came in. Like Mr. White Hat, there isn't a lot of information about the company. An unsigned message from its communications email address declined to make any executives available or answer most questions. It's unclear if it even has a base of operations, though ICANN, the domain-name registry, says the company's mailing address is in Shanghai." • And so, people "are desperate to get their money back."
Tech: "Twitter's Longform Strategy" [Divinations]. "Essentially, Twitter is giving writers that use their recently-acquired newsletter platform, Revue, a killer feature that no other newsletter publishing platform can offer: premium placement on your Twitter profile…. This is obviously huge for writers and publishers. Twitter knows what they want, and it is simple: email subscribers. Especially for those building paid subscription businesses, the most important thing is to build deep, recurring relationships with readers. Email is the best channel for that right now. Twitter's goal, it seems, is to make Revue the best place to publish for independent writers considering Substack or Ghost. If Ghost gives you the most control with the lowest fees, and Substack is the most widely-known brand with the biggest network of paid newsletter subscribers, then Twitter is hoping it can win by siphoning some of their massive flows of attention directly into your email list."
Tech: "OnlyFans: How it handles illegal sex videos – BBC investigation" [BBC]. "Internal documents, leaked to BBC News, reveal that OnlyFans allows moderators to give multiple warnings to accounts that post illegal content on its online platform before deciding to close them. Described as a 'compliance manual', the documents also show that staff are asked to be more lenient towards successful accounts on the British content-sharing service. Moderation specialists and child protection experts say this shows OnlyFans – which is best known for hosting pornography – has some 'tolerance' for accounts posting illegal content. OnlyFans says it goes far beyond 'all relevant global safety standards and regulations' and does not tolerate breaches of its terms of service. On Thursday evening, Only Fans said it would ban sexually explicit content on the site from October. The announcement comes after BBC News approached the company for its response to the leaked documents, and concerns about its handling of accounts posting illegal content." • Looks like Only Fans wanted to get out in front of a PR debacle.
Tech: "The infosec apocalypse is nigh" [Cory Doctorow, Pluralistic]. On the Pegasus Project: "But as Snowden points out, none of this would be possible were it not for the vast, looming, grotesque tech-security debt that the IT industry has created for us. Everything we use is insecure, and it's built atop more insecure foundations. We live in an information society with catastrophic information security. If our society was a house, the walls would all be made of flaking asbestos and the attic would be stuffed with oily rags. It's hard to overstate just how much risk we face right now, and while the Insecurity Industry didn't create that risk, they're actively trying to increase it – finding every weak spot and widening it as far as possible, rather than shoring it up. It's a cliche: 'Security is a team sport.' But I like how Snowden puts it: security is a public health matter. 'To protect anyone, we must protect everyone.' Step one is 'to ban the commercial trade in intrusion software' for the same reason we 'do not permit a market in biological infections-as-a-service.' We should punish the cyber-arms dealers – but also use international courts to target the state actors who pay them. But this fight will be a tough one. The huge sums that governments funnel to cyber arms-dealers allows them to silence their critics – I've been forced to remove some of my own coverage thanks to baseless threats I couldn't afford to fight."
Tech: "OnlyFans to Bar Sexually Explicit Videos Starting in October" [Bloomberg]. "Starting in October, the company will prohibit creators from posting material with sexually explicit conduct on its website, which many sex workers use to sell fans explicit content. They'll still be allowed to put up nude photos and videos, provided they're consistent with OnlyFans' policy, the company said Thursday. The popularity of the social-media service exploded during the pandemic as sex workers, musicians and online influencers used it to charge fans for exclusive access to photos, videos and other material. OnlyFans has attracted more than 130 million users. That popularity also brought with it additional scrutiny, and OnlyFans is positioning itself more as a forum for musicians, fitness instructors and chefs than sex workers." • So, October. Just in time for the next wave to peak. Madness. Sex is what OnlyFans is for.
Tech: "Apple says collision in child-abuse hashing system is not a concern" [The Verge]. "Researchers have produced a collision in iOS's built-in hash function, raising new concerns about Apple's CSAM-scanning system — but Apple says the finding does not threaten the integrity of the system…. In a call with reporters regarding the new findings, Apple said its CSAM-scanning system had been built with collisions in mind, given the known limitations of perceptual hashing algorithms. In particular, the company emphasized a secondary server-side hashing algorithm, separate from NeuralHash, the specifics of which are not public." Oh. So that's alright then. More: "A proof-of-concept collision is often disastrous for crytographic hashes, as in the case of the SHA-1 collision in 2017, but perceptual hashes like NeuralHash are known to be more collision-prone. And while Apple expects to make changes from the generic NeuralMatch algorithm currently present in iOS, the broad system is likely to remain in place. Still, the finding will is unlikely to quiet calls for Apple to abandon its plans for on-device scans."
UPDATE Manufacturing: "HOTR: When "Buy American" isn't" [Leeham News and Analysis]. "President Biden's "Buy American" policy means increasing the US content in things purchased by the federal government. Except when it doesn't. Biden announced the policy in July. LNA raised the prospect that the increasing US content requirements could make it difficult for Lockheed Martin and Airbus to offer an A330-200-based airplane for the US Air Force's KC-Y Bridge Tanker. LNA now has clarity on this. Under Biden's Buy American policy, there are—as it turns out—some key exemptions…. .The Buy American Act of 1933 already exempted public interest, unreasonable costs, commercially available off-the-shelf products (a category the A330 already falls into), and 'qualifying countries.'" • And more…
UPDATE Manufacturing: "Under delta, supply chain strains, Toyota slashes production" [ABC]. "Japan's top automaker said Thursday that it will cut back production at home by 40%, affecting 14 auto assembly plants in the country." • Holy [family blog], 40%?
Concentration: "Epic has sent out its unredacted antitrust complaint against Google, which reveals some things that were not revealed before, such as ..,"
After another meeting between Apple and Google senior executives, notes showed that the execs agreed: "Our vision is that we work as if we are one company."

That is a damning little piece of evidence. pic.twitter.com/IupNb7wcmA

— Jeremy C. Owens (@jowens510) August 19, 2021
Oops. They put this in writing?
Labor Market:
My takeaway: the US economy is still being supported by government transfers. As those lapse, we should expect growth to diminish.

Second half 2021 slowdown: This is something I have been saying for months now.

Downside risks: virus, housing

— Edward Harrison (@edwardnh) August 20, 2021
* * *
Today's Fear & Greed Index: 22 Extreme Fear (previous close: 25 Extreme Fear) [CNN]. One week ago: 42 (Fear). (0 is Extreme Fear; 100 is Extreme Greed). Last updated Aug 19 at 5:04pm. Surely not Afghanistan?
Health Care
"Post-viral effects of COVID-19 in the olfactory system and their implications" [The Lancet]. From the Conclusion: "After infection with SARS-CoV-2, the olfactory system be said to serve as a so-called viral sensor, alerting health professionals to the presence of the pathogen. One benefit of early detection can be the interruption of forward transmission." "Could" because this is a "more study needed" article (and quite right, too).
"Column: Coronavirus tests are supposed to be free. But there's a nasty loophole in the law" [Los Angeles Times]. • You'll never guess: Surprise billing from out-of-network labs!
UPDATE "Coronavirus: 'We're really still too much in the dark,' Yale professor says" [Yahoo Finance]. "'We have a higher level of uncertainty now than we've had since the spring of last year,' Dr. Howard Forman, professor at the Yale School of Public Health, said on Yahoo Finance Live (video above). ….. 'Governors and mayors have a lot of responsibility to manage their own locale as best they can, which may include masking, may include other measures,' Forman said. 'We have to hope they take those measures at the right time to mitigate as much as possible. What's going to happen after this wave is unknown to anybody. .'…. 'One should make the case that if we're going to use a third shot in [the U.S., it should be for very good reasons and not because people are panicking or thinking something that might not be true,' he said." • Oh, good point. Needless to say, Biden owns this wave in its entirety. And the next. And the next…
The Biosphere
"This Report Could Make or Break the Next 30 Years of U.S. Astronomy" [Scientific American]. "From the outside looking in, one would not realize the enterprise of U.S. astronomy is teetering on the edge of crisis…. Most astronomers, [Jason Tumlinson, an astronomer heading the community missions office at the Space Telescope Science Institute] says, seem to misunderstand what the Decadal's "governing dynamic" actually is. "A Decadal report is the beginning of a multiparty, multiyear negotiation between the scientific community, NASA, the aerospace contractors, Congress and the White House," he explains—which is why aiming high at the outset is in astronomers' best interest. "I would hope, with Astro2020, we temper our natural desire to mitigate risk and cut costs," Tumlinson says, "because all the other forces in this system will be doing that for us anyway.'" • Seems like rather a lot of very expensive projects not going well, on Earth and in space. I thought this would be about billionaires ruining the night sky with satellites, but it's not; the field seems to be in real trouble.
The Conservatory
"The beautiful world of heavy metal" [Unherd]. "songs about devils and demons. Slayer, one of the popular beat combos I saw on that warm Milton Keynes afternoon, has a pentagram logo and lots of songs with titles like "Angel of Death", "Hell Awaits", and "Black Magic". Oh, and "The Antichrist". You could see how that might mislead people into thinking that they had a thing for this Satan character. Lots of metal is aggressive or violent in content: bands with names like Cannibal Corpse or Bloodbath, songs with names like "Hammer Smashed Face" or "A Skull Full of Maggots". But from the inside, metal feels nerdy and warmhearted. Metal gigs have always, to me, had the sort of vibe of a classic car meet or a real-ale festival: a place for slightly socially awkward people to find a social group outside the mainstream. The aggressive image it projects is at odds with the rather gentle souls you actually meet doing it. This was particularly made clear to me when I went to Download festival in 2015 and asked lots of metallers for their musical guilty pleasures, and came back with lovely photos of pierced, tattooed, bearded thrashers holding up whiteboards saying 'C'est la Vie by B*witched' or "Katy Perry, Firework". And everyone was super lovely.'" • Not my world. Readers?
Groves of Academe
"Refusing to Proceed as Normal" [Inside Higher Ed (Allan)]. "A tenured professor at the University of Alabama at Huntsville resigned this week over the institution's COVID-19 mitigation policies — or, in his view, the lack thereof. 'Some faculty, staff and administrators are looking the other way, holding their tongues, holding their noses, or holding their breath in fear as they prepare to convene or attend in-person gatherings on campus,' Jeremy Fischer, the professor, wrote in his resignation letter. 'It seems that only when we reach a political as well as a public health crisis will our university move most or all classes safely online. But this is a moral emergency, not a time for craven and timorous — or self-serving — responses.' Fischer, a philosopher who specializes in moral psychology, wrote that any professor would be punished for endangering public health by, say, smoking in class. COVID-19 presents a greater immediate threat to public health than secondhand smoke, he said, yet professors who refuse to convene large classes in close quarters this fall at Huntsville over public health concerns will be punished." • So, the Administrators knocked off another tenured professor. Good. Great!
Black Injustice Tipping Point
"Movement for Black Lives: Feds targeted BLM protesters" [Associated Press]. Wowsers, what a shocker. "The federal government deliberately targeted Black Lives Matter protesters via heavy-handed criminal prosecutions in an attempt to disrupt and discourage the global movement that swept the nation last summer in the wake of the police killing of George Floyd, according to a new report released Wednesday, Aug. 18, 2021, by The Movement for Black Lives… A key finding of the report was that the push to use federal charges against protesters came from top-down directives from former President Donald Trump and former Attorney General William Barr…. The report also raises concerns about the involvement of Joint Terrorism Task Forces and found 20 cases that explicitly referenced task force involvement. The government "greatly exaggerated" the threat of violence from protesters, the report says." • So presumably Biden is dropping those prosecutions that have not yet made their way through the courts?
Class Warfare
"The week in US unions, August 12-19" [Who Gets the Bird?]. A lot of activity. I never know quite how to excerpt it. Here's one nugget: "Lauren Kaori Gurley at Vice profiled a few new apps built for organizing unions. The ocean of hot takes doesn't need my little droplet, but I think it's good that people are trying to organize new unions in a labor law regime and labor movement that can't seem to figure out how to do it at scale; it's also probably true that an app is not the thing we've been missing."
News of the Wired
"Whatever Happened to Walt's Garage Studio?" [Cartoon Research]. • Albert Speer remodeled it?
UPDATE "Friends with a fox" (podcast) [Conversations, ABC Australia]. "Biologist Catherine Raven was living off-grid in a remote valley in Montana when she unexpectedly became friends with a wild red fox."
"Mike Duncan Takes On the Turmoil of History" [New Republic]. "Revolutions is a chronological blow-by-blow of 10 historical revolutions that took place between the seventeenth and early twentieth centuries: the English Civil War of 1642, the American Revolution of 1776, the French Revolution of 1789, the Haitian Revolution of 1791, the Spanish American wars of independence of the early nineteenth century, the French Revolution of 1830, the pan-European upheavals of 1848, the Paris Commune of 1871, the Mexican Revolution of 1910, and finally the Russian revolutions of 1905 and 1917. Each of these takes up a season, and each season is the product of roughly 20 to 25 books that Duncan has read and synthesized into a coherent narrative. If that all sounds straightforward, it is, and yet it's also completely addictive. It's hard to say exactly why it works so well. There are no gimmicks, no skits, no interviews or special guests, no sound effects, no music besides a few bars of Haydn at the beginning of each episode. [Duncan's] interpretations of the relevant historiography aren't particularly radical or groundbreaking, nor are they steeped in academic jargon. He's folksy but not gratingly so, romantic about the sweep of events but never overwrought. He is, quite simply, telling us what happened." • Well, I've got to draw the line at the naiveté of "telling us what happened." Come on, man. Nevertheless, I'm a big Duncan fan, mostly because I think he's really fair-minded (as shown by his treatment of The Bearded One in the run-up to the Russian Revolution of 1917). Duncan is also not at all romantic or sentimental.
* * *
Readers, feel free to contact me at lambert [UNDERSCORE] strether [DOT] corrente [AT] yahoo [DOT] com, with (a) links, and even better (b) sources I should curate regularly, (c) how to send me a check if you are allergic to PayPal, and (d) to find out how to send me images of plants. Vegetables are fine! Fungi and coral are deemed to be honorary plants! If you want your handle to appear as a credit, please place it at the start of your mail in parentheses: (thus). Otherwise, I will anonymize by using your initials. See the previous Water Cooler (with plant) here. Today's plant: Re Sicl sends in a wonderful garden construct: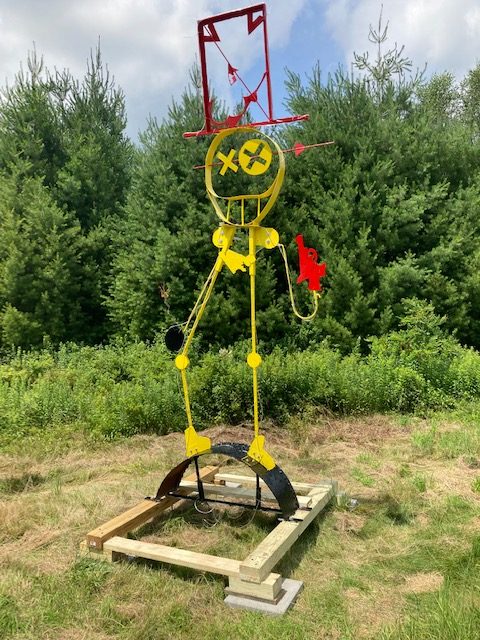 Left hand detail: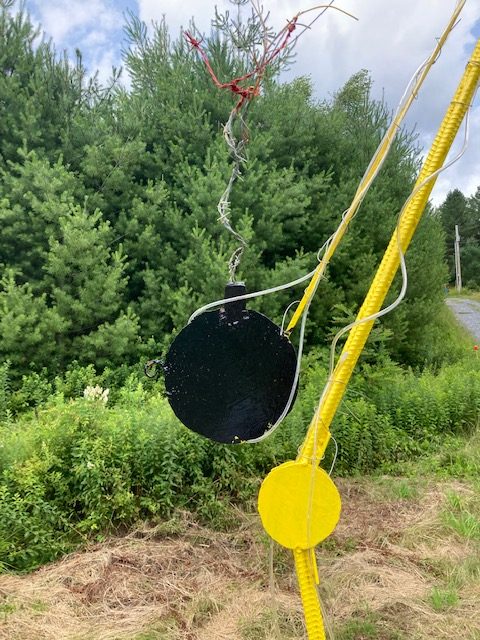 Right hand detail: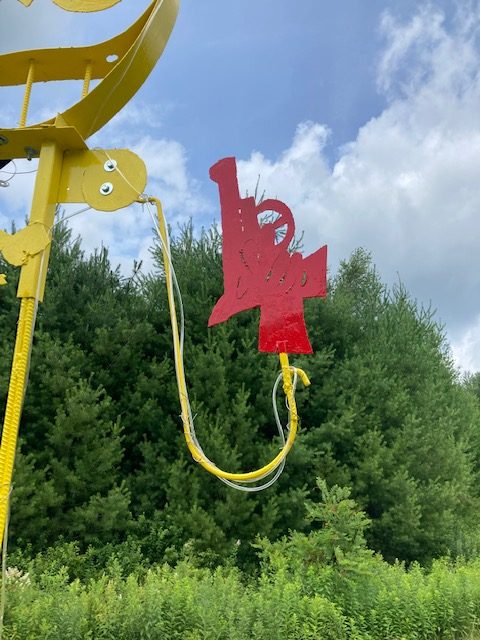 * * *
Readers: Water Cooler is a standalone entity not covered by the recently concluded and — thank you! — successful annual NC fundraiser. So if you see a link you especially like, or an item you wouldn't see anywhere else, please do not hesitate to express your appreciation in tangible form. Remember, a tip jar is for tipping! Regular positive feedback both makes me feel good and lets me know I'm on the right track with coverage. When I get no donations for five or ten days I get worried. More tangibly, a constant trickle of donations helps me with expenses, and I factor in that trickle when setting fundraising goals:
Here is the screen that will appear, which I have helpfully annotated.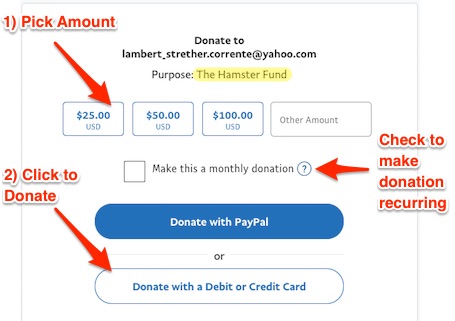 If you hate PayPal, you can email me at lambert [UNDERSCORE] strether [DOT] corrente [AT] yahoo [DOT] com, and I will give you directions on how to send a check. Thank you!2:00PM Water Cooler 6/8/2021