A nation that destroys its soils destroys itself –Franklin Delano Roosevelt
By Lambert Strether of Corrente.
Saturnalia is a good time time to write about soil, since Saturn was the Roman god of agriculture. In my perambulations through the biosphere, I've previously halted at mangroves, coral reefs, and estuaries; now it's time to move onto dry (but not too dry!) land. I'm going to begin by asking What is soil?, and finding that the answer is less clear than you, a gardener, say, might think. From there I'm doing to move on to what I suppose could be called "The Standard Model" of soil science: Textures and horizons. However, it seems that soil science is in the midst of a revolutionary upheaval, and so I'll give examples of the newly known, and the unknown. Finally, I'll briefly discuss climate change, and sketch one answer to the question "Why aren't we mobilizing to protect the soil?" I do apologize for what will be a rambling post, but as a gardener I think soil is complex and fascinating, and science seems to be catching up with my sense of wonder.
What then is soil? Let's start with the dictionary definition from my online Oxford English Dictionary:
soil [noun(1)] soil /sɔɪl/
noun1. Also (earlier) †soyle. lme.

1. The face or surface of the earth; the ground, esp. considered as the source of vegetation or
†2. A piece or stretch of ground; a site. lme–l18.
3. A land, a country, a region; spec.
(a) one's native land;
(b) one's domicile. Now also, national territory.
4. The material comprising the thin top layer of much of the earth's land surface, composed of fragmented rock particles with humus, water, and air; esp. such material as will support the growth of plants, as contrasted with subsoil. Also, a particular kind of this.
(The confusion, or unity, between terrain (1, 2, and 4) and propertarianism (3) was mirrored in my Twitter searches, where I had to skip over a large number of tweets about the "sons of the soil" in Pakistan. It's also mirrored in the etymology of the world, where according the American Heritage Dictionary's Appendix of Indo-European roots, soil derives from sed-, to sit, via the Latin solium, throne, seat (along with settler, sediment, eisteddfod, etc.)
Turning to the Social Science Society of America, we find what I've called above the Standard Model:
We walk on it, dig into it, and build with it. We depend on it to grow food and clothing, filter water, and support natural ecosystems. Soil is essential to life, but what is it?

In short, soil is a of minerals, dead and living organisms (organic materials), air, and water. These four ingredients react with one another in amazing ways, making soil one of our planet's most dynamic and important natural resources.

Soil is used by people in numerous ways. Because of this, it has many definitions. An engineer may view soils as a material upon which infrastructure is built, while a diplomat may refer to "soil" as a nation's territory. From a soil scientist's perspective, soil is:

The surface mineral and/or organic of the earth that has experienced some degree of physical, biological, and chemical weathering.
Texture, then, and layering are the key entry points to understanding soil (and I find this very congenial, both as a gardener and because this was what I was taught, many years ago, in grade school. The curriculum was also very big on the New Deal: Shelter belts of trees, following the contour of the land when plowing, and crop rotation. Somehow I don't think today's curricula cover those topics, but I'd love to be wrong). Here is the USDA on texture classes:
Texture class can be determined fairly well in the field by feeling the sand particles and estimating silt and clay content by flexibility and stickiness. There is no field mechanical-analysis procedure that is as accurate as the fingers of an experienced scientist, especially if standard samples are available. A person must be familiar with the composition of the local soils. This is because certain characteristics of soils can create incorrect results if the person does not take these characteristics into account.
Here is a handy diagram of the "soil triangle":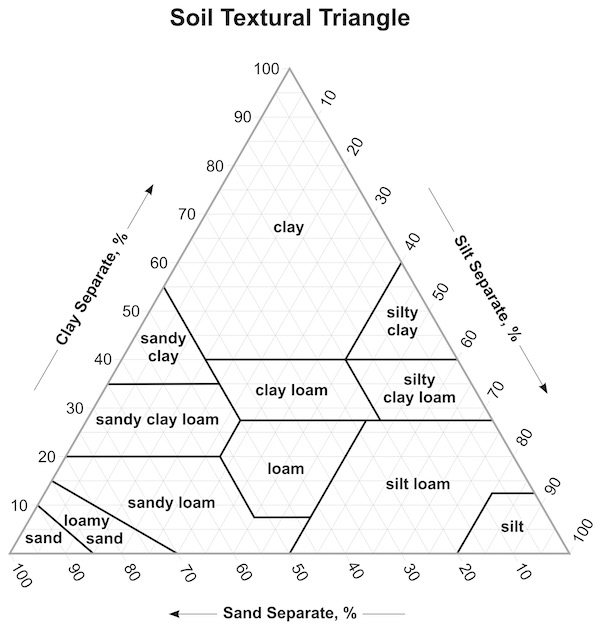 There are twelve categories: Clay, sandy clay, silty clay, sandy clay loam, clay loam, silty clay loam, sand, loamy sand, sandy loam, loam ("We're on loam"), silt loam, and silt. This again fits well with the "fingers of the experienced gardener" (or farmer); I can squeeze my soil and recognize it for the river bluff clay that it is, and know that I have to make it fluffier.
Now to layers, which the field calls "soil horizons" (what a lovely metaphor). Here's one graphic from the "Soil Secret Agents" at the University of Sheffield: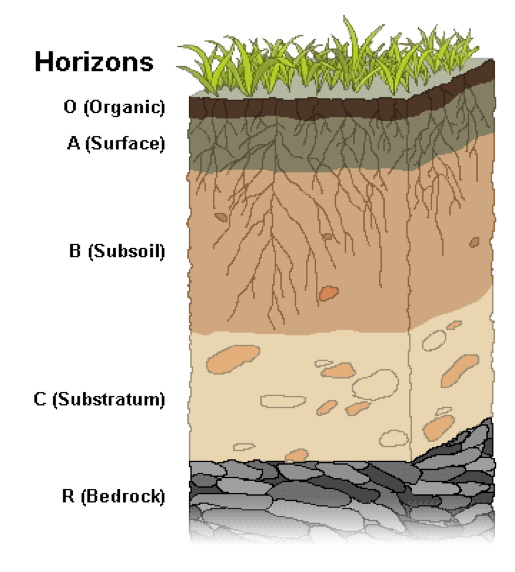 The present the following classification system of the soil horizons:
Soil consists of different layers that are often called horizons. There are three main soil horizons called A, B and C as well as an organic layer (O) on top of the soil (O) and bedrock (R) below:

O: This is a layer of organic matter that is about 2 inches thick and is made up of dead plant material such as leaves and twigs.

A: This upper soil horizon is also called Topsoil. It is only between 5 to 10 inches thick and consists of organic matter and minerals. This is the soil layer where plants and organisms primarily live.

B: This layer is also called Subsoil. It is mostly made of clay, iron minerals as well as organic matter, which has been washed down to this horizon by rainwater.

C: The C horizon is the parent material from which the upper soil layers developed. It consists primarily of large rocks.

R: This is the bedrock and is located several feet under the surface. The bedrock is made up of a solid mass of rock.
Which is pretty neat. But not very site-specific. For example, I remember when I got extremely over-ambitious about when Spring in Maine really begins, and took a shovel out to the garden, and encountered, about three inches down, a rock-hard layer that I determined to be ice. How to enrich these simple categories? Well, we can combine categories. From P.R. Owens, E.M. Rutledge, in Encyclopedia of Soils in the Environment:
Soil horizons can be dominated by properties of one master horizon but have subordinate properties of another; in which case, the master horizons may be combined to denote this interpretation (i.e., AB… etc.).
And then we have suffixes. From the same source:
Designations of soil horizons are supplemented with suffixes or subscripts to convey more information about a horizon.
Here are the USDA's (abbreviated, since there are 27):
a Highly decomposed organic material
b Buried genetic horizon…
d Physical root restriction
e Organic material of intermediate decomposition
f Frozen soil or water
ff Dry permafrost….
h Illuvial accumulation of organic matter
i Slightly decomposed organic material…
p Tillage or other disturbance…
w Development of color or structure…
y Accumulation of gypsum
z Accumulation of salts more soluble than gypsum
(So my shovel hit soil that would be categorized as Af, surface frozen.) Now, if you start looking at the categories, things start to look a little unsystematic; this is no periodic table or quark chart. Leaving aside the issue of whether "matter" and "material" are synonymous, we have plant matter (roots), mixed with the results of human intervention (tillage), and abstractions (color or structure). In fact — and very unfairly — I'm reminded to the famous classification of Borges' (fictional) Celestial Emporium of Benevolent Knowledge. The list divides all animals into fourteen categories, which again I'll present enough of to give the flavor:
Those that belong to the emperor
Embalmed ones
Those that are trained
Suckling pigs
Stray dogs
Those that are included in this classification
Et cetera
Those that have just broken the flower vase
So why do we have to accept "The Standard Model"? I think the answer is that we don't. Here are six reasons why our model for soil needs to go beyond textures and horizons (intuitive though they may seem to "the fingers of an experienced scientist"). In general, they confirm my priors that "we don't know anything," which I, for one, find hopeful.
1. Fossil Trees. From the BBC, "World's oldest fossil trees uncovered in New York":
The earliest fossilised trees, dating back 386 million years, have been found at an abandoned quarry in New York… Researchers say they also discovered that transformed the way plants and soils gather water.

"It's a very ancient forest from the beginnings of the time where the planet was turning green and forests were becoming a normal part of the Earth's system," said Dr Berry.
I'm including this simply to raise the question of whether soil was "the same" 386 million years ago (and also to point out trees are quite likely to be Jackpot-ready, having experienced several over geologic time).
2. Biochar. From the Soil Science Society of America, "Embracing complexity while communicating simply":
I was attracted to understanding soil charcoal, or biochar, upon reading the book 1491 by Charles Mann. His story of Terra Preta is amazing—every soil scientist should read it. At the time, I was particularly depressed about the inexorable progression of erosion and chemical degradation of our soil resource. Biochar gives me hope.We understand so little about charcoal in soils, though, that I feel it will take us generations to learn how to effectively revitalize our soil resource using biochar. Working toward that end lifts my spirits, but beyond that, I am deeply intrigued intellectually. It dawned on me that . This made me want to learn more. Since then, I've found that biochar has everything that made me fall in love with soils in the first place: Long, slow changes over time; a diversity of material characteristic; functional complexity beyond what any one individual can grasp; applicability across every continent, yet with dramatic regional differences; and ubiquity, requiring an integrated understanding of all the natural sciences. I am hooked.
I'm including this because everybody should read Mann's 1491, especially the chapter on Amazonia, "the world's largest garden"). Again, if we don't know how biochar works, what do we know? Now to organisms–
3. Bacteria. From the University of Wisconsin, "Hard as a rock? Maybe not, say bacteria that help form soil":
The problem is this, says senior author Eric Roden, a professor of geoscience at UW–Madison: "The general picture of soil shows solid bedrock a few meters below the surface, then a fractured, crumbly layer popularly called 'subsoil.' At the top is the rich, biologically active layer called soil. Chemical analysis links the minerals in soil to bedrock, but how does this extreme transformation take place?"

A full understanding of life requires an accounting of energy, Roden says. "What we have found is that the , and they pull electrons from the mineral. They are getting energy from eating rock and along the way supplying nutrients for plants — for life on Earth."
So at the interface between the C and R horizons are bacteria, eating the rock!
4. Microbes. In Quanta, "Heat-Loving Microbes, Once Dormant, Thrive Over Decades-Old Fire," a report from a microbiologist studying the underground fires of Centrala, PA:
In a 2005 study in Soil Science, Tobin and colleagues showed not only that microbes survive in the soil above actively burning areas, but that some species thrive there. The overall level of diversity was the same in hot areas (with temperatures ranging between roughly 90 F and 170 F) as in areas that the fire had yet to reach. When the researchers looked more closely, they found that although the overall bacterial diversity decreased with higher temperatures, .
5. Insects. From Phys.org, "Organic crop practices affect long-term soil health":
The study recently published in the journal Agriculture Systems also breaks down how specific components of soil health—such as the abundance and activity of soil animals and soil stability—affect crop productivity. Also, the study reinforced the understanding that and crop productivity.

Soil animals are known to break down crop litter while indirectly affecting microbial communities in the soil. The researchers' new findings suggest that measurements of soil invertebrates can inform assessments of soil health.
(The Standard Model, then, would also need to give an account of contaminants and insecticides.) And I saved the best for last–
6. Nematodes. From Nature, "Global maps of soil-dwelling nematode worms":
Soil organisms are a crucial component of terrestrial biodiversity, and aid human well-being by making contributions in areas such as food security, water purification and carbon storage. However, there is uncertainty about how the dynamics of soil biodiversity will change in the future as a result of agricultural intensification and alterations in climate and land use…. [N]o quantitative assessment of soil animals has been undertaken at the global scale. Writing in Nature, van den Hoogen et al. now fill this gap by presenting the most comprehensive data set of soil-dwelling nematode worms reported so far.

.

Biodiversity for vertebrates, invertebrates and plants decreases from the Equator to the poles, and many possible mechanisms underlying this trend have been discussed. By contrast, van den Hoogen and colleagues report the opposite pattern for nematodes: the highest abundance and biomass — indicators of biodiversity — occur in boreal forests (such as conifer forests in snowy landscapes) and tundra regions (cold plains that lack tree growth)

. This finding has important implications for our understanding of global carbon cycles and potential feedbacks that could affect climate change, given that, so far, .

The results presented by van den Hoogen and colleagues suggest that nematodes are abundant in parts of the world that are expected to undergo substantial climate change, such as boreal and tundra regions. The authors highlight the potential threats to these organisms and to the processes that they affect in a changing world. A warming climate might cause a decrease in nematode abundance that will have unknown feedback effects on the emissions of greenhouse gases from the soil and on other ecosystem processes, such as plant infection by pests.
Again, I don't see how the Standard Model can give an account of any of this new soil science. For example — thinking back to Borges, and I'm just spitballing here — why must we classify soils by texture, instead of by organisms? And how can we think about "soil horizons" without thinking of the (as it were) APIs at the interfaces between the layers? (However, see this excellent blog for a skeptical view of the new soil science.) As a sidebar, there's an enormous amount of science to be done simply to understand how soil "works"; remember that "soil animals have been neglected in carbon models," meaning that all of the models need substantial revision. Citizen science is, I think, exactly the sort of public good that a Jobs Guarantee should massively fund.
Turning to climate change, it's by no means clear that problems we have with soil are caused by increased CO2 or global warming. That does not mean, however, that soil does not present opportunities to solve them. From Time, "These U.N. Climate Scientists Think They Can Halt Global Warming for $300 Billion. Here's How":
The [$300 billion] is not to fund green technologies or finance a moonshot solution to emissions, but to use simple, age-old practices to lock millions of tons of carbon back into an overlooked and over-exploited resource: the soil.

"We have lost the biological function of soils. We have got to reverse that," said Barron J. Orr, lead scientist for the UN Convention to Combat Desertification. "If we do it, we are turning the land into the big part of the solution for climate change."

Rene Castro Salazar, an assistant director general at the UN Food and Agriculture Organization, said that of the 2 billion hectares (almost 5 billion acres) of land around the world that has been degraded by misuse, overgrazing, deforestation and other largely human factors, 900 million hectares could be restored.

Returning that land to pasture, food crops or trees would convert enough carbon into biomass to stabilize emissions of CO2, the biggest greenhouse gas, for 15-20 years, giving the world time to adopt carbon-neutral technologies.

"The idea is to put more carbon into the soil," said Orr. "That's not going to be a simple thing because of the natural conditions. But keeping the carbon in the soil and getting that natural vegetation, grazing land etc. thriving again — that's the key.".

Key to returning dry lands to vegetation is the use of fertilizer, said Mansur. "Fertilizers are essential for increasing productivity. Good fertilizer in the right quantity is very good for the soil."
Oy, fertilizer; got to be careful of that stuff — regenerative farming would be better — but soil takes a long time to build. (On the other hand, maybe we could take the oil for the fertilizer from the Pentagon).
Accepting that restoring the soil (however that is done) would be a good idea, what would be the problem? I'd speculate that the fundamental conflation of terrain and property, alluded to at the start of the post, is the issue. From The Baffler, "Land Without Bread":
The loosely defined proposal for a Green New Deal hits the panic button, American-style, but it does not exactly lay a cornerstone. Which is to say that it avoids prickly issues of land use—generally reserved for states and localities that regularly do battle with sacrosanct private property rights. Yet the choices we make about our land are foundational to any future we construct, low-carbon or otherwise. It has always been so. Just ask the pre-Columbian indigenous peoples, the slaveholders and their human property, the "settlers," the railroad barons, and the policy architects of postwar suburbanization and urban disinvestment. And consider the fact that sprawling suburban development devoured nearly 31 million acres of agricultural land—cropland, woodlands, pasture, and range land—between 1992 and 2012 alone, according to a 2018 report by American Farmland Trust (AFT). That is an area almost as large as New York State. More than a third of that conversion, 11 million acres, took place on prime farmland blessed with the world's richest soil. That is an area roughly the size of California's Central Valley. Protecting such land, and doing so in an equitable manner, is critical not only to our future food supply but also to mitigating and adapting to climate change.
(The BECCS proposal also has this issue, since the plantations to feed biomass to the BECCS plants would need to be the size of the subcontinent of India.) So, when the the UN's Salazar says "With political will and investment of about $300 billion, it is doable," does "political will" include the possibility of a major revision in property rights? Is the UN assessing that? Is anybody? And with those questions, I will end my perambulation for this topic.