By Lambert Strether of Corrente.
Patient readers, I will return with more on the overly dynamic Capitol Hill situation shortly. –lambert
Bird Song of the Day
A duet!
UPDATE "Thousands of Years Before Humans Raised Chickens, They Tried to Domesticate the World's Deadliest Bird" [Smithsonian]. "The southern cassowary is an enormous, flightless bird native to the forests of New Guinea and Northern Australia. The dinosaur-like creature has glossy, jet-black feathers and a bright blue neck with a vibrant scarlet wattle dangling from its neck. They also have three-toed, razor-sharp talons that can inflict severe fatal injuries with a roundhouse kick when provoked, earning them the title "world's deadliest bird," reports Asher Elbein for the New York Times. While one should certainly be wary around a cassowary and its dagger-like claws today, a new study found that humans may have raised the territorial, aggressive birds 18,000 years ago in New Guinea, making them the earliest bird reared by our ancient ancestors." • Good eatin'. What a happey coincidence this week's birds ended up coming from New Guinea!
UPDATE "Pandemic Bird-Watching Created a Data Boom—and a Conundrum" [Wired]. "Thomas is one of many people who took up birding during the pandemic, inspired by the sparrows he saw on his daily walks. 'I realized how adorable they are and that they're living in the city amongst us and thriving,' he says. He started taking pictures and sound recordings, identifying the birds with the help of apps like Merlin and eBird. Those entries add information to databases that scientists use to study migration and behavior. 'All of those observations that people are submitting, they go into very advanced modeling to create distribution maps for species, to look at trends of their populations,' says Andrew Farnsworth, a senior research associate at the Cornell Lab of Ornithology which maintains both apps. Now Thomas is also a volunteer with the Audubon Society's Project Safe Flight, which is collecting a different kind of data. The group enlists people to monitor New York City buildings during the fall and spring migration seasons to record the number of birds killed or injured by flying into windows. Bird-watching has boomed during the pandemic, and all that extra interest has translated into citizen science initiatives seeing a huge swell in participation. With the fall migration now in full swing, this army of avid birders is amassing a wealth of data about how weather, human movements, artificial lights, and city infrastructure can affect birds as they travel. Farnsworth notes that while both Cornell projects have grown every year since their inception over a decade ago, the increase in users, downloads, and data over the past 18 months was unprecedented." • Awesome. I seem to have stumbled into a zeitgeist thing, here, though I swear my sole motivation was to find something cheerful to open Water Cooler, and so I thought of Robert J. Lurtsema, who opened his long-running classical radio show with birdsong. Serendipity!
* * *
#COVID19
At reader request, I've added these daily charts from 91-DIVOC. The data is the Johns Hopkins CSSE data. Here is the site. I feel I'm engaging in a macabre form of tape-watching. I think it's time to do some tinkering with the charts. I want to improve the vaccination area, if I can, to distinguish between first, second, and ideally booster shots, and give a total. The original purpose of the chart was to see if the advent of the "adults in the room" boosted the vaccination rate at all, and it did not. (Hence, kudos to the heroic efforts of people on the ground.) I also need to look at positivity and see if the data problems (hat tip, Lou Anton) can be overcome, of indeed if the chart is even useful, given the advent of commercial test kits whose data is untrackable, CDC, good job. However, as Arya would say, "Not today!", with so much going on over on Capitol Hill.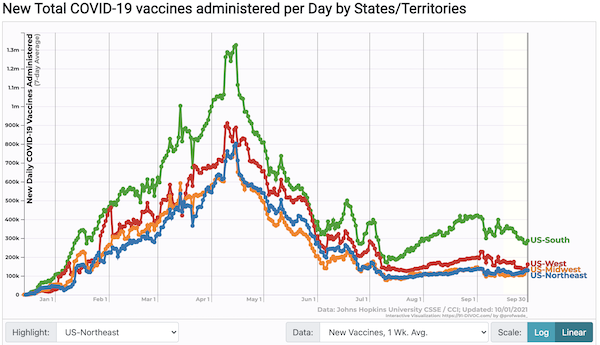 A little jump in the Northeast, oddly. Job mandates? Otherwise, so far as I can tell, Biden's speech had no impact at all. If the measures he announced have any impact, that has not appeared yet. I would bet that the stately rise = word of mouth from actual cases.
55.6% of the US is fully vaccinated (mediocre by world standards, being just below Czech Republic, and just above Saudi Arabia). We are back to the stately 0.1% rise per day; yesterday's 0.3% is no more. However, as readers point out, every day those vaccinated become less protected, especially the earliest. So we are trying to outrun the virus… (I have also not said, because it's too obvious, that if by Bubba we mean The South, then Bubba has done pretty well.)
Case count by United States regions: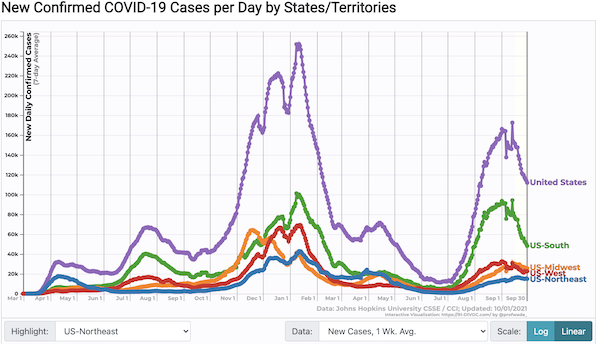 Simply tape-watching, this descent is as steep as any of the three peaks in November–January. It's also longer than the descent from any previous peak. The question is whether we will ascend to a second (or third) peak, as in last December-January, or not, as in last August. Note also that the regions diverge: The South, which drove the peak, is finally dropping. The West was choppy too, and is now falling. Ditto the Midwest. And now the Northeast is falling as well.
We could get lucky, as we did with the steep drop after the second week in January, which nobody knows the reasons for, then or now. Today's populations are different, though. This population is more vaccinated, and I would bet — I've never seen a study — that many small habits developed over the last year (not just masking). Speculating freely: There is the possibility that natural immunity is much, much greater than we have thought, although because this is America, our data is so bad we don't know. Also, if the dosage from aerosols drops off by something like the inverse square law, not linearly, even an extra foot of distance could be significant if adopted habitually by a large number of people. And if you believe in fomites, there's a lot more hand-washing being done. On the other hand, Delta is much more transmissible. And although readers will recall that I have cautioned against cross-country comparisons, I'm still not understanding why we're not seeing the same aggregates in schools that we've see in Canada and especially the UK, despite anecdotes. Nothing I've read suggests that the schools, nation-wide, have handled Covid restrictions with any consistency at all.
NEW From CDC: "Community Profile Report October 1, 2021" (PDF), "Rapid Riser" counties, this release: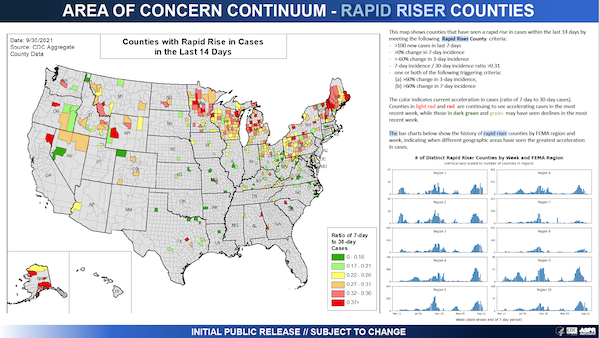 Still better everywhere, including the Northern Latitudes and even the Rockies (but why Maine? Highest cases ever, despite 64.91% of the population being fully vaccinated. The absolute numbers are small, but it's worrisome. Could be rural areas, could be schools. It's not chilly yet, so windows can still be open.) Speculating freely: One thing the consider is where the red is. If air travel hubs like New York City or Los Angeles (or Houston or Miami) go red that could mean (a) international travel and (b) the rest of the country goes red, as in April 2020 and following. But Minnesota is not a hub. If Minnesota goes red, who else does? Well, Wisconsin. As we see. Remember, however, that this chart is about acceleration, not absolute numbers. This map, too, blows the "Blame Bubba" narrative out of the water. Not a (Deliverance-style) banjo to be heard. Previous release: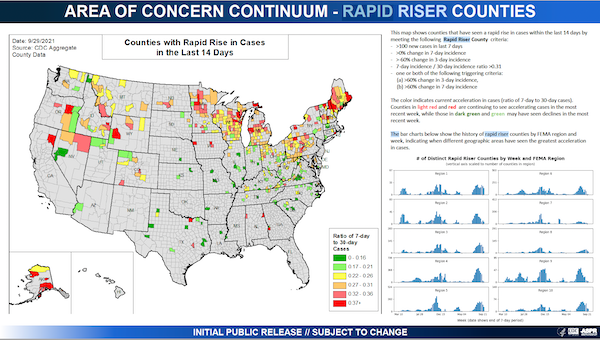 (Red means getting worse, green means bad but getting better.)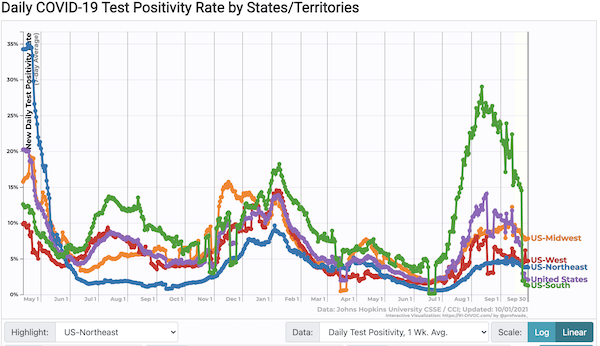 An unprecedented, enormous drop in the South. Almost no rebound. Surely data? It seems not. I've never seen anything like it. Did Walmart roll out a home test kit in all the states of the South, simultaneously?
Hospitalization (CDC). Pop-up unresponsive today, much like the CDC itself: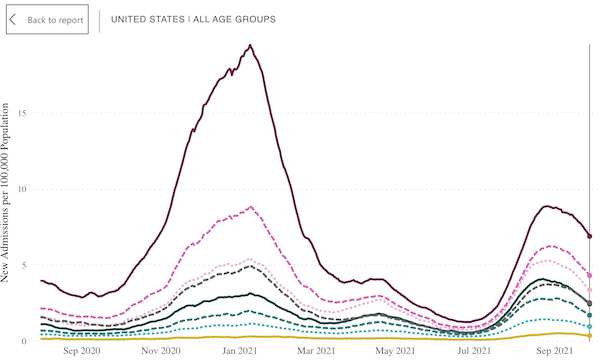 From this chart, pediatric hospitalization, in the aggregate, is down. I should dig out some regional or better yet county data.Here the CDC's hospitalization visualization, from the "Community Profile" report above: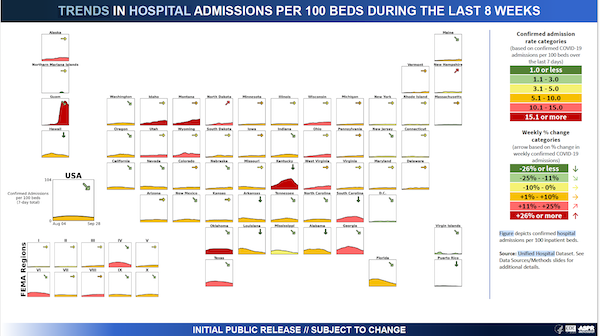 Alabama now out of the red.
Death rate (Our World in Data):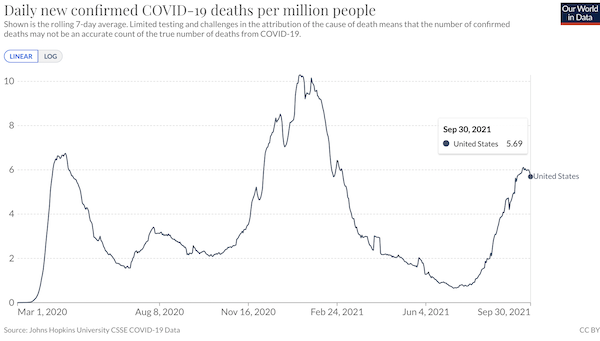 Total: 716,867 713,969. Looks like a downward trend, mercifully. We approached same death rate as our first peak last year. Which I am finding more than a little disturbing. (Adding: I know the data is bad. This is the United States. But according to The Narrative, deaths shouldn't have been going up at all. Directionally, this is quite concerning. Needless to see, this is a public health debacle. It's the public health establishment to take care of public health, not the health of certain favored political factions.) (Also adding: I like a death rate because it gives me a rough indication of my risk should I, heaven forfend, end up in a hospital. I should dig out the absolute numbers, too, now roughly 660,000, which is rather a lot.)
Covid cases worldwide: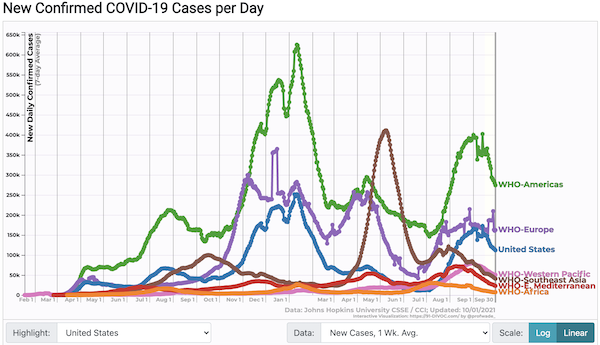 European exceptionalism?
* * *
Politics
"But what is government itself, but the greatest of all reflections on human nature?" –James Madison, Federalist 51
Capitol Seizure
How a Secret Google Geofence Warrant Helped Catch the Capitol Riot Mob Wired
Australia's NSW state premier resigns over corruption probe amid COVID-19 battle Reuters. "My work here is done."
"They had one weapon left and both knew it: treachery." –Frank Herbert, Dune
"They had learned nothing, and forgotten nothing." –Charles Maurice de Talleyrand-Périgord
Biden Administration
NOTE: Time-stamps are publication dates, not event dates. Nevertheless, they approximate the sequence of events.

Life's rich pageant:

[10-01, 12:46PM] "In a scene reminiscent of Veep, Democrats leaked from a closed-door meeting about fellow Dems urging them to stop leaking" [Politico]. "Democratic House members gathered behind closed doors for an all-caucus pow-wow on Friday morning — their latest effort to find a path forward on their legislative agenda. Inside the meeting, fellow lawmakers urged their colleagues to stop leaking to reporters, who were tweeting verbatim quotes as various Dems expressed their views. One of them was Rep. Jared Huffman (D-Calif.), whose comments promptly… leaked….. Can anyone literally think of any example in the private sector where people leak sensitive information in real-time? Congress, you're one of a kind!" • It doesn't sound like this was a serious meeting. And since nothing is being whipped, it's hard to tell if anyone is serious, except for the "progressives," for the first time in living memory.

[10-01, 10:32AM] "Biden to meet with House Democrats amid infrastructure vote chaos" [Politico]. "House Democrats will hear from President Joe Biden later Friday at a second closed-door huddle of the group that day, after their first two-hour meeting left members with little clarity on the path forward on Biden's two major priorities…. 'The resolution is not here in this caucus — the resolution is with two senators, and the rest of the 98 percent of the Democratic Caucus,' Rep. Pramila Jayapal said, noting she's been in touch with the White House 'multiple times' since last night. 'I feel very confident that we're going to be able to deliver both these things, but you're gonna have to give us some time because it does take time to put together these kinds of transformational investments.' While senior Democrats say they are making progress in talks, the framework remains unfinished and lawmakers are unlikely to see a final top line in their caucus meeting, according to multiple sources…. 'We're on a path' to have a vote Friday, Pelosi said as she entered the Capitol Friday morning, though she told reporters it would be 'useful for us to have a conversation later today.' But when Hoyer was asked if a vote were happening Friday, he said: 'We'll see.'" • Meanwhile, Sinema blew town. Clap your hands:

Exactly. @SpeakerPelosi has become a force of nature, akin to gravity or electromagnetism. . . . https://t.co/hGzmMAejUY

— Laurence Tribe (@tribelaw) October 1, 2021

Jayapal, however, can count too. As we have seen.

[10-01, 10:21AM "Live Updates: 'There Will Be a Vote Today' on Infrastructure, Pelosi Says" [New York Times]. "Leaving the Capitol just after midnight, Ms. Pelosi told reporters 'we're not trillions of dollars apart' and vowed 'there will be a vote today' on the infrastructure measure." • For some definition of "today"; I believe the House clock has been stopped because Pelosi did not adjourn the session, and so House time now no longer corresponds to calendar time, which makes sense, in a way.

* * * Yesterday * * *

[09-30, 4:56PM] "Opinion: It's ugly, but we're finally getting a glimpse of how the sausage will be made" [WaPo]. "Some unusually grating new things just happened. But because this is how the process works, you can squint at the messy pile of sausage filling and see signs of progress… Here's another thing about the sausage-making process we're seeing. If the House fails to pass the bipartisan infrastructure bill in the vote scheduled for Thursday, guess what? It won't actually be a disaster…. The most likely explanation is that Pelosi is doing a clever balancing act: She is outwardly pushing hard on the idea that she will hold the vote, to keep Manchin, Sinema and centrists (who want it to pass) happy. At the same time, the prospect that progressives will sink the infrastructure bill helps ratchet up pressure on Manchin and Sinema to agree to a reconciliation framework. What Pelosi wants is to put pressure on everyone: It will be the best of all possible worlds if the centrists do agree to a framework that progressives can accept, and then they agree to help pass the infrastructure bill. We don't know how this will turn out. But if the infrastructure vote fails, or if it's postponed, that's just fine. Bills have been known to fail and get brought back and pass. A postponement would mean more room for negotiating the reconciliation bill, making that more likely to succeed." • I can accept the idea that Pelosi is playing both ends against the middle. But even if you regard the Progressive Caucus actually getting together to something as a mere coup de theatre, it's still a real thing that happened. It's a bell that can't be unrung.

UPDATE [09-30, 11:31AM] "Manchin proposed $1.5T top-line number to Schumer this summer" [Politico]. "Joe Manchin proposed a deal to Senate Majority Leader Chuck Schumer this summer to limit the total cost of Democrats' sweeping spending bill to $1.5 trillion, according to a copy of the agreement obtained by POLITICO…. The West Virginia senator has been distributing the document to Democratic colleagues and leaders in recent days to underscore that he has outlined his red lines on President Joe Biden's jobs and families plan. The one-page understanding is dated July 28, right before the Senate passed a bipartisan infrastructure bill that Manchin helped write and ahead of Senate passage of a budget setting up a spending bill as large as $3.5 trillion." • Here it is, from July 28, 2021:

Even better, from the Democrat's Senate site, from August 9, 2021, on the Budget Resolution:

And yet:

.@DebDingell just said on CNN that Pelosi didn't know about @Sen_JoeManchin's document from July to Schumer about his topline of $1.5T for the economic document until this week. Notable.

— Daniella Diaz (@DaniellaMicaela) October 1, 2021

Schumer's thought process is not clear to me, to say the least. If this is a side deal, it nullifies the main deal. Perhaps readers more Machiavellian than I am can explain. Schumer apparently knew that Manchin was not merely a stumbling block, but the sort of stumbling block who puts his demands in writing and insists that you sign them. (If you've ever encountered such a person at your workplace, you know how unpleasant that is.) So what does Schumer do? Knowing that the Budget Resolution topline and the Manchin topline are wildly at odds, (a) he allows the reconciliation train to leave the station, (b) while stabbing Pelosi in the back and (c) the Progressive Caucus, and (d) (I assume) Sanders, thereby (e) assuring a trainwreck of mutual recrimination and distrust the instant the discrepancy became evident. Why? Cunctation, a.k.a. "kick the can down the road"/"get to the next screen"? And was Manchin being frogmarched into a state of agreement in the interim between July 28 and this week's vote? Apparently not. Instead, we're showering him with highway money in the BIF. And what about Biden? Did Schumer clue Biden in? Schumer? Schumer? Schumer? One thing is for sure: The Democrat leadership is not, as Putin would say, agreement-capable. The "progressives" are right to stand their ground.

* * *

"How Biden Could End the Debt-Ceiling Crisis by 'Minting the Coin'" [Eric Levitz, New York Magazine]. For those who came in late: "Back in 1995, America's coin collectors successfully lobbied Congress for legislation that would empower the Treasury Department to mint collectible platinum coins in a greater variety of sizes. The idea was to facilitate the creation of smaller, cheaper coins to help less affluent coin collectors get in on the sweet platinum action. In writing this legislation, however, Congress accidentally — and yet quite explicitly! — gave the Treasury secretary extraordinary money-creation powers…. In 2011, the blogger Carlos Mucha, writing under his commenter name "Beowulf," noted that this law seemed to provide a debt-ceiling work-around: If the Treasury secretary has the power to mint platinum coins of any denomination, then he or she could (1) mint a $1 trillion platinum coin and then (2) take it to the Federal Reserve and use it to repurchase $1 trillion in Fed-held U.S. Treasury debt. Just like that, the U.S. debt level would be brought well below the statutory ceiling, and the government could carry on paying interest on its debt while meeting all its statutory spending obligations. Notably, such an action would not be inflationary "money printing." The supply of money circulating in the real economy would not change. One branch of the government would simply deposit a coin in the account of another branch of government, thereby erasing $1 trillion from the national debt. Nothing would change except accounting figures that Congress has fetishized. This is part of what makes the "mint the coin" option so appealing to critics of Beltway deficit politics in general, and proponents of Modern Monetary Theory in particular: It helps expose the absurdity of fixating on national-debt totals that are already influenced by factors nearly as arbitrary as the platinum-coin gambit, while spotlighting our government's absolute sovereignty over money creation." • I'm so old I remember when this was a fringe idea….
[10-01, 6:01AM] "Manchin throws down gauntlet with progressives" [The Hill]. "'For them to get theirs, elect more liberals,' [Manchin] said, noting "I've never been a liberal in any way, shape or form.'… Manchin appears confident that whatever he eventually agrees to in the reconciliation package, which now appears to headed to a top-line spending number well below $3.5 trillion, the House will eventually pass the bipartisan infrastructure bill, which would send billions of dollars to his home state. For instance, the bipartisan infrastructure bill would create a new $2 billion rural grant program that will dedicate resources to the Appalachian Development Highway System, also known as the Robert C. Byrd Freeway, in West Virginia." • They'd better be reinforcing the road surface to handle the trucks going to the nuclear waste dump Biden ought to be siting in Manchin's district.
Democrats en Deshabille
"Kyrsten Sinema must be stopped" [Matt Yglesias, Slow Boring]. " Because while I don't believe Kyrsten Sinema will be the future of the Democratic Party, one can at least squint and sort of see it. So far, most of the newly elected Democrats from favored quarter suburbs are pretty solid liberals who still back taxing the rich and expanding the welfare state. But Sinema and a handful of her allies in the House do portend a possible alternate route where Democrats try to turn themselves into a pro-business identity politics movement that mostly just gets creamed by the populist right. It's a very alarming development, and unless she changes course quickly, it would be very advisable to mount a primary challenge to her…. Sinema isn't blocking popular progressive ideas because she's getting corporate money; she's getting corporate money because she's blocking popular progressive ideas, and businesses want their key ally to succeed and prosper."
Republican Funhouse
"The Memo: Omarosa beats Trump, potentially opening flood gates" [The Hill]. "Manigault Newman had signed a nondisclosure agreement with the 2016 Trump campaign, which the Trump legal team argued was violated by her authorship of the book. But the agreement was voided by a New York arbitrator on Friday. The decision was first reported by The New York Times on Tuesday…. But the New York arbitrator said the provisions of the NDA could not stand up because they were so 'vague and indefinite.' The arbitrator, T. Andrew Brown, added, 'There is no way here to tell if a breach has occurred, since the determination of whether there is a breach is left to the sole determination of Mr. Trump.'" • That is so Trumpian.

I love the Nixon account. What a historical figure. There were giants in those days:

And because at the end of the day I am a professional and I respect professionals in kind. It's an insult to our business, not to mention the people, if Rubio is allowed to run free. These things must be put down in their beds.

— Richard M. Nixon (@dick_nixon) September 30, 2021
Realignment and Legitimacy
"Southern Baptist Seminary Heads Join Chorus of Critics as Leaders Balk on Abuse Probe" [The Roys Report]. "Pressure is building on members of the Executive Committee of the Southern Baptist Convention to allow a third-party firm full access to investigate how it has handled allegations of sexual abuse over the past 20 years. This week, all six Southern Baptist seminaries expressed their dismay at the Executive Committee's unwillingness to act." Yikes.

"Can the System Save Itself Again?" [Vulgar Marxism]. "From the point of view of the Democratic Party, Biden's domestic agenda is critical to its short-term electoral fortunes, the medium-term stability of the political system that empowers it, and the long-term health of the biosphere in which the capitalist mode of production is possible. So how can it be that this party, both as a self-interested actor and the superego of American capital, may fail to pass it?… But it turns out capital remains as shortsighted as ever, and has mobilized to tank Biden's agenda. At long last, we're about to find out the answer to the most important question of our era: just how much can the political class extract from capital in the absence of mass popular mobilization or a muscular labor movement? If it isn't enough to reverse, or at least arrest, the decline of living standards for the working class, we can expect further instability in the political system. Though they'd be loathed to admit it, Democrats should be thanking their lucky stars that the sui generis figure that first emerged to take advantage of these cracks in the foundation was Donald Trump. A right-populist insurgent with total independence from the Republican power structure, a highly activated base, and the ability to circumvent media gatekeeping could have executed a realignment that would have crippled the left for a generation or more – had he been willing to actually challenge capital. Thankfully, Trump's real passion in life is doing Hot or Not segments on the TV Guide Channel to rank the looks from the Condé Nast Halloween party, so this fate was avoided – for now. But if this legislation also fails to provide for appropriate levels of decarbonization and climate resiliency, that'll be the least of our worries. So far, the signs are not promising." • Well worth a careful read (and a hat tip to the alert reader who pointed me to it.)

UPDATE "Interview: Jason Crawford, nonprofit founder" [Noah Smith, Noahpinion]. • As readers know, my view is "Euthanize the NGOs." I'm also heartily sick of the glorification of Founders (especially in Silicon Valley, where "Founder" is a synonym for rentier or worse). We don't need more things founded. What we need is our creaky and collapsing societal machinery restored, and that involves a lot of tedious work by civil servants and citizens. That's where the glorification should go.
Stats Watch
Manfacturing: "United States Manufacturing PMI" [Trading Economics]. "The IHS Markit US Manufacturing PMI was revised higher to 60.7 in September of 2021 from a preliminary of 60.5 but below 61.1 in August. The latest data indicated a marked improvement in the health of the manufacturing sector, despite being the slowest since April. Despite rising markedly, production was often hampered by severe material and labour shortages, as supply chain disruption worsened. Demand conditions softened from the peaks seen earlier in the year, but both domestic and foreign client orders rose at historically elevated rates. Pressure on capacity was reflected in the fastest uptick in backlogs of work on record, as challenges expanding workforce numbers persisted."
Manufacturing: "United States ISM Purchasing Managers Index (PMI)" [Trading Economics]. "The ISM Manufacturing PMI in the United States increased to 61.1 in September 2021, up for a second straight month and above market expectations of 59.6. The latest reading signaled one of the strongest rates of expansion since 1983, boosted by solid increases in production (59.4 vs 60.0 in August) and new orders (66.7, the same as in August), as well as a slight rebound in employment levels (50.2 vs 49.0). At the same time, factories experienced longer delays getting raw materials delivered and paid higher prices for inputs."
Income and Spending: "United States Personal Spending" [Trading Economics]. "Personal spending in the US rose 0.8% mom in August of 2021, rebounding from a 0.1% drop in July and beating market forecasts of a 0.6% gain, a sign the economic recovery is gaining traction after a summer slowdown due to the spread of the coronavirus delta variant. A rise in spending for food and beverages as well as "other" nondurable goods (mainly, household supplies as well as recreational items) was more than enough to offset a decrease in spending for motor vehicles and parts."
Income and Spending: "United States Personal Income" [Trading Economics]. "Personal income in the United States rose 0.2 percent from a month earlier in August 2021, following a 1.1 percent advance in July and slightly missing market expectations of a 0.3 percent gain. The compensation of employees, such as private wages and salaries, as well as government social benefits were mostly behind the gain. Within government social benefits, an increase in Child Tax Credit payments authorized by the American Rescue Plan, was partly offset by a decrease in unemployment insurance, due to declines in payments from the Pandemic Unemployment Compensation program."
Consumer Sentiment: "United States Consumer Sentiment" [Trading Economics]. "The University of Michigan's consumer sentiment for the US was revised higher to 72.8 in September of 2021 from a preliminary of 71 and above August's 70.3. …. Meanwhile, inflation expectations for the year ahead were unchanged at 4.6%."
* * *
The Bezzle: "Jim Chanos Says NFT Market Is Rife With 'Nefarious Activity'" [Bloomberg]. "'Traders can set a false, inflated market price and then issue another set of NFTs at a supposed big discount for the public to buy, Chanos said. 'So they can get in on the 10-fold increase that they just manufactured. This is as old as markets. This is wash trading,' he said."
Manufacturing: "Iron Battery Breakthrough Could Eat Lithium's Lunch" [Bloomberg]. "SB Energy Corp., a U.S. renewable-energy firm that's an arm of Japan's SoftBank Group Corp., is making a record purchase of the batteries manufactured by ESS Inc. The Oregon company says it has new technology that can store renewable energy for longer and help overcome some of the reliability problems that have caused blackouts in California and record-high energy prices in Europe…. The units, which rely on something called "iron-flow chemistry," will be used in utility-scale solar projects dotted across the U.S., allowing those power plants to provide electricity for hours after the sun sets…. ESS was founded in 2011 by Craig Evans, now president, and Julia Song, the chief technology officer. They recognized that while lithium-ion batteries will play a key role in electrification of transport, longer duration grid-scale energy storage needed a different battery. That's because while the price of lithium-ion batteries has declined 90% over the last decade, their ingredients, which sometimes include expensive metals such as cobalt and nickel, limit how low the price can fall…. Flow batteries, however, look nothing like the battery inside smartphones or electric cars. That's because the electrolyte needs to be physically moved using pumps as the battery charges or discharges. That makes these batteries large, with ESS's main product sold inside a shipping container." • Big if true.
Manufacturing: "Auto makers are preparing for the global chip shortage that has slammed production to turn into a long-term challenge. Industry analysts say there is growing belief across the sector that the crisis will extend at least into next year… and that it could lead to a structural upheaval in automotive supply chains that could take years to overcome" [Wall Street Journal]. "Auto makers face a two-pronged challenge as they seek chips to keep their factories running today while game-planning to ensure future supplies. The growing strains in the auto business show how stresses on supplies and production that began early in the pandemic are growing deeper in some sectors, and triggering broader changes in supply chains. Auto makers now are finding fresh bottlenecks among suppliers even as semiconductor makers start to phase out the low-tech microprocessors prevalent in new vehicles, threatening availability in the future."
* * *
Today's Fear & Greed Index: 25 Extreme Fear (previous close: 28 Fear) [CNN]. One week ago: 31 (Fear). (0 is Extreme Fear; 100 is Extreme Greed). Last updated Sep 30 at 1:50pm.
Zeitgeist Watch
"Pleasure and Justice" [Boston Review]. "hollow consent, unaccompanied by inner aching, is at least as ubiquitous as sexual coercion. Sex that is merely consensual is about as rousing as food that is merely edible, as drab as a cake without icing. Even in our era of ostensible liberation, women face emotional and social pressures, both externally imposed and uneasily internalized, to appease men at the cost of their own enjoyment. Heterosexual women are forever licensing liaisons that don't excite them—perhaps because they have despaired of discovering anything as exotic as an exciting man, or because it no longer even occurs to them to insist on their own excitement, or because capitulation to unexciting men is so exhaustingly expected of them and so universally glorified in popular depictions of romance. As the formidable Oxford philosopher Amia Srinivasan writes in her debut essay collection, The Right to Sex, her female students regularly report that they regard their erotic lives as "at once inevitable and insufficient." In short, the young women in Srinivasan's classes are resigned to sex that is consensual but underwhelming. And who can blame them? There are vanishingly few contemporary contexts in which women are taught or encouraged to demand electrification, or indeed, to want actively at all. In the public imagination, they figure at best as passive consenters, accepters or rejectors of male propositions, at worst as the hapless prey of nefarious lechers. In this picture, sexual agency is mostly reserved for male philanderers and predators. It is telling that #MeToo has focused not on women asserting but on women assenting (or failing to assent). No doubt for partially strategic reasons, the movement's proponents have rarely asked what good sex—by which I mean not virtuous but delicious sex—would look like for women, and under which conditions it might be realized."
Our Famously Free Press
The failure of the Times to admit it made a mistake to fire all its copy editors, and to fix the resulting and humiliating copy editing errors, does not speak well for it as an institution:
What's fun about this one is that you have a massive editor's note correcting your reporting errors at the top of the article, yet the article still reads like it's never been edited by a sentient human

— Typos of the New York Times (@nyttypos) September 30, 2021
This is a reporter, mind you:
Let the stages of grief commence https://t.co/36RFe9IICw

— Mike DeBonis (@mikedebonis) September 30, 2021
They hate Sanders, they hate what he stands for, and they hate anyone who would benefit from his policies. Stupid people with bad teeth should suffer in silence. A union member, too!
Black Injustice Tipping Point
"Photos: Bruce's Beach property authorized to return to family" [Los Angeles Times]. "In a historic move celebrated by reparations advocates and social justice leaders across California, Gov. Gavin Newsom has authorized the return of property known as Bruce's Beach to the descendants of a Black couple that had been run out of Manhattan Beach almost a century ago. Senate Bill 796, signed into law Thursday by Newsom, confirms that the city's taking of this shorefront land — on which the Bruces ran a thriving resort for Black beachgoers — was racially motivated and done under false and unlawful pretenses."
Class Warfare
"Ten Thousand UAW Members Gear Up for a Strike Vote at John Deere" [Labor Notes]. From September, still germane. "The seasonal timing also gives UAW the edge, according to Chris Laursen of Local 74 in Ottumwa, Iowa. 'Negotiations wrap up in September, and farmers buy farm equipment after harvest', he said. 'They get paid, and that's when they're looking to buy more balers, harvesters, things like that. Deere cannot face a long strike.' Parts supply shortages induced by Covid have created problems at the Harvester Works. Production workers get paid based on a complicated piece rate formula called the 'Continuous Improvement Pay Plan' (CIPP, pronounced 'kip'). Essentially, management sets a rate for production and workers get paid bonuses according to whether or not their group hits that rate."
"UAW, Deere agree to 15-day extension after contract expires" [Des Moines Register]. "Failing to reach an agreement by their deadline, Deere & Co. and United Auto Workers have temporarily extended their current collective bargaining agreement through Oct. 15. The company announced the extension minutes after midnight Thursday, when its six-year contract with the UAW expired. Leaders at UAW locals across Iowa shared the news on their Facebook pages as members in Deere plants stopped working, only to resume production minutes later…. The UAW represents 10,100 Deere employees across the Midwest, about 61% of them at Iowa factories in Ankeny, Davenport, Dubuque, Ottumwa and Waterloo. The Waterloo plant is the largest in Iowa, with about 2,900 union members as of April."
"John Deere Workers Just Voted To Authorize A Strike" [Jalopnik]. "The strike was voted on after renegotiations for a six-year-old contract came grinding to a halt earlier this month. The old contract wasn't a very popular one, as it barely passed at the last vote. It really only crested the cutoff by 200 votes because of ratification bonuses…. The strike couldn't come at a worse time for John Deere management. With $1.6 billion dollars in the third quarter profits, the company is reporting higher numbers than ever. If the strike goes forward, workers would put down tools in the first half of October, and with the harvest season underway, this could spell doom for the company and potentially have larger ripple effects throughout the agriculture industry. UAW workers rightly contend that they need to be sharing in the record profits. A former local UAW president said the company is aware it needs to do right by workers."
News of the Wired
"Why Science Can't Settle Political Disputes" [MIT Press Reader (Furzy Mouse)]. "Values shape science at nearly every stage, from deciding what phenomena to study to choosing how to study and talk about them. As the philosopher Kevin C. Elliot explains in his engaging book on the subject, "A Tapestry of Values," when environmental researchers started to refer to boggy areas as "wetlands" rather than as "swamps," it helped persuade citizens that such places were not merely wasted space but rather served a purpose: supporting animal species, purifying groundwater, and improving flood control. Calling a chemical an "endocrine disruptor" rather than an "hormonally active agent" highlights its potential for harm. Scientists make value-laden choices every day regarding their terminology, research questions, assumptions, and experimental methods, which can often have political consequences. Wherever social scientists have looked closely, they have found elements of politics in the conduct of science."
* * *
Readers, feel free to contact me at lambert [UNDERSCORE] strether [DOT] corrente [AT] yahoo [DOT] com, with (a) links, and even better (b) sources I should curate regularly, (c) how to send me a check if you are allergic to PayPal, and (d) to find out how to send me images of plants. Vegetables are fine! Fungi and coral are deemed to be honorary plants! If you want your handle to appear as a credit, please place it at the start of your mail in parentheses: (thus). Otherwise, I will anonymize by using your initials. See the previous Water Cooler (with plant) here. Today's plant (Carla):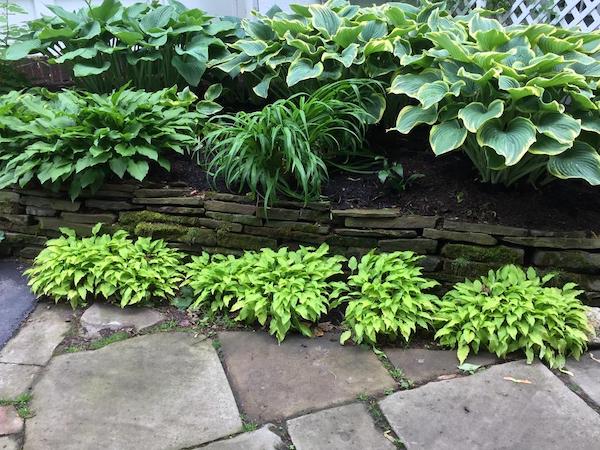 Carla: "I know hostas are ordinary, but aren't they also deeply satisfying? (Admittedly, the foliage right in the middle of the image is that of a daylily.) Anyhow, I love my hostas!" This is a very well-conceived and pleasant walk, and I especially like the moss between the flagstones, which look pleasant to walk upon in bare feet. (So pleasant I will forgive what looks like bark mulch!)
* * *
Readers: Water Cooler is a standalone entity not covered by the recently concluded and — thank you! — successful annual NC fundraiser. So if you see a link you especially like, or an item you wouldn't see anywhere else, please do not hesitate to express your appreciation in tangible form. Remember, a tip jar is for tipping! Regular positive feedback both makes me feel good and lets me know I'm on the right track with coverage. When I get no donations for five or ten days I get worried. More tangibly, a constant trickle of donations helps me with expenses, and I factor in that trickle when setting fundraising goals:
Here is the screen that will appear, which I have helpfully annotated.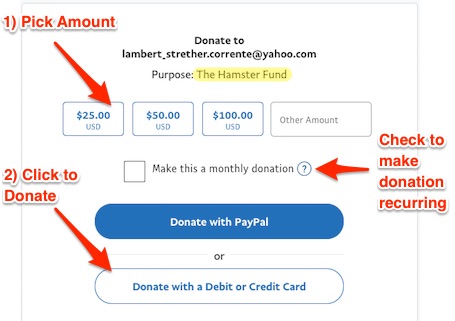 If you hate PayPal, you can email me at lambert [UNDERSCORE] strether [DOT] corrente [AT] yahoo [DOT] com, and I will give you directions on how to send a check. Thank you!2:00PM Water Cooler 6/8/2021