By Lambert Strether of Corrente.
Patient readers, I got a late start. Because I am avoiding UPDATEs, I'll make it up to your tomorrow. –lambert
Bird Song of the Day
"Long-tailed bat wins New Zealand's Bird of the Year contest" [NBC]. • Batty McBatface?
* * *
#COVID19
Patient readers, I have started to revise this section, partly to reduce my workload, but partly to focus more as an early warning, if that is possible. Hopefully I will have a variant tracker map soon. In the meantime, I added excess deaths.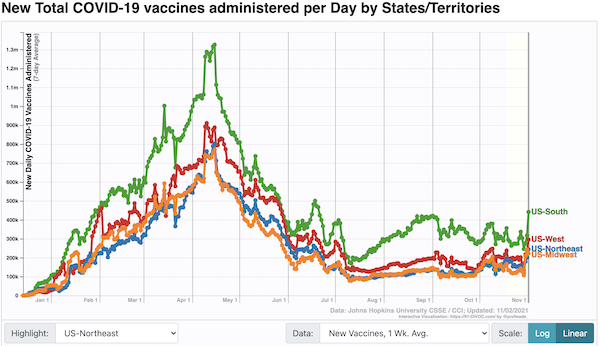 The numbers bounce back. (I have also not said, because it's too obvious, that if by Bubba we mean The South, then Bubba has done pretty well on vax.)
58% of the US is fully vaccinated (CDC data. Mediocre by world standards, being just below Turkey, and just above Argentina in the Financial Times league tables as of this Monday). We are back to the stately 0.1% rise per day. I would bet that the stately rise = word of mouth from actual cases. However, as readers point out, every day those vaccinated become less protected, especially the earliest. So we are trying to outrun the virus…
Case count by United States regions: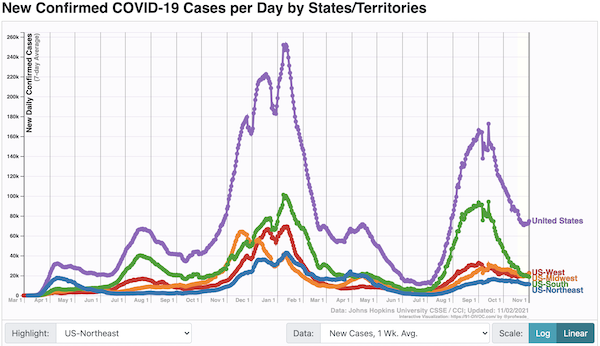 Still rising. This chart is a seven-day average, so changes in direction only show up when a train is really rolling. That said, I don't think this is the surge some of us Bears have been waiting for (see the "tape watching" remarks below). It's driven by cases widely distributed through inland California (see last Friday for maps). The local economy is heavily driven by outdoors-y tourism, but there are no major airports, so possibly cases are being spread by drivers. Beyond these speculations I cannot go.
* * *
Simply tape-watching, this descent is as steep as any of the three peaks in November–January. It's also longer than the descent from any previous peak. We could get lucky, as we did with the steep drop after the second week in January, which nobody knows the reasons for, then or now. Today's populations are different, though. This population is more vaccinated, and I would bet — I've never seen a study — that many small habits developed over the last year (not just masking). Also, if the dosage from aerosols drops off by something like the inverse square law, not linearly, even an extra foot of social distance could be significant if adopted habitually by a large number of people. And if you believe in fomites, there's a lot more hand-washing being done. Speculating freely: There is the possibility that acquired immunity is much, much greater than we have thought, although because this is America, our data is so bad we don't know. On the other hand, Delta is much more transmissible. And although readers will recall that I have cautioned against cross-country comparisons, I'm still not understanding why we're not seeing the same aggregates in schools that we've see in Canada and especially the UK, although we have plenty of anecdotes. Nothing I've read suggests that the schools, nation-wide, have handled Covid restrictions with any consistency at all. So what's up with that?
Even if hospitalizations and the death rate are going down, that says nothing about Long Covid, the effect on children, etc. So the numbers, in my mind, are still "terrifying", even if that most-favored word is not in the headlines any more, and one may be, at this point, inured.
MWRA (Boston-area) wastewater detection: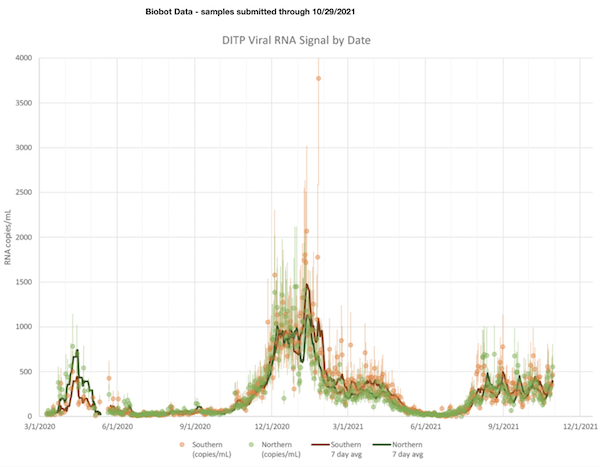 Seems like a sine-wave pattern on the right. Why? And nothing like California yet.
The Massachusetts Water Resources Authority (MWRA) service area includes 43 municipalities in and around Boston, including not only multiple school systems but several large universities. Since Boston is so very education-heavy, then, I think it could be a good leading indicator for Covid spread in schools generally.
From CDC: "Community Profile Report October 25, 2021" (PDF), "Rapid Riser" counties: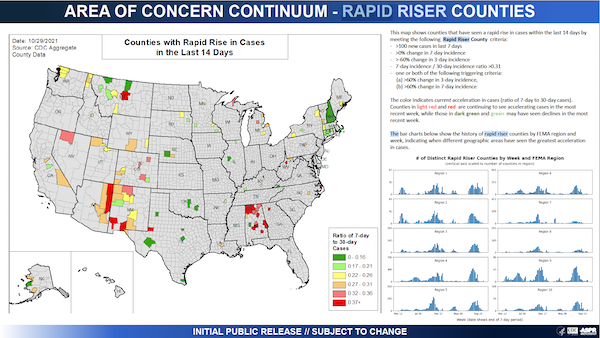 Lots of red in Alabama.
Speculating freely: One thing to consider is where the red is. If air travel hubs like New York City or Los Angeles (or Houston or Miami) go red that could mean (a) international travel and (b) the rest of the country goes red, as in April 2020 and following. But — for example — Minnesota is not a hub. If Minnesota goes red, who else does? Well, Wisconsin. As we see. Remember, however, that this chart is about acceleration, not absolute numbers. This map, too, blows the "Blame Bubba" narrative out of the water. Not a (Deliverance-style) banjo to be heard. (Red means getting worse, green means bad but getting better.)
The previous release: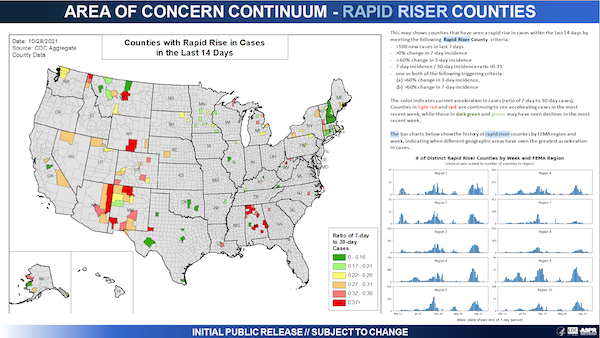 Hospitalization (CDC Community Profile):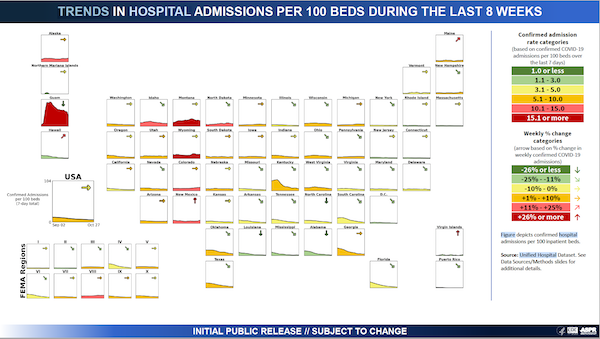 Finally some relief for the states of Idaho, Montana, and Wyoming, although I don't understand why they they have the bad luck to be so stubbornly still red.
Death rate (Our World in Data):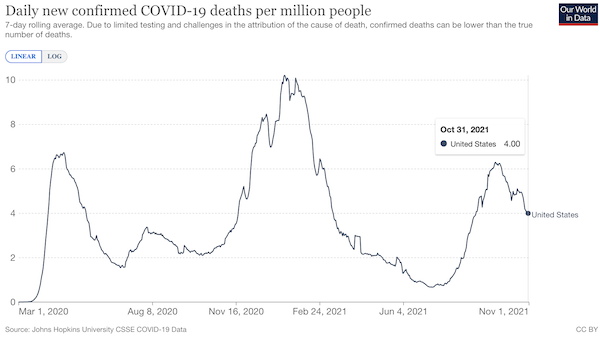 Total: 767,442 766,312. Going down again, mercifully. We had approached the same death rate as our first peak last year. Which I found more than a little disturbing.
Excess deaths (total, not only from Covid). Still not updated ffs: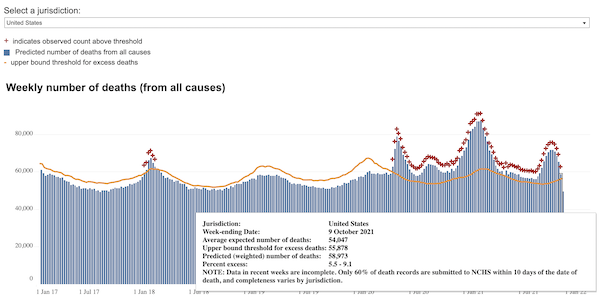 So how long does it take before 10% "excess" deaths becomes the new normal?
(Adding: I know the data is bad. This is the United States. Needless to see, this is a public health debacle. It's the public health establishment to take care of public health, not the health of certain favored political factions. Also adding: I like a death rate because it gives me a rough indication of my risk should I, heaven forfend, end up in a hospital. I should dig out the absolute numbers, too, now roughly 660,000, which is rather a lot.)
Covid cases in historic variant sources, with additions from the Brain Trust: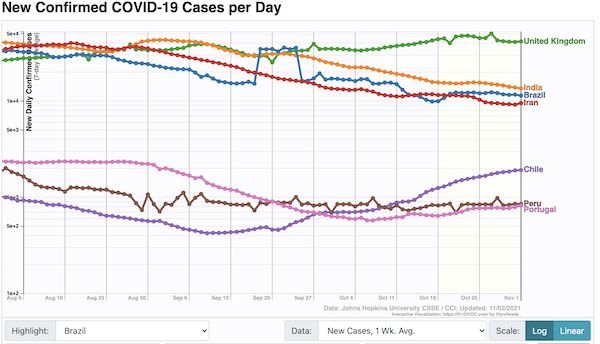 Look at Chile go! Also Portugal, which lifted restrictions about a month ago. Remember this is a log scale. Sorry for the kerfuffle at the left. No matter how I tinker, it doesn't go away.
* * *
Politics
"But what is government itself, but the greatest of all reflections on human nature?" –James Madison, Federalist 51
"They had one weapon left and both knew it: treachery." –Frank Herbert, Dune
"They had learned nothing, and forgotten nothing." –Charles Mice de Talleyrand-Périgord
Biden Administration
"When are the social spending plan and infrastructure bill going to become law? Dems say before Thanksgiving." [Politico]. Did they say of what year? "This push for a quick vote comes as many progressives are indicating they'll relent on allowing a vote on the Senate-passed infrastructure bill this week, essentially placing the burden on President Joe Biden to wrangle Manchin's vote on the social spending bill in the end…. In a shift after weeks of linking the two bills, Jayapal, who chairs the Congressional Progressive Caucus, conceded the infrastructure plan would likely become law before the social spending bill— but that she hopes the latter will pass the Senate soon. 'Hopefully we can get it done before Thanksgiving and we will have this transformative piece of legislation,' she said. 'On all of this, we are trusting the president to deliver 51 votes in the Senate." • There's a lot of heartburning over this, and personally I'm in "burn it all down" mode on this. Alternatively — and especially if Jayapal thinks McAuliffe is doing to lose — perhaps handing the Manchin tar baby to Biden isn't such a bad idea. To switch metaphors, point made, so time to get out from under the widening shadow made by the falling safe…
Democrats en Deshabille
"A Last Word on Virginia" [Larry Sabato's Crystal Ball]. "Whatever happens on Tuesday, the takeaways for the national environment shouldn't be all that different whether McAuliffe wins by a tiny margin or Youngkin wins by a similarly small margin. sThe more interesting result would be if the race broke clearly one way or the other — as in, if either candidate won by more than a few points. A Youngkin win by several points would offer confirmation that the political environment has broken wide open against Democrats. Meanwhile, if McAuliffe wins by several points, it may indicate that Biden's poor approval ratings are not as much of a drag on Democrats as one might otherwise think. There will be plenty of time to analyze the results after we get them. But let's assume that the bulk of the polls are correct and that the race ends up being very close either way. Both of those possible results — a narrow win by either candidate — would suggest a significant falloff for Democrats from their strong Virginia performances in the Trump era and represent, at the very least, a bright red "check engine" light at the midpoint of the Democrats' journey from last year's presidential race to next year's midterm." • Every pundit already has both hot takes already written!

"5 things to watch when Virginia votes" [Politico]. "Whether Youngkin's momentum can overcome the state's increasing partisan lean to the left is the central question of the race, and it will be tested acutely here in Loudoun County, the sprawling home to Washington outer-ring suburbs and exurbs. In a clear sign of his campaign's big bet on Loudoun — which went Democratic by nearly 20 points in the last gubernatorial election — Youngkin closed out his campaign here Monday night, with a rally at the county fairgrounds that drew roughly a thousand supporters…. The last time McAuliffe was on the ballot, in 2013, he barely carried Loudoun, winning just under 50 percent of the vote. But last fall, Biden won a whopping 62 percent of the vote in Loudoun, beating then-President Donald Trump by 25 points…. If Youngkin can remain competitive in the suburbs — especially in populous exurban Loudoun and Prince William counties, where Biden ran up the score — he will have proved that there is life after Trump for suburban Republicans. The trick is just to thread the needle between the Trump-loving GOP base and the suburbanites who recoil at the thought of him…. The flip side of cutting down McAuliffe's margins in the vote-rich suburbs: turning out the Republican base of Trump fans in rural areas." • Democrats control both houses of the Virginia legislature. Much as the defeat of Clintonite bag-man McAuliffe would pain me — who among us, after all, would want to see the upper ranks of the Democrat Party purged? — Youngkin's governorship might be crippled from the start. Unless, of course, his private equity roots and personal charm induce Democrats to extend the right hand of good fellowship across the aisle and "work with" him.
Republican Funhouse
"Jim Bob Duggar Running for Arkansas Senate" [The Roys Report]. "Jim Bob Duggar, an outspoken evangelical Christian whose large family was featured in the TLC reality show "19 Kids and Counting," has announced he's running for a seat in the Arkansas Senate. Duggar, who previously served in the Arkansas House, announced Friday on the family's Facebook page that he's running for the district in northwest Arkansas that includes Springdale."
Realignment and Legitimacy
"Liberals Read, Conservatives Watch TV" [Hanania Newsletter]. On lying: "There are two ways to lie in politics. Let's say Side A wants to spend more on government, and Side B wants to spend less. Side A might exaggerate the benefits of investing in poor communities, and Side B might tell a story about how tax cuts for the rich will pay for themselves. This can be called directional lying, with each side trying to convince you of something, and this is how politics pretty much worked until the last few years. Republicans, because they are tribal and not ideological, do not punish their politicians for non-directional lying, or simply making things up. I already mentioned the schizophrenic messaging about Biden and crime." • Er, RussiaGate? Handy table:

Maddow? The West Wing?
Stats Watch
Economic Optimism: "United States IBD/TIPP Economic Optimism Index" [Trading Economics]. "The IBD/TIPP Economic Optimism Index in the US fell for the 5th straight month to 43.9 in November of 2021, the lowest since September of 2015, and just undercut the prior pandemic low of 44 in July 2020, as the second Covid wave was hitting. With the delta variant slowing the jobs recovery and inflation fears mounting, household financial stress is spiking and faith in federal economic policies is sinking."
* * *
The Bezzle: "Burger King, Robinhood hand out free dogecoin in play to lure back retail investors" [Yahoo Finance]. "Last week, Robinhood's third-quarter earnings fell well below Wall Street estimates, causing the company's share price to sink more than 10%. With crypto trading down 78% from the prior three-month period, the company needs to lure more investors to use their platform, especially for trading cryptocurrency. Now it's offering free dogecoin along with BTC and ETH through a sweepstakes in partnership with fast-food giant Burger King, which is owned by Restaurant Brands International."
The Bezzle:
A tribute to those who got us this far. And an invitation to those who will take us further.#FFTB

— Crypto.com (@cryptocom) October 28, 2021
No. It's not four words ("Fortune favors the brave"). It's two: "crime pays."
The Bezzle: "Fear and Loathing in Cryptoland" [Of Dollars and Data]. "If you think that Cryptoland is going to overturn the traditional financial system and our way of life in general, you are equally misguided. How can I make such a bold claim? Because of the Lindy Effect, or the theory that the life expectancy of an idea is proportional to its current age. In other words, the longer something has been around, the more likely it will be around in the future. And guess what? Too much of what Cryptoland hopes to disrupt is lindy. Fraud protection is lindy. Government-issued currency is lindy. Hanging out with people in real life is lindy. Even centralization is pretty lindy. After all, I like centralization for some things. I want my bank to give me my money back after a fraudulent transaction occurs. I don't want to have to manage (or risk losing) the private keys to my wealth. I trust companies won't screw me over because they want to stay in business and make money like everyone else. Self-interest is lindy. All of this is a roundabout way of saying that Cryptoland seems to have gotten a bit ahead of itself…. Once the initial, unbridled optimism has cooled a bit, then we will be able to take stock of how Cryptoland will actually change society. Unfortunately, right now there is so much polarization on both sides that any reasonable debate on this topic is taken as idiocy by one side or the other."
Tech: "Facebook says it shut down Nicaraguan government-run troll farm" [Al Jazeera]. "The social media giant said on Monday that the troll farm – a coordinated effort to manipulate public discourse using fake accounts – was intended to amplify pro-government and anti-opposition content. The accounts were operated by the government of President Daniel Ortega and the ruling Sandinista National Liberation Front party, said Ben Nimmo, threat intelligence lead for Facebook's parent company Meta." • Clarifying. Given that Facebook is an appendage of The Blob, we can be confident it will never be broken up:
Facebook basically merged with the US government.

Head of security policy at FB, Nathaniel Gleicher @ngleicher, was director for cybersecurity policy at the White House National Security Council. Before that he worked at the DOJ.

No wonder they are banning Sandinista supporters pic.twitter.com/vXsDgJH1rr

— Ben Norton (@BenjaminNorton) November 1, 2021
Tech: "Robots hit the streets as demand for food delivery grows" [Associated Press]. "Hundreds of little robots __ knee-high and able to hold around four large pizzas __ are now navigating college campuses and even some city sidewalks in the U.S., the U.K. and elsewhere. While robots were being tested in limited numbers before the coronavirus hit, the companies building them say pandemic-related labor shortages and a growing preference for contactless delivery have accelerated their deployment…. Starship has more than 1,000 robots in its fleet, up from just 250 in 2019. Hundreds more will be deployed soon. They're delivering food on 20 U.S. campuses; 25 more will be added soon. They're also operating on sidewalks in Milton Keynes, England; Modesto, California; and the company's hometown of Tallin, Estonia….. The robots have drawbacks that limit their usefulness for now. They're electric, so they must recharge regularly. They're slow, and they generally stay within a small, pre-mapped radius. They're also inflexible. A customer can't tell a robot to leave the food outside the door, for example. And some big cities with crowded sidewalks, like New York, Beijing and San Francisco, aren't welcoming them." • "Contactless" is the bleakest, most dystopian word….
Tech: Kill it with fire:
I thought this was satire, or a dystopian sci-fi sketch. It's real. pic.twitter.com/iZFMbgsNYV

— Ezra Levant 🍁 (@ezralevant) November 1, 2021
Supply Chain: "Panama Canal Saw Record Year as China-U.S. Trade Tensions Eased" [Bloomberg]. "The Panama Canal saw a jump in cargo as China and the U.S. eased trade restrictions, opening up the market for grains, pork and liquefied natural gas, canal administrator Ricaurte Vasquez said during a press conference on Thursday. The canal saw a record 516 million tons of cargo pass through its locks in fiscal year 2021, which ended last month, an 8% jump on the previous year."
Supply Chain: "Apple supply shortages bite into revenues and cost iPhone maker $6bn" [Financial Times]. "Tim Cook, chief executive, said 'larger than expected supply constraints' cost the company $6bn in the three months to September, adding that the shortages would cost it even more in the holiday period — its most lucrative time of the year. Supply constraints 'affected the iPhone, the iPad and the Mac', Cook told investors, citing chip shortages and 'Covid-related manufacturing disruptions' in south-east Asia."
* * *
Today's Fear & Greed Index: 77 Greed (previous close: 72 Greed) [CNN]. One week ago: 71 (Greed). (0 is Extreme Fear; 100 is Extreme Greed). Last updated Nov 1 at 12:37pm. Now that poor people won't get dental, Mr. Market is in his happy space.
Rapture Index: Closes down one on Anti-Christian. "Christians have had fewer attacks in recent days" [Rapture Ready]. Record High, October 10, 2016: 189. Current: 186 (Remember that bringing on the rapture is a good thing, so higher is better.)
Games
"The MetaVerse: Brave New World or Capitalist Hellscape?" [NASDAQ]. Pulling out this one amazing paragraph: "You're going to hear a lot about Axie, because it's heralded as the future of the Metaverse… Axie Infinity is a game made by a company called Sky Mavis. Seemingly all young dudes, the company started in 2019, is private, and is headquartered in Vietnam. They're on their B round, which just closed for $152 million, giving them a private implied valuation of about $3 billion. Axie is their only current game. The game itself (with all due respect) is mediocre…. at the core, the game is about getting three of your monsters (called Axies) to go beat up three of someone else's monsters, using a bunch of cards and abilities…. The reason Axie is interesting is because instead of just standing up servers to host their virtual world (like, say, Blizzard does with their Battle.net client, online stores, and individual games like World of Warcraft), they chose to develop the entire ecosystem on a private blockchain called Ronin, which is modelled after the Ethereum network. What that means, in practical terms, is that how you get into the game is completely unique…. Axie lets you make the account and download the game for free, but without Axies — the monsters — you can't play. So you have to buy Axies, which are, in fact, regular old NFTs like a JPG of a rock or a Bored Ape. They're just NFTs in Sky Mavin's Ronin blockchain. To buy those Axies you use your WETH (ETH, the coin of Ethereum you would have bought somewhere else, and then transferred into the Ronin blockchain, using a bridging mechanism common in Crypto — but it's easy right? It's a game?) on the marketplace run by Sky Mavin….. playing the game gets you rewards in the form of a cryptocurrency (on the private Ronin blockchain), called "Smooth Love Potions." (Sigh). You need SLP, as it's known, in order to take two of your Axies and breed them, which you do in order to sell them on the marketplace to people who want to join this little circus. You also need a whole other kind of token in order to breed your Axies (!!!)… The problem is, someone has to play the game to keep the engine working, so like all good capitalists, those folks with more money than time in this ecosystem simply pay poor people to play for them. Completely outside the official game environment, just out on websites, "Managers" (capitalists with big collections) calve off trios of axies into clone wallets and let people play them. And the manager then (hopefully! It's the honor system!) splits the earned SLP with the player. The ecosystem (run by a company) has all the tools to enable this, and the economics of the environment are very much front and center. It's in all the patch notes. So the "scholar" (read, "poor") players here do work for the "Manager" (read, "rich") players by playing the game for them, so that (depending on how you want to imagine it)." • Thank you, Vietnam….
"U.S. Senator Heartbroken Men Watch Porn And Play Video Games" [Kotaku]. "Senator Josh Hawley, Republican of Missouri, took the stage at the National Conservatism Conference yesterday to decry the war on men. In a long and meandering speech, he sounded the alarm about falling marriage rates and college attendance, and argued that more and more men are dropping out of the workforce and retreating into porn and video games…. Hawley ended his speech with a call to fight the war on men by increasing the number of manufacturing jobs in the U.S. and creating new tax credits for getting married." • Tax credits? Sounds bipartisan!
The 420
"Public Health Ministry to push Thailand as internationally-recognized medical marijuana hub, starting from November" [TPN National News]. "[T]he Ministry of Public Health will follow the plan of pushing a medical marijuana policy into effect, starting from November 10th. In this case, marijuana will be widely used for medical purposes and developed as a major industrial crop which could potentially boost the domestic economy and creditability of medical treatments in Thailand…. In addition, pushing Thai medical marijuana will also likely help revitalize the tourism industry and solve Thai people's financial problems, according to his statement." • Thailand has an enormous and excellent system of health tourism, so this might actually work.
MMT
"Radical Heterodoxies & Parallel Institutions w/ Mat Forstater" (transcript) [MR Online]. • This is a fascinating intellectual history of MMT. At some point, somebody's going to write a book about the MMT Thought Collective, and this will be source material.
Our Famously Free Press
I just broke an FT URL and tried this. It's true!
The FT's 404 page not found is quite optimal for the publication! pic.twitter.com/TESpgjmvbq

— Angelica Oung (@AngelicaOung) November 2, 2021
Zeitgeist Watch
Lots of coverage of Mexico's "Day of the Dead" this year:
Day of the Dead drones in Mexico City 💀 pic.twitter.com/976RlPKkSJ

— Adrian Vee⭐777 (@AdrianVee777) November 1, 2021
A minor tributary of wokeness, no doubt, but I'm wondering if there could be another reason….
Screening Room
""Dune" (the movie), annotated" [Read Max]. Lots of detail. Here's one: "If I'm being deeply honest with myself, a huge portion of my goodwill toward this movie can be chalked up to the many extremely sick shots of spaceships arriving/departing. (Sick shots of spaceships landing are among the deepest and most elemental of cinematic images, alongside trains and vampires.) Basically any quibbles or hesitations are erased by images like the above, of the Bene Gesserit departing that spaceship, and about which I can only say: That's f*cking sick as hell. This sh*t rules."
Class Warfare
Some anti-triumphalism on strikes:
1/Now that #Striketober has past, a 🧵 (and pix!) for historical context. These headlines are from 1945-46, the greatest US strike wave (by # of strikers) ever. It's difficult now to comprehend how massive this expression of labor power was. Nearly 5 million workers were pic.twitter.com/GGtgLIKZgX

— Toni Gilpin (@ToniGilpin) November 1, 2021
"Land of Capital" [The Nation]. "The crash of 2008, however, proved to be a scholarly as well as a social and economic wake-up call. The study of American capitalism gained new attention and soon spawned cottage industries around the history of slavery, the advent of financial instruments, and the racist exploitation that American capitalism has long appeared to thrive on. Many pieces—mostly monographic and narrowly construed—of what could be a big new story have come to litter the scholarly field, raising provocative questions that are often disconnected over time and space. Jonathan Levy's Ages of Capitalism, one of the first large-scale and synthetic works to pull together much of the new interest and interpretive orientation of this history-of-capitalism field, thereby fills an important intellectual need. It is an ambitious and impressive book, a cut above much of the recent literature not only in its scale but in its determination to construct a historical arc based on clearly articulated concepts. … Capitalism, Levy writes, is "capital." Lest anyone imagine that this is just a tautology, he explains that capital is not a thing but a "process" in which a legal asset is imbued with a pecuniary value in view of its capacity to yield future gain. This is not just the profit motive, which Levy acknowledges has existed from time immemorial; instead, it is a historically specific form of investment in which money, credit, and finance are the crucial components, and the empowerment of capital's owners (i.e., the capitalists) has been the result. Levy presents his interpretation—including the salience of different types of liquidity—as three "theses" in the book's introduction, although one would be hard-pressed to find a general thesis or argument that runs through the rest of the book. He also claims that the United States' history of capitalism may be divided into four "ages" with steadily narrowing chronological spans. The first is the "Age of Commerce," which takes us from Britain's reorganization of its North American colonies to the secession of the slaveholding states: two full centuries. The second is the "Age of Capital," which begins during the Civil War and extends to the Great Depression: eight decades. The third is the "Age of Control," which encompasses the tumultuous period from the New Deal through the 1970s: five decades. And the last is the "Age of Chaos," initiated by Paul Volcker's interest rate "shock" and the election of Ronald Reagan, and it remains intact, according to Levy, as of this writing: four decades and counting. Each of these ages, Levy continues, is marked by the prevalence of particular forms of capital, and each emerges as a result of political crises and state interventions." • Another damn book to read.
"This Is Film Industry Culture" [Eoin Higgins, The Flashpoint]. "The death of cinematographer Halyna Hutchins Thursday on the set of the film Rust was the culmination of decades-long, systemic issues relating to mistreatment, overwork, and cost-cutting. 'This is film industry culture,' Kira Murdock, a first assistant cameraman with ties to the Rust crew, told me…. The film industry regularly prioritizes speed and cost over safety and cultivates a culture where objecting to that pace is highly discouraged…. 'Coming from the top is this nonstop mentality of rush, rush, rush to be more productive, be faster,' Branco said. 'And I think you aren't even aware that you have a voice to say 'no.'"
"Returning to Work: Millions in Uncharted Waters Due to Long-Haul COVID-19" [Healthline]. "The impact of long COVID cases on the U.S. workforce could be immense, even without considering how many people may end up becoming full-time caregivers for family members. The U.S. workforce is estimated to be made up of about 161 million people. According to the CDC, around 25 million people within the working-age group have developed COVID-19. A new study out this week from the University of Oxford found that more than 1 in 3 people report lingering symptoms of COVID-19 up to 6 months after initially developing the disease. According to these estimates, as many as 8 million people in the workforce could have at least one long COVID symptom." • Does make you wonder how many "essential workers" (remember them?) have long Covid, and whether that's an issue with labor shortages. I haven't seen a study that links Long Covid to income, let alone occupational categories. Readers?
News of the Wired
"A shot in the arm for linguists: Vax is Oxford's word of the year after 'injecting itself into the bloodstream of the English language'" [Daily Mail]. "The word of the year is based on usage evidence drawn from Oxford's continually updated corpus of more than 14.5 billion words, gathered from news sources across the English-speaking world. Oxford Languages said the trend had been seen in other languages, including 'vacina' in Portugal and the French 'vaccin'. Casper Grathwohl, the president of Oxford Languages, said: 'When reviewing the language evidence, vax stood out as an obvious choice. 'The word's dramatic spike in usage caught our attention first.'" • Oh come on.
* * *
Readers, feel free to contact me at lambert [UNDERSCORE] strether [DOT] corrente [AT] yahoo [DOT] com, with (a) links, and even better (b) sources I should curate regularly, (c) how to send me a check if you are allergic to PayPal, and (d) to find out how to send me images of plants. Vegetables are fine! Fungi and coral are deemed to be honorary plants! If you want your handle to appear as a credit, please place it at the start of your mail in parentheses: (thus). Otherwise, I will anonymize by using your initials. See the previous Water Cooler (with plant) here. Today's plant (Re Silc):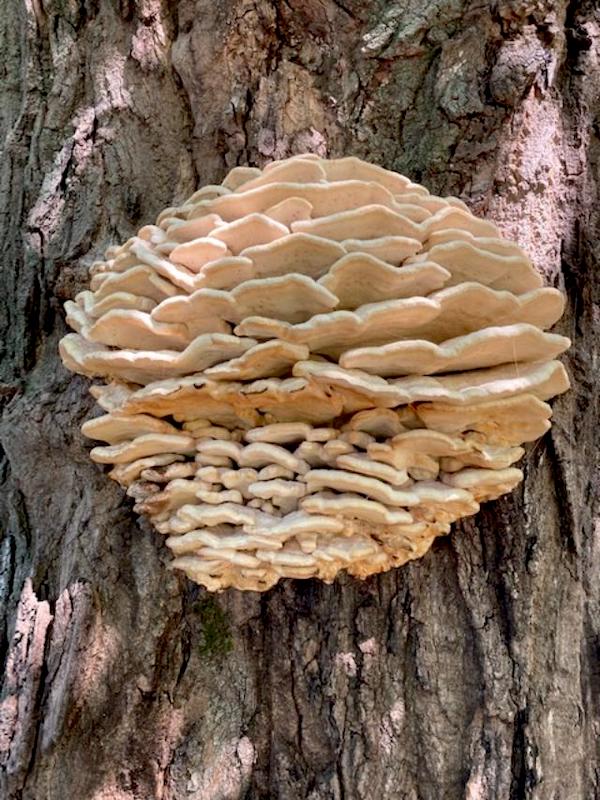 Re Silc writes: "Ipswich mass." Certainly some sort of mass!
* * *
Readers: Water Cooler is a standalone entity not covered by the recently concluded and — thank you! — successful annual NC fundraiser. So if you see a link you especially like, or an item you wouldn't see anywhere else, please do not hesitate to express your appreciation in tangible form. Remember, a tip jar is for tipping! Regular positive feedback both makes me feel good and lets me know I'm on the right track with coverage. When I get no donations for five or ten days I get worried. More tangibly, a constant trickle of donations helps me with expenses, and I factor in that trickle when setting fundraising goals:
Here is the screen that will appear, which I have helpfully annotated.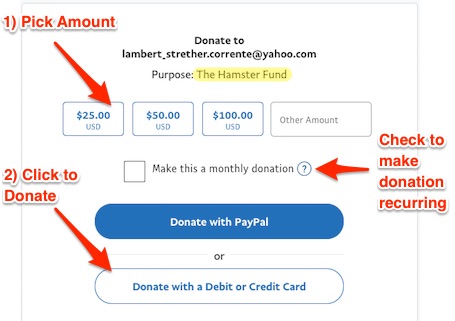 If you hate PayPal, you can email me at lambert [UNDERSCORE] strether [DOT] corrente [AT] yahoo [DOT] com, and I will give you directions on how to send a check. Thank you!2:00PM Water Cooler 6/8/2021